I love spiced cookies and cinnamon is one of my favourite sweet spices. I am a huge fan of the Dutch Speculaas cookies. I had some at a friends house so came home and on a whim created these Healthy Cinnamon Cookies.
My kids are now in love with it too. My youngest, in particular, thinks these healthy cinnamon cookies are the best things ever. This recipe makes a relatively small batch of crispy cinnamon cookies. They are quite a delicate biscuit but with very few ingredients they are super easy to make.
I refer to them as healthy as they are pretty low in sugar. Just 1 tablespoon of honey per batch which I think is pretty darn good!
They do contain saturated fat, I tried making the biscuits with lots of different oils and fats but the only 2 that really worked were butter and coconut oil. In general though with just 1 Tbsp of honey and 60g of butter/coconut oil per batch, they are pretty good for a cinnamon biscuit.
My kids have been enjoying them for afternoon tea with fruit and some milk. Testing these healthy cinnamon cookies has not been a problem with my kids. Some recipes my kids become sick of before I have them perfected, but these they were happy for me to serve up on a few days in a row!
They are also divine crumbled over stewed fruit and greek yoghurt.
Quick oat cookies are one of my favourite treats to make for my kids, they love these healthy cinnamon cookies but they also love my orange choc chip oat cookies , my lemon oat coconut cookies and my healthy take on chocolate chip cookies which I kid you not have chickpeas as an ingredient, do not get scared off by the chickpeas though, they are divine!
For the ultimate milk and chocolate chip cookie treat though you can't go past traditional condensed milk choc chip cookies, not healthy but a great recipe for making with the kids, make sure they lick the bowl!
If it's the cinnamon flavour that you are after this healthy take on monkey bread is great too! No sugar just sweetened with good old bananas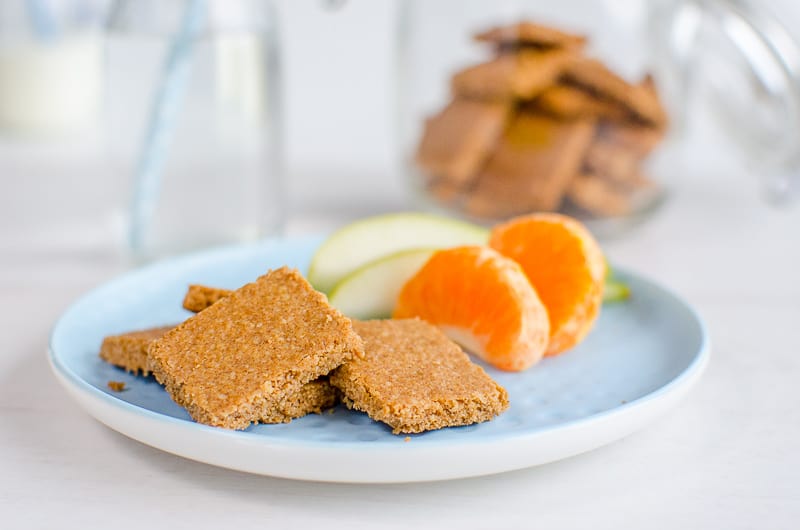 Healthy Cinnamon Cookies
Healthy cinnamon cookies a low sugar recipe, wheat-free, kids friendly, crispy and spiced similar to speculaas perfect for afternoon tea
Ingredients
1 cup rolled oats
1 tsp cinnamon
1/4 tsp ginger
1/2 tsp baking powder
60g butter or coconut oil
1 tbsp honey
Instructions
Preheat the oven to 180 degrees Celsius (360 Fahrenheit)
Place all the ingredients in a food processor
Whizz until the dough begins to come together as a ball, it will be sticky
Form the dough into a rough ball by hand
Lay a sheet of baking paper on a baking tray, place the ball of dough in the center. Place another sheet of baking paper on top of the ball. Use a rolling pin to roll the dough out to approximately 0.5 cm thick between the 2 sheets of baking paper
Remove the top layer of baking paper
Bake for 8-12 minutes (I give a range as once it starts browning it browns fast) you just want the edges to be going brown)
Remove from the oven, while still warm slice into squares, I use a pizza roller for this, and make the squares approximately an inch in size
Allow to cool, the biscuits become crispy as they cool
Serve
Notes
Allergy notes, to be dairy free this recipe requires coconut oil instead of butter.  This recipe is wheat free, however not gluten-free if using traditional oats
Nutrition Information:
Yield:

36
Serving Size:

1
Amount Per Serving:
Calories:

26
Total Fat:

2g
Saturated Fat:

1g
Trans Fat:

0g
Unsaturated Fat:

1g
Cholesterol:

4mg
Sodium:

18mg
Carbohydrates:

2g
Fiber:

0g
Sugar:

1g
Protein:

0g
Please know this nutrition analysis is based on the ingredients only, this recipe has not been sent to a laboratory for independent testing