Basic Banana Oat Baby Cookies
THIS POST MAY CONTAIN AFFILIATE LINKS.
These basic banana oat baby cookies are such a simple recipe, with no added sugar they are the perfect first cookie for babies.
My kids have been offered them from around six months of age, the age they started solids and they have remained a firm favourite.
As evidenced by the fact, that when I made them to take photos last week the entire batch of baby biscuits were demolished in half an hour, lucky they are a pretty healthy snack with no nasties, lol!
Baby cookies without sugars, eggs, and milk
These basic banana oat cookies are free from added sugar, eggs and milk. Which make them very useful for children with allergies or when you are slowly introducing the allergy foods to your baby.
Current research would say that there is no benefit in delaying the introduction of the 8 common allergy foods to your baby and that early introduction may, in fact, be beneficial. You can read more about the introduction of the allergy foods to your baby here.
Even though it is ok to introduce the allergy foods to your baby it is useful to have first foods that don't contain all the allergy foods in one recipe.
This is because if you introduce one allergy food at a time, it means you can rule out a reaction before moving on to the next. This recipe contains wheat in the form of plain flour. But is free of the remaining 7 most common allergy foods: Dairy, Eggs, Soy, Peanuts, Tree Nuts, and Fish/Seafood.
If your baby or child already has a diagnosed food allergy to wheat then feel free to substitute the plain wheat flour for a wheat-free alternative. Rice flour works well. I find the recipe does need some form of flour, be it wheat or a gluten-free alternative to maintain the soft texture younger children need.
To keep this recipe egg-free I use chia seeds. Chia seeds soaked in a little water quickly form a gel. They are a source of protein and fiber and are a vegan alternative to eggs. They are also great as an egg replacer in recipes for allergy children.
When to introduce baby cookies
These cookies contain no ingredients that current research would suggest you need to delay the introduction of.
They are free from refined sugar, salt, and honey, all of which would not be recommended for babies in the first year of life. If you are following baby-led weaning for the introduction of solids then these soft cookies are perfect as baby snacks or breakfast.
If you have decided to use traditional baby weaning practices and start with purees etc then as soon as you introduce finger foods to your baby these will be perfect. It is important for baby development to progress through the stages of texture and introduce finger foods to your baby.
How to make homemade baby biscuits
Homemade baby cookies are very easy to make. I find oats a fantastic grain to use as the base. As far as oats go I find quick oats are perfect for cookies for very young children as they produce a softer texture cookie.
Quick oats are whole grained oats which have been chopped/flaked into smaller pieces to cook more quickly. As children get older they will be able to cope with the chewier texture of traditional rolled oats in cookies.
When making baby cookies I typically use fruit and vegetable purée to both sweeten the cookies without the need for added sugar and to provide a soft texture.
Baby cookies ready to go into the oven. When making cookies for young babies you want quite a wet cookie dough so that it bakes to a soft texture
Baby Cookie Recipes
I have a few baby cookie recipes on my website
Can I freeze these cookies
You sure can, You can store these banana oat cookies at room temperature in an airtight for up to three days, but if you plan to keep them for longer then throw them in the freezer for up to three months. Frozen from the freezer they are perfect for a teething baby.
Baby Led Weaning
I believe many people land on this recipe because they are on the hunt for baby led weaning ideas. I have had four kiddos so have ended up with quite a collection of blw recipes on my website, you can find my collection of baby-led weaning recipes here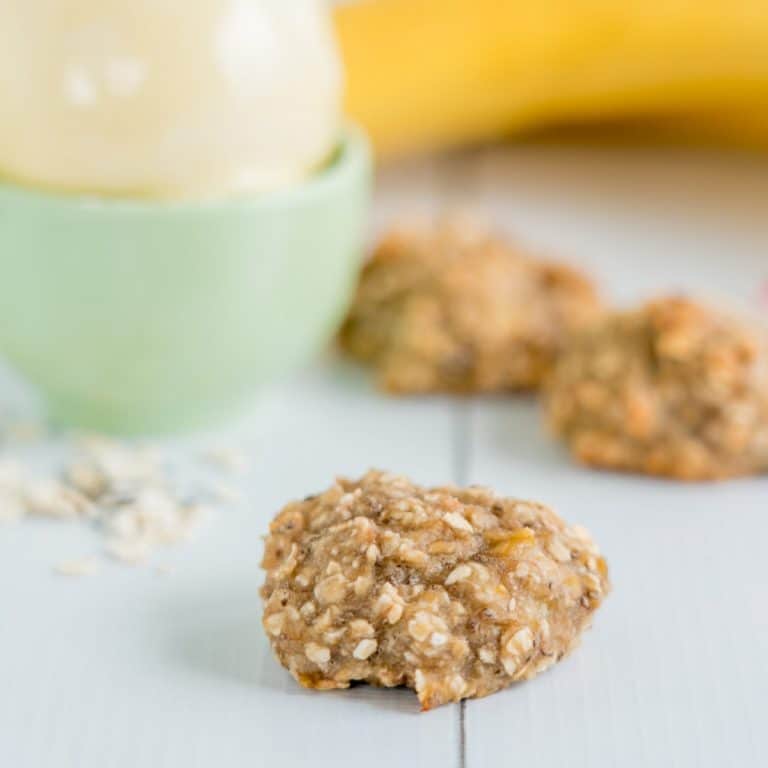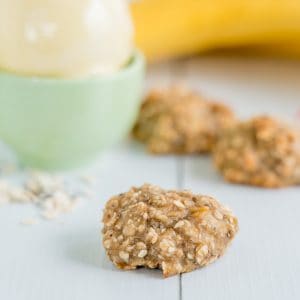 Basic Banana Oat Baby Cookies
Basic Banana baby cookies, an easy baby led weaning recipe, healthy baking,  breakfast or snack, a soft finger food for babies 
Print
Pin
Rate
RATE THIS RECIPE
Ingredients
1

tablespoon

chia seeds

2

tablespoon

water

350

g

banana

approx 2.5 medium bananas

½

teaspoon

vanilla

1 ¼

cup

oats

½

cup

plain flour
Instructions
Pop the chia seeds into the water and leave to stand for 10-15 minutes (they should begin to gel in this time)

In a medium bowl mash the banana

Stir through the soaked chia seeds and vanilla

Add the oats, and flour, mix well. This should form a cookie dough with a quite a moist sticky texture. 

Use a tablespoon to scoop the mixture, place dollops onto a baking paper lined tray. The mix will be quite sticky so forming perfect shapes will be tricky. I find damp hands is a good idea with this mix, (I get 20 tablespoons from this recipe), place the balls on a lined baking tray

Bake at 180 degrees Celsius  (approx 360 F) for 25-30 mins, allow to cool

The cookies should have a soft texture

Store in an airtight container for 2-3 days, or freeze for up to 3 months and thaw as needed
Notes
I use quick cook oats in this recipe as they produce a softer cookie for little ones, quick oats are whole grain oats which have been chopped/flaked into smaller pieces for quicker cooking
If your child requires a wheat free flour, rice flour will work well in this recipe
Nutrition
Serving:
1
g
|
Calories:
49
kcal
|
Carbohydrates:
10
g
|
Protein:
1
g
|
Fat:
1
g
|
Sodium:
1
mg
|
Fiber:
1
g
|
Sugar:
2
g