THIS POST MAY CONTAIN AFFILIATE LINKS.
Homemade apple puree is well known as a first food for baby. It is also extremely versatile, you can use it in many ways and recipes that your baby, toddler and children will love.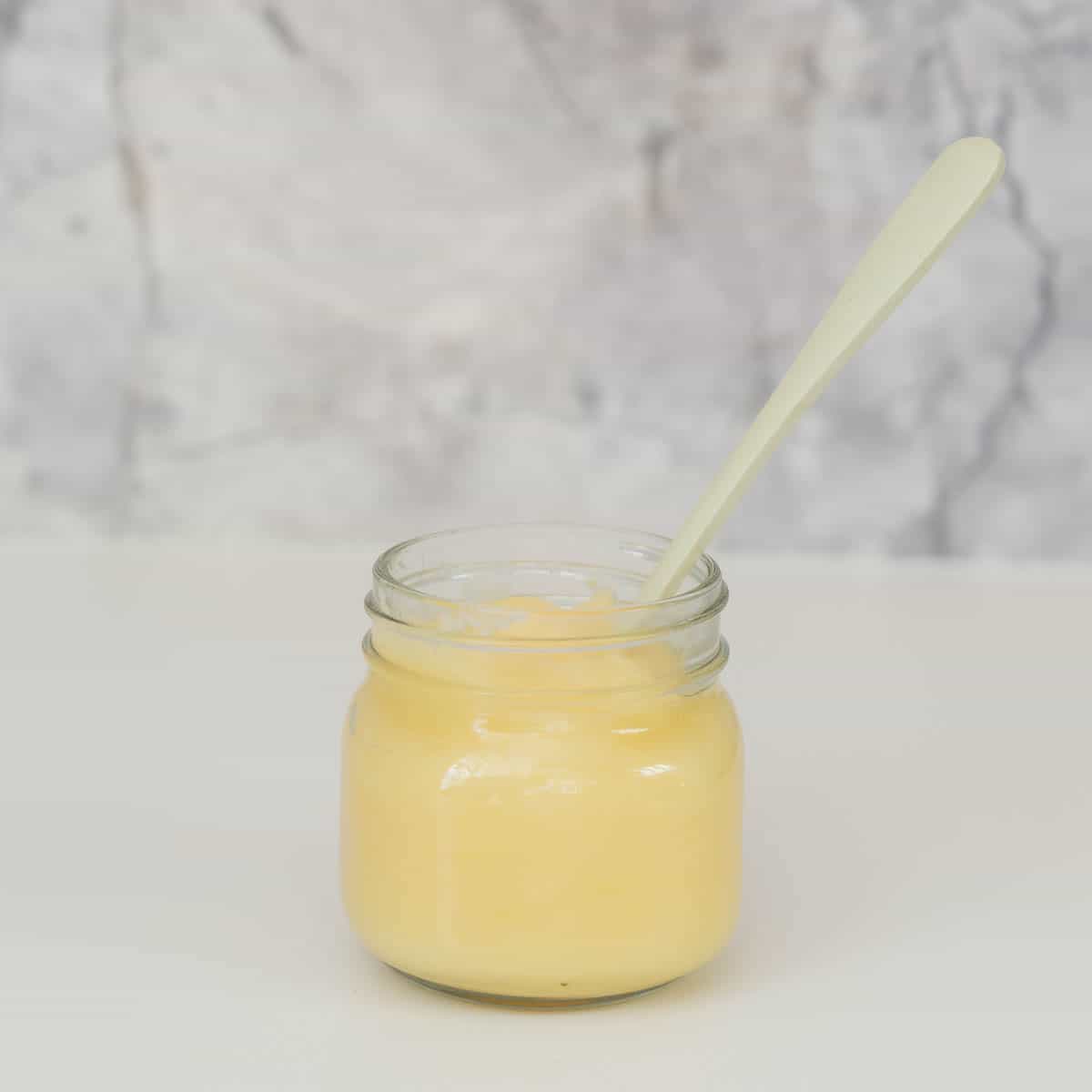 Why I love apple puree
An easy recipe that can be used in many ways
A delicious naturally sweet fruit puree that is enjoyed by both young and old
A source of soluble fibre, pectin which is a pre-biotic.
It freezes and defrosts very well so you can keep it in the freezer for emergencies
Ingredients you will need
To make basic applesauce you will only need apples and a little water.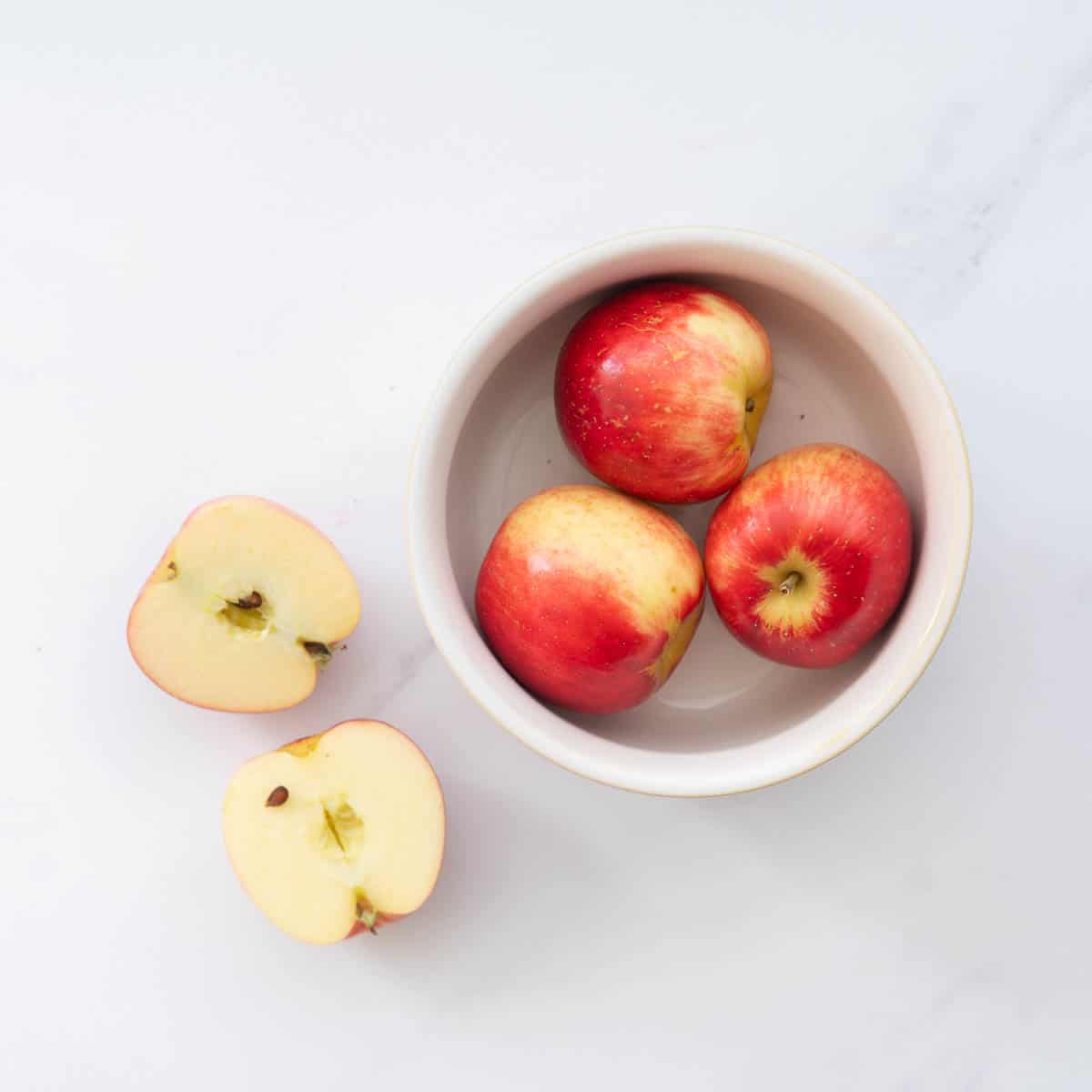 Ingredient Notes
Best Apples to use
Choose ripe firm apples
I like to use naturally sweet apples when I make apple puree, in New Zealand where I live sweet varieties include:
Pink Lady
Ambrosia
Sweet Tango
Jazz
Royal Gala
You can however use any apple to make apple puree so use a sweet apple variety that is local to you.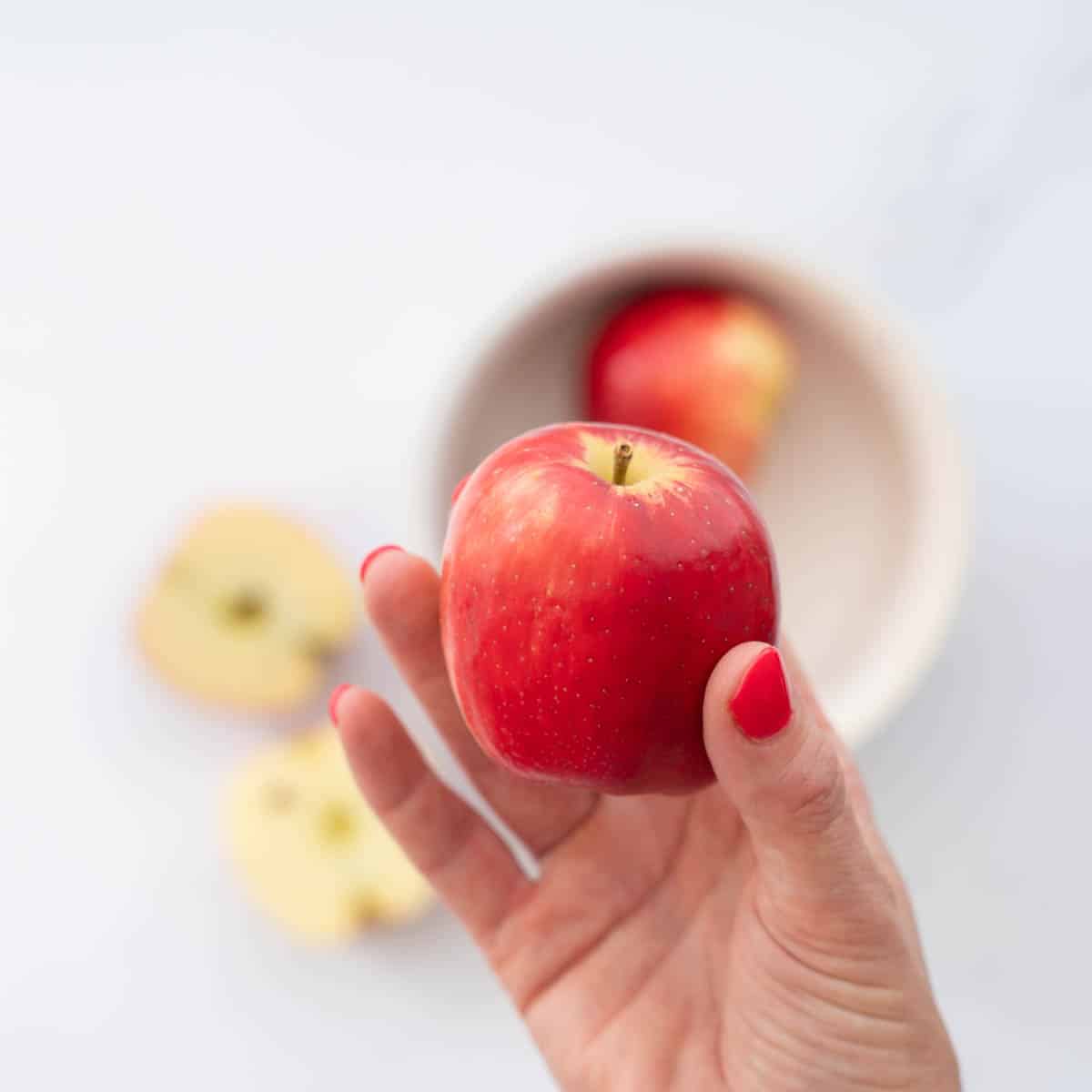 Sweetening Apple Puree
If you are making pureed apples for your baby, do not add sugar or other sweeteners. It is not necessary.
If you have chosen a sweet apple variety as an ingredient for your apple puree then I urge you to try it before adding any additional sweetener.
If you decide to add extra sweetness, granulated sugar, maple syrup, coconut sugar, and honey (not for babies under one) will all add sweetness to apple puree.
Flavouring Apple Puree
Basic applesauce does not require additional flavourings, however, they can be nice to add for a little variety. You can add the following to the apples and water before cooking:
Cinnamon
Ginger
Nutmeg
Vanilla extract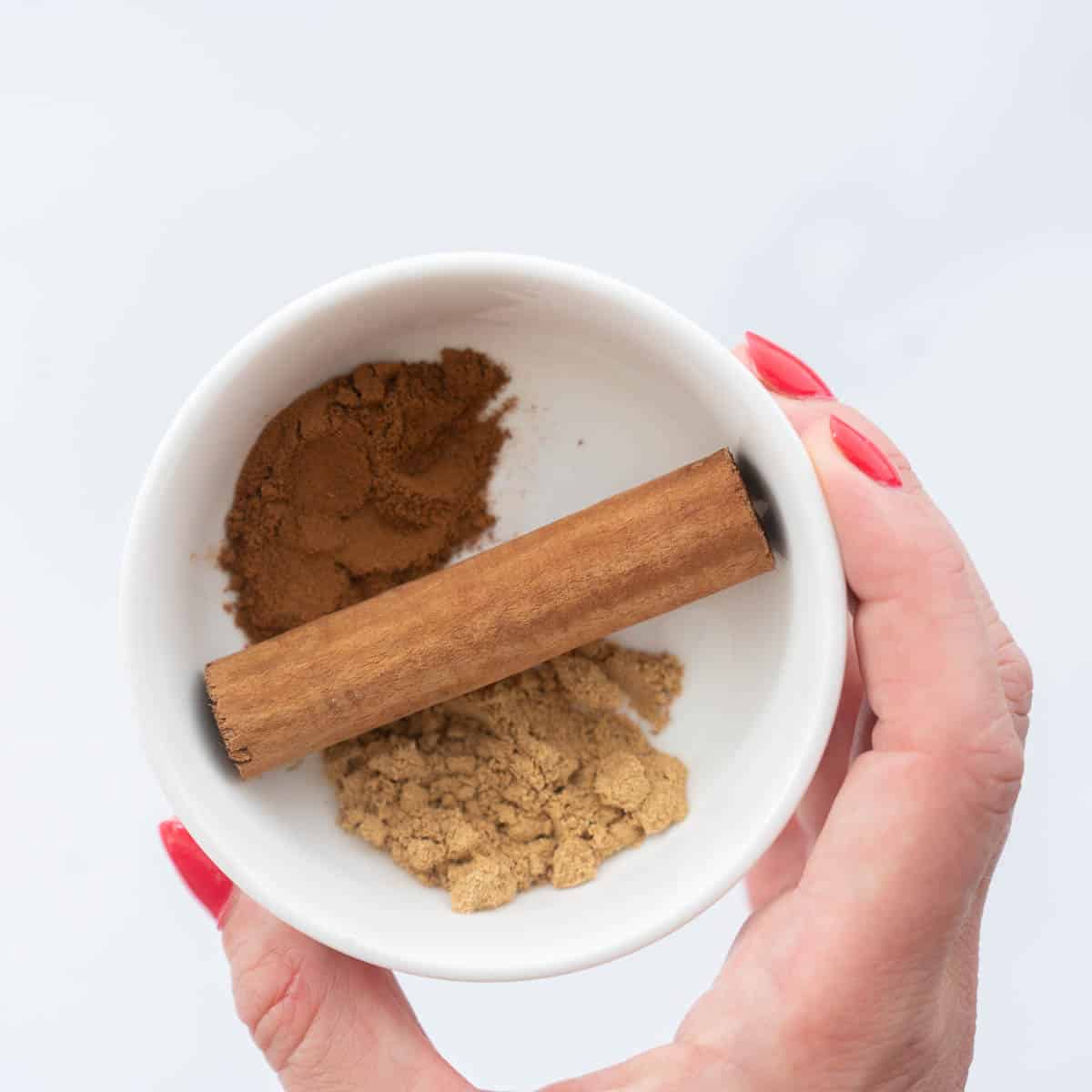 ---
How to make apple puree for baby
Below are illustrated step-by-step instructions to make my Apple Puree Recipe, if you prefer just the written instructions then head straight to the printable recipe card below.
Prep: Peel, core and slice the apples
Step one:
Place in a small saucepan, bring to the boil, Reduce heat and simmer until apples are tender. 5-10 minutes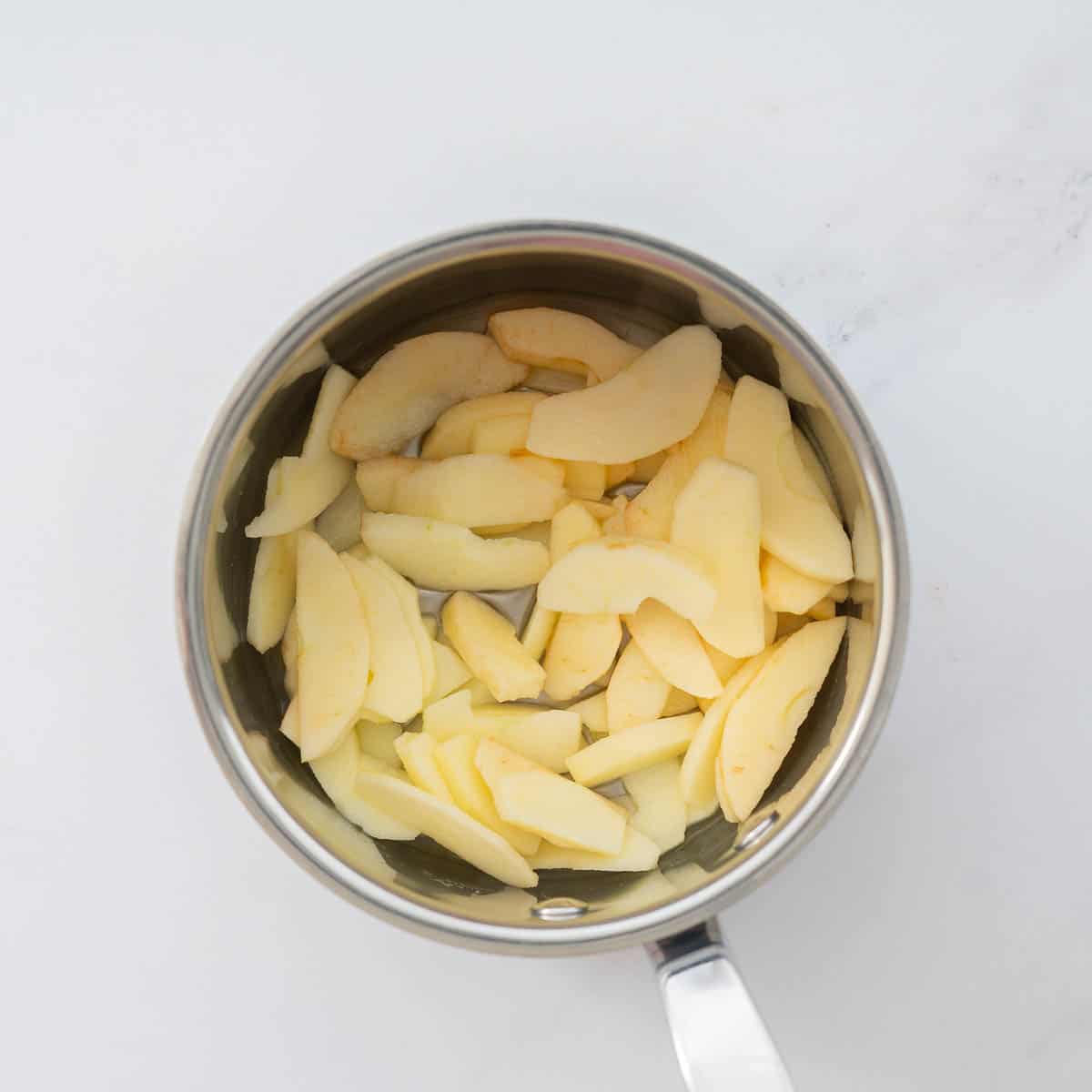 Step two: Drain, and reserve liquid.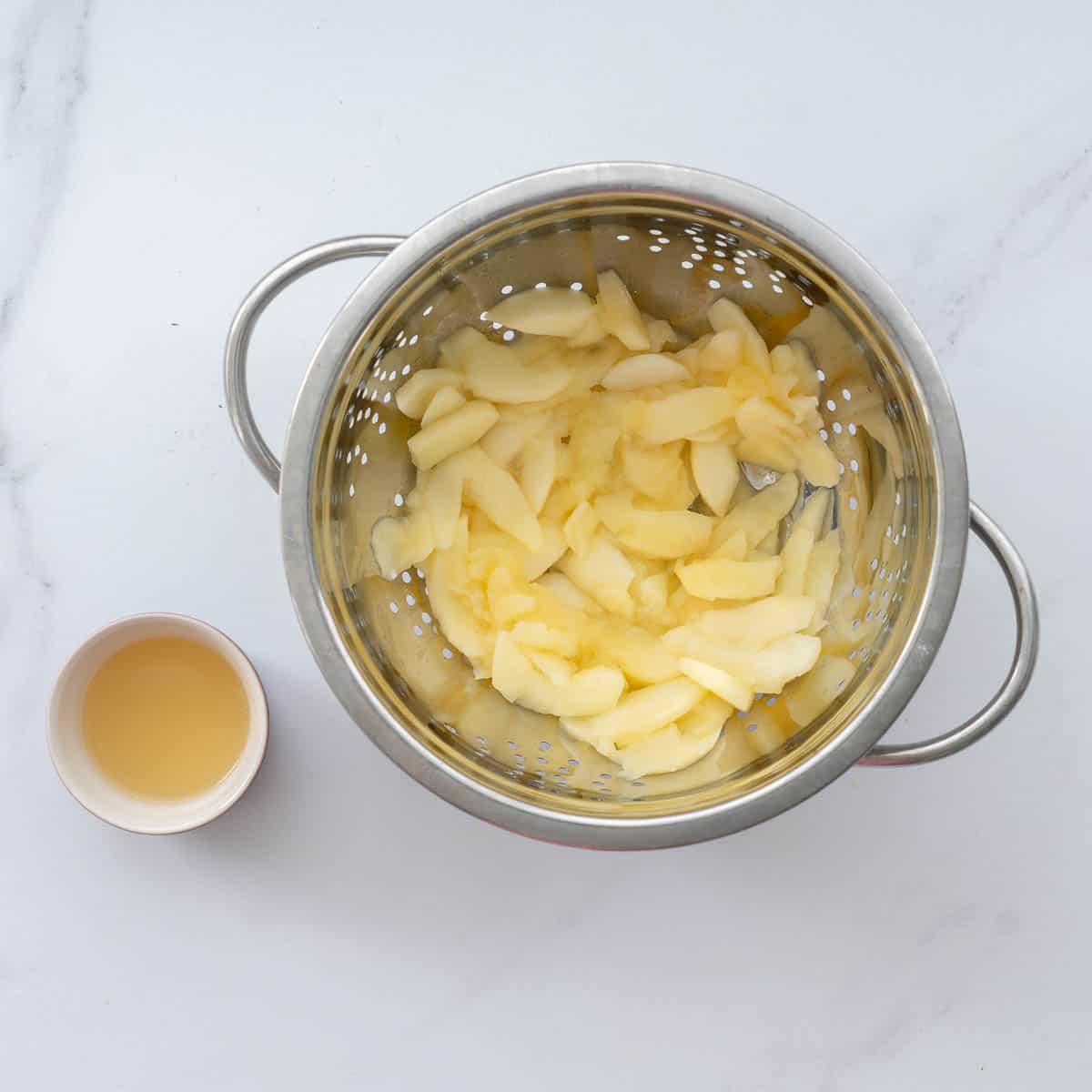 Step three: Blend or process until a smooth texture is reached, add liquid as needed.
If you are blending the apples while still hot, be sure your blender/processor can be vented. Hot foods should not be blended in a sealed blender (like a bullet-style blender) as the pressure can build and cause an explosion.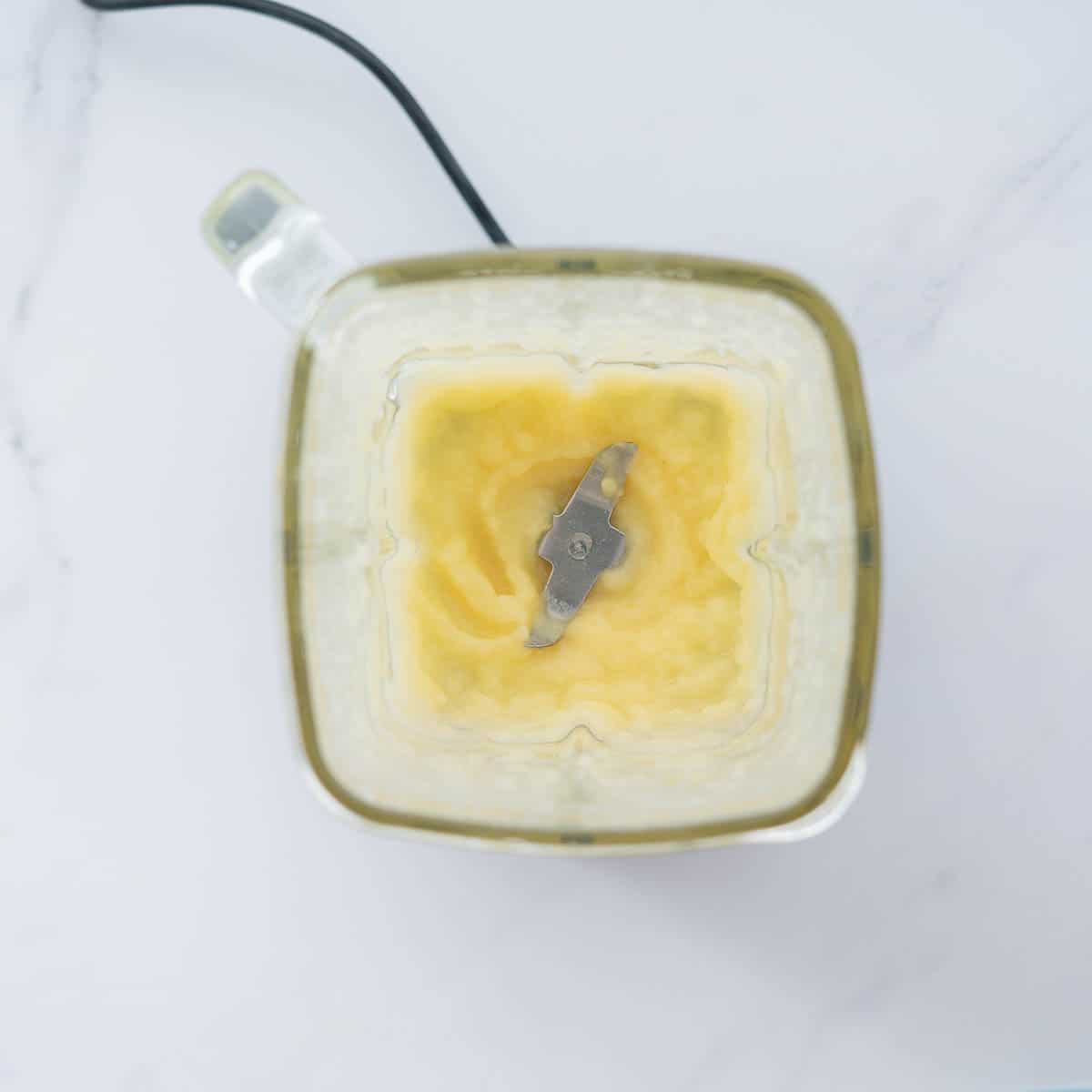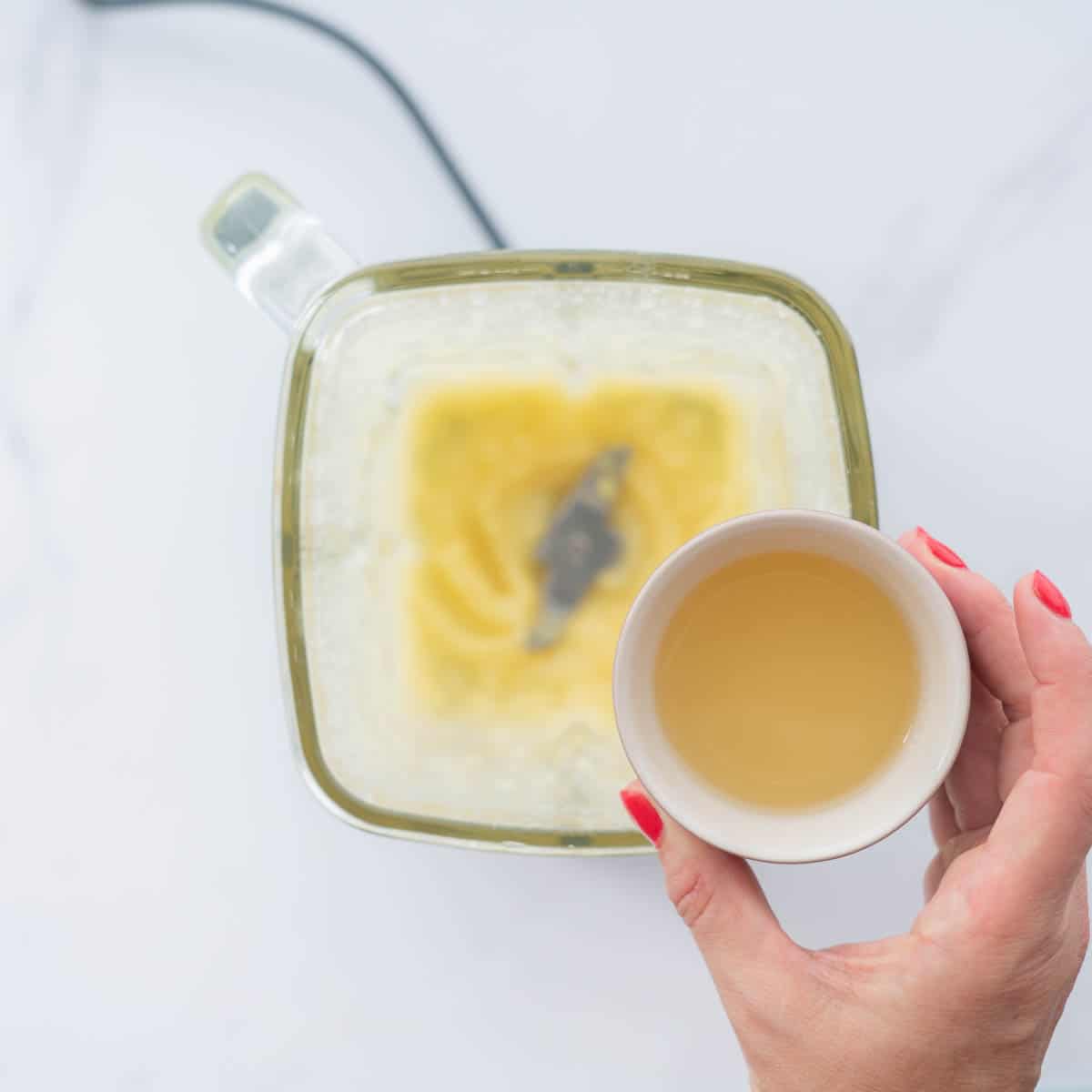 Enjoy!
---
Top Tips
Here is how you can make this apple purée perfectly every time!
Choose a sweet apple variety then you won't require any additional sweetener in the recipe
Don't use too much water, I know it may seem like not enough, but the apples will release quite a bit during the cooking process.
If you are blending the apples while still hot, be sure your blender/processor can be vented. Hot foods should not be blended in a sealed blender (like a bullet-style blender) as the pressure can build and may cause an explosion.
Freeze leftover apple puree in ice cube trays so that you can use it easily in future meals and recipes.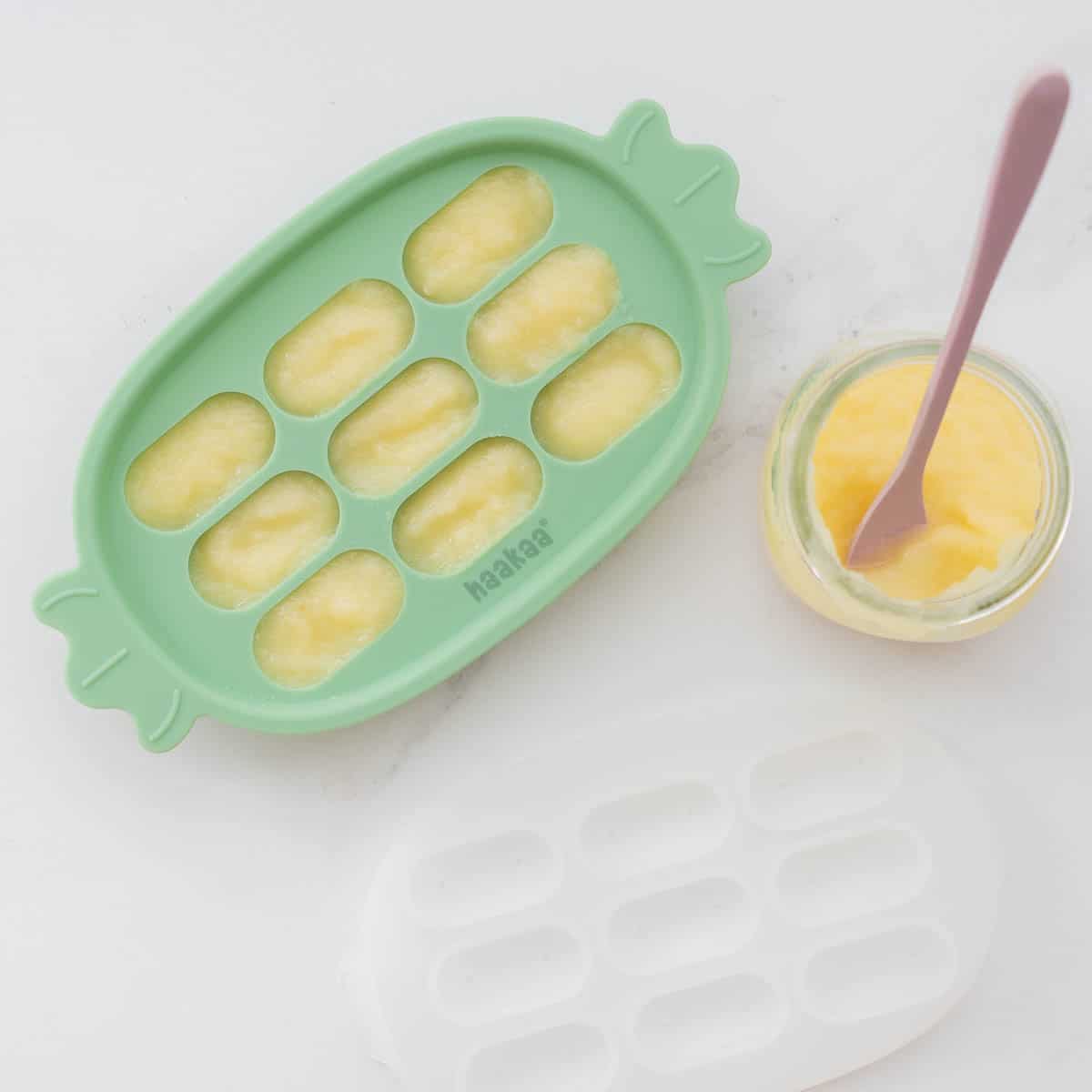 FAQs
How to store homemade apple puree?
Homemade apple puree can be stored in a clean air-tight container or jar in the refrigerator for up to 4 days.
Can apple puree be frozen?
Yes, apple puree can be frozen for up to 4 months, freeze in ice cube trays so that you can bring out small amounts when needed.
Does apple puree cause constipation?
Apple puree is a rich sauce of pectin, a soluble fibre with a unique gelling ability, in combination with water pectin can help normalise bowel motions helping relieve both constipation and diarrhoea.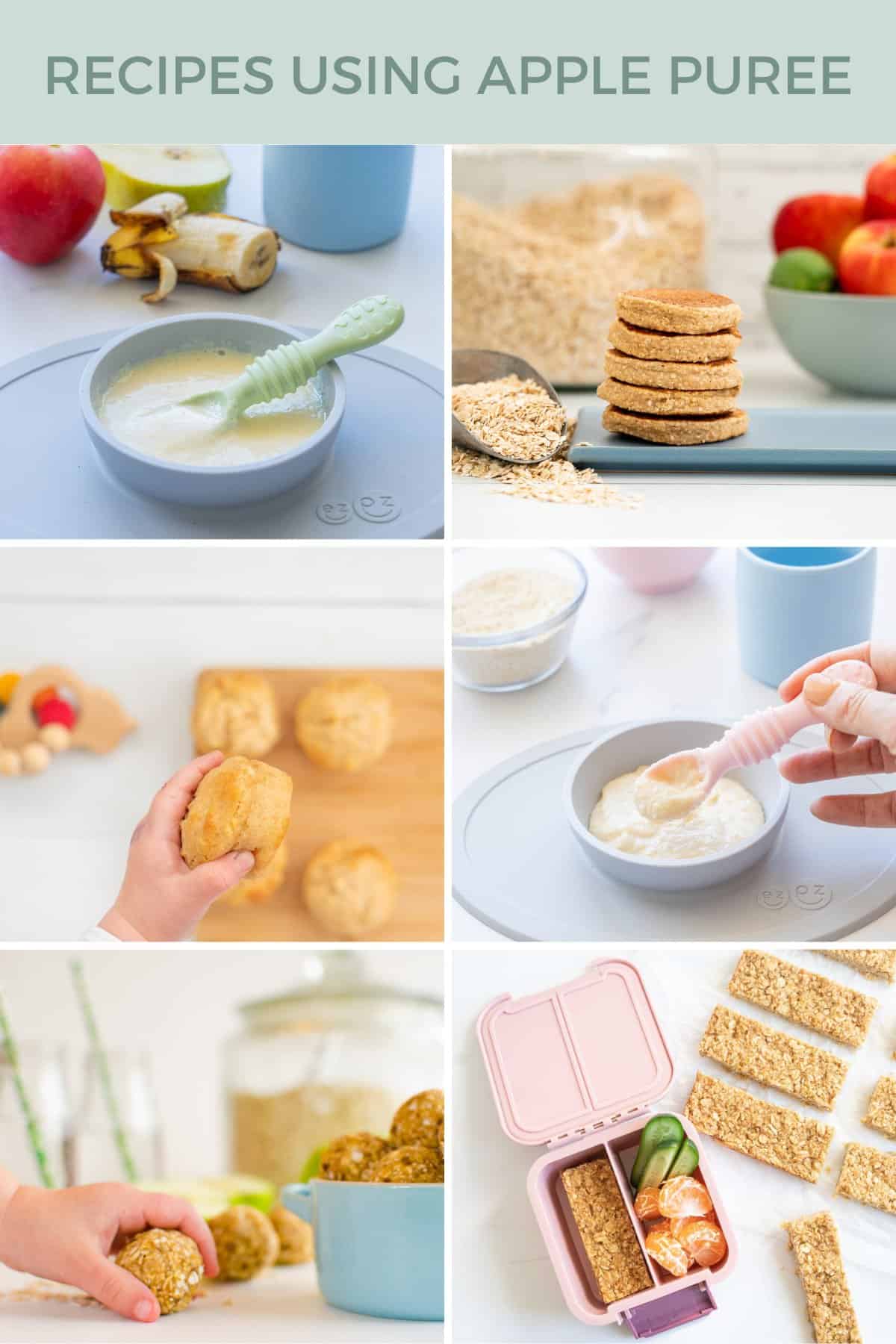 Recipes you can make with pureed apples
There are so many recipes you can make with apple puree or apple sauce, it works as an unrefined sweetener, and because of its gelling/binding ability, it will also take the place of eggs in some recipes.
Can be used as a first food for your baby
Combine with other fruit and vegetable purees to make combination purees for your baby.
Stir through Baby porridge
Stir through baby custard
Apple oat bars: soft granola bars suitable for young children
Apple banana chia (ABC) toddler cookies
Apple cookies: lunchbox recipe
Serve as a sauce with roast pork, pork chops or pork sausages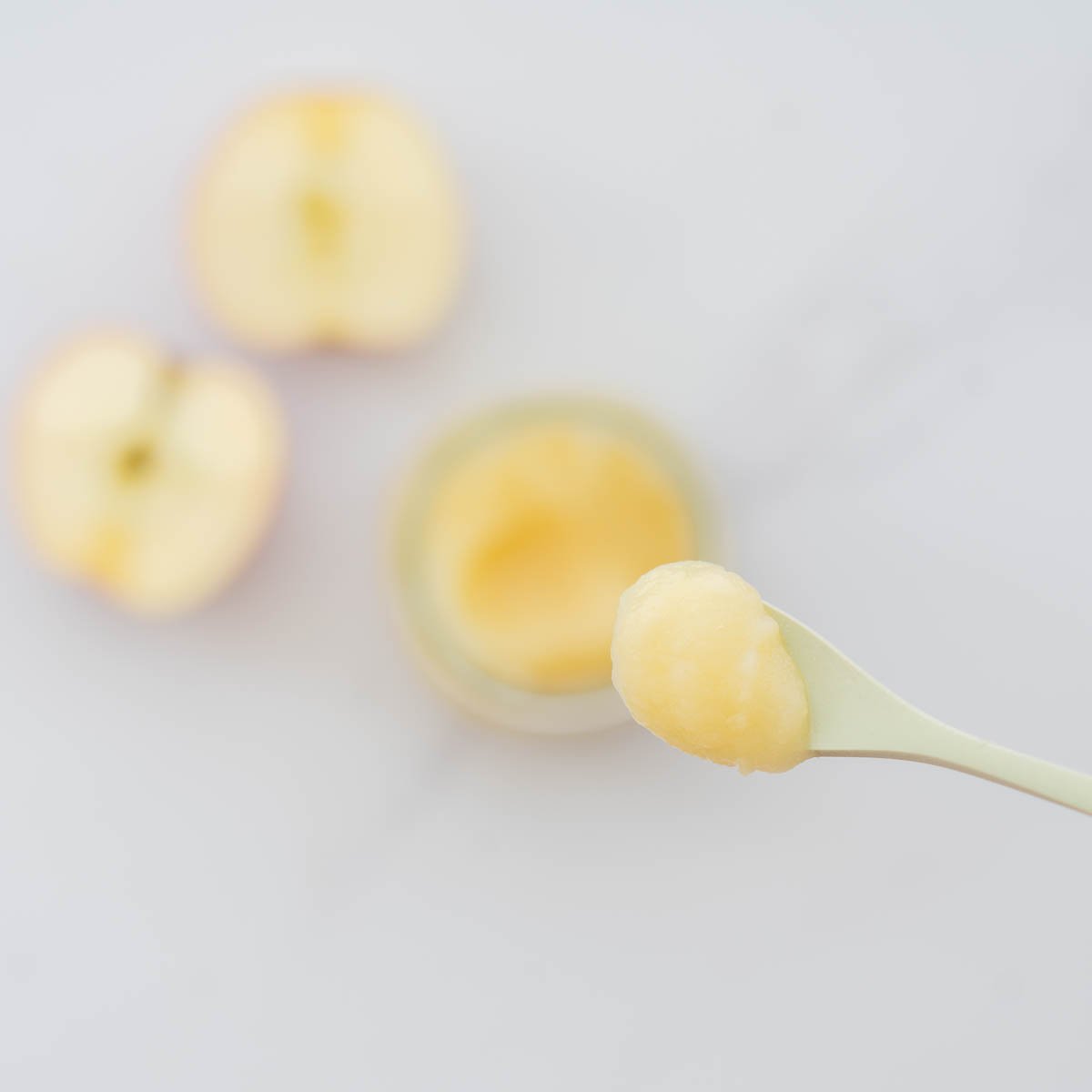 ---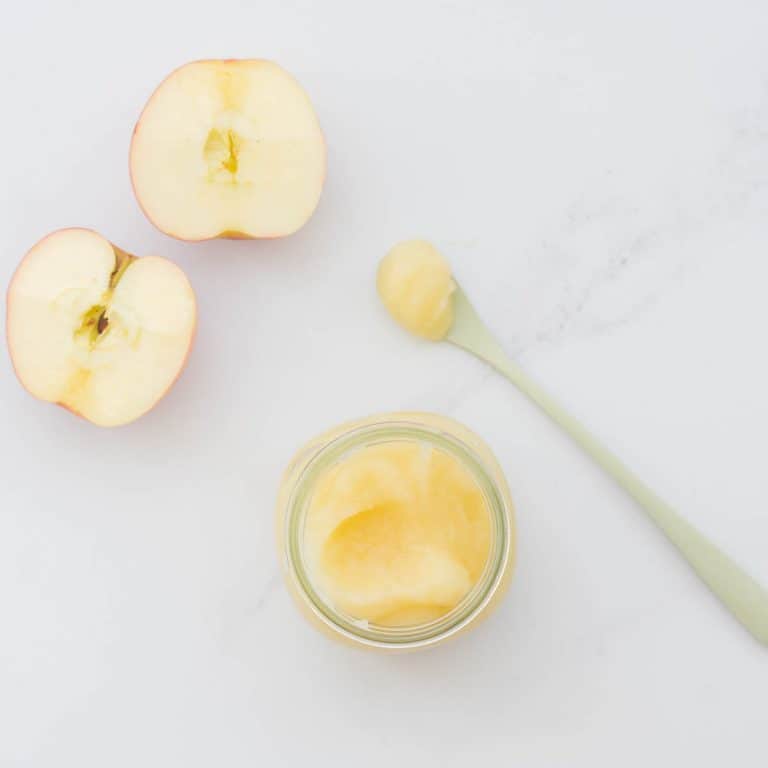 Apple puree
This homemade apple puree is an excellent first food for babies, but beyond that it is great for children of all ages and useful as a sweetener and/or egg replacer in so many baking recipes.
Print
Pin
Rate
RATE THIS RECIPE
Ingredients
4

apples (sweet variety)

300 grams

4

Tablespoons

water
Instructions
Peel, core and slice the apples

Place in a small saucepan, bring to the boil, Reduce heat and simmer until apples are tender. 5-10 minutes. The time taken can depend on the variety of apples, and the size of pieces you have cut your apple into.

Blend or process until a smooth texture is reached, add reserved liquid as needed
Notes
This recipe will yield approximately ¾ cup. You can easily increase the quantities of apple and water to make a large batch. 
Choose a sweet apple variety then you won't require any additional sweetener in the recipe: Pink Lady, Ambrosia, Sweet Tango, Jazz, Royal Gala
Don't use too much water, I know it may seem like not enough, but the apples will release quite a bit during the cooking process.
If you are blending the apples while still hot, be sure your blender/processor can be vented. Hot foods should not be blended in a sealed blender (like a bullet-style blender) as the pressure can build and may cause an explosion.
Homemade apple puree can be stored in a clean air-tight container or jar in the refrigerator for up to 4 days.
Freeze leftover apple puree in ice cube trays for up to four months so that you can use it easily in future meals and recipes.
The following spices/flavourings can be added to the apples before cooking

Cinnamon
Ginger
Nutmeg
Vanilla extract
Nutrition
Serving:
1
serving
|
Calories:
126
kcal
|
Carbohydrates:
33
g
|
Protein:
1
g
|
Fat:
0.4
g
|
Saturated Fat:
0.1
g
|
Polyunsaturated Fat:
0.1
g
|
Monounsaturated Fat:
0.02
g
|
Sodium:
3
mg
|
Potassium:
260
mg
|
Fiber:
6
g
|
Sugar:
25
g
|
Vitamin A:
131
IU
|
Vitamin C:
11
mg
|
Calcium:
15
mg
|
Iron:
0.3
mg