THIS POST MAY CONTAIN AFFILIATE LINKS.
I've shared my baby Esme having baby porridge over on my Instagram stories many many times. Finally, I am going to record how I make homemade baby oatmeal on my website.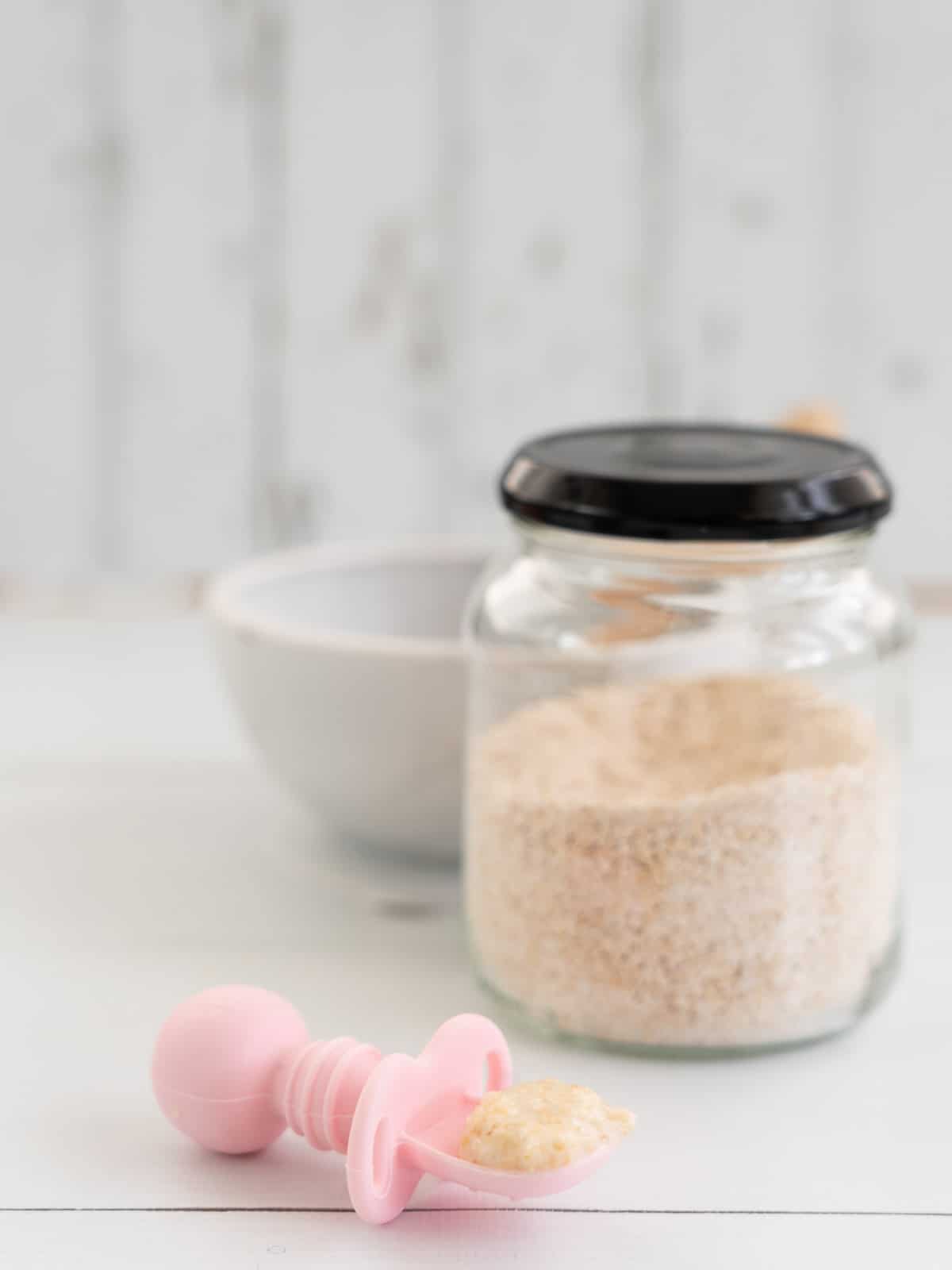 Porridge in the microwave
Ok, so I want to get this out of the way right up-front. I cook my baby porridge in the microwave. You can, of course, cook it on the stovetop, but for small batches when I'm feeding a bub I find the microwave fine.
Some people don't like microwaves and that is ok. I'm quite happy to use the microwave when preparing my babies food so I do 🙂
The best milk for making baby porridge
Right, so clearly breast milk is the best milk for babies, with formula when breast milk isn't being used. BUT the rules can change a little when babies have started solids.
Breast milk and formula remain the appropriate milk for babies under six months as a beverage. However, once your baby has started solids you can use other milks in their foods. It is ok to introduce cows milk or dairy-free alternative milks to babies when preparing their meals. It's not ok to replace one of their milk feeds (breastfeed or formulated) with cows milk under 1 year of age, but in their meals and snacks it is fine from a nutrition perspective.
Cows milk and soy milks and nut milks are potential allergens, but the latest guidelines from allergy professional bodies around the world suggest delaying their introduction is not protective against the development of a food allergy.
If you want to you can make this baby porridge with expressed milk or infant formula. For my first 2 babies I did a lot of expressing so I had a great stash for adding to meals. I didn't do as much expressing for my third and fourth babies so when making baby porridge I just used a full-fat cows milk.
Oats for babies
Oats are typically fine for most babies. I personally prefer oatmeal as a single-grain cereal for babies over rice cereal. I have always found rice cereal to be quite constipating for babies.
Oats are naturally more nutrient-dense than ground white rice, which is why I choose it as a starter cereal over traditional rice cereal. An oat allergy is rare but can present in some babies. So as with any new food watch for any symptoms of allergy when it is introduced to their diet.
I am a big fan of oats which is why many of my baby-led weaning recipes contain oats, my porridge fingers, baby pancakes, spinach baby muffins, baby cookies and my baby teething biscuits are popular oat-based recipes for babies
Essentially the basis of making baby porridge is simply to take traditional rolled oats and cut them finer using a food processor. This means the baby oatmeal you make using the fine oats will have a smoother texture for young babies and it will cook more quickly.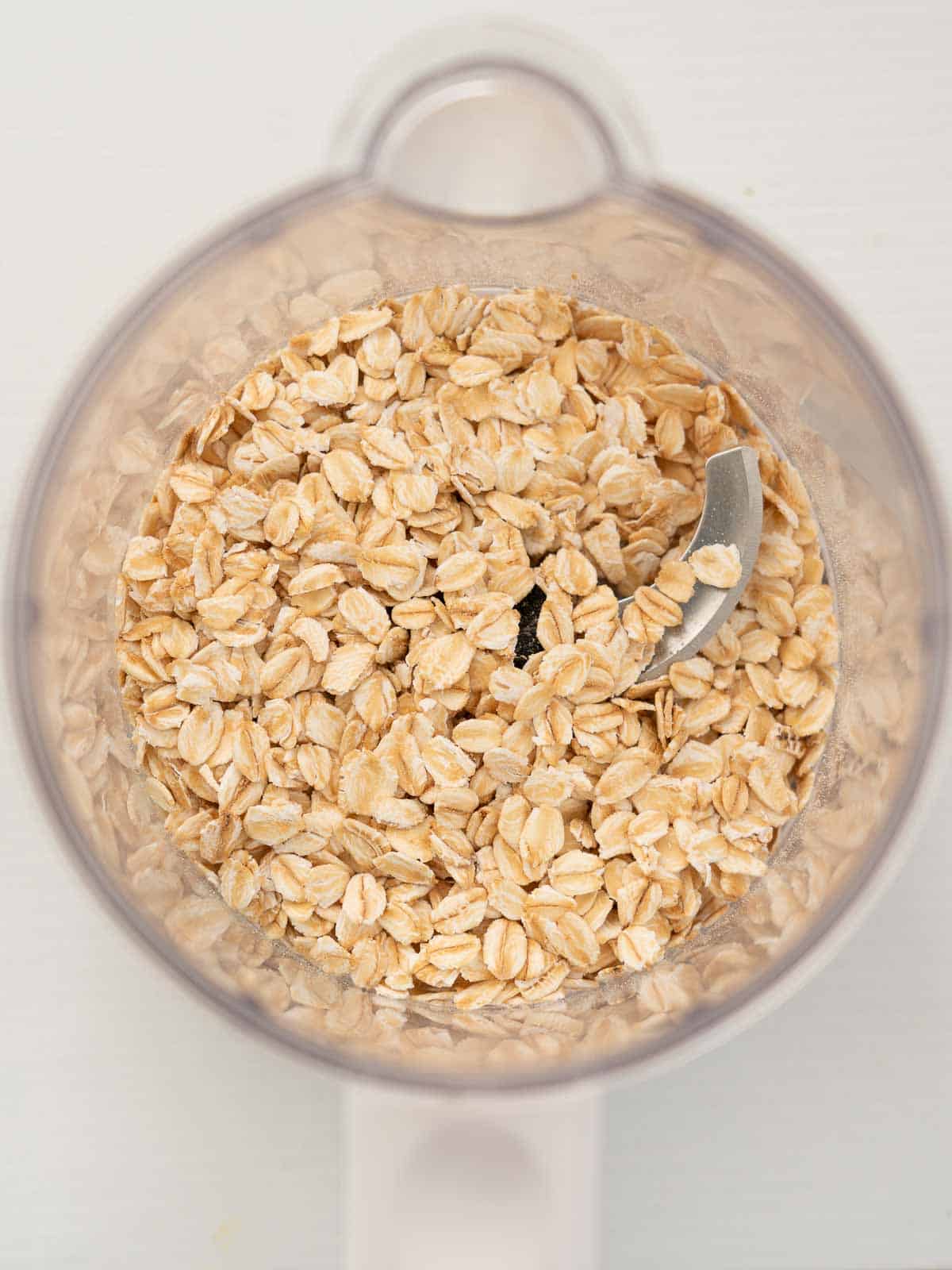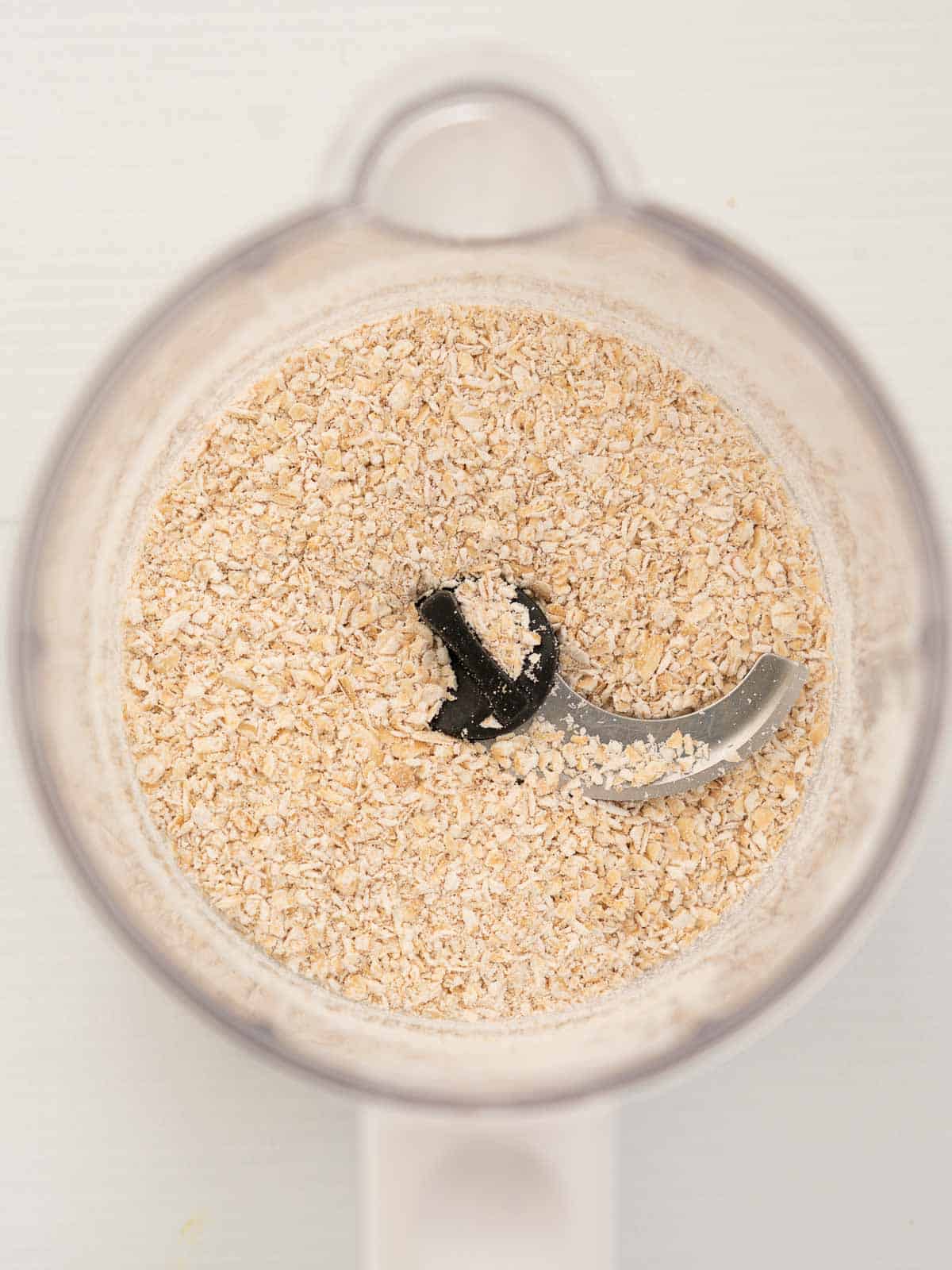 Oatmeal, Rolled Oats or Porridge
These 3 things are all the same. For me, in New Zealand I would say I use Rolled Oats to make a bowl of porridge. The same bowl of porridge in another country might be called oatmeal.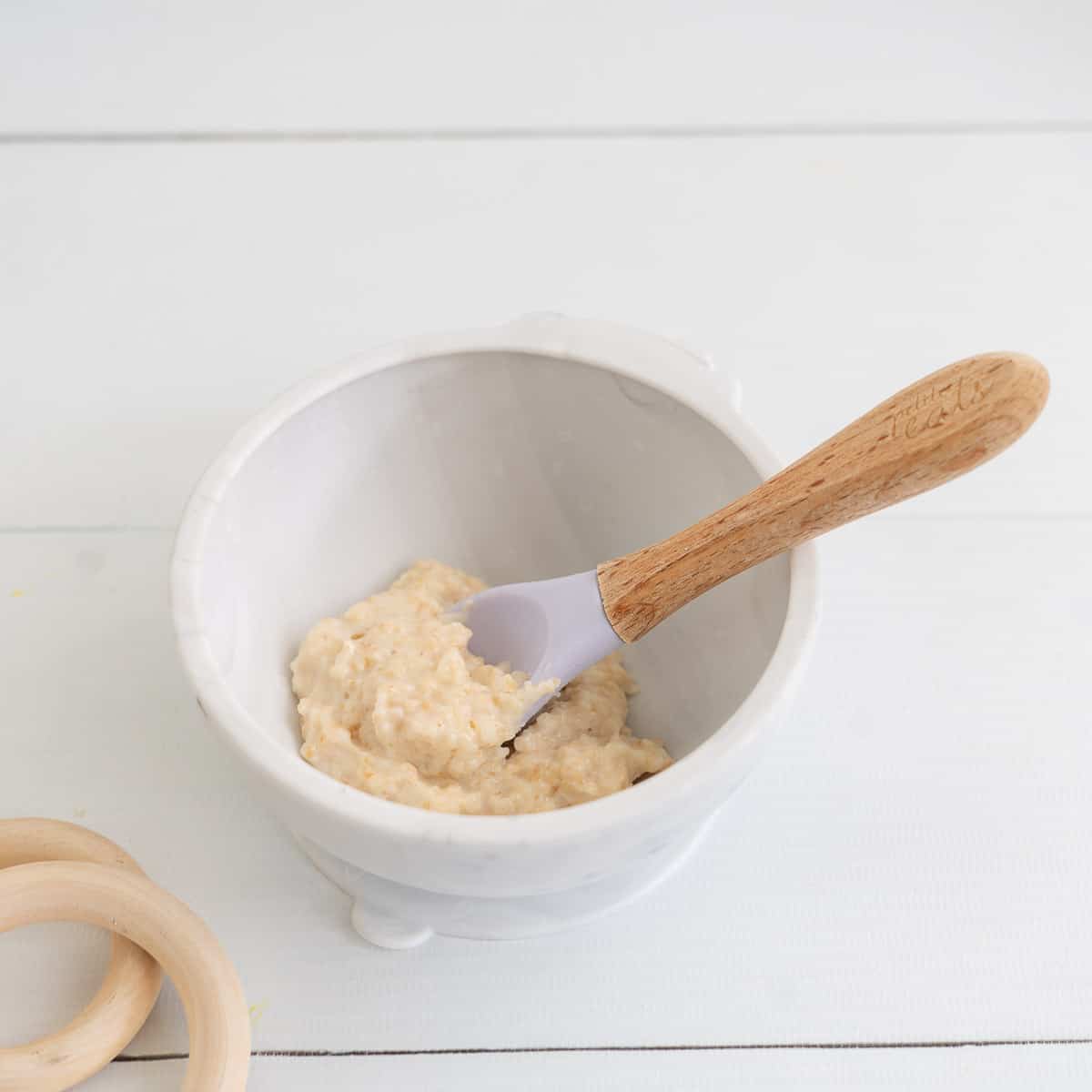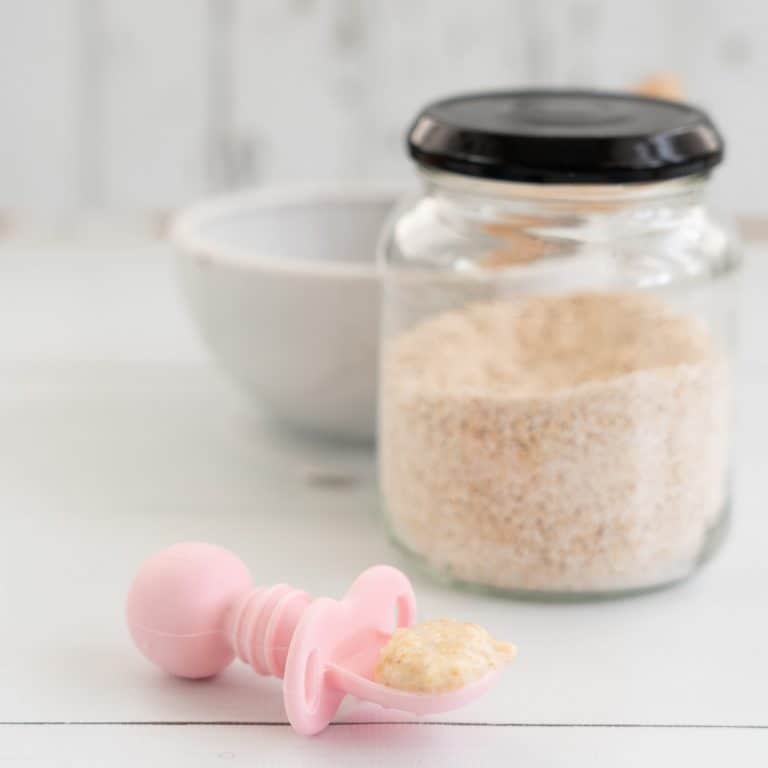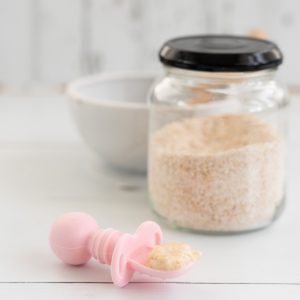 Homemade Baby Porridge
Quick homemade baby porridge, an easy and nutritious breakfast for babies
Print
Pin
Rate
RATE THIS RECIPE
Ingredients
1

tablespoon

Rolled Oats

3

tablespoon

Milk
Instructions
I prep my rolled oats for making baby porridge in bulk. I blitz approximately 1 cup of oats in my food processor until fine and store it in an airtight container in the pantry. (This makes around 20 small servings)

To make 1 small serving, Take 1 tablespoon of the baby porridge oats, and mix with 3 tablespoon of milk in a microwave-proof bowl

Microwave on high for 20 seconds, stir, microwave for a further 20 seconds and stir, allow to cool before serving
Notes
You can make up the baby porridge in any quantity. Just keep the ratio of 1 portion of oats to 3 portions of milk (1:3)
You can add any fruit purée you like to the cooked baby porridge or serve it plain, below are some ideas for flavoring the baby porridge
Mashed or purée banana
Apple purée or grated apple (for older babies managing textures)
Pear
Blueberry
Cinnamon
Vanilla
Nutrition
Serving:
1
g
|
Calories:
43
kcal
|
Carbohydrates:
6
g
|
Protein:
2
g
|
Fat:
1
g
|
Saturated Fat:
1
g
|
Polyunsaturated Fat:
1
g
|
Cholesterol:
4
mg
|
Sodium:
24
mg
|
Fiber:
1
g