THIS POST MAY CONTAIN AFFILIATE LINKS.
Hello, I get asked about baby-led weaning breakfast ideas all the time. So today I thought I would share one of my kids' favourites.
Eggy bread. Well, we (my family) call it eggy bread. I'm not sure if that's the official term. It's kind of baby french toast.
What I mean is, it is a french toast recipe stripped back to the bare minimum to make it the perfect breakfast for a baby.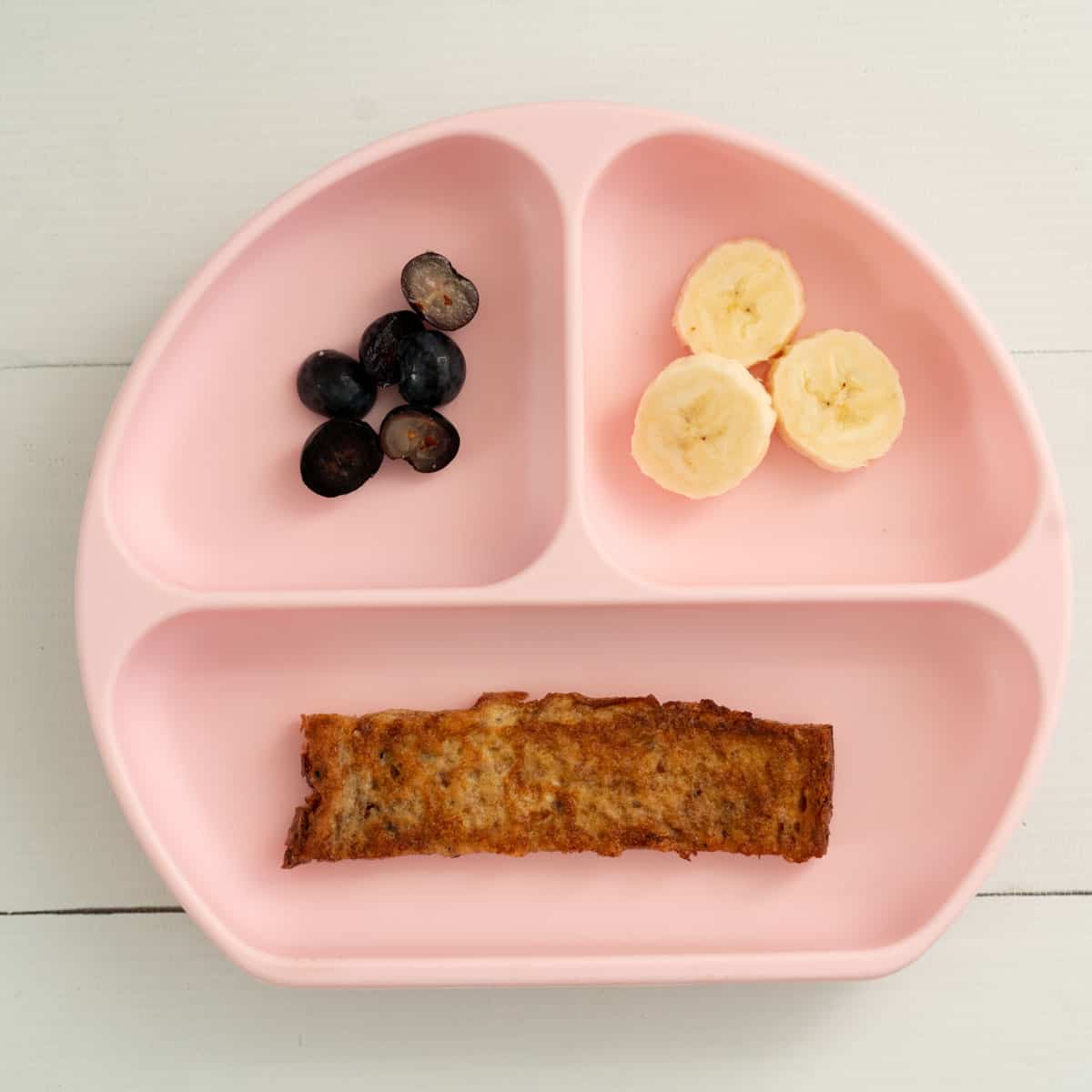 Parents can be nervose about introducing eggs to their baby, I've written a bit on eggs for baby which hopefully will give you confidence.
Small Batch Baby French Toast
Like I said, this recipe is french toast back to the very basics. Egg, milk and bread. This recipe makes 2 slices of eggy bread. You can increase the quantities if you are wanting to make more.
For my baby at this stage, 2 slices is perfect, 1 for breakfast, and then I save the other for a snack later in the day.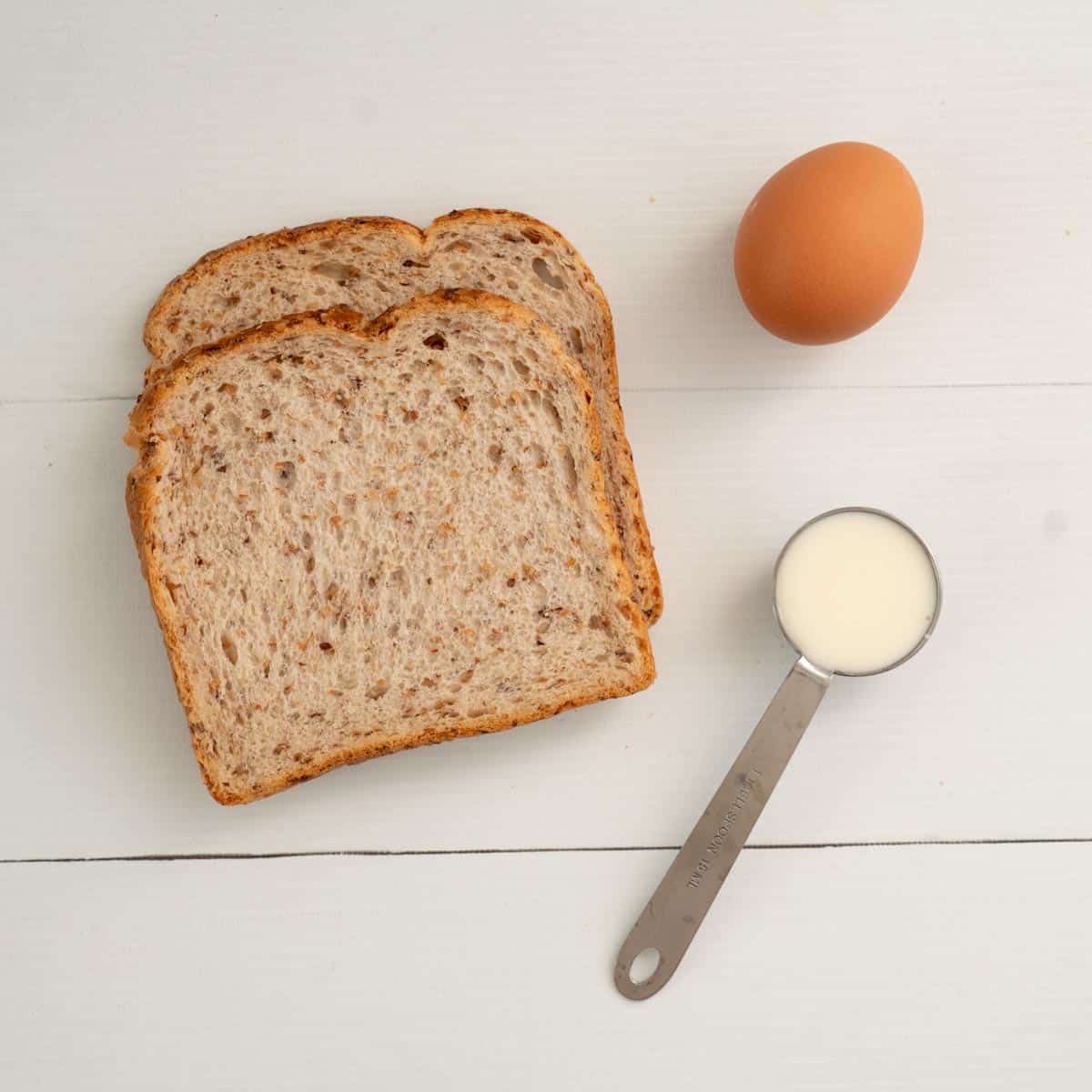 Bread For Babies
Ok, so let's talk bread for babies. I know it can be tricky to decide on the best foods for our baby.
First off, I think it is ok for babies to have bread in their diet. I think it's ok for babies to have bread in their diet from 6 months as long as they are physically able to manage it. If you are going down the baby led weaning route and your baby has been managing soft finger foods from 6 months then adding toast and bread to their diet is ok.
It's ok to expose most babies to wheat and gluten, I write about this in my article on introducing the allergy foods
Salt
Check the sodium content of the bread you buy. Aim for a bread with less than 200 mg per slice, which is usually around less than 400mg 100g.
Fibre
I don't try to over think this, and I just offer what-ever the family is having. Although I have other kids in the family so the bread we have in the house is typically not super high in fibre, but I also don't just provide white bread all the time either
Sandwich slice
For my kids' I do tend to choose sandwich sliced breads. Just because I think they don't need the hugely thick super slices, I want them to fill up on a mix of bread and toppings, not just a huge stack of bread.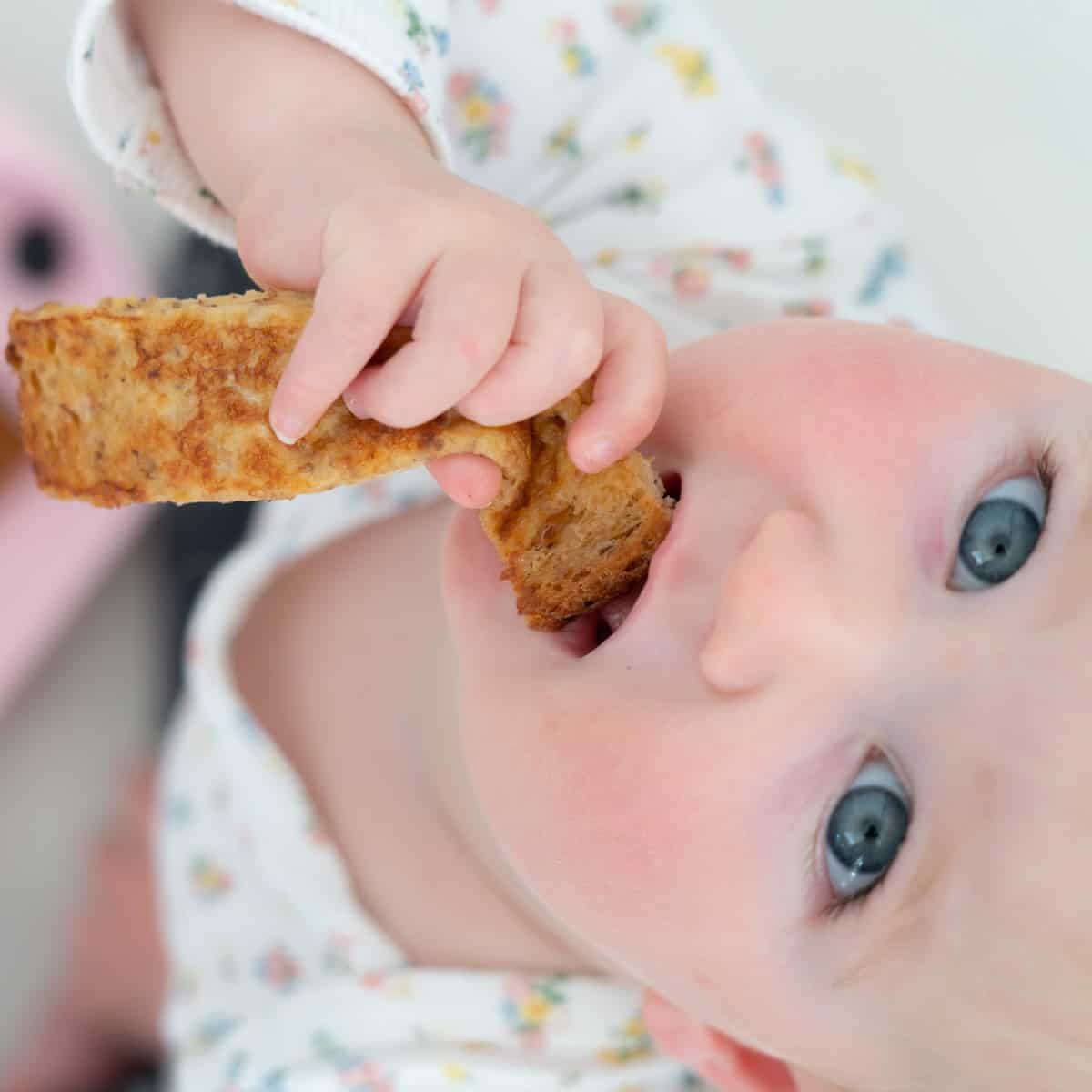 Baby Breakfast For A 6 month old?
So, As I've said babies can have bread from 6 months old, if they are managing soft finger foods. This Eggy bread recipe is essentially a super basic french toast made with egg, milk and bread. This means it is a combined food, it contains a combination of potential allergans
Namely, Egg, Wheat, Gluten, and Dairy. If your baby has not had any of these foods in their diet before, then Eggy Bread is not a good choice. This is because although it is fine for most babies 6 months of age to have egg, dairy and wheat, it is best to introduce the allergy foods separately with a few days gap between each.
Once you have introduced egg, dairy, and wheat to your baby, then this eggy bread recipe will be fine to have
The texture is soft and easy for babies to manage.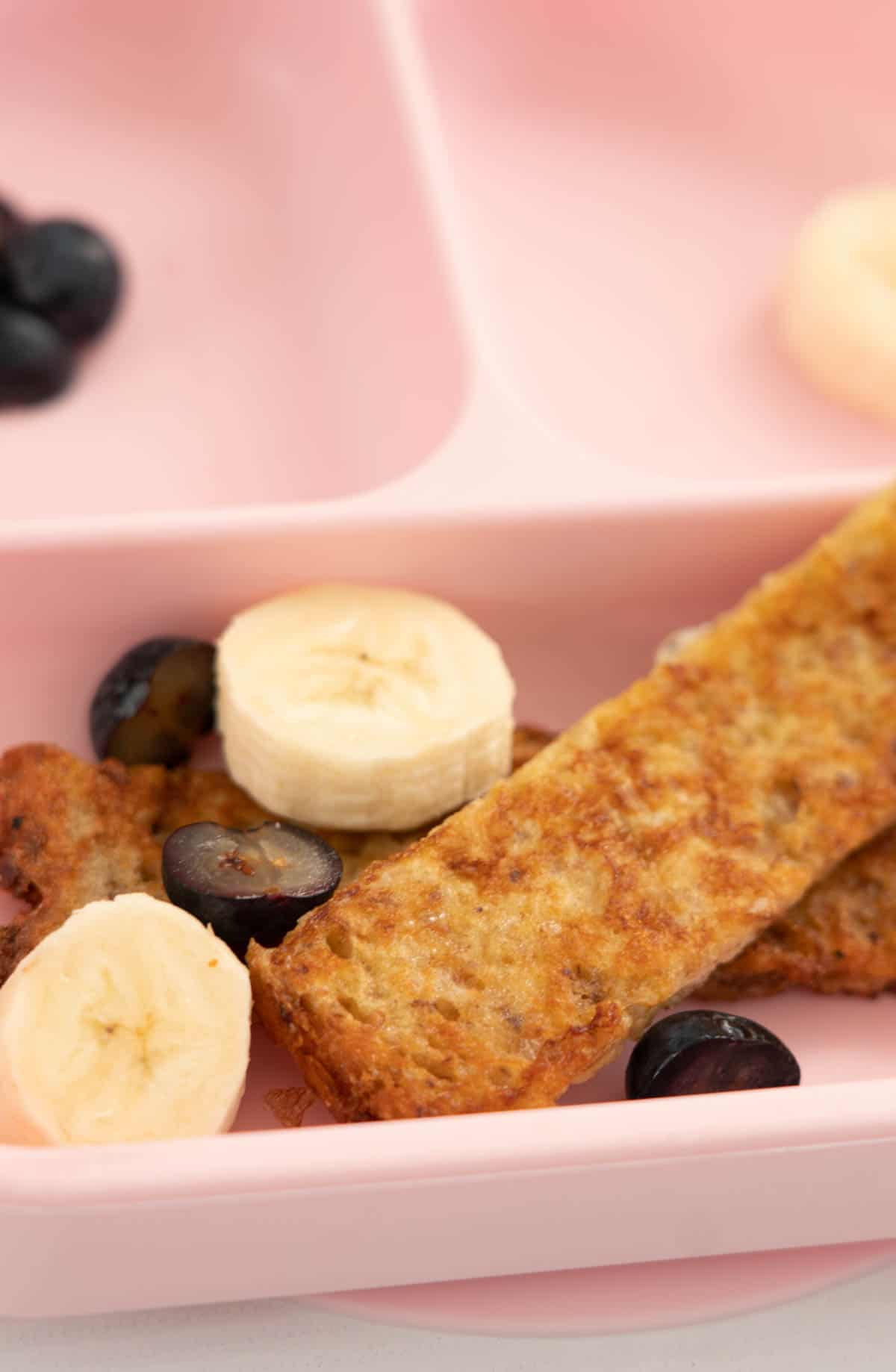 As I said at the start, I'm often asked about baby led weaning breakfast ideas, below are a few of the most popular on my site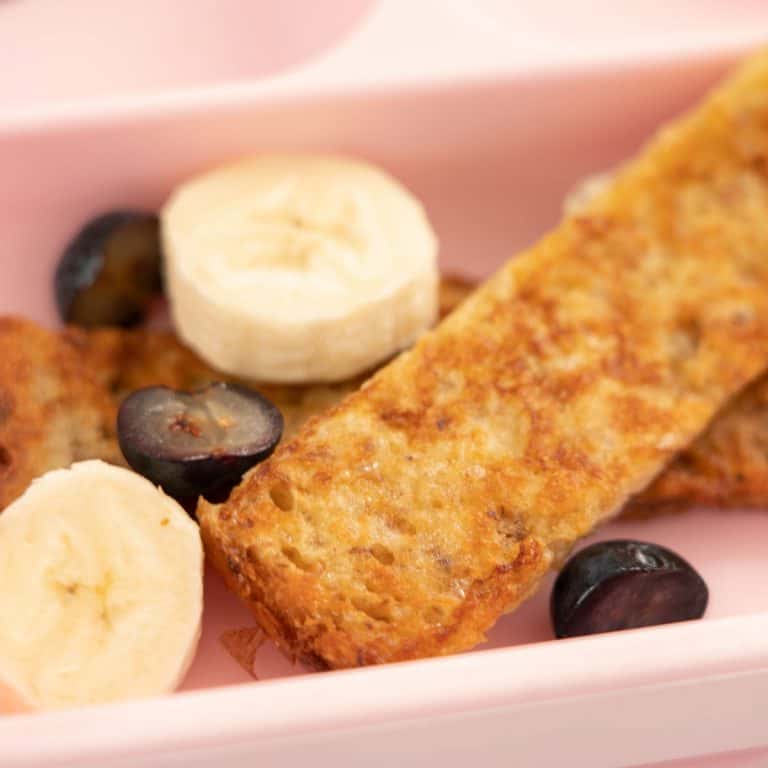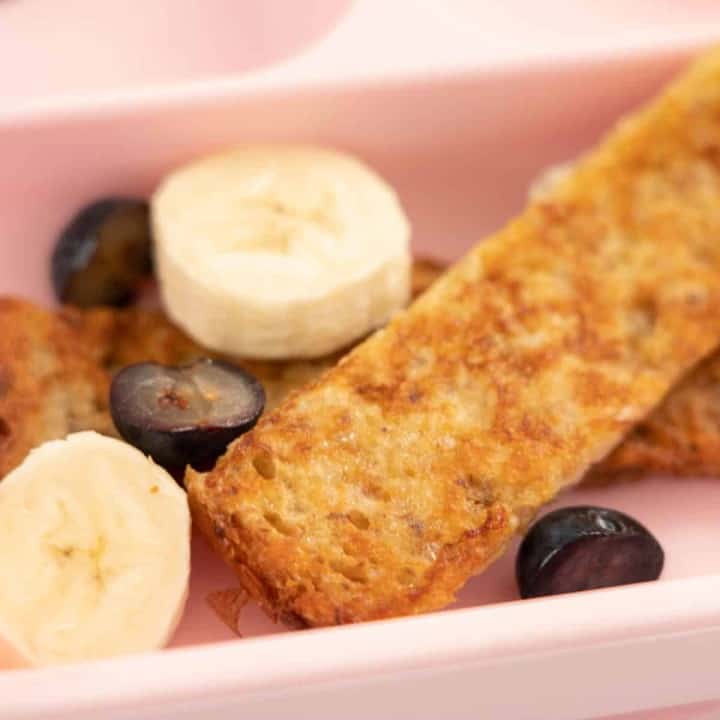 Eggy Bread
A simple eggy bread which is perfect for baby-led weaning or a toddler breakfast and snack
Ingredients
2 slices of bread
1 egg
1 tablespoon of milk
Instructions
Heat a pan or skillet to medium heat
Slice the bread into soldiers
Whisk the egg and milk together
Dip the bread soldiers in the egg and milk mix
Grease the pan with butter or oil
Cook the eggy bread until golden on both sides
Notes
A little cinnamon and or vanilla can be added to the recipe for extra flavour
You can also try adding mashed banana to the whisked egg and milk, banana french toast is delicious!
Nutrition Information:
Yield:

2
Serving Size:

1
Amount Per Serving:
Calories:

122
Total Fat:

4g
Saturated Fat:

1g
Trans Fat:

0g
Unsaturated Fat:

2g
Cholesterol:

94mg
Sodium:

192mg
Carbohydrates:

16g
Fiber:

1g
Sugar:

2g
Protein:

6g
Please know this nutrition analysis is based on the ingredients only, this recipe has not been sent to a laboratory for independent testing