We have had a waffle iron for over a year, but to date, I haven't used it a lot. Mainly because I didn't have a great recipe.
A healthy waffle recipe, a waffle recipe that my family will enjoy but will also fill them up and keep them energised for a while!
That lead me to create these wholemeal oat waffles.
As far as pancakes go, I'm across that now, I have lots of filling pancake recipes on my site that keep my kids fueled for at least a few hours.
But until now and these Banana Oat Blueberry Waffles I didn't have a successful waffle recipe that I would also deem to be a 'Healthy Waffle Recipe'.
Are waffles healthy?
Well, I think the answer to that depends on the recipe you are using. Many waffle recipes are made with plain flour, sugar and eggs.
They are typically not high in fibre. You can change that up though by being a bit more creative with your waffle recipe.
What makes a Healthy Waffle Recipe?
Everyone is going to have a different measure for what they consider 'healthy'. For me and my family when it comes to something like waffles or a breakfast food I'm looking for something with sustained energy, high fibre and low added/refined sugar.
This healthy waffle recipe made with banana, oats and blueberries ticks all these boxes. Different people will have different boxes though, so my 'healthy' could be different to your 'healthy'.
Why oat waffles?
My kids love pancakes and waffles, I find though that if we make traditional pancake or waffle recipes based on plain wheat flour, that although delicious my kids almost want a second breakfast an hour later. That totally DOES MY HEAD IN!
I find if I incorporate oatmeal into my pancake and waffle recipes the kids stay fuller for longer and don't ask for a second breakfast!
For these oat waffles I just add traditional rolled oats and my kids are fine with them. If your family prefers a softer textured waffle then you could try blitzing the oats into finer oat flour.
I do this for quite a few of my pancake recipes, it can be a great way of getting in the oats but keeping a softer pancake or waffle.
Can I give these waffles to my baby?
I believe this waffle recipe is absolutely suitable for babies. My 9-month-old loves these waffles, there are no ingredients in this that are inappropriate for babies over the age of 6 months.
Baby waffles are a great snack and breakfast for babies, with their shape they are easy to cut into fingers making them an excellent finger food and baby-led weaning breakfast.
I freeze leftovers and offer them to my baby as a snack.
Freezing and Reheating Waffles
Now I am not sure if this is the best way to freeze and reheat waffles, but it's how I do it.
To freeze I just lie my waffles flat in an airtight container. I don't find they stick together too badly, I can usually easily pull them apart when I want to defrost and reheat them.
I use my toaster to defrost and reheat the frozen waffle. My toaster has a defrost setting, I use this, once defrosted I put them in the toaster on low for one more round so they are nice and warm.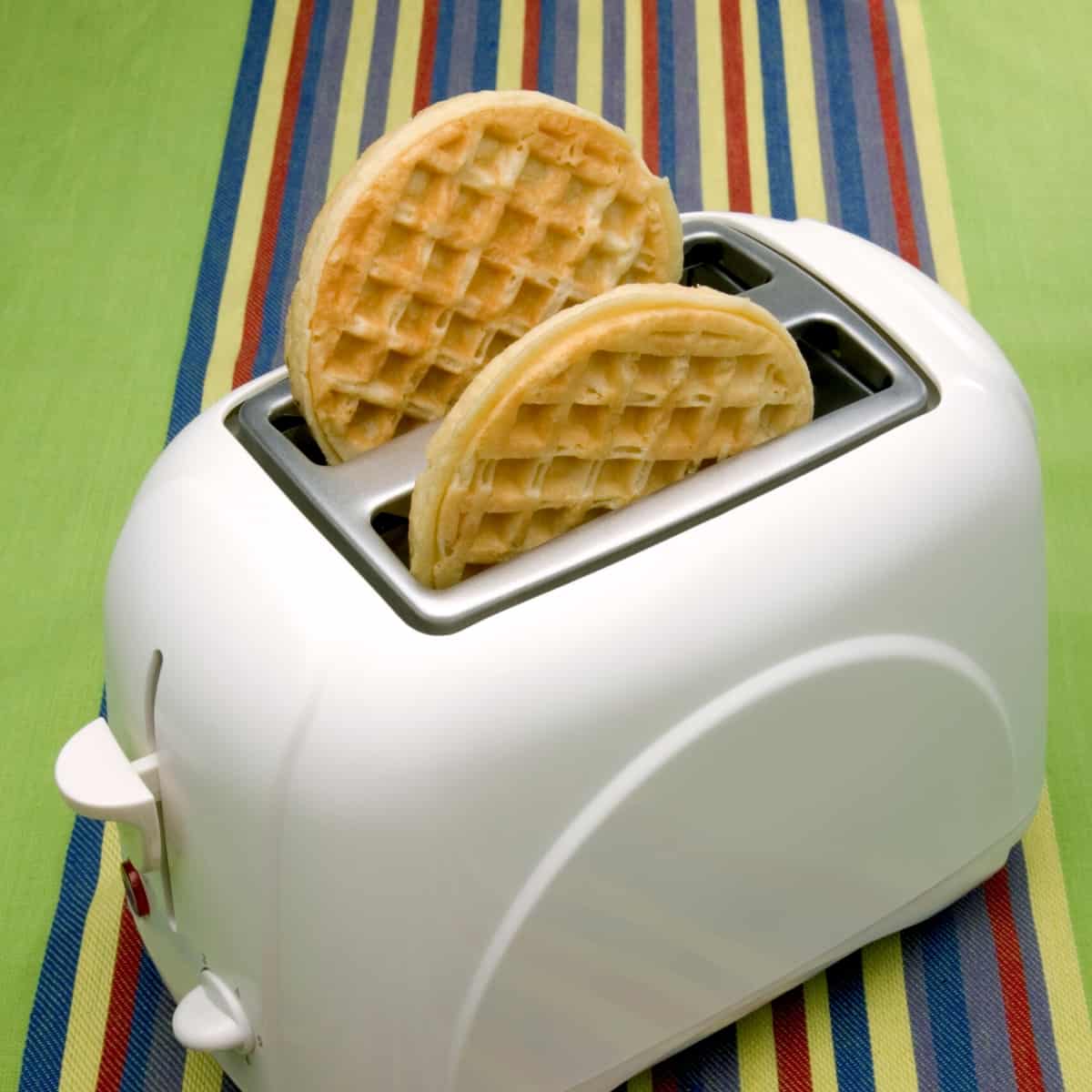 If you are on the hunt for other breakfast ideas for your family like this healthy waffles recipe then there are a few other recipes on my website that may also be useful for you.
Or for the perfect topping for these waffles try my quick blueberry compote.
Healthy Pancake, Pikelet & Waffle Recipes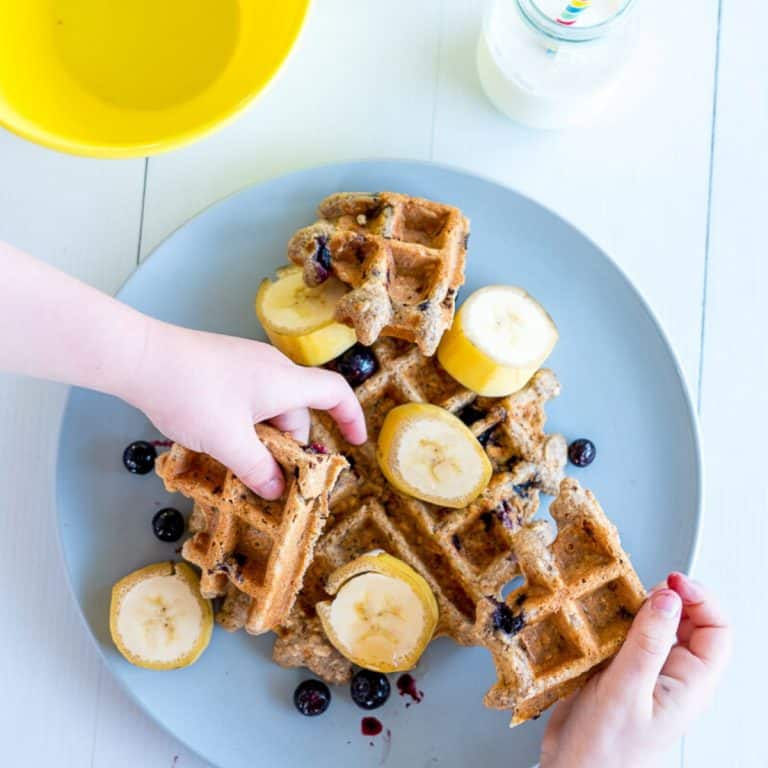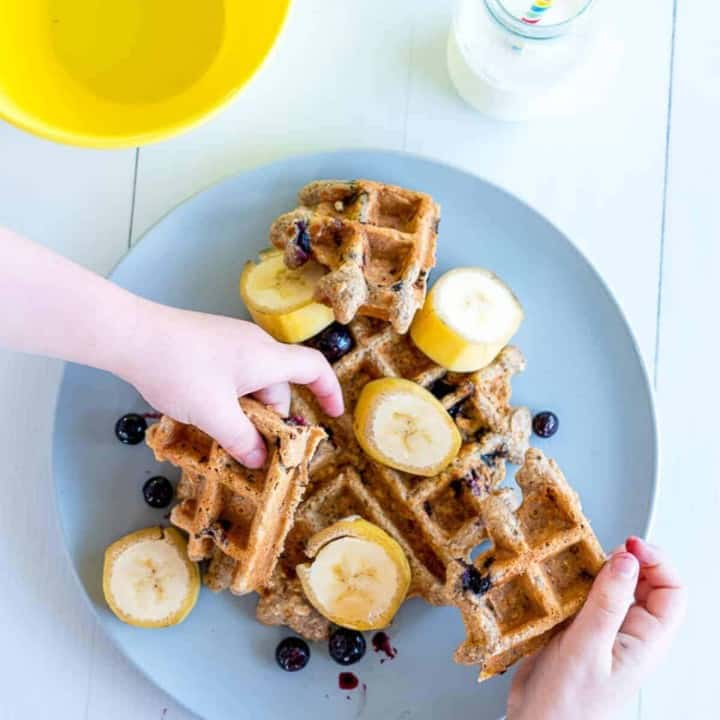 Healthy Waffle Recipe - Banana Oat & Blueberry
An easy healthy waffle recipe, These wheat and oat waffles are flavoured with banana and blueberries, a delicious high protein and fibre breakfast, snack or for lunchboxes 
Ingredients
1 cup wholemeal flour
1 cup rolled oats
1 teaspoon cinnamon
2 teaspoon baking powder
2 bananas (approx 220g)
2 eggs
1 cup milk
1 cup blueberries
Instructions
Place the dry ingredients (flour, oats cinnamon and baking powder) into a large mixing bowl
Mix the dry ingredients so they are evenly distributed
Place the bananas, milk, and eggs in a blender or smoothie maker (I use a nutribullet)
Blend
Add the smoothie mix to the dry ingredients, mix with a wooden spoon
Stir the blueberries into the waffle batter
Prepare your waffle iron as per it's instructions. I find a medium heat best for this recipe
I use spray oil on the waffle before adding the waffle batter
Cook as per your waffle iron instructions
Notes
You can use either fresh or frozen blueberries
I serve these with yoghurt fruit and a little maple syrup for a fancy breakfast, or just plain as a snack or lunchbox filler for the kids
Nutrition Information:
Yield:

8
Serving Size:

1 waffle
Amount Per Serving:
Calories:

154
Total Fat:

2.4g
Saturated Fat:

1g
Sodium:

47mg
Carbohydrates:

30.4g
Fiber:

4g
Sugar:

8.4g
Protein:

7.3g