Pikelets are a go-to recipe in my household. These banana pikelets are quick to make and my kids love them.
This recipe can be used as the base for many other pikelet ideas, both savoury and sweet. It is very very very forgiving.
What the heck is a Pikelet?
If you aren't from New Zealand or Australia, I first better explain what a Pikelet is. Or at least what a Pikelet is for me!
For me, a Pikelet is basically a small pancake. The batter for a Pikelet is a little thicker than a pancake, it usually contains eggs, milk, flour and sugar (with potentially other flavourings)
For me a Pikelet is usually served cold when I was little my mum used to serve pikelets spread with jam and butter.
Healthy Pikelets?

My banana oat pikelets are a little different to a tradtional pikelet recipe, and I think the changes I have made to my mum's original recipe turns them into healthy pikelets!

By incorporating mashed banana into the recipe, these pikelets don't need any additional sugar to make them absolutely delicious.

These are sugar-free pikelets which makes them suirbale for little ones and baby led weaning

Instead of making these pikelets with plain white flour, I use a mix of wholemeal and oats.

This means they provide more complex carbohydrates keeping little tummies fuller for longer, fueling more crawling, running, jumping and general mayhem.

Other flavour ideas for healthy pikelets
(the ones that have been successful with my kids)
Grated apple and carrot with cinnamon (a bit like a carrot cake)
3 C's, grated carrot, courgette and cheese
Grated pear and ginger (dried powdered)
Banana and desiccated coconut
Ham and frozen peas
Blueberry (note, delicious but highly messy for eating)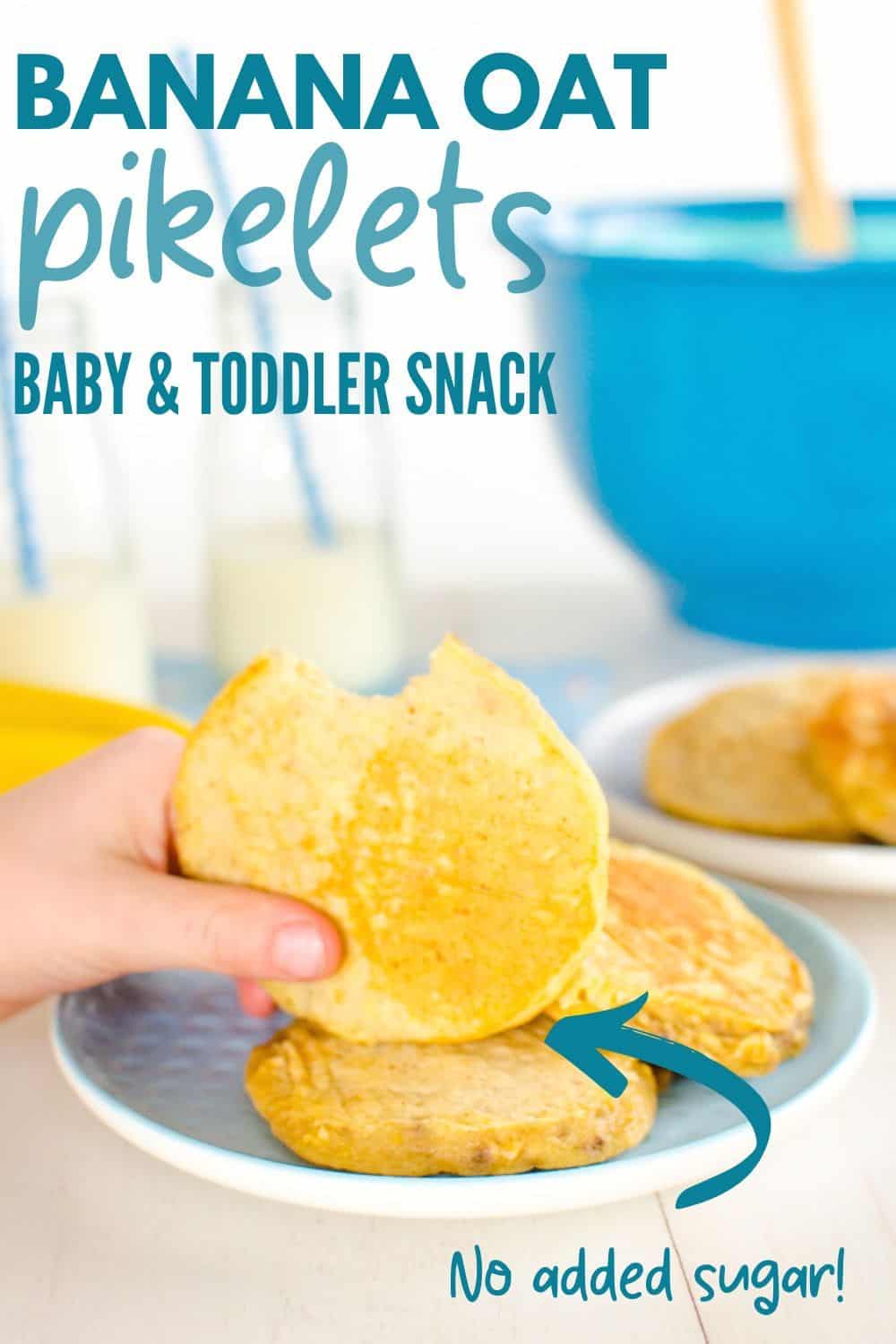 Banana Oat Pikelets
Banana Oat Pikelets. A no added sugar easy to make snack. Suitable for Baby Led Weaning, Toddler Snacks, Breakfast and Lunch boxes
Ingredients
1 egg
½ Cup wholemeal flour
½ Cup rolled oats
1 tsp baking powder
Milk (½-1 Cup)
1 banana mashed
Pinch of cinnamon or a few drops of vanilla essence
Instructions
Whisk egg
Add dry ingredients (I sort of sprinkle them in, but don't bother sifting them), whisk/mix
Add ½ Cup of milk, mix
Add mashed banana and cinnamon/vanilla
If needed add more milk if the batter is too dry
Heat a pan with a small amount of your fat/oil preference (butter, rice bran oil, coconut oil etc)
Drop in spoonfuls of the batter. Cook until small bubbles pop on the surface, flip over and cook the other side
Serve
Notes
These pikelets do freeze, and are great defrosted, but for some reason, my  crazy kids turn their noses up at them
I often keep the mix in the fridge so that I can quickly whip some up. 
Nutrition Information:
Yield:

12
Serving Size:

1
Amount Per Serving:
Calories:

56
Total Fat:

1g
Saturated Fat:

0g
Trans Fat:

0g
Unsaturated Fat:

1g
Cholesterol:

17mg
Sodium:

58mg
Carbohydrates:

9g
Fiber:

1g
Sugar:

1g
Protein:

2g
Please know this nutrition analysis is based on the ingredients only, this recipe has not been sent to a laboratory for independent testing