This easy chicken and leek pie is a firm favourite in my house. It's easy to make, really tasty, and approved by both my kids and my husband!
In full disclosure, I will let you know that one of my kids only eats the chicken from the filling, maybe one tiny piece of carrot and the pastry on top, but she's 'learning to like' stuff so that is ok.
The other 2 kiddos and my husband and I eat this chicken and leek pie with gusto, so, therefore, a winner! To be honest, I don't really care if all my kids eat all of a family meal, as long as they are happy with parts of it, they sit at the table happily and eat with us as a family then that is ALL good!
I always repeat the phrase "you do not have to eat it" ie there may be things they don't like, that's fine, move them to the edge of your plate, "you do not have to eat it" but generally over time I find they try more and more flavours and we get there in the end
Leeks are great, if you haven't cooked much with them before they are like a very very very mild onion, and if you sauté them for long enough they become amazingly sweet!
I use them in quite a few kid-friendly recipes, such as my wholemeal yoghurt dough cheese and leek scrolls and my chicken and leek baked risotto
In this type of recipe the part of the leek that you really want is the white part so when you are at the grocer, try and choose a leek that has loads of white, the greens you can chuck in a stock for extra flavour, but in this type of dish you want the white as it cooks down sweet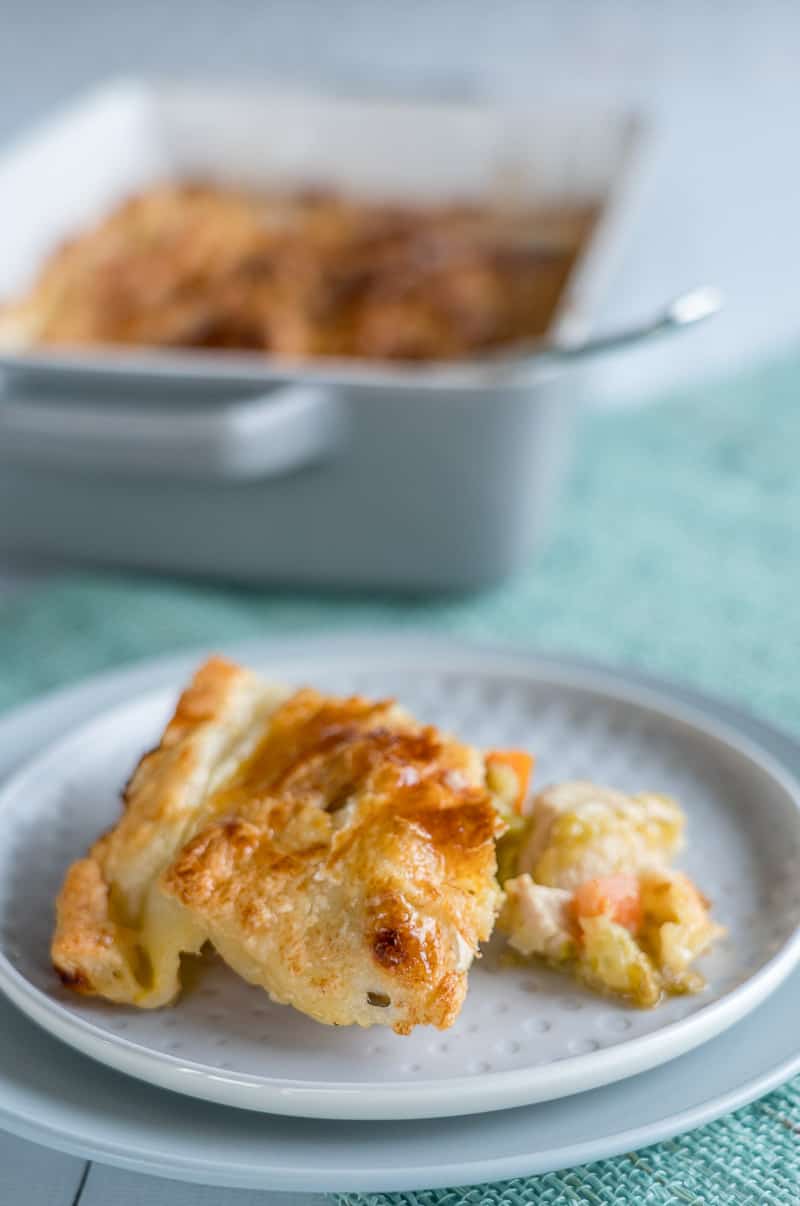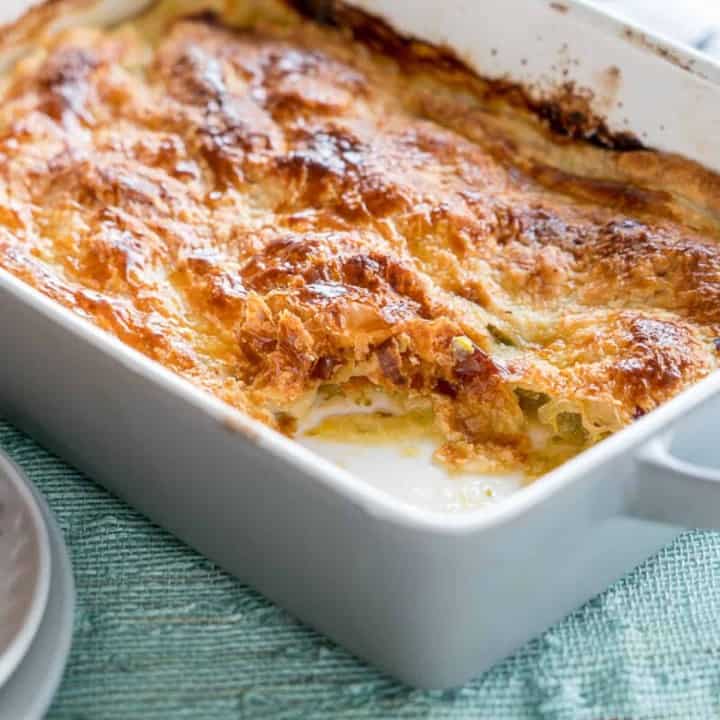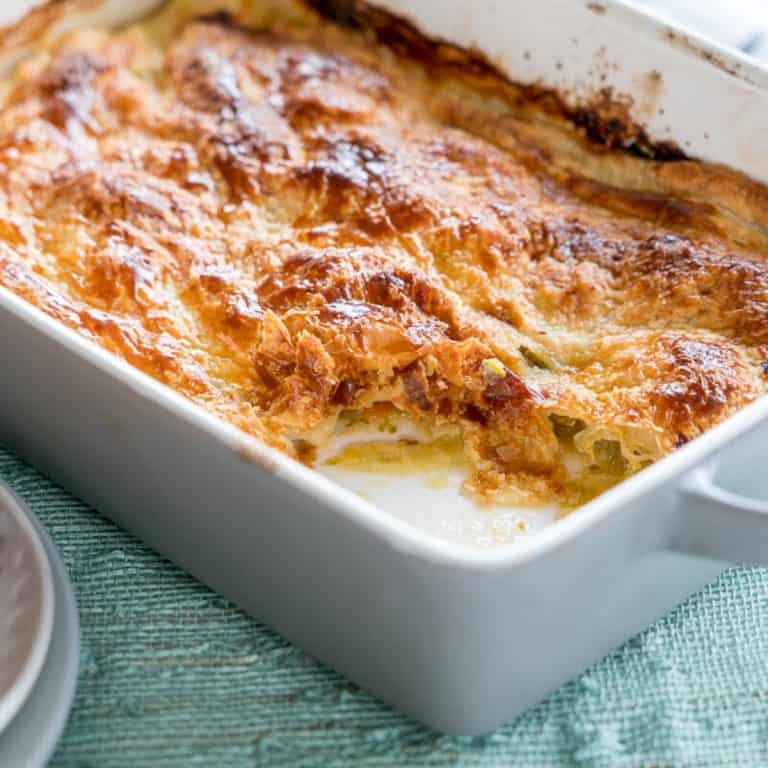 Easy Chicken and Leek Pie
Easy chicken leek pie made with puff pastry, family-friendly comfort food
Ingredients
1-2 Tbsp olive oil
1 large leek
1 medium carrot
500g chicken breast
2 medium zucchini
300 ml chicken stock
1 Tbsp wholegrain mustard (optional)
2 Tbsp sour cream (optional)
1 Sheet puff pastry
Instructions
Heat the oil in a fry pan over a medium heat
Slice the leek thinly (into rings) you want the white part, you can discard most of the green leaves, sauté the leek in the oil
Finely dice the carrot and add to the pan, continue to sauté the leek and carrot until both are tender and fragrant (approx 5 mins)
Dice the chicken, add this to the fry pan and seal the chicken, it does not need to be browned all over, it will cook in the stock which you add next
Add the stock, grate the zucchini and add this too. Bring to the boil then reduce to a simmer, Leave the mix to simmer for 20-30 mins, you want the liquid to reduce right down as this will be the filling of your pie, if it's too liquidy you end up with pie soup! You will think there is not enough liquid but as the zucchini cooks it releases moisture too, so try to wait before you add extra stck
Once the chicken and veggie mix has reduced down, turn off the heat and stir through the mustard and sour cream. You can skip this step, but I do find the flavour of the pie is absolutely amazing with the addition of these last 2 ingredients!
Grease a pie dish, transfer the chicken and veggie mix into the pie dish
Top with puff pastry, pierce the pastry with a knife to create a few holes for steam to escape, and if you have the inclination brush the pastry with a little milk
Bake at 200 degrees Celcius for 15 minutes or until the pastry is golden
Serve with mash and some green veggies, it's delicious with a 50:50 cauliflower and potato mash!
Notes
You can skip the sour cream completely or sub for any creamy type ingredients such as cream, creme fraiche or cream cheese or greek yoghurt
If you don't have wholegrain mustard dijon mustard also works well, be careful of hot English mustard it can be a little overpowering in this type of dish
Nutrition Information:
Yield:

6
Serving Size:

1
Amount Per Serving:
Calories:

251
Total Fat:

11g
Saturated Fat:

2g
Trans Fat:

0g
Unsaturated Fat:

8g
Cholesterol:

75mg
Sodium:

184mg
Carbohydrates:

8g
Fiber:

1g
Sugar:

3g
Protein:

29g
Please know this nutrition analysis is based on the ingredients only, this recipe has not been sent to a laboratory for independent testing