This chicken and leek baked risotto recipe has literally been one of my kiddo's favourites since I started making when my eldest was around 8 months old. Which means I have now been making it for going on 3.5 yrs and it is still going strong.
The oven-baked risotto recipe is very very flexible so please do not feel that you need to stick with chicken and leek. In the notes section, I have included some other combination ideas.
Oven-baked risotto is such a simple way to make risotto, but another no-stir method is to use your slow cooker, I have a recipe for that too! Slow Cooker Risotto
Butternut pumpkin is always a fav with young kiddos, I assume it is the sweetness, as such I have an entire recipe for baked risotto made with butternut pumpkin.
This baked chicken risotto is part of my allergy-friendly recipe collection, these recipes are free from the top 8 food allergens: Dairy, wheat, egg, soy, peanut, tree nuts, fish & crustaceans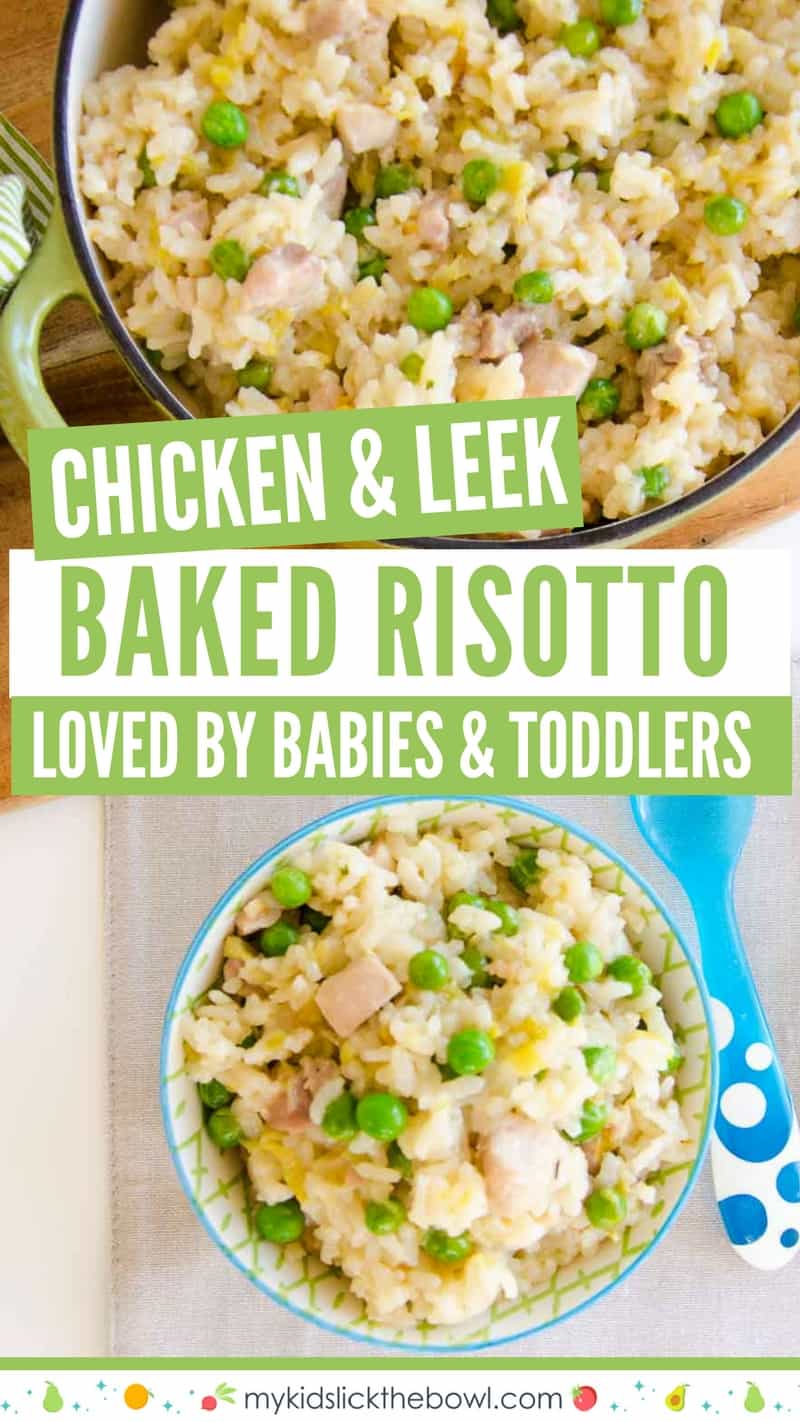 stock for baked risotto
Commercial chicken stock is fairly high in salt/sodium. I usually make my own, which I promise is very easy.
Whenever we have a chicken dish cooked on the bone: i.e. a roast or drumsticks. I pop the leftover bones in a pot. Add a very roughly chopped onion and carrot and then boil for around 30 minutes.
I'm not trying to make restaurant-quality stock, so once boiled, I just remove the bones and vege by pouring it through a colander and store in the fridge for a day or so or freeze it for later use.
I do use commercial stocks some times as well… I typically water them down a bit just to reduce the salt content. I always choose low salt stocks if I am buying them
Chicken and Leek Baked Risotto
Chicken and Leek Risotto, An oven-baked risotto that is easy to make with no continuous stirring and tastes delicious
Ingredients
2 Tbsp Olive Oil
150g Leek 
1-2 cloves garlic
250g Arborio rice (approx. 1 Cup)
Thyme 
750 ml chicken or vegetable stock
300g skinless chicken breast or thigh
130g frozen peas
Instructions
Use a large oven proof dish that has a lid. Start by heating the oil on the stove top
Heat the stock (this can be done on the stove top or in the microwave)
Add finely sliced leek and garlic sauté until softened and fragrant
Add the arborio rice with 1 -2 10 cm stalks of fresh thyme, cook for 1-2 minutes, stirring so that the rice does not catch
Add the heated stock
thinly slice the chicken and add to the rice and stock
Bring to the boil
Cover with a lid and bake in an oven at 180 degrees celsius or 350 Fahrenheit for 20 mins
Stir in frozen peas
Return to the oven for 5 mins
Serve
Notes
You can add parmesan cheese to this dish, add 50 g when you add the frozen peas
Other vegetables that work well
You can add bacon, add 1-2 rashers cooking it off with the leeks before you add the rice.  
Instead of fresh chicken, leftover roast chicken works well, or prawns/shrimp
I find freezing it in silicone muffin trays makes a great toddler portion, particularly if it is a side dish to grilled meat.
Nutrition Information:
Yield:

6
Serving Size:

1
Amount Per Serving:
Calories:

408
Total Fat:

19g
Saturated Fat:

5g
Trans Fat:

0g
Unsaturated Fat:

13g
Cholesterol:

137mg
Sodium:

255mg
Carbohydrates:

18g
Fiber:

1g
Sugar:

2g
Protein:

40g
Please know this nutrition analysis is based on the ingredients only, this recipe has not been sent to a laboratory for independent testing