Wholemeal Yoghurt Dough Scrolls - Cheese and Leek
THIS POST MAY CONTAIN AFFILIATE LINKS.
Scrolls and yoghurt dough, something I have not had on my blog before. I have seen yoghurt dough around, these apple pie scrolls by Kidgredients always look so good.
But I wanted to try it with wholemeal flour before I created a recipe using it. And you know what, I loved the flavour and texture of wholemeal yoghurt dough scrolls and so did my kids.
So these wholemeal yoghurt dough scrolls with leek and cheese were an absolute winner!
I went with a leek and cheese filling, because leeks are nice and cheap at the moment.
When leeks are cooked they become very sweet and mild so they make for a perfect kid-friendly recipe.
Wholemeal yoghurt dough requires 2 ingredients, yep, that's it, 2 ingredients, self-raising wholemeal flour and greek yoghurt.
Then the filling has 2 ingredients, meaning you only need 4 ingredients to make these cheese and leek wholemeal yoghurt dough scrolls. Well 5 ingredients if you are being really pedantic and count the olive oil!
My husband also loved these wholemeal yoghurt dough scrolls as they were.
But I have plans for a slight up-specced adult version, where I will sub out the cheddar cheese for blue cheese and add a drizzle of honey as well. I am a sucker for blue cheese and honey. mmmm cheese.
So I will be trying this combo as well as a few other scroll combos I have been dreaming about- yes sometimes I dream food!
But without further ado, on with the show,
vòila! 4 ingredient wholemeal yoghurt dough scrolls with cheese and leek filling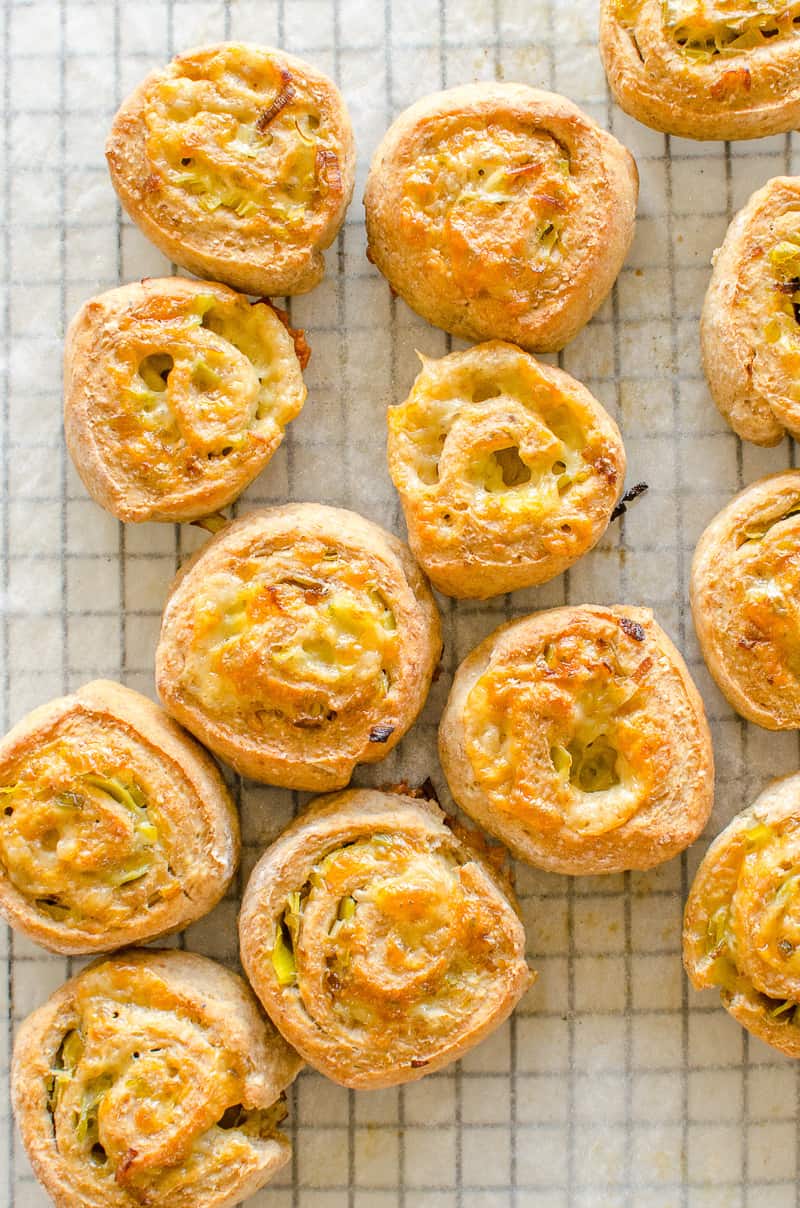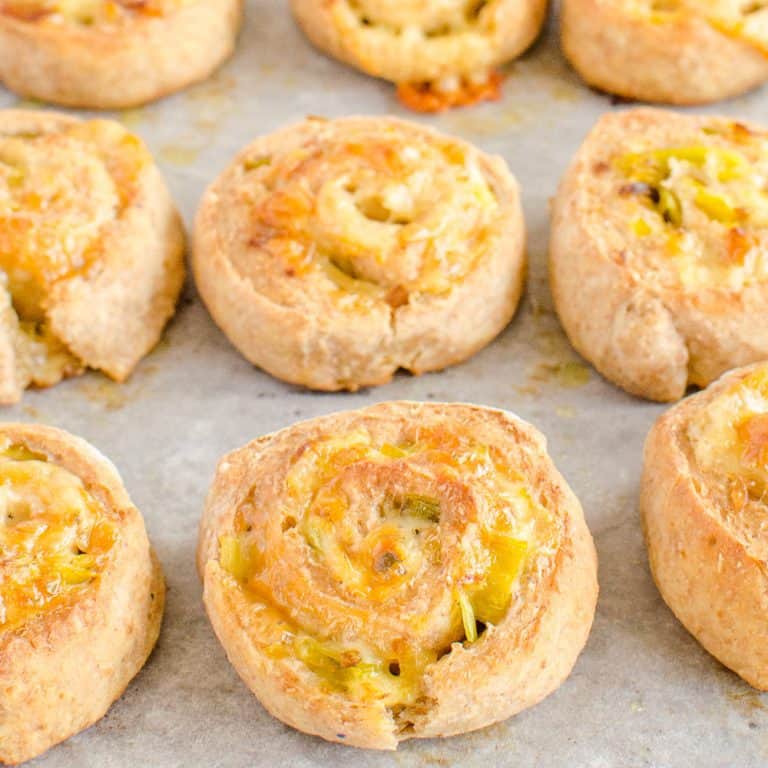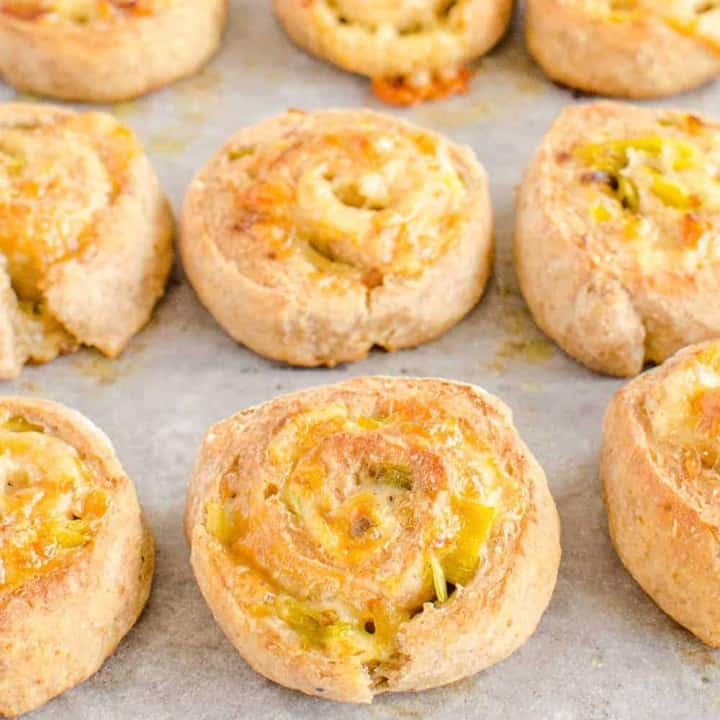 Wholemeal Yoghurt Dough Scrolls with Cheese and Leek
Easy Yoghurt Dough Scrolls, a 2 ingredient scroll dough recipe loaded with leek and cheese, or mix it up with other fillings
Ingredients
2 tablespoon Olive Oil
1 leek finely sliced- avoid 2 much of the green leaf, (200g)
1.5 Cups self-raising wholemeal flour
1 Cup Greek style yoghurt
100g grated cheddar cheese
extra flour for kneading
Instructions
heat oil in pan (medium low) sauté sliced leek for 10 mins, until soft and sweet
While leeks are cooking, mix the yoghurt and flour for the dough, it will come together into a ball with a bit of mixing
Knead the dough for 5 mins on a floured board (I use standard flour for kneading rather than wholemeal)
Roll dough into a rough rectangle, dough should be approx 1cm thick
Take cooked leeks and spread over the dough, leave approx 4cm at one long edge
Sprinkle the cheese over the leeks
Roll the dough up, starting from one long edge, to form a long sausage
Using a sharp knife, cut the sausage into 1.5cm thick slices
Place slices on a baking paper lined tray (I don't bother to glaze the scrolls, I bake them as is)
Bake at 180 degrees Celsius (360 Fahrenheit) for 15-20 minutes or until golden
Leave to cool
Serve
Store in an airtight container for 2 days, or freeze for lunchboxes
Notes
If you don't have wholemeal flour sub for plain flour
If you don't have self-raising flour, you can add 2 teaspoons of baking powder to regular flour
Nutrition Information:
Yield:

18
Serving Size:

1
Amount Per Serving:
Calories:

105
Total Fat:

4g
Saturated Fat:

1g
Trans Fat:

0g
Unsaturated Fat:

2g
Cholesterol:

6mg
Sodium:

46mg
Carbohydrates:

14g
Fiber:

1g
Sugar:

1g
Protein:

4g
Please know this nutrition analysis is based on the ingredients only, this recipe has not been sent to a laboratory for independent testing