Orange Choc Chip Oat Cookies
THIS POST MAY CONTAIN AFFILIATE LINKS.
Citrus is blooming in my garden at the moment, our orange/tangelo tree is fully loaded hence this Orange Choc Chip Oat Cookie recipe.
I also have a grapefruit tree laden with fruit. It's at times like this I wish I liked marmalade.
But back to the matter at hand, back to my new orange choc chip cookies
I am always a fan of using oats in baking for my kids I just think they are a cheap and nutritious grain. I am also always trying to reduce sugar in the baking I do.
This orange oat cookie recipe is not a no sugar recipe, but it is certainly much lower than most. It has just the perfect amount to keep 100% of the yum factor.
Kid-Friendly Recipes - Oat Cookies
Like I said I am a pretty big fan of oats and lower sugar cookie recipes.
These are some of my others: My fruit sweetened cookies are very allergy-friendly, free from, wheat, egg, dairy, and nuts.
My healthy chocolate chip cookies sneak in chickpeas as well and are so moreish, and my apple oat and raisin cookies are so easy to make and always a hit with the kids!
Oh and if you are looking for a recipe for the kids to make, then you can't go past Anzac Biscuits, so delicious and so easy.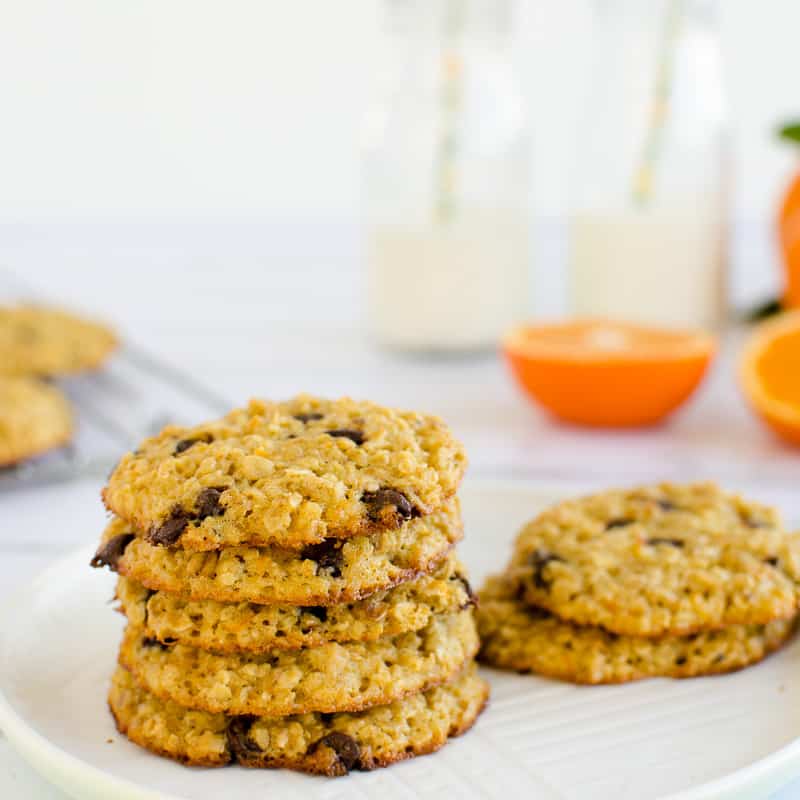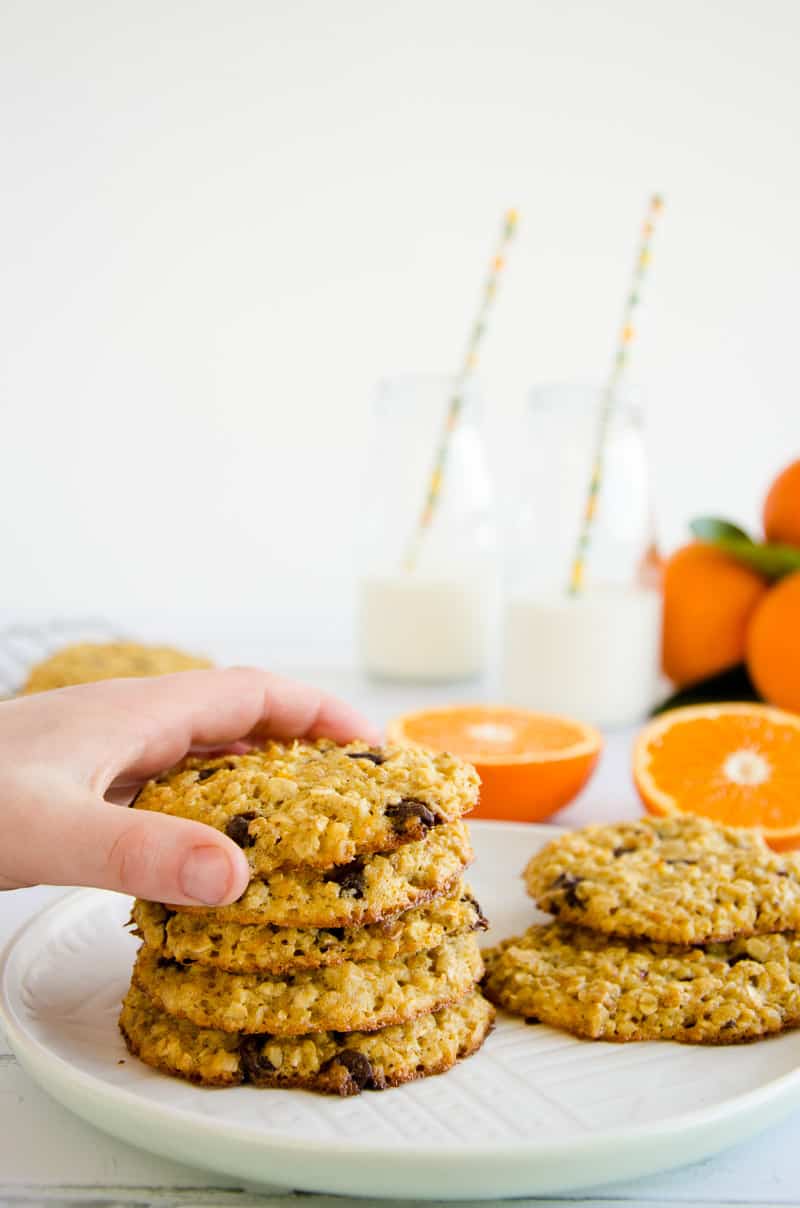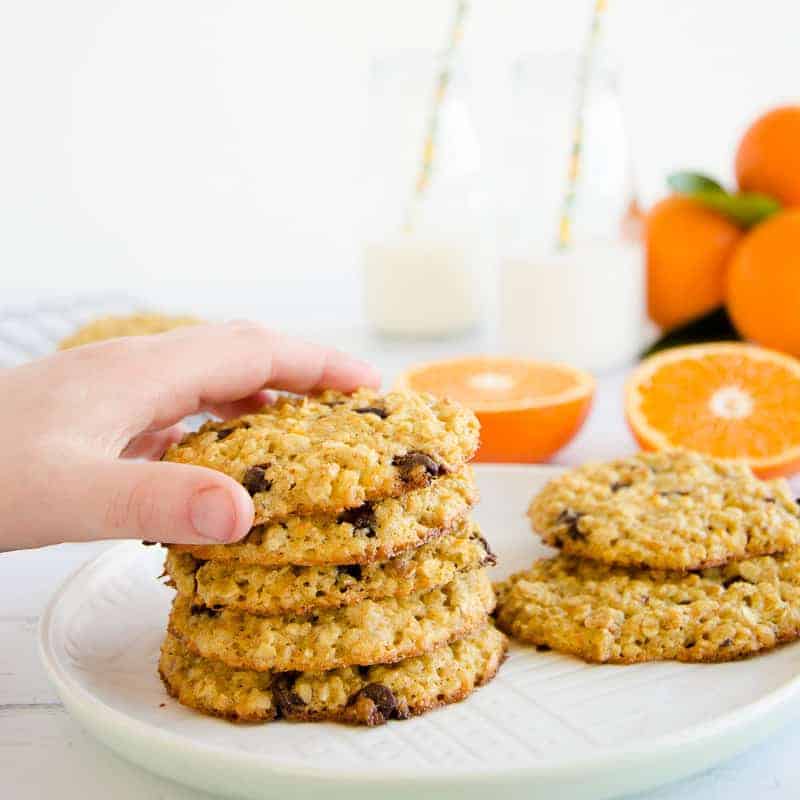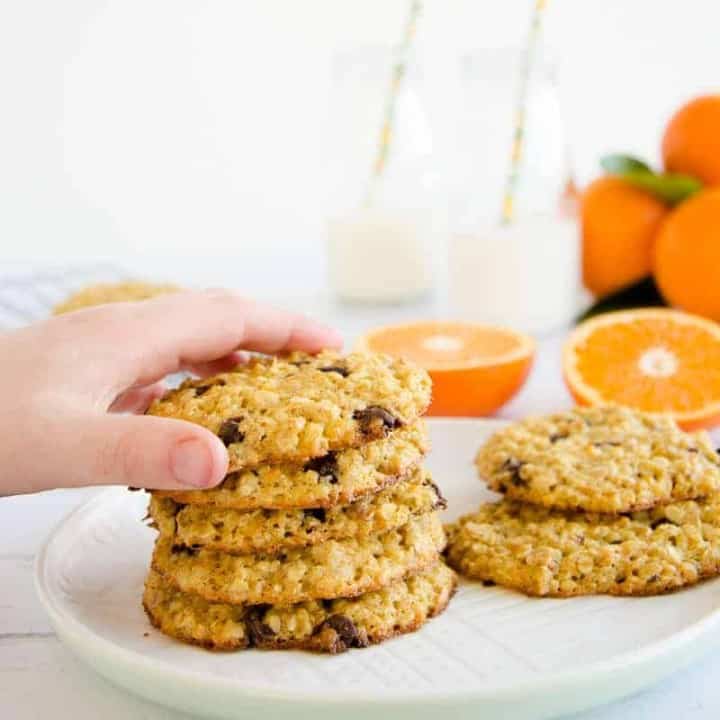 Orange Choc Chip Oat Cookies
Orange choc chip oatmeal cookies, an easy recipe, made with basic ingredients lower in sugar, soft chewy style cookie #cookies #chocchipcookies #easybaking
Ingredients
1 cup quick cook oats, the finer oat (100g)
¼ c brown  sugar (40g)
1.5 teaspoon baking powder
2-3 tablespoon regular flour
40g  melted butter
1 egg
1 teaspoon vanilla essence
Juice & zest of one orange ( 50ml juice, 1Tbsp zest)
20g dark choc chips (⅕ of a cup
Instructions
Watch the quick recipe video before you get started, scroll up a little to find it
You will need 2 bowls
In the first bowl place the first 4 ingredients, i.e. the dry ingredients, mix them together with a spoon or fork to ensure they are combined
In the second bowl whisk the wet ingredients including the zest of the orange
Add wet ingredients to dry ingredients, mix to combine (if you feel the mixture is too wet add a little extra flour, as it will depend a little on the size of the egg and the size of your tablespoons, in NZ our tablespoon are 15ml, where in many countries they are 20ml
Lastly, stir in the choc chips, you could add more than I did, but this amount was perfect for my kiddos
Place spoonfuls onto a baking tray, generous tablespoons resulted in 12 cookies, you can do smaller spoonfuls, shape the cookies with the back of your spoon to make them roundish... they don't need to be perfectly round, but you do want the flattish, they will spread a little during baking
Bake at 180 degrees Celsius, 360 Fahrenheit for 12-15 mins until just golden on the edges
Cool
Serve
Nutrition Information:
Yield:

12
Serving Size:

2
Amount Per Serving:
Calories:

123
Total Fat:

4g
Saturated Fat:

2g
Trans Fat:

0g
Unsaturated Fat:

2g
Cholesterol:

23mg
Sodium:

111mg
Carbohydrates:

19g
Fiber:

1g
Sugar:

7g
Protein:

3g
Please know this nutrition analysis is based on the ingredients only, this recipe has not been sent to a laboratory for independent testing