Over the past couple of weeks I have been reacquainting myself with good old fashioned Weetbix, Weetabix if you are in the UK, or Wheat Biscuits if you are buying generic brands (which is totally fine). When I say reacquainting myself I don't mean from a breakfast perspective, Weetbix is a regular staple at our house, but I have been trying to use it more in my recipes. Because it is cheap, accessible and such a kid favourite! This no-bake apricot Weetbix slice is my second Weetbix recipe on my site.  The no-bake chocolate weetbix slice was such a favourite with my readers I've decided to add another! This one is even easier with only 3 ingredients. Yep 3 ingredients are all you need to make this Apricot Weetbix No-Bake Slice and hopefully, you will have all 3 of them in your cupboard.
I made my no-bake apricot weetbix slice in my brand new red racing machine of a food processor. I was very lucky to be given this food processor by Magimix New Zealand.  I have had Magimix food processor for 15 yrs, I was given my first as an engagement present it still runs beautifully but was looking a bit shabby for my videos and photos. So I am so pleased to have a new one. A big thank you to Magimix for making this possible.
This no-bake apricot weetbix slice recipe are part of my allergy-friendly recipe collection, these recipes are free from the top 8 food allergens: Dairy, wheat, egg, soy, peanut, tree nuts, fish & crustaceans. The changes to this recipe needed to make this allergy friendly are in the notes of the recipe.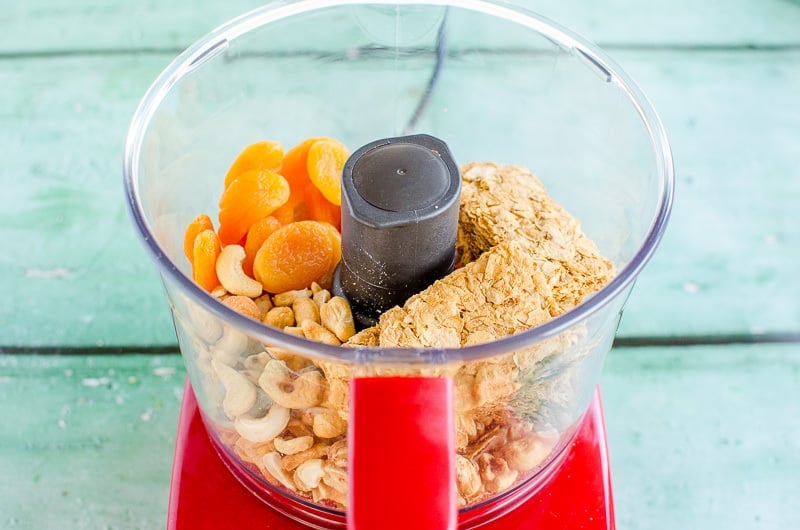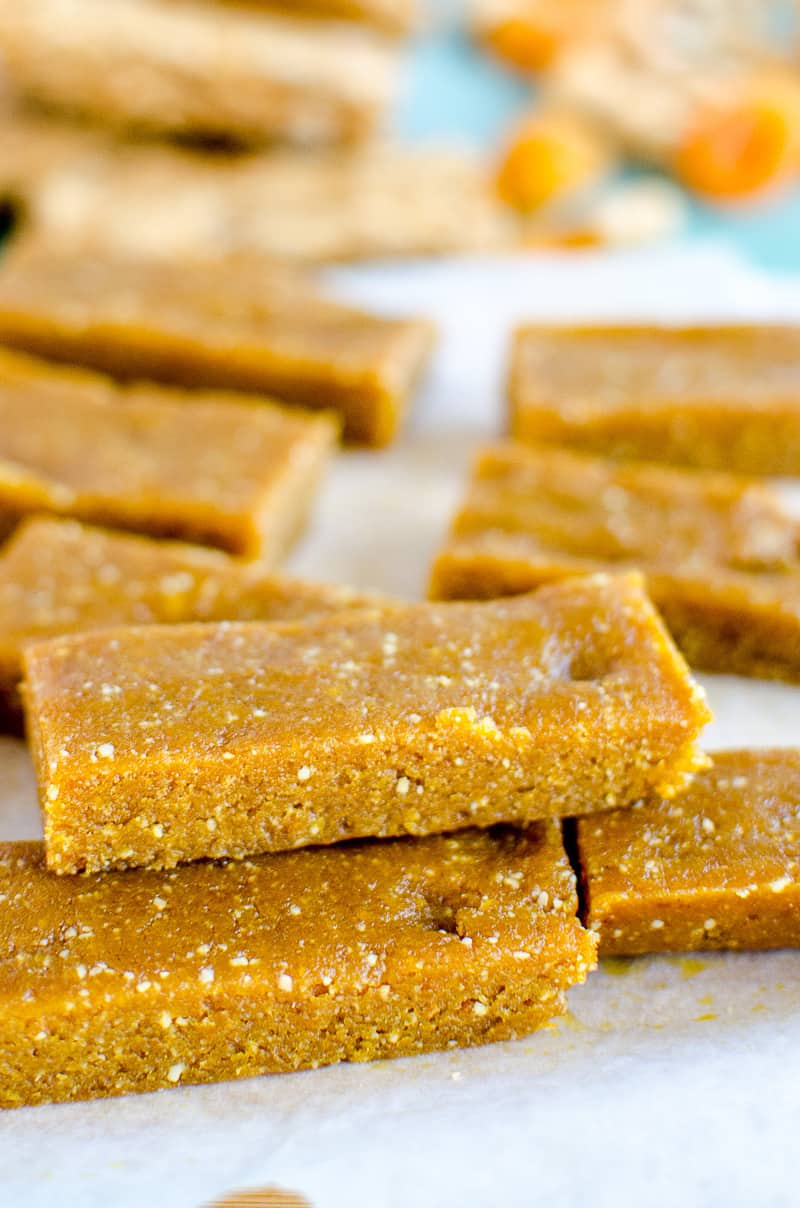 Watch how easy this no-bake apricot weetbix slice is to make
Print
No-bake apricot weetbix slice
Yield 16 Pieces
Ingredients
4 Weetbix, Weetabix or Wheat Biscuits
1 Cup unsalted roasted cashews
1 Cup dried Apricots
Water
Instructions
Watch the quick recipe video before you get started, scroll up a little to find it
Check the notes at the bottom of the recipe for little bits of extra info and help
 Place all ingredients in a food processor, blitz until everything is very finely ground
Add water (1-2 Tbsp ) slowly until the mix it comes together into a ball
Press into a  baking paper lined loaf tin (it should be around 2cm thick when pushed into the base
Chill in the refrigerator for 2 hrs
Slice and serve
Stores best in the refrigerator or freezer. 
Notes
I prefer roasted nuts in this recipe as I find the flavour better, but it will work with unroasted nuts too. 
If your food processor is not really very robust try soaking the dried apricots in warm water then draining well before making the recipe. Most food processors should handle it fine though
To make this recipe nut-free, cashews can be substituted with sunflower seeds, gluten-free weetbix can be used for a wheat and gluten free alternative
Courses Snack