Simple Rice Bubble Slice Recipe
THIS POST MAY CONTAIN AFFILIATE LINKS.
My daughter's 6th birthday party is coming up, so Party Food is top of mind.  Let me tell you why I think Rice Bubble Slice is a perfect birthday party food for kids.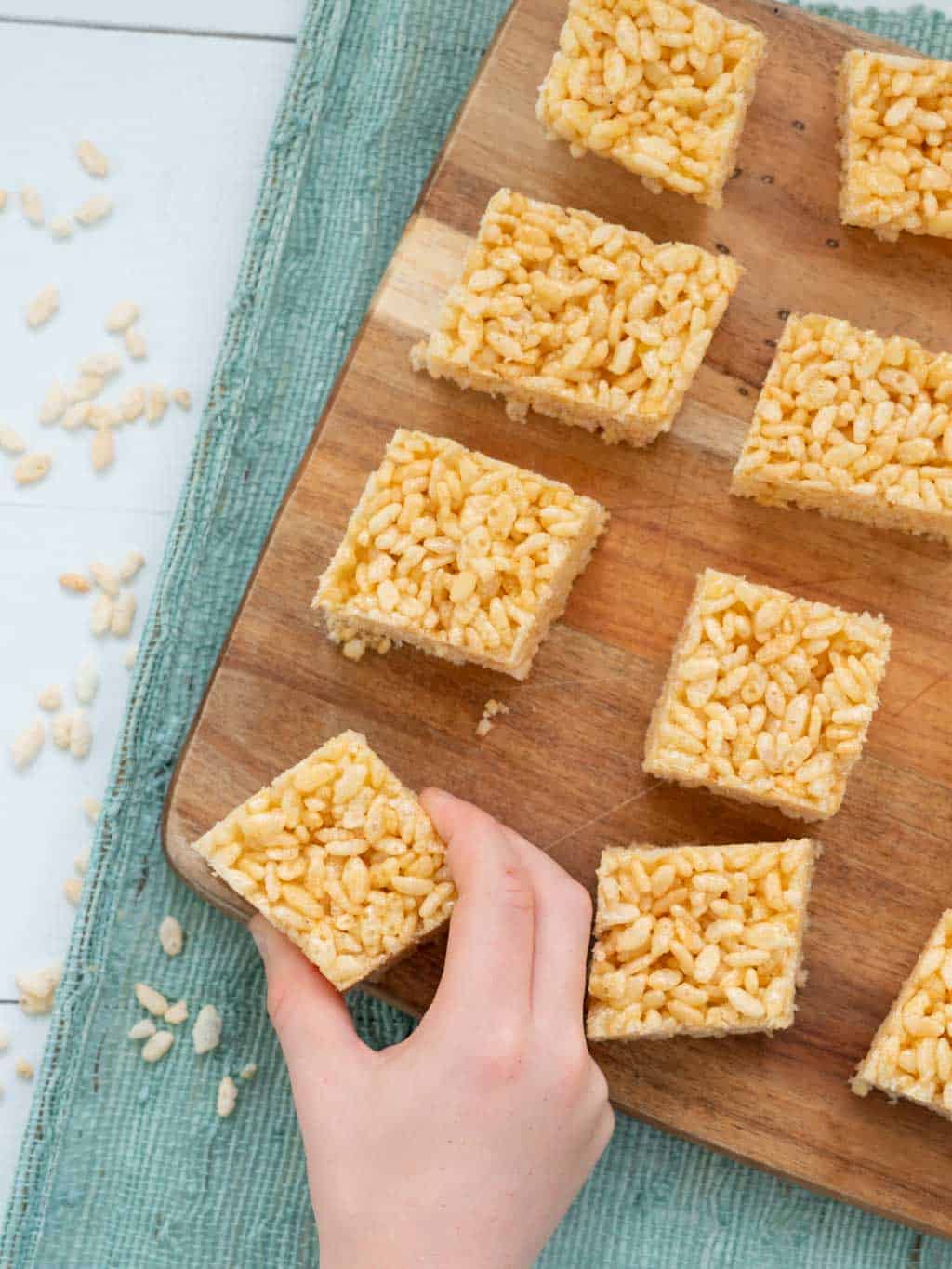 Why Rice Bubble Slices Are Great!
There are 3 reasons I think a good rice bubble slice recipe is great for birthday parties, and guess what none of my reasons is because it's particularly healthy. But all of my reasons I think are just as important
Kids like rice bubble slice!
It's really easy to make!
It's an inclusive recipe, really easy to make so that it is suitable for everyone that attends the party even if they have a food allergy
The third reason, I think is most important. I think it's great for us all to have the odd recipe up our sleeve that is allergy-friendly so that we are prepared for things like birthday parties and playdates.
I think it's important for kids (even if they have special dietary needs) to feel included at birthday parties.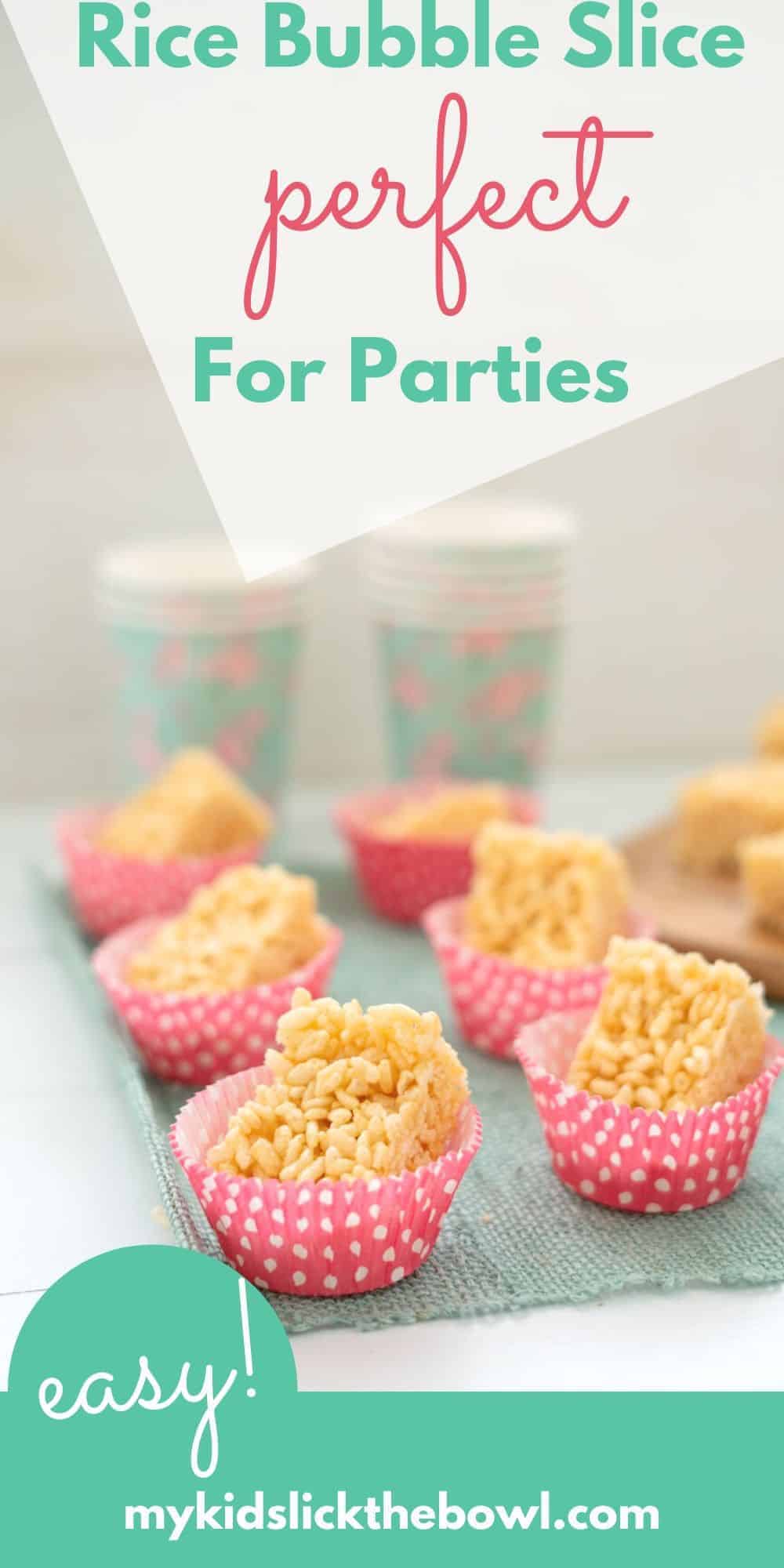 Basic Ingredients
My Rice Bubble slice is made with just 4 ingredients.  Rice bubbles  or Rice Pops in this instance (I think these are known as Rice Krispies in the northern hemisphere) Honey, Butter and Sugar. So from the outset, my rice bubble slice is already nut-free, egg-free and wheat-free.
We can make a few other changes if needed to make the recipe also dairy-free, gluten-free and without honey.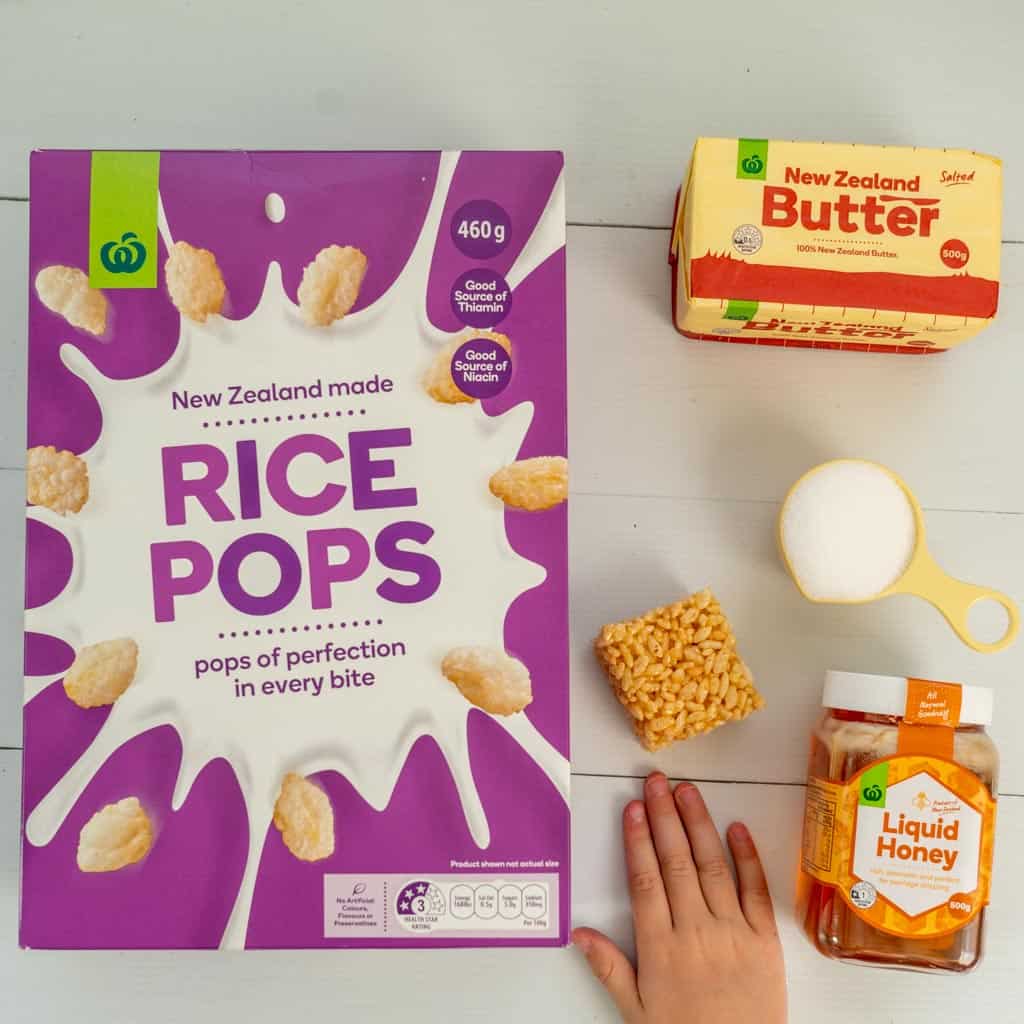 How to make dairy-free rice bubble slice?
I typically use butter when making this recipe. But the butter can be substituted for either coconut oil or dairy-free margarine such as Nuttalex and it works absolutely fine.
If using coconut oil, I find adding a small pinch of salt makes the slice a little bit tastier. This is because I typically use salted butter in this recipe, the recipe is nicer with a hint of salt to balance out the sugar and honey.
If you are using coconut oil instead of butter, make sure you watch the mix like a hawk when you are heating the oil honey and sugar. When you use coconut oil the mix, caramelises quite a bit quicker than it does with butter.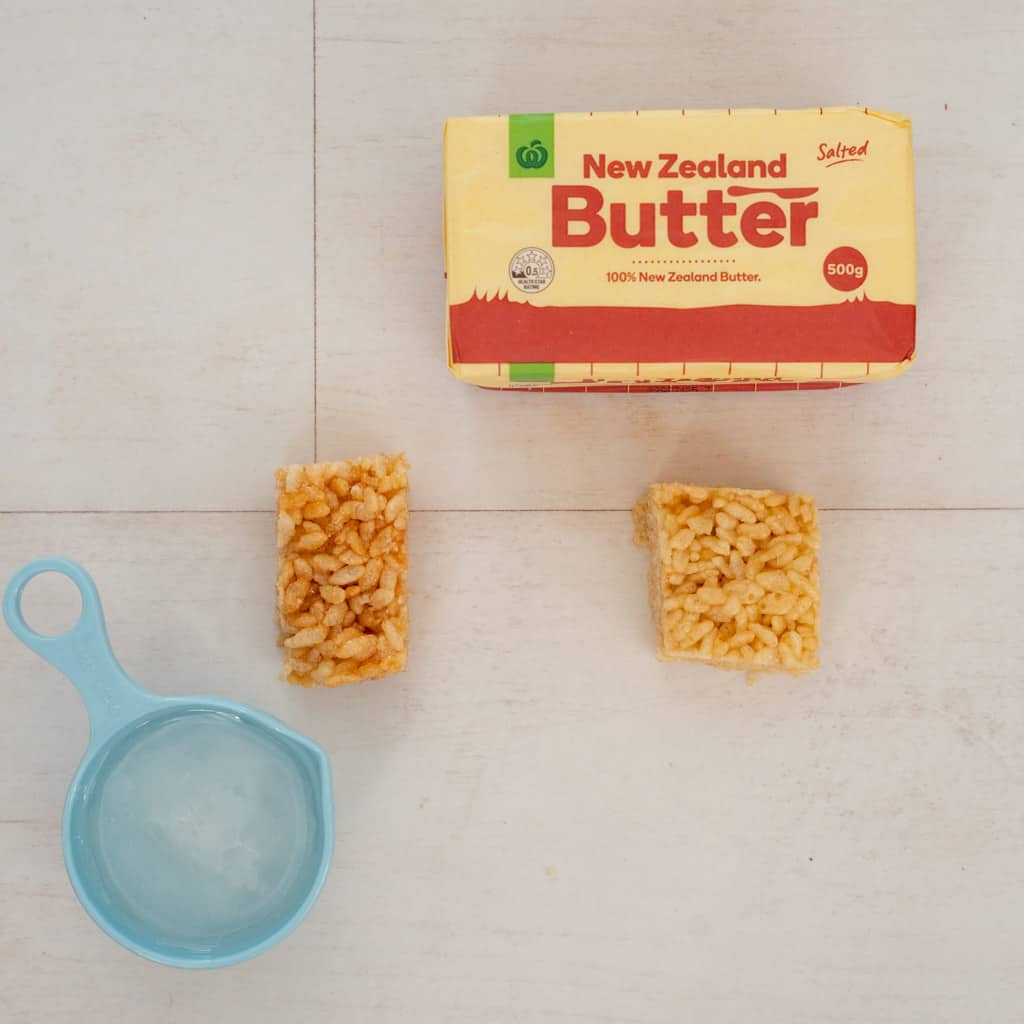 Are rice bubbles gluten-free?
Although the main ingredient for rice bubbles is rice which is naturally gluten-free, many commercial rice bubbles contain colourants and flavours (malt) that are base made from gluten-containing grains - barley.
In New Zealand For A food to be labeled gluten-free,
the food must not contain
 detectable gluten; or
 oats or their products; or
 cereals containing gluten that may have been malted, or their products.
you can find more information on gluten-free labeling in NZ here
Although all puffed rice cereals are not gluten-free, there are usually gluten-free versions of rice bubbles available at the supermarket as well.
If you substitute standard rice bubbles for a gluten-free puffed rice cereal then you can easily make this recipe gluten-free.
You cannot tell at all in the final product, below is an image showing the slice made with GF rice bubbles and with regular rice bubbles, they look and taste exactly the same.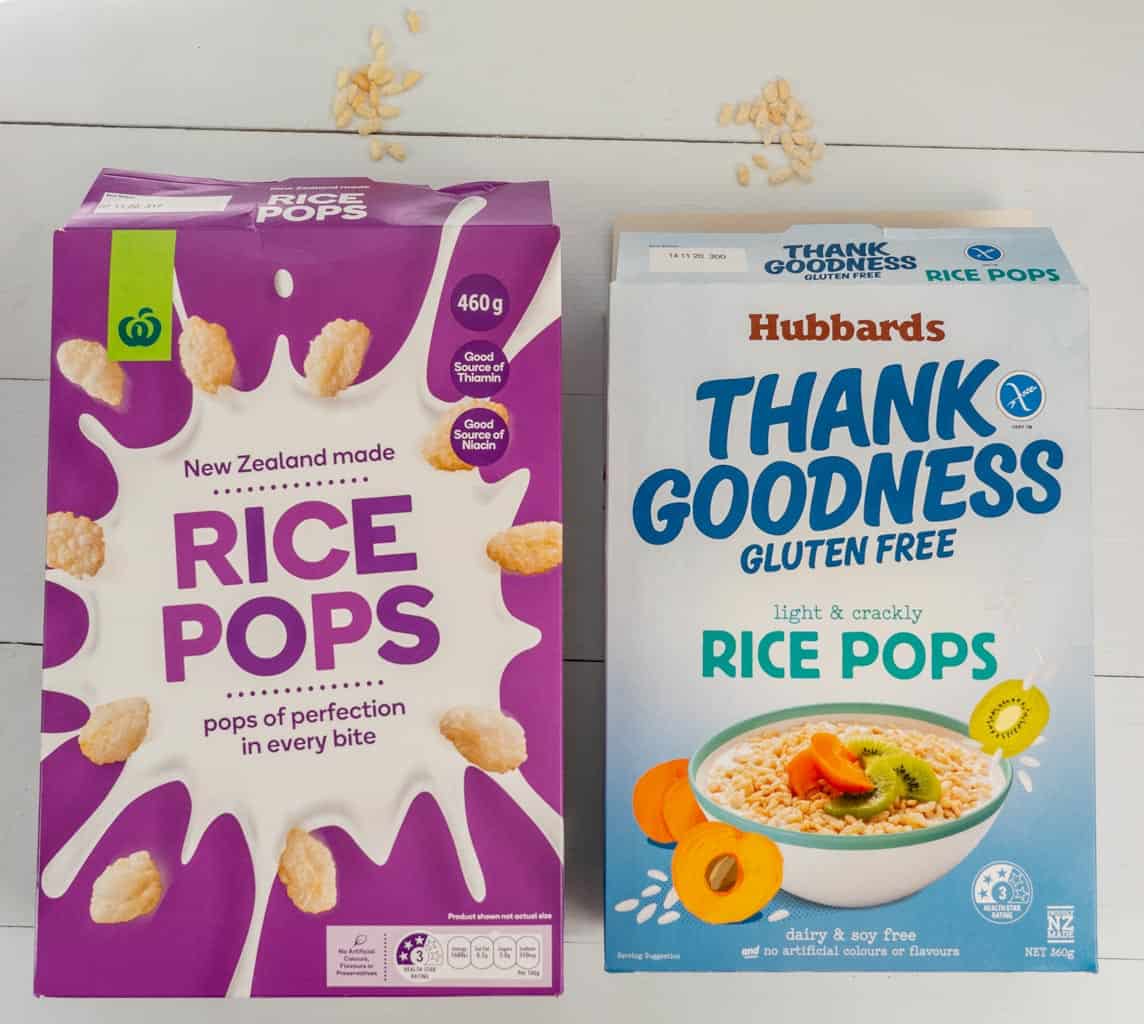 How to make rice bubble slice without honey?
Allergy to honey is not a common childhood allergy, like dairy, egg,  etc are. But allergy to honey does happen. Also honey is not a vegan food which means people may choose to not use honey.
If you wish to not use honey in this recipe you can either, substitute the honey for another syrup, such as golden syrup, treacle, or brown rice syrup. You can also leave out the syrup all together and increase the sugar in the recipe to compensate.
Personally I find rice bubble slice the most delicious when you make it with honey.
My tip for a perfect slice
There aren't many places you can go wrong in this recipe, the only place you need to pay attention is when you are melting the honey, butter and sugar and reducing it to a caramel that will hold the rice bubble slice together
Essentially you want to let the mixture bubble away until it starts to change colour and thicken, it is absolutely perfect when you can drag your spoon through it and the channel you create stays a channel for just a little bit. See the picture below.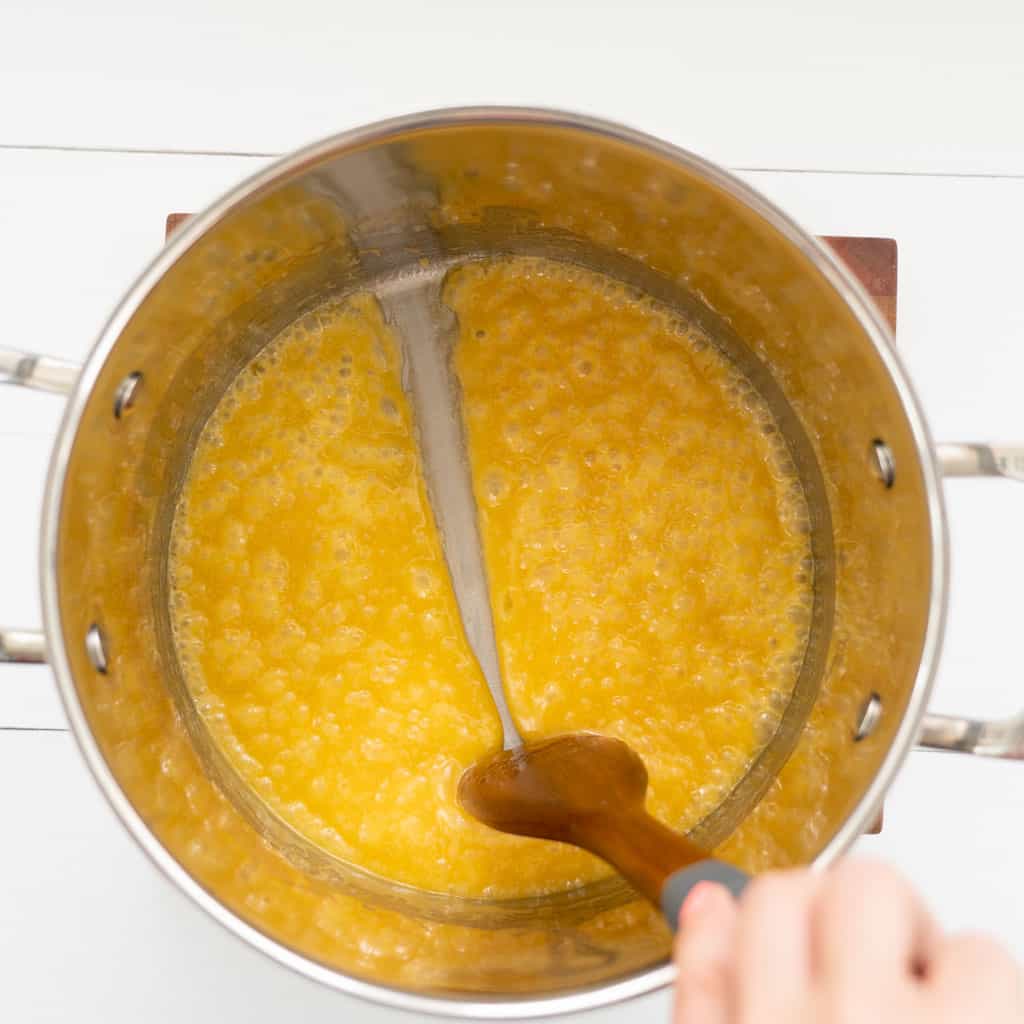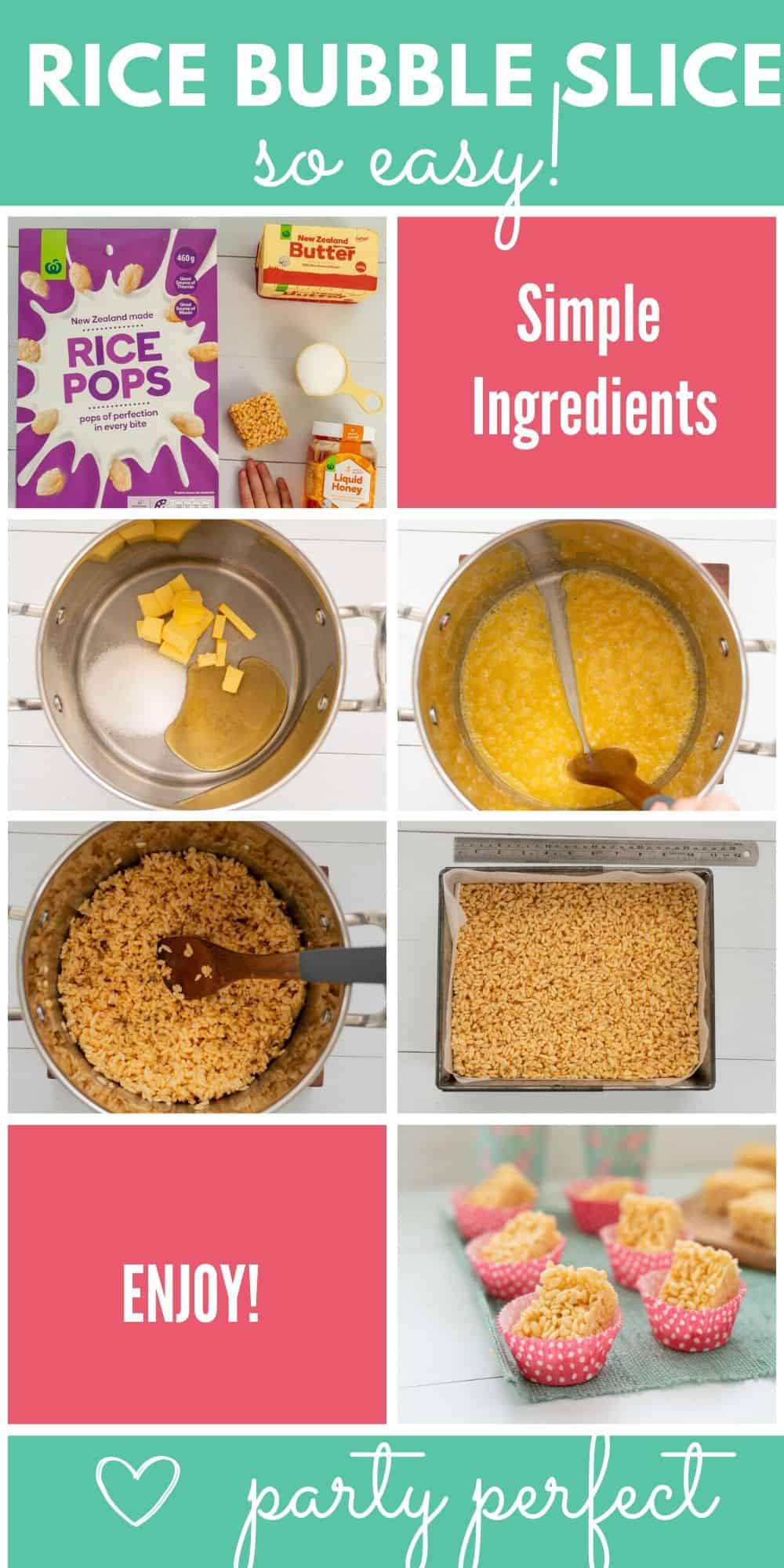 If you are looking for a rice bubble slice recipe that is perhaps a little healthier, and you don't need to be wary of potential food allergens then be sure to check out my No-Bake Rice Bubble Oat Slice, it's delicious but unfortunately not as allergy-friendly
I am an ambassador for Countdown Supermarkets, they support my blog by providing ingredients for recipe development. I used Countdown butter, honey, sugar and rice pops in this recipe. Thanks so much Countdown!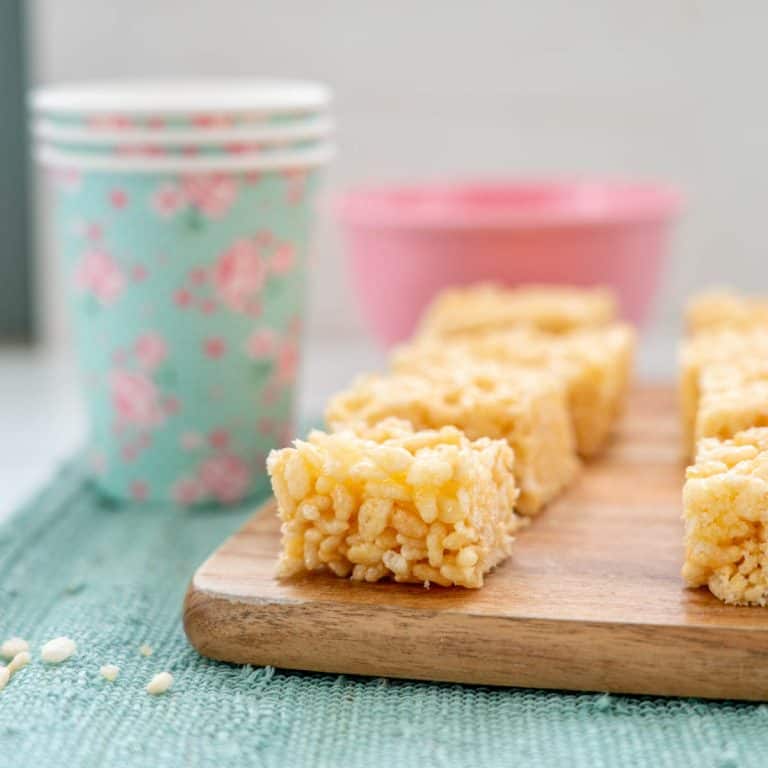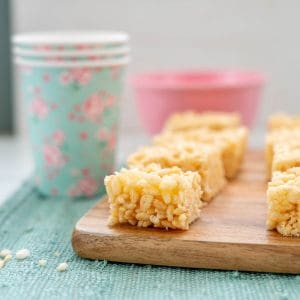 Rice Bubble Slice
Easy Rice bubble slice made with honey, perfect for parties, tips and substitutions for making it vegan, dairy-free and gluten-free
Print
Pin
Rate
RATE THIS RECIPE
Ingredients
125

g

butter

¼

cup

sugar

3

tablespoon

honey

1

teaspoon

vanilla ??

5

cups

rice bubbles
Instructions
Start by lining a square / rectangular cake tin with baking paper. The tin I use is approximately 20 cm x 25 cm.

Melt the honey, butter and sugar in a saucepan over a medium heat

Let the mixture come to the boil, you will want to boil it for about 3 minutes

You will know when it is ready as the colour will change to a light caramel, and the mixture will begin to thicken, it is perfect when you can run a wooden spoon through it and you are able to create a channel that holds for a few seconds (there is an image up above that shows this

Remove from the heat and stir through the vanilla, it will bubble a bit when you do this

Add the rice bubbles

Stir until well combined

Tip the mix into the lined cake tin and press it down to cover the base of the tin evenly. I use a rubber spatula to do this

Refrigerate until solid I find 30-60 mins is sufficient

Slice into pieces and enjoy.

Once hardened it will keep in an air tight container at room temperature.
Notes
To make this recipe gluten-free, substitute rice bubbles for a gluten-free puffed rice cereal
To make this recipe dairy-free, substitute the butter for the same weight of coconut oil
To make this recipe without honey, you can either substitute the honey for an alternative syrup, such as golden syrup, treacle or brown rice syrup. Or you can leave out the honey and increase the sugar to ½ a cup
Nutrition
Serving:
1
g
|
Calories:
114
kcal
|
Carbohydrates:
14
g
|
Protein:
1
g
|
Fat:
7
g
|
Saturated Fat:
4
g
|
Polyunsaturated Fat:
2
g
|
Cholesterol:
17
mg
|
Sodium:
96
mg
|
Sugar:
7
g