At the moment I am trying to increase the number of allergy-friendly recipes on my site, hence these burgers with no egg and no breadcrumbs.
I am not trying to increase the allergy-friendly recipes technically for my own use, as I'm lucky enough not to have kids with allergies. But, allergy-friendly recipes are what I get asked for the most by my readers.
These egg-free and grain-free burgers, however, have turned out to be an absolute winner, so much so that for my family they are definitely now the only way I make burgers.
They are easier I think than traditional burgers with fewer ingredients and honestly, they are so moist and juicy but they don't fall apart.
The secret to egg-free bread free burgers
My secret to binding burgers without egg and other fillers is chia seeds.
I've used chia seeds a lot in sweet style recipes but this was the first addition to a savoury style meal and I can tell you they make the best burger, there is no turning back once you try them I reckon.
Chia seeds work as a great egg replacer. 2 Tbsp of Chia Seeds soaked in 3 Tbsp of water is the equivalent of one egg. I use this as an egg replacer in my ultimate allergy-friendly cookie recipe and it is such a winner.
In this recipe you do not need to add additional water to make the chia egg, the moisture from the minced beef and tomato purée is sufficient.
The chia seeds do not add crunch to the burger so do not panic. You can't tell they are there at all. Even my burger-loving burger aficionado husband has given this recipe his seal of approval!
Burgers, Rissoles or Meatballs for baby-led weaning
No matter what you call them, burgers, Rissoles of Meatballs, the texture of this recipe is perfect for little hands making them brilliant mini burgers for baby-led weaning. They hold their shape, don't crumble but are soft and juicy.
The recipe works fine as either mini burger patties or rissoles as we would call them in New Zealand. Or as meatballs for any dish you need meatballs, or as a large style burger patty for a full-on adult burger
Another wee hack of mine to make burgers for little hands, is to use toast rounds to make the buns, it makes everything easier to hold for little ones. I explain how to do it mini toast burgers for toddlers.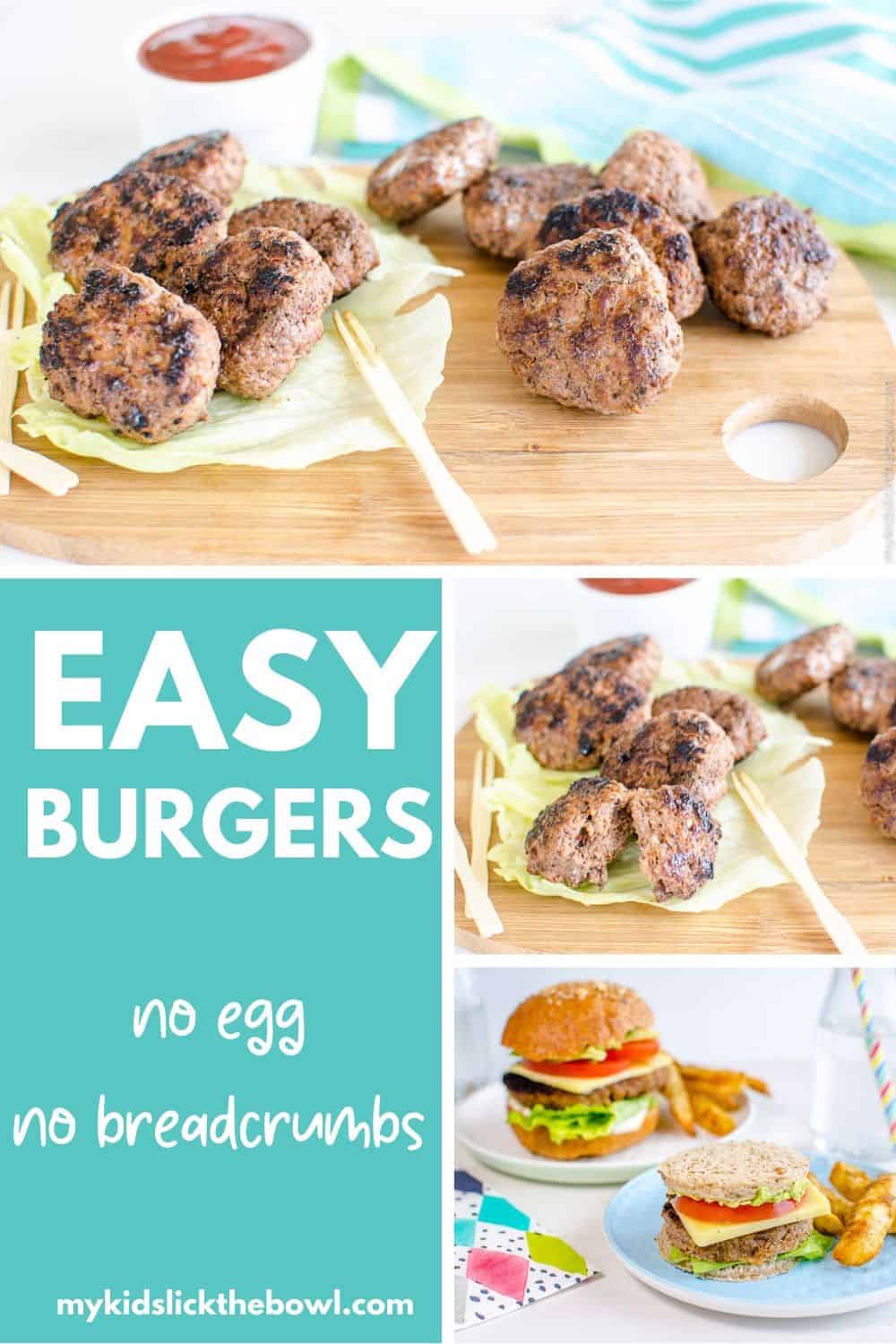 These no breadcumbs no egg burgers are part of my allergy-friendly recipe collection, these recipes are free from the top 8 food allergens: Dairy, wheat, egg, soy, peanut, tree nuts, fish & crustaceans
Burgers No Egg No Breadcrumbs
Burgers with no egg or no breadcrumbs, juicy allergy-friendly with no fillers. Easy to make kid-friendly, best burgers around
Ingredients
500g minced beef
¾ cup tomato purée
2 Tbsp chia seeds
Spices (I like 1 tsp paprika and 1 tsp oregano) 
Instructions
Place all ingredients in a bowl, mix thoroughly with your hands preferably
Roll into balls, portioning based on the size of the final patty or meatball you want
Place the balls on a plate and refrigerate for 20-30 mins
Heat a frying pan or bbq to a medium heat
Press the refrigerated balls flat into patty shapes and cook over a medium heat, until browned and cooked through, for small patties like pictured this was around 5 minutes each side.
Serve
Notes
You can substitute the tomato pureée for tomato sauce, but be sure to check the ingredients for allergens if this could be a problem for you, this substitution will also increase the sugar content of the burgers.
Nutrition Information:
Yield:

8
Serving Size:

1
Amount Per Serving:
Calories:

195
Total Fat:

12g
Saturated Fat:

4g
Trans Fat:

0g
Unsaturated Fat:

6g
Cholesterol:

56mg
Sodium:

64mg
Carbohydrates:

4g
Fiber:

2g
Sugar:

1g
Protein:

18g
Please know this nutrition analysis is based on the ingredients only, this recipe has not been sent to a laboratory for independent testing