Baked Beef & Vege Rissoles
THIS POST MAY CONTAIN AFFILIATE LINKS.
Let's talk rissoles! What's not to love, delicious to eat and super easy to make especially these baked beef and vegetable rissoles that don't need to be pan-fried.
Yep, as a mum of four young kids, I am a HUGE fan of any recipe that is baked, I love to through something in the oven, set the timer and walk away.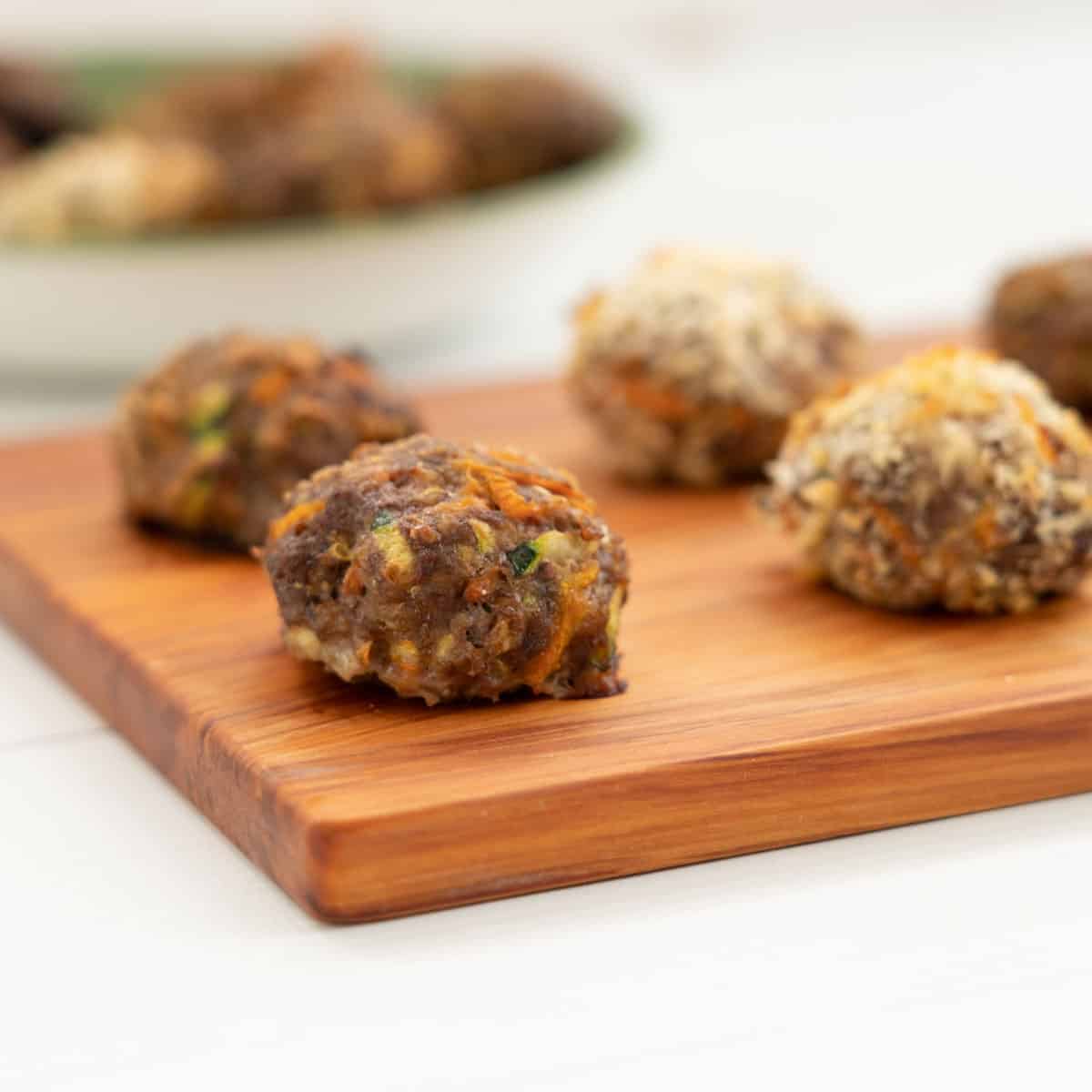 Why This Recipe Works
No need for hovering over a frying pan these beef rissoles are baked.
Loved by both kids and adults.
Perfect for baby led weaning.
---
Ingredients you will need
Rissoles aren't fancy or flash, they are just made with everyday ingredients
Minced beef
Onion
Egg
Herbs and Spices
Oats (I use oats in lieu of breadcrumbs as I don't always have bread crumbs at home)
Grated vegetables (my mum and grandma used to add these too!)
For the vegetables, in my rissole recipe, I typically use carrot and zucchini, but grated pumpkin or grated parsnip also work really well.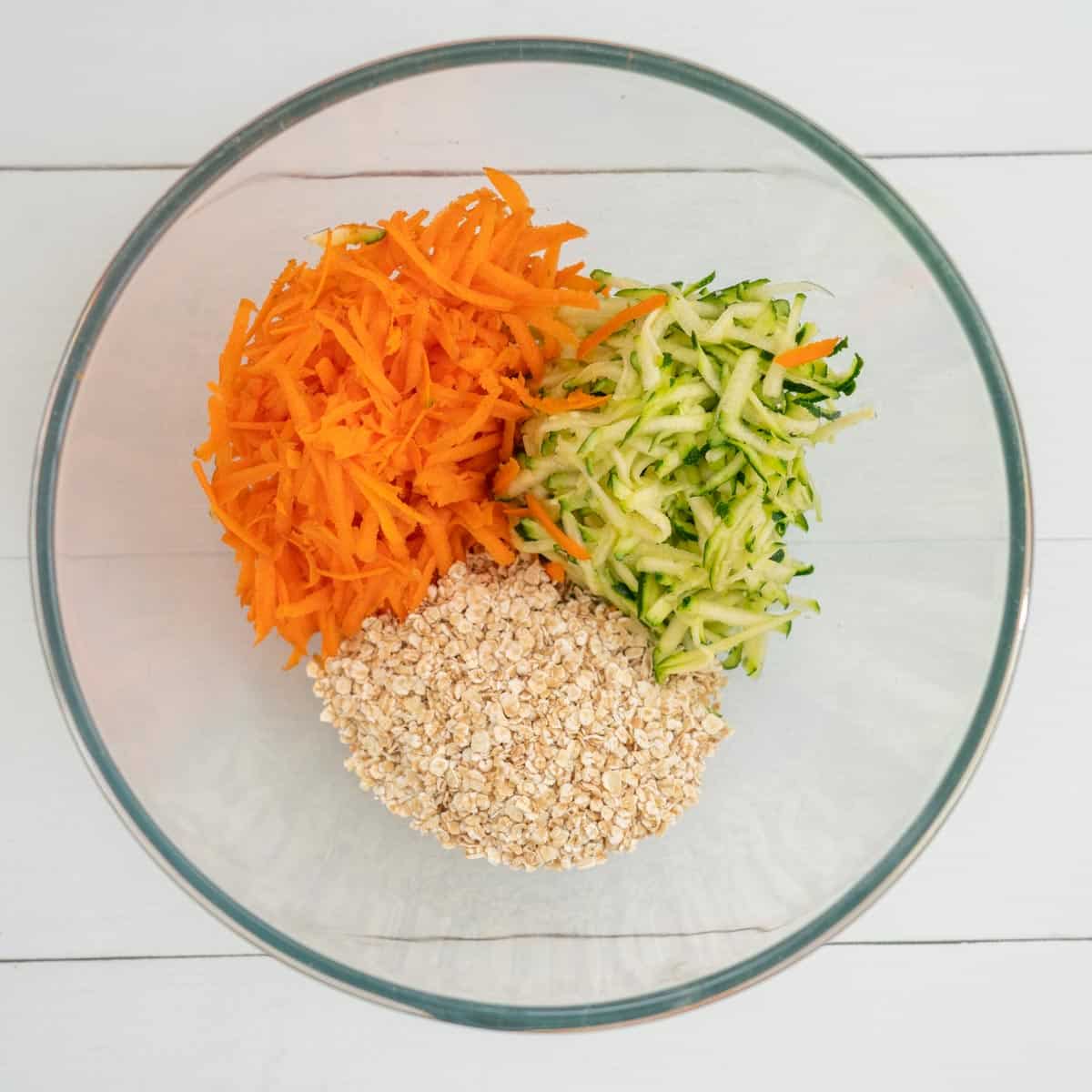 Flavourings
To flavour my rissoles I actually really like to use dried onion in the form of onion flakes, dried garlic in the form of garlic powder and dried oregano. But you can mix this up. Paprika can be really nice in them.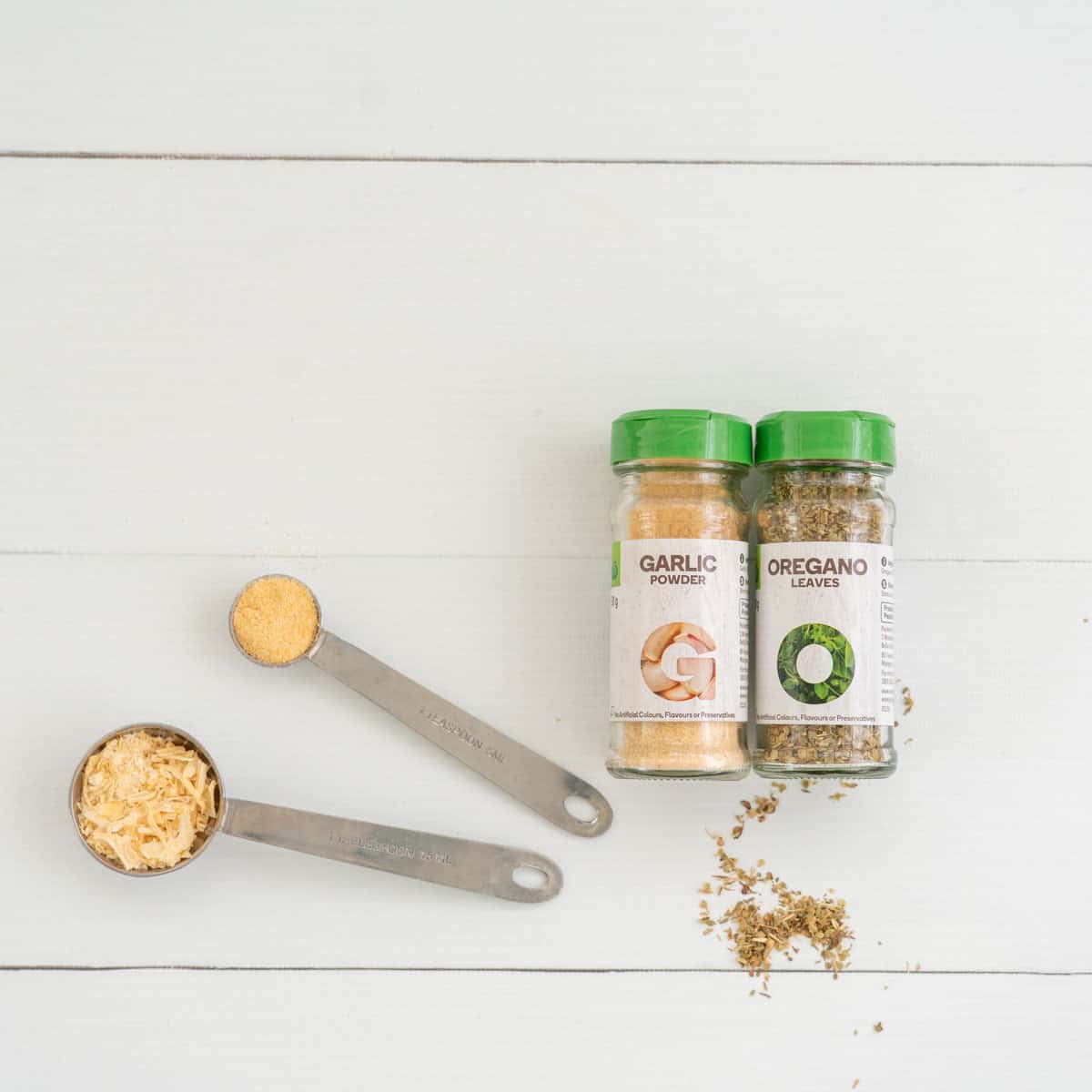 I get asked often about herbs and spices for babies. My philosophy and belief is that there is no reason to limit the herbs and spices you give to a baby.
If you think about all the cultures around the world, so many babies start with spiced foods right from the get-go. So if it's a spice or flavouring that I would usually use and it isn't high in salt, then my baby can have it.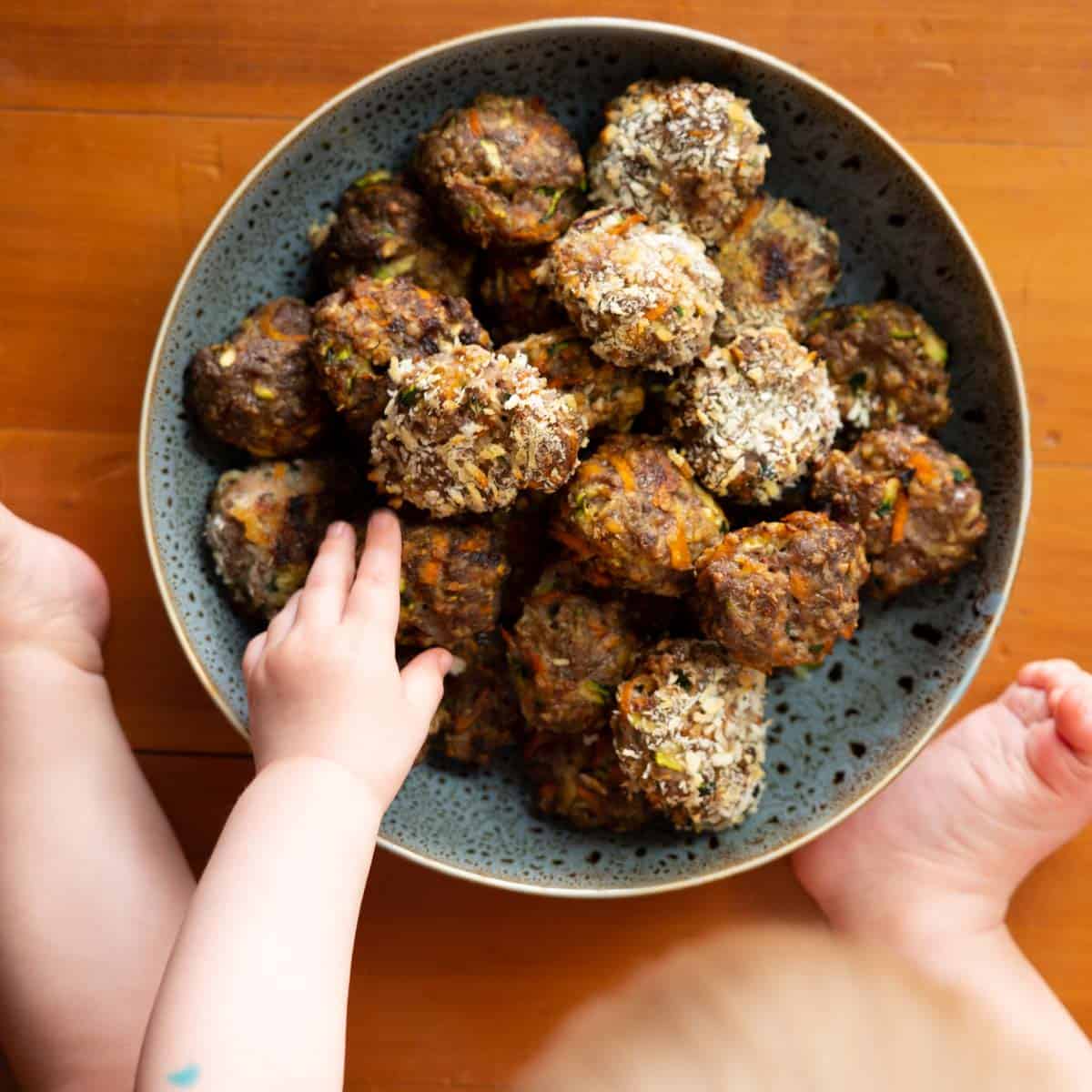 Ingredient Notes and Substitutes
Rolled oats: These can be substituted for bread crumbs
Egg: this can be substituted for 1 tablespoon of chia seeds
Wholegrain mustard: This can be left out or substituted for Worcestershire sauce.
Salt: To keep my rissoles baby-friendly I have a 9-month-old at the moment, I don't add salt to the mix, but you may wish to.
Grated vegetables: Grated parsnip, sweet potato, broccoli stalk or pumpkin all work well in these rissoles.
I am an ambassador for Countdown supermarket, they support my blog by providing ingredients for recipe creation and testing. I used garlic powder and oregano from their range in this recipe.
---
What the heck is a Rissole?
Ok so as a kiwi kid, a kiwi farm kid no less I grew up with rissoles. When I was young a rissole was essentially a small burger patty that was served minus the burger, some might call them a squashed meatball.
My mum called plain burger patties rissoles, while my grandma called a rissole a meatball that was crumbed. By this I mean my mum made rissoles that weren't crumbed, while my grandma always crumbed hers.
In both houses (mum's and grandma's) if we were having rissoles it would mean a small tasty flat meatball served probably with mashed potatoes and gravy.
If the same thing was served in a sauce with pasta we would call it a meatball. And if the same thing was served with salad in a bun we would call it a burger.
In my recipe I say you can do either thing, crumb them or leave them plain, either is fine. I often do a mix of the two to keep everyone happy.
---
Step by Step Instructions
Prep: Preheat oven to 220 degrees Celsius (approx 430 Fahrenheit)
Step one: Grate zucchini and carrot, place in a bowl with the oats, garlic powder, onion flakes and oregano (you can add salt and pepper at this stage too, I skip salt so that I can give these rissoles to my young baby, but for an older family you may want to add a little for seasoning. Give this a good mix, (I just use my hands)
Step two: Add the remaining wet ingredients (whole grain mustard, egg, olive oil and beef mince).Mix well with your hands
Step three: Scoop golf ball sized amounts of the mix, roll in damp hands and then flatten a little so that they are like little patties.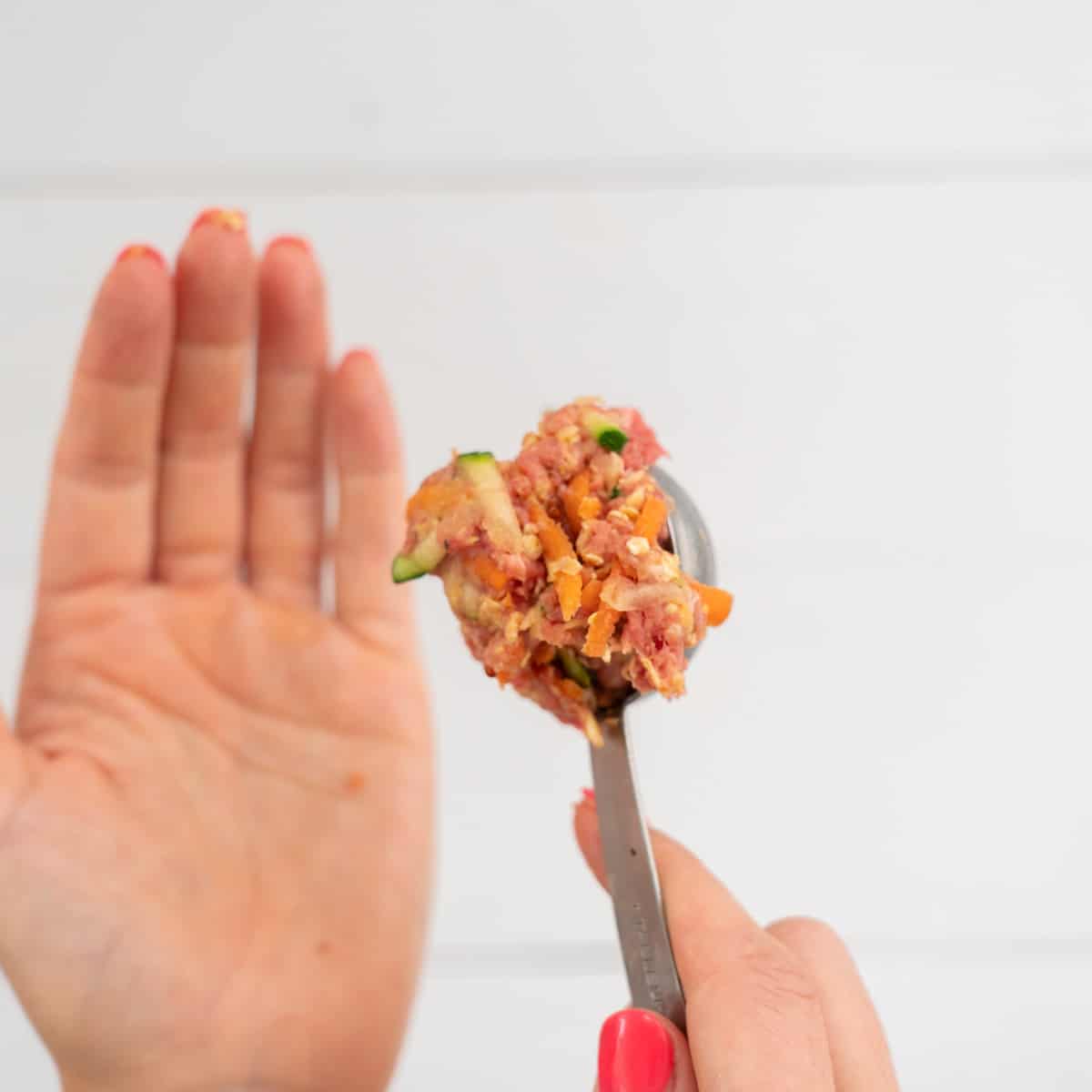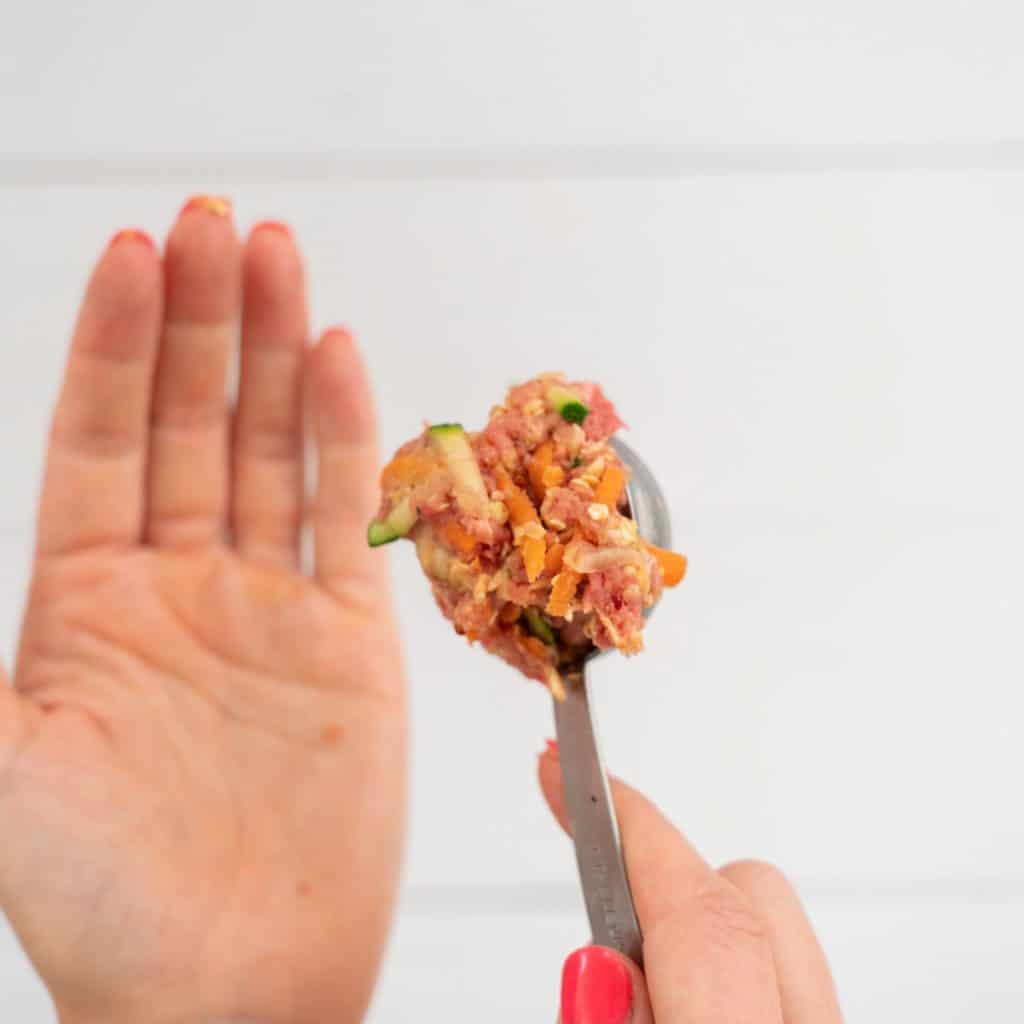 Step four: If you make a little thumb indent in the middle of the rissole it will help it to bake flat
Optional roll the rissoles in breadcrumbs.. my kids love them rolled in panko bread crumbs
Step five: Place on a lined baking tray (preferably one with a little lip so that juices don't run everywhere while baking). Take the patties and cook in the hot oven (220 degrees Celsius) for 15 minutes.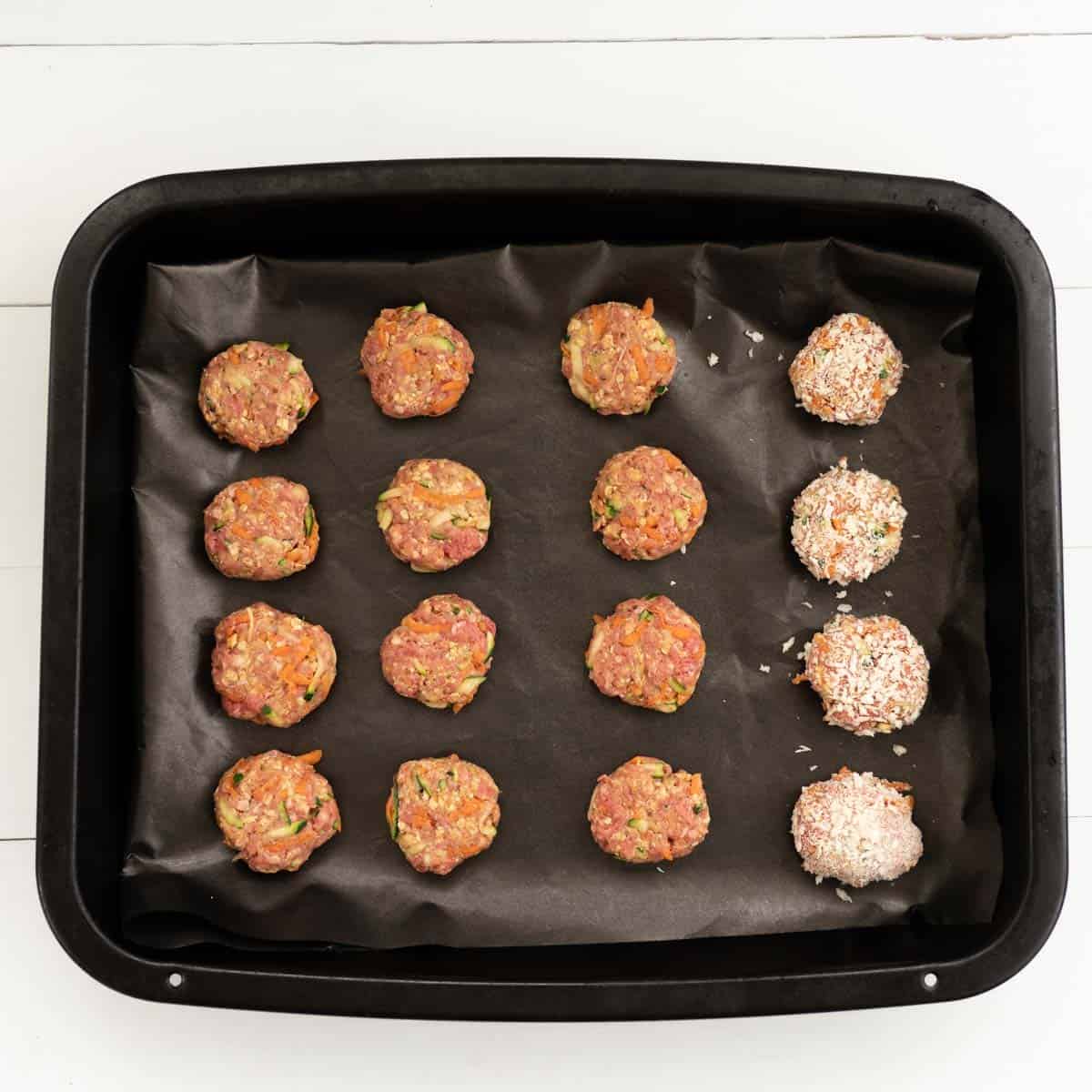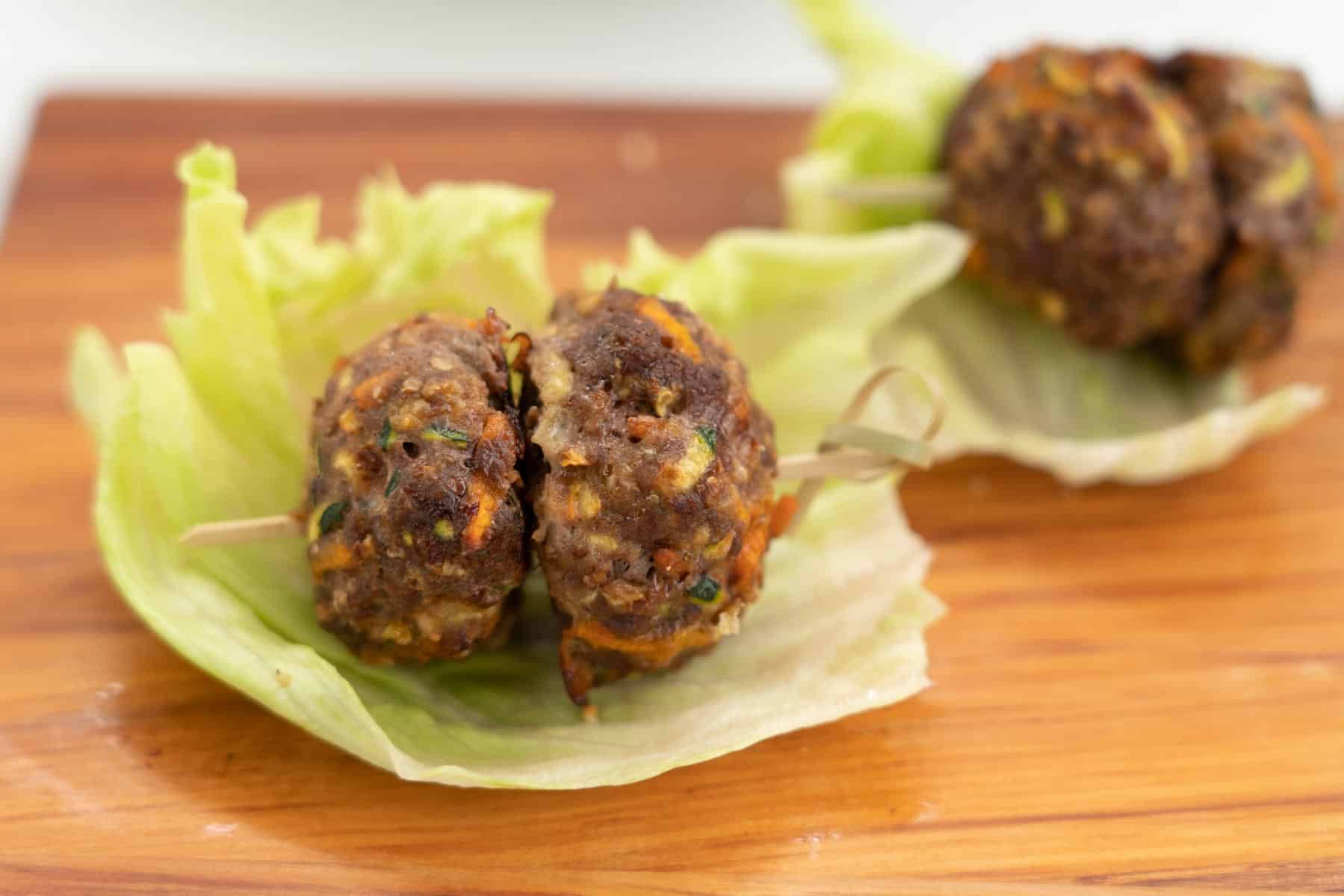 ---
Top Tips
Here is how you can make these beef rissloes perfectly every time!
Ok so there are a couple of tricks to stopping little patties ending up being round balls after baking
To be honest, though, it is not the end of the world if they do become meatballs!
The first trick is to make them slightly larger than I have here. For my kids, I typically make the rissoles using a heaped tablespoon of mix. If you want them to end up flatter I would make them larger and would use around ¼ cup of mix.
If you are making them small as I do, they will typically always shrink a little when cooking and end up a bit more meatball-ish
Another trick is to push your thumb into the centre of the rissoles to make an indent, this will help them stay flat when cooking.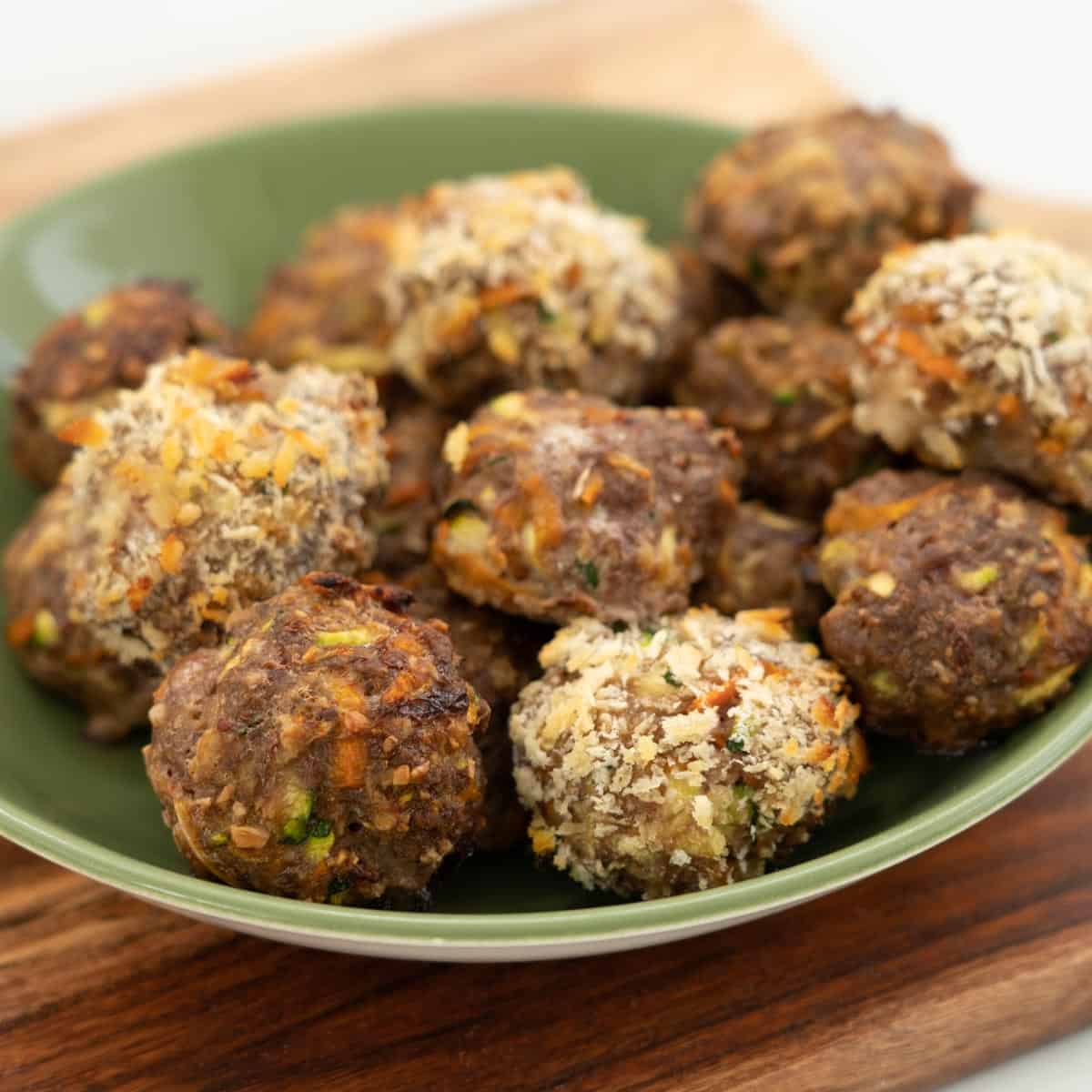 FAQs
What is the difference between meatballs and rissoles?
Both meatballs and rissoles are made with minced meat, a rissole typically has a flatter shape and might be coated in bread crumbs before cooking.
Why do my rissoles fall apart?
Be sure to great any vegetables you are adding to the rissole. Use a binder such as egg or chia seeds, include oats or breadcrumbs as these absorb liquids in the rissoles giving a firm but soft texture.
Can I freeze homemade rissoles?
Yes, homemade rissoles can be frozen for you to 3 months to be reheated and enjoyed at. latter time.
Other Rissole and Meatball Recipes
If you are on the hunt for other recipes for Rissoles or Meatballs, for kids then I have a couple on my site.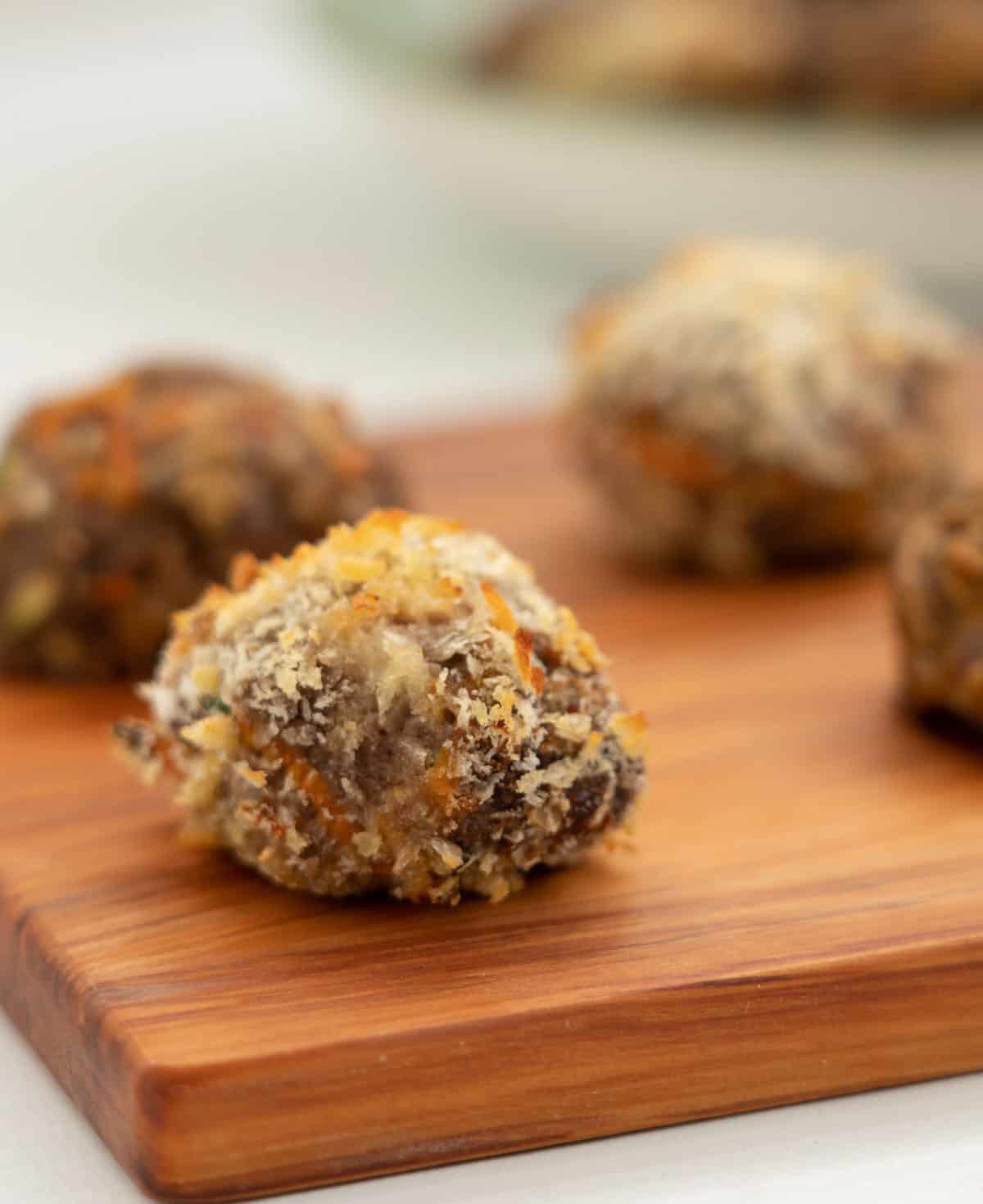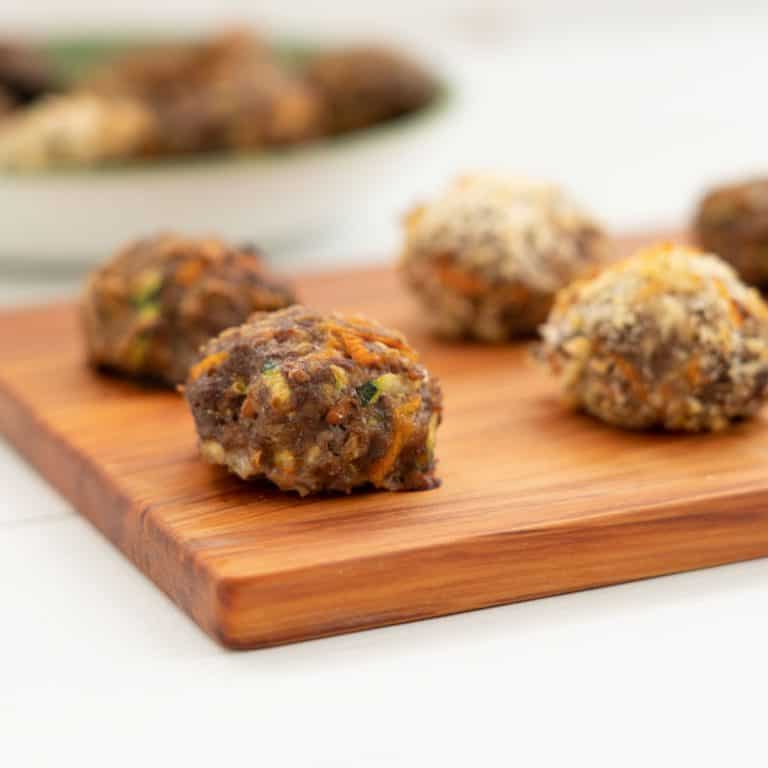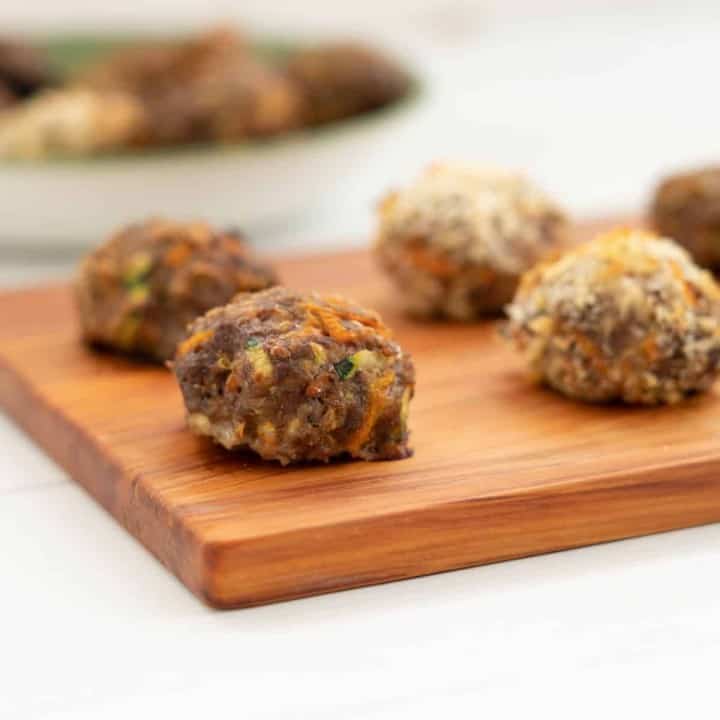 Baked Beef and Vegetable Rissoles
An easy recipe for rissoles, these beef and vegetable rissoles are baked in the oven and full of vegetables too. Absolutely delicious and suitable for all ages
Ingredients
1 carrot
1 zucchini
½ cups rolled oats
1 teaspoon garlic powder
1 tablespoon onion flakes
½ teaspoon oregano
1 tablespoon wholegrain mustard (optional)
1 egg
1 tablespoon olive oil
500g mince
Salt and Pepper (as desired)
½ cup bread crumbs (optional)
Instructions
Preheat oven to 220 degrees Celsius (approx 430 Fahrenheit)
Grate zucchini and carrot, place in a bowl with the oats, garlic powder, onion flakes and oregano (you can add salt and pepper at this stage too, I skip salt so that I can give these rissoles to my young baby, but for an older family you may want to add a little for seasoning
Give this a good mix, (I just use my hands)
Add the remaining wet ingredients (whole grain mustard, egg, olive oil and beef mince)
Mix well with your hands
Scoop golf ball sized amounts of the mix, roll in damp hands and then flatten a little so that they are like little patties
If you make a little thumb indent into the rissole it will help it to bake flat
Optional roll the rissoles in breadcrumbs.. my kids love them rolled in panko bread crumbs
Place on a lined baking tray (preferably one with a little lip so that juices don't run everywhere while baking)
Bake in the hot oven (220 degrees Celsius) for 15 minutes
Notes
The egg can be substituted for 1 tablespoon of chia seeds soaked in 2 tablespoon of water
Nutrition Information:
Yield:

28
Serving Size:

1
Amount Per Serving:
Calories:

71
Total Fat:

4g
Saturated Fat:

1g
Trans Fat:

0g
Unsaturated Fat:

2g
Cholesterol:

23mg
Sodium:

51mg
Carbohydrates:

3g
Fiber:

0g
Sugar:

0g
Protein:

6g
Please know this nutrition analysis is based on the ingredients only, this recipe has not been sent to a laboratory for independent testing