This no-bake chocolate weetbix slice is a super easy kid-friendly recipe. I was going to say baking idea, but it is no-bake! In New Zealand we say Kiwi Kids are Weetbix kids, it is a very very popular breakfast cereal, low in salt and sugar it ticks a lot of nutrition boxes for me.
Elsewhere I believe this no-bake chocolate Weetbix slice may go by another name, perhaps no bake chocolate Weetabix slice in the UK or maybe just no bake wheat biscuit slice… either way I am very confident you will be able to use any brand of wheat biscuit style breakfast cereal to make it.
Don't forget to check out the video too! You will find it just down the page a bit.
This no-bake chocolate weetbix slice recipe is part of my allergy-friendly recipe collection, these recipes are free from the top 8 food allergens: Dairy, wheat, egg, soy, peanut, tree nuts, fish & crustaceans. The changes to make this recipe allergy friendly can be found in the recipe notes.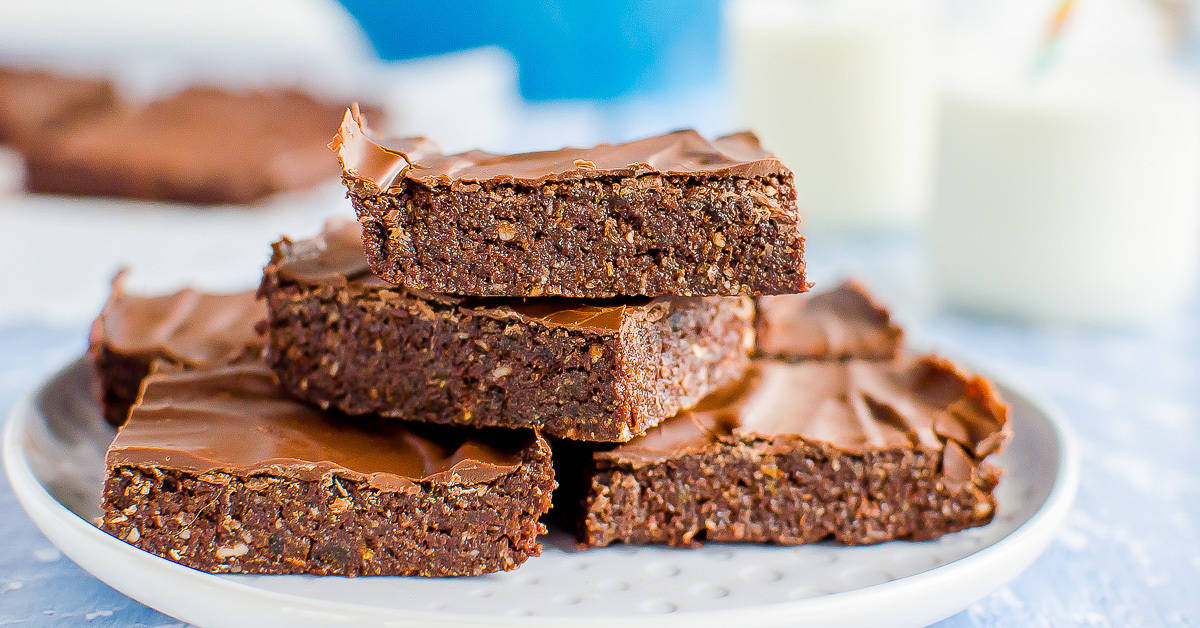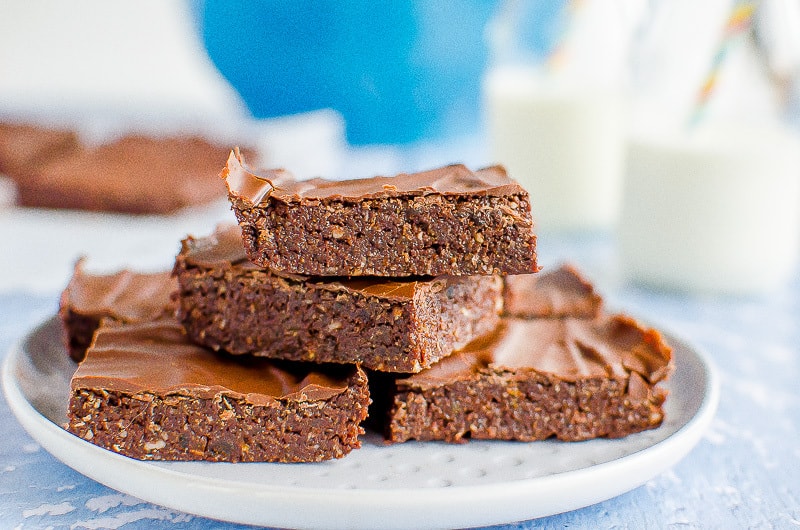 2 out of 3 of my kids love this recipe, one isn't keen. His main reason for disliking it is he is not a fan of dates, but he does enjoy my apricot version which will be up on the blog soon as well. My 2 girls devour it though. Now for the eyesight test, have a look in the next image and see if you can spot the hair… whoops! Hair was definitely not one of the listed ingredients for no-bake chocolate Weetbix slice!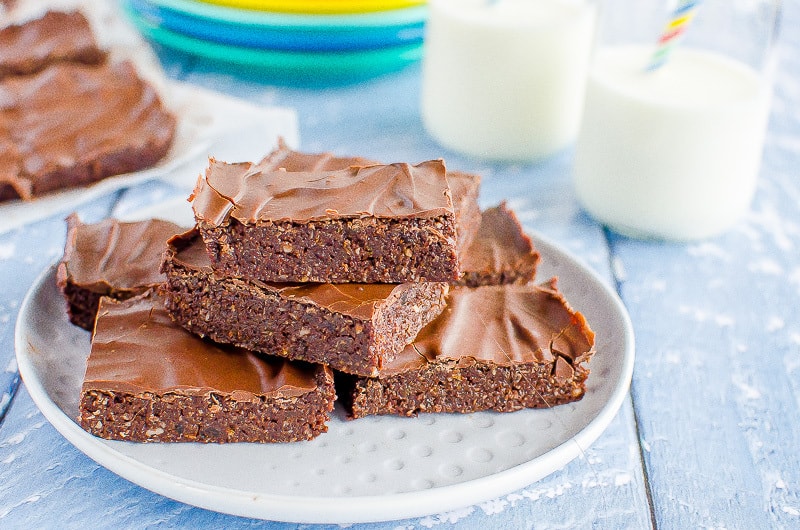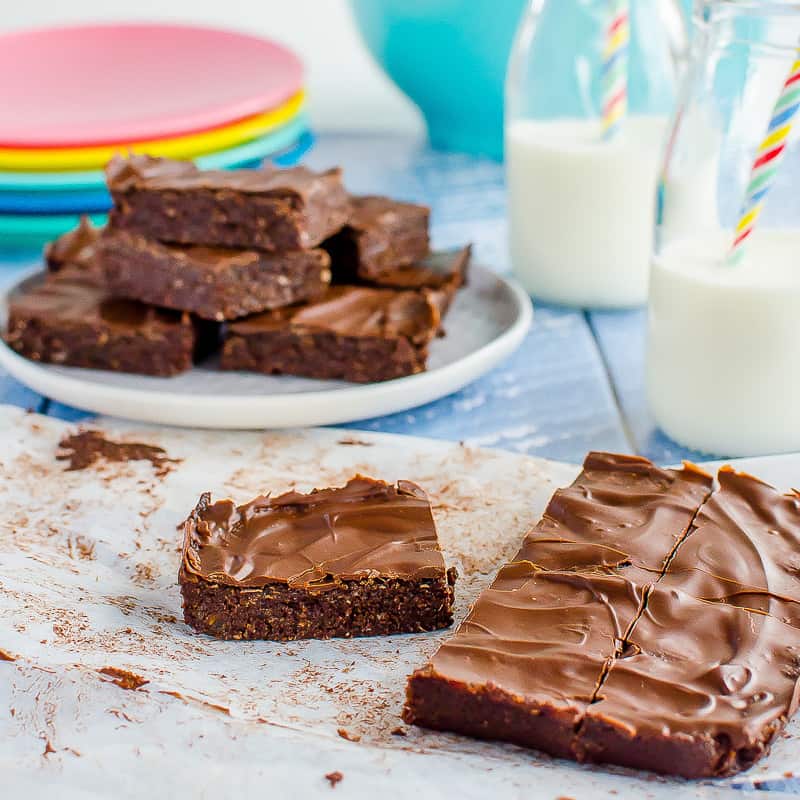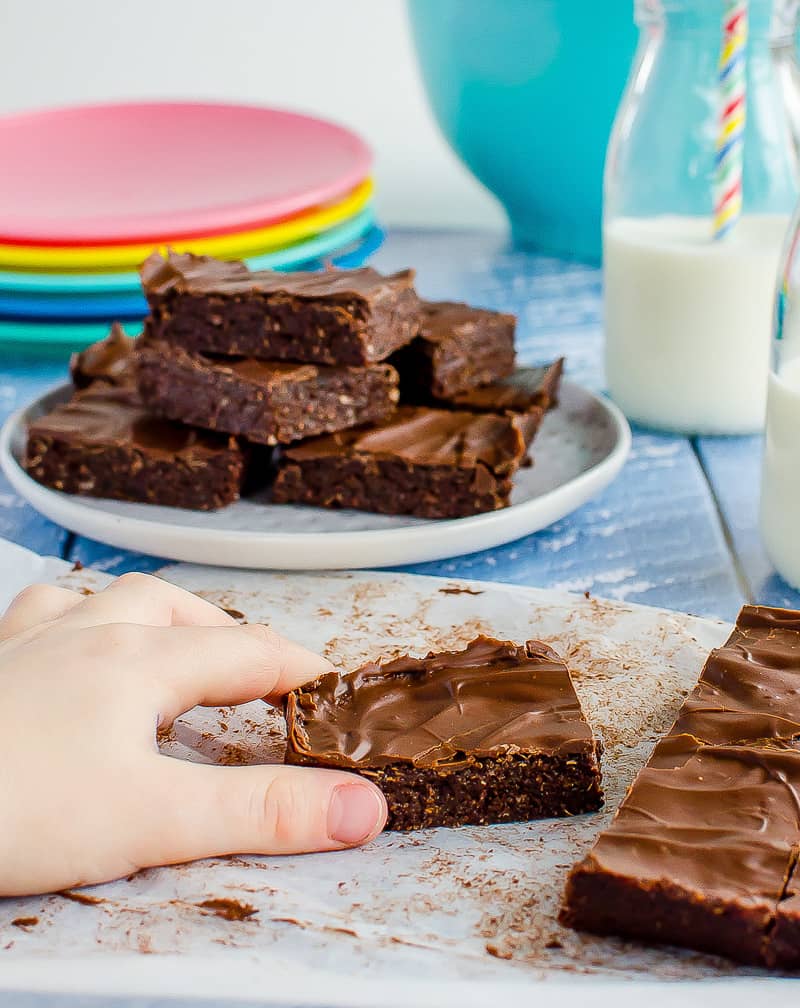 Watch My No-Bake Chocolate Weetbix Slice Recipe Video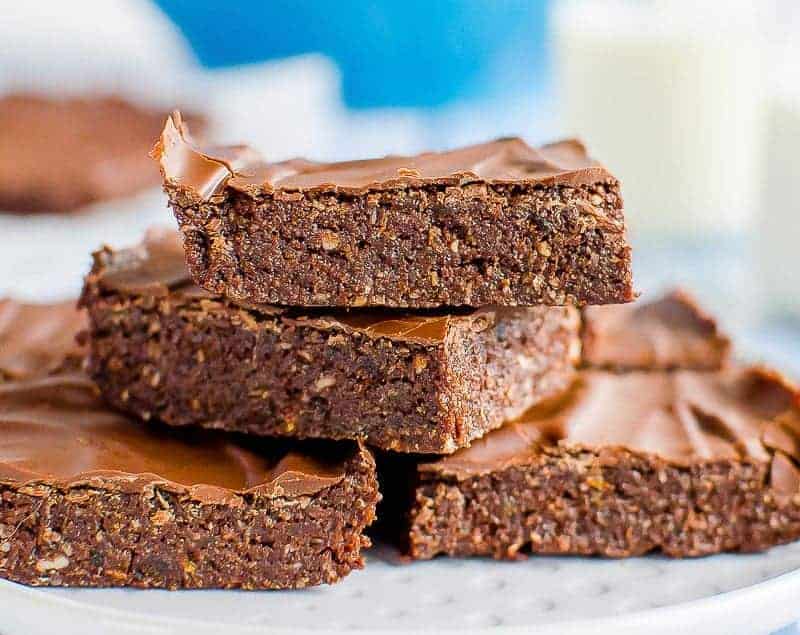 No-bake Chocolate Weetbix Slice
No-bake chocolate Weetbix slice, easy kid-friendly recipe made with Weetabix, or wheat biscuit breakfast cereal.
Ingredients
5 Weetbix, (Weetabix or Wheat Biscuits)
1 Cup Dates (pitted)
1/2 Cup sunflower seeds
1/2 Cup desiccated coconut
4 Tbsp Cocoa
2Tbsp Honey
2 Tbsp Water
40g dark chocolate (optional)
Instructions
Watch the quick recipe video before you get started, scroll up a little to find it
Check the notes at the bottom of the recipe for little bits of extra info and help
Place first 7 ingredients in a food processor
Blitz until comes together into a ball (takes 3-5 mins)
While food processor is doing its magic line a loaf tin with baking paper
If you have chosen to use dark chocolate on the top, you can also get this melted. I either use a double boiler, or for a small quantity like this I do short 30 second bursts in the microwave on 50% power)
Press the mixture into the loaf tin
Top with the melted chocolate
Refrigerate for 2 hrs
Slice
Notes
Store in the refrigerator for 3-5 days, or freeze
For dairy-free ensure the chocolate used is dark chocolate that is dairy free or skip the chocolate layer on top. For wheat and gluten free the new gluten-free weetbix work well in this recipe
Nutrition Information
Yield

16
Serving Size

1
Amount Per Serving
Calories

103
Total Fat

4g
Saturated Fat

1g
Trans Fat

0g
Unsaturated Fat

2g
Cholesterol

0mg
Sodium

262mg
Carbohydrates

16g
Fiber

2g
Sugar

10g
Protein

2g
Please know this nutrition analysis is based on the ingredients only, this recipe has not been sent to a laboratory for independent testing