There are some foods that are just nostalgic. Jam-packed with memories of baking with granny when I was little, or the mid tramp snack whilst sheltering from the rain, in a bush, half way round a hiking track with my parents.
This recipe is one of those, and I promise it is super easy to make, so easy in fact, that it says so in the title: Easy Oat Slice.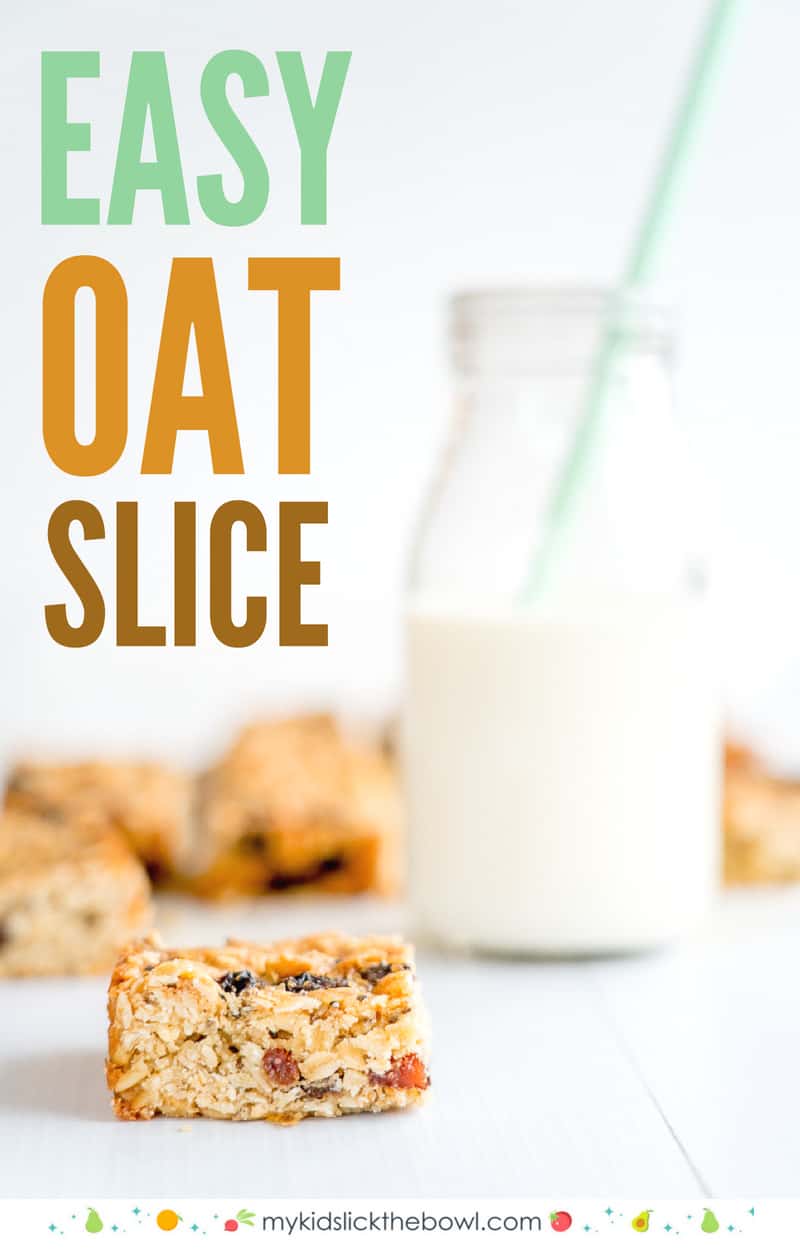 Oat Slices are not only a wonder snack, delicious and filling, but they are a great food to bake with your toddler. My eldest children and I love getting stuck in with making these on a rainy day and no matter how messy we get, the kids absolutely LOVE the process.
The beauty of the Oat Slice is its versatility, your partner wants a honey oat slice; BOOM!! Done! The kids want an Oat and Date Slice, Easy! Sultana Slice next on the list? Sweet As!
You want a healthy fruit slice? Absolutely.
I typically use raisins or sultanas in this recipe as the dried fruit but be creative, dried apricots are delicious.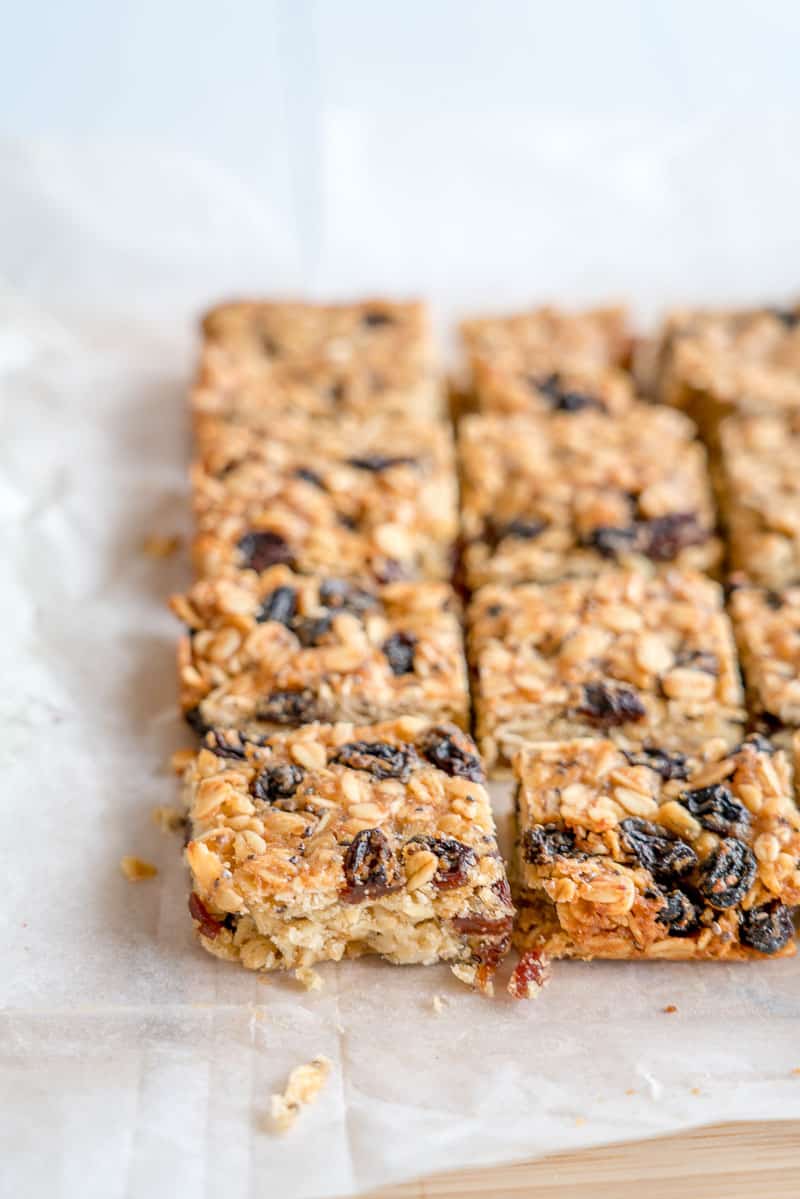 Eggless Slice Recipe
This version of my easy oat slice is actually egg-free. This happened a little by accident, in that on the day I decided to bake it for photos, I had run out of eggs. So I used chia seeds as a replacement. But it definitely works with a regular egg too.
Knowing that it works well egg-free will be good for those tackling life with egg allergies.
Chewy or Crunchy?
This easy oat slice recipe is also flexible, in that you can change the texture of the final oat slice by tweaking the ingredients a little. If you want a very soft texture, then up the flour to rolled oat ratio, if you want a chewier end product then go for more oats than flour. Which is perfect for switching things up as your baby grows and so does their ability to handle a more chewy texture.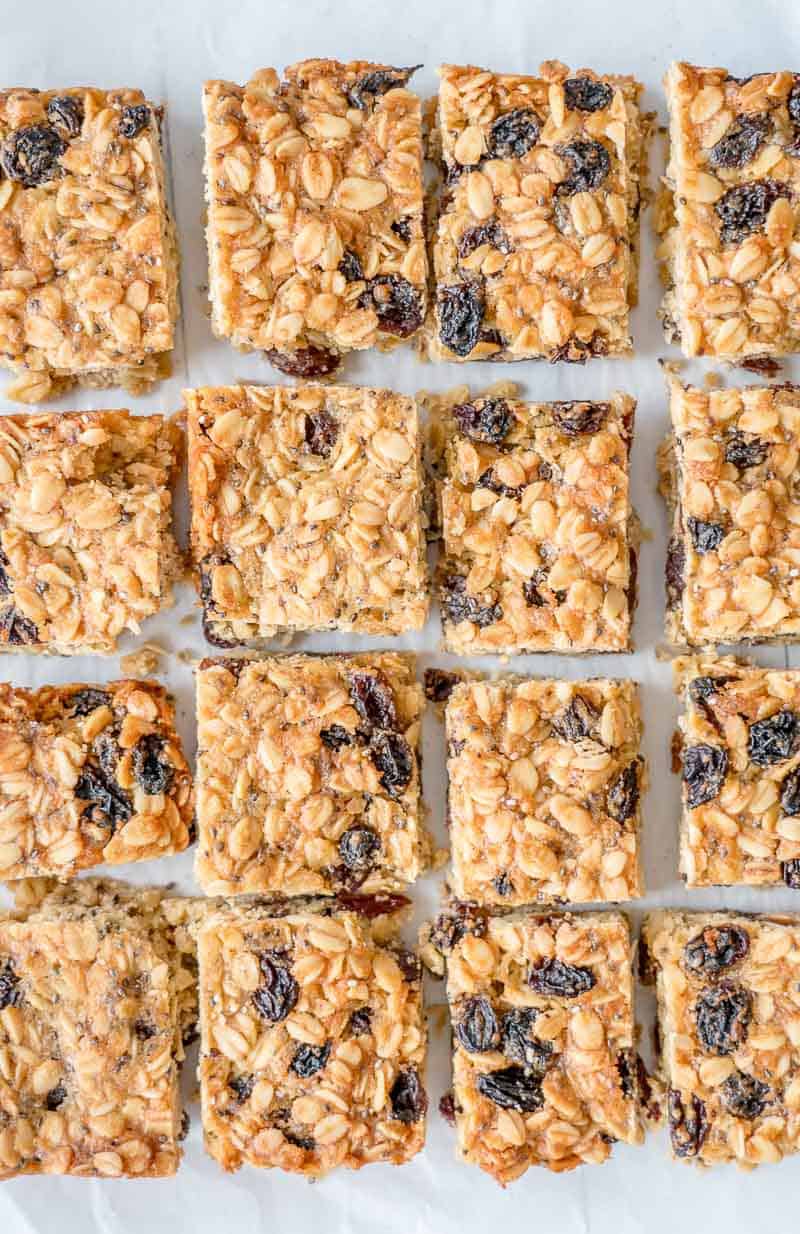 A Low Sugar Slice?
It is important to note though that this recipe is NOT refined sugar-free. I typically make this recipe with brown sugar as the sweetener, and I am happy with the sugar to other ingredients ratio for my kids.
You can also use coconut sugar which works well too, but in this Easy Oat Slice, I really wanted to keep the ingredients basic. I wanted to keep the ingredient list to what most people will have in their pantry.
My family is not a refined-sugar-free family or a no sugar household, we eat sugar. But I do try to be a bit mindful of our sugar intakes which is why I have so many low/no added sugar recipes on my site.
This rolled oats baked slice is not completely sugar-free, but it is relatively low compared to many other Oat Slice recipes out there. Plus I have found that when I make this with my kids, I get the chance to talk to them about the sugar content and why I switch around the sugar I use.
A great and easy slice recipe to add to the collection.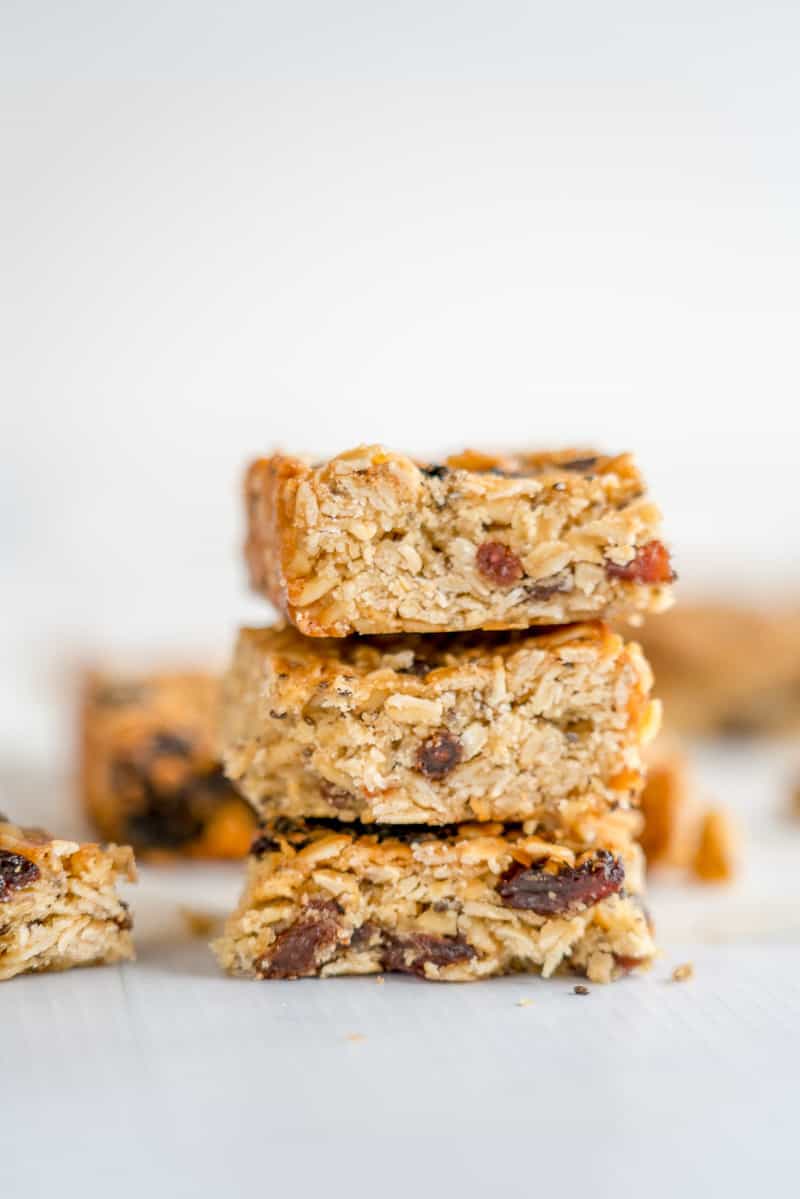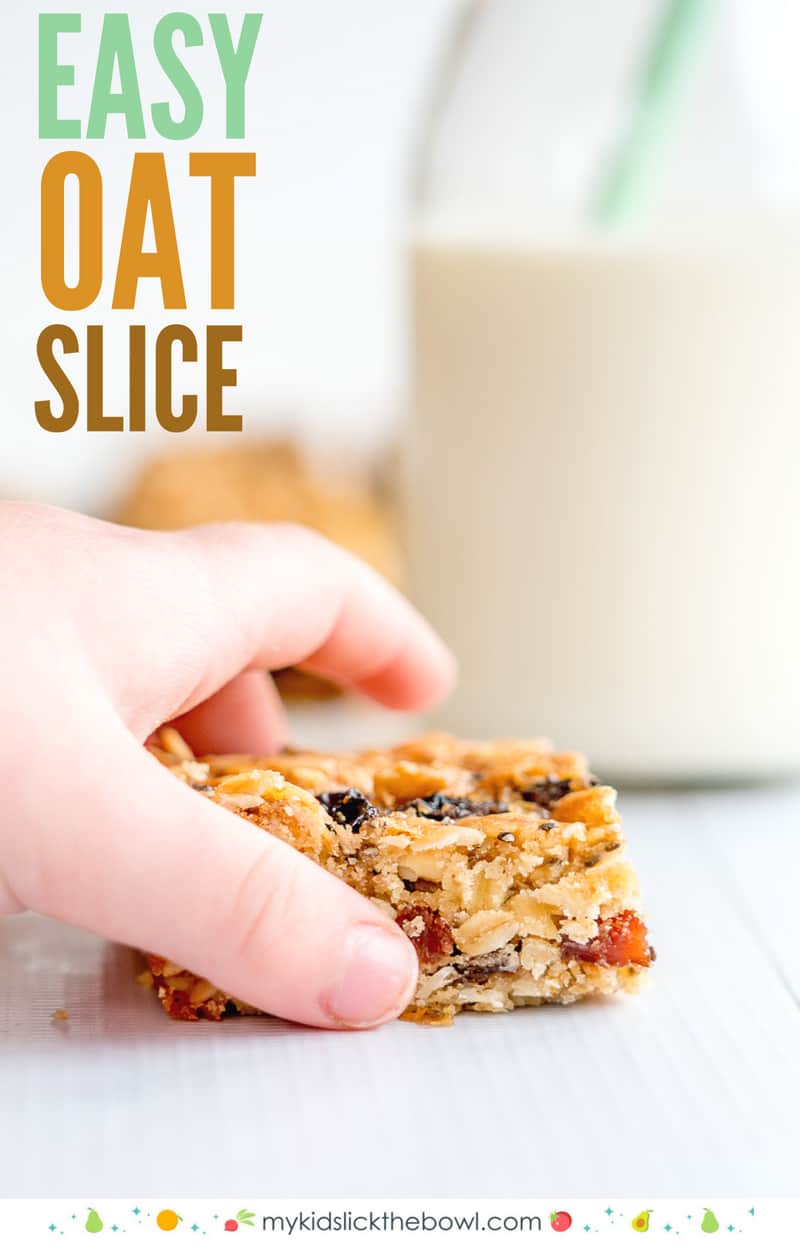 Recipes with rolled oats
I am a huge fan of baking with rolled oats, so have built up quite a collection of kid-friendly oatmeal baking and snack recipes, be sure to check them out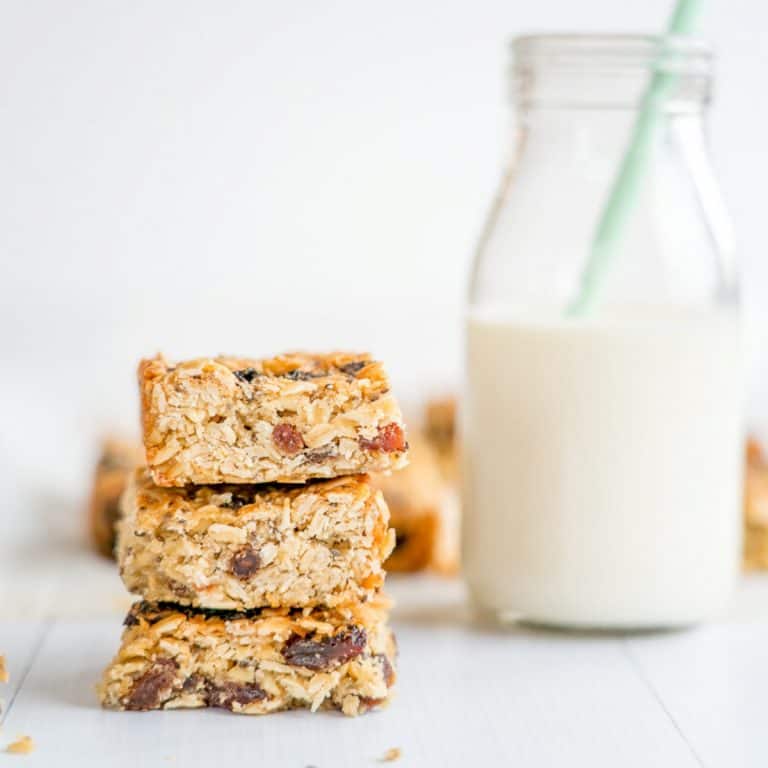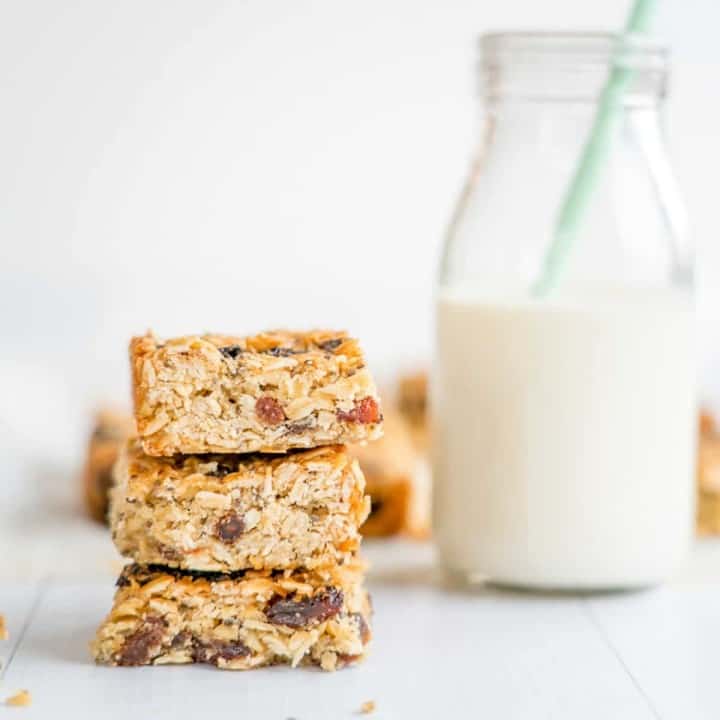 Easy Oat Slice
An easy oat slice recipe, made with rolled oats, chia seeds, and simple ingredients, my kids' favourite slice!
Ingredients
1 Tbsp chia seeds or 1 Egg
2 Tbsp water
125 grams butter, melted
1/2 cup brown sugar
1 teaspoon vanilla
1/2 cup plain flour
1 1/2 cup rolled oats
3/4 cup raisins
Instructions
If you are making the egg-free version of this recipe, then start by soaking the chia seeds in the water in a small bowl, leave them aside for 10 minutes or so. If you are going to make this recipe with an egg then you can skip this step
Mix the brown sugar and melted butter together, I use a whisk for this step
Whisk in either the soaked chia seeds or an egg and the vanilla
Add the flour, mix well (I swap to a wooden spoon at this stage)
Add the rolled oats and mix well
Add the raisins and mix so they evenly through the mix
Pour the mix into lined slice tin (I use a 20 x 20 cm tin, a cake tin will also work if you don't have a slice tin
Bake at 180 degrees Celsius (350 F) for 20-25 minutes or until the edges are golden and start to come away from the edge of the tin
Allow to coo,l then slice into squares
Notes
You can substitute coconut sugar or white sugar for the brown sugar if you prefer
You can substitute a regular egg for the chia seeds and water if you don't require an egg-free recipe
This recipe will work with gluten-free flour
I have not tested this recipe with fats and oils other than butter, but it would probably work with coconut oil (note this assumption is based on my baking experience, I have not tested this specific recipe with coconut oil)
The raisins can be substituted for other dried fruit, chopped dates or apricots are lovely too
Nutrition Information:
Yield:

16
Serving Size:

1 piece
Amount Per Serving:
Calories:

120
Total Fat:

6.6g
Saturated Fat:

4.1g
Cholesterol:

16.8mg
Sodium:

2.5mg
Carbohydrates:

12.9g
Fiber:

1.1g
Sugar:

4.4g
Protein:

1.5g