Chickpea Banana and Chocolate Slice
THIS POST MAY CONTAIN AFFILIATE LINKS.
Let's talk chickpea brownies or perhaps a better name chickpea blondies (due to their pale colour)
I know the thought of combining Chickpeas, Banana and peanut butter into a chocolatey slice, sounds like a strange, perhaps almost an impossible combination but honestly, it's a combo my kids actually love.
Yes all three of my kiddos devour these Chickpea blondies!
Vegan Chickpea Brownies
So we spoke about the slightly strange ingredients. Nutritionally this combination has some great benefits. This chickpea blondie recipe is high in fibre and protein and low in sugar. I mean that's awesome
It is also a pretty good vegan source of iron. And as this recipe is wheat, egg, and dairy-free it makes it great for allergy kids too.
The prep is very simple with a food processor doing pretty much the entire thing.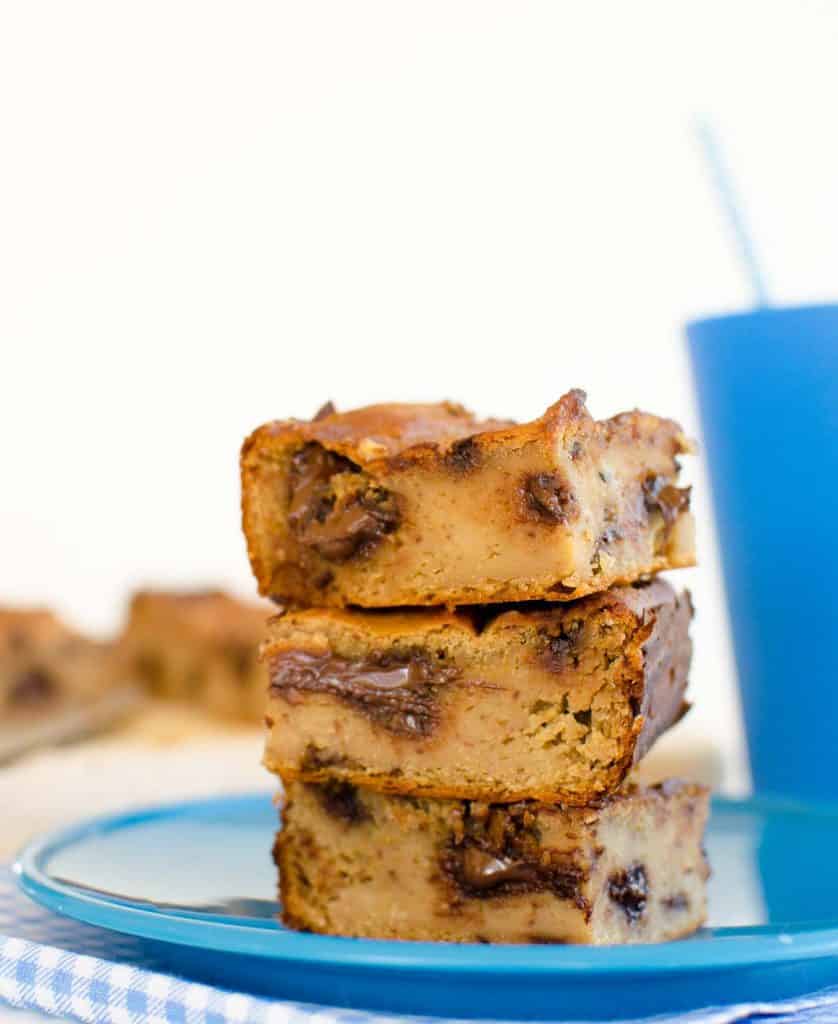 The final product is a soft brownie slice which is a good snack, lunch box item or dessert served with yoghurt.
There are a few versions of this or something similar around, I found I could reduce the added sugar of most recipes by including a banana in my version.
Baking with Chickpeas
I am quite a fan of using tinned chickpeas in my baking. My chickpea Oat Crackers are awesome for Cracker loving kids or for adults to enjoy with a glass of wine.
And you can make a pretty delicious chocolate chip cookie with chickpeas!
If you are looking for a more traditional brownie recipe then you can't go wrong with my easy brownie recipe!
Chickpea Blondies
Chickpea Bownies, It might sound crazy but chickpeas are a great base for a brownie or blondie. The combination of banana peanut butter and chickpeas makes a delicious brownie
Ingredients
1 Can chickpeas rinsed and drained. 
160-180g banana
½ Cup peanut butter
2 tablespoon maple syrup 
½ teaspoon baking powder
75g or approx ½ Cup roughly chopped dark chocolate or chocolate chips
Instructions
Place all ingredients excluding the chocolate into a food processor
Whizz until smooth
Add the chocolate and pulse a few times so that it is evenly dispersed
Pour into a lined loaf tin
Bake at 180 degrees celsius for 30-40mins depending on tin size. When it is ready it will start to become golden particularly around the edges and the edges will begin to pull away from the tin
Leave to cool in the tin for at least 10min before turning out on a rack to finish cooling.
Notes
I have substituted the chickpeas with cannellini beans and it works well
I only use maple syrup as I love the flavour of bananas and maple syrup, but honey, golden syrup or molasses would work as well. Note if you use honey this recipe will no longer be vegan
If you are using milk chocolate the recipe won't be dairy free
Nutrition Information:
Yield:

12
Serving Size:

1
Amount Per Serving:
Calories:

188
Total Fat:

10g
Saturated Fat:

3g
Trans Fat:

0g
Unsaturated Fat:

5g
Cholesterol:

1mg
Sodium:

127mg
Carbohydrates:

22g
Fiber:

3g
Sugar:

13g
Protein:

5g
Please know this nutrition analysis is based on the ingredients only, this recipe has not been sent to a laboratory for independent testing