So many schools are nut-free these days, making crunchy roasted chickpeas a perfect alternative to nuts for kids lunchboxes.
Not to mention they are a delicious crunchy high protein and fiber-rich snack, making them pretty awesome all around I'd say
Why aren't my roasted chickpeas crunchy
This is a question I get asked often, and a question I googled myself after my first couple of roasted chickpea fails.
Roasted chickpeas certainly will go crunchy, but there are a couple of tricks/steps you need to take to ensure they do!
Tips for Crunchy Roasted Chickpeas
You need to start with cooked chickpeas
You need to rinse them thoroughly
You need to peel the cooked chickpeas, you do this by rubbing them, the paperish skin will literally pop off
The cooked chickpeas need to be well dried, I find the easiest way is to either pop the skinned cooked chickpeas in the sun for an hour or two, or
Can I use Canned Chickpeas To make Crunchy Roasted Chickpeas
Yes, yes, yes, the answer to this question is undoubtedly yes, you can totally make crunchy roasted chickpeas from tinned chickpeas, as long as you follow the tips above then they will go crunchy.
When you are choosing your tinned chickpeas, have a quick squizz at the ingredients list. You want as few ingredients as possible.
I love the Woolworths select no added salt chickpeas. As the ingredients are Chickpeas, Water and Ascorbic Acid (Vitamin C)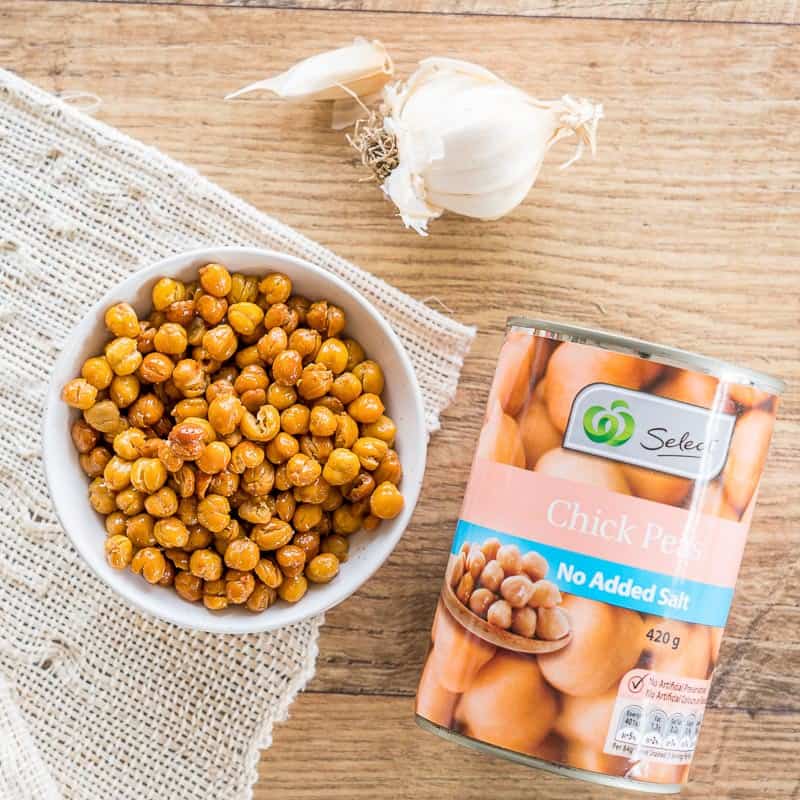 Other Chickpea Recipes My Kids Lick The Bowl
---
Crunchy Garlic Roasted Chickpeas
Cook Time:
1 hour
40 minutes
Total Time:
1 hour
50 minutes
Easy crunchy roasted chickpeas, a healthy vegan protein-rich savoury snack flavoured with garlic, great for school lunchboxes and kids
Ingredients
1 can chickpeas
2 tablespoon Olive oil
2 cloves garlic
salt
Instructions
Rinse and drain chickpeas
Dry chickpeas with a tea towel, dry them very well and kind of rough them up a bit so that their papery skins come off
For any chickpeas that haven't lost their papery skin, give them a squeeze between your thumb and forefinger, you will find the skin should pop off easily
Now its time to make sure the chickpeas are super dry, either pop them on a baking tray in the sun for an hour or so, or in your oven on a low temp (around 50 degrees Celsius for 30 mins to an hour)
While the chickpeas are thoroughly drying out, it's time to flavour the oil. Take the garlic cloves, place them on a chopping board and use the side of the knife blade to crush them, you don't need to cut them, just to break the clove up a bit, place the whole cloves, skin and all into the oil, and leave them to soak
Once the chickpeas are dry, toss them in the garlic flavoured olive oil
Spread the oiled chickpeas out onto a lined baking tray and bake at 180 degrees Celsius for 35-40 minutes, or until crunchy
Let cool, then season with salt as needed
Notes
I find it best to double the quantities of the recipe and make 2 cans of crunchy chickpeas at a time
Nutrition Information:
Yield:

5
Serving Size:

1
Amount Per Serving:
Calories:

120
Total Fat:

7g
Saturated Fat:

1g
Trans Fat:

0g
Unsaturated Fat:

5g
Cholesterol:

0mg
Sodium:

241mg
Carbohydrates:

12g
Fiber:

3g
Sugar:

2g
Protein:

4g
Please know this nutrition analysis is based on the ingredients only, this recipe has not been sent to a laboratory for independent testing