Crunchy Garlic Roasted Chickpeas
THIS POST MAY CONTAIN AFFILIATE LINKS.
Garlic roast chickpeas are a delicious crunchy high protein and fibre-rich snack, making them pretty awesome all around I'd say!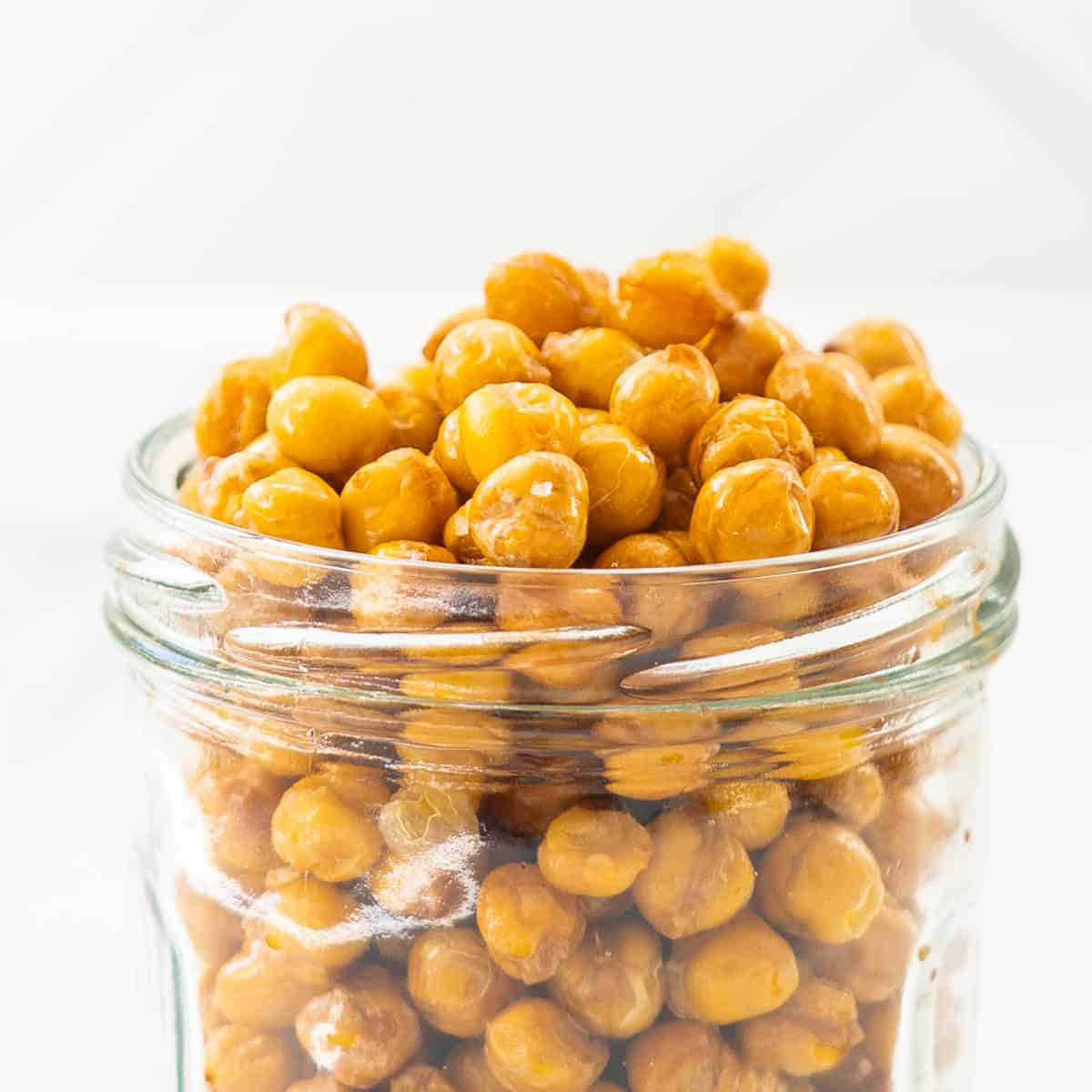 Why This Recipe Works
Nut free: A fantastic alternative to nuts in school lunchboxes (for older children, as they do pose a choking risk for young children)
Economical: using dried chickpeas means these roasted chickpeas are affordable to make.
Easy & Yummy
Ingredients you will need
To make garlic-roasted chickpeas you will need:
dried chickpeas
olive oil
garlic
salt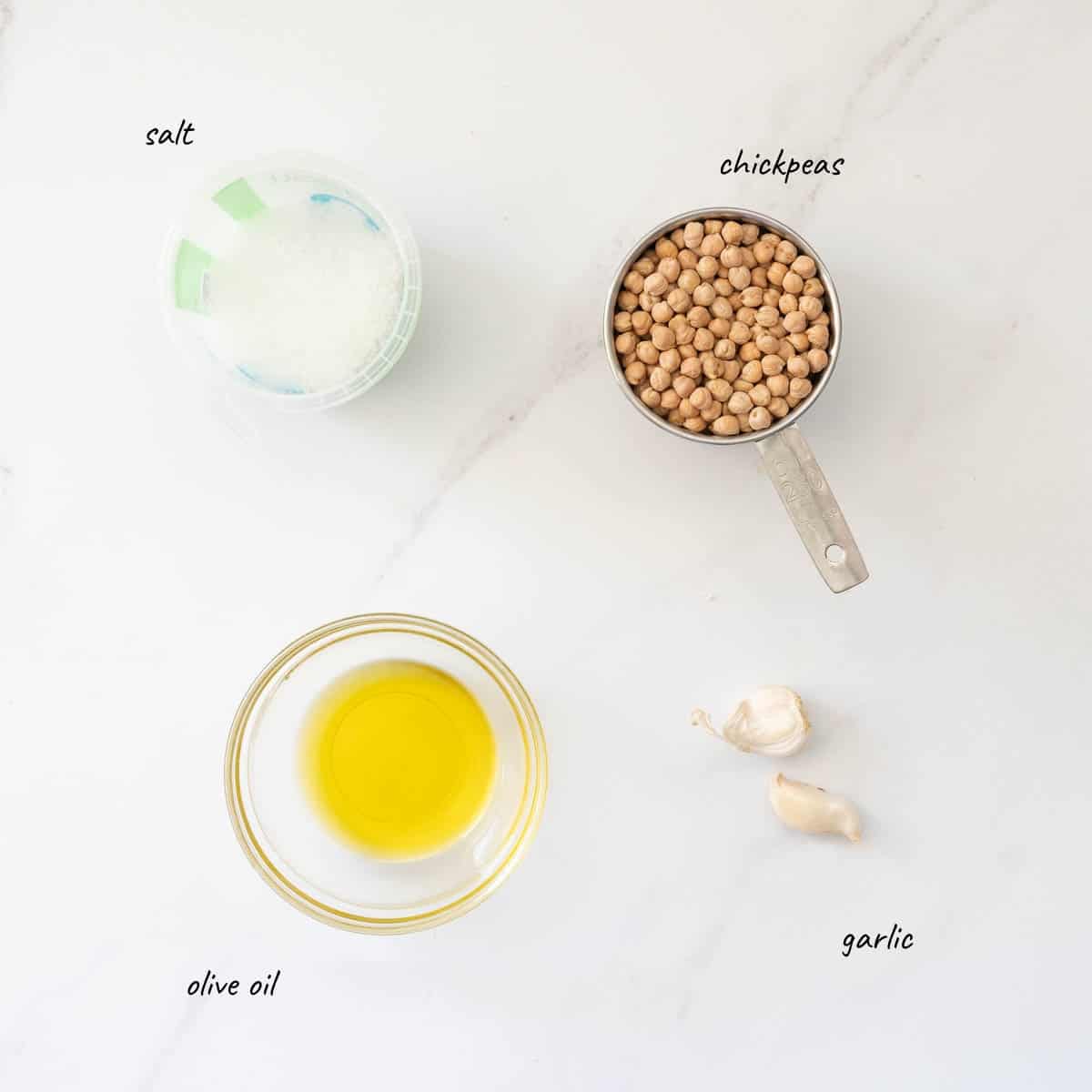 Ingredient Notes and Substitutes
Dried chickpeas: You can absolutely substitute the dried chickpeas for 2 cans of drained canned chickpeas.
---
Step-by-step instructions
Below are illustrated step-by-step instructions to make my *** Recipe, if you prefer just the written instructions then head straight to the printable recipe card below.
Prep: The night before
Place the chickpeas in a large bowl, and cover with water. The chickpeas will swell to at least double in size, so ensure they are covered with ample water. Leave the chickpeas to soak overnight.
Take the garlic cloves, place them on a chopping board and use the side of the knife blade to crush them, you don't need to cut them, just to break the clove up a bit, place the whole cloves, skin and all into the oil, and leave them to soak overnight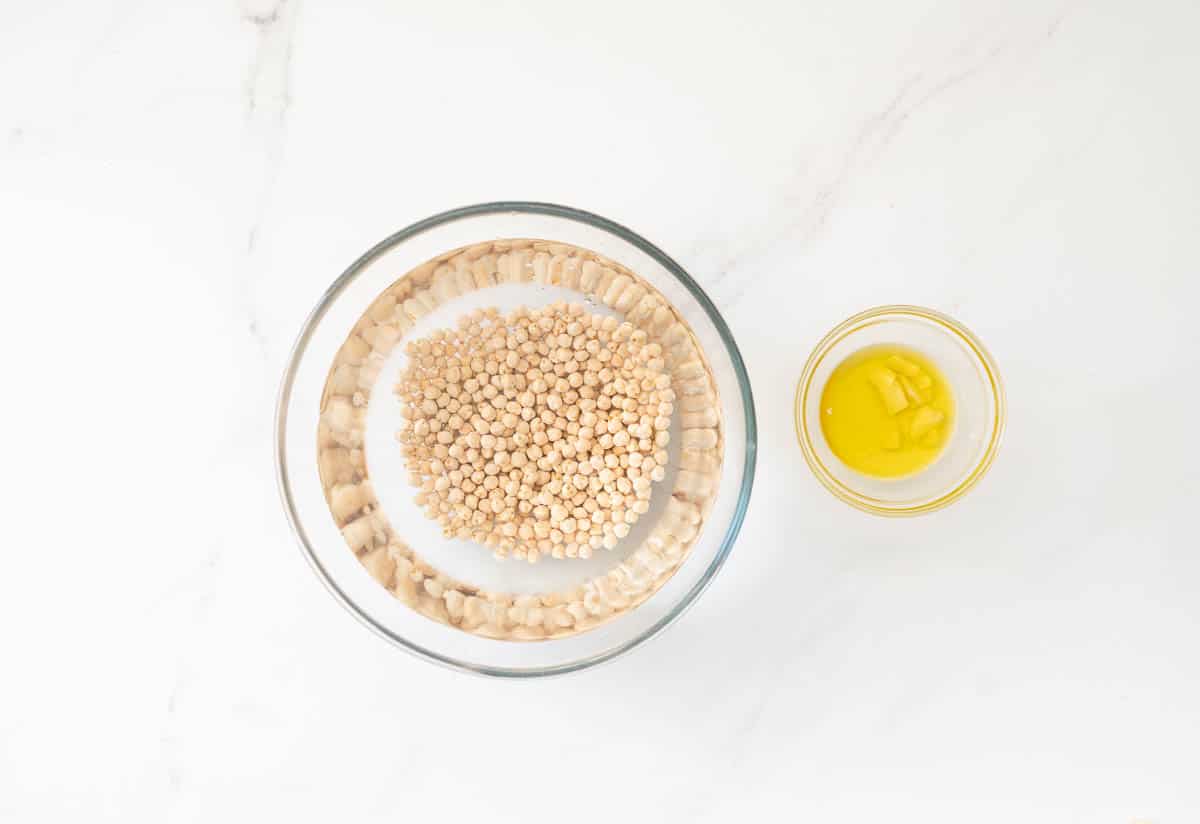 Cook / Next day
Step one: Preheat your oven to 180 degrees Celsius (360 F).
Step two: Rinse and drain chickpeas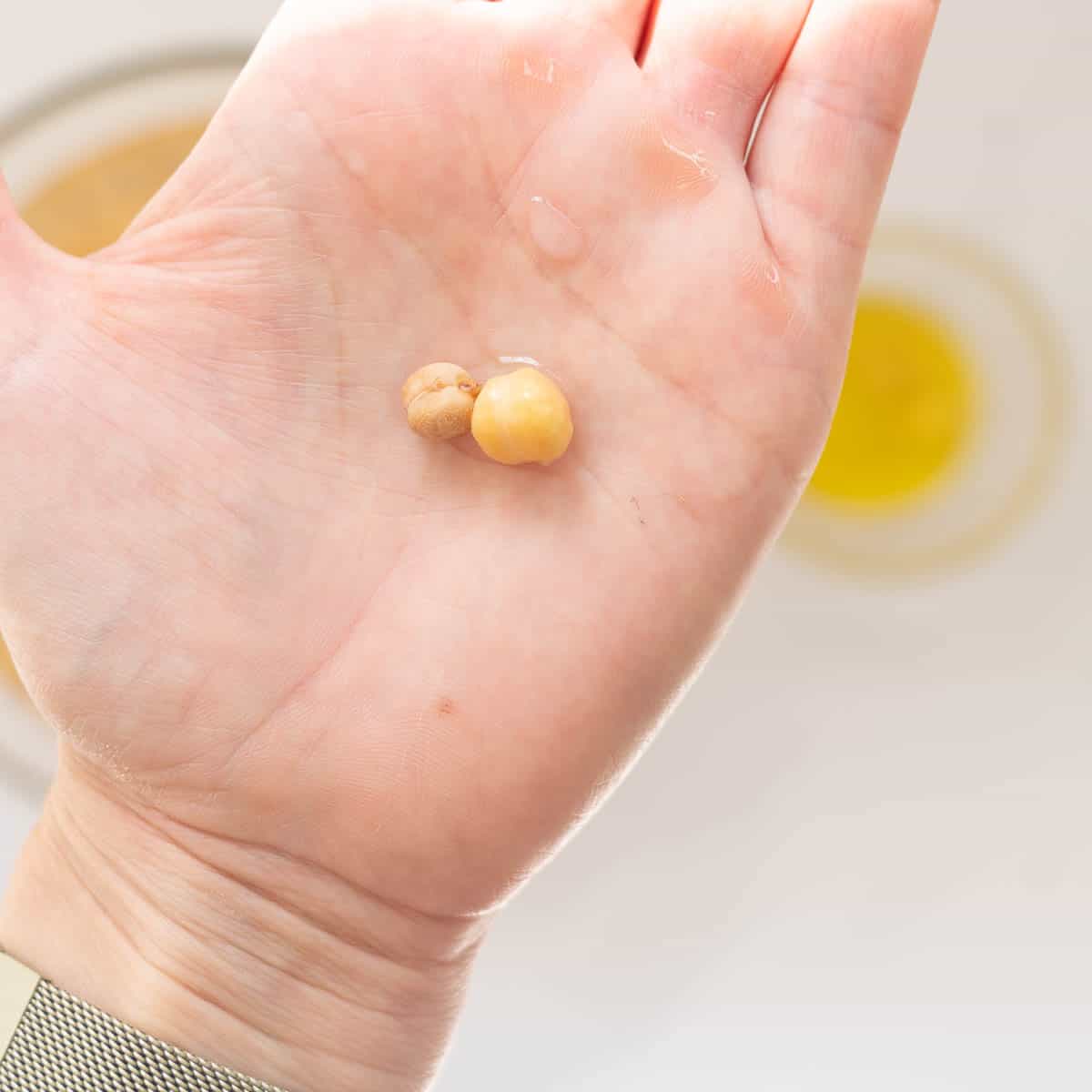 Step three: Dry chickpeas with a tea towel, dry them very well and kind of rough them up a bit so that some of their papery skins come off.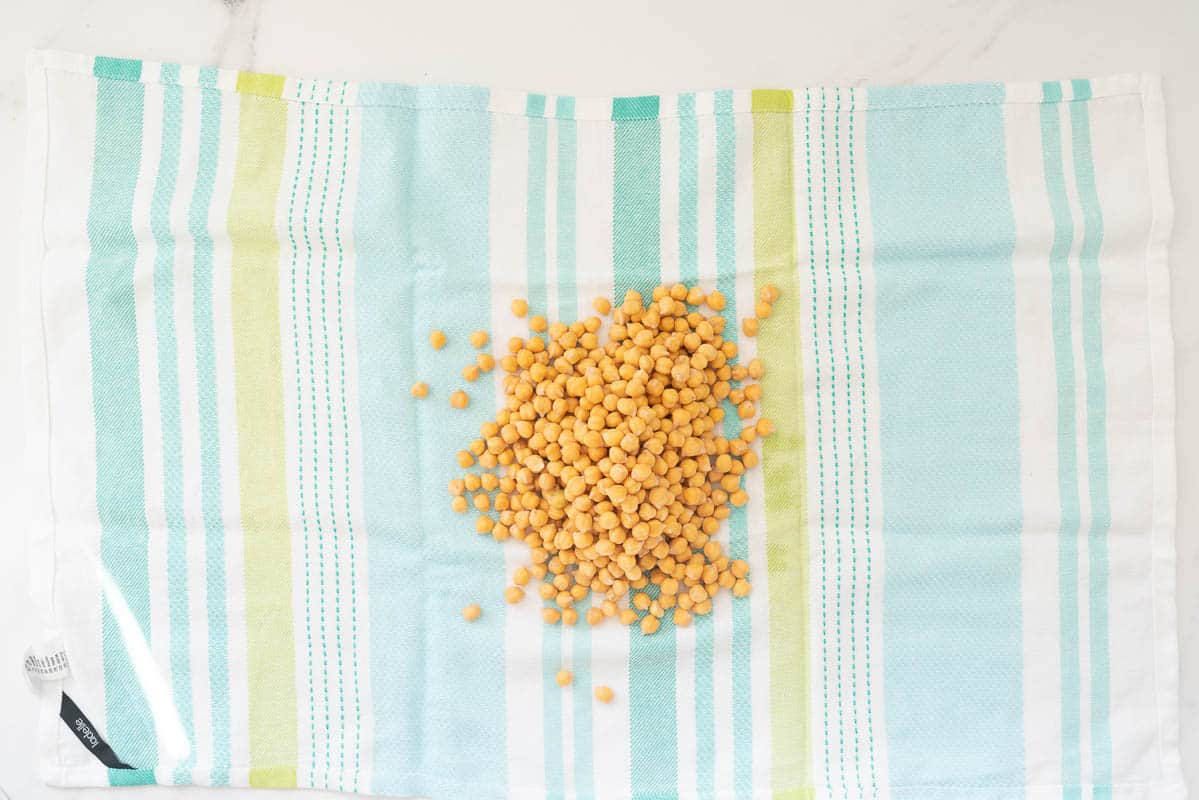 Step four: Spread the dried chickpeas out onto a lined baking tray and toss them in the garlic-flavoured olive oil. Bake at 180 degrees Celsius for 35-40 minutes, or until crunchy.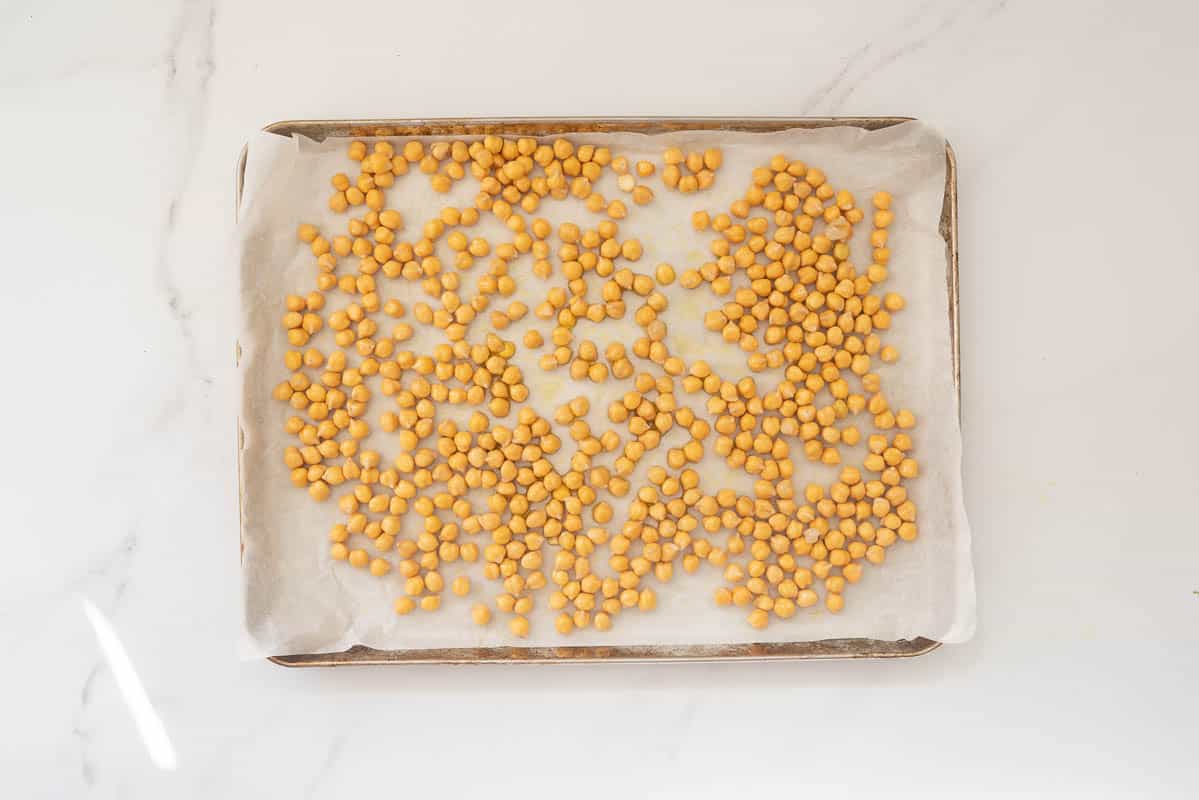 Step five: Let cool, then season with salt as needed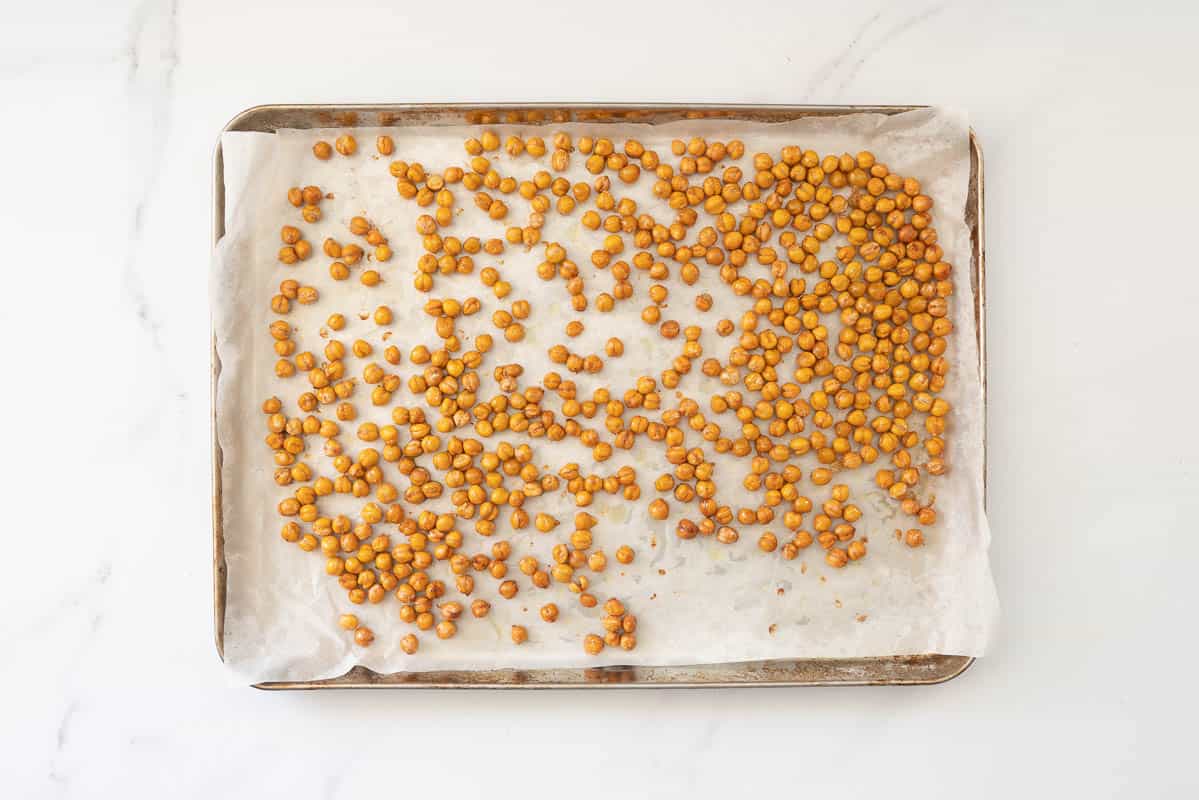 Enjoy!
---
Top Tips
Here is how you can make these roasted chickpeas perfectly every time!
To get the crispest chickpeas, dry your chickpeas as much as possible before oiling them.
Make sure you cool your chickpeas completely before storing them
Roast chickpeas store best in a glass container, they tend to sweat in plastic containers and bags and lose their crunch.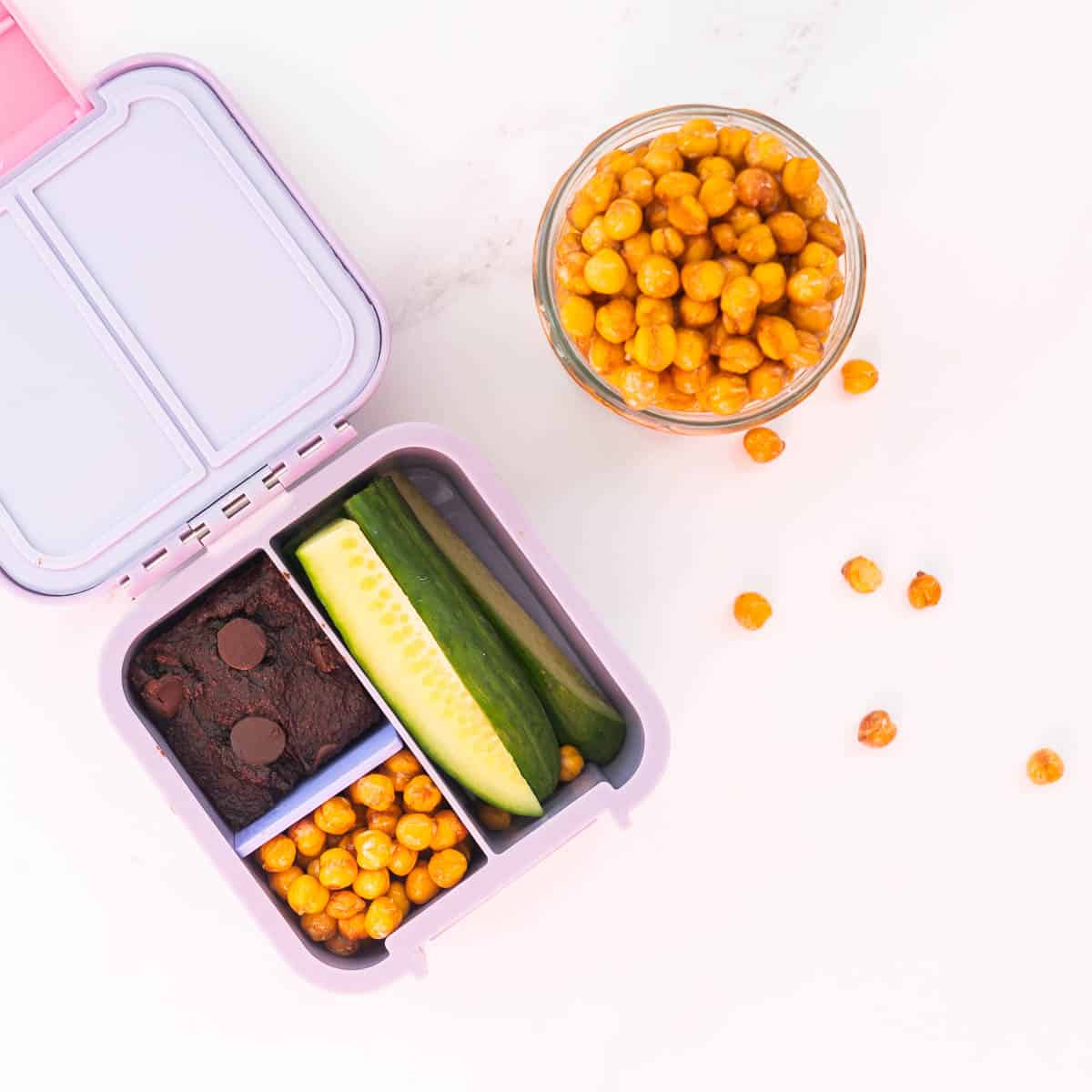 FAQs
Can I roast canned chickpeas?
Absolutely, drain and rinse the chickpeas, and dry them well before roasting them.
Do I have to cook chickpeas before roasting them?
No, as long as the chickpeas have been soaked you do not need to pre-cook them before roasting them.
How long do I need to soak chickpeas?
Chickpeas should be soaked overnight for 8-12 hours in cool water. You can reduce the soaking time if you add the chickpeas to a pot, cover in water and bring it to a boil, you then leave the chickpeas to soak for 2 hours.
How to store roasted chickpeas?
Once cooled store your roasted chickpeas in a glass jar at room temperature for 5-7 days.
Do roasted chickpeas need to be refrigerated?
No, roasted chickpeas can be stored in a glass jar at room temperature.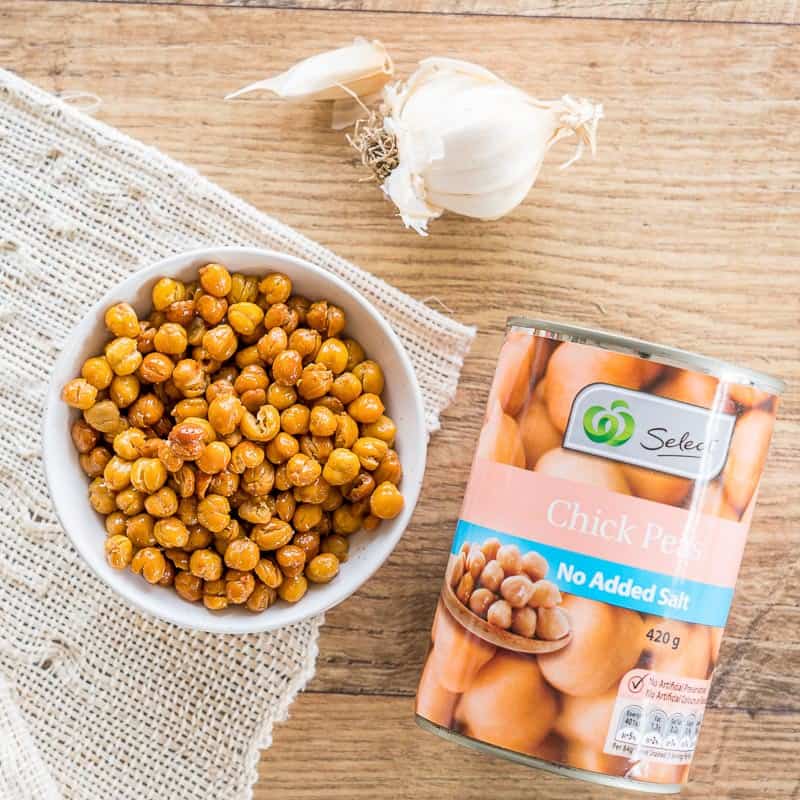 Other chickpea recipes you might like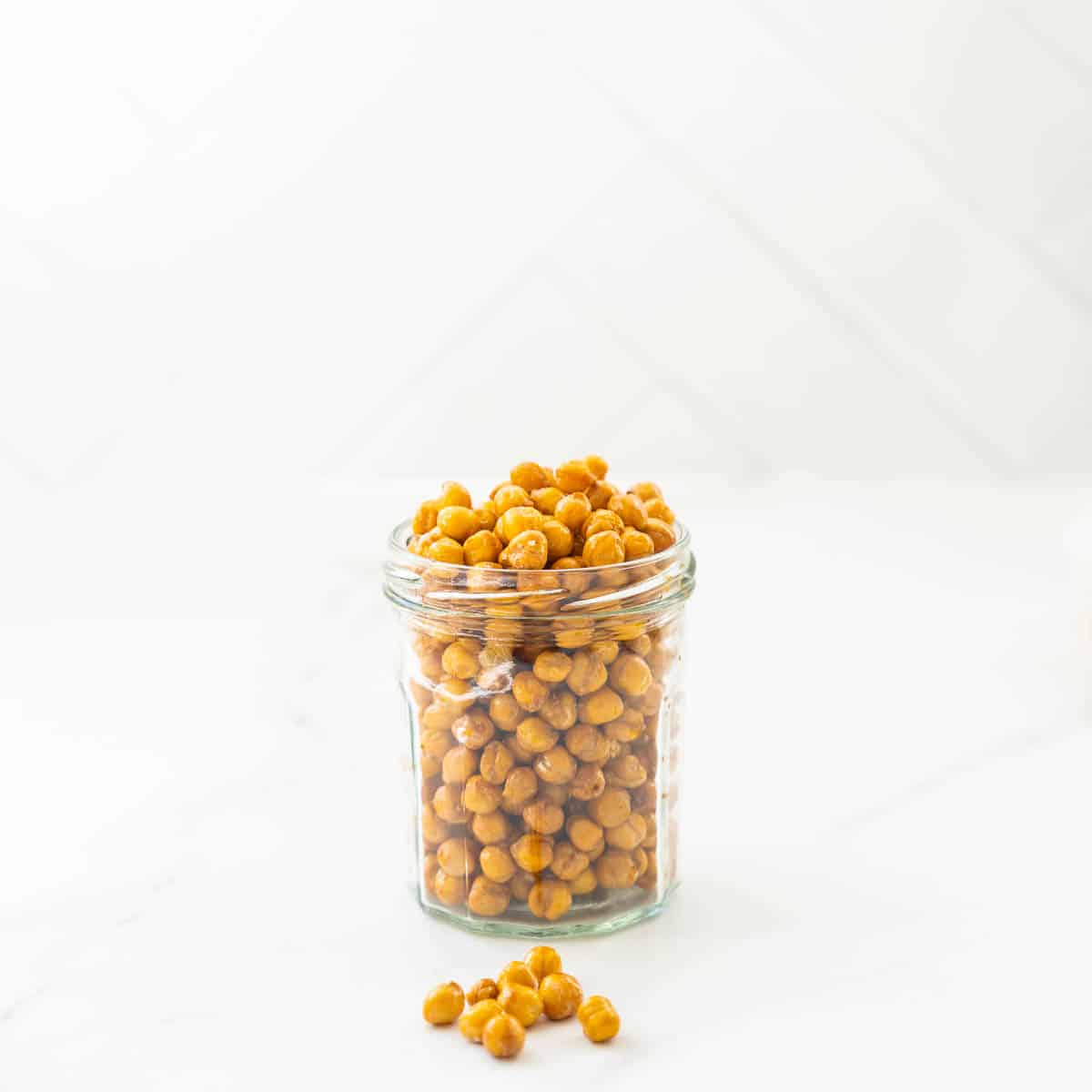 ---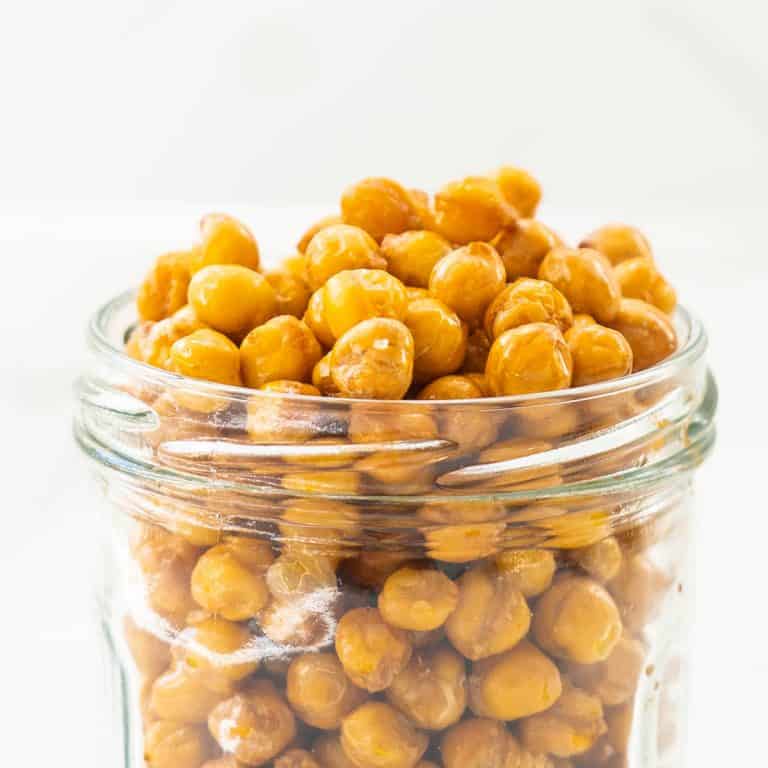 Crunchy Garlic Roasted Chickpeas
Easy crunchy roasted chickpeas, a healthy vegan protein-rich savoury snack flavoured with garlic, great for school lunchboxes and snacks
Print
Pin
Rate
RATE THIS RECIPE
Ingredients
200

grams

dried chickpeas

2

tablespoon

Olive oil

2

cloves

garlic

salt
Instructions
Prep / Night before
Place the chickpeas in a large bowl, cover with water. The chickpeas will swell by up to 3 times so ensure they are covered with ample water. Leave the chickpeas to soak over night.

Take the garlic cloves, place them on a chopping board and use the side of the knife blade to crush them, you don't need to cut them, just to break the clove up a bit, place the whole cloves, skin and all into the oil, and leave them to soak overnight
Cook / Next day
Preheat your oven to 180 degrees celsius (360 F).

Rinse and drain chickpeas

Dry chickpeas with a tea towel, dry them very well and kind of rough them up a bit so that some of their papery skins come off.

Spread the dried chickpeas out onto a lined baking tray and toss them in the garlic-flavoured olive oil. Bake at 180 degrees Celsius for 35-40 minutes, or until crunchy

Let cool, then season with salt as needed
Nutrition
Serving:
1
g
|
Calories:
164
kcal
|
Carbohydrates:
21
g
|
Protein:
6
g
|
Fat:
7
g
|
Saturated Fat:
1
g
|
Polyunsaturated Fat:
1
g
|
Monounsaturated Fat:
4
g
|
Sodium:
8
mg
|
Potassium:
296
mg
|
Fiber:
6
g
|
Sugar:
4
g
|
Vitamin A:
22
IU
|
Vitamin C:
2
mg
|
Calcium:
37
mg
|
Iron:
2
mg