Crunchy Chickpea Crackers
THIS POST MAY CONTAIN AFFILIATE LINKS.
Chickpea crackers have been a long-standing recipe on my website. They have everything you want when it comes to crackers, crunch, savory deliciousness and the are packed with the goodness of chickpeas and oats.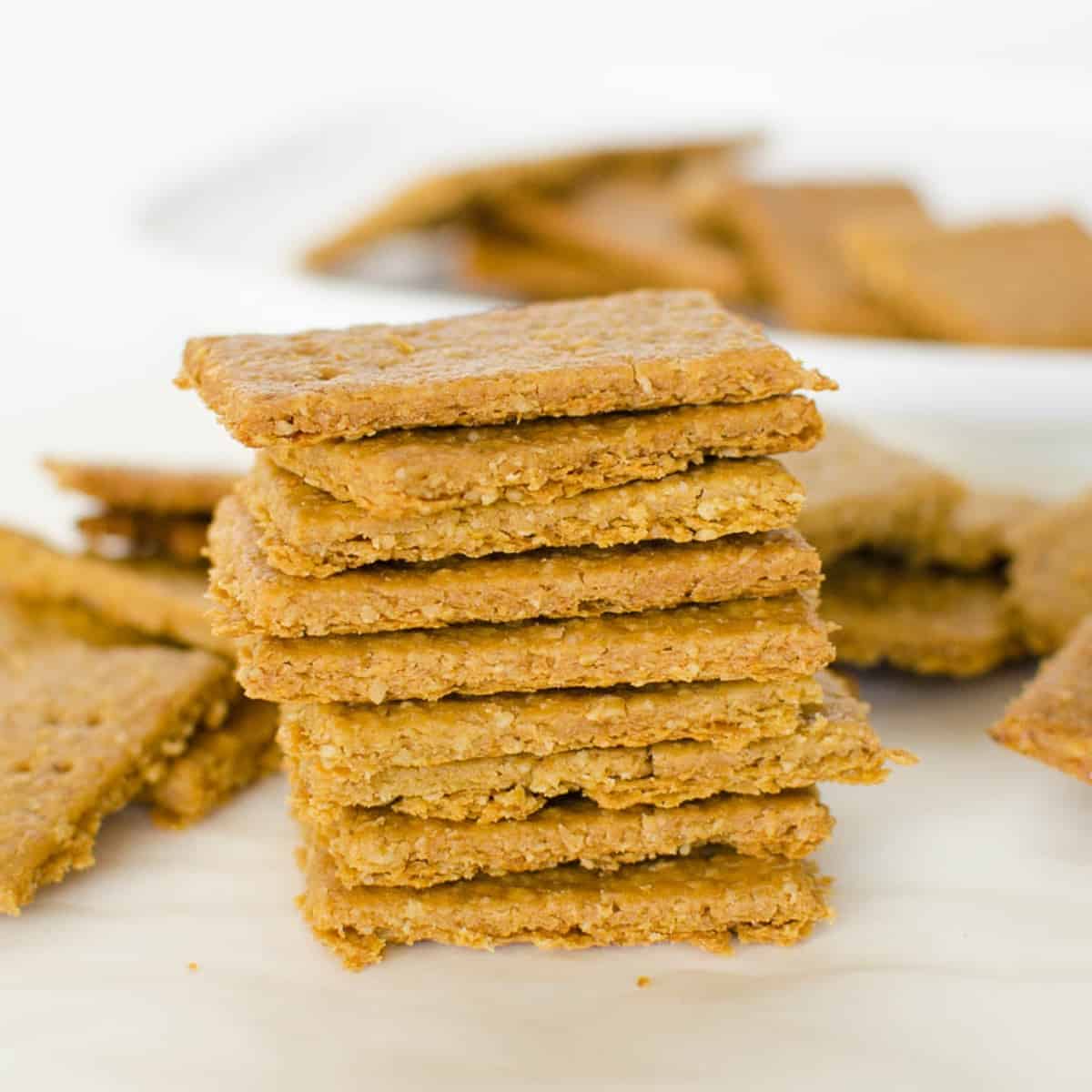 Why This Recipe Works
An easy recipe with basic ingredients
Vegan and wheat free.
Perfect with toppings but still filling and delicious when enjoyed without
With chickpeas and rolled oats as the main ingredients these crackers are a source of fiber, protein, and iron
Ingredients you will need
To make my Crispy Crunchy Chickpea and Oat Crackers you will need:
Chickpeas
Rolled oats
Garlic
Lemon juice
Salt
Olive oil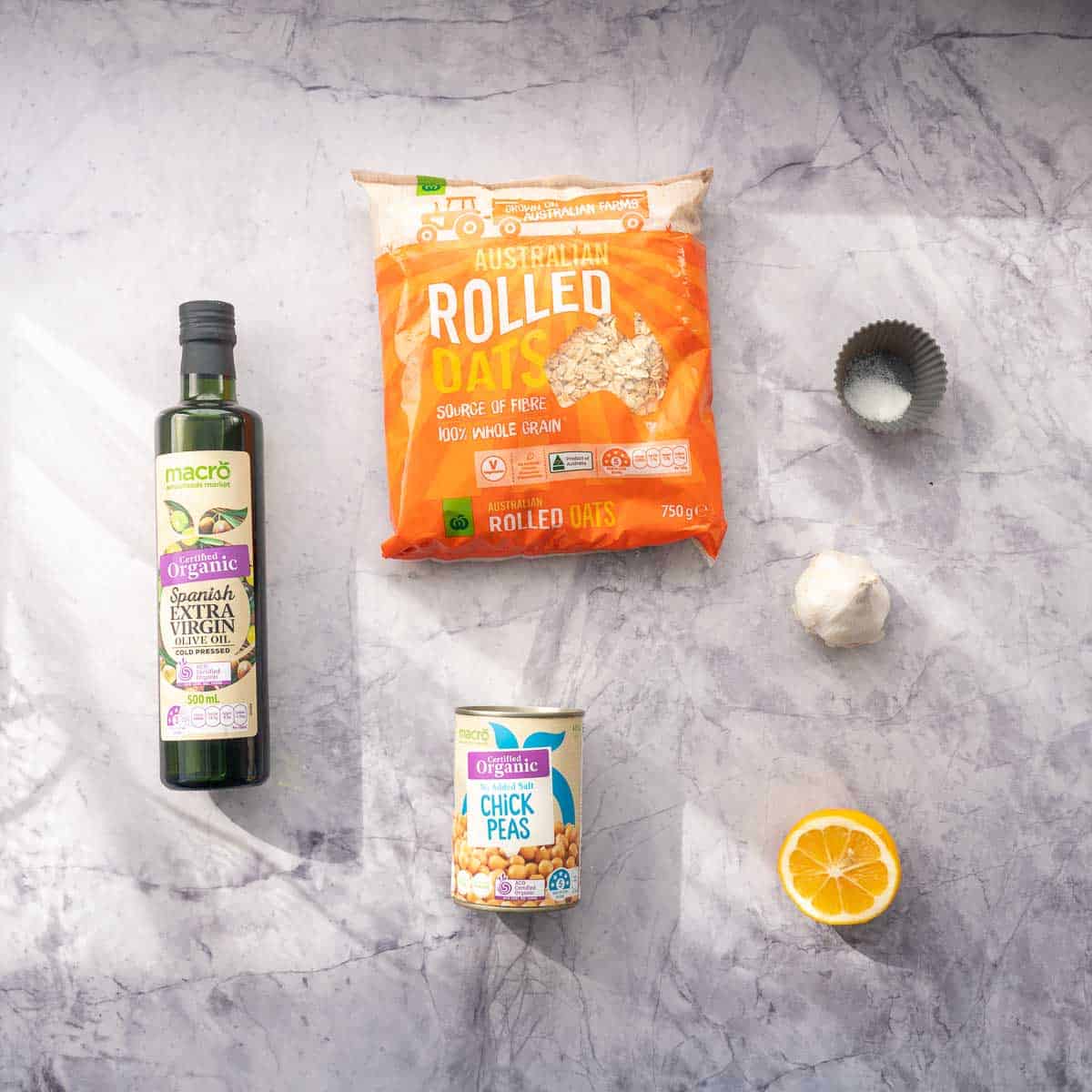 Ingredients Notes & Substitutions
Chickpeas: I use canned chickpeas, but you could use dried chickpeas that have been soaked. Chickpeas are also known as garbanzo beans.
Rolled oats: I use traditional rolled oats, but you could also finer use quick cook oats. This recipe will not work with steel-cut oats.
Olive oil: I like the flavour extra virgin olive oil gives to the crackers, but you can use a milder flavoured oil if you prefer.
Garlic: If you prefer the fresh garlic cloves can be subsituted for a teaspoon of garlic powder
I am an ambassador for Countdown supermarket. They support my blog by providing ingredients for recipe creation and testing. I used rolled oats, canned chickpeas, and extra virgin olive oil from their range in this recipe.
Step-by-step instructions
Below are illustrated instructions to make my Chickpea Cracker recipe, if you prefer just the written instructions then head straight to the printable recipe card below.
Step one: Rinse and drain the chickpeas
Step two: Place in a food processor, blend until they are smooth, form a ball and have a texture a little like playdough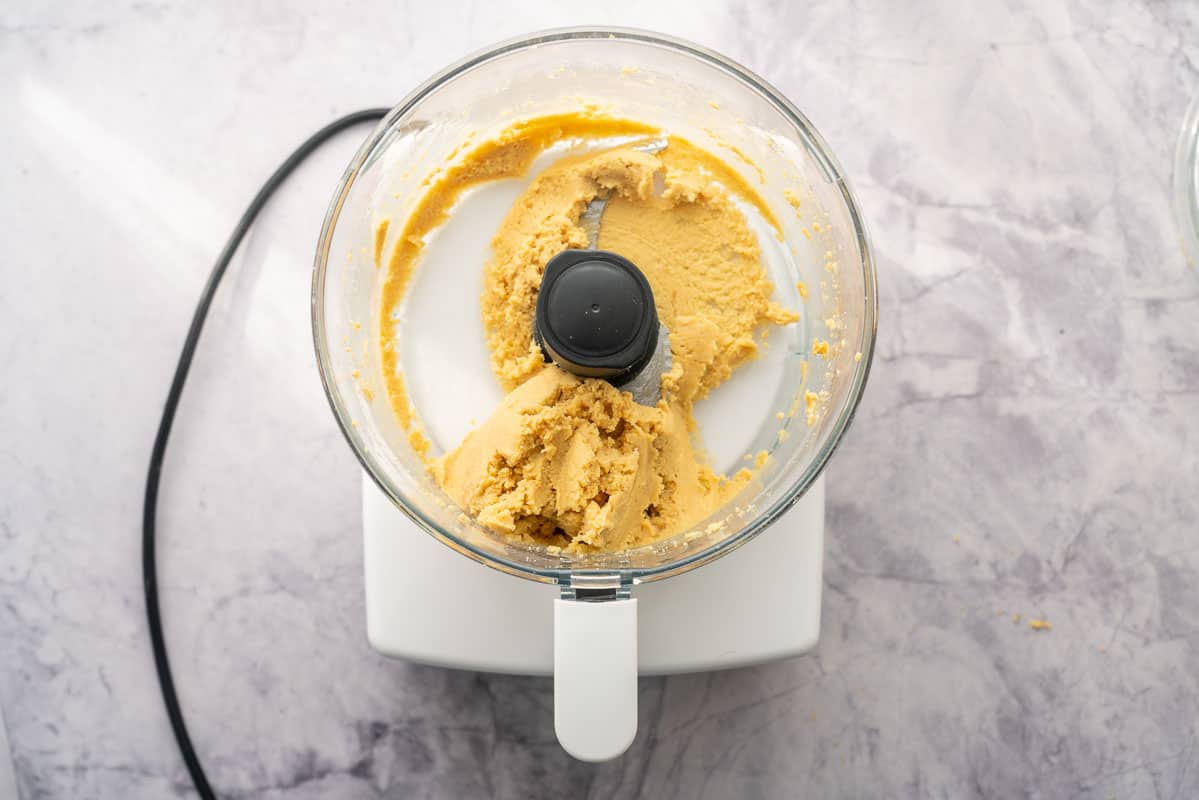 Step three: Add the rolled oats, and continue to blend until the oats are finely chopped into the chickpeas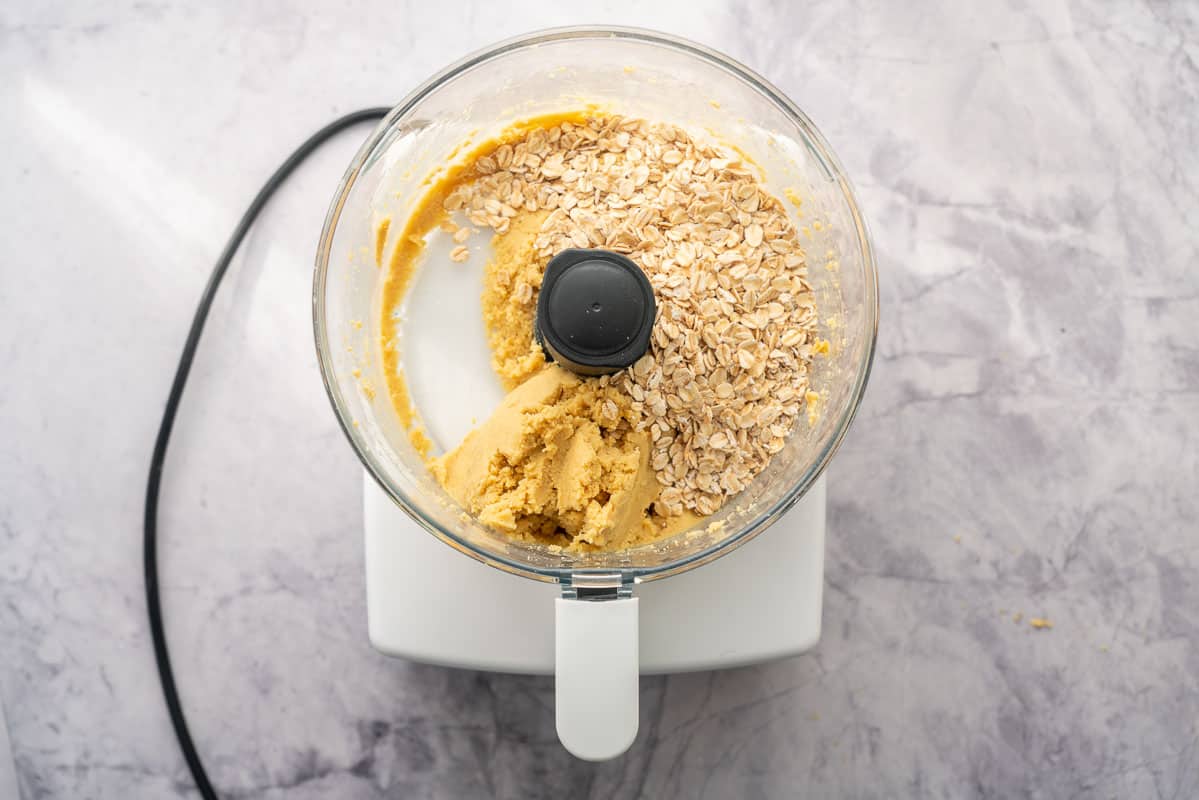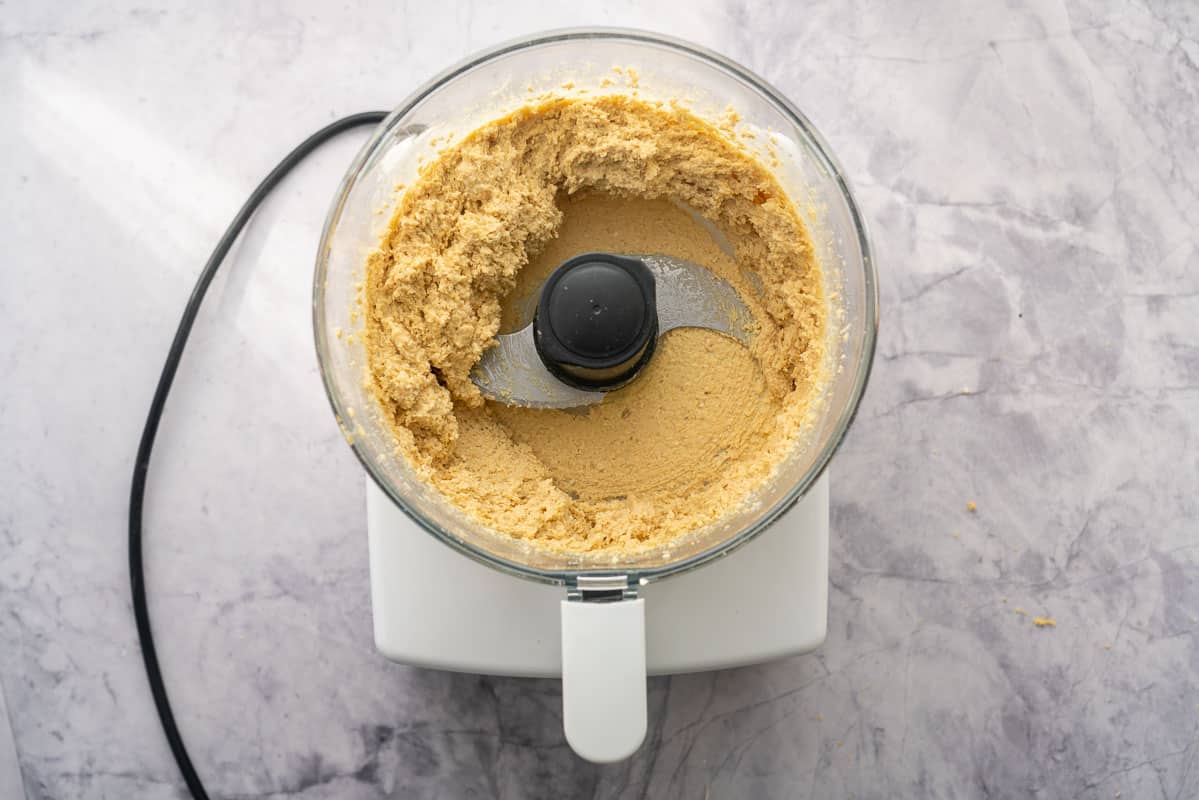 Step four: Add garlic, lemon juice and salt for seasoning
Step five: Begin blitzing in the food processor, gradually add the olive oil, continue blitzing/blending until the mixture comes together as a ball
Step six: Line a baking sheet with baking or parchment paper, place the dough on top, press the dough with your hands to start flattening it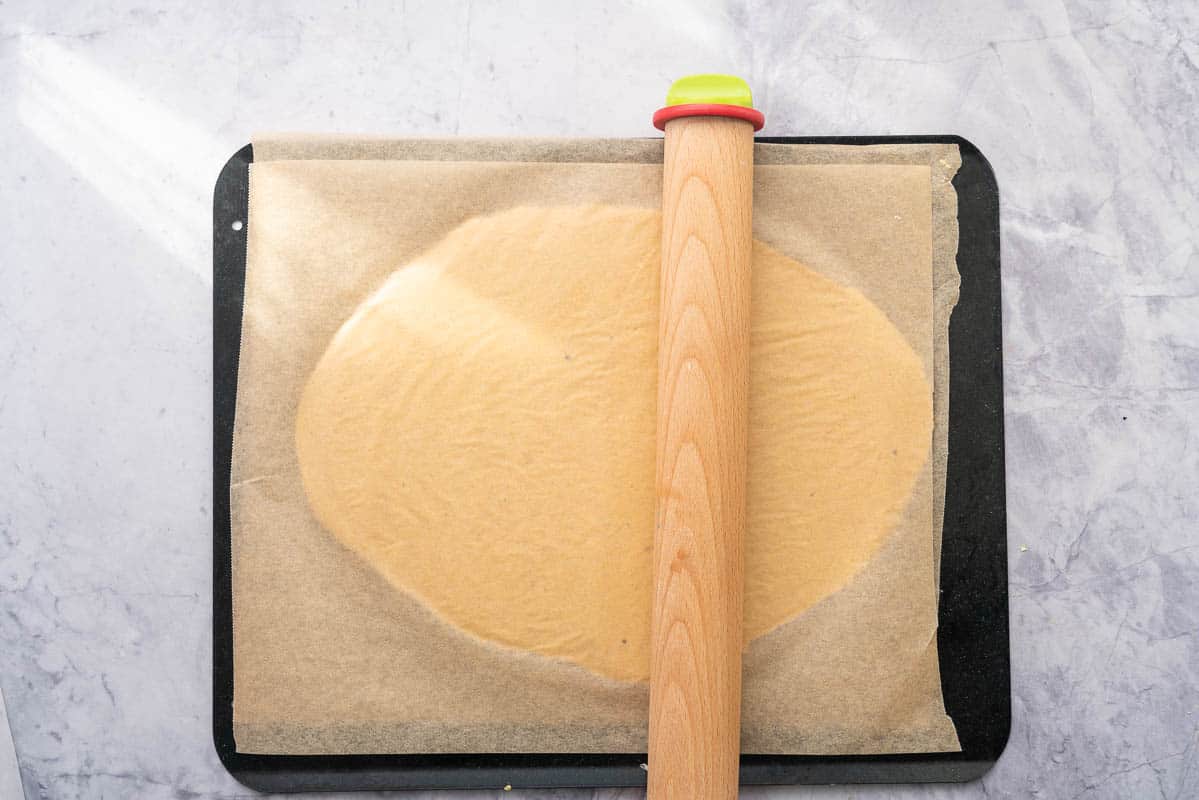 Step seven: Score the dough into cracker shaped pieces, I use a pizza roller to do it, but you can use a knife
(Optional) Sprinkle the crackers with flaked sea salt.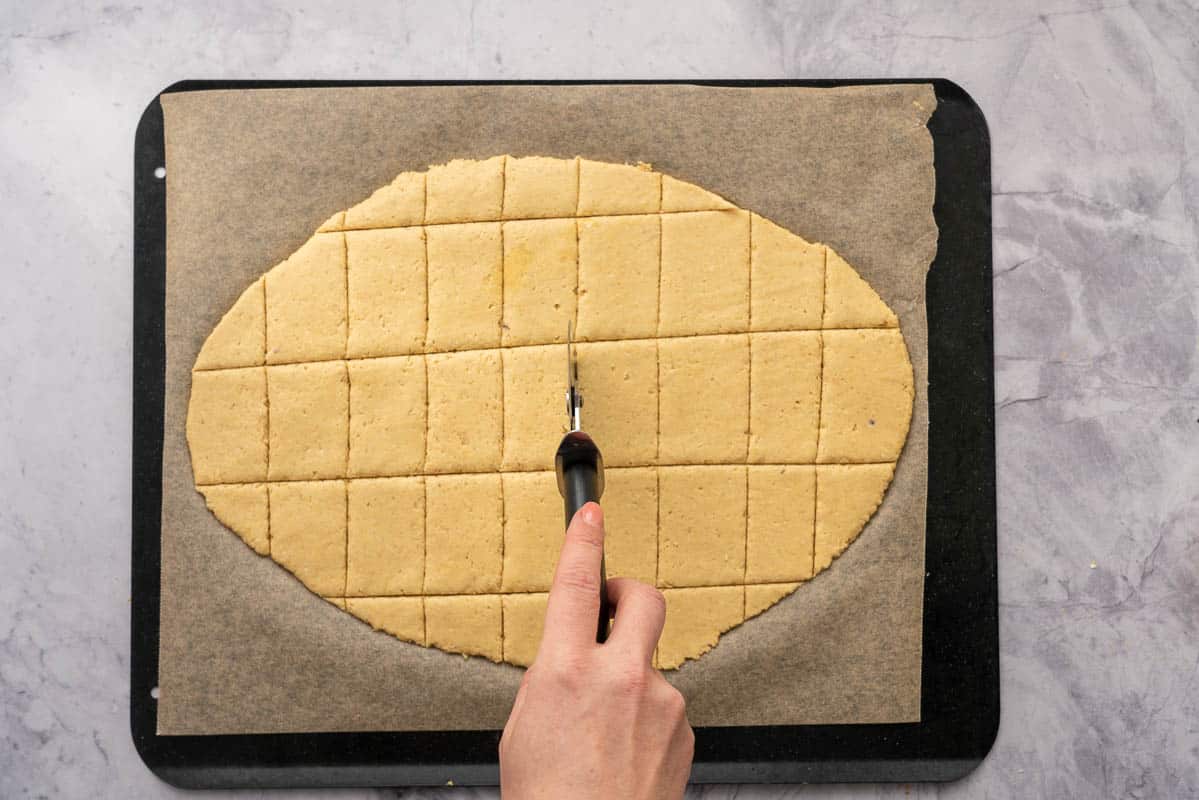 Step eight: Bake at 180 degrees Celsius 360 Fahrenheit for 40-50mins until golden.
Step nine: Leave to cool
Enjoy!
---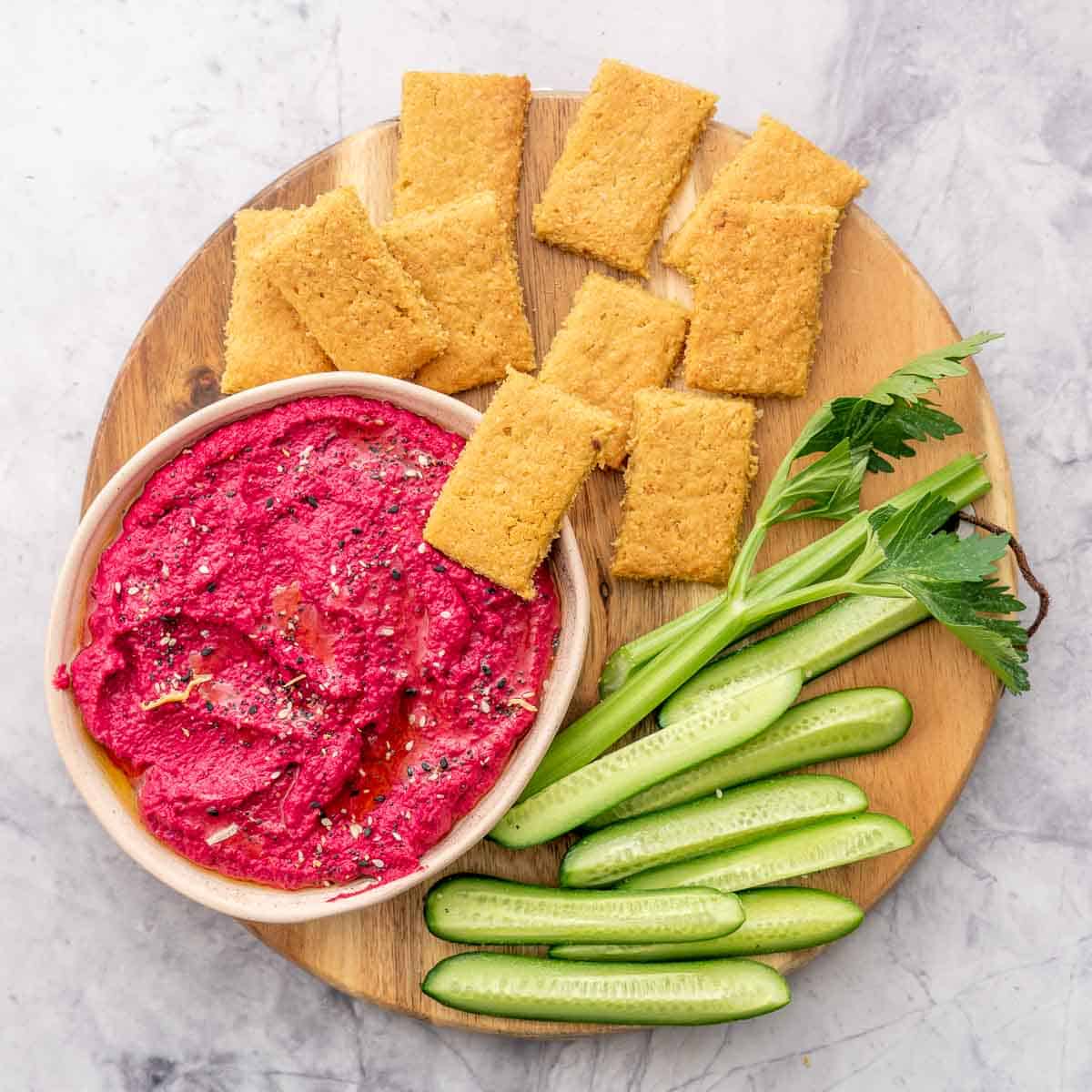 Top Tips
Here is how you can make these Chickpea Crackers perfectly every time!
Take the time to roll the cracker dough nice and thin. The thinner they are the crunchier and crispier they will be.
Check the crackers during cooking. The crackers on the outer edges can cook faster than the centre. If you notice some crackers becoming over-cooked, snap them off and remove those ones from the oven.
These crackers are delicious served with hummus, cheese, dips on grazing platters or in lunchboxes.
Pricking your crackers with a fork in the centre before baking can help the crackers bake more evenl
If you don't have all the ingredients but want to make a similar recipe try my two ingredient hummus crackers.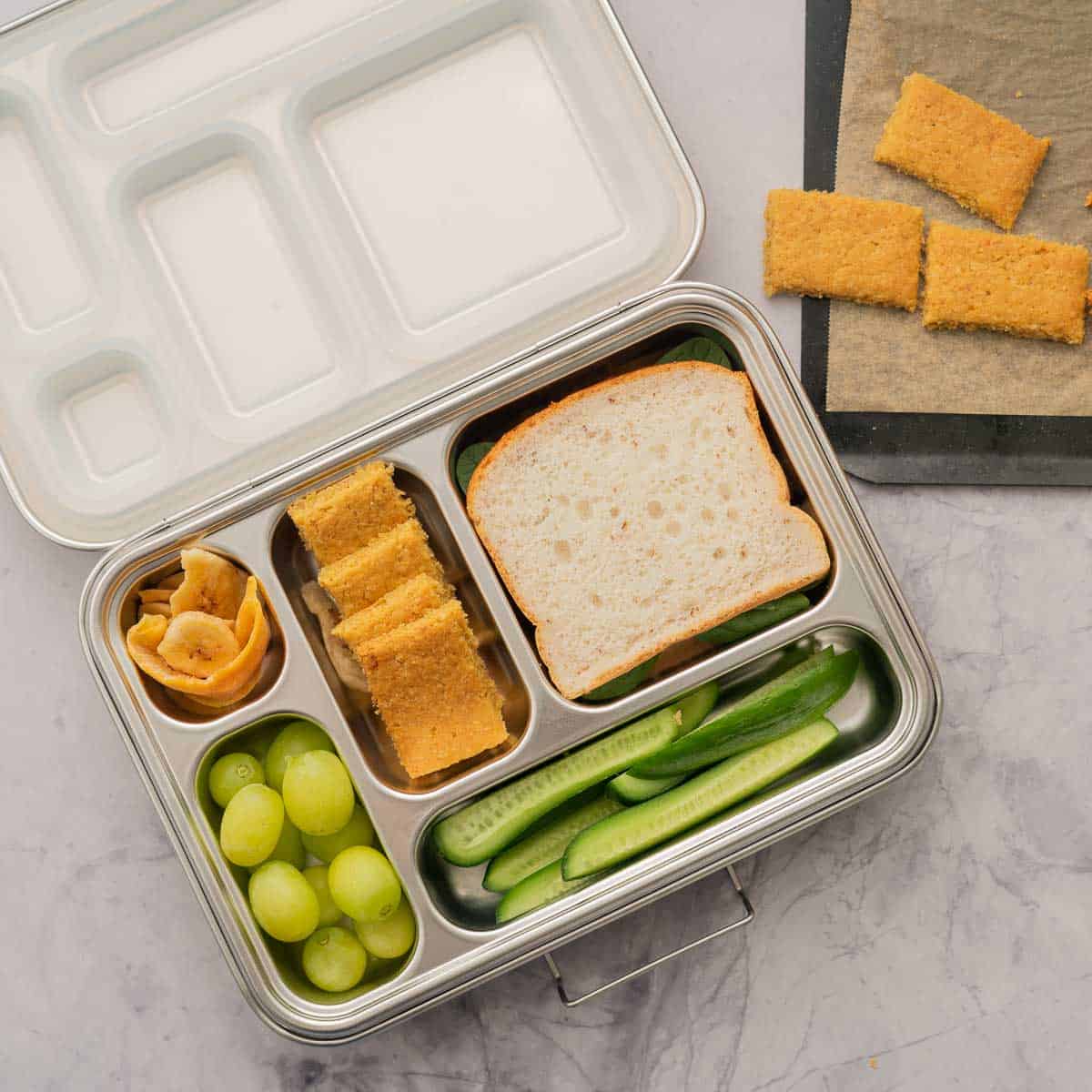 FAQs
How to store chickpea crackers?
Chickpea crackers will store in an air tight container in the pantry for up to two weeks.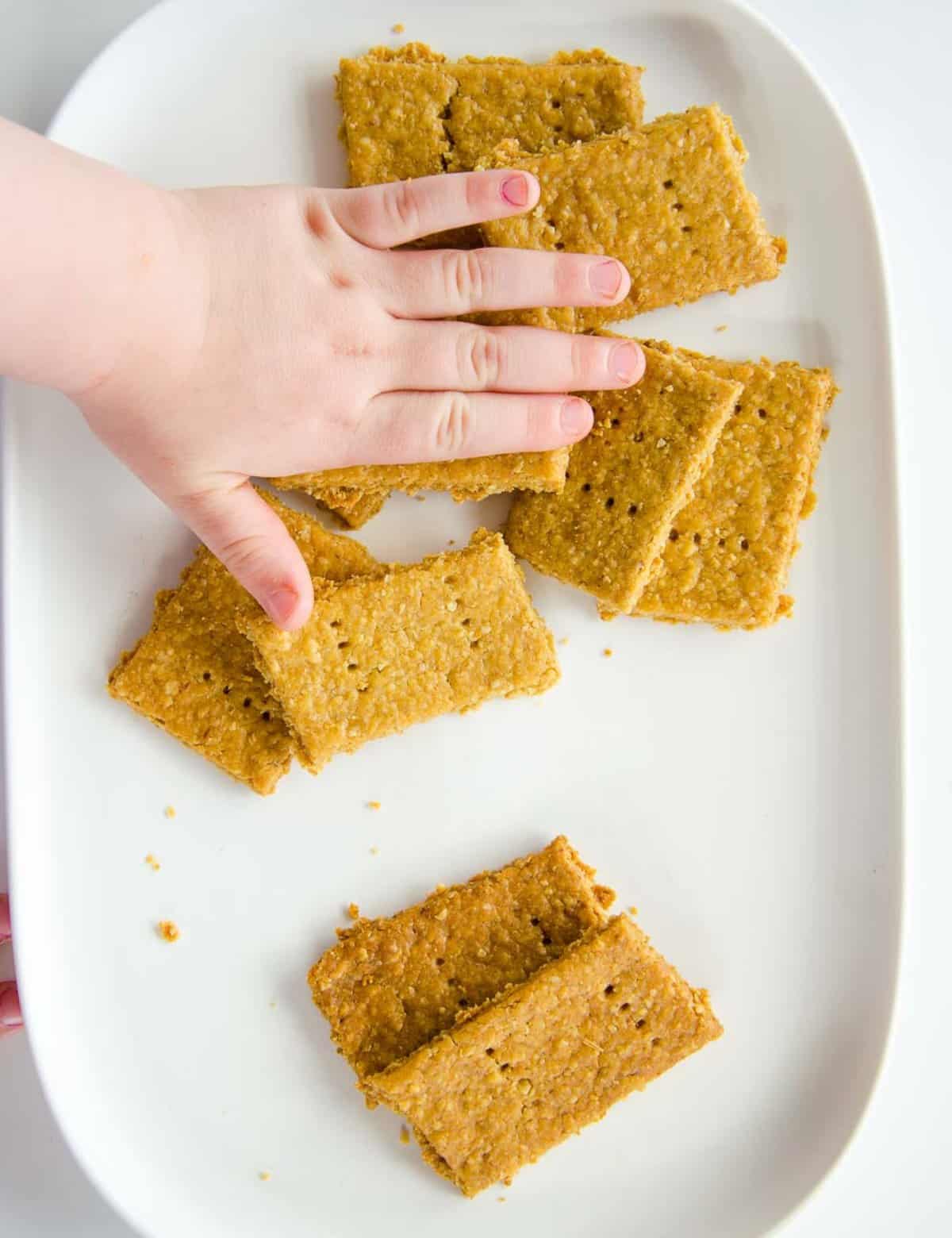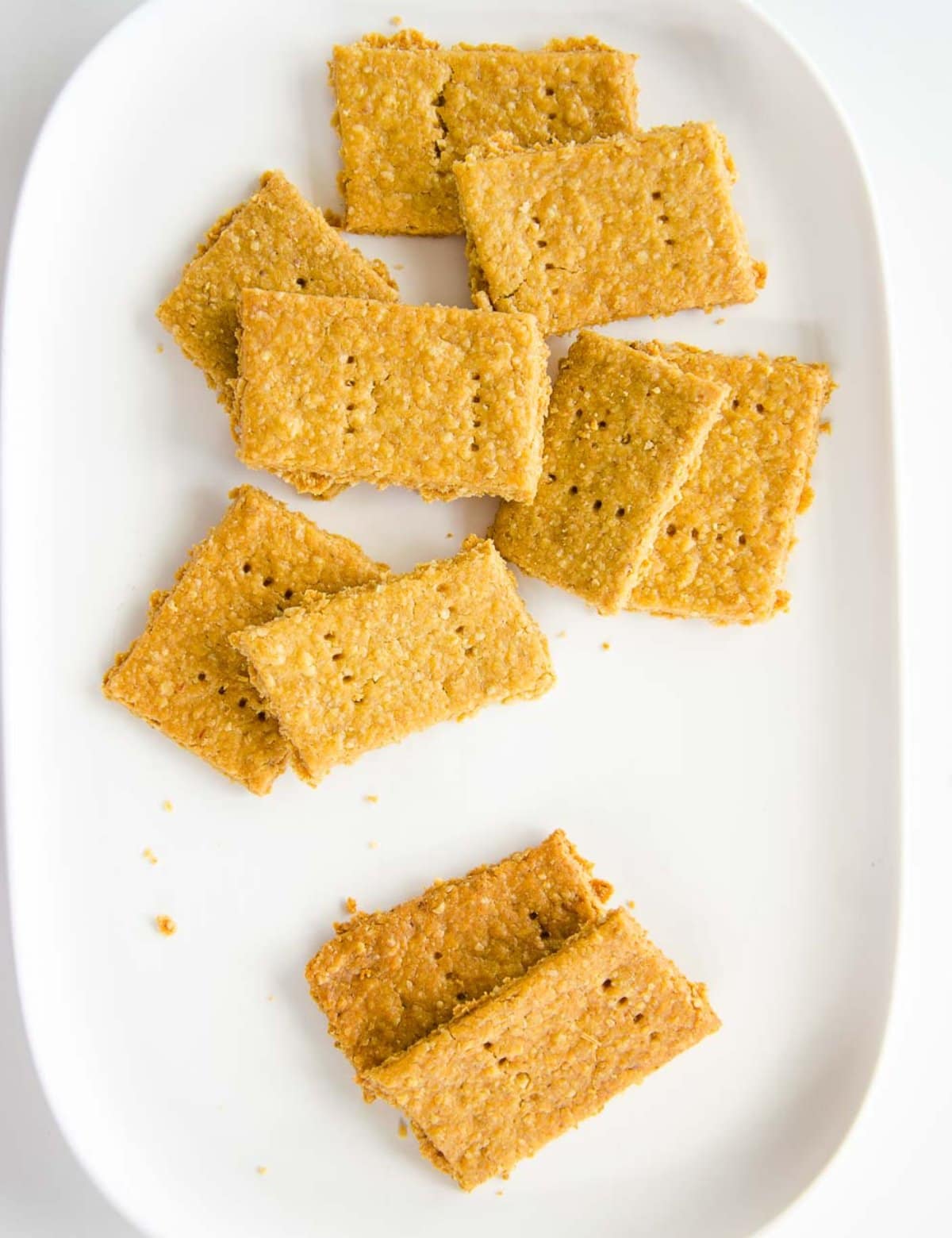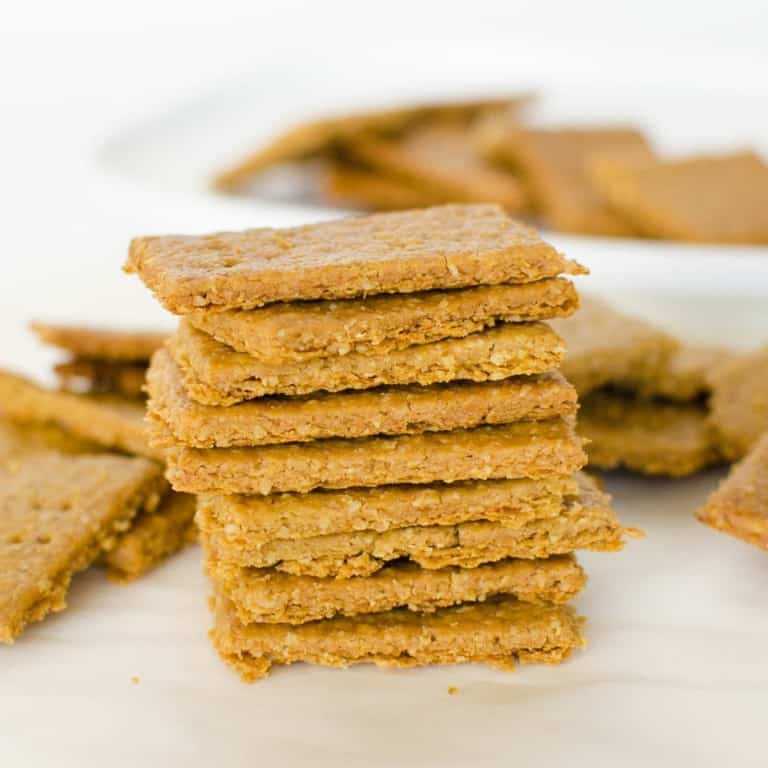 Chickpea Crackers
Chickpea crackers, a healthy vegan cracker made with simple ingredients. Crispy, crunchy and delicious
Print
Pin
Rate
RATE THIS RECIPE
Ingredients
400

g

can chickpeas

1

Cup

rolled oats

2

cloves

garlic

1

tablespoon

lemon juice

Salt

¼

Cup

olive oil
Instructions
Rinse and drain the chickpeas

Place in a food processor, blend until they are smooth, form a ball and have a texture a little like playdough

Add the rolled oats, continue to blend until the oats are finely chopped into the chickpeas

Add garlic, lemon juice and salt for seasoning

Begin blitzing in the food processor, gradually add the olive oil, continue blitzing/blending until everything comes together as a ball

Line a baking tray with baking paper, place the dough on top, press the dough with your hands to start flattening it

Place a second piece of baking paper on top of the dough, using a rolling pin, roll until it is evenly spread over the baking tray and approximately 5mm thick

Score the dough into cracker shaped pieces, I use a pizza roller to do it, but you can use a knife

Bake at 180 degrees Celsius  360 Fahrenheit for 40-50mins until golden

Leave to cool
Notes
Take the time to roll the cracker dough nice and thin. The thinner they are the crunchier and crispier they will be.
Check the crackers during cooking. The crackers on the outer edges can cook faster than the centre. If you notice some crackers becoming over-cooked, snap them off and remove those ones from the oven.
These crackers are delicious served with hummus, cheese, dips on grazing platters or in lunchboxes.
Pricking your crackers with a fork in the centre before baking can help the crackers bake more even.
Chickpea crackers will store in an air tight container in the pantry for up to two weeks.
Chickpeas: I use canned chickpeas, but you could use dried chickpeas that have been soaked. Chickpeas are also known as garbanzo beans.
Rolled oats: I use traditional rolled oats, but you could also finer use quick cook oats. This recipe will not work with steel-cut oats.
Olive oil: I like the flavour extra virgin olive oil gives to the crackers, but you can use a milder flavoured oil if you prefer.
Garlic: If you prefer the fresh garlic cloves can be subsituted for a teaspoon of garlic powder
Nutrition
Serving:
1
g
|
Calories:
38
kcal
|
Carbohydrates:
4
g
|
Protein:
1
g
|
Fat:
2
g
|
Saturated Fat:
0.3
g
|
Polyunsaturated Fat:
0.4
g
|
Monounsaturated Fat:
1
g
|
Sodium:
37
mg
|
Potassium:
30
mg
|
Fiber:
1
g
|
Sugar:
0.04
g
|
Vitamin A:
2
IU
|
Vitamin C:
0.3
mg
|
Calcium:
6
mg
|
Iron:
0.3
mg
---