These mini banana and blueberry muffins are the perfect first muffins for baby!
They have a lovely soft texture that is spongey rather than crumbly and contain no added sugar or salt. Which like I said make them absolutely perfect as the first muffin for babies starting on finger food.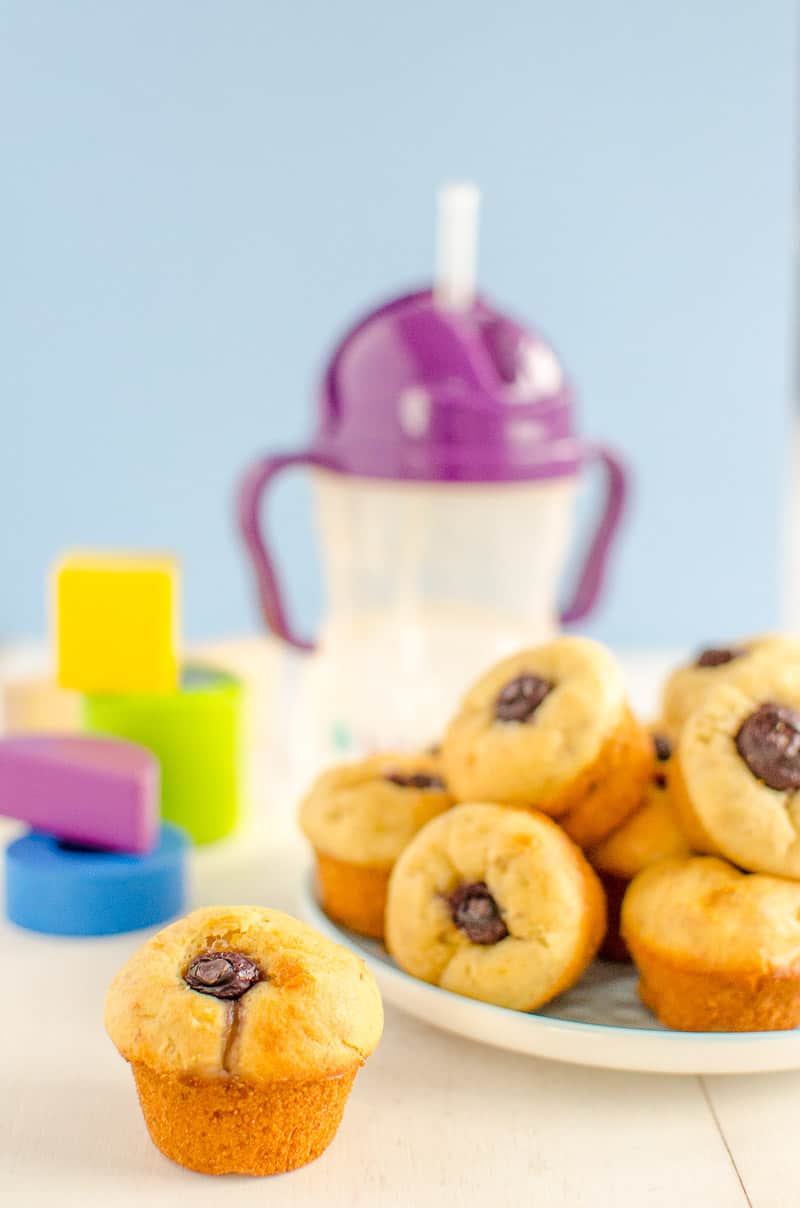 Whether you are your starting solids following baby led weaning or traditional spoon feeding, babies all need finger foods for development and these are great.
My kids still love them in their lunchboxes despite being well past the baby food phase.
The banana does the sweetening in this recipe and when I make them for young babies I tend to just stick one blueberry on top. The reason being they can get beyond messy filled with blueberries.
Do not get me wrong I am all for kids having fun with food and making a mess, but I often pack these for when we are out and about. limiting the blueberries limits the mess! But honestly, you can add more blueberries to the mix too!
Muffin recipes for babies
If you are looking for other muffin recipes for babies, then these may also be suitable.
Apple Banana & Carrot Muffins or My banana and avocado muffins are lovely and soft, for a wheat-free option my blueberry and banana pancake muffins are super easy and kid friendly.
My newest muffin recipe are my Spinach Muffins for Toddlers, they are a sweet style muffin low in sugar and packed with fruit and veggies, although they say for toddlers in the name they are fine for any finger food baby!
Hold the phone, this is not my latest recipe anymore, my newest muffin recipe is a grain free double chocolate zucchini muffin and they are so tasty!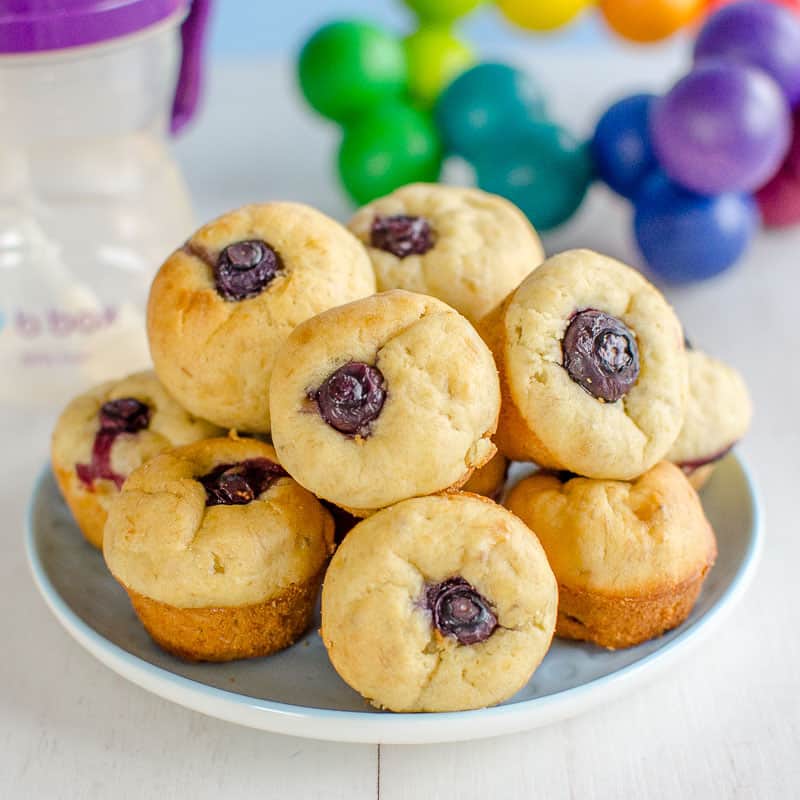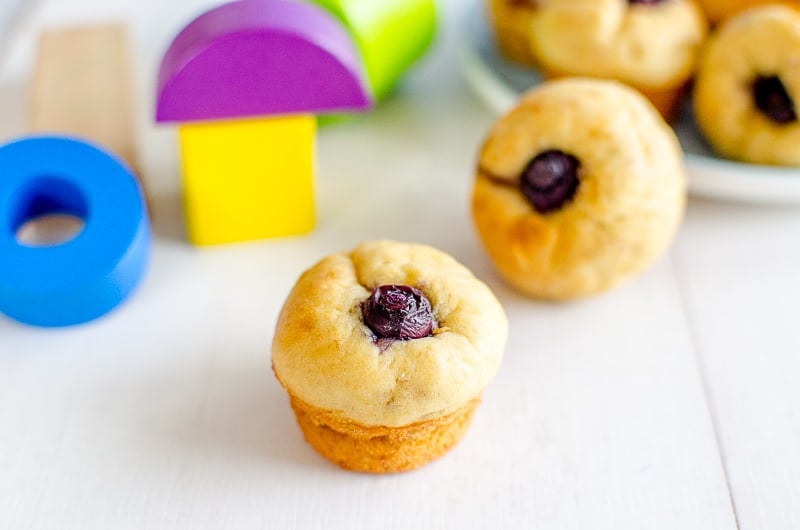 First Muffins For Baby - Banana and Blueberry
A Soft Baby Muffin with Banana and Blueberry, perfect as a first muffin or for toddlers and kids!
Ingredients
250g banana (equiv of 2 med bananas)
2 eggs
1 teaspoon vanilla
100g oil or melted butter
160g standard flour 
1.5 tsp baking powder
30 blueberries
Instructions
In a large bowl, mash the bananas with a fork
Add eggs, vanilla, and butter/oil
Beat these wet ingredients together with a hand held beater (I use an electric one), the batter should become smooth, yellow and a little frothy
Add the flour and baking powder
Beat for a further 30-60 seconds to make a well-mixed batter
Portion into an oiled muffin tin (I use a non-stick silicon tray sprayed with oil) Mix makes 12 standard sized muffins or 30 mini muffins
Top the muffins with a blueberry or two
Bake at 180 degrees Celsius for 15 mins (360 Fahrenheit), 15 min cook time is based on making mini muffins, the mix makes approx 30 mini muffins. If you are using a standard muffin tray and making approx 12 muffins the cook time will be longer, approx 25-30 mins
Cool
Serve
Notes
These muffins can be stored in an airtight container for 3 days, or they can be frozen.
For dairy, free make sure you substitute the butter for an oil
Use a mild tasting oil, such as coconut,  or rice bran, olive oil will be too strong in flavour
15 min cook time is based on making mini muffins, the mix makes approx 30 mini muffins. If you are using a standard muffin tray and making approx 12 muffins the cook time will be longer, approx 25-30 mins
Nutrition Information:
Yield:

30
Serving Size:

1
Amount Per Serving:
Calories:

66
Total Fat:

4g
Saturated Fat:

1g
Trans Fat:

0g
Unsaturated Fat:

3g
Cholesterol:

13mg
Sodium:

32mg
Carbohydrates:

6g
Fiber:

0g
Sugar:

1g
Protein:

1g
This nutrition analysis is based on the ingredients list