Spinach Muffins For Toddlers
THIS POST MAY CONTAIN AFFILIATE LINKS.
Have you ever thought of your muffin as a superhero? I have, my four year old told me he wanted to be the hulk and would only eat green food. What could I do? But create some spinach muffins for my little man
Enter the Super Hero of muffins and green to boot – the Spectacular Spinach Monster Muffin – guaranteed to enhance your 'hulkability', as I told my son.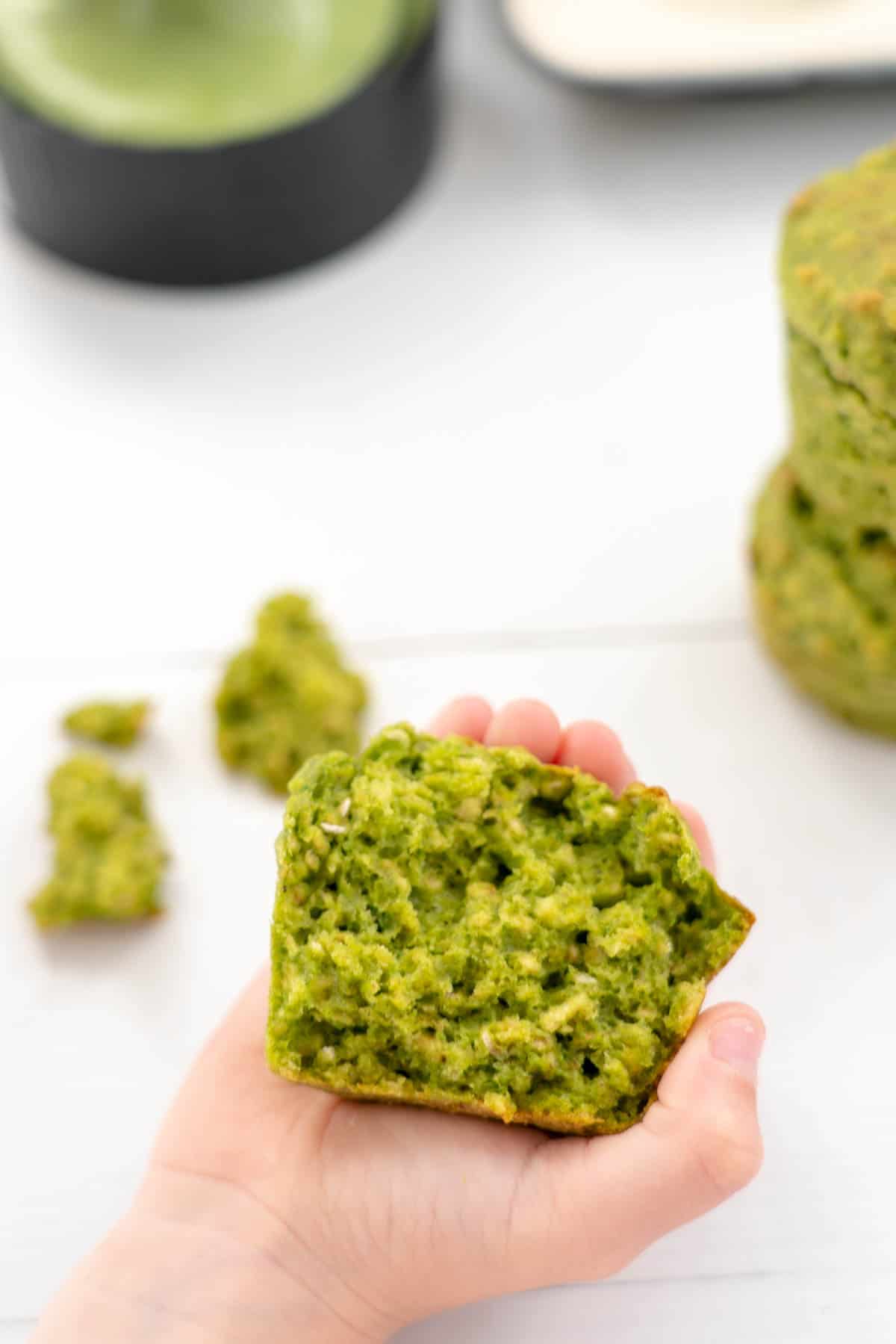 Toddler Muffins
Truthfully, I have a love hate relationship with the good old muffin.
They are a fantastic toddler snack, portable, filling, you can bake and freeze them and you make them in a gazillion flavours. I mean so far what is not to like!
Most parents I know love the muffin as a go-to snack but worry about the level of sugar found in them (which is usually high), the empty calories and the amount of mess one muffin can make – with muffin crumbs ending in places that not even the trusty dust buster or dog can't always get.
This is where my Spinach Muffin for Toddlers comes in. They truly are the superhero of the muffin world, full of hidden fruit and veggies, absolutely no refined sugar with the bulk of the sweetening coming from bananas and just a little maple syrup or honey.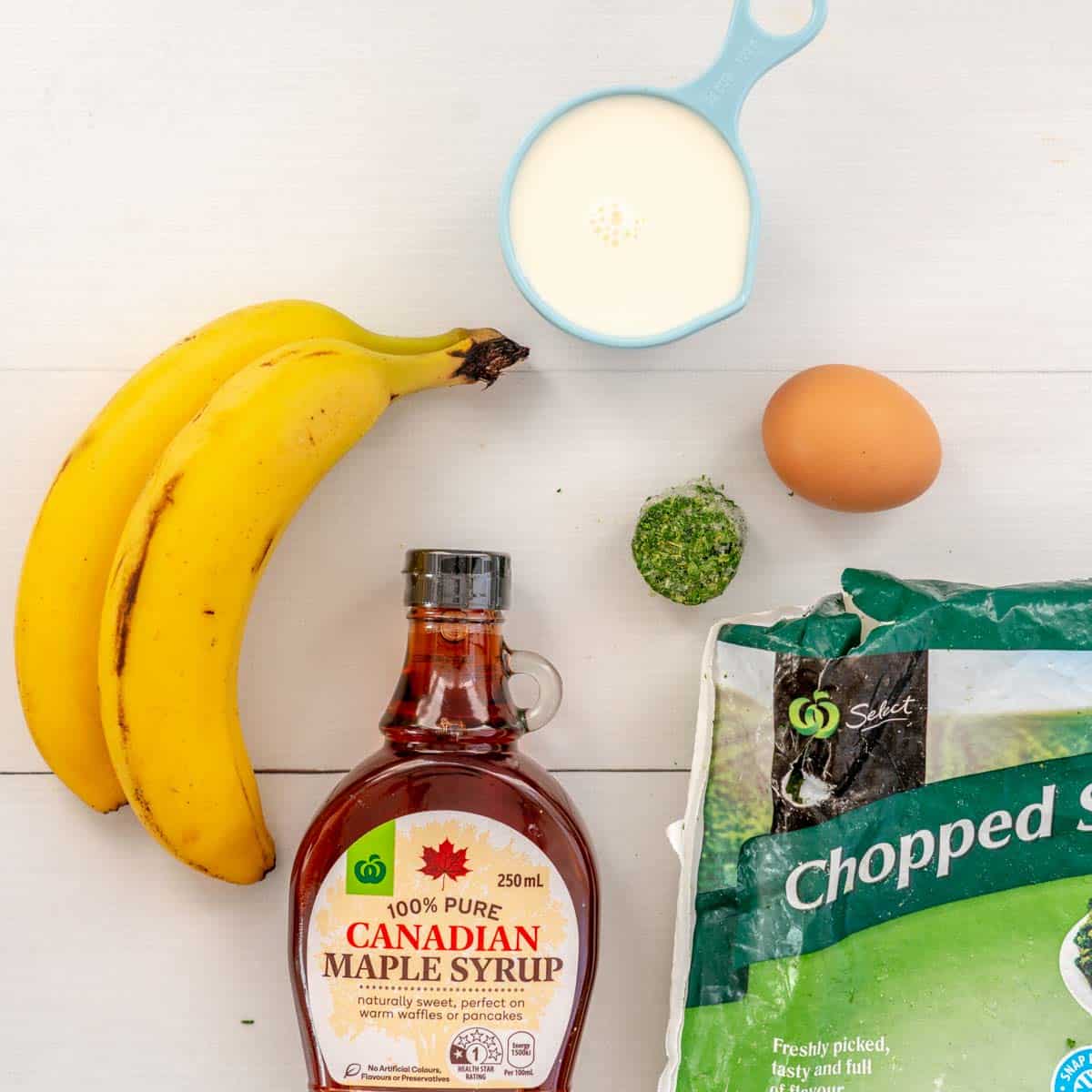 Healthy Muffins For Kids
These muffins have oats as half of the grain component. I love oats, they are cheap, high in fibre and more filling than standard flour.
These healthy spinach muffins are perfect for toddlers and babies as they do not crumble! They are a blender style muffin which results in a spongy texture rather than a crumbly texture.
I told you, these spinach banana muffins are the muffin that just keeps on giving!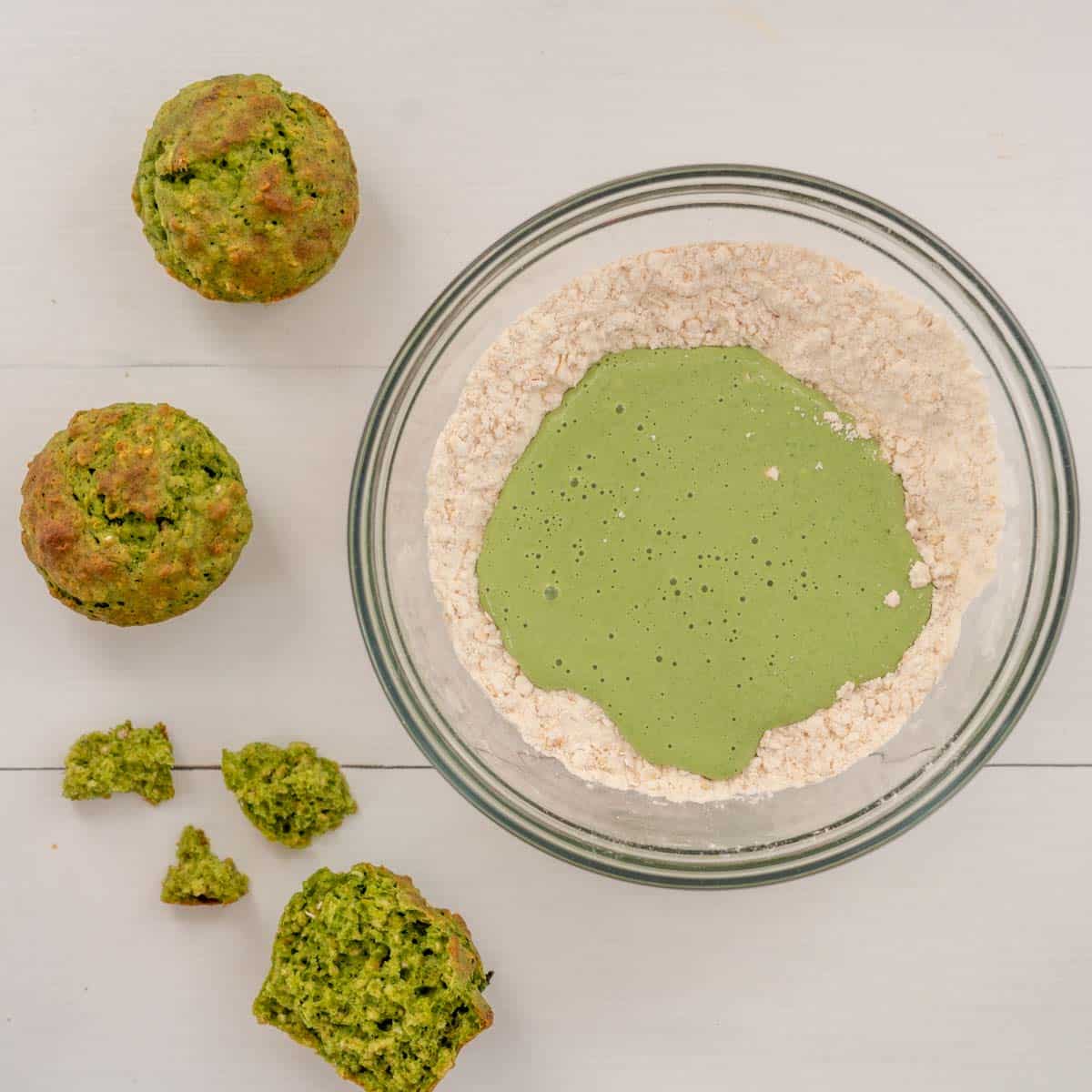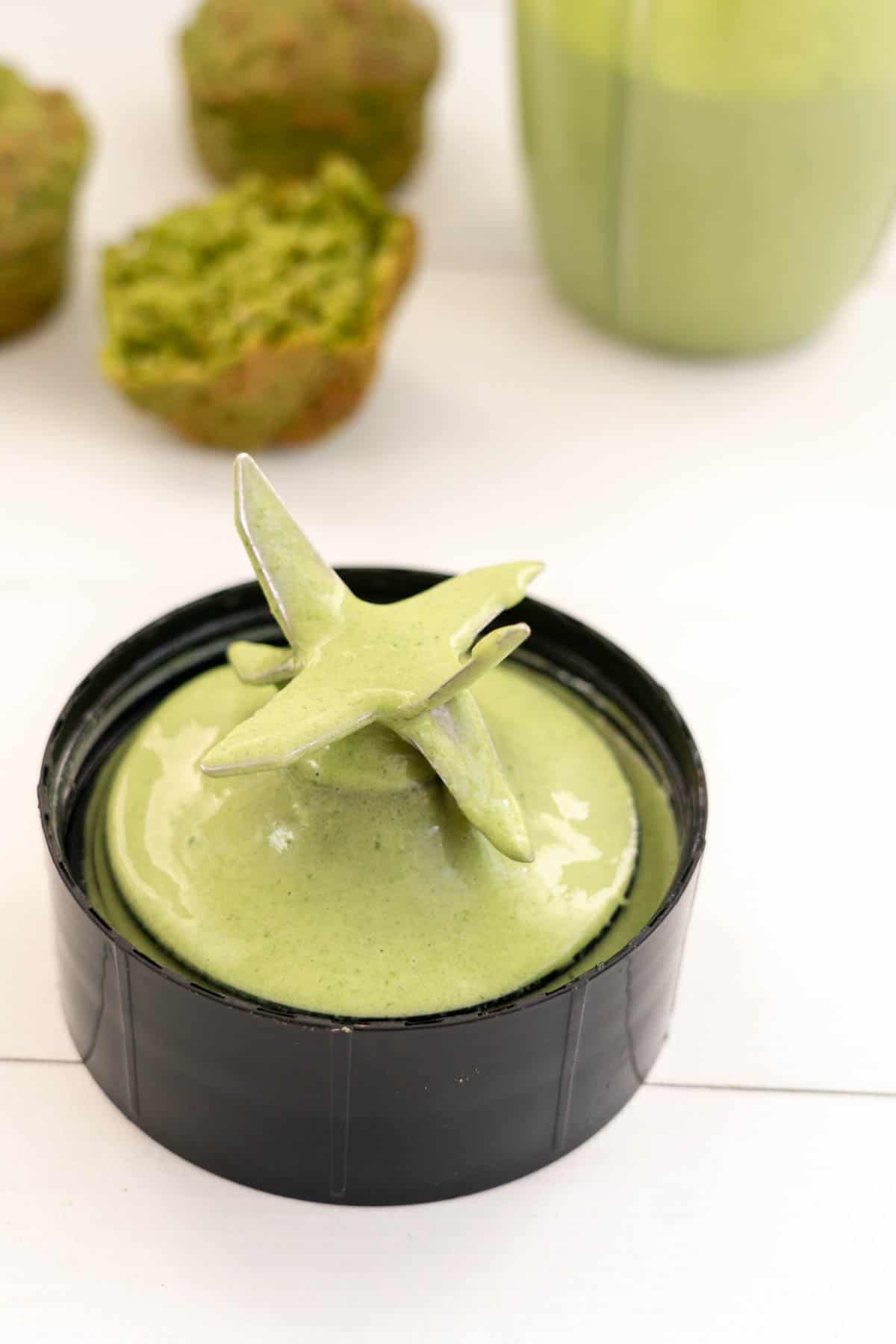 Now obviously with the spinach, they are green, which to any kid can look a bit random and they are denser than store-bought muffins. It has never put my kids off, who pounce on them, when they are on the table. All whilst I smugly sit back and watch them devour healthy muffins. 
This recipe has 5.g of sugars per muffin, however, the bulk of this sugar is from the banana which the World Health Organisation would not classify as added sugar, if I remove this from the analysis the sugar content is 2.2g per muffin which is half a teaspoon of sugar, making this a low sugar muffin recipe perfect for baby-led weaning, toddlers and kids.
Baby Led Weaning Ideas
They also make perfect mini muffins too, great for little hands if you are embarking on baby-led weaning.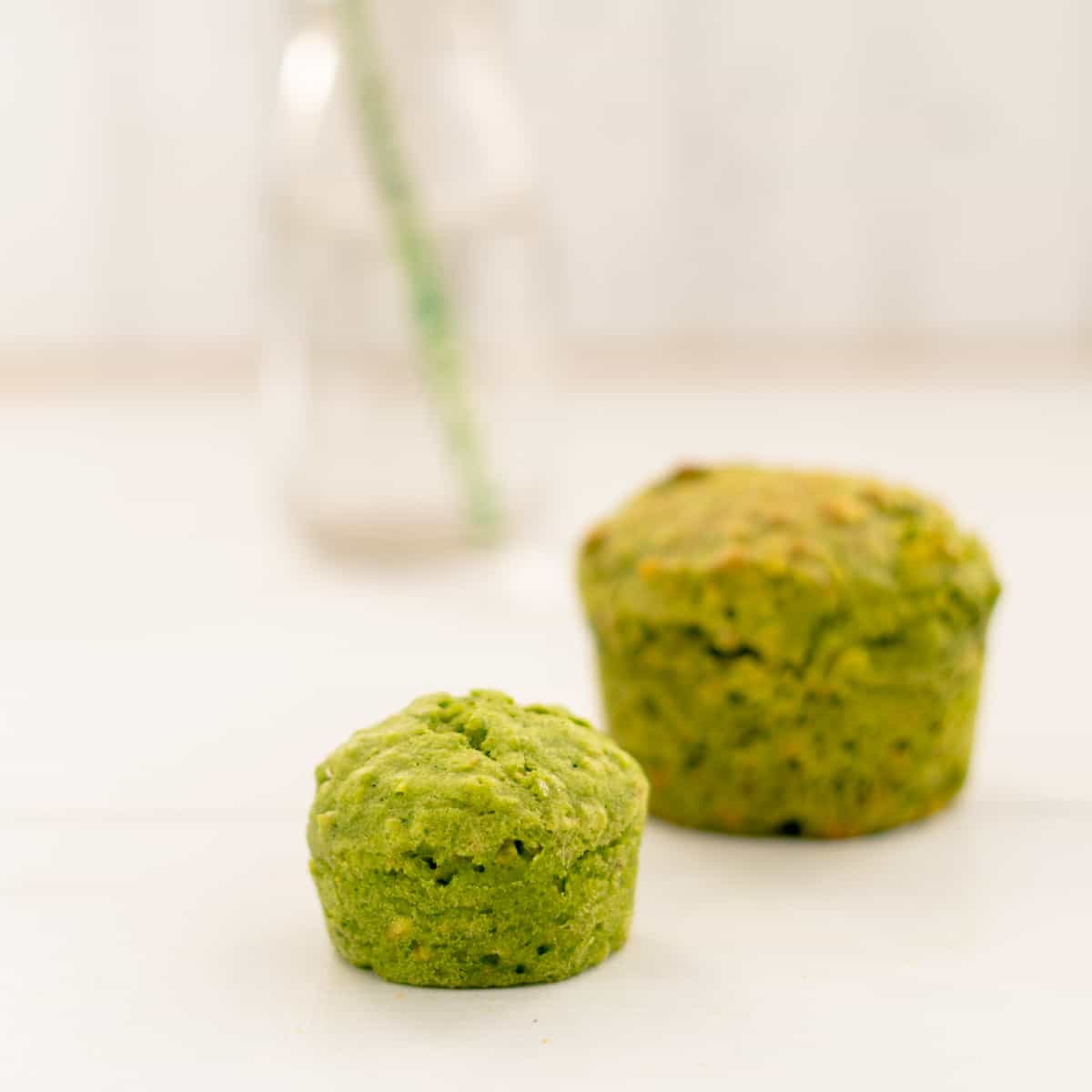 For specific blw muffin recipes there are 3 on my website I would recommend for babies under 1 year of age. ABC Muffins, Banana Blueberry Muffins and Carrot Muffins
If your kids are a bit older though, ie our of the pre-school phase, then it might be worth checking out my Spinach Lunch Box Muffin recipe, they are aimed at the older school-aged kid.
If these muffins were just perfect for your needs, then your little one may also like my apple toddler muffins.
They are the perfect addition to your healthy muffin recipe stash and this year I have published a number of low-sugar or no added sugar muffin recipes. Recipes that are perfect for baby-led weaning or pre-schooler snacks, you can find other muffin recipes here.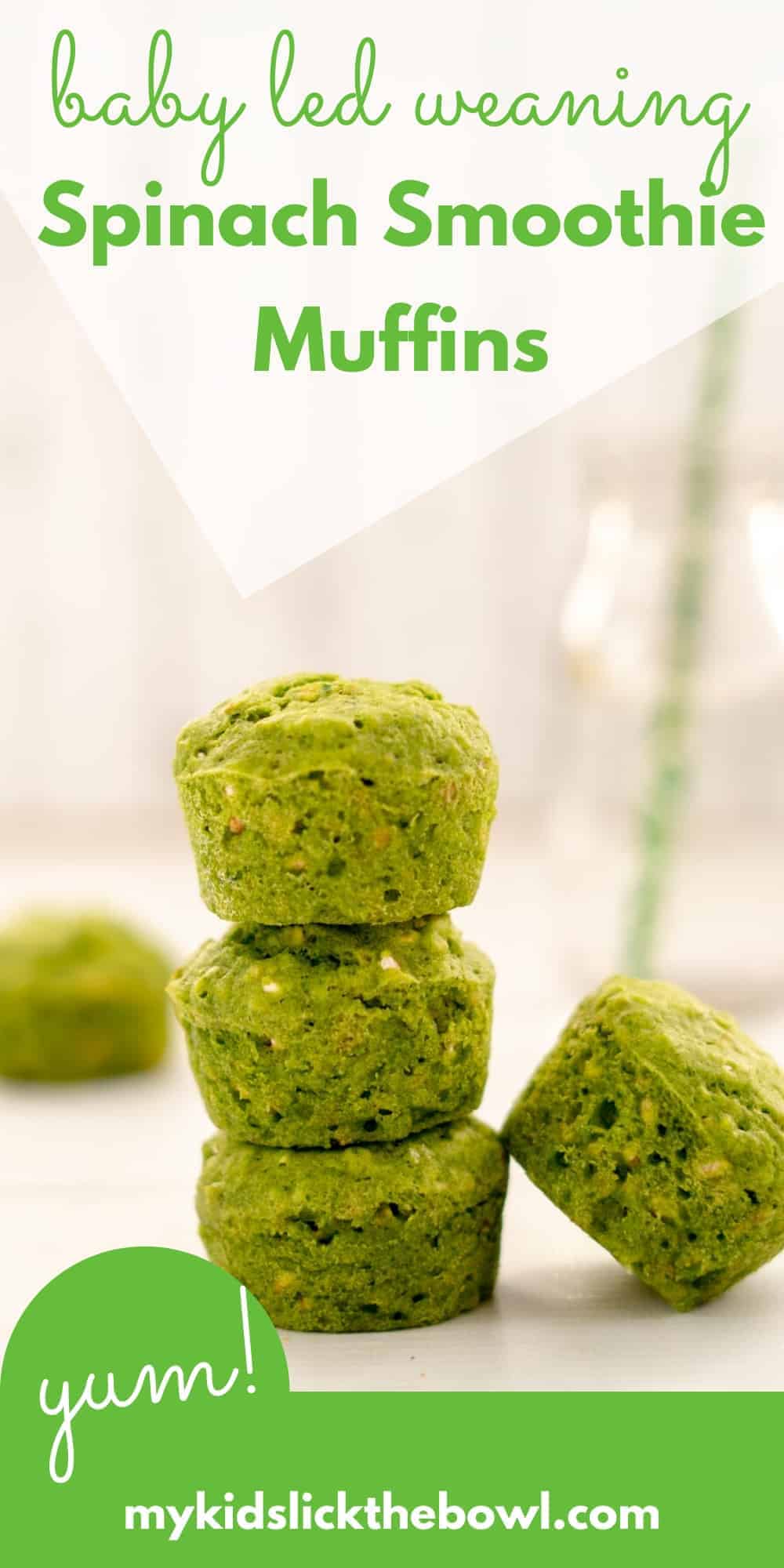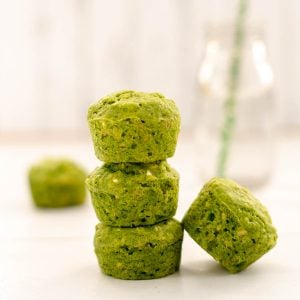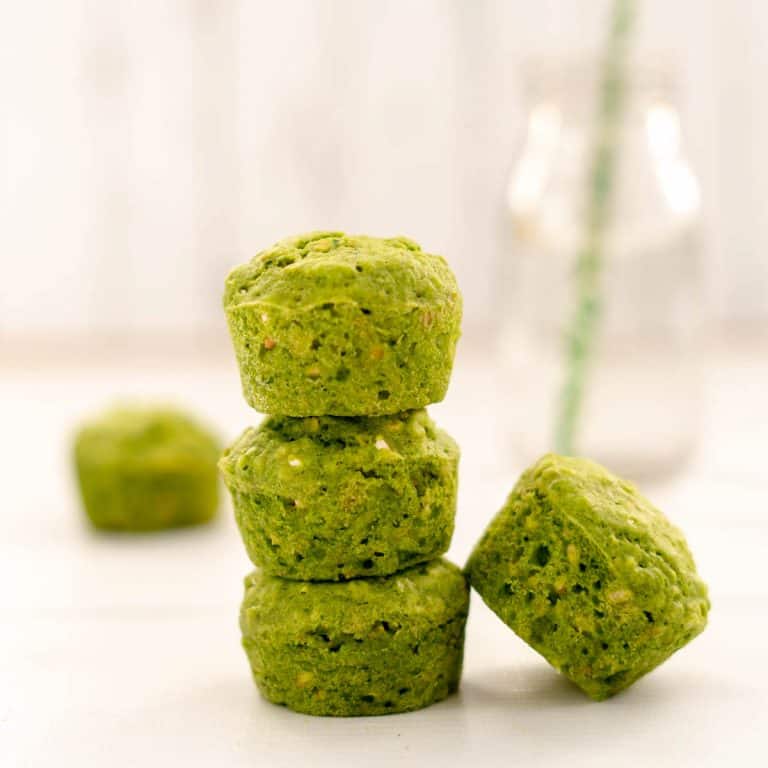 Spinach Muffins For Toddlers
Spinach Muffins For Toddlers, an easy healthy veggie recipe sweetened with bananas perfect snack for kids, refined sugar-free
Print
Pin
Rate
RATE THIS RECIPE
Ingredients
2

bananas

approx 250g skin on, 160g peeled

100

g

frozen spinach

½

cup

milk

or milk alternative

2

tablespoon

maple syrup

1

egg

3

tablespoon

oil or melted butter

45ml

1

cup

rolled oats

1

cup

flour

3

teaspoon

baking powder
Instructions
In a bowl whisk the dry ingredients, (oats, flour, baking powder)

In a blender blend the remaining ingredients (banana, spinach, oil, maple syrup, egg and milk into a green smoothie

Pour the smoothie mix into the dry ingredients

Mix with a wooden spoon

Fill a greased muffin tray with the mix, I tend to use a silicone muffin tray. From the mix, I get 9-10 large , muffins or 24 mini muffins

In a fan-forced oven bake at 160 degrees Celsius or 180 degrees C if using a standard oven.  Regular muffins bake for 20-25 minutes, mini muffins bake for 15-20 minutes

Cool and serve

Store in an airtight container for 2-3 days or freeze
Notes
When I make this recipe I use either coconut oil, rice bran oil or a mild flavoured olive oil you can use melted butter or any mild flavoured oil
This recipe makes 9-10 standard-sized muffins or approx 24 mini muffins.
This recipe has a large component of banana, this means the muffins are quite a moist muffin, once cooked they should feel spongy when you press the center of one of the muffin tops.
Any milk alternative can be used if dairy allergy or intolerance is an issue
This recipe does work with a gluten-free baking mix (ie a combination gluten-free flour such as the Edmonds gluten-free flour)
Please note this recipe is wheat-free when a gluten-free flour is used, but will not be gluten-free if traditional oats are used
You can use honey as a sweetener in this recipe, but your child should be over one year old to have honey
If your bananas are very sweet you can skip the maple syrup altogether
Nutrition
Serving:
1
Muffin
|
Calories:
173
kcal
|
Carbohydrates:
25
g
|
Protein:
4
g
|
Fat:
7
g
|
Saturated Fat:
1
g
|
Polyunsaturated Fat:
5
g
|
Cholesterol:
23
mg
|
Sodium:
180
mg
|
Fiber:
2
g
|
Sugar:
5
g
I am an ambassador for Countdown supermarket, they support my blog by providing ingredients to me for recipe creation and testing. I used oats, frozen spinach, and maple syrup from their range in this recipe.