Chocolate Hazelnut Christmas Layered Ice Cream Cake
THIS POST MAY CONTAIN AFFILIATE LINKS.
Oh my goodness, decadence alert! This Chocolate Hazelnut Christmas Layered Ice Cream Cake is maybe a little left of my usual 'healthier' kid food posts. But when I got asked by Countdown Supermarkets to create a post using my favourite Christmas Sweet Treats I just could not say no! And honestly, if you can't eat completely what you want to on Christmas day then when can you!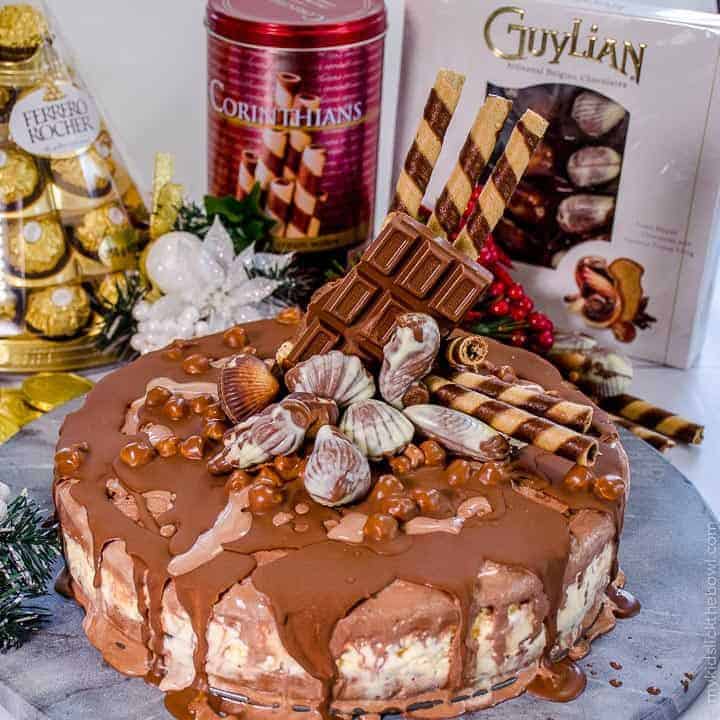 Please note I was paid by Countdown Supermarkets NZ to create this recipe, but it's still awesome regardless of wheter someone has paid for it or not
The inspiration behind this Chocolate Hazelnut Layered Ice Cream Cake for Christmas came from my blogging friend Lauren over at Create Bake Make. Who has an epic Chocolate Peppermint Layered Ice Cream Cake. But here is a truth, I HATE peppermint and chocolate. Lauren has since confessed that she is not actually a fan of Choc and Peppermint either and the creation was her husbands! But any way
Christmas Sweet Treats that go into a Chocolate Hazelnut Layered Ice Cream Cake
There are some sweet treats that only really come out at Christmas time. This includes Ferrero Rocher and Guylian Chocolates, both are scrummy and filled with chocolate and hazelnut epicness. These were the cornerstone of this epic ice cream cake.
In New Zealand, we celebrate Christmas in Summer so an Icecream cake was a given! It is way too hot for things like a traditional Christmas pudd!
In New Zealand we are also big fans of the Pavlova, this is a soft style meringue type dessert, which can I tell you goes really really well crumbled into ice cream, so of course that had to go in!
I always have special memories of demolishing Christmas pudding, not for the flavour but to discover the hidden coins, so layered a layer of chocolate coins to keep up that tradition
And then for decoration, I used the very cool Corinthians Wafers, which are always everywhere at Christmas time!
All of these fabulous Christmas treats are available at.. you guessed it Countdown Super Markets!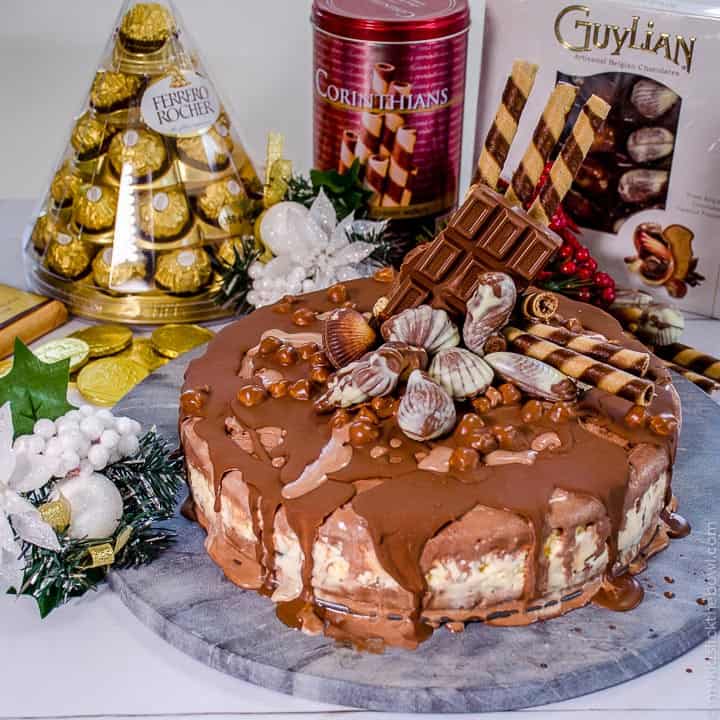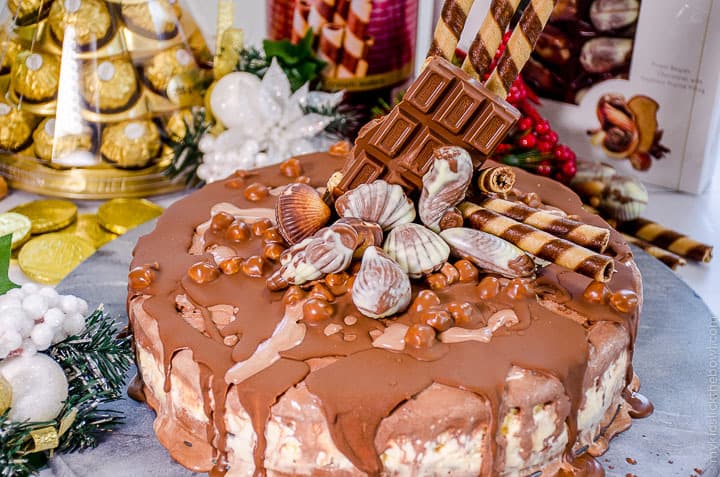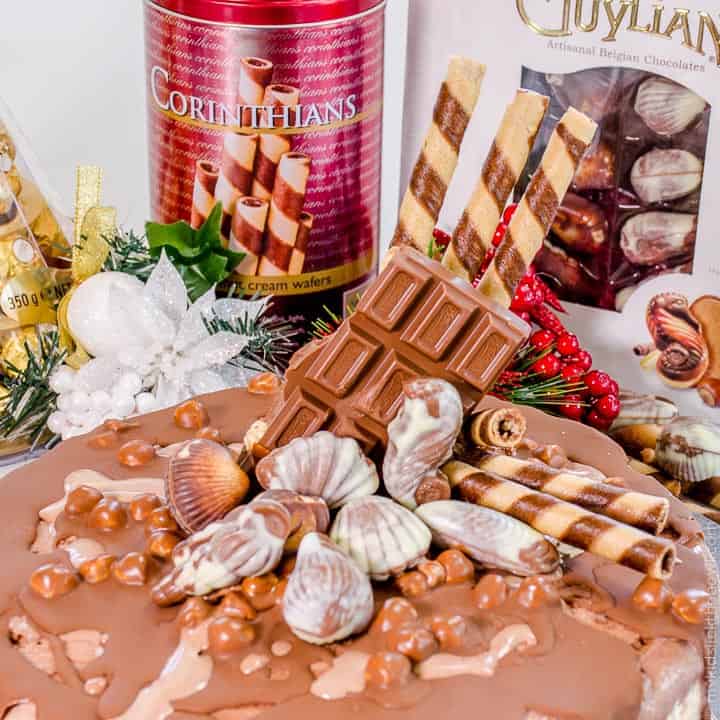 Choc Hazelnut Layered Ice Cream Cake Quick Recipe Video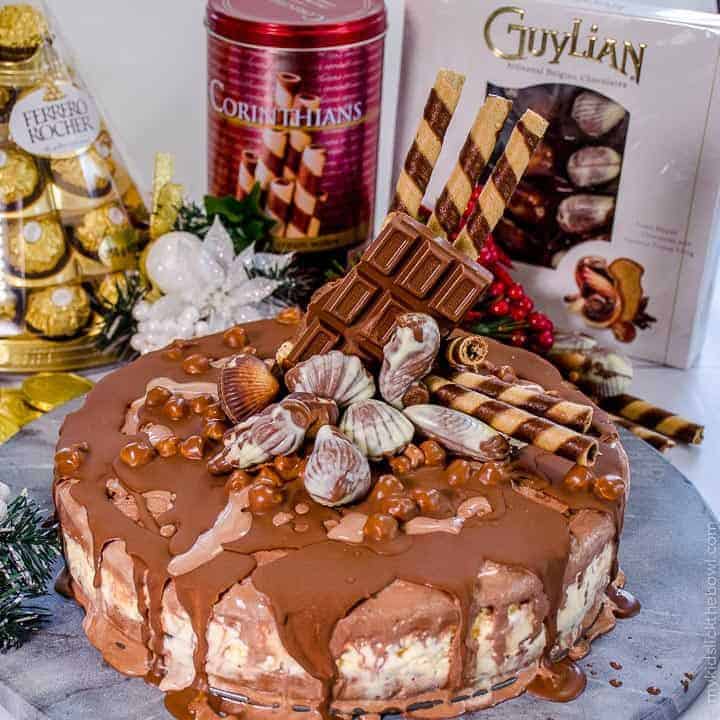 Chocolate Hazelnut Layered Ice Cream Cake
Ingredients
16 Ferrero Rocher chocolates
2 L Chocolate Ice Cream
2 L Vanilla Ice Cream
3 Mini Pavlova (approx 4-6 meringues)
1 bag chocolate coins
1 block chocolate (400g)
6 Guylian chocolates
5 Corinthian's wafers
Instructions
First step is to watch the video above, it will give you a good idea for how to make this recipe
Line the base of a 20-24 cm springform round cake tin with baking paper
Crush the Ferrero Rocher to make the base, I used the food processor for this
Spread this evenly over the base of the cake tin
Chill base in the freezer
Pop the chocolate ice cream out on to the bench so it softens but does not melt
Once softened bring out the chilled base and layer on ½ of the chocolate ice cream. Smooth it off with a rubber spatula or the back of the spoon
Chill in the freezer
Pop the vanilla ice cream out on to the bench so it softens but does not melt
Once softened crumble the meringues into the ½ - ¾ of ice cream and mix
Layer this onto the chocolate ice cream layer
Topp with some unwrapped chocolate coins
Chill in the freezer
Top with the remaining chocolate ice cream, wrap in cling wrap and freeze. This can be done a few days before you serve
On the day of serving melt ½ a block of chocolate (I used Whittakers Milk Chocolate with Hazelnuts)
Remove the ice cream cake from the freezer, leave to sit for a few minutes then carefully remove the pan
Pour the melted chocolate onto the top of the cake, do it slowly, so it drizzles down the sides, as the ice cream is very cold the chocolate becomes solid quite quickly
Decorate with the remaining portion of the block if chocolate, the Guylian chocolates, and the Corinthian wafers
Serve immediately, or pop back into the freezer carefully and serve (best to be served not too long after you decorate as the chocolate can become a bit frostbitten if frozen for a long time
Enjoy