Easy Christmas Wreath Salad
THIS POST MAY CONTAIN AFFILIATE LINKS.
Need a quick but impressive Christmas dish, well you are in the right place with this easy Christmas wreath salad. It is literally a 5-minute dish but looks great on the Christmas table. A quick an easy healthy summer salad for Christmas!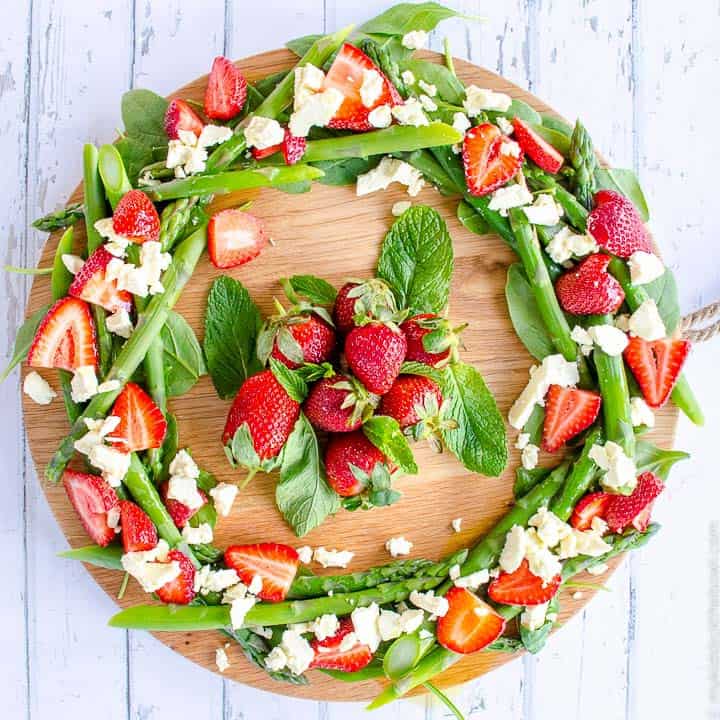 The original recipe for this Asparagus and Strawberry Christmas Wreath Salad was from the 5 a day charitable trust , but if you know anything about the 5 a day charitable trust they are all about inspiring people to eat more fruit and veggies so they were happy for me to share this on my site too. The fabulous people of the 5 a day charitable trust made this post and the recipe video possible as they paid me for my time to put it together.
My Christmas Rice Salad is another really easy red and green salad perfect for a family get-together.
I made a pretty spiffy video for it too, check it out, as once you've watched it you will be set and will barely need any further instruction.
Quick Christmas Wreath Salad Recipe Video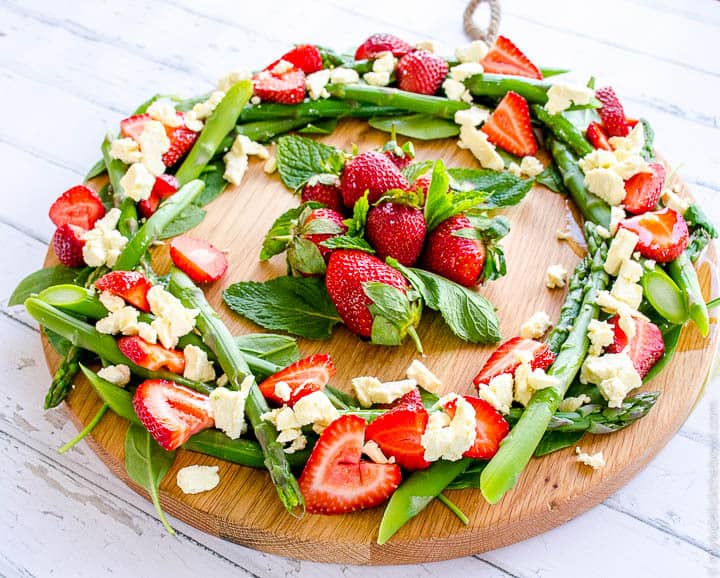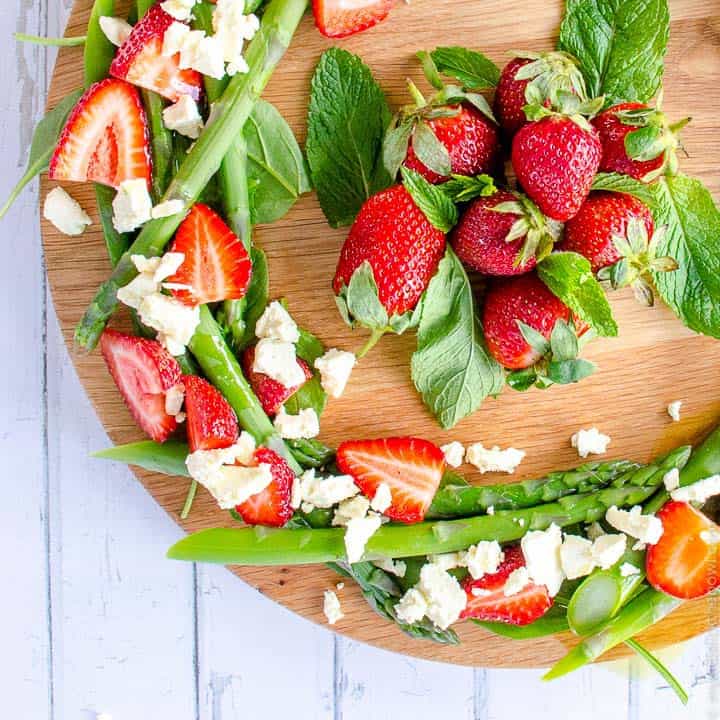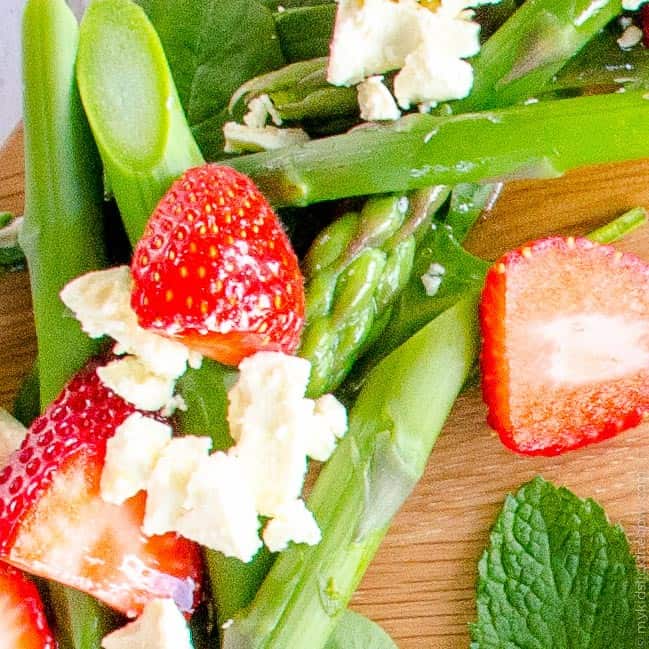 If you need the actual recipe well here it is
Quick Christmas Wreath Salad
Ingredients
2 bunches asparagus  (500g)
2 punnets strawberries (500g)
3-4  handfuls salad leaves
100g  feta cheese
1 Handful Fresh mint leaves
Dressing
Instructions
blanch asparagus spears in boiling water for 2 mins, plunge into cool water (this step can be done the day before)
Remove the hulls and slice half of the strawberries
Place a small salad plate or saucer in the centre of a large serving platter or board
Scatter the salad leaves around the edge, this is the base of your wreath
Layer the asparagus on top of the salad leaves
Place the sliced strawberries on top
Crumble the feta over the top of the leaves, asparagus, and strawberries
Remove the central plate
In the space at the centre of the plate arrange the remaining whole strawberries and mint leaves
Add your favourite dressing just before serving
Notes
Any red or green veggies and fruit can be subsituted, but the combo of feta asparagus  and strawberries is amazing (Green beans, Red & Green Capsicum, Olives, Cherry Tomatoes, Sundried Tomatoes, Pistachios)
Dairy Free try substituting the feta for sliced toasted almonds and pistachio nuts
Dressing my favourite with the Strawberry Asparagus and Feta Combination is, 2 tablespoon Olive Oil, 2Tbsp Lemon or Orange Juice, 1 tsp maple syrup, good grind of salt and pepper. Place in a small ball and whisk until becomes thick, or use a salad dressing shaker.