These apple carrot and banana muffins are the perfect baby led weaning muffins. They are soft and spongy, easy to make and contain no sugar or salt. Making them the perfect first muffin for babies.
As you read this baby muffin recipe you might think, hey hang on, I thought the rule of thumb was to never over mix a muffin.
You are totally right, a traditional muffin should not be overmixed, these baby-led weaning muffins, however, are a slightly different style of muffin, they are almost like little sponge drops.
It is this soft muffin texture that makes them perfect first finger foods for babies.
How to make soft baby led weaning muffins
These baby weaning muffins are actually made using a beater. I use a small handheld electric beater, but you could use an old school egg beater or a whisk as well. You will just need to whisk vigorously.
Apple Banana and Carrot sweeten these easy baby muffins so there is no need for any added sugar or sweetener for palatability.
You can either make these muffins in baby mini muffin tins or in a standard muffin tin.
The mix makes 30 mini baby muffins or 12 standard-sized muffins. I could imagine with a little bit of healthy frosting these guys would also make gorgeous cupcakes for a baby party.
When preparing the carrot for this recipe, I actually grate it before I cook it, this is so that it will have a more similar cooking time to the apple and therefore I can cook it all in one go in the same pot.
My baby led weaning muffins are not just baby muffins and they are not just for people doing baby-led weaning.
They are a really simple finger food for any baby 6 months or older. Toddlers love them and my kids who are now 2, 3.5 and 4.5 still love them!
They would hate if I referred to them as baby muffins, so we now call them ABC muffins after the ingredients Apple, Banana, and Carrot. I know, pretty original. ha ha.
Other muffins suitable for baby-led weaning
If you like the idea of a no added sugar baby muffin that sneaks in veggies and fruit then you might also be interested in my kumara (sweet potato) banana muffins, or my carrot muffins they like these ABC muffins are a big hit with kiddos big and small, and me I might add!
Banana and blueberry is also a tried and true combo, my version like these apple banana and carrot muffins get all their sweetness from fruit, they are a soft style muffin perfect for babies too.
Low sugar muffin has become so popular with my readers that I've now collected 7 of my best recipes and you can find them all in on place 7 Low sugar muffins for kids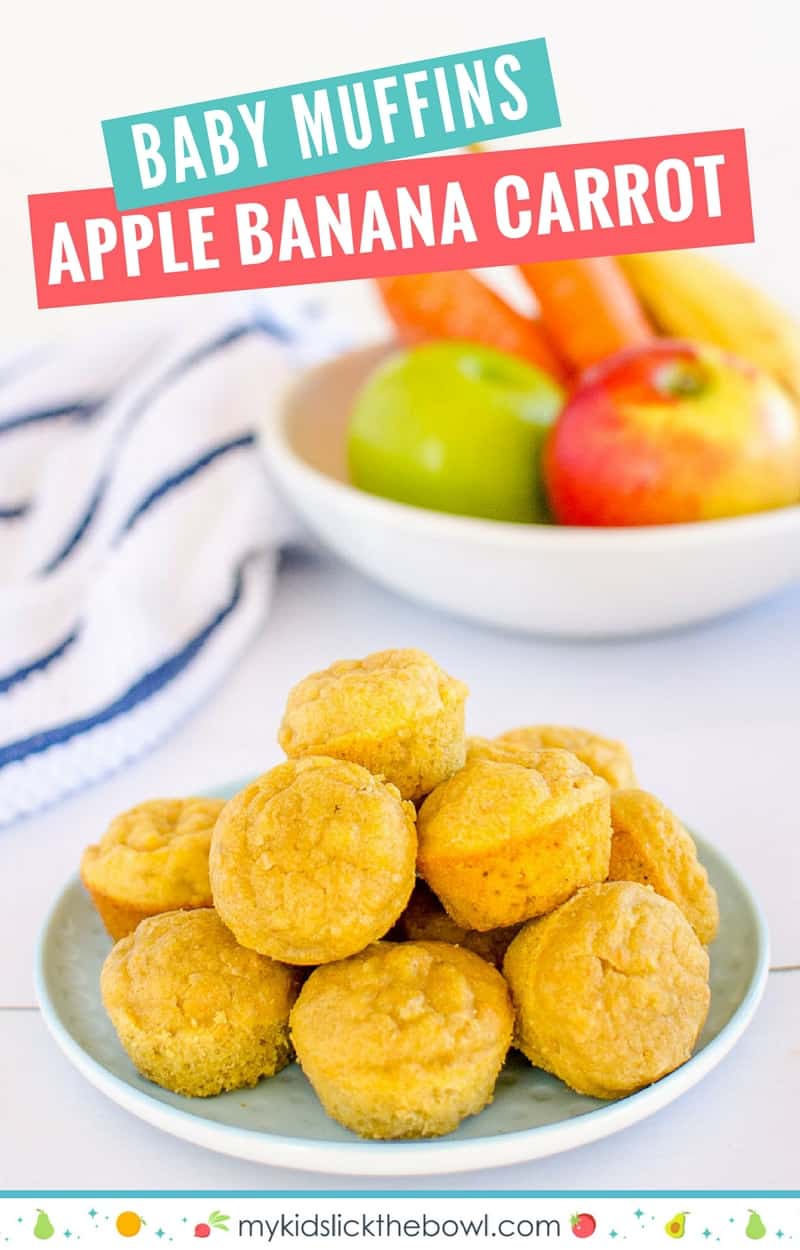 Previously on My Kids Lick The Bowl
---
Watch the baby led weaning muffin recipe video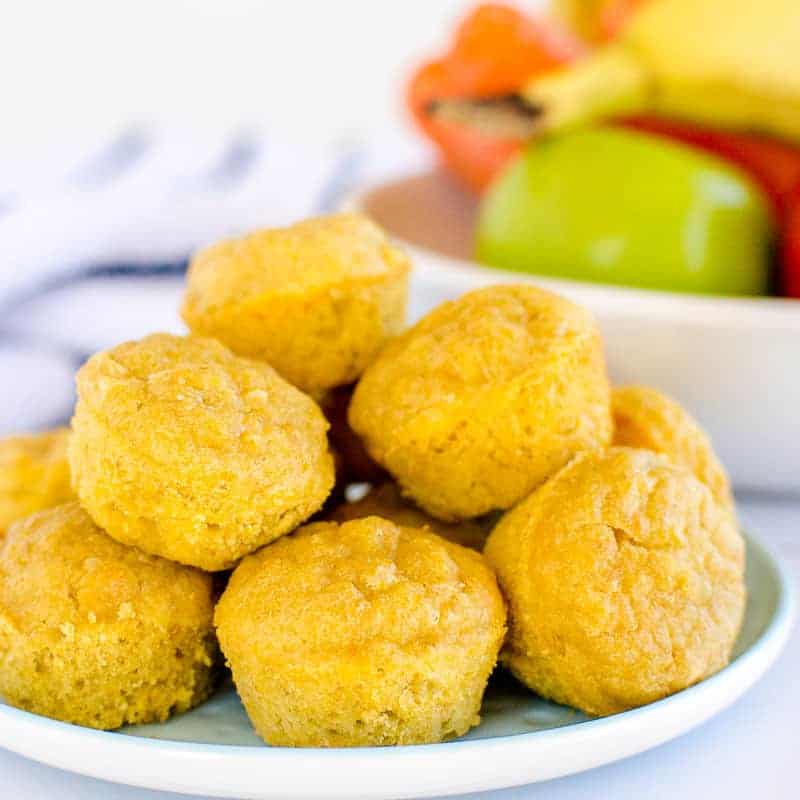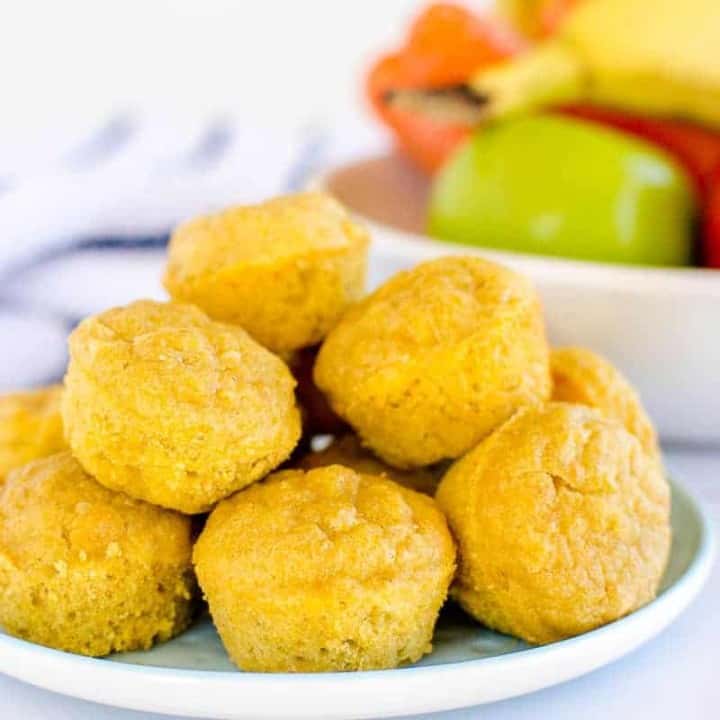 Baby Led Weaning Muffins Apple Banana and Carrot
These Baby Led Weaning Muffins have no added sugar perfect for babies, toddlers, and kids. A Soft spongy style Baby Muffin with Apple Banana and Carrot.
Ingredients
150 g Apple peeled, cored and diced, (medium eating apple)
100g carrot (1 small-medium)
100g Banana (equiv of small bobby banana)
2 eggs
1 teaspoon vanilla
50g melted butter or oil (optional)
160g standard flour (1 ¼ cup)
1.5 tsp baking powder
Instructions
Watch the quick recipe video before you get started, scroll up a little to find it
Check the notes at the bottom of the recipe for little bits of extra info and help
Peel and grate carrot, place apple and carrot in a pot with a little water, pop a lid on and simmer until apple soft. Usually 5-6 mins
While apple and carrot cooking, place banana in a large bowl, mash with a fork
Add eggs, vanilla, and butter/oil
Puree the cooked apple and carrot, I use a stick blender
Add apple and carrot to the other wet ingredients
Beat these wet ingredients together with a hand-held beater, should become smooth, yellow and a little frothy
Add the flour and baking powder
Beat for a further 30-60 seconds to make a well-mixed batter
Portion into an oiled muffin tin (I use a non-stick silicon tray sprayed with oil) Mix makes 12 standard sized muffins or 30 mini muffins
Bake at 180 degrees Celsius for 15 mins (350 Fahrenheit) 15 min cook time is based on making mini muffins, the mix makes approx 30 mini muffins. If you are using a standard muffin tray and making approx 12 muffins the cook time will be longer, approx 25-30 mins
Cool
Serve
These muffins can be stored in an airtight container for 3 days, or they can be frozen.
Notes
This recipe is successful without the butter/oil, but you getter a softer muffin with it, and they remain softer for longer with the added butter or oil
To make the recipe dairy free, substitute the melted butter for a mild tasting vegetable oil. 
15 min cook time is based on making mini muffins, the mix makes approx 30 mini muffins. If you are using a standard muffin tray and making approx 12 muffins the cook time will be longer, approx 25-30 mins
Nutrition Information:
Yield:

30
Serving Size:

1
Amount Per Serving:
Calories:

48
Total Fat:

2g
Saturated Fat:

1g
Trans Fat:

0g
Unsaturated Fat:

1g
Cholesterol:

16mg
Sodium:

42mg
Carbohydrates:

6g
Fiber:

0g
Sugar:

1g
Protein:

1g
This nutrition analysis is an estimate based on ingredients only