First things first, if you are reading this Kumara Banana Muffin recipe and thinking what the heck is Kumara, then you are obviously not from New Zealand, and that is totally fine, welcome!
Kumara is New Zealand's sweet potato. So this recipe could also be known as a sweet potato and banana muffin, but I've decided to stick with my roots.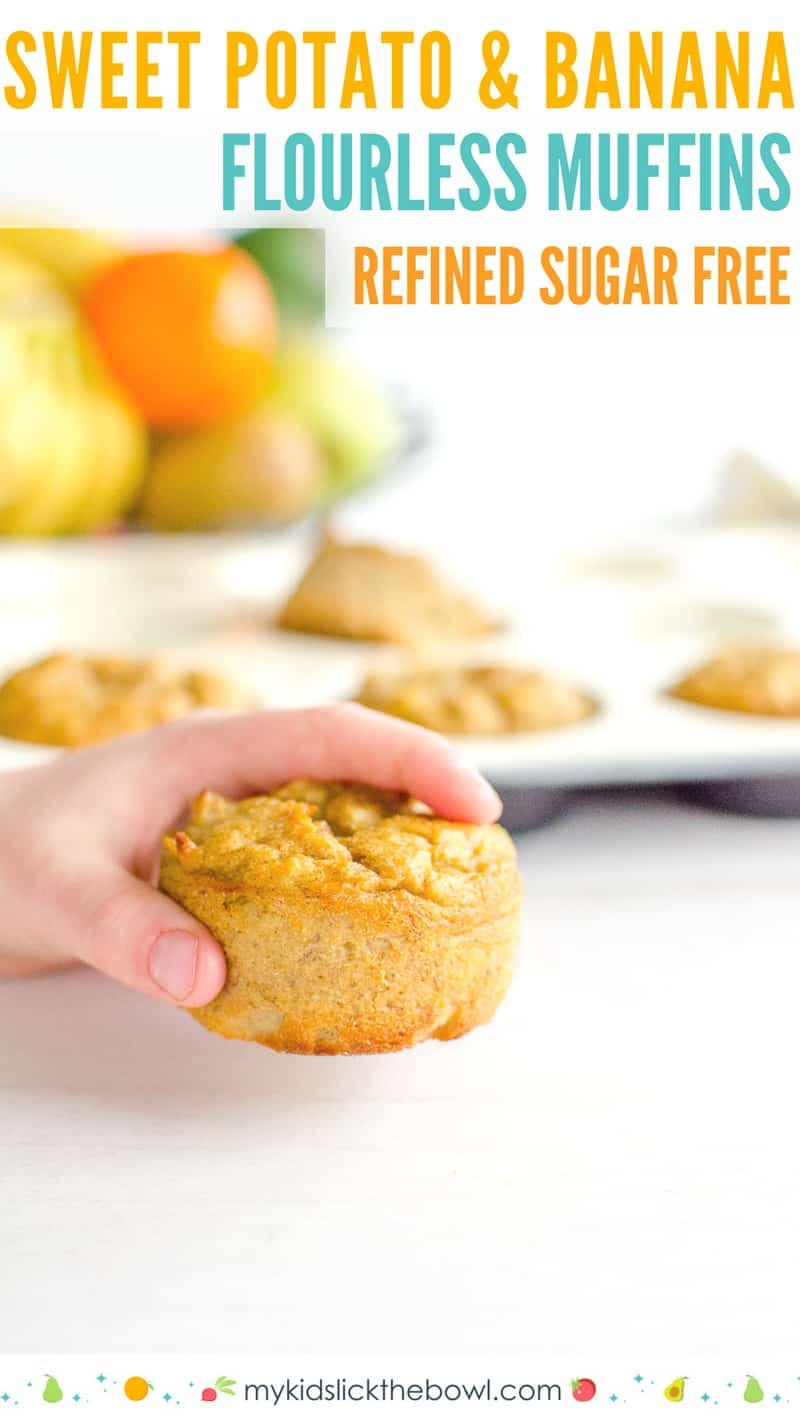 The New Zealand kumara I used is the red/purple-skinned sweet potato it has a white flesh which cooks to a golden colour and is very sweet.
It is more of a starchy style of sweet potato, ie it is a dryer style sweet potato, but you should be able to substitute the kumara for any sweet potato.
This recipe contains no added sugar/sweetener. I make it with very ripe bananas and the combination of the kumara and sweet bananas meant it is sweet enough for my families palates.
If you need some extra sweetness try adding 1 Tbsp of honey or maple syrup, or a little sugar.
I made this kumara banana muffin recipe dairy free by using coconut oil, but it also works fine with melted butter as well.
My kiddos love them. I can send them to kindy, as we are not a nut-free kindy. But if you are a nut free school you could substitute the ground almonds for coconut flour.
Muffins are so popular with children! On my site, I have a few popular recipes that could be worth checking out too. They are all low in sugar or have no added sugar and they all include fruit and or vegetables!
Baby Led Weaning Muffins Apple Banana Carrot, although they are called BLW they are perfect for toddlers and kids' lunchboxes too! Banana and Blueberry is a tried and true muffin combination, this version has no added sugar.
For another wheat free option, these blueberry banana pancake muffins are protein packed too! Carrot Muffins are my latest addition to my no added sugar muffin recipe repertoire!
Becuase of the popularity of my low sugar muffins recipes you can now find them all in one place, right here!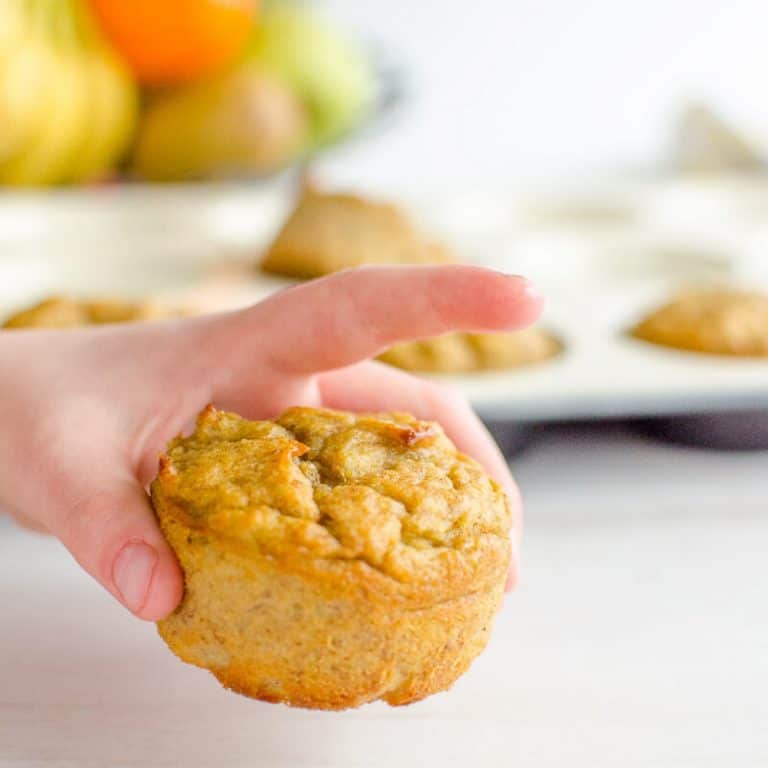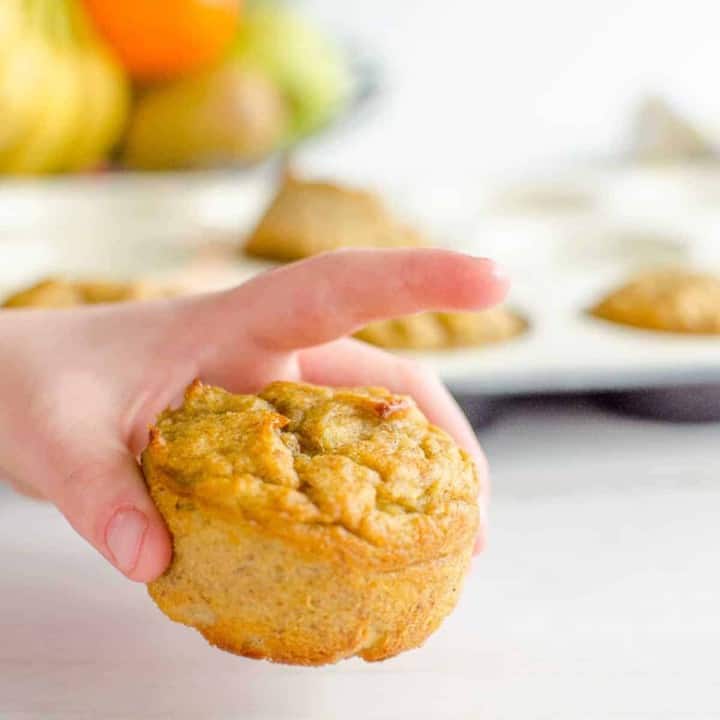 Sweet Potato Banana Muffins
Kumara Sweet Potato Banana Muffins Flourless, gluten-free no added sugar, a perfect easy recipe for kids or baby-led weaning.
Ingredients
400g kumara/sweet potato cooked (1 large)
220g ripe banana (2 small)
2 Eggs
¼ cup coconut oil
1 cup ground almonds
1 tsp cinnamon
1.5 tsp baking powder
Instructions
In a large bowl mash the kumara/sweet potato and banana
Add eggs and coconut oil, mix well, I use a whisk at this stage
Add dry ingredients, mix with a large spoon
Grease muffin trays (I use a spray of oil) this recipe will make 12 standard sized muffins and approx 25-30 mini muffins
Portion mix into muffin tray
Bake at 180 degrees Celsius (this is approximately 36o Fahrenheit) for 20-25 minutes, if you have made mini muffins the cook time will be less, I would check the muffins after 15 minutes
Notes
If your bananas are not right or your family needs a little extra sweetness try adding 1-2 Tbsp of honey, maple syrup or sugar
This recipe will work well with melted butter or another oil other than coconut oil
Nutrition Information:
Yield:

12
Serving Size:

1
Amount Per Serving:
Calories:

167
Total Fat:

11g
Saturated Fat:

5g
Trans Fat:

0g
Unsaturated Fat:

6g
Cholesterol:

31mg
Sodium:

132mg
Carbohydrates:

14g
Fiber:

2g
Sugar:

3g
Protein:

4g
Please know this nutrition analysis is based on the ingredients only, this recipe has not been sent to a laboratory for independent testing