Healthy Coconut Ice Slice
THIS POST MAY CONTAIN AFFILIATE LINKS.
My eldest and I had a great morning perfecting this healthy coconut ice slice. Or should I say healthier coconut ice slice.
I wouldn't necessarily say this is 100% healthy, having a piece of broccoli or serve of veggies is always going to be better, but this 'healthy' coconut ice recipe is far lower in sugar than the traditional versions.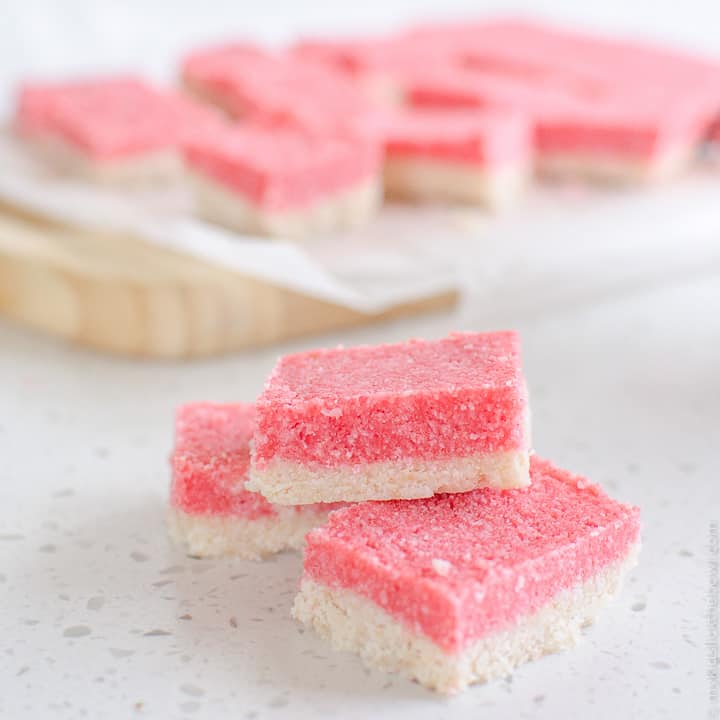 Lower in sugar, but still very easy. I may have in fact cheated a little on this recipe.
Last night I had a brainwave and realised my existing coconut snowball recipe with a few minor tweaks would totally be suitable as a low sugar coconut ice alternative.
My 5 yr old son will attest that it is yummy and easy to do, he could pretty much do the entire recipe (with supervision)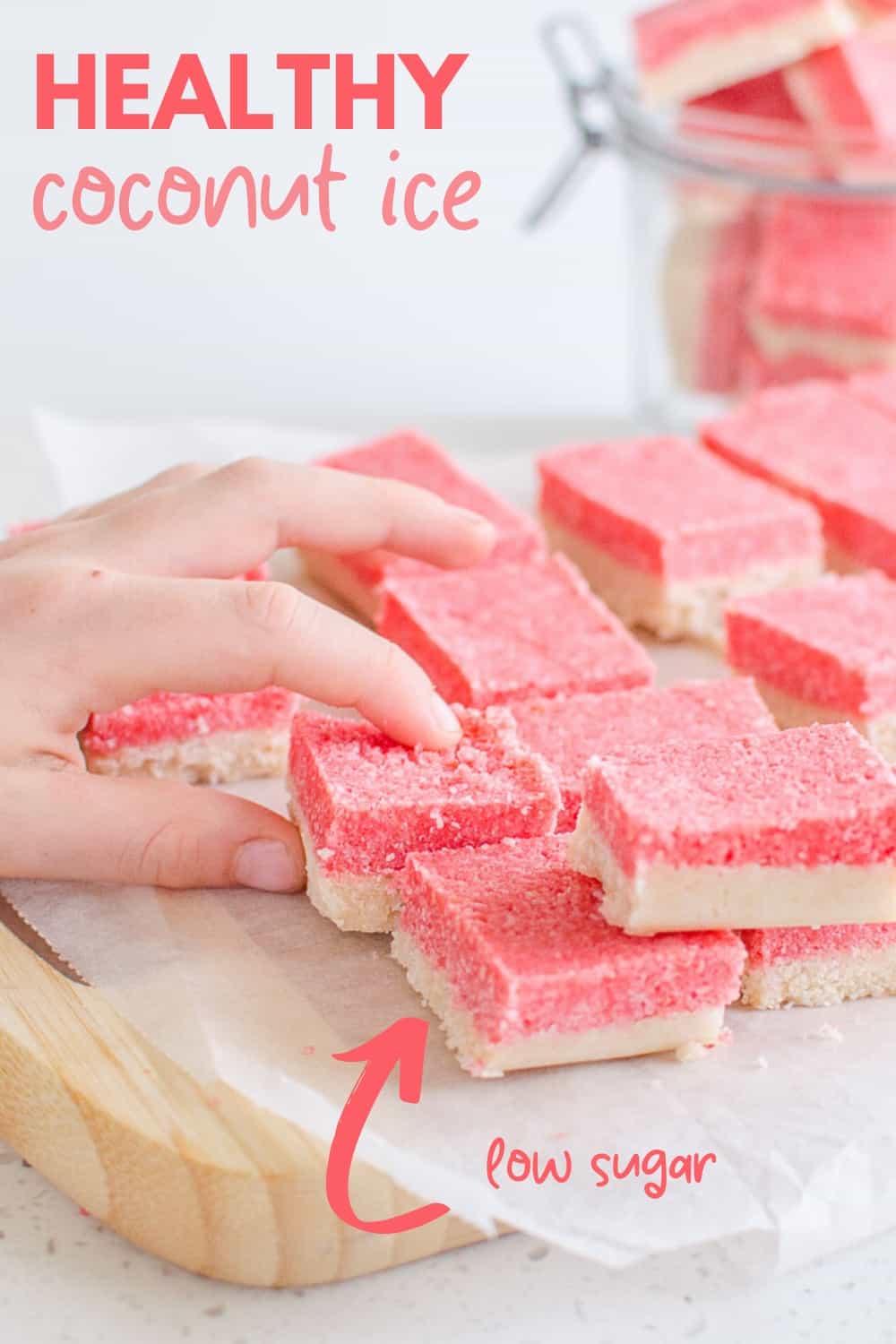 But there is nothing hot, no cutting needed (the food processor does that) no ingredients kids shouldn't eat raw and no baking! It needs to be stored either somewhere cool or in the fridge.
We live in New Zealand, which means December is hot here. So for us, this is a store in the refrigerator type treat, but I suspect in cooler climates you may be ok storing this healthy coconut ice slice in the pantry.
If it does get a little soft just pop it in the fridge and problem solved!
We made this healthier treat to give away as gifts, I think my son is quite proud that he made something for someone else, which is awesome!
This healthy coconut ice slice recipe is part of my allergy-friendly recipe collection.
This means that it is free from the 8 most common food allergens, meaning that it should be suitable for most people even if they have multiple food allergies.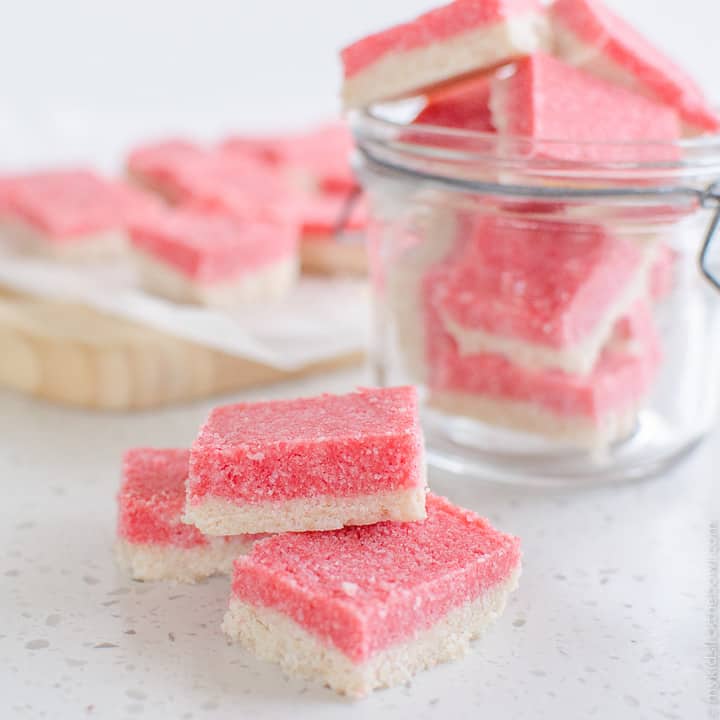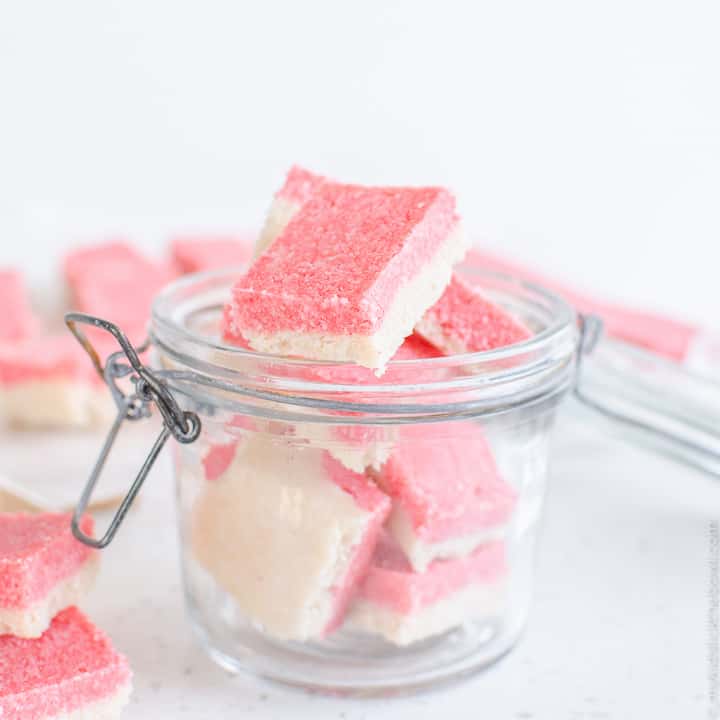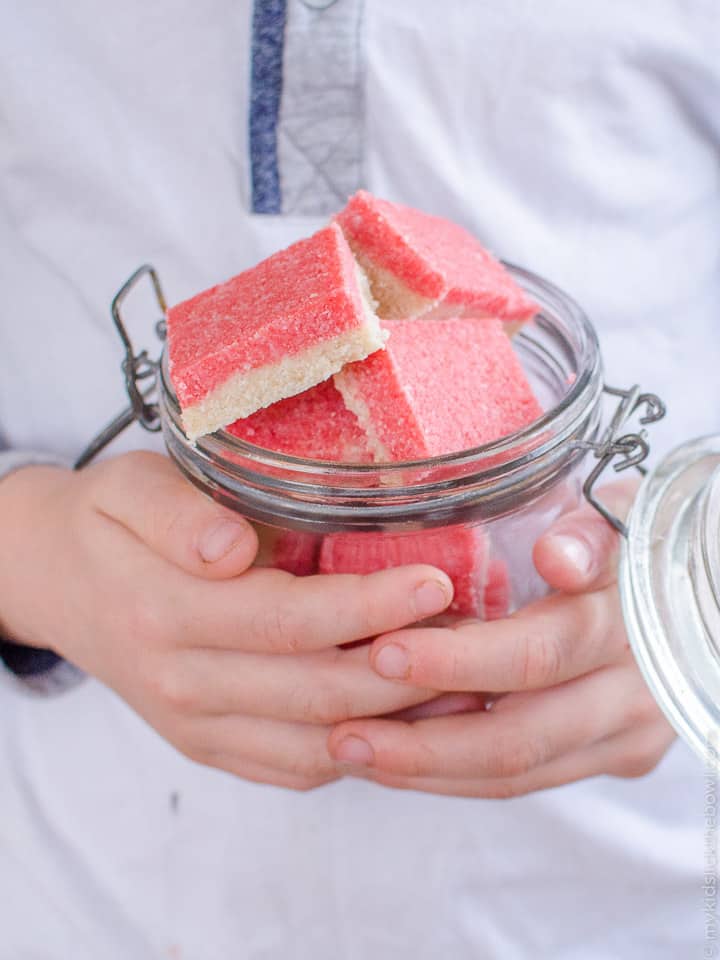 Healthy Coconut Ice Slice
Coconut Ice Slice a healthy easy no-bake no heat alternative to traditional coconut ice
Ingredients
4 cups desiccated coconut 
4 cup puffed rice (rice bubbles)
100g coconut oil (approx 6 Tbsp)
5 tablespoon Honey
2 tablespoon coconut milk
2-3 drops red food colouring
Instructions
Place 2 Cups coconut, 2 Cups puffed rice and half the quantity of oil in a food processor blitz until very fine
Add ½ the quantity of honey and ½ quantity of coconut milk, blitz until well combined
Line a 20cm square cake tine with baking paper
Press the coconut mixture evenly into the base of the cake tin,
Refrigerate
Prepare the second half of the ingredients as above, adding a few drops of red food colouring with the honey and coconut milk so that this batch is pink.
Take the cake tin with the white layer, press the second pink layer on top
Refrigerate for 1-2 hrs
Slice into pieces
Serve
Notes
For this recipe to be gluten free check the puffed rice you are using, standard rice bubbles will work in the recipe however they are not gluten-free
Can be stored in the refrigerator for 7 days or frozen for up to 3 months
best served chilled, especially if you are in a hot climate, if you are in a colder area room temp may be totally fine. 
This recipe will work with maple syrup or rice bran syrup as an alternative to the honey if you want a vegan alternative
Nutrition Information:
Yield:

40
Serving Size:

1 piece
Amount Per Serving:
Calories:

39
Total Fat:

2.7g
Saturated Fat:

2.2g
Sodium:

0.3mg
Carbohydrates:

3.8g
Sugar:

2.2g
Protein:

0.2g
please note the nutritional information provided is an estimate based on ingredients, this recipe has not been analysed externally for nutritional profile.