Many of my recipes are on the savoury side of things. But I do have kiddos who love sweet treats too, well one especially.
I also have tonnes of avocados at the moment. So I have been playing around with these healthier Avocado Banana Muffins, with choc chips of course, my kiddos wouldn't let me forget the choc chips.
Banana Muffins For kids
Bananas are naturally sweet and usually loved by kids, This makes them a really good base for healthy muffins for kids.
In this banana muffin I have managed to keep the added sugar content pretty low. Sugar content-wise I have managed to get the recipe down to 2 Tbsp of honey per batch, which is not too bad.
You could definitely sub in maple syrup or regular sugar if you prefer. (Particularly if your child is under one) But For some reason, honey just seemed right to me.
You could also try making these banana avocado muffins without any sugar at all. The recipe works fine without the added sweetener, but maybe not quite as palatable as with a little honey.
If your family is not used to lower sugar baking, or if the bananas you are using are not super ripe and sweet, I would actually recommend trying 3 Tablespoons of honey, to start with, then try a smaller amount the next time you make them.
Avocado in muffins
Avocado actually works brilliantly in baking. Avocado is a great dairy-free alternative to butter in this recipe, and the end muffin has a nice soft texture.
You will find that the muffin may have a slight green tinge, but other than that avocado muffins are fabulous for those people who need to, or wish to skip dairy.
Since writing this recipe I now have a tonne of muffin recipes on my site, so be sure to check out my 7 low sugar muffin recipes for kids for other ideas!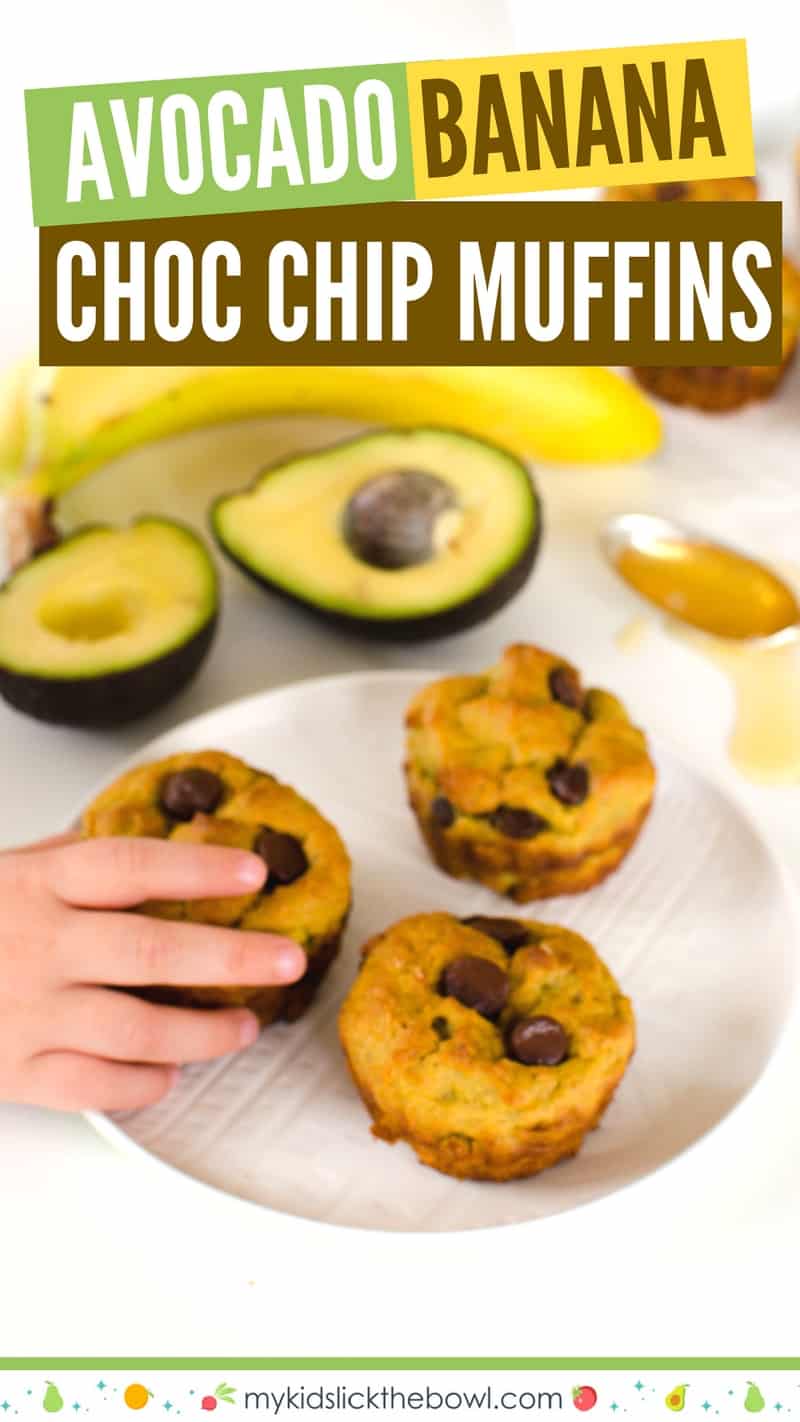 Avocado Banana Muffins
Avocado and Banana muffins are a delicous low sugar muffin which are perfect for kids
Ingredients
1 ripe avocado
2 ripe medium bananas
2 eggs
2 Tbsp honey
1tsp vanilla 
2 Cups plain flour
2 tsp baking powder
1/4 cup dark choc chips
Instructions
Add the avocado, banana, eggs, honey and vanilla to a food processor or blender
Blitz until smooth
In a large bowl sift the flour and baking powder, if you cant be bothered sifting just make sure you fork through the baking powder so it is well mixed
Add the avocado and banana mix to the dry ingredients including the chocolate chips
mix gently until just combined (this is the secret of a good muffin texture, do not over mix them)
Spoon into a greased or lined 12 hole muffin tin 
Bake at 180 degrees celsius for 20-25 mins
Leave to cool in the tray before you attempt removing them
Serve
Yum
Notes
If your kiddos are under 1 yr, sub the honey for maple syrup or sugar, or even try it with no sweetener at all
This recipe is dairy free as long as the choc chips are dark chocolate and dairy free
Nutrition Information
Yield

12
Serving Size

1
Amount Per Serving
Calories

150
Total Fat

4g
Saturated Fat

1g
Trans Fat

0g
Unsaturated Fat

3g
Cholesterol

31mg
Sodium

101mg
Carbohydrates

26g
Fiber

2g
Sugar

6g
Protein

4g
Please know this nutrition analysis is based on the ingredients only, this recipe has not been sent to a laboratory for independent testing