THIS POST MAY CONTAIN AFFILIATE LINKS.
We all know avocados are absolutely loaded with lovely nutritious goodness well, this recipe lets you take that goodness and bake it into a muffin! My avocado muffins are low in sugar and have the added bonus of being dairy-free!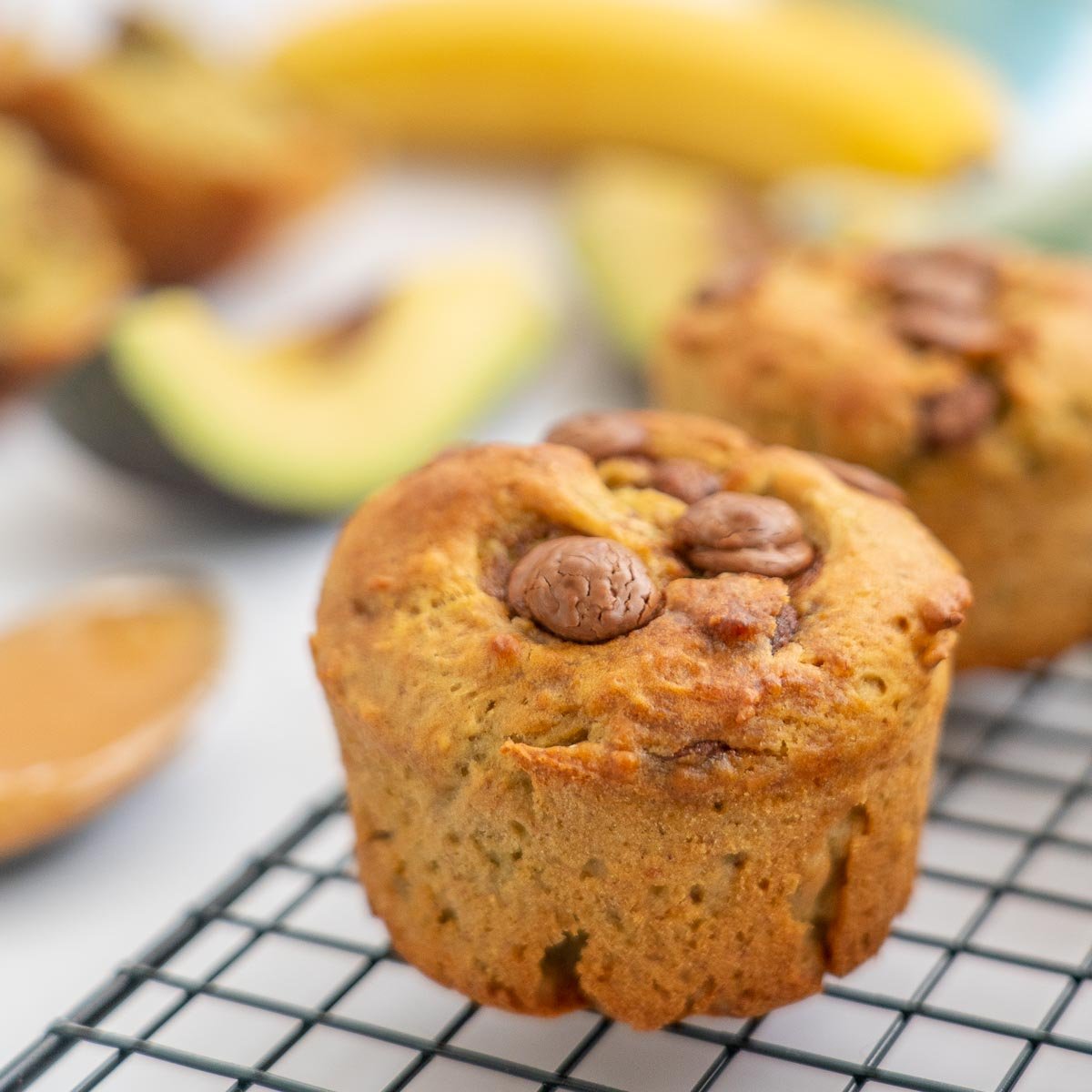 Why this recipe works
Kids love muffins and these banana avocado muffins are no exception!
This recipe is low in added sugar, only 2 tablespoon of honey is needed to sweeten up these muffins!
The goodness of avocado baked into a muffin!
Using avocado in a muffin means there is no need for butter, oil or milk, the avocado keeps the muffin moist
Perfect for lunchboxes
The ingredients you will need
Avocado, banana, eggs, flour, baking powder and honey is all that you will need. I often add vanilla essence to this recipe too. Chocolate drops are a lovely addition as well, but they are optional.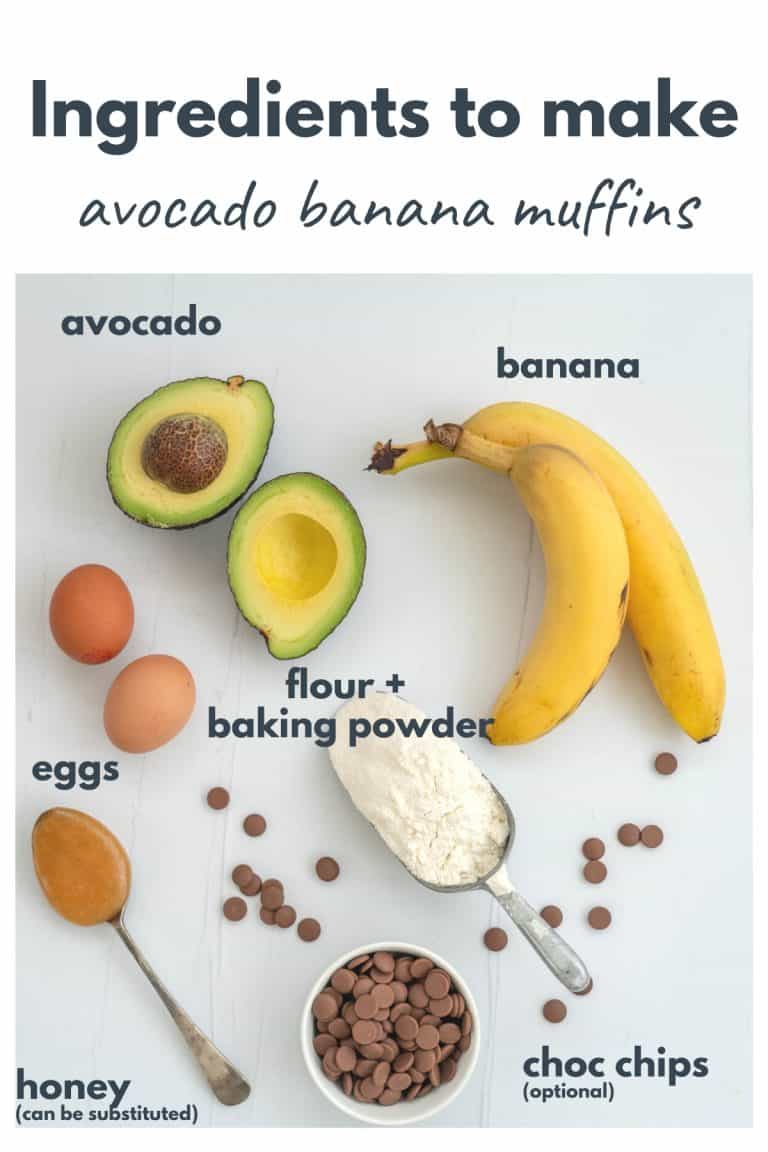 Avocado in muffins
Avocado actually works brilliantly in baking. Avocado is a great dairy-free alternative to butter in this recipe, and the end muffin has a nice soft texture. 
You will find that the muffin may have a slight green tinge, but other than that avocado muffins are fabulous for those people who need to, or wish to, skip dairy. 
You can also make Avocado Brownies or Chocolate Avocado Muffins.
Sweetening these muffins
Bananas are naturally sweet and usually loved by kids, This makes them a really good base for healthy muffins for kids.
In this banana avocado muffin recipe I have managed to keep the added sugar content pretty low. Sugar content-wise I have managed to get the recipe down to 2 tablespoon of honey per batch, which is not too bad.
You could definitely sub in maple syrup or regular sugar if you prefer. (Particularly if your child is under one) But For some reason, honey just seemed right to me.
For this recipe to be vegan you will need to sub the honey for either maple syrup or a granulated sugar.
You could also try making these banana avocado muffins without any sugar at all. The recipe works fine without the added sweetener, but maybe not quite as palatable as it is with a little honey.
If your family is not used to lower sugar baking, or if the bananas you are using are not super ripe and sweet, I would actually recommend trying 3 Tablespoons of honey, to start with, then try a smaller amount the next time you make them.
A little bit of chocolate
I find a few chocolate chips or drops can really encourage a kiddo to try a new muffin recipe
To keep this avocado muffin recipe dairy-free make sure you choose a dairy-free chocolate chip, most dark chocolate is dairy-free.
If you don't want to mix the choc chips through the muffin, you can even just pop a few on the top of each muffin before baking them this means you use less chocolate, but it still makes them very tempting for kids.
Step by step instructions
Heat your oven to 180 degrees Celcius, if you are using fan bake reduce the temp to 160 degrees
Blitz the avocado, banana, eggs, honey, and vanilla in a food processor or blender (photo 1)
Blitz until smooth (photo 2)
In a large bowl sift the flour and baking powder, if you can't be bothered sifting just make sure you fork through the baking powder so it is well mixed (photo 3)
Add the avocado and banana mix to the dry ingredients along with the chocolate chips if you are using them (photo 4)
Mix gently until just combined (this is the secret of a good muffin texture, do not over mix them) (photo 5)
Spoon into a greased or lined muffin tin, I find the recipe makes 9 muffins (photo 6)
Bake at 180 degrees celsius for 20-25 mins, when cooked the muffins will spring back when pressed in the center
Leave to cool in the tray before you attempt removing them
Serve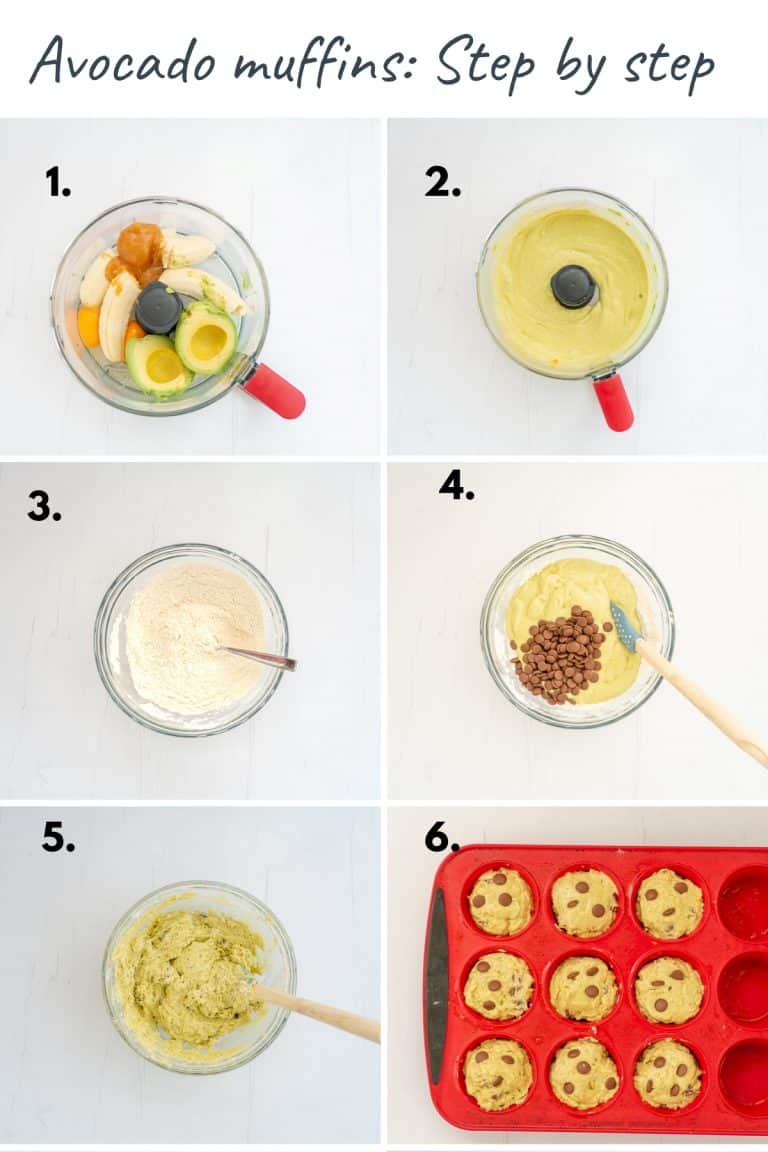 Recipe FAQs and tips
From what age are these muffins suitable from?
These avocado muffins have a soft texture and texturewise would be suitable for babies over 6 months of age. However, you will need to substitute the honey for another sweetener if your child is under 1 year of age.
Can I make these muffins gluten free
I have made this recipe with a gluten-free baking mix. This mix was a combined gluten-free flour and worked well. I used Bakels gluten-free baking mix.
Can I freeze these muffins
Yes they freeze very well. Freeze in an airtight container for up to 3 months. Defrost at room temperature.
Be sure your oven is not too hot. I find these muffins have a tendency to brown quickly if the oven is too hot. So don't go over 180 degrees Celsius on bake or 160 degrees if using Fanbake or Thermowave.
This recipe works best with nice ripe bananas, as the sweetness of the recipe relies on a lot on the banana.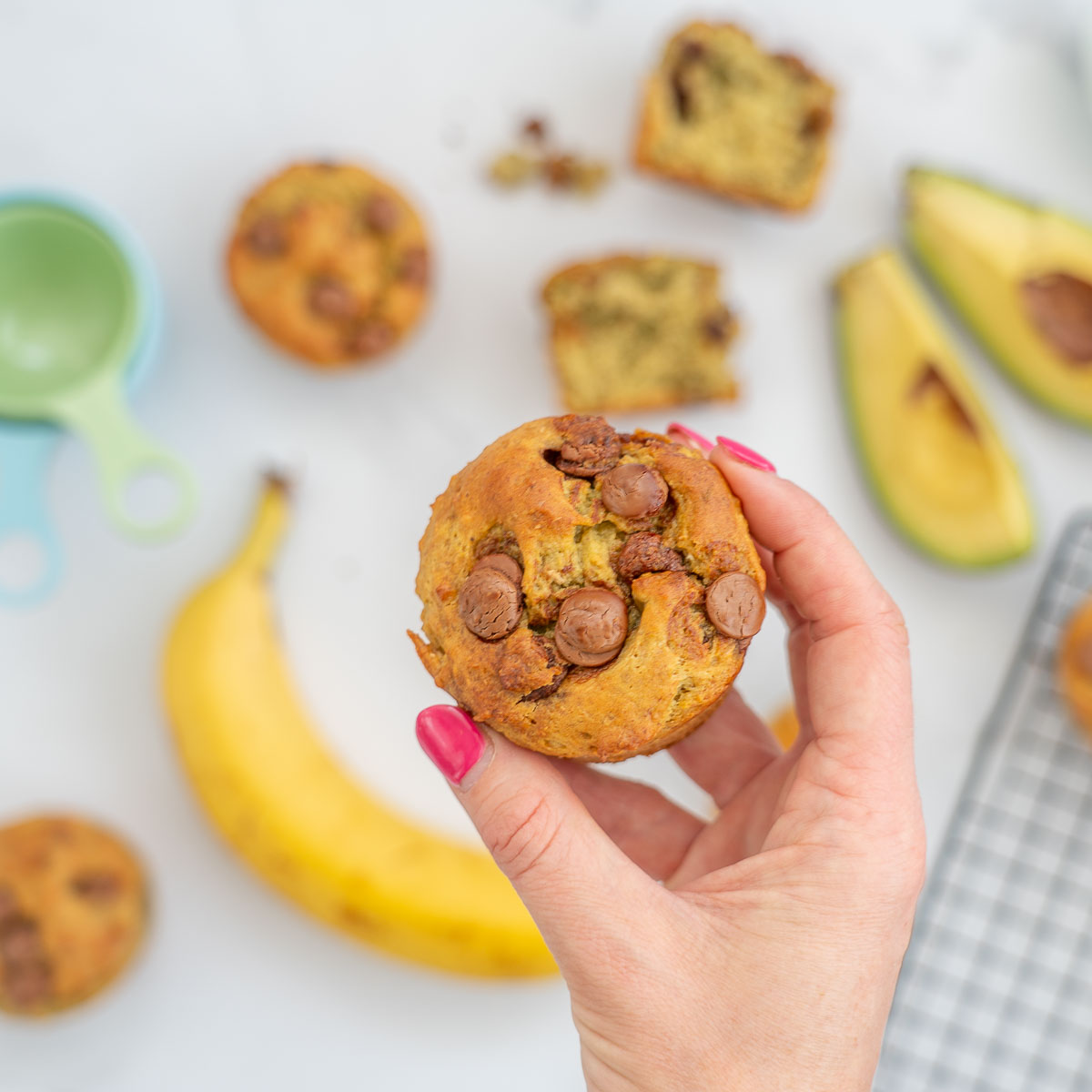 Other muffin recipes
I have actually ended up with a whole section for muffin recipes. You will find my low-sugar muffins, baby led weaning muffins and savoury muffins are all kid friendly and easy to make.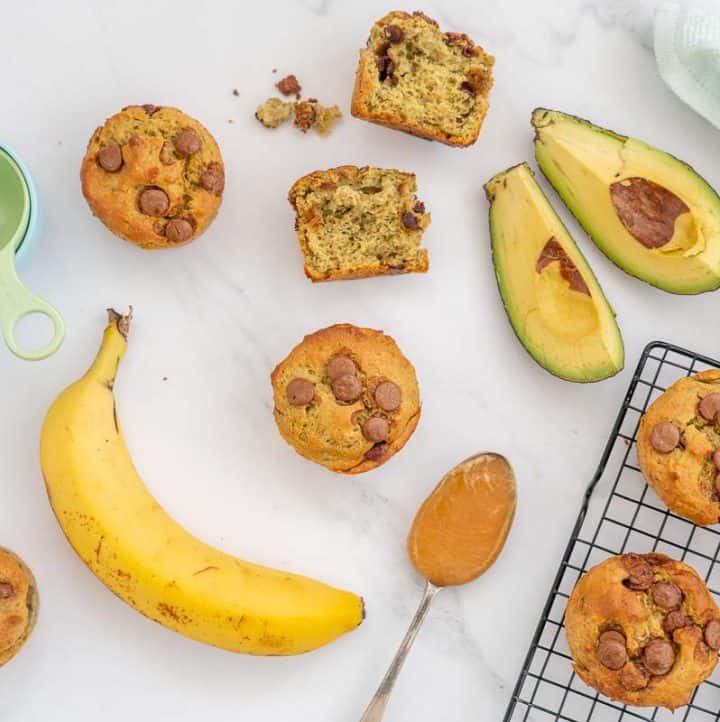 Avocado Banana Muffins
Avocado and Banana muffins are a delicous low sugar muffin which are perfect for kids
Print
Pin
Rate
RATE THIS RECIPE
Ingredients
1

ripe avocado

150

g

ripe banana

approx 1-2 small bananas (weighed with skin on)

2

eggs

2

tablespoon

honey

Can be substituted for maple syrup

1

teaspoon

vanilla

1.5

Cups

plain flour

2

teaspoon

baking powder

¼

cup

dark choc chips

optional
Instructions
Add the avocado, banana, eggs, honey and vanilla to a food processor or blender

Blitz until smooth

In a large bowl sift the flour and baking powder, if you cant be bothered sifting just make sure you fork through the baking powder so it is well mixed

Add the avocado and banana mix to the dry ingredients including the chocolate chips

mix gently until just combined (this is the secret of a good muffin texture, do not over mix them)

Spoon into a greased or lined 12 hole muffin tin 

Bake at 180 degrees celsius for 20-25 mins

Leave to cool in the tray before you attempt removing them

Serve

Yum
Notes
If your kiddos are under 1 yr, sub the honey for maple syrup, regular sugar, or even try it with no sweetener at all
This recipe is dairy free as long as the choc chips are dark chocolate and dairy free
I have tested this recipe with a gluten-free baking mix and it worked well. The baking mix was based on potato flour but also had other ingredients.
I find these muffins can brown quite quickly if the oven is too hot, I find 180 degrees celsius on bake, or 160 degrees celsius on fan bake/thermowave is a good temperature
Nutrition
Serving:
1
g
|
Calories:
179
kcal
|
Carbohydrates:
27
g
|
Protein:
4
g
|
Fat:
6
g
|
Saturated Fat:
2
g
|
Cholesterol:
36
mg
|
Sodium:
116
mg
|
Potassium:
216
mg
|
Fiber:
3
g
|
Sugar:
7
g
|
Vitamin A:
93
IU
|
Vitamin C:
3
mg
|
Calcium:
79
mg
|
Iron:
1
mg