THIS POST MAY CONTAIN AFFILIATE LINKS.
Super quick to make, absolutely delicious and so versatile. This zucchini slice recipe has been one of my go to recipes since my youngest kiddo was 7 months old. It's perfect for a toddler meal, adult lunch or for the school lunch box!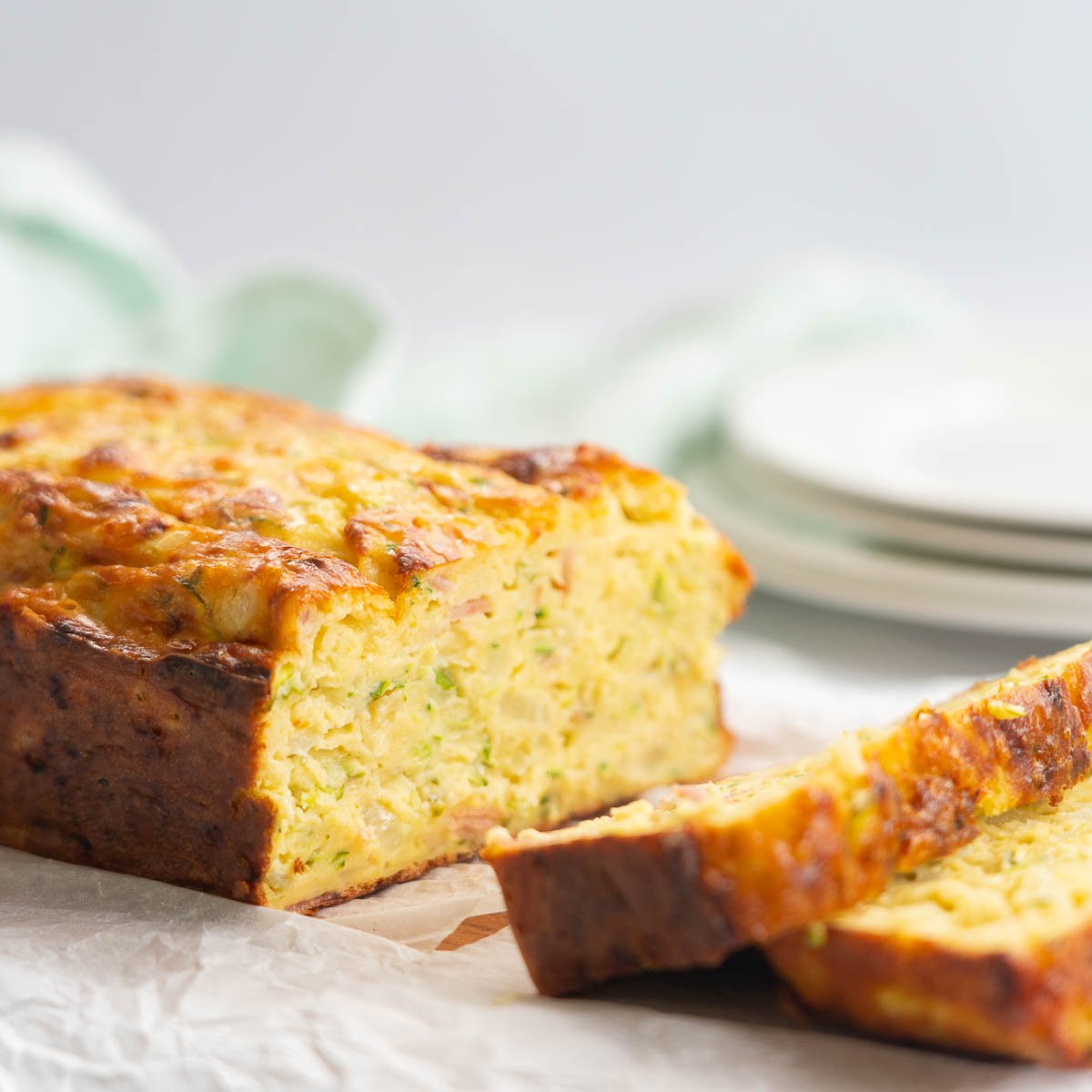 Why this recipe works
I love my zucchini Slice because:
Loaded with veggies, but it is so delicious kids absolutely love it
Quick to make, under 10 minutes prep, then it just bakes in the oven
Freezer Friendly: Freezes and reheats so well, so it's great when you need a quick meal in a hurry
So versatile, perfect for lunchboxes, Brilliant as finger food for babies, delicious as a light meal for grown-ups
The ingredients you will need
No fancy or flash ingredients needed to make this zucchini slice recipe. Eggs, Flour, Baking Powder, Cheese, Zucchini, Onion and bacon which is optional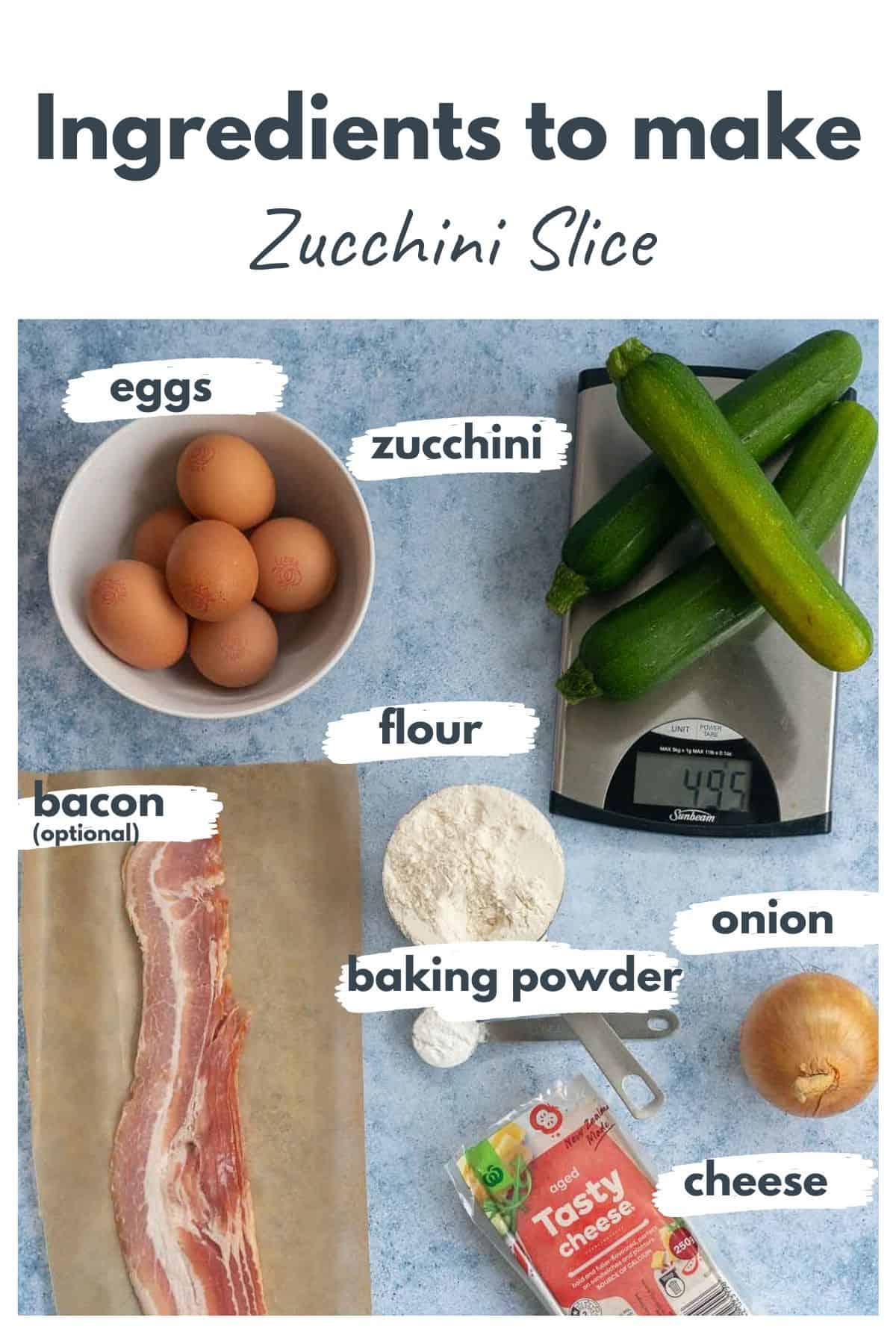 I am an ambassador for Countdown supermarket, they support my blog by providing ingredients to me for recipe creation and testing. I used the aged tasty cheese f from their range in this recipe.
Zucchini or courgette slice?
I call this recipe Zucchini slice but as a kiwi I should probably refer to it as courgette slice. In New Zealand, we use both Courgette and Zucchini, courgette probably more often. 
My understanding is that Zucchini is Italian and courgette is French. From my time in Australia, they seem to use the Italian zucchini while the UK use courgette.
Either way this a great simple family-friendly recipe, suitable for breakfast, lunch or dinner and also brilliant for baby-led weaning.
Ingredient changes to make this recipe suitable for babies
As I mentioned I have used this zucchini slice recipe as a finger food for my babies. Texture-wise it is firm but soft and therefore ok for baby-led weaning.
By this I mean the slice stays together so can it be cut into finger-sized pieces for babies to hold, but is soft enough for babies to squish in their mouths even without teeth.
For babies, there are a couple of things to consider for this recipe to ensure it is appropriate. The salt content of this recipe can be quite high due to the cheese and bacon.
For young babies you can reduce the cheese content, the recipe works fine with half a cup, or you can select a lower salt cheese. Check the nutritional information on the pack.
This recipe is a zucchini and bacon slice, but honestly, the recipe works very well without the bacon. You can either leave it out completely or substitute it for leftover cooked chicken which will have a lower sodium content.
Both of these changes not only make the slice more baby-friendly, it also just generally makes this recipe a little healthier for everyone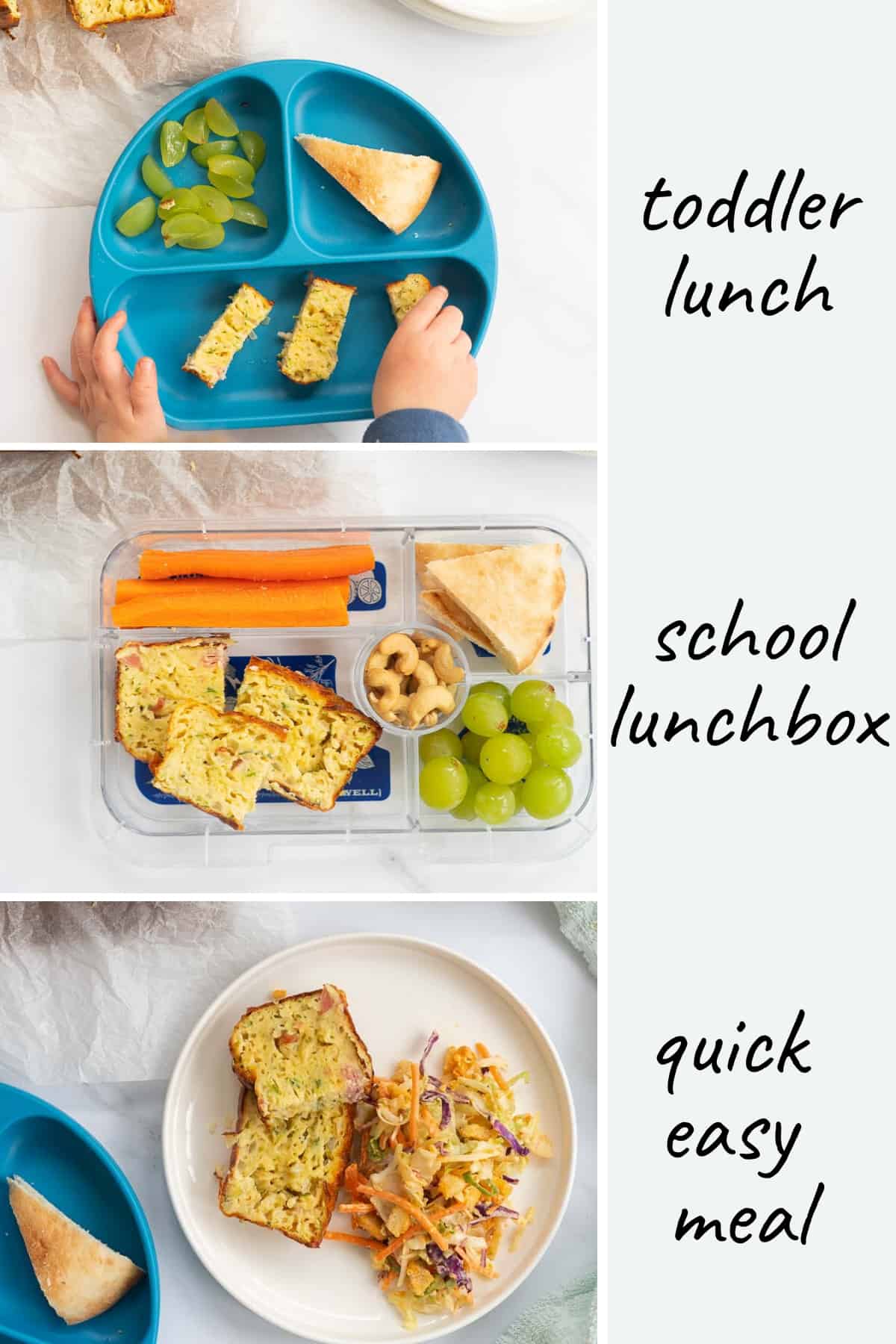 Step by step instructions
Preheat your oven to 180 degrees Celcius (360 f)
Line a loaf tin with baking paper
In a large mixing bowl whisk the eggs (photo 1)
Add the flour and baking powder, whisk, the mixture will be lumpy, don't worry about the lumps (photo 2)
Finely dice the onion, (photo 3) add to the egg and flour bowl
Grate the zucchini (photo 4)
Squeeze the zucchini to remove the excess liquid, discard the liquid (photo 5), add the squeezed zucchini to the egg and flour bowl
Dice the bacon and grate the cheese, add to the egg and flour bowl (photo 6)
All ingredients should now be in the mixing bowl, mix (photo 7)
Pour the mix into the lined loaf tin (photo 8)
Bake at 180 degrees celsius for 40-50 minutes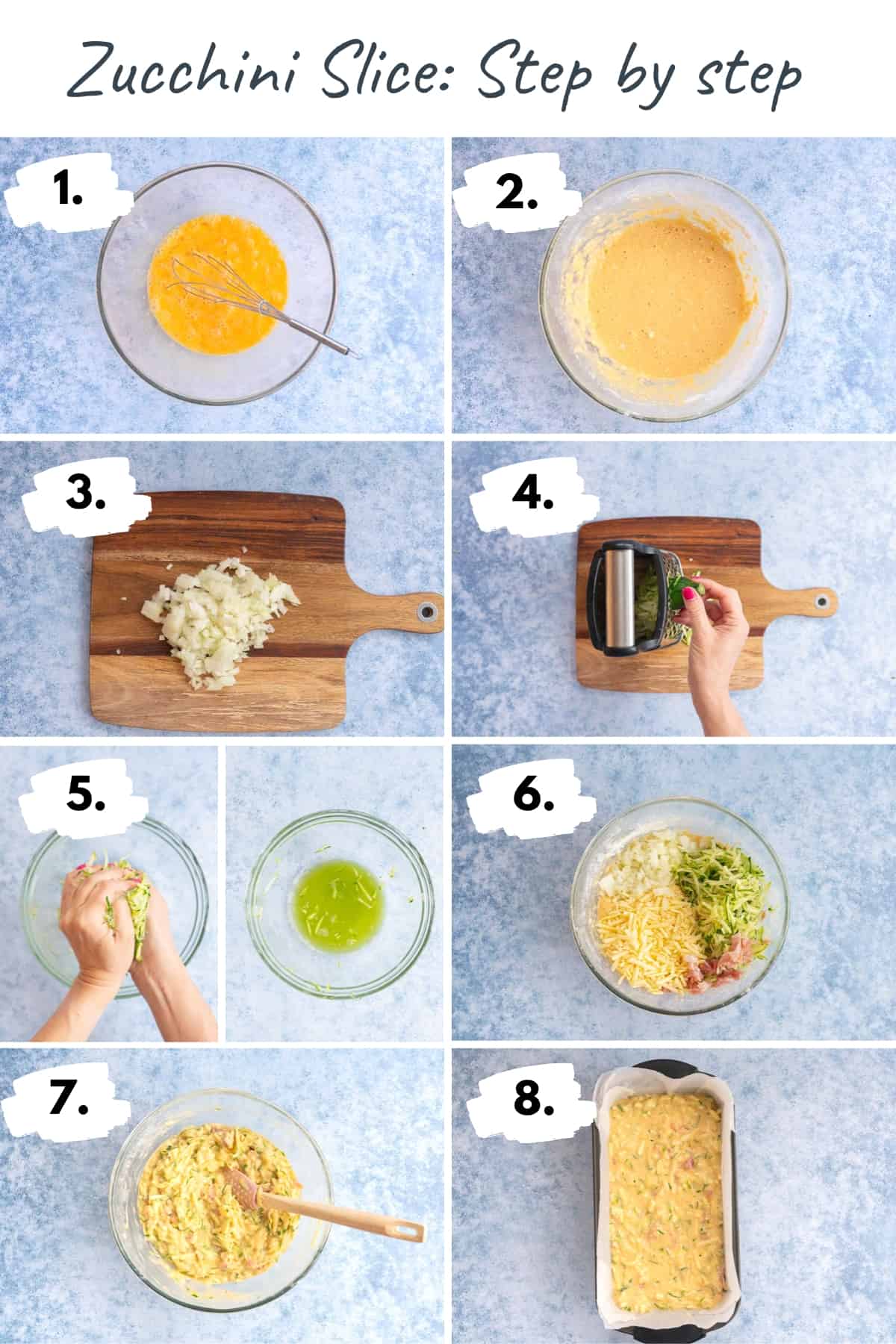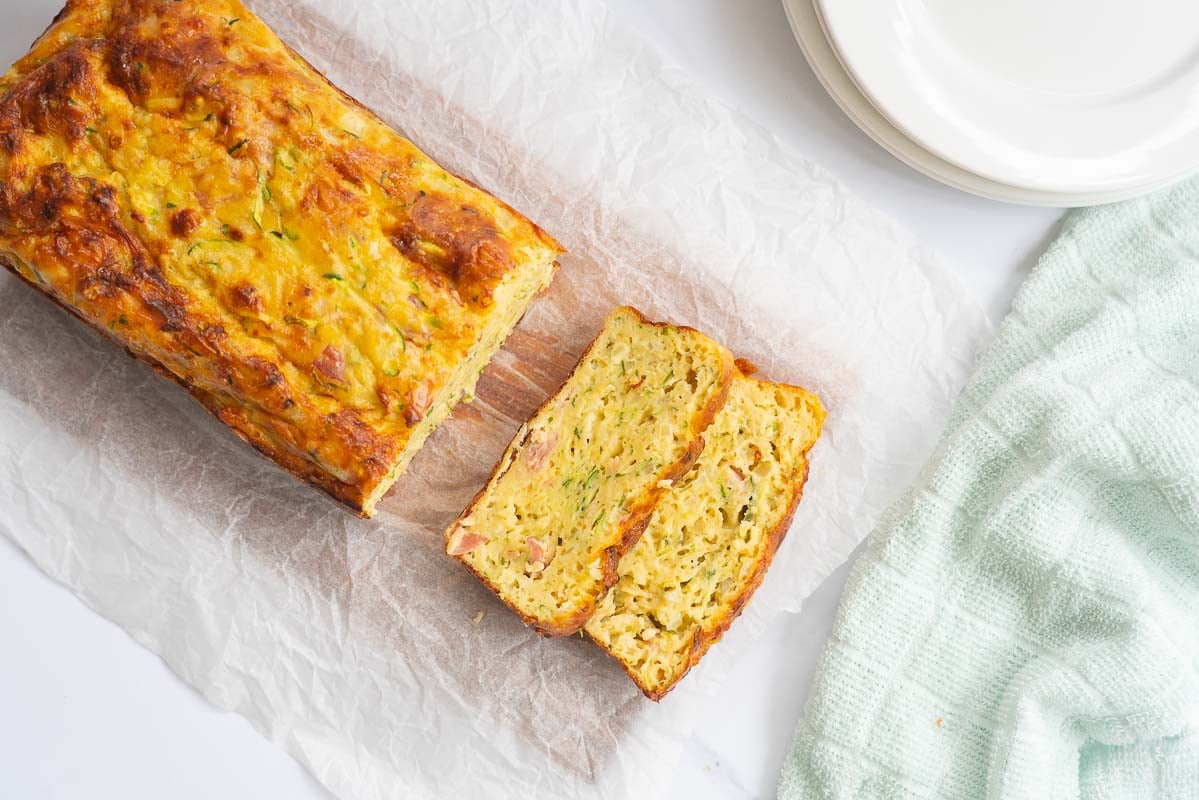 Recipe FAQs and tips
How long will zucchini slice last in the fridge?
This zucchini slice recipe will last up to 3 days in the refrigerator
How long will zucchini slice last in the freezer?
This zucchini slice recipe will last up to 3 months in the deep freeze
How much oil in zucchini slice?
This zucchini slice recipe has no added oil and works well
Can I make zucchini slice gluten free?
You can use almost any type of flour.  Rice flour works very well. You can also make it without flour (remove the baking powder as well),  however, the consistency will not be as firm, making it more difficult as finger food for a young child.
Try this recipe with other vegetables : When zucchini is out of season or hard to come by, try other grated or shredded vegetables: pumpkin, butternut squash, carrot, broccoli and cauliflower all work well. You can also use frozen peas or corn kernels
For a vegetarian zucchini slice, skip the bacon, it's still a delicious recipe.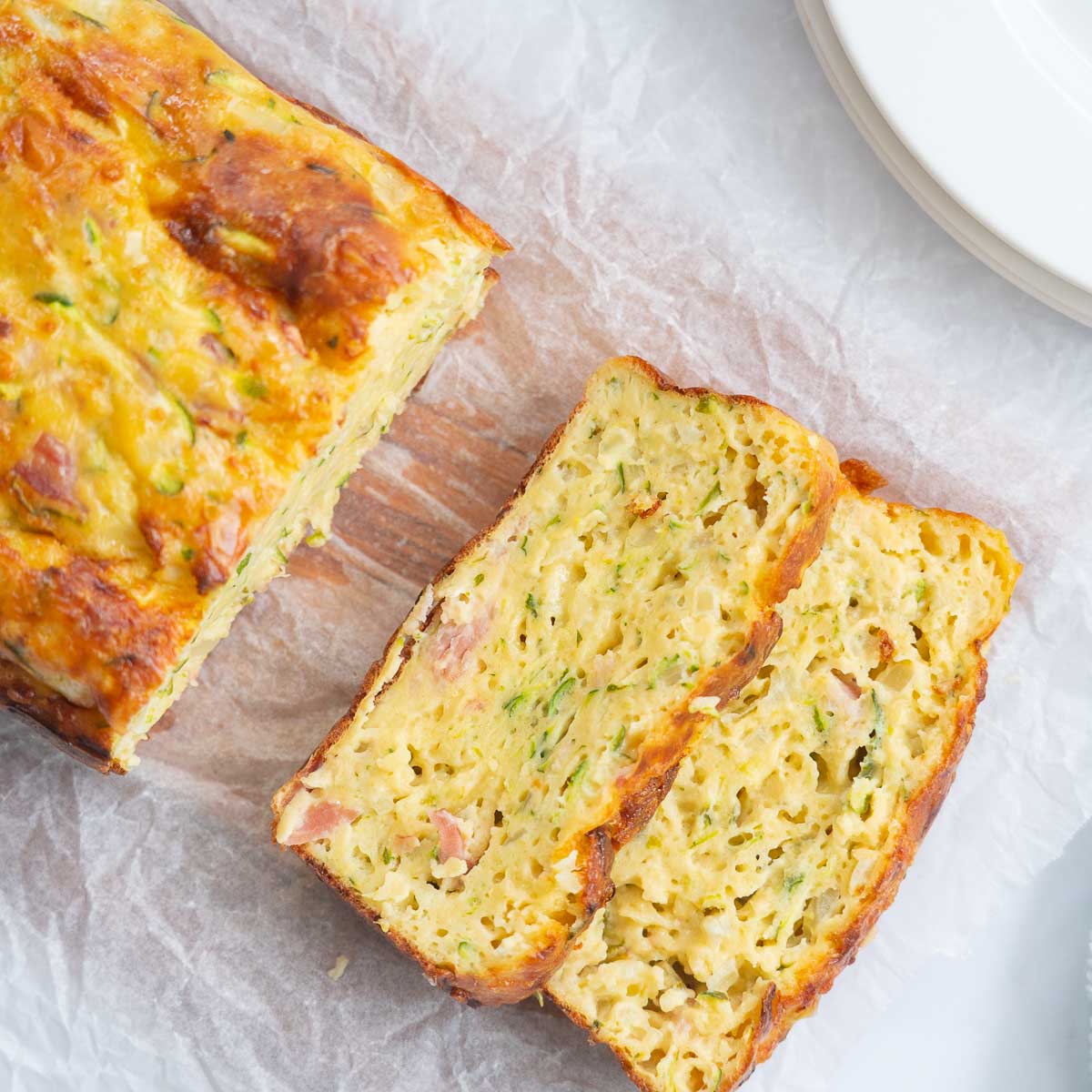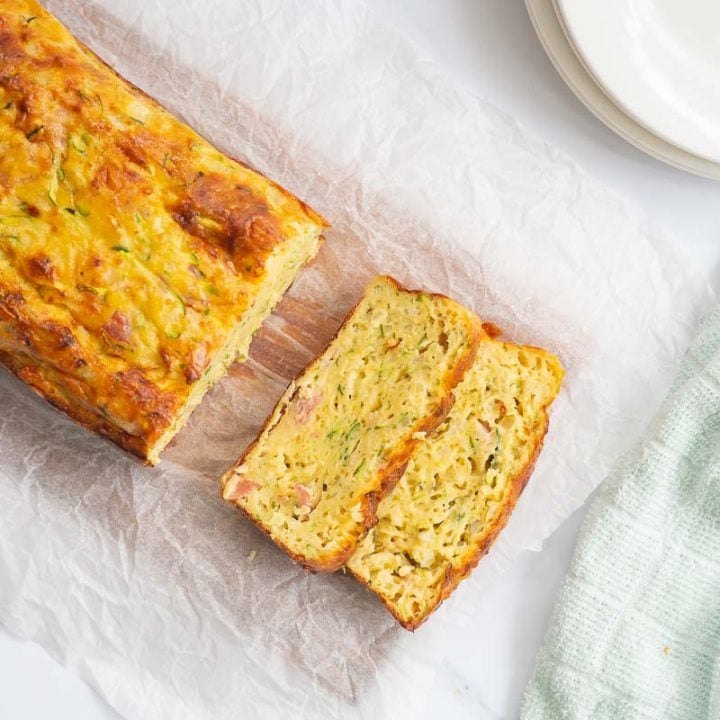 Zucchini Slice
Such an easy zucchini slice recipe, loaded with healthy zucchini it is the perfect family-friendly meal. Lunch, Dinner or Breakfast, add to a lunch box, Baby Led Weaning. You Can't Go Wrong!
Print
Pin
Rate
RATE THIS RECIPE
Ingredients
6

large eggs

1

Cup

flour

1

teaspoon

baking powder

150

g

onion

large

1

Cup

grated cheese

Bacon 100g

500

g

zucchini/courgette
Instructions
Whisk eggs

Add flour and baking powder and whisk. Don't worry about a few lumps, they will disappear during cooking

Finely dice the onion, add to the eggs (you do not need to precook anything, the onions will go lovely and sweet)

Finely slice the bacon, add to the eggs,

Grate the zucchini and add to the eggs, along with the grated cheese

Mix everything together

Pour into a loaf lined with baking paper 

Bake at 180 degrees celsius (360 f) for around 40-50 mins until golden
Notes
This is a very forgiving recipe.
Use almost any type of flour.  Rice and wholemeal work very well. You can make it without any flour (remove the baking powder as well),  however, the consistency will not be as firm, making it more difficult as finger food for a young child.
I like to make my zucchini slice in a loaf pan, you can use a slice tray or cake tin as well. The baking times may vary based on the size and depth of the dish
Keep in the refrigerator for up to 3 days
Can Freeze for up to 3 months reheat it to piping hot in the microwave
Add cooked rice (½-1 Cup) if you want to add some extra carbohydrate
Use overgrown courgettes that are practically marrows!
Take out the bacon, and voila it's vegetarian
Change the vege! Grated Carrot, Finely Sliced Leek, Grated Pumpkin, Finley Sliced Pumpkin, peas, corn kernelswhatever you have will work
This is great finger food for young kids, even the toothless ones. My one-year-old has been loving it from around 7 months even though she is still a gummy shark
Nutrition
Serving:
1
g
|
Calories:
165
kcal
|
Carbohydrates:
12
g
|
Protein:
10
g
|
Fat:
9
g
|
Saturated Fat:
4
g
|
Polyunsaturated Fat:
4
g
|
Cholesterol:
111
mg
|
Sodium:
280
mg
|
Fiber:
1
g
|
Sugar:
2
g