This zucchini slice recipe has been one of my go-to recipes since my youngest kiddo was around 7 months old.
Courgette Slice or Zucchini Slice?
I call it Zucchini slice but as a kiwi I should probably refer to it as courgette slice. In New Zealand, we use both Courgette and Zucchini, courgette probably more often.
My understanding is that Zucchini is Italian and courgette is French. From my time in Australia, they seem to use the Italian zucchini while the UK use courgette.
Either way this a great simple family-friendly recipe, suitable for breakfast, lunch or dinner and also brilliant for baby-led weaning.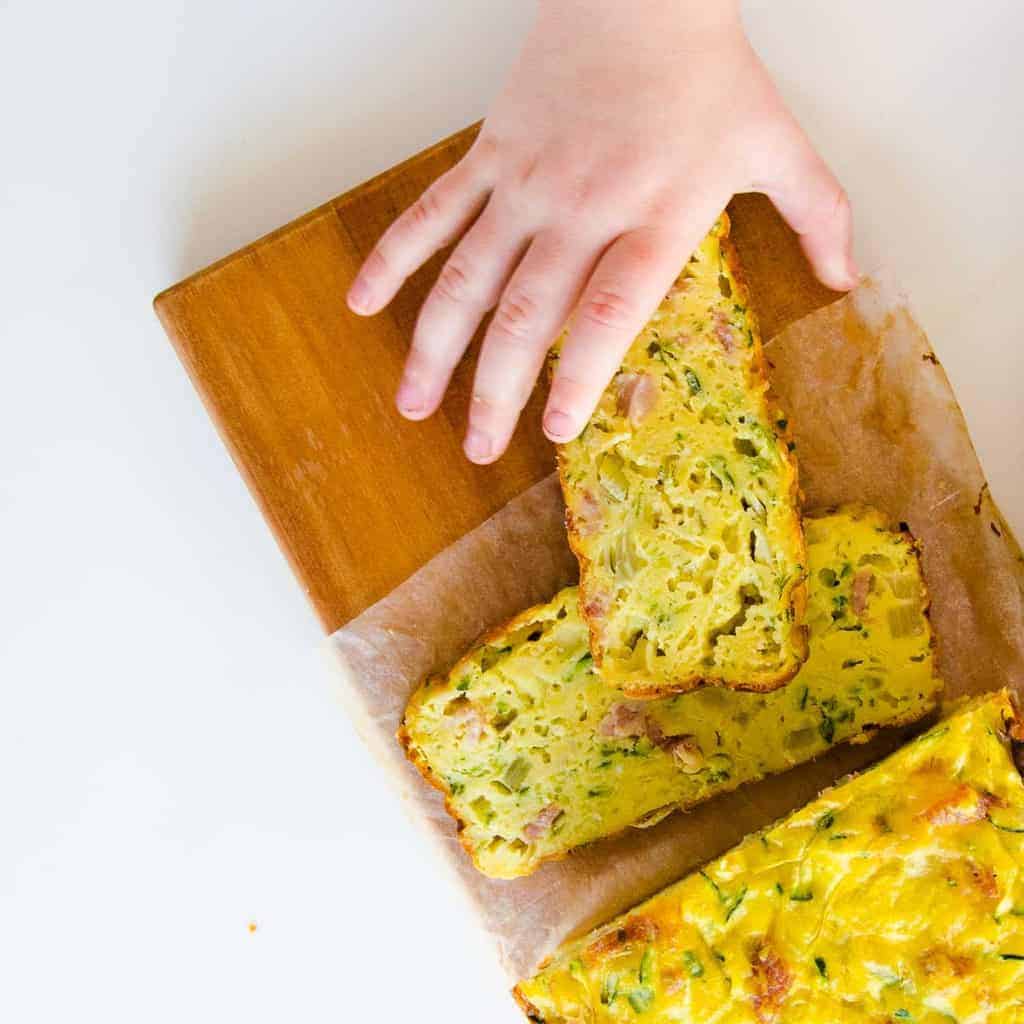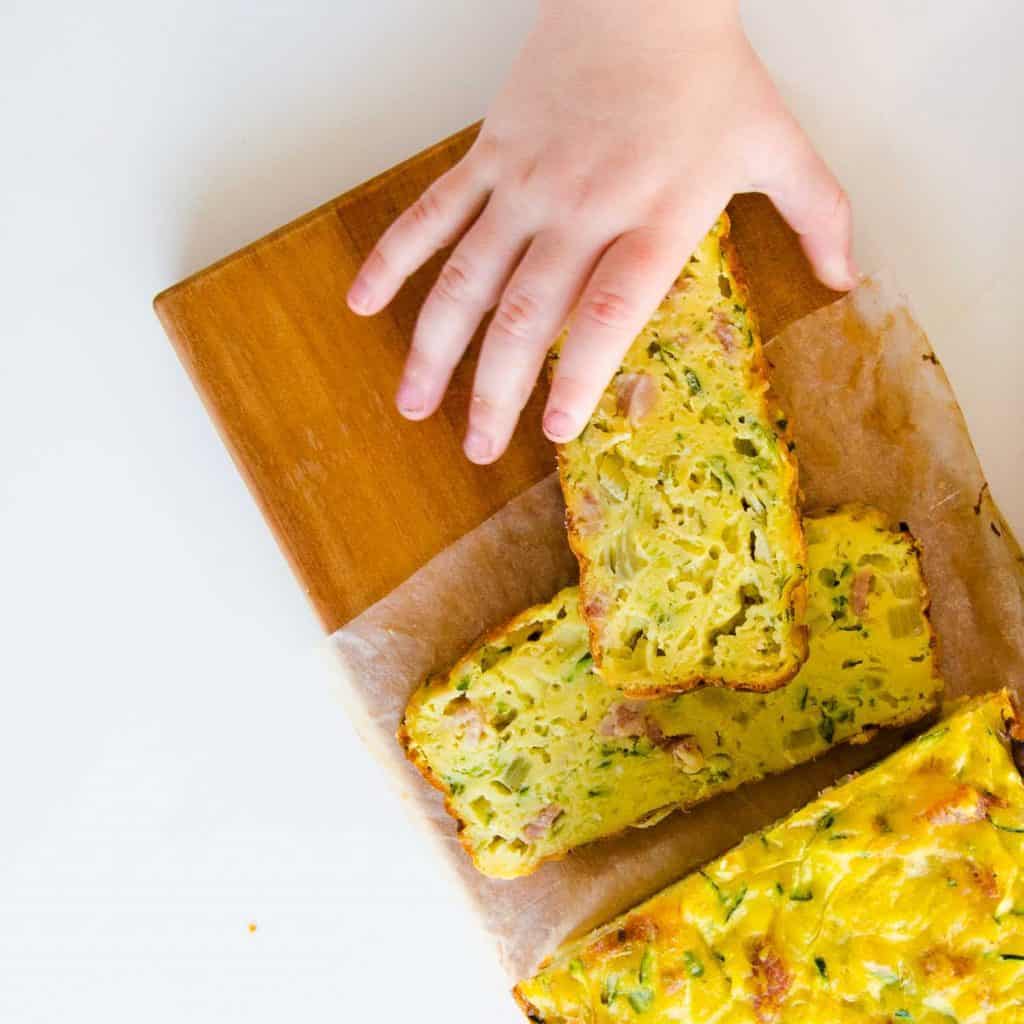 Zucchini Slice For Babies
As I mentioned I have used this recipe as a finger food for my babies. Texture-wise it is firm but soft and therefore ok for baby-led weaning.
By this I mean the slice stays together so can it be cut into finger-sized pieces for babies to hold, but is soft enough for babies to squish in their mouths even without teeth.
For babies, there are a couple of things to consider for this recipe to ensure it is appropriate. The salt content of this recipe can be quite high due to the cheese and bacon.
How to make this a healthy zucchini slice recipe for babies
For young babies you can reduce the cheese content, the recipe works fine with half a cup, or you can select a lower salt cheese. Check the nutritional information on the pack.
This recipe is a zucchini and bacon slice, but honestly, the recipe works very well without the bacon. You can either leave it out completely or substitute it for leftover cooked chicken which will have a lower sodium content.
Both of these changes not only make the slice more baby-friendly, it also just generally makes this recipe a little healthier for everyone.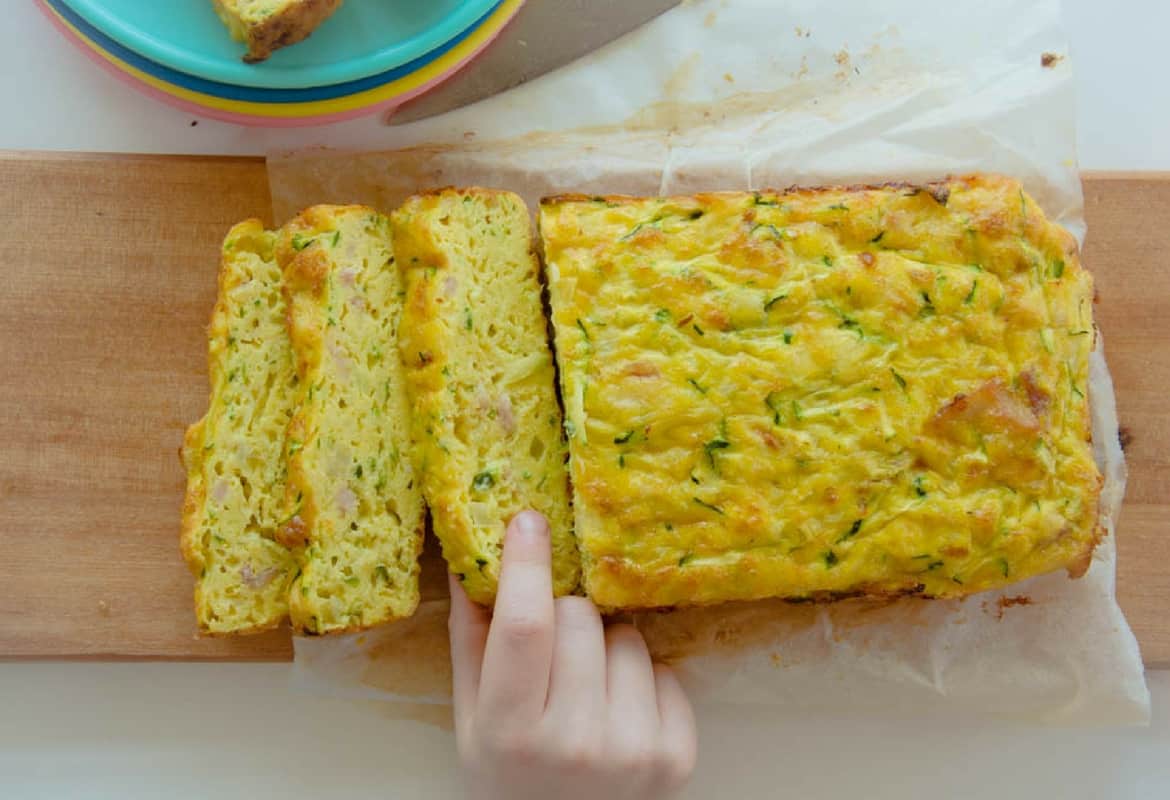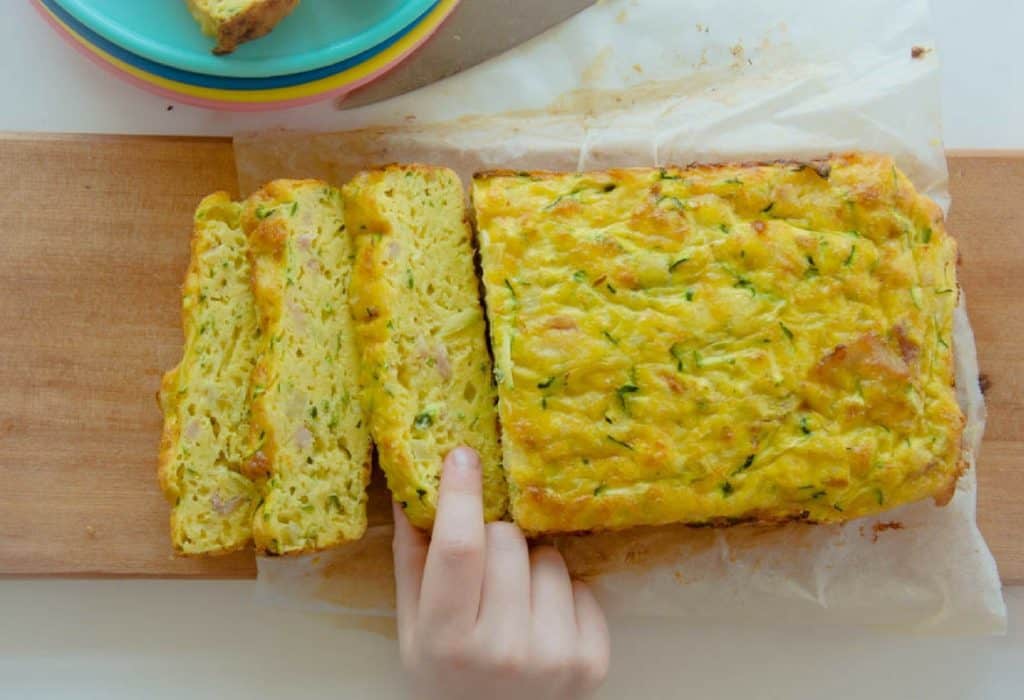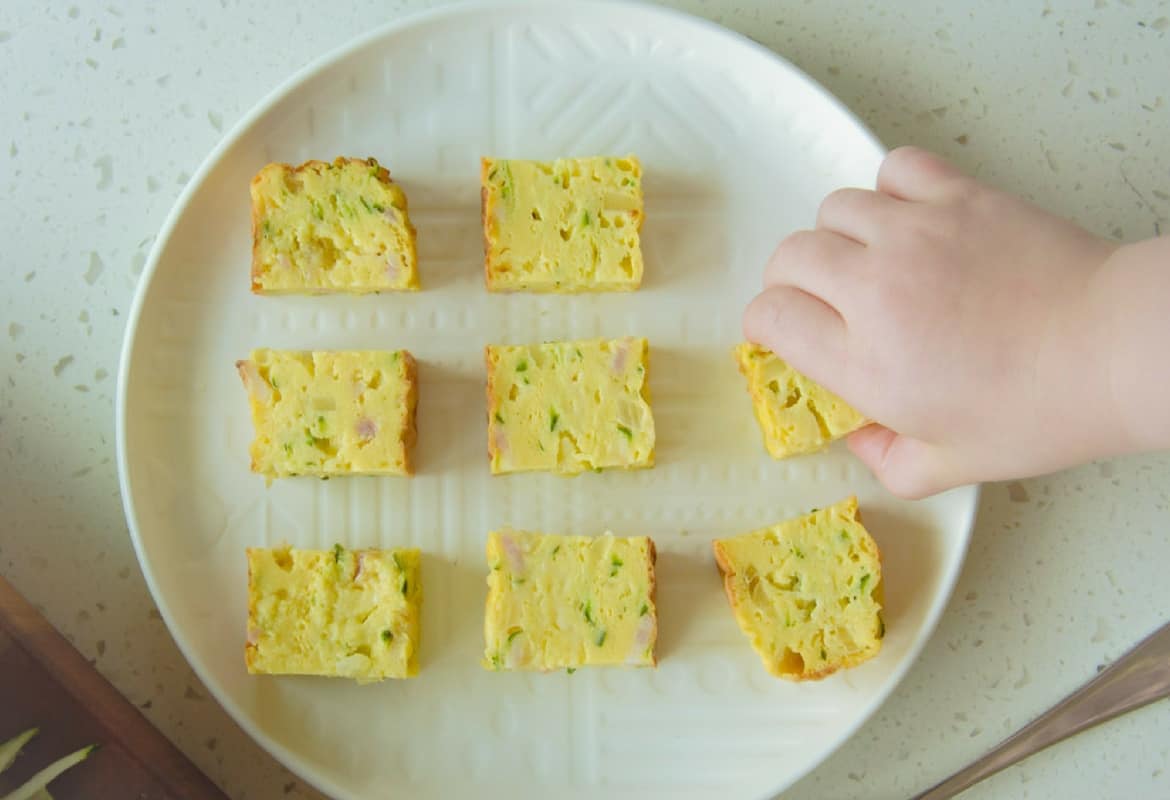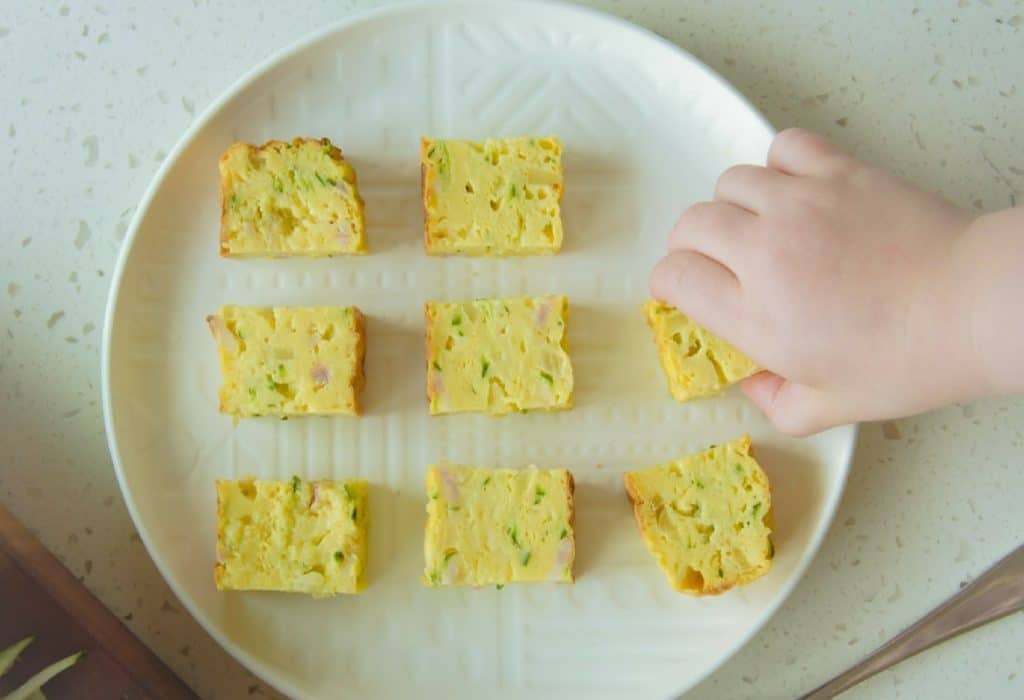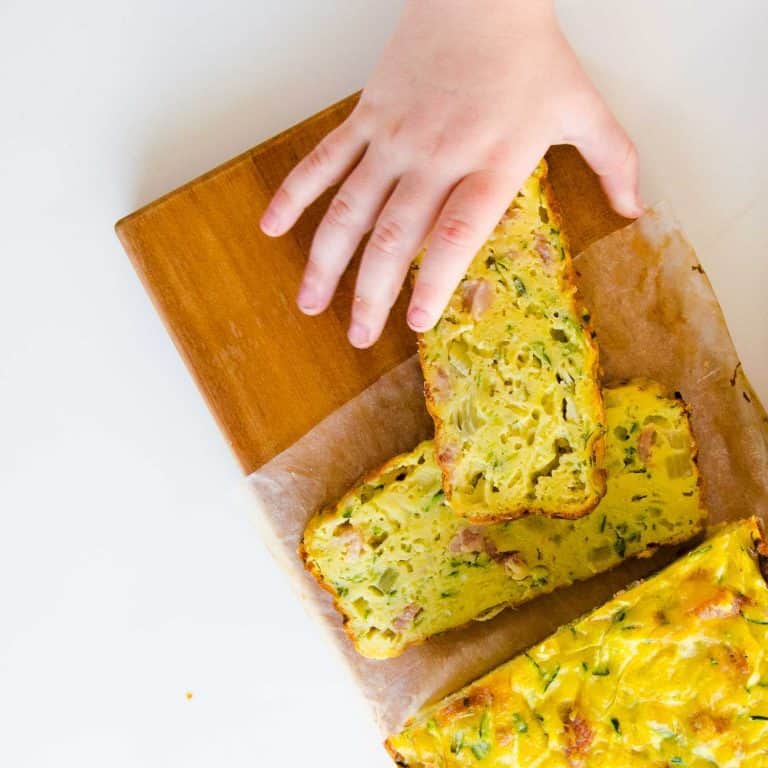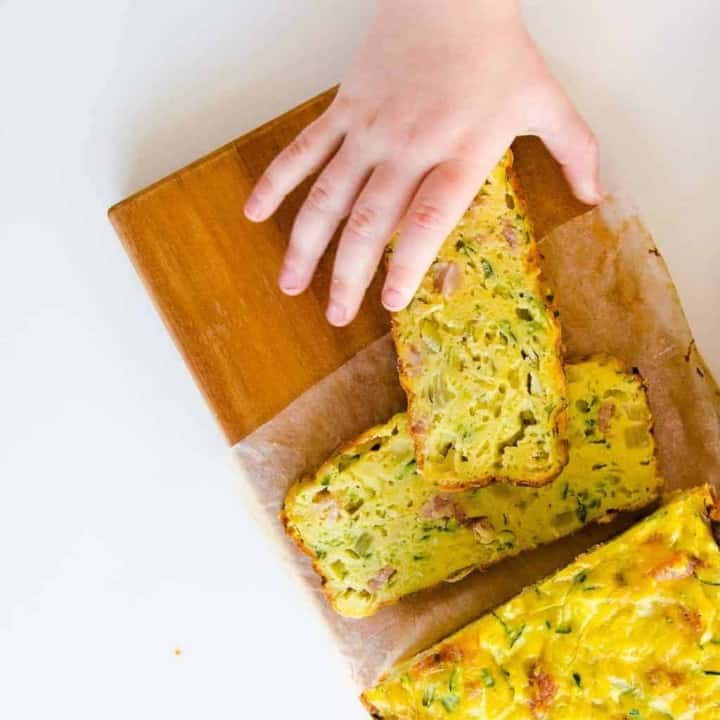 Zucchini Slice
Such an easy zucchini slice recipe, loaded with healthy zucchini it is the perfect family-friendly meal. Lunch, Dinner or Breakfast, add to a lunch box, Baby Led Weaning. You Can't Go Wrong!
Ingredients
6 large eggs 
1 Cup flour
1 tsp baking powder
150g onion (large)
1 Cup grated cheese
Bacon 100g 
500g  zucchini/courgette
Instructions
Whisk eggs
Add flour and baking powder and whisk. Don't worry about a few lumps, they will disappear during cooking
Finely dice the onion, add to the eggs (you do not need to precook anything, the onions will go lovely and sweet)
Finely slice the bacon, add to the eggs,
Grate the zucchini and add to the eggs, along with the grated cheese
Mix everything together
Pour into a loaf lined with baking paper
Bake at 180 degrees celsius for around 40-50 mins until golden
Notes
This is a very forgiving recipe.
Use almost any type of flour.  Rice and wholemeal work very well. You can make it without any flour (remove the baking powder as well),  however, the consistency will not be as firm, making it more difficult as a finger food for a young child.
Freeze and reheat it in the microwave
Add cooked rice (½-1 Cup) if you want to add some extra carbohydrate
Use overgrown courgettes that are practically marrows!
Take out the bacon, and voila it's vegetarian
Change the vege! Grated Carrot, Finely Sliced Leek, Grated Pumpkin, Finley Sliced Pumpkin, whatever you have will work
This is a great finger food for young kids, even the toothless ones. My one-year-old has been loving it from around 7 months even though she is still a gummy shark
Nutrition Information:
Yield:

12
Serving Size:

1
Amount Per Serving:
Calories:

165
Total Fat:

9g
Saturated Fat:

4g
Trans Fat:

0g
Unsaturated Fat:

4g
Cholesterol:

111mg
Sodium:

280mg
Carbohydrates:

12g
Fiber:

1g
Sugar:

2g
Protein:

10g
Please know this nutrition analysis is based on the ingredients only, this recipe has not been sent to a laboratory for independent testing
If I remember rightly I originally found this recipe on the taste.com.au website, although over time it has been altered by me.