THIS POST MAY CONTAIN AFFILIATE LINKS.
I'm going to start this recipe by clearing up a couple of things, a couple of things that mean I opted to call these balls of deliciousness chicken rissoles or chicken bites and not chicken meatballs
I'm a recipe blogger, I love food and I love sharing ideas around feeding kids. Over the years though, I have learnt that for this website to also create an income for me, then I need people to find my recipe when they are searching on google
I'm not the biggest or the most powerful website, which means some of the super popular search terms I'm just not going to rank on google. Well I might rank, but my recipe will be like the 45th in the list of results, and let's be honest who scrolls to the 45th result 😉
Hence these chicken rissoles could be called chicken meatballs, both things actually mean pretty similar things. But I'm more likely to be found higher up in the search results if I opt for rissoles, so there you go that is the back story!
Chicken Parmesan Bites Perfect for the whole family
I love this recipe, I often make a double batch so that I can keep them in the freezer
For Ezzy I serve these chicken bites as a baby led weaning meal, they are a great finger food for babies over 6 months of age.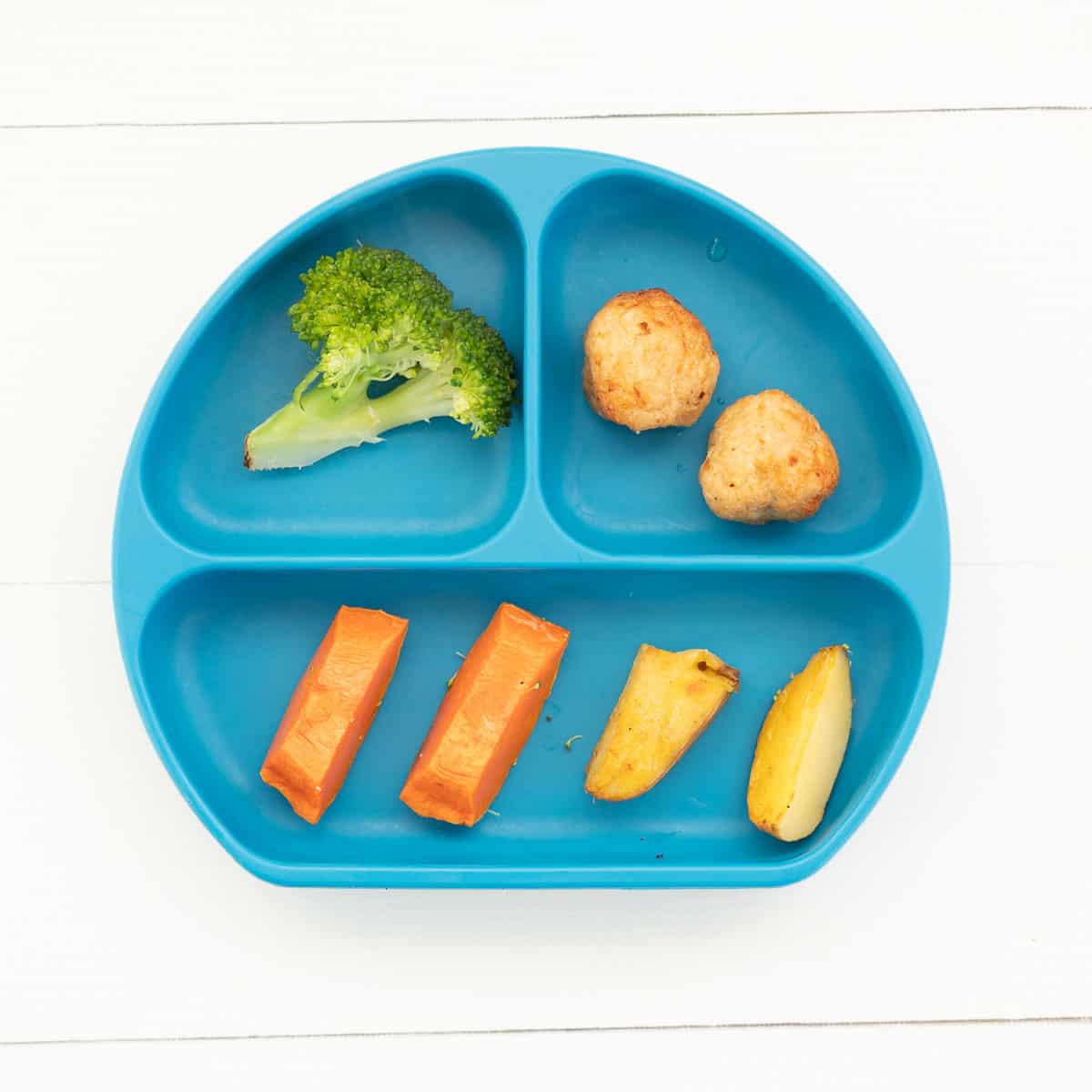 I personally love them with a salad for a quick mum lunch. This is the lunch I had while Ezzy was merrily eating hers, oh, and throwing some of hers on the floor too. If you also have a baby having finger foods then they may like my tuna rice balls beef rissoles, or my mango chicken bites which are a sweet fruity take on a chicken meatball. Also feel free to check out the baby-led weaning recipes on my website.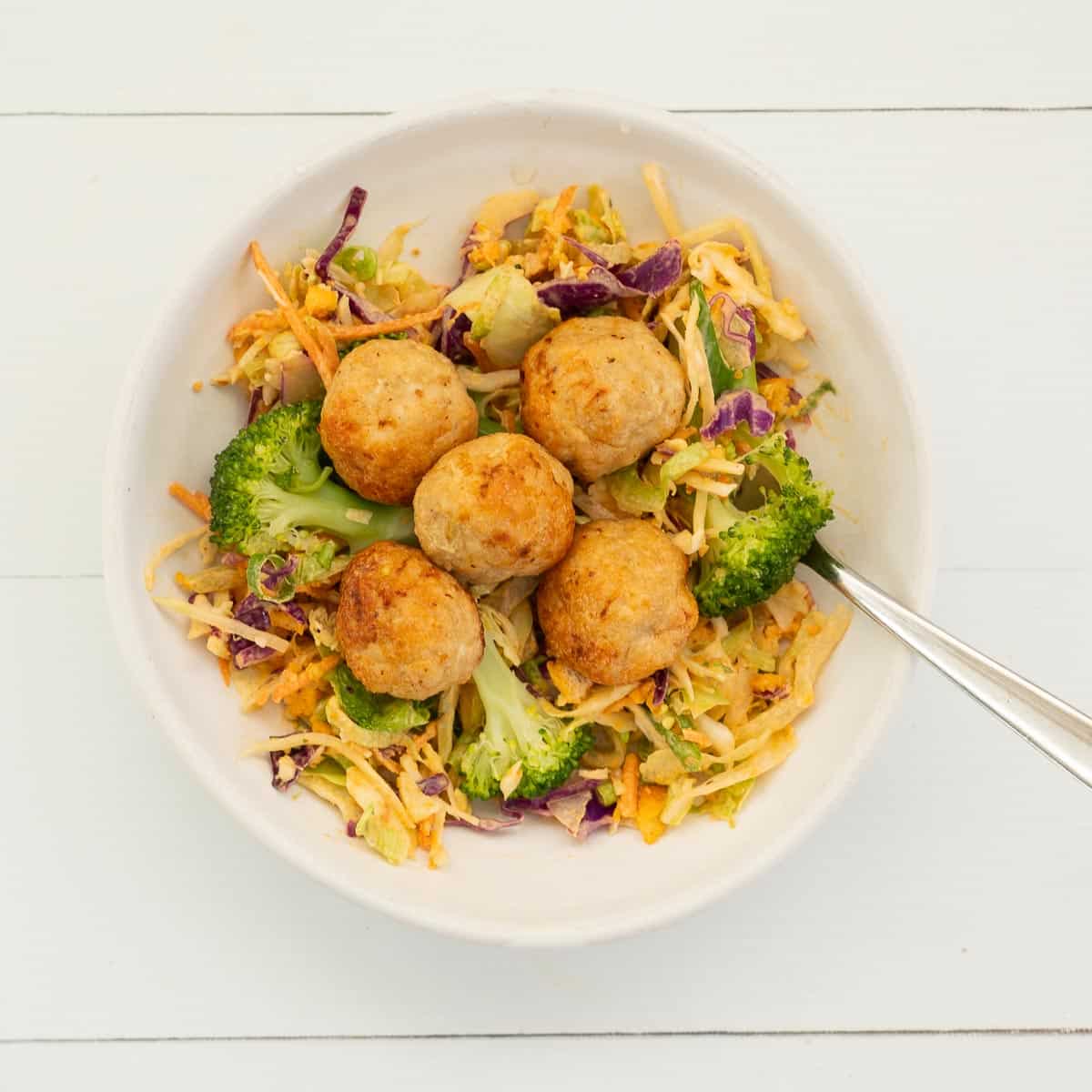 My bigger kids, they are 7, 6 and almost 5, love them dipped into tomato sauce (ketchup), aioli or hoisin sauce. They also quite like them in their lunchboxes.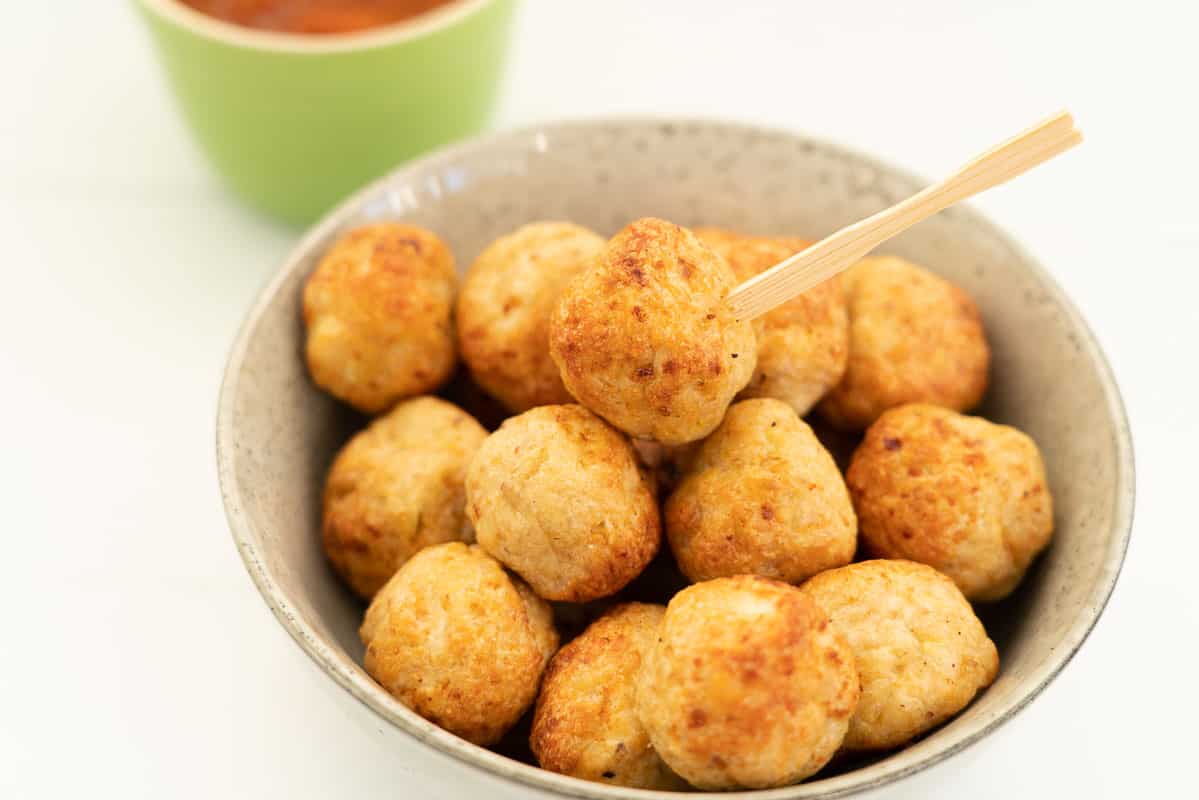 Tips and tricks for making great chicken meatballs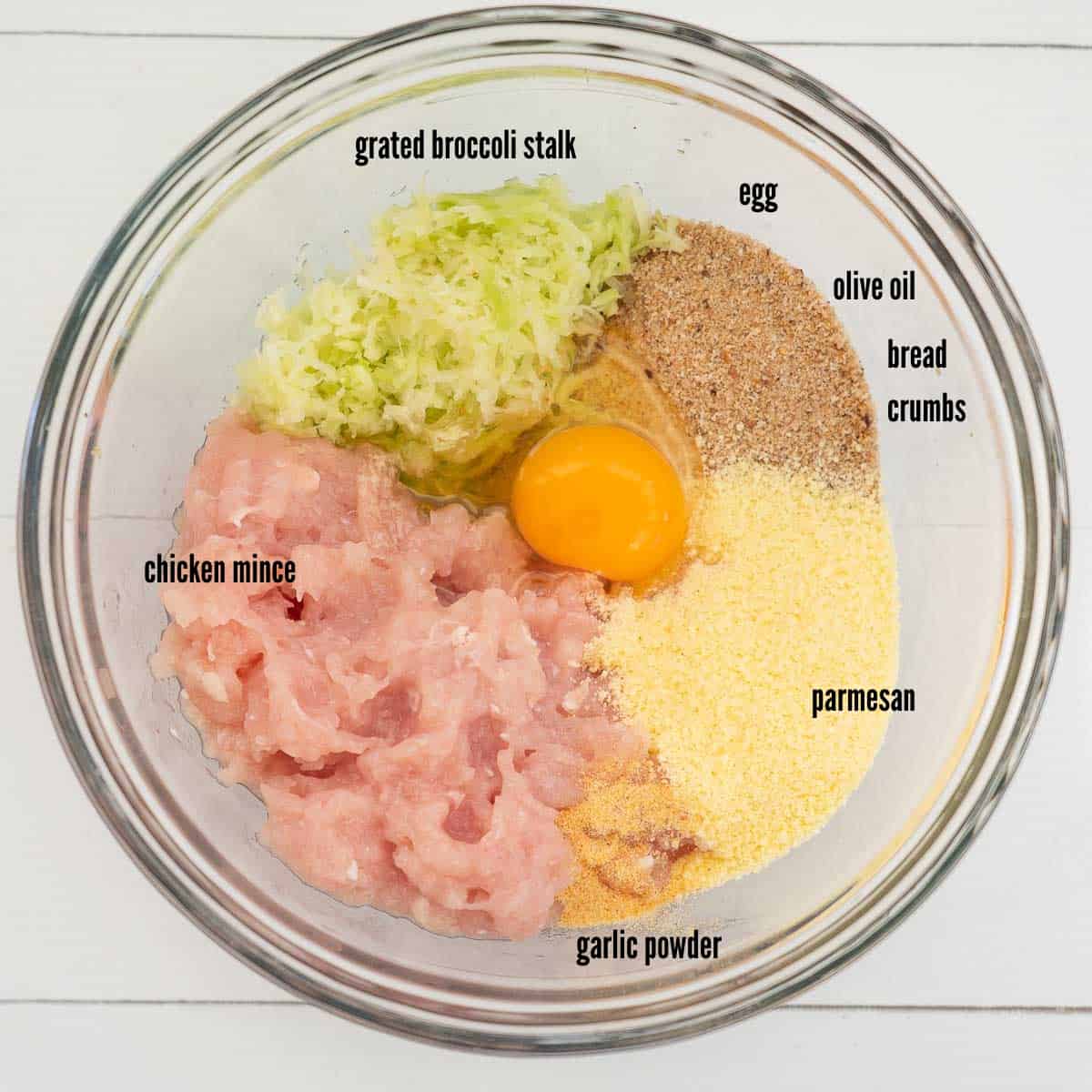 Wet hands! When you are working with the minced chicken and other ingredients, keep your hands damp/wet, this way the mincey sticky mix won't stick to your hands and you will be able to make nice little even balls. oh and take any rings off!
Use a measuring spoon when you are scooping the mix, when you are making baked meatballs you want them all to be the same size so that they bake uniformly. I use my 15 ml tablespoon to scoop out the mix
When I make this recipe, I don't add salt, the recipe contains parmesan, and as I use these for my young bub I don't want additional salt in there too, but you can add salt and pepper if you want to
I use "Ornelle" grated parmesan in this recipe, it is a fine powder, but it only contains parmesan cheese, nothing else. I find it in the dairy section of my supermarket
I always add some grated veggies to this recipe, my absolute fav vegetable to add to the rissoles is grated broccoli stalk. Yep grate the stalk and add it in! If you are looking for other easy to add fruits and veggies to your kids' diet, be sure to check out my fruit and veggie hacks.
Don't forget the oil, chicken is very lean meat, well very lean if you compare it to minced beef or pork, therefore for a juicy and tasty chicken meatball don't skip the oil!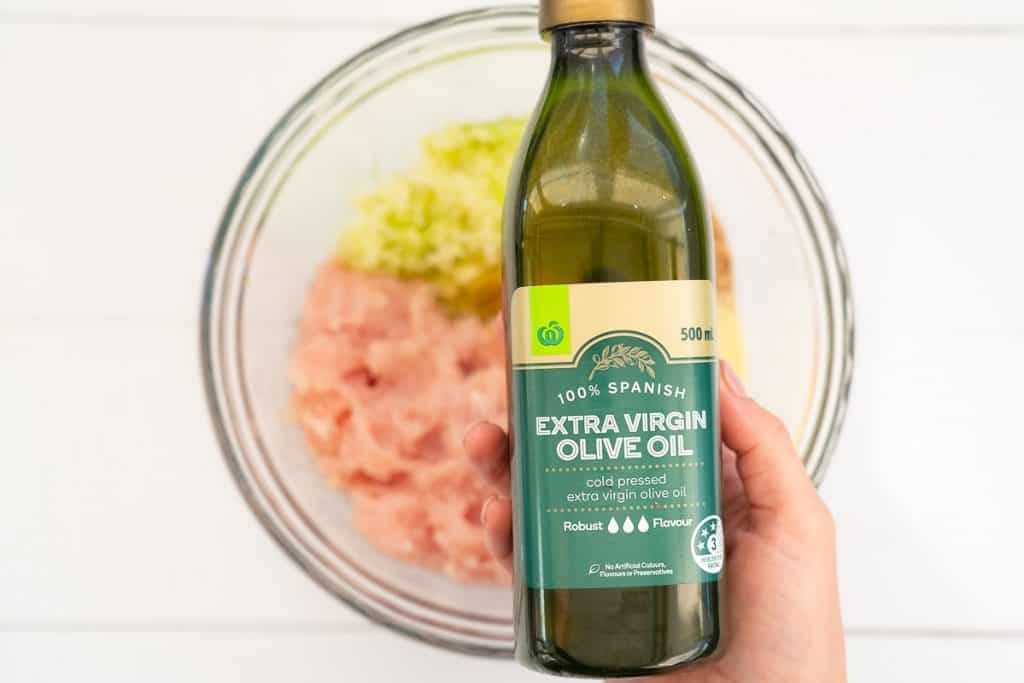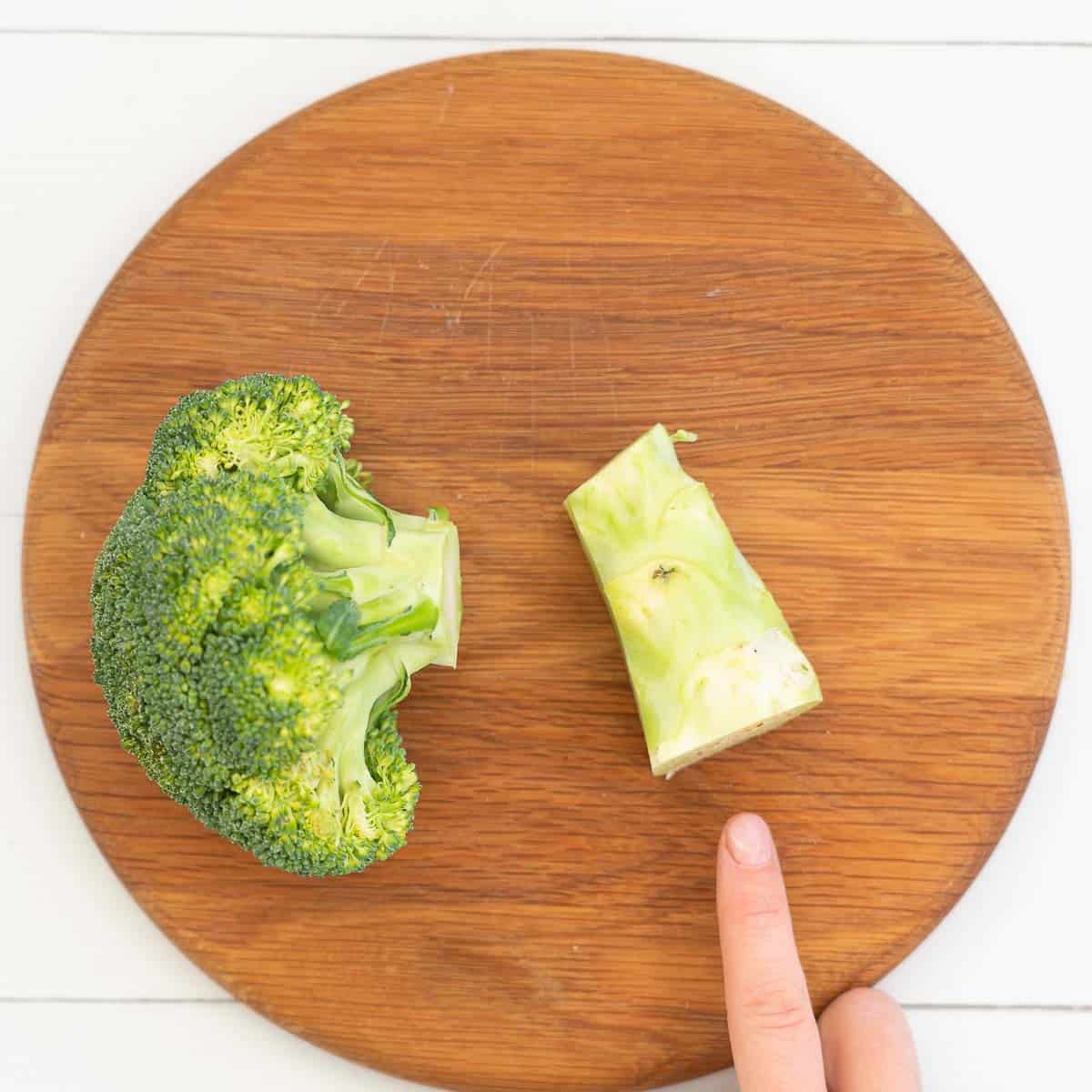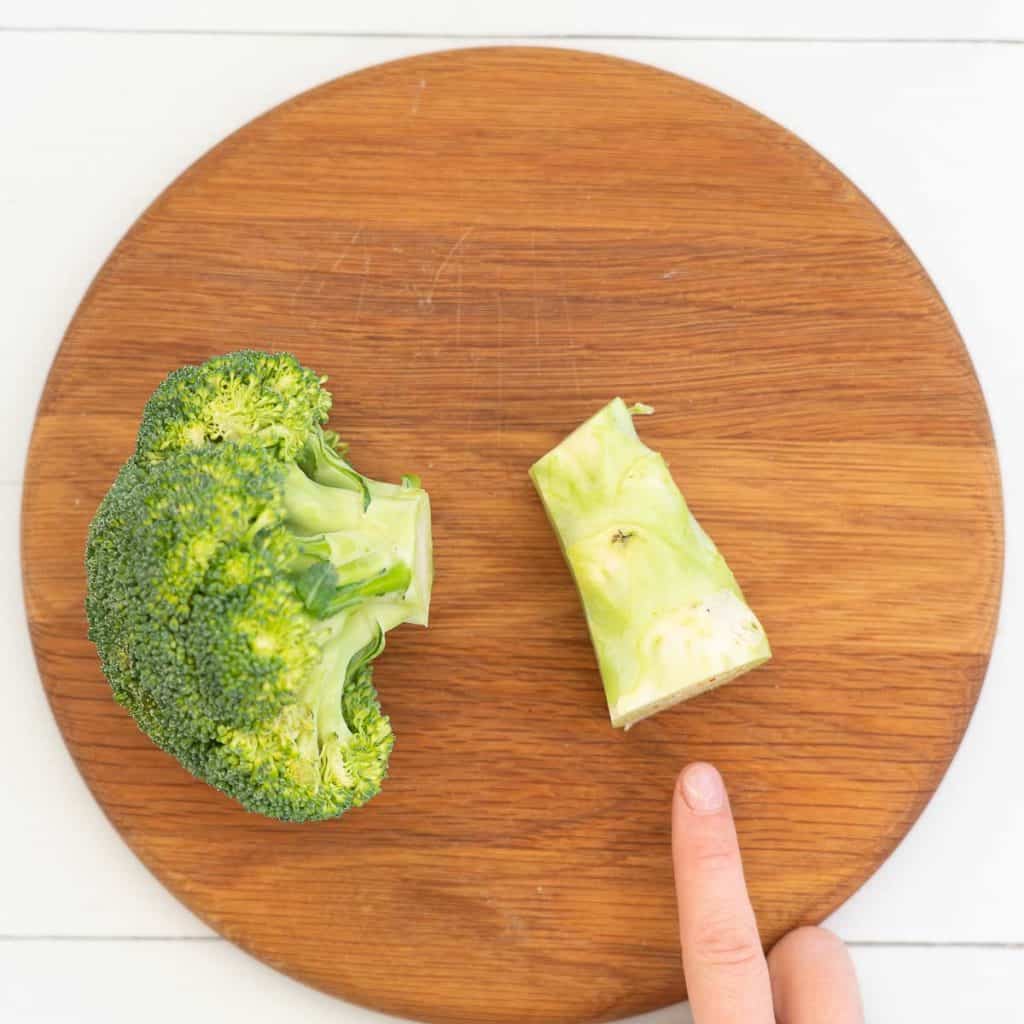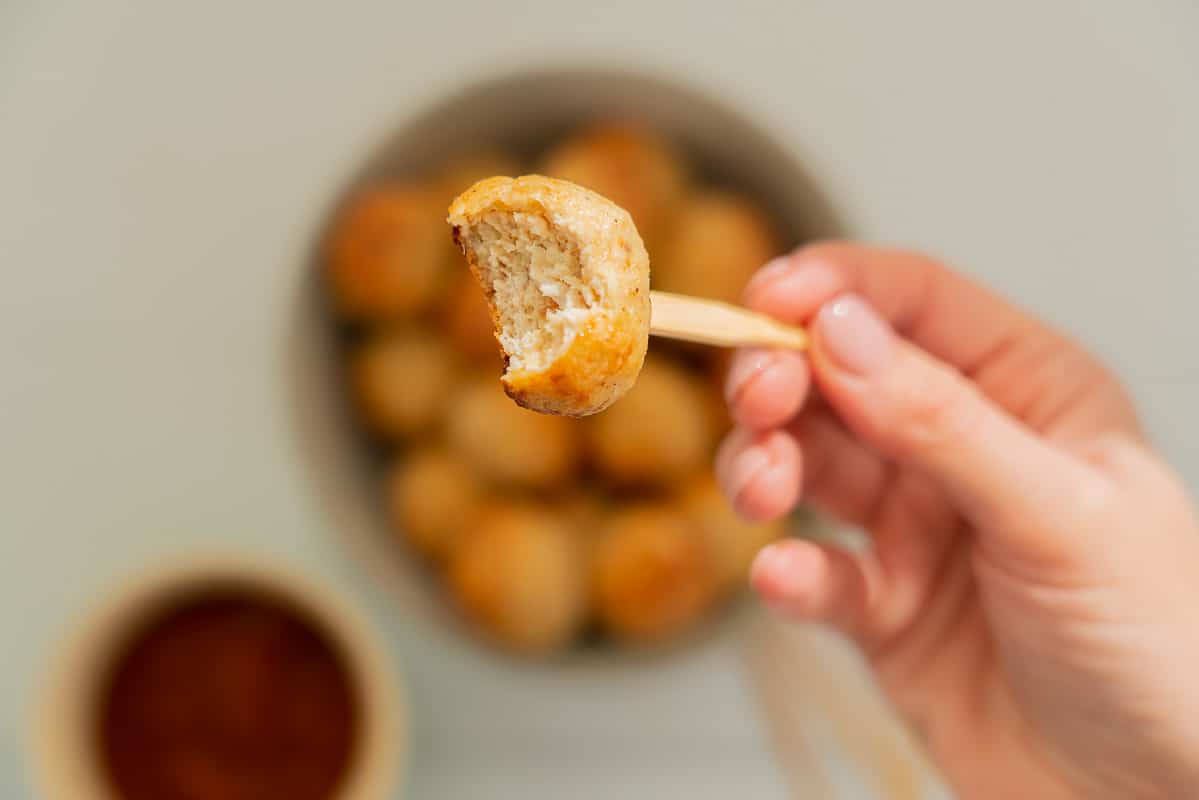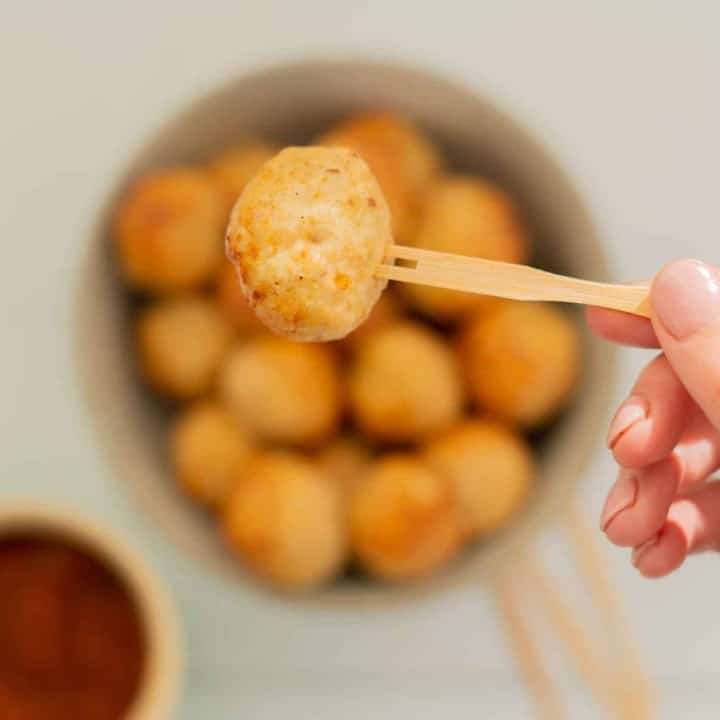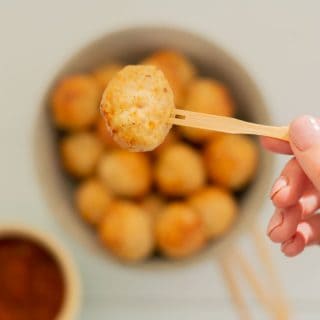 Chicken Rissoles
An absolutely delicious and easy baked chicken meatball recipe that the entire family will love
Print
Pin
Rate
RATE THIS RECIPE
Ingredients
500

g

chicken mince

½

cup

breadcrumbs

¼

cup

parmesan

½

cup

broccoli

1

egg

2

tablespoon

olive oil

½

teaspoon

garlic powder
Instructions
If you find you have any questions about this recipe there is a tips and tricks section on the page which may answer some of the FAQs

Preheat the oven to 200 °C or approx 400 °F

Prep a baking tray, you can either oil it or line it with baking paper, I oil mine

Prep the broccoli, I love grating the stalk of a head of broccoli for this recipe. Remove the stalk, give it a rough peel, ie remove any very hard bits, then grate. You want around ½ a cup

Put all the ingredients in a bowl

Remove any rings, dampen/wet your hands with (it stops everything sticking to your fingers), get in there and scrunch everything around until it is well mixed

Use a spoon to make even sized balls I use my 15 ml tablespoon and get around 28 balls from the mix. roll them in your wet hands then place on the baking tray you prepared earlier

Bake in the hot oven for approximately 20 minutes or until cooked
Notes
If you want to up the flavour a little a quite like this recipe with 1 tablespoon wholegrain mustard, my kids don't though lol
A squirt of Worcestershire sauce can also be a nice addition
I don't season with extra salt as I use these for baby-led weaning, but you could add salt and pepper as you need
For a wheat-free option I have made these chicken rissoles with rolled oats instead of breadcrumbs
For an egg-free option, I have made this recipe with a chia egg (ie soak 1 tablespoon of chia seeds in 2 tablespoon of water, wait for them to gel then add to the mince mix.
Either eat them hot straight after cooking or pop them in the fridge and eat them cold over the next 2 days
You can free these chicken bites, pop them in the microwave and heat until piping hot when you want a little protein snack or quick kids meal
Nutrition
Serving:
1
g
|
Calories:
67
kcal
|
Carbohydrates:
2
g
|
Protein:
6
g
|
Fat:
4
g
|
Saturated Fat:
1
g
|
Polyunsaturated Fat:
3
g
|
Cholesterol:
31
mg
|
Sodium:
55
mg