THIS POST MAY CONTAIN AFFILIATE LINKS.
Eeep exciting, if you have landed here then you are potentially planning your babies first birthday and picking out their 1st birthday cake!
I'm sharing the number 1 cake which was decorated with fresh fruit and filled with a relatively low sugar whipped cream that I made for my fourth baby.
I had planned to also share a recipe for a healthy baby birthday cake, but alas the from-scratch cake recipe I've been trailing isn't quite ready yet, so today I will be sharing a super quick way to create a first birthday cake, that will be ready in under 30 minutes!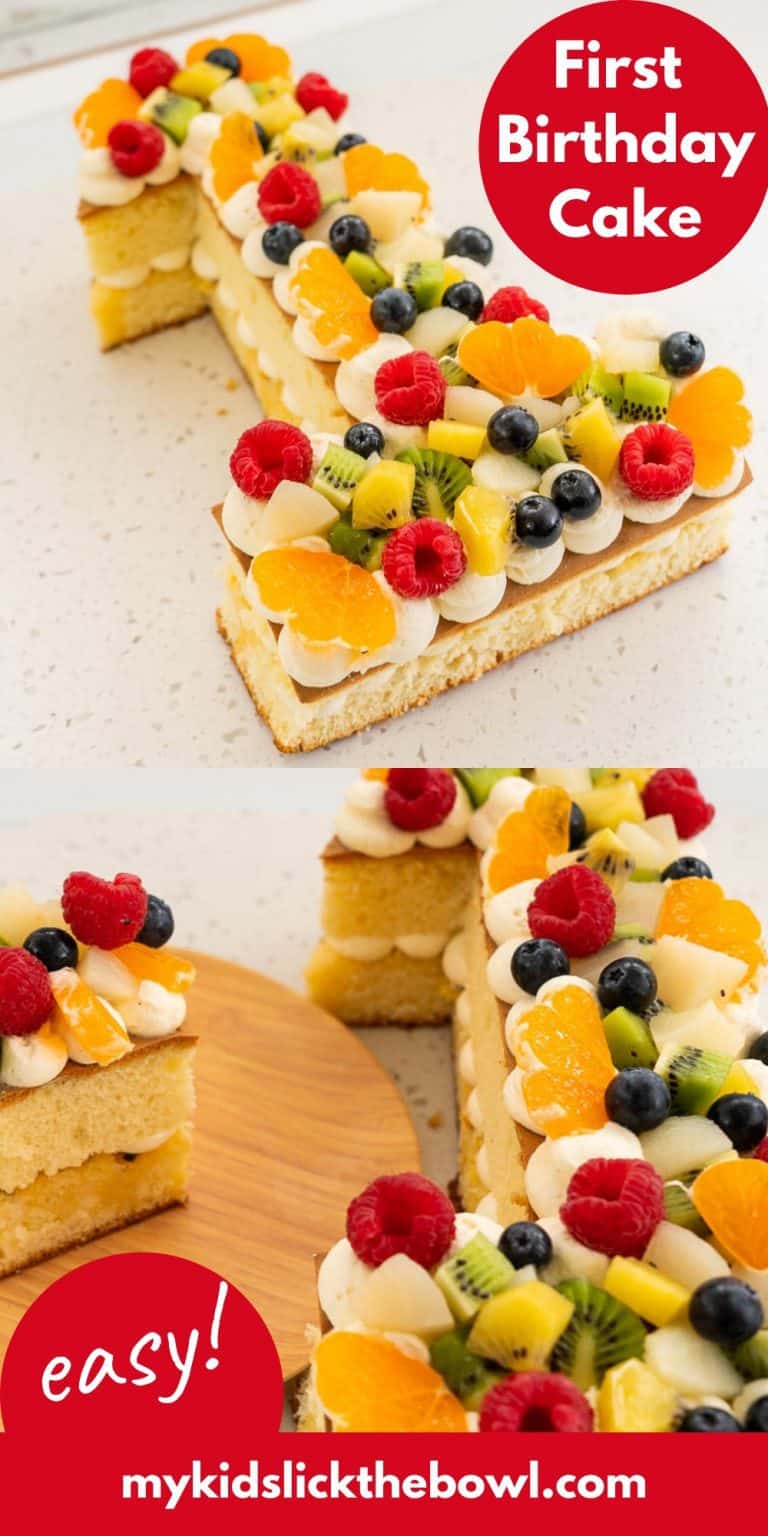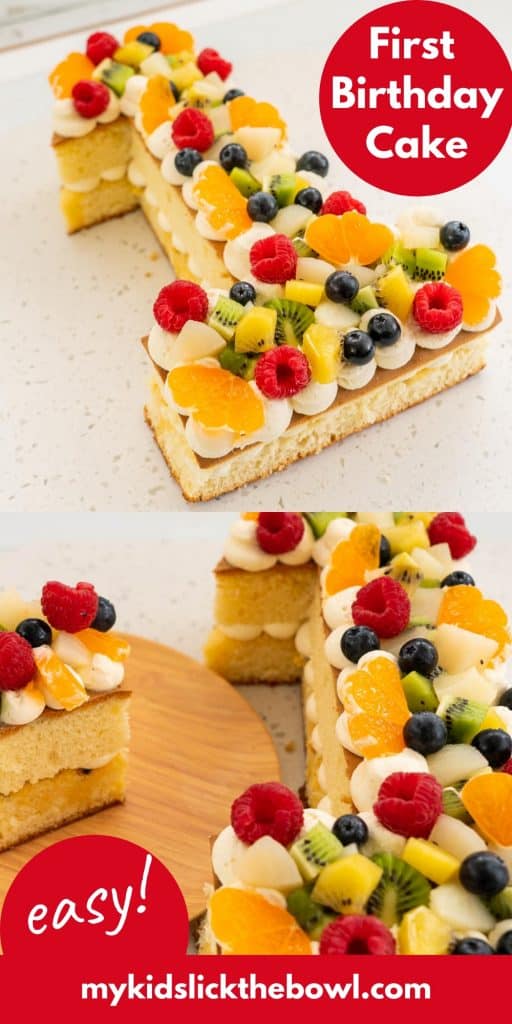 How to make a number 1 cake
Start with a large square cake (I used a store-bought sponge square trifle sponge from Countdown in this example)
If you are planning on splitting and filling the cake, it's easiest to do this now before you cut the cake into pieces. I use a cake leveler to split my cakes, but you can also use a knife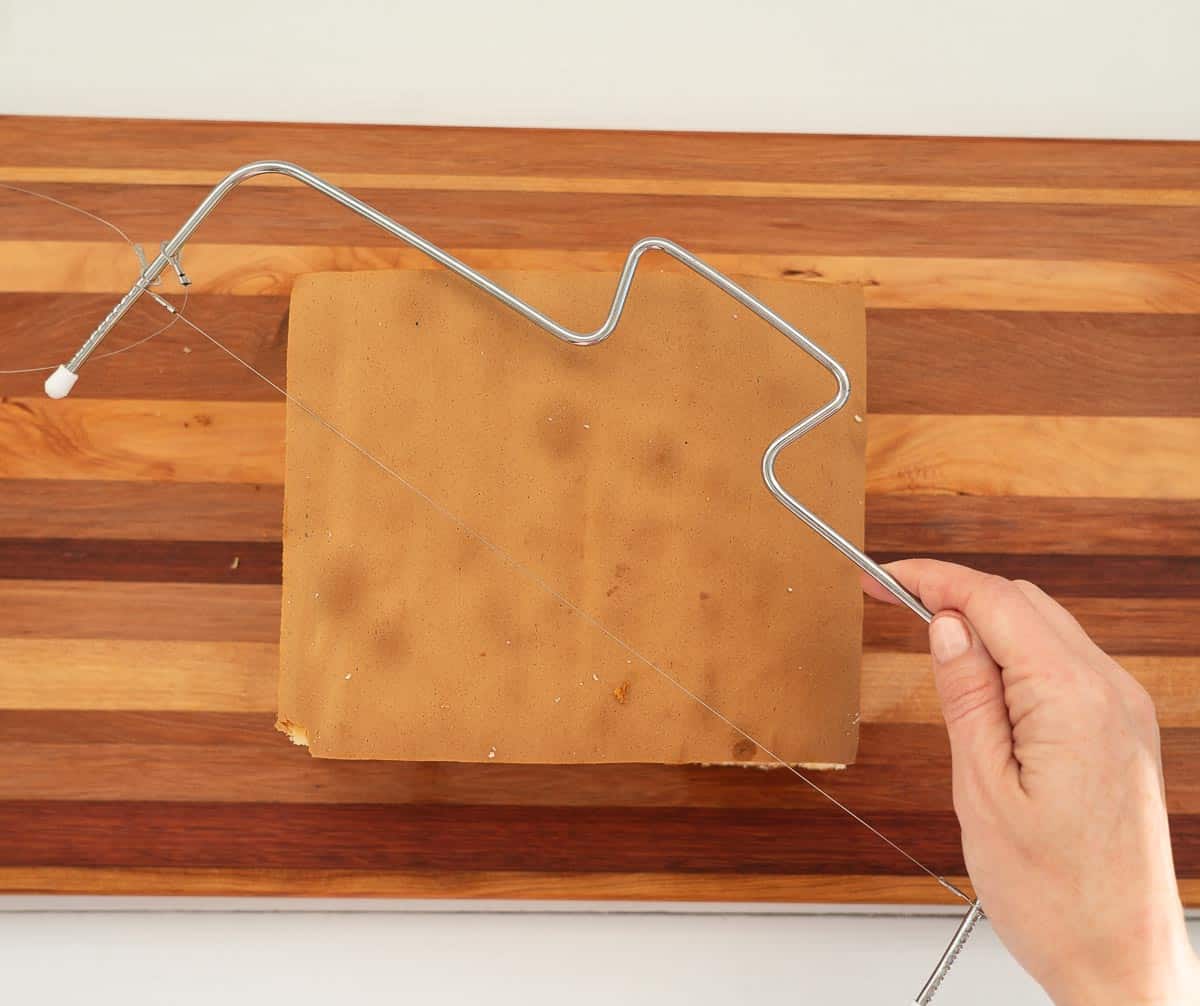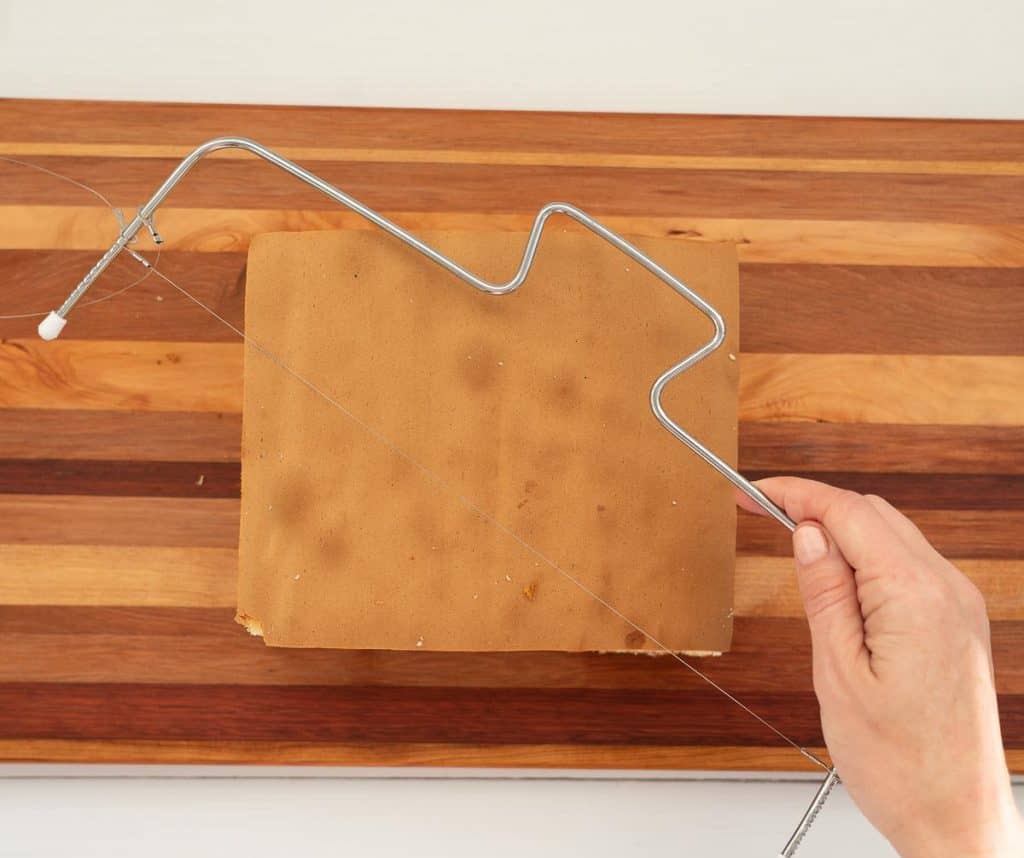 To make a number one cake, the first step is to cut the square cake into thirds. It might seem like overkill, but using a ruler to measure it and then cut the straight lines really does help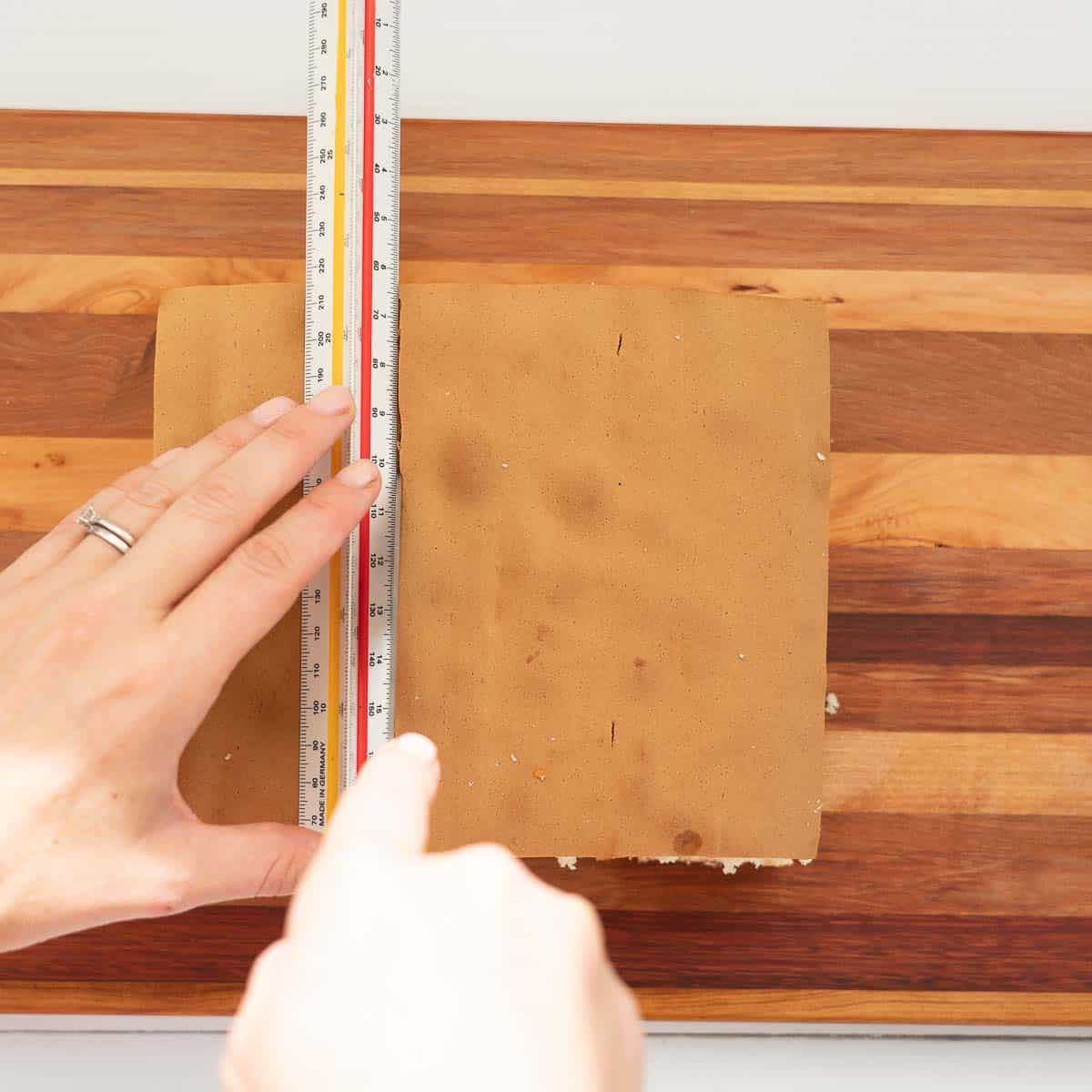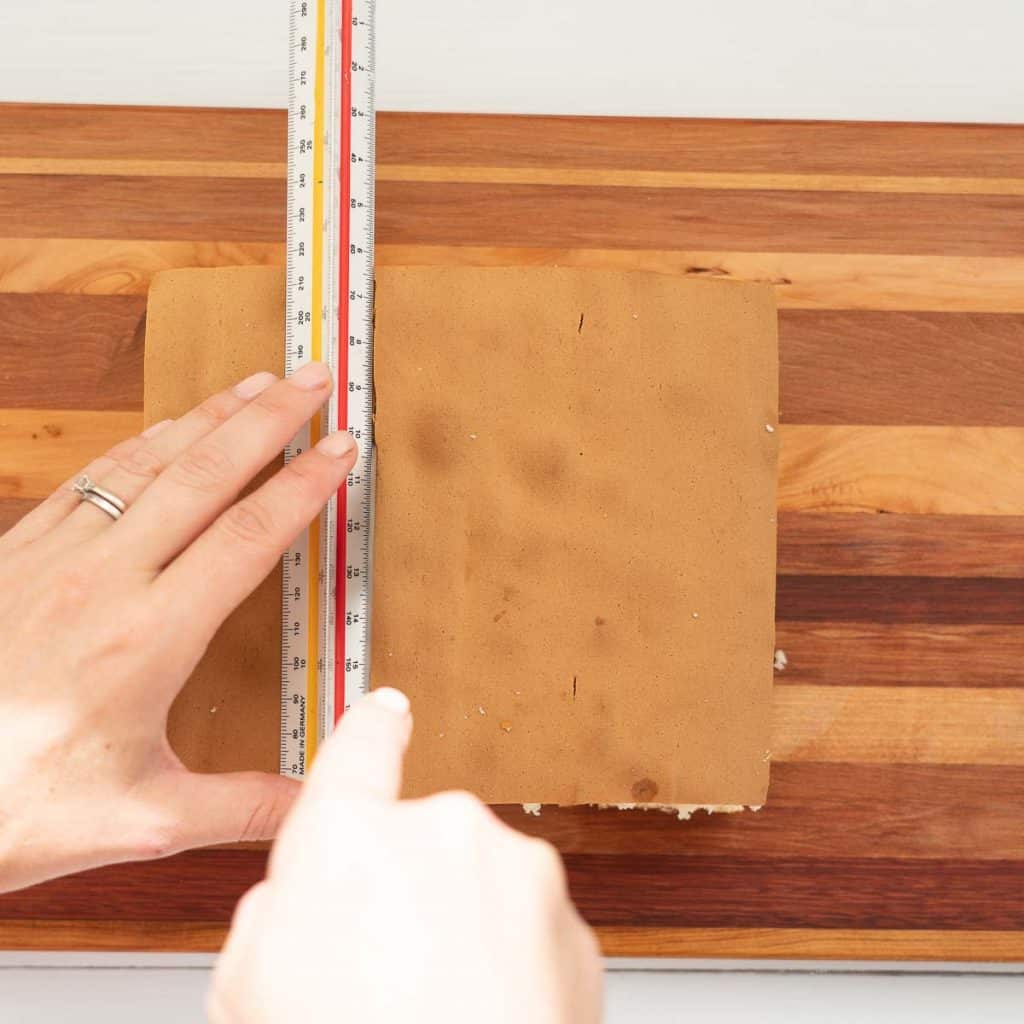 You will now have 3 even sized rectangular pieces of cake
Place one piece of cake horizontally along the bottom of your board, this is the base of your number one.
Place the second piece vertically at the centre of the base piece
The third piece, find the approximate centre, and cut this piece in half on an angle this will form the top of your number one cake
(Save the spare half of the third rectangle you cut in half, this piece will make the perfect little smash cake for your baby.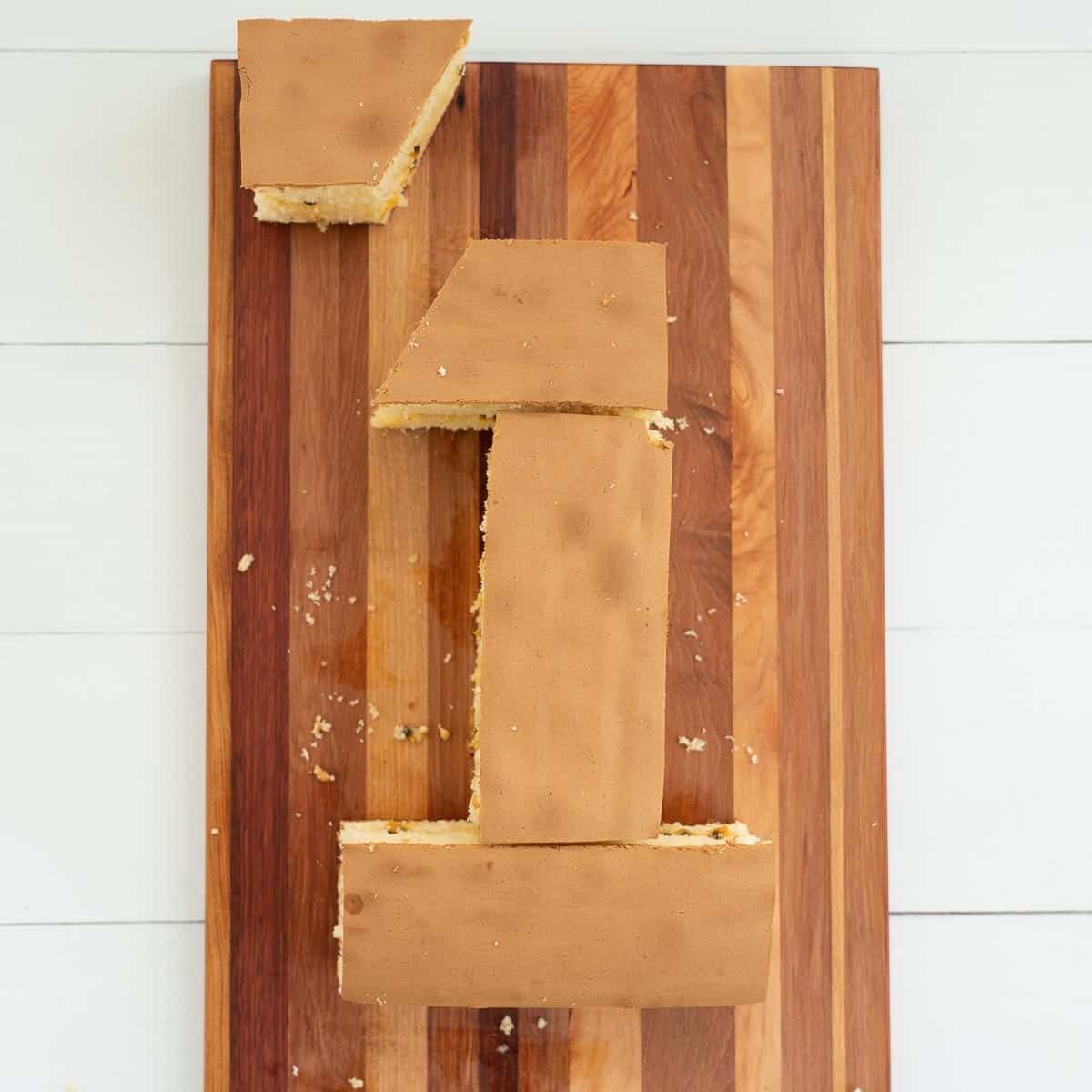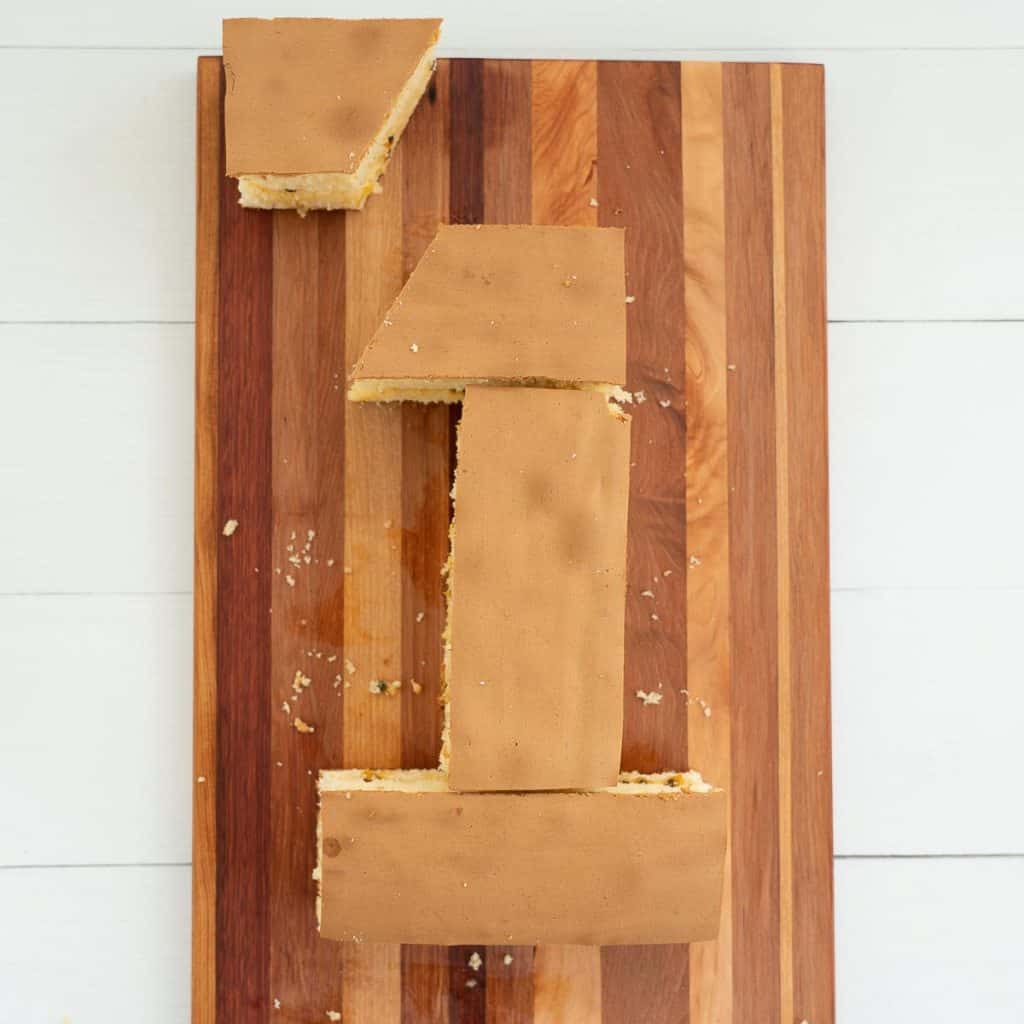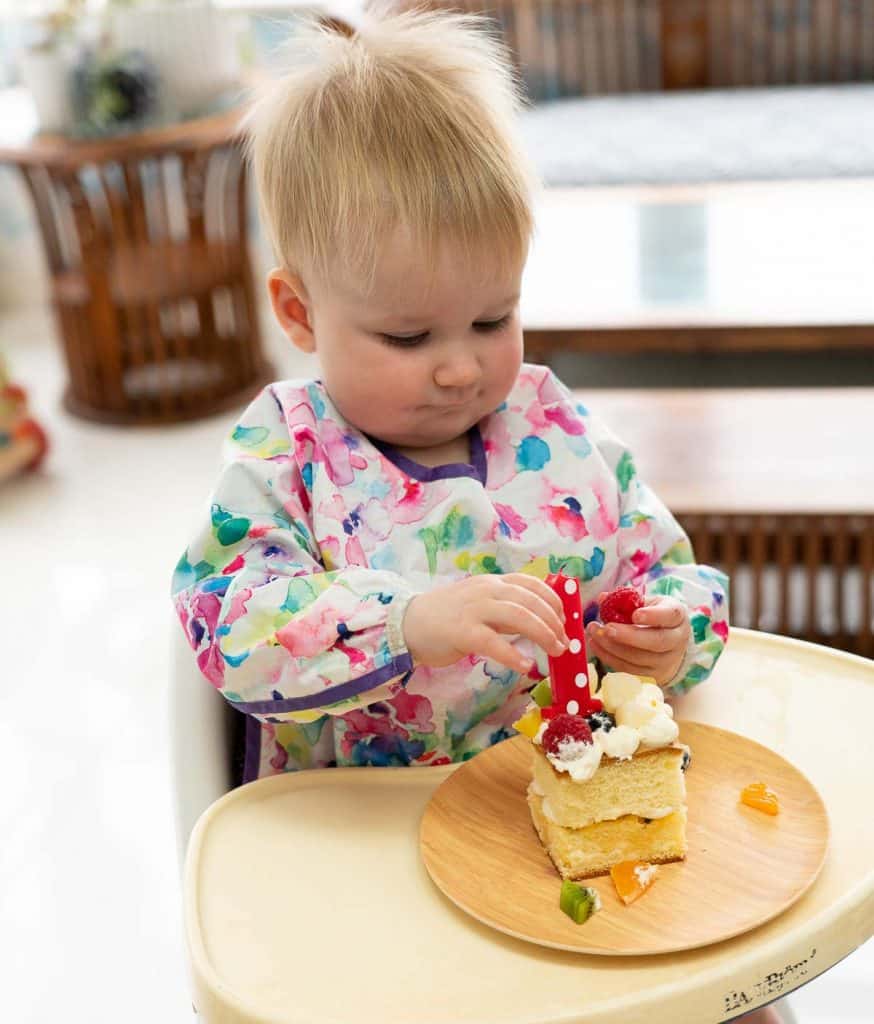 Sugar-Free Whipped Cream
For a baby birthday cake we are often thinking about the sugar content. Buttercream is one way of decorating a cake but it can be pretty high in sugar. Whipped cream can be a good alternative if you are after a lower-sugar frosting option.
You can whip cream with absolutely no added sugar or sweetener, your baby will probably be fine with it like this, but for most guests who aren't babies, they may find this a little unpalatable.
One way to combat this is to pop a layer of fruit purée on the cake before topping with whipped cream. Peach purée actually works really well for this
You could use stevia as an alternative sweetener
You can still sweeten with icing sugar (confectioners sugar) it will still be far lower in sugar than buttercream.
I went for maple syrup as my sweetener of choice, not for any reason other than maple whipped cream is delicious!
Stabilisng Whipped cream
If you want to make this cake in advance without the middle layer of whipped cream collapsing then you might consider stabilising the whipped cream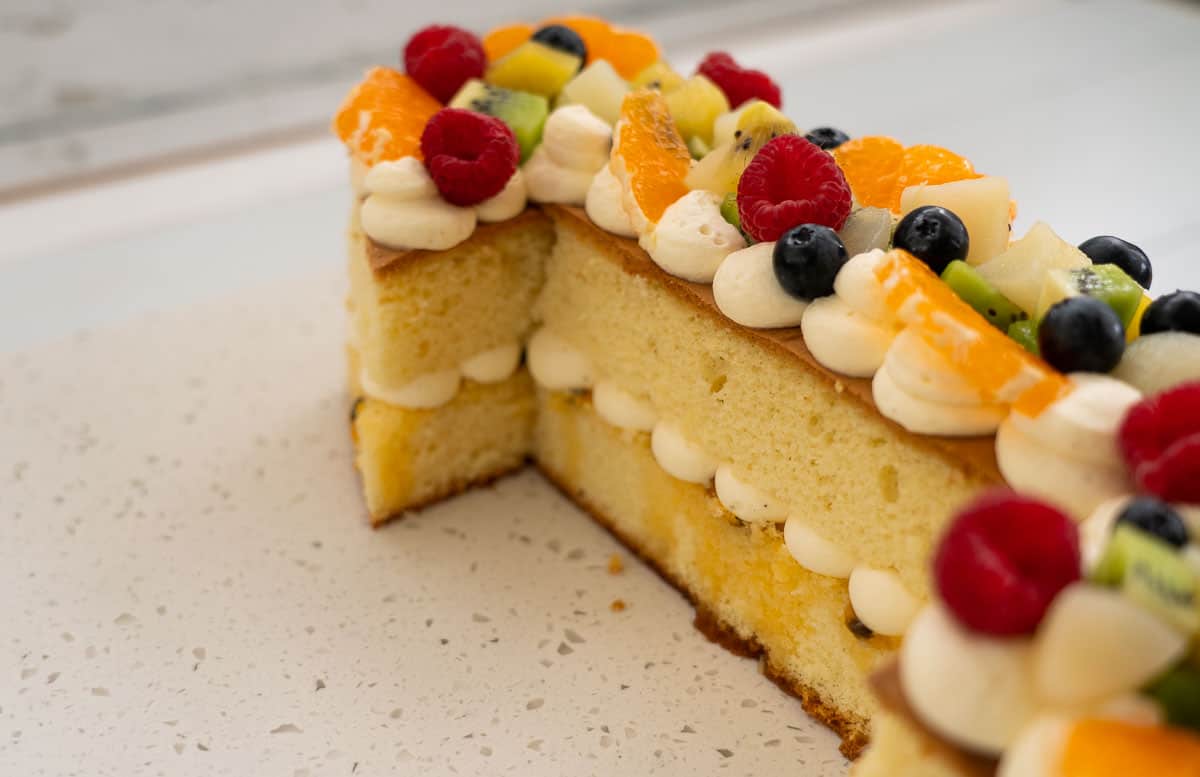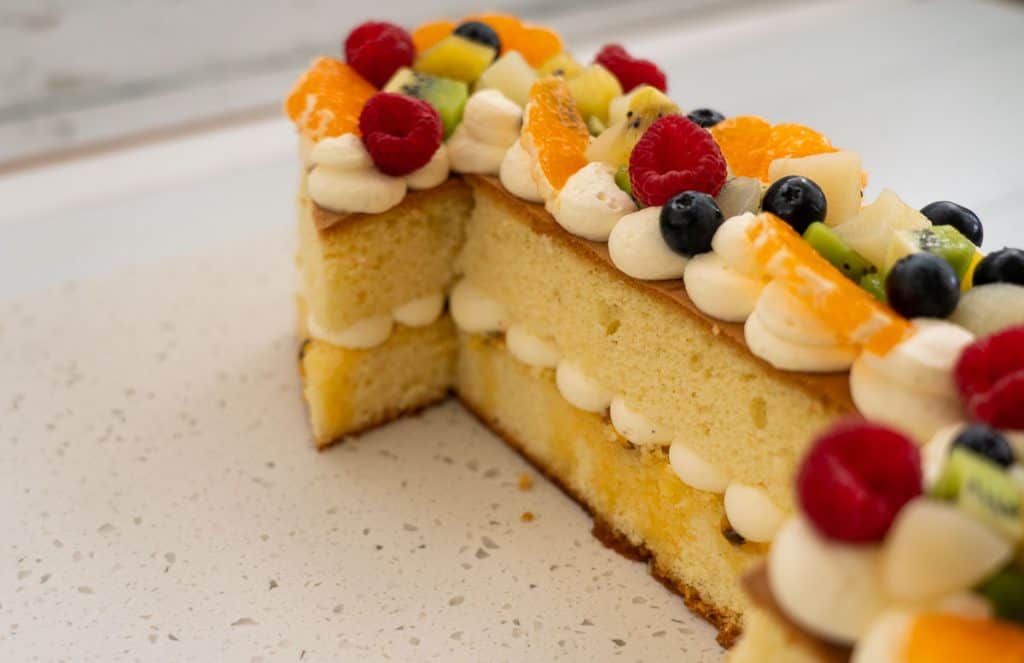 There are a few different methods. Over the years I've used all of them, and they've all worked ok. So it probably comes down to what you have in the cupboard. I've linked some of the methods below
Corn flour (corn starch)
You can also use powdered milk, but this is one method I haven't used
I used a piping bag with no tip to get the round 'blobs' of whipped cream I used to decorate this birthday cake. You could cut the corner off any plastic bag if you don't have a piping bag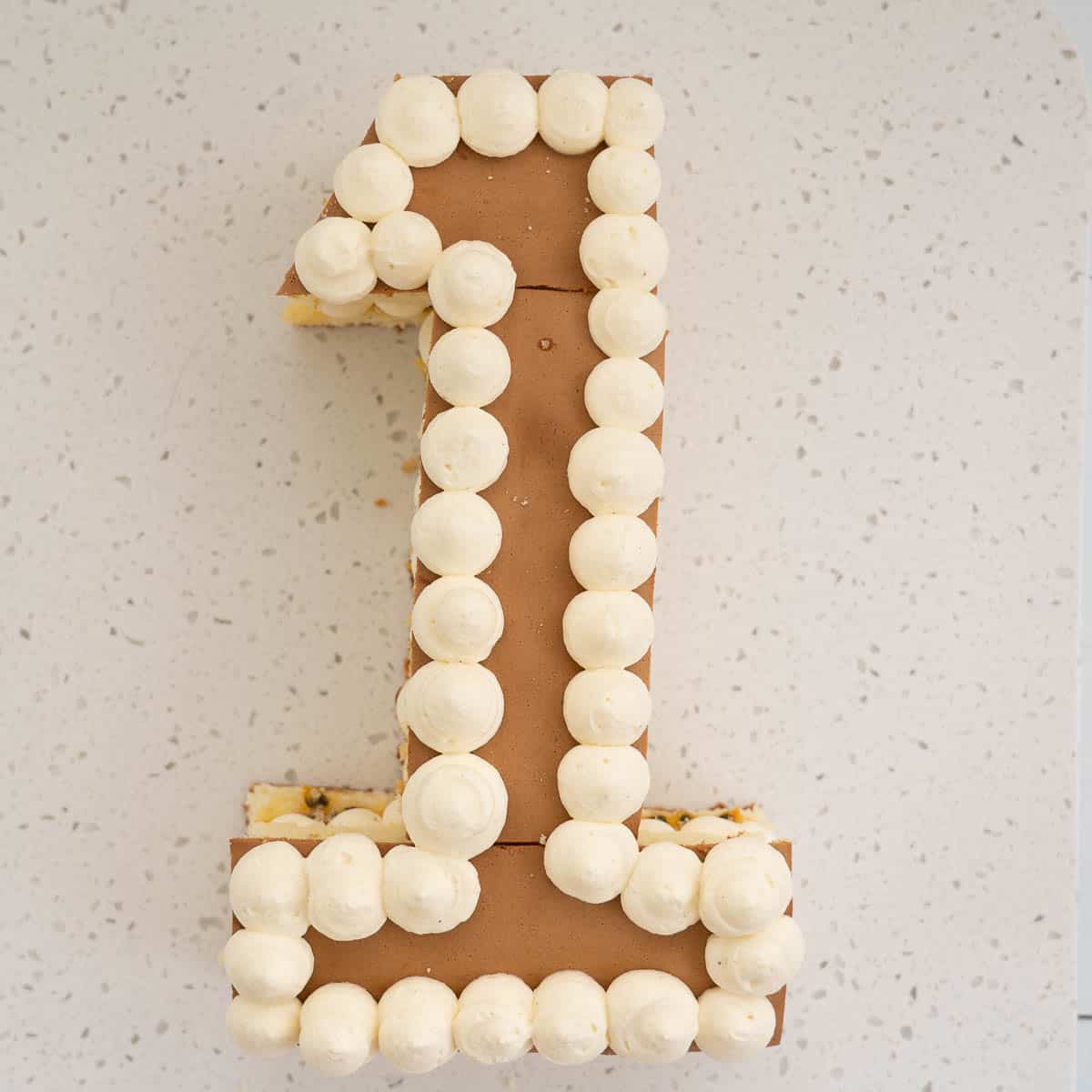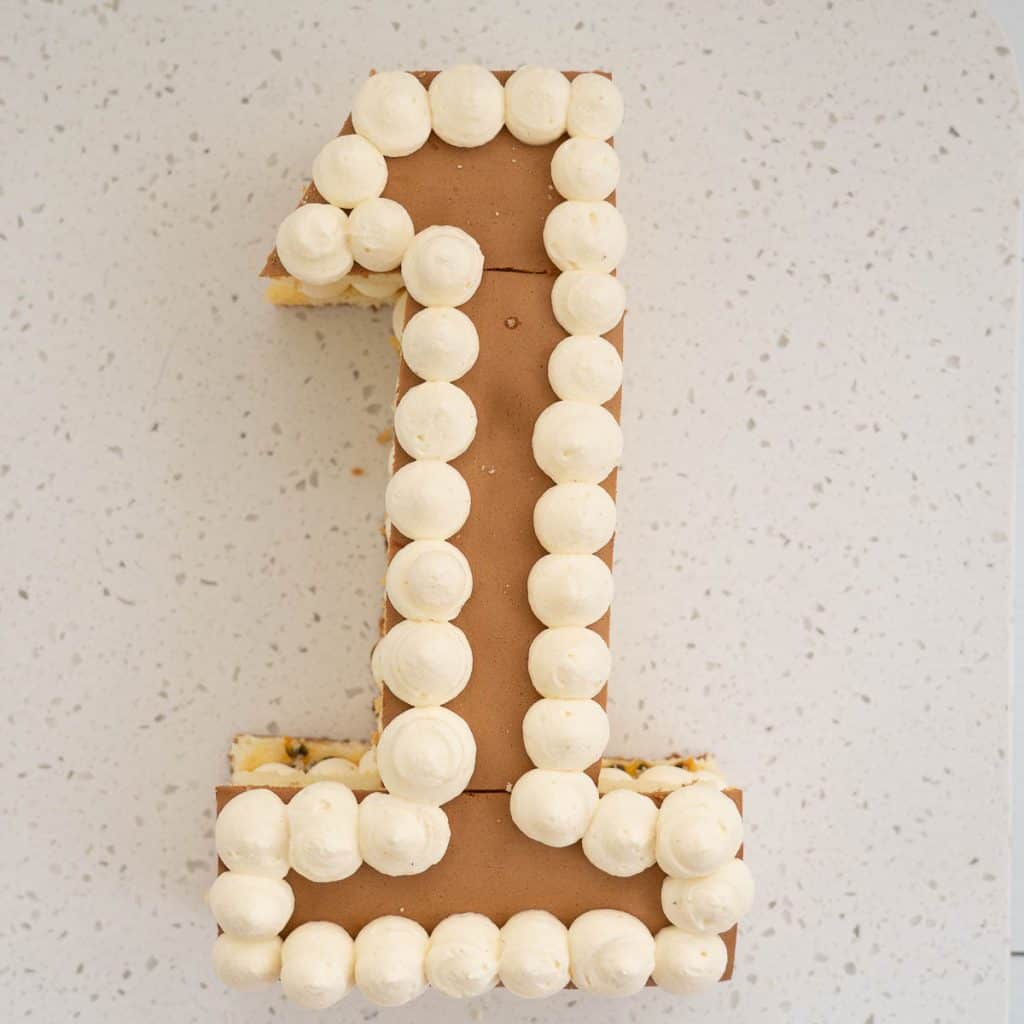 How to make clementine flowers
Depending on where you live you will either call the fruit I've used to decorate the birthday cake clementines or mandarins.
I cut them in a slightly different way to normal so that they resemble flower petals. I have. a quick video that demonstrates the technique.
Essentially you peel the fruit and then cut horizontal slices, they will look like flowers.
For other easy ways to cut fruit to make them more appealing to kids check out these fruit and veggie hacks.
Birthday Cake Ideas For Kids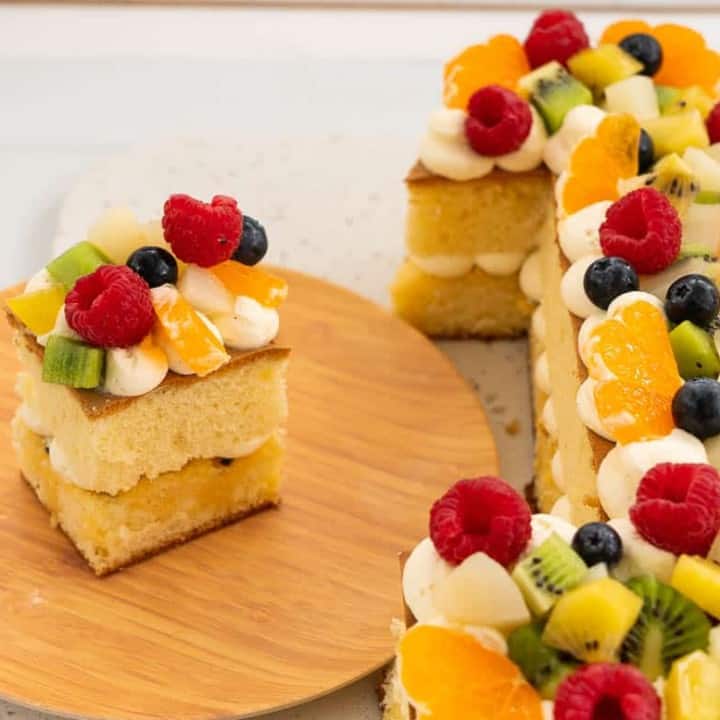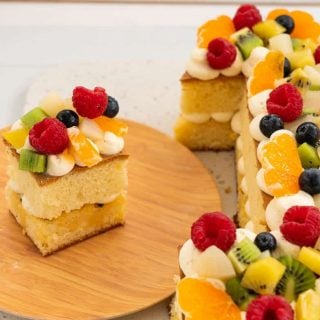 First Birthday Cake
A quick and easy first birthday cake idea that can be ready to serve to guests in well under an hour.
Print
Pin
Rate
RATE THIS RECIPE
Ingredients
1

large square cake approx 21cm x 21 cm

300

ml

cream

2

tablespoon

maple syrup

1

teaspoon

vanilla

2

cups

fresh fruit and berries
Instructions
We will start with preparing the cake
I made my number 1 cake a double layer cake, if you plan on doing this, as well then start with splitting the cake into 2 layers horizontally with a cake leveler or knife

I detail how to create the number 1 shaped cake above. But in a nutshell, you will cut the square cake into 3 even rectangles, and use these to form the number one

I save the excess piece from the top of the number 1 to create a smash cake for the baby
Prepare the fruit
slice the fruit into even-sized pieces. For my cake I used raspberries, blueberries, kiwifruit, clementine/mandarin pear and apple (I include a video tutorial on this page for creating flowers from clementines/mandarins


Whip the cream

Place the cream, vanilla, and maple syrup in a large bowl and whip (a wee tip, chill the bowl and beaters before you start this makes your cream even whippier and fluffier!) (If you would prefer to use an alternative sweetener there are some ideas in my blog post)

If you are making this cake in advance you may want to stabilise your whipped cream, I have linked some techniques for this above. I added 2 teaspoon of cornflour to the mix before beating to stabilise my whipped cream

Fill a piping bag with the whipped cream, I used no tip on my bag, you could also


Put it all together

Lay the base layer of the cake on your cake board, in the shape of the number 1, if you have chosen to add a fruit purée spread this on the cake (see my notes above)

Pipe even round 'blobs' of cream onto the base layer, I found I needed 3 blobs of cream per row to cover the cake

Add the top layer of cake.

Pipe cream right around the edges of the cake

Top the cake with the fruit you have prepared

Chill until ready to serve
Nutrition
Serving:
1
g
|
Calories:
111
kcal
|
Carbohydrates:
9
g
|
Protein:
1
g
|
Fat:
8
g
|
Saturated Fat:
5
g
|
Polyunsaturated Fat:
3
g
|
Cholesterol:
26
mg
|
Sodium:
18
mg
|
Fiber:
1
g
|
Sugar:
7
g