Baked Mango Chicken Bites
THIS POST MAY CONTAIN AFFILIATE LINKS.
These mango chicken bites have a nice soft texture and the fruit flavours make them a very kid friendly recipe! I also like that they contain some veggies.
My kiddos quite like meat balls in their lunchbox as well. If we are having these mango chicken bites for dinner I would serve them with rice and veggies or I have made them into a rissole shape and served them as burgers.
I must confess the baking in a muffin tray was not my idea at all, I totally borrowed it from Kylie of Kidgredients, she uses it in her baked mini meatballs and since I learnt this technique for baking meatballs it has been my go to, as it is so much easier than frying them.
I typically use frozen mango for making these chicken meatballs as in New Zealand Mangos can be expensive.
However last week they were on special at my local supermarket so it was nice to use fresh and have a mango hedgehog in the photo!
Mango is a yummy fruit for cooking with, my Mango Chicken Curry is always a hit too!
If you are after a chicken bite that is less sweet, my chicken rissoles are to die for, packed with parmesan and chicken such a good combo,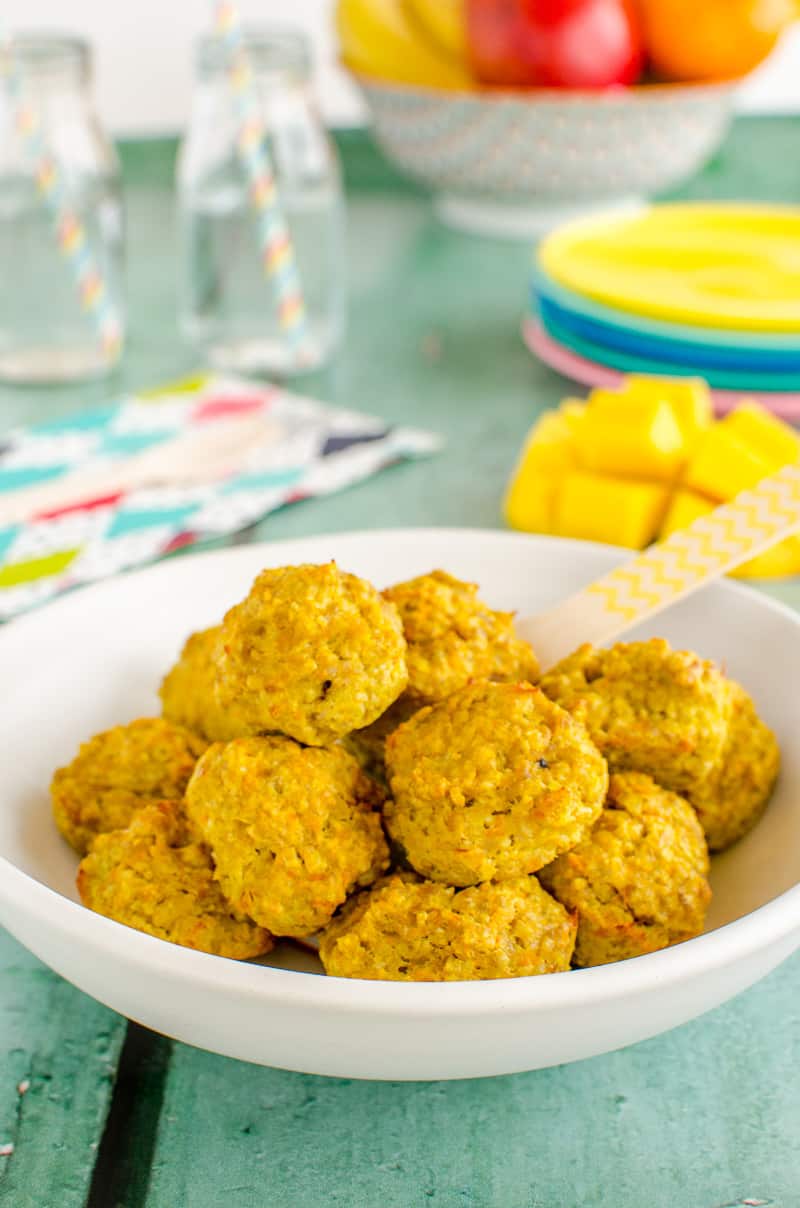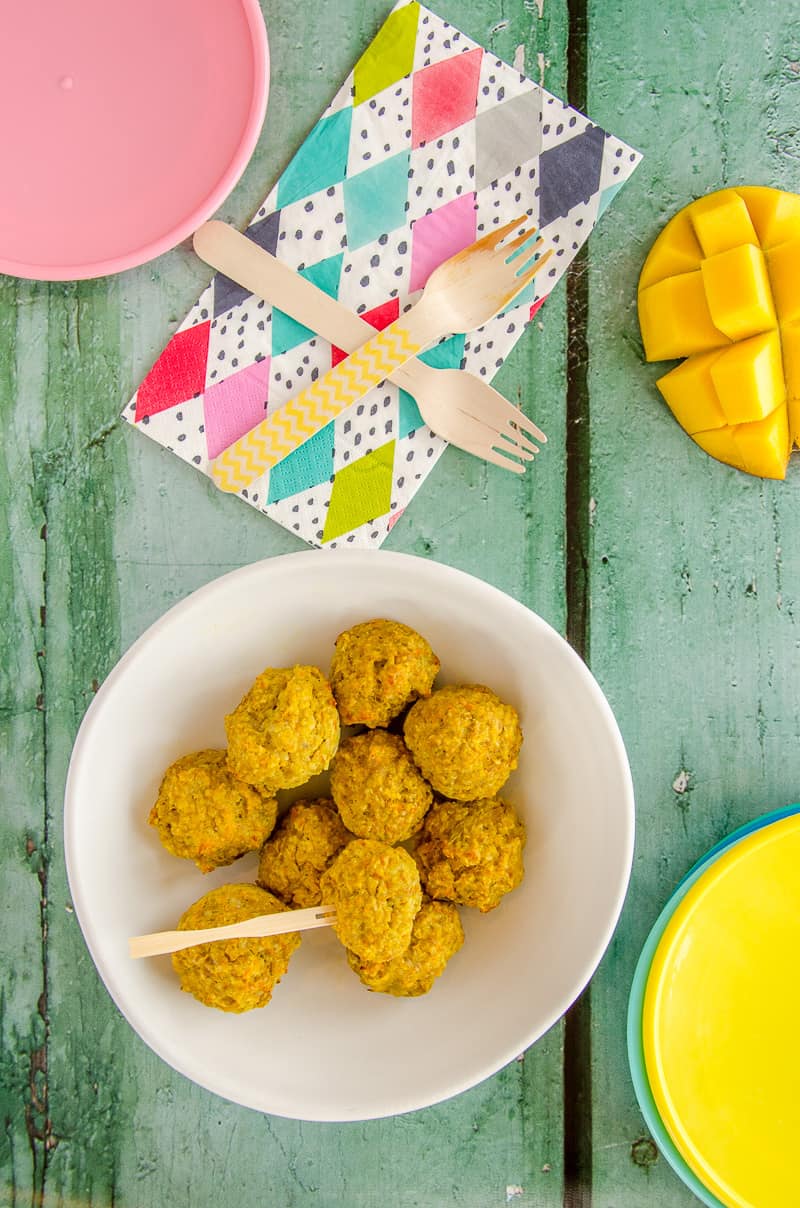 Baked Mango Chicken Bites
Mango chicken bites a delicious soft chicken meatball perfect for babies and toddlers
Ingredients
1 Cup oats 100g
100ml coconut milk
50g carrot
30g onion
75g mango cubes (fresh or frozen)
½ teaspoon turmeric
200g chicken mince
Instructions
Soak ½ Cup of oats in the coconut milk, for around 10mins
In a food processor blitz carrot and onion until finely chopped
Add mango, soaked oats, turmeric and chicken mince, pulse to combine
Add remaining ½ cup of oats, pulse to combine
Season with salt and pepper if you wish, exclude the salt if serving to young children
The mixture will be quite wet, but makes for a soft style meatball
Spray a non-stick mini muffin tray with oil
Using a spoon and wet hands take spoonfuls of the meat mixture, roll into rough balls then place into the muffin tray.
Bake for 25 mins at 180 degrees Celsius or 360 Fahrenheit
Serve
Notes
This recipe is wheat free but not gluten free if using traditional oats. 
Nutrition Information:
Yield:

20
Serving Size:

1
Amount Per Serving:
Calories:

51
Total Fat:

2g
Saturated Fat:

1g
Trans Fat:

0g
Unsaturated Fat:

1g
Cholesterol:

11mg
Sodium:

10mg
Carbohydrates:

5g
Fiber:

1g
Sugar:

1g
Protein:

3g
Please know this nutrition analysis is based on the ingredients only, this recipe has not been sent to a laboratory for independent testing