These baked salmon bites are my first of what I hope to be a series of kid-friendly / family-friendly fish recipes.
I started so well with fish and my little ones and have then fallen somewhat off the bandwagon, but I'm trying to get right back on it as fish is so good for adults and kids alike, particularly oily fish like I've used in my baked salmon bites.
As far as fish-eating goes in our house, it is either feast or famine.
In the summer we eat loads of fish as we are lucky enough to do a lot of fishing here in the NZ summer, but over the winter our fish intake drops way down. Partly due to price, and also partly as when it comes to buying fish I have no idea!
I actually find the fishmonger a little intimidating, as I'm not familiar with all the fish, don't know what is a good price for the fish I'm not familiar with, all the ones I do know are crazy expensive and then I worry about sustainability etc too, so I pretty much overthink everything standing in line, then abort the process before I even make a purchase!
Cooking fish is something I find not too tricky though, so I thought I would go back through my old pre-kids recipes and try out some with the kids.
How to make Grain-Free Baked Salmon Bites
The trick is the crumb, I don't use breadcrumbs I use almonds, and instead of the process of flouring and egging the fish first, I use mayonnaise. It's a trick I used to do years ago.
Take a salmon fillet, spread generously with whole grain mustard and mayonnaise, then top with ground almond or almond meal and bake!
As I'm just getting my kids back into fish eating, I have made my old recipe a little more kid-friendly by: Cutting the fish into bite-sized pieces, goujons if you will. Dropping the mustard and just using mayonnaise, and covering the whole fish bite in the almond so it looks like a little nugget rather than just a crust on the top (which I did for my more adult version)
You can either make your own mayonnaise (I have a 60-second recipe on my site) or use a good quality store-bought mayonnaise, it works just as well.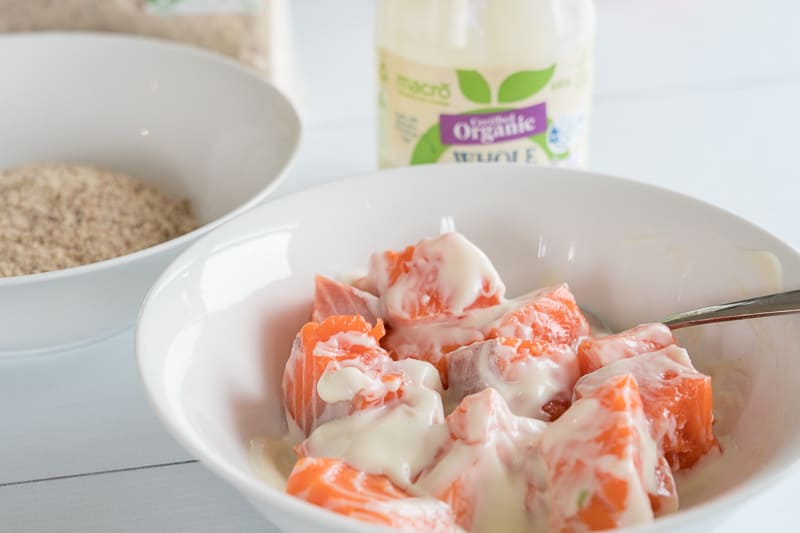 Are Baked Salmon Bites Keto and Paleo Friendly?
This recipe does happen to be both keto and paleo friendly. I don't set out to necessarily create either keto or paleo recipes, we aren't a carb-free zone in our house… But I do try to cut down on processed grains and make sure my kids are getting could dose of healthy fats, so sometimes my recipes just happen to fit the requirements for both paleo and keto diet followers.
But please do not think I'm raising my kids as keto kids or cave kids, I definitely am not.
If you are on the hunt for other grain free nugget type recipes, then my easy coconut chicken nuggets and my popcorn chicken tenders might be worth a look.
Easy BLW Protein Fingerfoods
If you are on the hunt for other protein based finger foods for young children, then check out my
Baked Salmon Bites
Healthy Baked Salmon Bites an easy 3 ingredient recipe that is kids-friendly grain-free, quick, paleo and keto friendly 
Ingredients
200g salmon fillet 
2 Tbsp mayonnaise
1/3 Cup ground almond or almond meal
Instructions
De-bone the salmon fillet and remove bones
Cut into bite-sized chunks
Place the salmon in a bowl and add the mayonnaise. Roll the salmon pieces around in the mayo until they are well coated
Place the ground almond or almond meal in a second bowl, roll the salmon pieces in the ground almond so they are completely coated
Place the bites on a baking paper lined tray
Bake at 180 degrees Celsius for 10 minutes, use tongs to turn the bites over and bake for a further 5 minutes, allow to cool a little, as the coating stays on better when they have cooled a little, serve
Notes
I like serving these with steamed edamame beans, rice and other green veggies, but you can serve them however you like
Don't panic too much about the measurements for the mayo and ground almond, you just want to make sure the salmon bites are well coated
Adding a good dollop of wholegrain mustard to the mayo brings a great flavour to this recipe, I prefer it but my kids like it sans mustard!
Nutrition Information:
Yield:

8
Serving Size:

1
Amount Per Serving:
Calories:

190
Total Fat:

16g
Saturated Fat:

2g
Trans Fat:

0g
Unsaturated Fat:

13g
Cholesterol:

17mg
Sodium:

66mg
Carbohydrates:

4g
Fiber:

2g
Sugar:

1g
Protein:

10g
Please know this nutrition analysis is based on the ingredients only, this recipe has not been sent to a laboratory for independent testing