This Fried Spaghetti is a ridiculously easy meal ready in 15 minutes flat! Don't let its simplicity fool you, it still tastes incredible!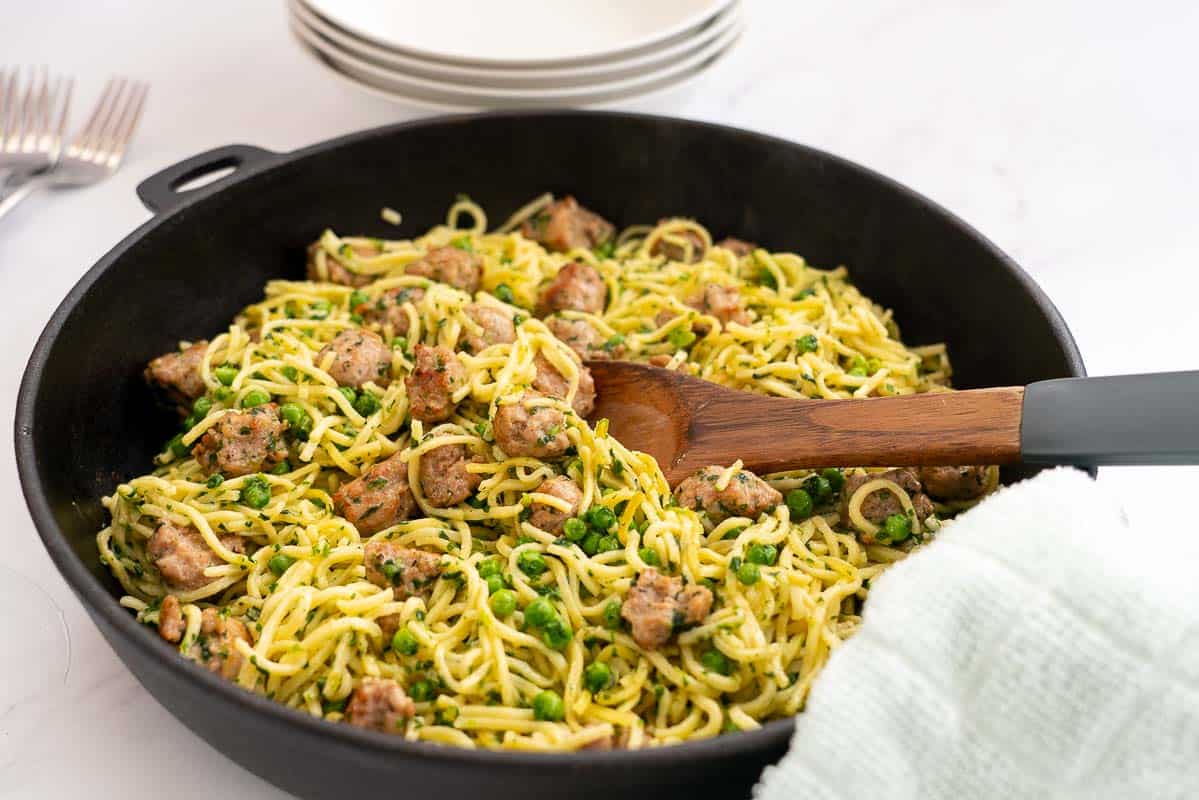 Why this recipe works
It's quick! Literally 15 minutes from start to finish
It's economical! All of the ingredients I used are from Countdown's Great Price Range
Simple Ingredients! This recipe is packed with flavour despite having few ingredients, the secret is the Countdown Italian Sausages, by removing their casing and pan-frying them with the spaghetti you release all their delicious flavors and the spaghetti soaks those same flavours right up!
The ingredients you will need
To make my Fried Spaghetti recipe you will need just 7 ingredients: Fresh spaghetti, sausage, peas, spinach, cheddar cheese, olive oil, and stock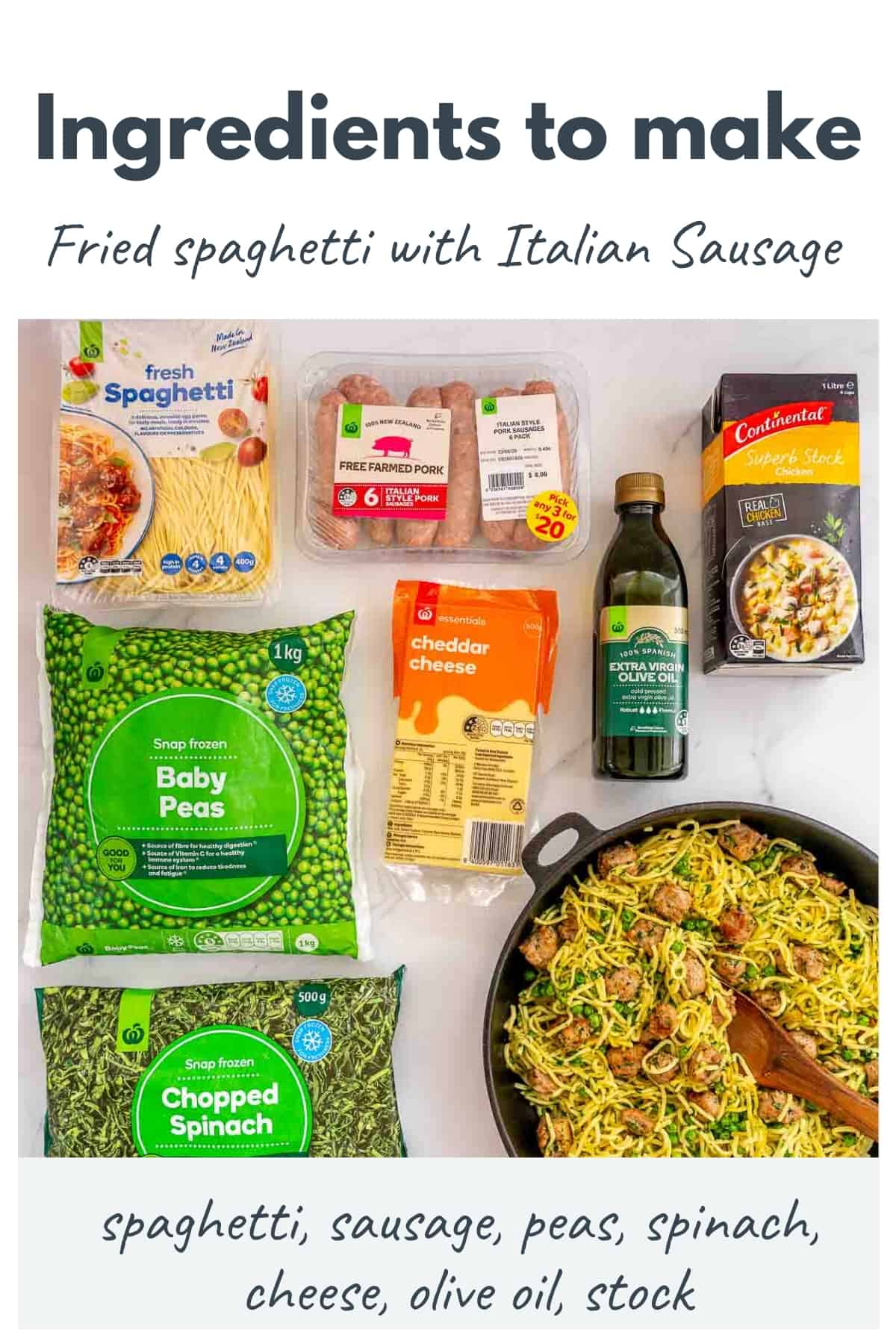 Countdown's Great Price Range is amazing, 3400 products! A huge variety so there is tonnes of options for feeding and nourishing your family. During winter, sticking to a budget is key for my family. I always keep my eyes peeled for the Great Price Range products and specials in-store and online at Countdown to help my weekly budget.
This is a sponsored post Countdown paid for the creation of this recipe, for it to appear on my website and for it to be shared on social media.
Step by step instructions
Prep
Open the pack of fresh spaghetti and cut the uncooked pasta bundle at either end. This will shorten the spaghetti strands, and make it easier to pan-fry the spaghetti later in the recipe (photo 1)
Cook the spaghetti. I use the cook time on the pack as a guide, and cook it for a slightly shorter time than recommended, as the spaghetti will be pan-fried as well. (photo 2). The Countdown spaghetti I used has a recommended cook time of 4 minutes, I cooked it for 3 minutes
Remove the casing from the sausages. I find the easiest way to do this is to slice the casing lengthwise, flip the sausage over then pull the casing from one end, it should easily pull off (photos 3 & 4)
Break the sausage meat up into bite-size pieces, I find it easiest to do this with my fingers (photo 5)
Grate 1 cup of cheese (photo 6)
You will not need to prep the stock, frozen vegetables or olive oil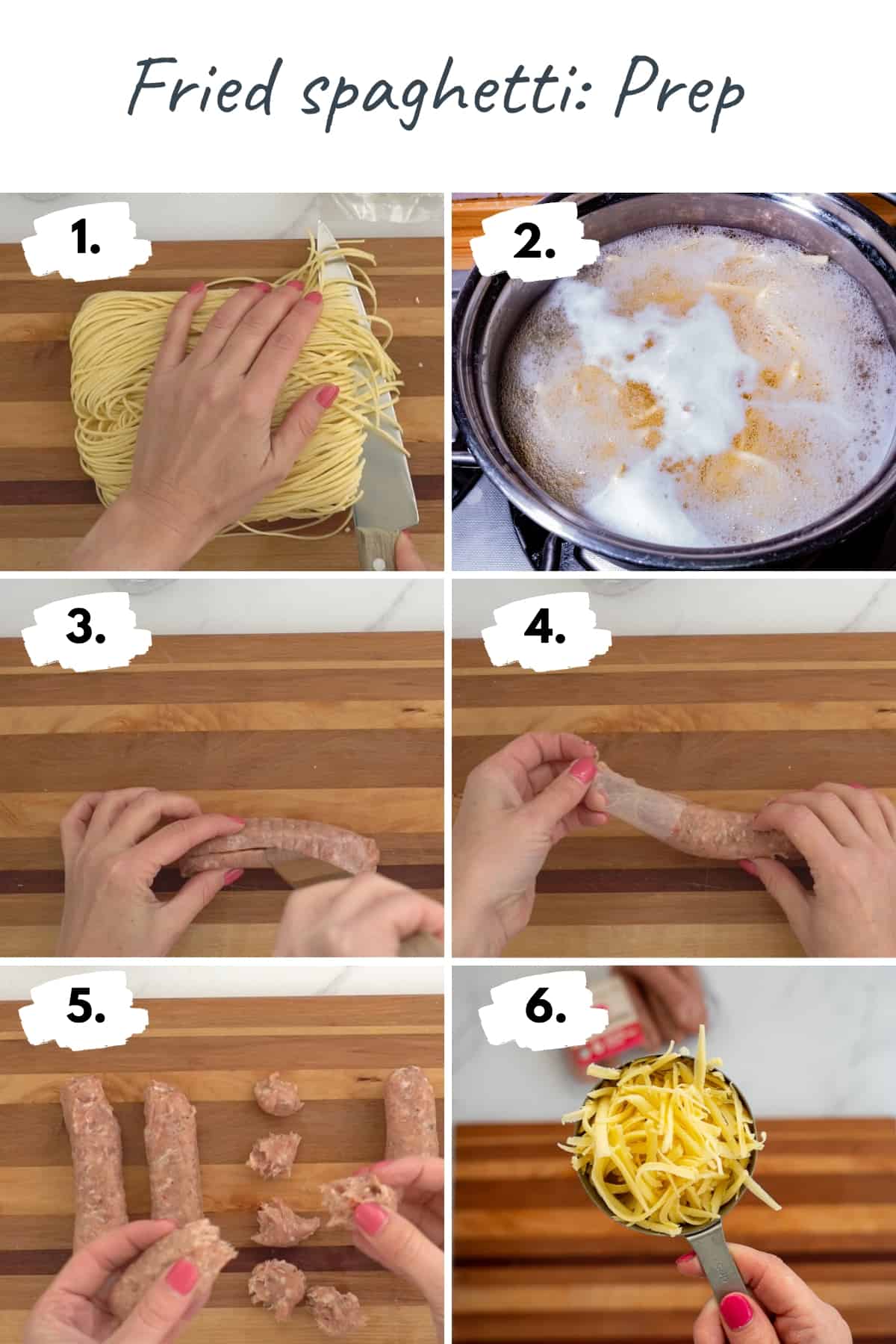 Cooking
Over a med-high heat, heat the olive oil in a deep fry pan or wok
Add the small bite-sized pieces of Italian sausage meat
Pan fry until golden, they will release their flavours into the oil
Add the cooked spaghetti, fry with the oil and sausage, the spaghetti will absorb the oil and flavours, you can fry for either a short time so that the spaghetti remains soft, or you can go a little longer, it will crisp up just a little
Add the frozen spinach, peas and stock, I let the veggies just sit on top of the spaghetti
Cover with a lid for 2 minutes
Remove the lid, add the grated cheese and stir, so that the cheese, veggies and sausage are evenly distributed amongst the sausage
Season to taste with salt and pepper
Serve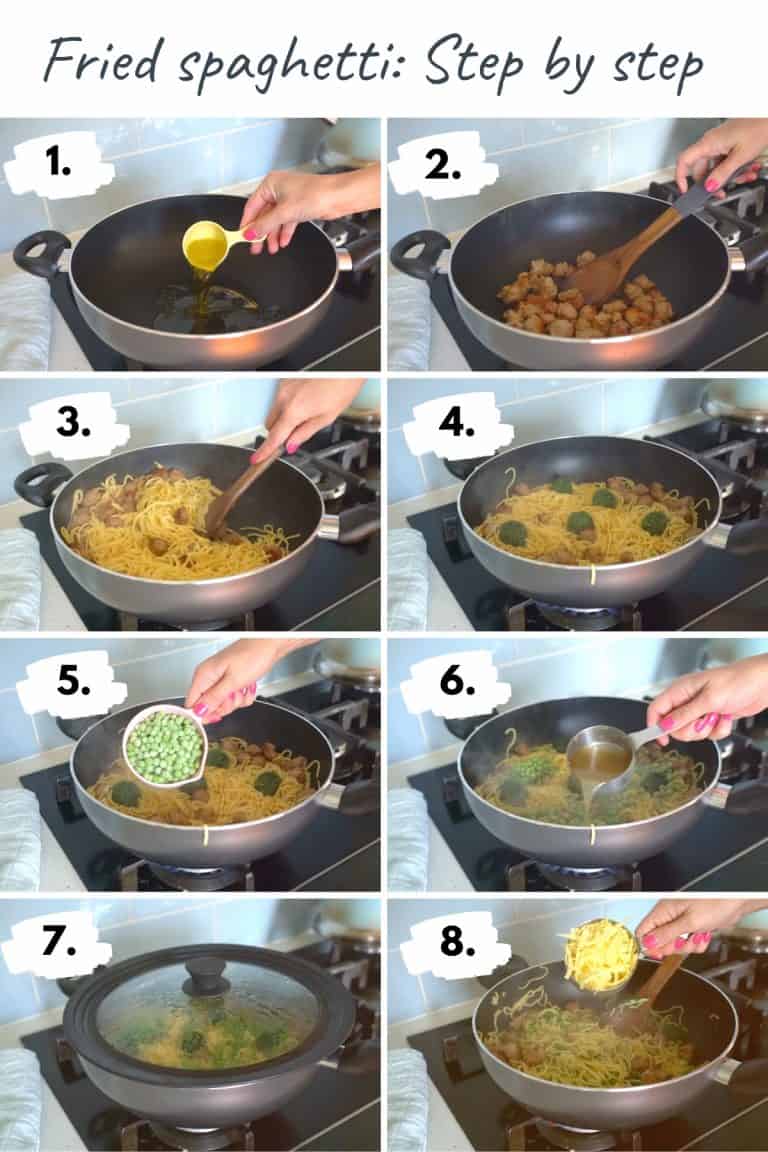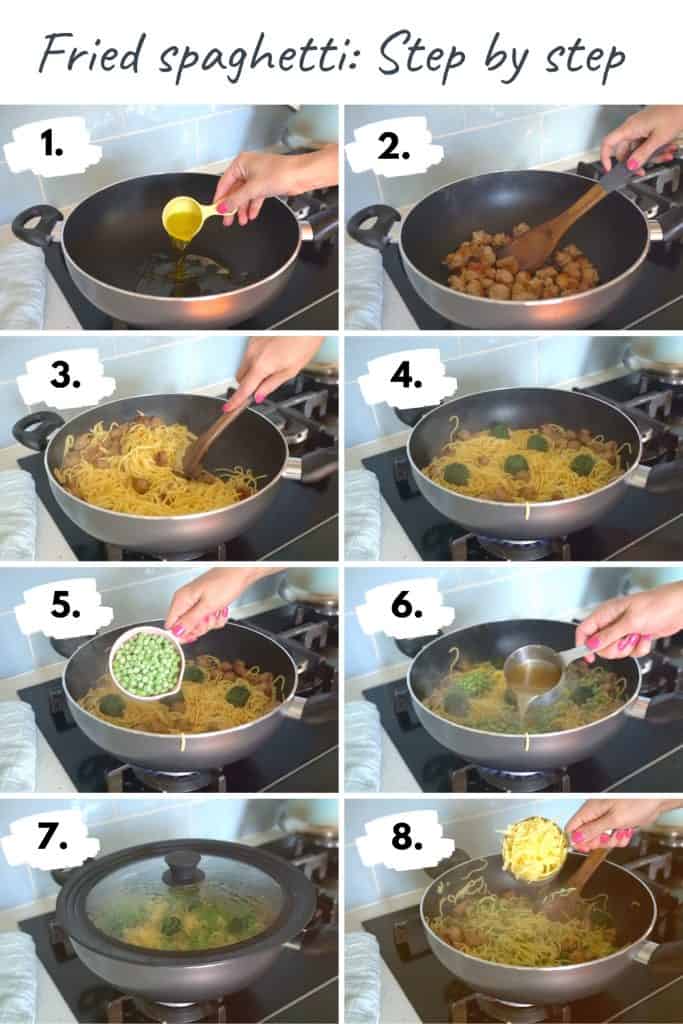 Recipe FAQs and Tips
Is fresh or dried spaghetti better for frying
Either will work. I use fresh spaghetti as the cook time is much quicker which means I can get the meal on the table quicker

How much pasta do you need per person
If you are using fresh pasta 100g of fresh uncooked pasta would be an average portion. If you are using dried pasta 50-60g of uncooked pasta would be an average portion
What is the best sausage to use?
You will need a traditional sausage, not a pre-cooked sausage. Pork Italian sausages give a more traditional flavour to this recipe, but any good quality sausage would work.
How do you remove the sausage casing?
Use a sharp knife to slice the casing lengthwise. You should be able to slide a knife through the casing without cutting the whole sausage in half. Flip the sausage over so that the cut side is down. Using your fingers pull the casing from one end, it should easily pull off in one piece which you can dispose of.
How to stop your fried spaghetti being gluggy. Cook the spaghetti slightly less than the packet instructions recommend. After draining the cooking water from the cooked spaghetti with a colander, Rinse your spaghetti under the tap, this will remove the excess starch from the spaghetti making it better for frying. (Please note this tip is great for this style of fried pasta dish, however, if you are cooking a saucy pasta, don't rinse it under the tap, as it's this starch which helps bind a sauce to the pasta.)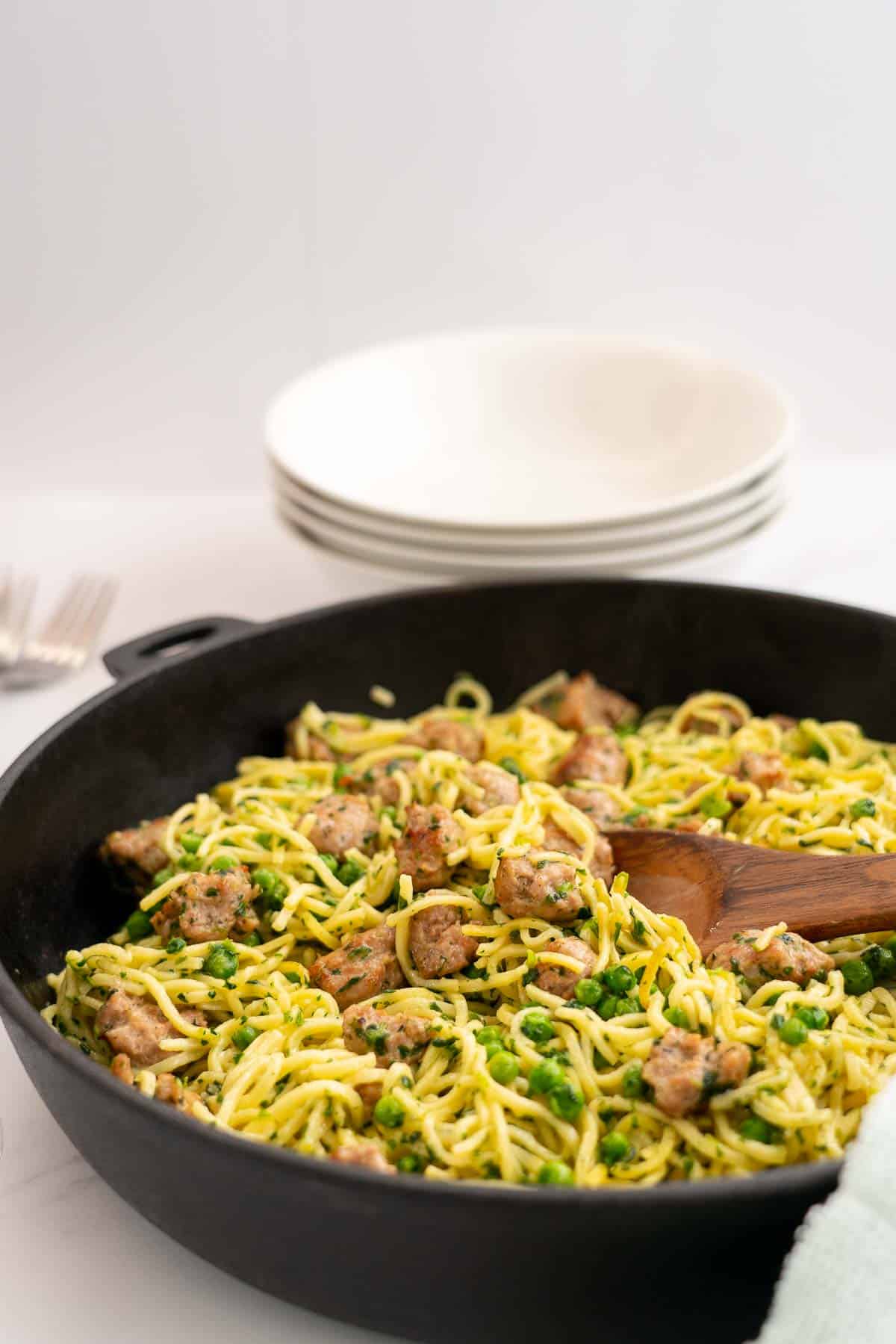 Kid Friendly Pasta Meals
Let's face it, kids LOVE pasta so here are some more of my favourite recipes:
If you made my Fried Spaghetti with Italian Sausage Meatballs or any other recipes on the blog please :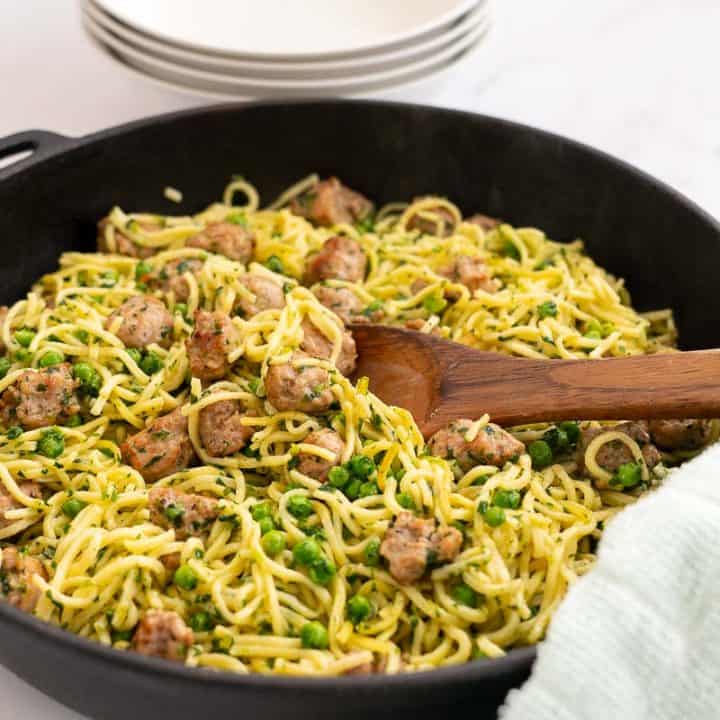 Fried Spaghetti With Italian Sausage Meatballs
Quick easy fried spaghetti with sausage meatballs, this pasta recipe is ready in 15 minutes and is such a crowd-pleaser
Ingredients
400g fresh spaghetti
350 g Italian Pork Sausage (4 Sausages)
63ml Olive oil (¼ Cup)
150g Frozen peas (1 Cup)
80-100g Frozen chopped spinach
125 ml chicken stock (½ cup)
125g grated cheddar cheese (1 Cup)
Salt & Pepper
Instructions
If you are a visual learner, watch the quick recipe video before you start. Within the blog post, you will also find step by step picture instructions plus recipe FAQs and Tips
Prep Steps
Open the pack of fresh spaghetti and cut the uncooked pasta bundle at either end. This will shorten the spaghetti strands, and make it easier to pan-fry the spaghetti later in the recipe. If you are using dried spaghetti you can snap the strands into shorter pieces
Cook the spaghetti. Use the cook time on the pack as a guide,but cook it for a slightly shorter time than recommended, as the spaghetti will be pan-fried as well. The Countdown spaghetti I used has a recommended cook time of 4 minutes, I cooked it for 3 minutes. Once cooked drain the cooking water and rinse under running water. I do this in a colander
Remove the casing from the sausages. I find the easiest way to do this is to slice the casing lengthwise, flip the sausage over then pull the casing from one end, it should easily pull off
Break the sausage meat up into bite-size pieces, I find it easiest to do this with my fingers
Grate 1 cup of cheese
Cooking Steps
Heat the olive oil in a deep fry pan, wok or skillet over a medium high heat
Add the small bite-sized pieces of Italian sausage meat. Pan fry until golden, they will release their flavours into the oil
Add the cooked spaghetti, fry with the oil and sausage, the spaghetti will absorb the oil and flavours, you can fry for either a short time so that the spaghetti remains soft, or you can go a little longer, it will crisp up just a little
Add the frozen spinach, peas and stock, I let the veggies just sit on top of the spaghetti
Cover skillet with a lid for 2 minutes
Remove the lid, add the grated cheese and stir, so that the cheese, veggies and sausage are evenly distributed amongst the sausage
Season to taste with salt and pepper
Serve
Notes
You can sub dried spaghetti for the fresh spaghetti, you will need around 200-250g of dried spaghetti
This recipe will not work with a pre-cooked sausage, look for a good quality pork sausage. Italian sausages typically have additional herbs and spices that work well in pasta dishes
I used a block cheddar cheese in this recipe, parmesan also works beautifully
Rinsing your spaghetti under the tap will remove the excess starch from the spaghetti making it better for frying. (Please note this tip is great for this style of fried pasta dish, however, if you are cooking a saucy pasta, don't rinse it under the tap, as it's this starch which helps bind a sauce to the pasta.)
Nutrition Information:
Yield:

4
Serving Size:

1
Amount Per Serving:
Calories:

1194
Total Fat:

55g
Saturated Fat:

18g
Trans Fat:

0g
Unsaturated Fat:

36g
Cholesterol:

81mg
Sodium:

2360mg
Carbohydrates:

115g
Fiber:

51g
Sugar:

13g
Protein:

91g
Please know this nutrition analysis is based on the ingredients only, this recipe has not been sent to a laboratory for independent testing