My Ultimate Hidden Vegetable Lasagne
THIS POST MAY CONTAIN AFFILIATE LINKS.
Welcome to my ultimate hidden vegetable lasagne, the recipe where I show some of the tricks I use to boost the vegetable content of the meals I feed my family.
Honestly, looking at the picture below would you believe this lasagne recipe contains 5 times more vegetables than meat, that's why it's called a hidden vegetable lasagne I suppose.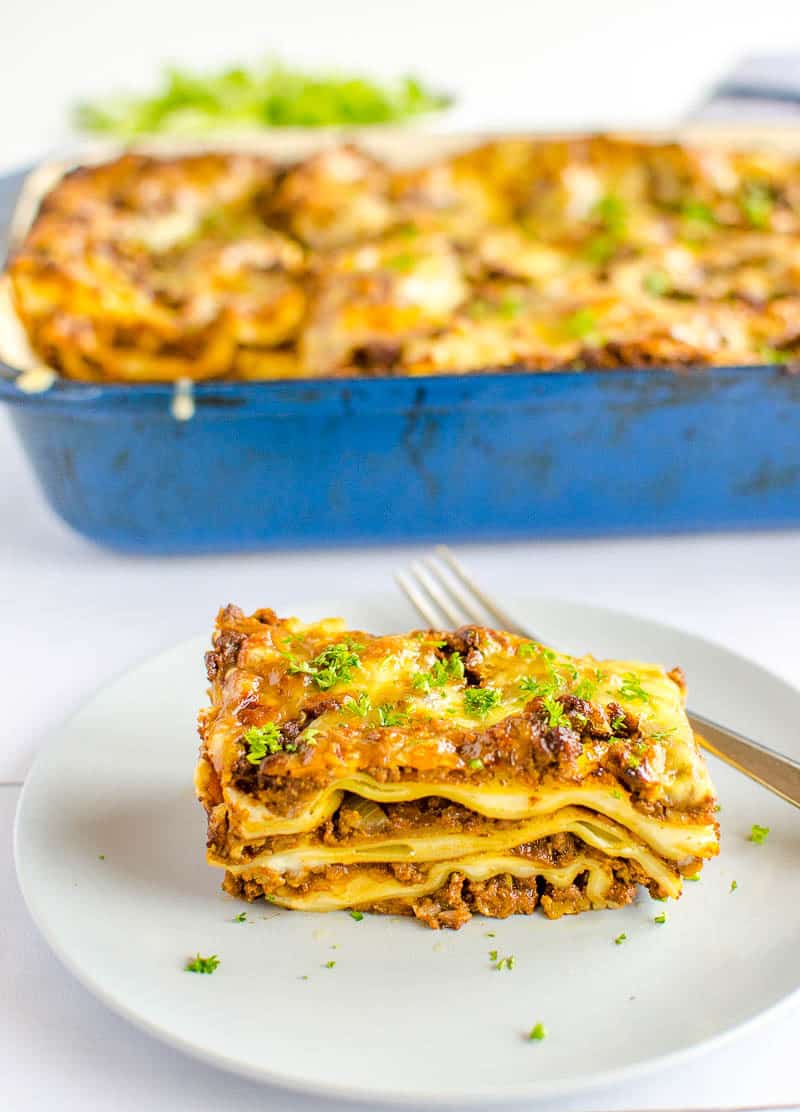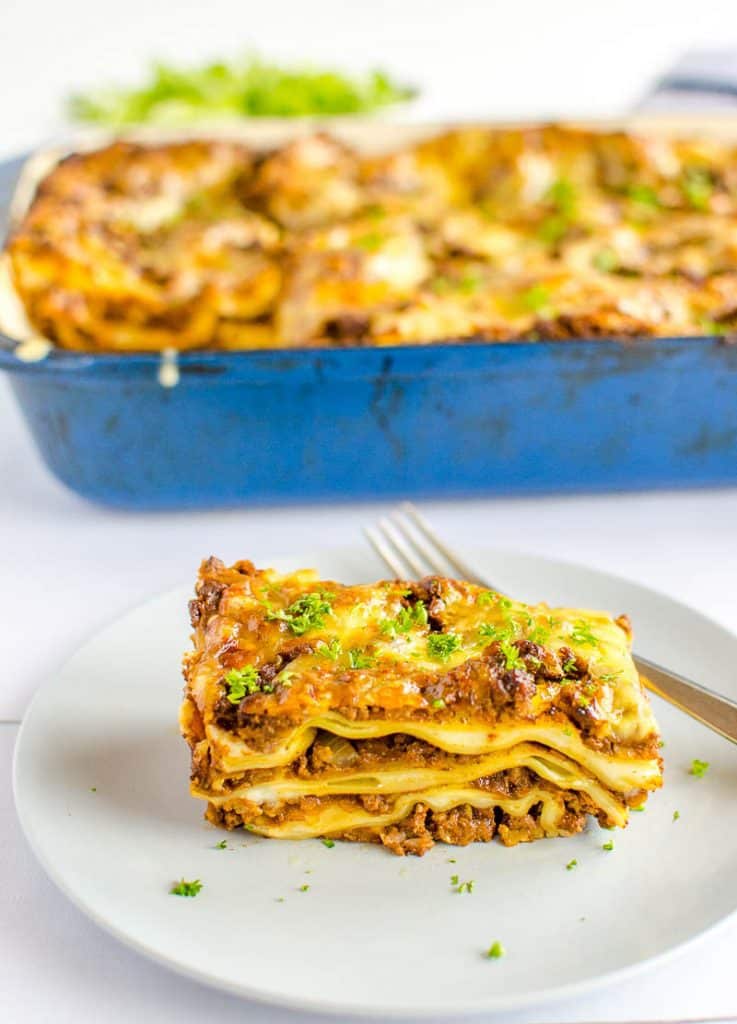 Hidden Vegetable Lasagne or Lasagna?
Is this a hidden vegetable lasagne or lasagna? To be honest I had to use google and call a friend to decide if this recipe should be called a Lasagne or Lasagna. I hope I have got it right.
From what I have gleaned Lasagna refers to a single sheet of pasta, and then lasagne refers to a dish made up of layers of lasagna. As my recipe is layers of hidden vegetable meat sauce, sneaky vegetable containing bechamel and lasagna, I am pretty confident that what I have created is a hidden vegetable lasagne recipe. But honestly, I am still a little confused.
What vegetables are hidden in my kids lasagne?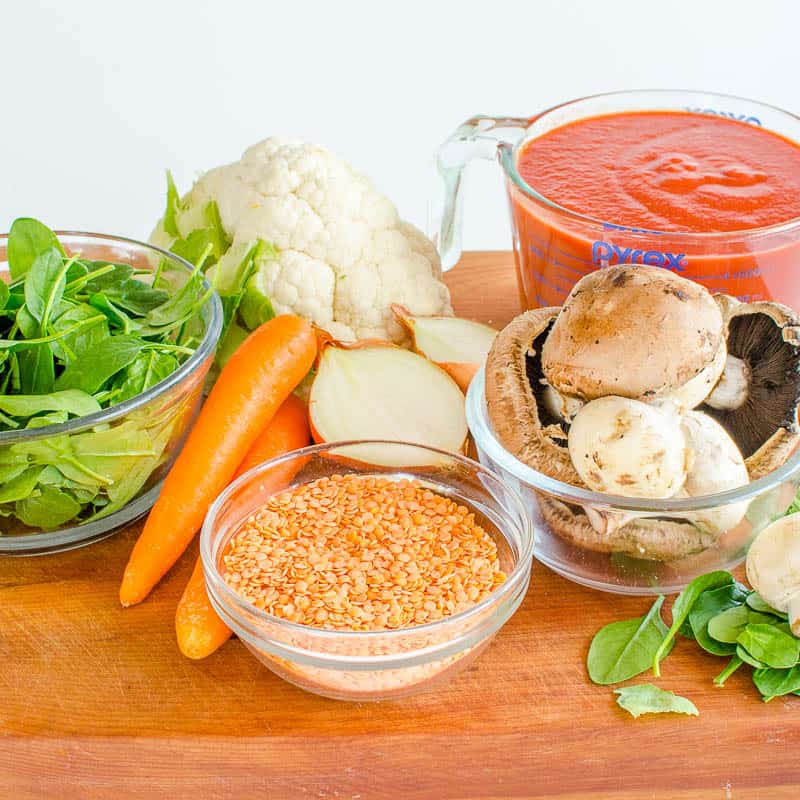 These are the veggies I have hidden in my kids' lasagne. Half a cauliflower, a stack of spinach, plenty of mushrooms, onion, carrot, and lentils. Over 2.5 kgs of vegetable content, in fact, alongside the 500g of mince.
To get so much hidden vegetables into my kid-friendly lasagna I use a blender/smoothie maker. Savoury smoothies are brilliant in cooking. I whip up 2 smoothie combinations for this hidden vegetable recipe, a tomato and spinach version and a tomato and mushroom smoothie. These get added to the meat sauce to make this a truly hidden vegetable lasagne.
The final hack is one you may have seen on my blog before, I use it in my healthy macaroni and cheese, the trick is cauliflower purée added to the bechamel sauce. In my macaroni and cheese recipe, I masterfully add zucchini to the sauce as well, it is a trick worth checking out!
Hidden vegetable recipes are they a good idea?
This brings me to my final word on hidden vegetable recipes. Should we actually be hiding vegetables in our kids food?
We now know that we should be aiming for 8-10 servings of vegetables and fruit per day for health benefits, that means we probably need to do both!We need to be serving vegetable laden recipes as well as veggies loud and proud on the plate, as side dishes and snacks.
I call this a hidden vegetable recipe, but it should probably be called a loaded vegetable recipe, yet it is hard to detect the vegetables. I am doing it more for increasing my families veggie intake than to combat picky eating. Although if this hidden vegetable recipe helps someones, picky eater, to eat better, then I call it a win.
You can read more about my thoughts on the topic of getting kids to eat vegetables To Sneak Or Not To Sneak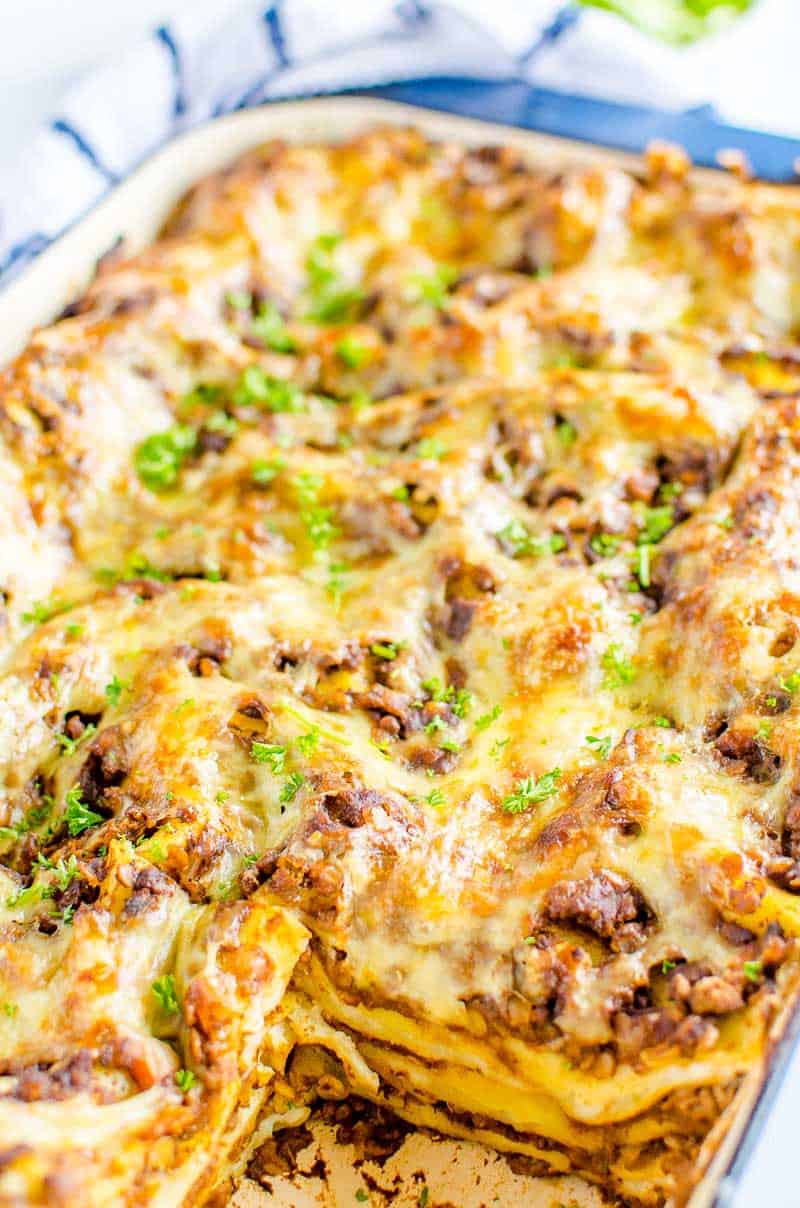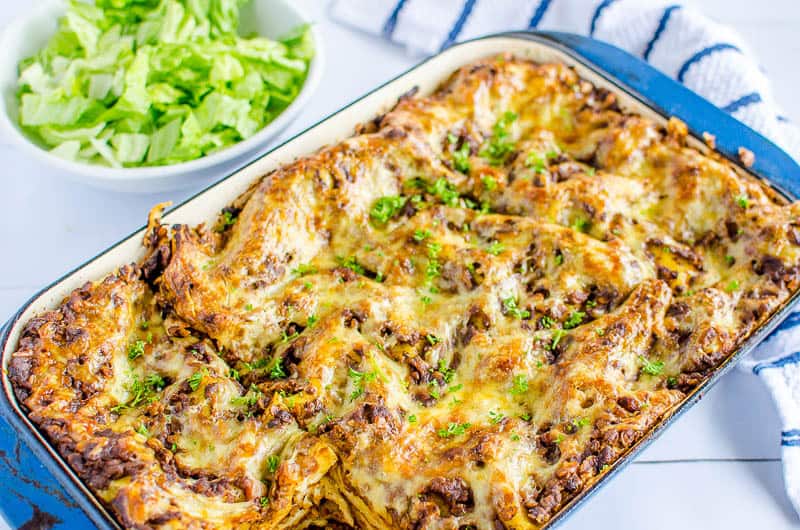 Kids Dinner Ideas
Lasagne is always a winner as a kids dinner idea, and you will find the full recipe for this below. If you are after more ideas, please check out the Dinner Ideas section on my website, or these are some of my most popular kid-friendly dinner ideas
Ultimate Hidden Vegetable Lasagne
Ingredients
2 tablespoon olive oil
1  brown onion 130g
2 small carrots 100g
2 cloves garlic
500g beef mince
1.5 L Passata (Tomato Purée)
60 g Spinach (approx half 1 washed bag)
200g Mushrooms
180g red lentils
2 tablespoon mixed dried herbs
1-2 Cups Water
1 tablespoon red wine vinegar
½ head cauliflower (600g)
3 tablespoon olive oil
60g flour
2.5 Cups Milk
2 Cups grated cheese (200g)
500g dry instant lasagne sheets
Instructions
Add oil to a large heavy based pan, heat
Finely dice onion and carrot, add to the oil, sauté until soft
Add garlic, sauté for further 2 mins, I just smash the whole cloves of garlic with the blade of my knife, and add them pretty much whole.
Add mince and cook until brown
While the mince is cooking move on to the smoothies. Put ⅓ of the passata in a blender, add the spinach, blend until you have a smoothie, set aside
Put ⅓ of the passata in a blender, add ½ the mushrooms, blend until you have a smoothie, set aside
Blend the final third of the passata with the remaining mushrooms, set aside, If you have a huge blender you may be able to fit bigger quantities in it. I do mine in my Nutri-bullet which is smallish but gives a really smooth result.
Once mince has browned add all the tomato smoothies
Rinse the lentils, add to the pan
Add the mixed herbs
Simmer uncovered for 20mins, watch the mix, you may need to add 1-2 cups of water to allow the lentils to soften, as they will absorb moisture from the sauce while cooking. I find it better to add the water as needed, so that you don't end up with a really sloppy mixture at the end.
While the meat sauce is simmering, roughly chop the cauliflower, steam until tender then purée, I usually use a stick blender for the cauliflower
Now to make the bechamel sauce, start by warming the milk, you can do this in the microwave if you wish.
In a saucepan heat the oil, add the flour and cook for 2 mins
Gradually add the warm milk mixing continuously, you will end up with a smooth thick sauce, add the grated cheese. Once melted through, stir in the cauliflower purée
Finish off the meat sauce by seasoning with salt and pepper as desired and a dash of red wine vinegar, the vinegar brings back the freshness.
Now to layer the meat sauce, white sauce and lasagna. Start with a single layer of meat sauce, Top with pasta, then a single layer of white sauce, top with pasta again, and repeat, (Meat, pasta, white sauce, pasta). Keep going until everything is used up. You can finish on a meat sauce or white sauce layer as the top, it's up to you!
Sprinkle the top layer with a little extra cheese
Bake for 30 mins in the oven at 180 degrees Celsius, or 360 Fahrenheit
Allow to cool a little before you slice and serve, it holds together a little better once it has all stopped bubbling
Nutrition Information:
Yield:

12
Serving Size:

1
Amount Per Serving:
Calories:

390
Total Fat:

24g
Saturated Fat:

9g
Trans Fat:

1g
Unsaturated Fat:

12g
Cholesterol:

78mg
Sodium:

413mg
Carbohydrates:

19g
Fiber:

4g
Sugar:

4g
Protein:

25g
This nutrition information is an estimate based on ingredients, this recipe has not been tested by an independent laboratory
Pin my ultimate hidden vegetable lasagne for later