My kids LOVE sausages, and this Sausage Bake made in one tray with apple and sweet potato is one of my favourite ways to serve them up to my family!
I love that this sausage bake is one tray, one pan, one pot wonder! Everything gets banged into one dish at the same time and left to do its thing in the oven.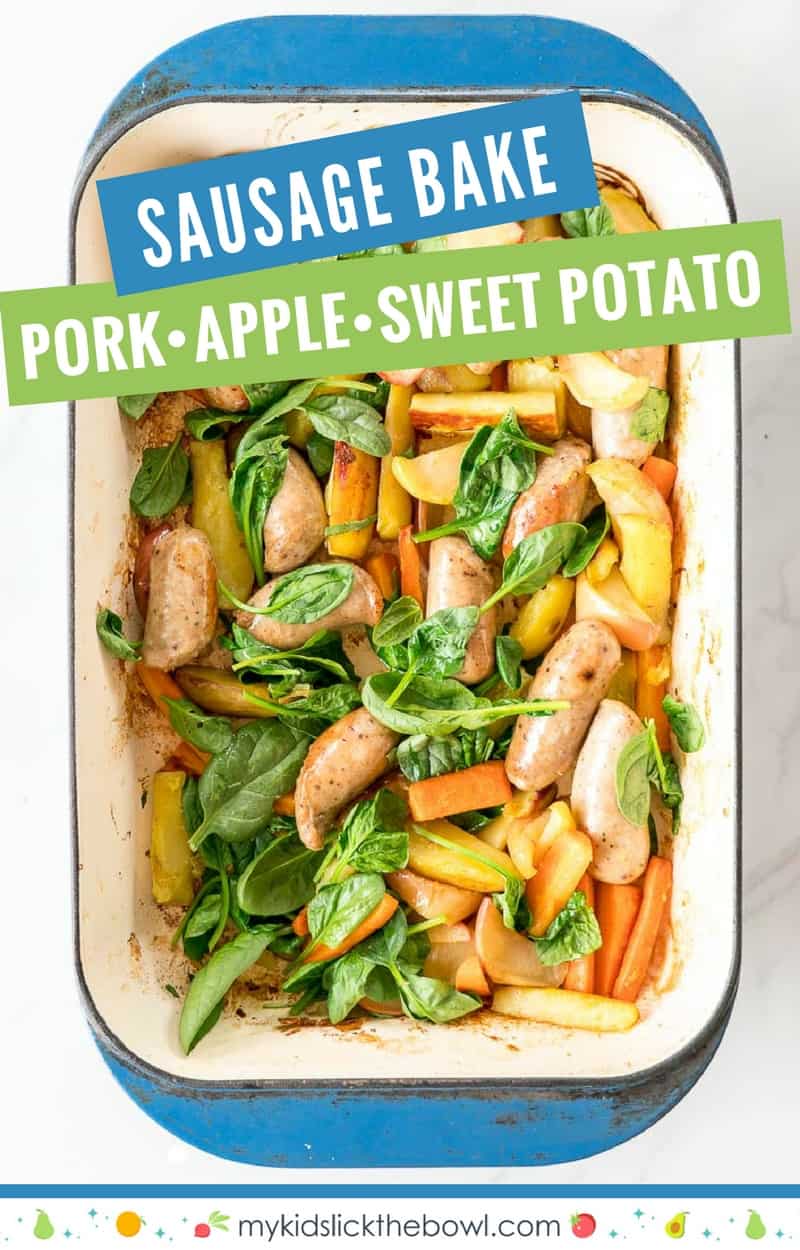 There is a little bit of something in this sausage tray bake recipe that hopefully, even a picky eater will enjoy.
The addition of the apples means there is something sweet and irresistible in there, I don't really care if they hunt out the apple and eat those bits first!
I leave all the fruit and vegetable the pieces relatively large, serve it in one dish in the center of the table let the kids pick the parts they want to go on their plates.
There is no pressure, and usually no complaints. Although I don't go into the meal with any false expectations of all 3 of my kids eating every single part of the dish, but they all eat some so for me that is a win!
Just so you know my kids are not perfect eaters, which is fine by me, when I was little I know there were things I didn't like. But that doesn't stop me from serving stuff up in a family-friendly way so that they still see it, could eat it if they wanted and see me and my husband eating it!
My eldest who is currently 5 eats all of it, yes including the spinach leaves.
My middle daughter who is 4 finds many foods quite challenging (definitely my picky eater) but will eat the apple, and sausage, and occasionally some carrot depending on her mood.
My youngest who is somewhere between 2 and 3 eats it all other than the leaves.
In case you have landed on this recipe and don't know. I am in fact a kiwi. Not really an astonishing fact, but I just want to point out in New Zealand we call our sweet potato Kumara, and the Kumara I tend to use in this recipe is the purple-skinned white/golden fleshed variety.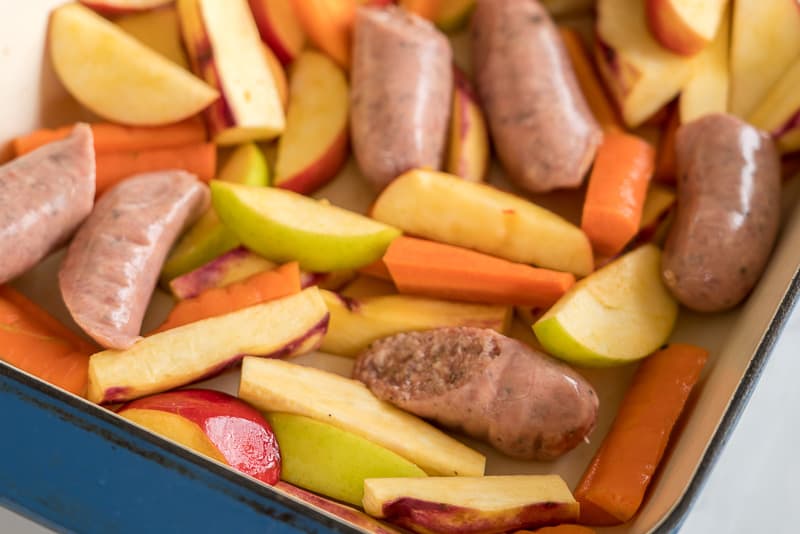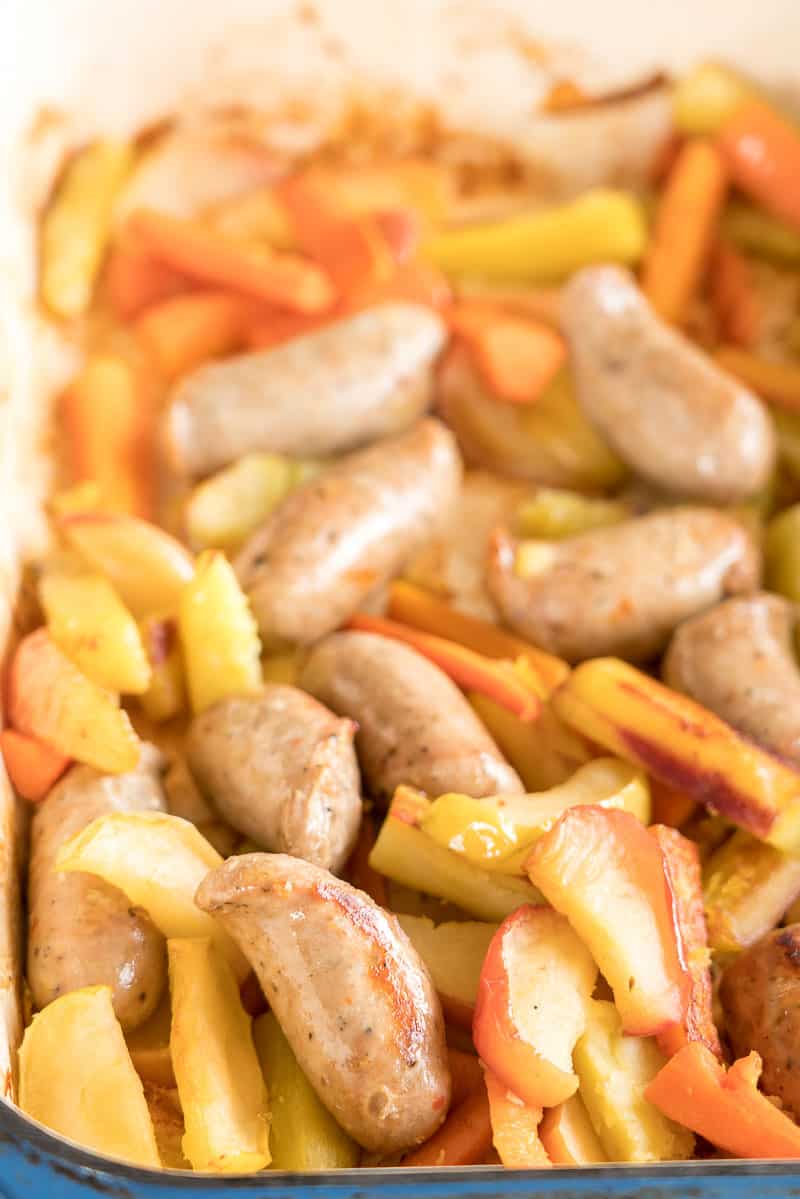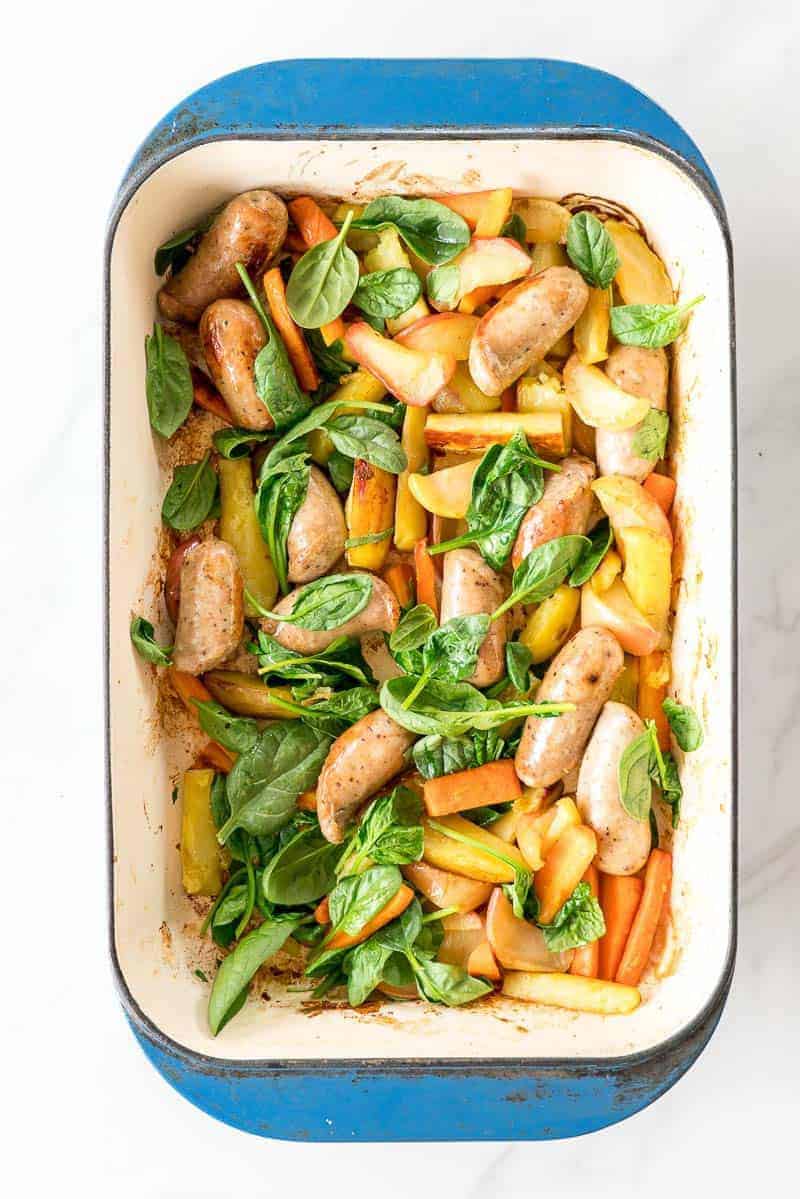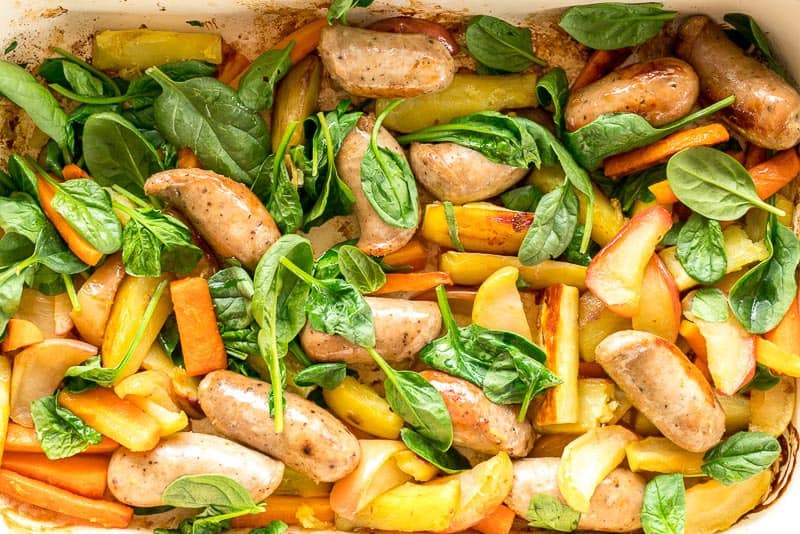 Sausage Bake - Pork, Apple & Sweet Potato
Sausage Bake - An easy one tray recipe made with pork sausages, apples and sweet potatoes. A real kid friendly family meal
Ingredients
3 medium apples
2 medium sweet potatoes
3 medium carrots
1 Tablespoon olive oil
400g pork sausages
2-3 handfuls baby spinach leaves
Salt and pepper
Instructions
Core the apples and cut into wedges, approx 1.5-2cm thick
Cut the sweet potatoes into batons a similar to the apples (you can choose to peel the vegetables or leave them as is
Pop apple and veggies into a roasting pan and toss with oil (you can season at this stage if you wish, however I often find the pork sausages add lots of flavour during cooking so it might pay to wait)
Slice the pork sausages in half and add to the roasting pan
Bake at 200 degrees celsius for 35 minutes
At 35 minutes give the roasting pan a good stir to free up any stuck veggies and add the spinach leaves
Bake for a further 5 minutes (so they start to wilt)
Serve
Notes
I use a purple-skinned sweet potato in New Zealand we call it Kumara, it is a little drier and starchier than the orange sweet potato so I find it great in this recipe as it holds its shape and roasts so well
Depending on the sausages you use, this recipe can be wheat, gluten and dairy free, you just need to keep your eyes peeled for good quality sausages without fillers
I like this recipe with pork sausages, but it does go nicely with a chicken sausage too.
Nutrition Information:
Yield:

4
Serving Size:

1 bowl
Amount Per Serving:
Calories:

333
Total Fat:

21g
Saturated Fat:

6g
Trans Fat:

0g
Unsaturated Fat:

13g
Cholesterol:

57mg
Sodium:

640mg
Carbohydrates:

24g
Fiber:

5g
Sugar:

14g
Protein:

14g
Please know this nutrition analysis is based on the ingredients only, this recipe has not been sent to a laboratory for independent testing