THIS POST MAY CONTAIN AFFILIATE LINKS.
This week Countdown Supermarkets issued me with a challenge. I was to make a quick tasty dinner with just 5 ingredients.
Guess what, I totally nailed it! Let me introduce you to my 5 Ingredient Maple Chicken Tray Bake Dinner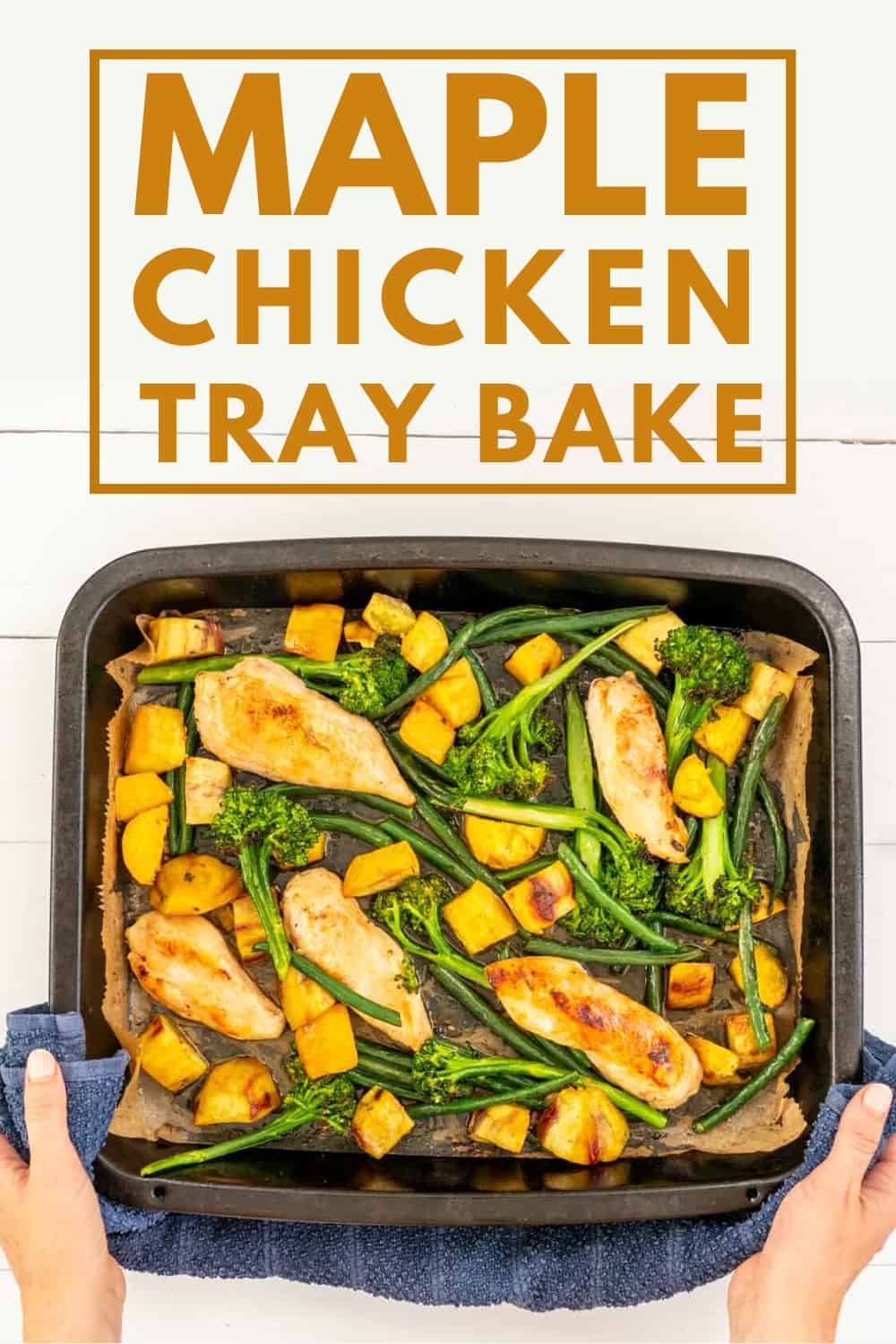 5 Ingredient Dinner Rules
Countdown gave me a couple of other guidelines for the challenge. They wanted me to share a really easy family dinner option that didn't include pasta or rice.
Don't get me wrong, I'm all about pasta and rice and so are my kids but right now the global demand for these items is really high, so having a few easy alternatives up my sleeve is always handy.
So instead of opting for the old faithful pantry ingredients, I instead headed to the fresh produce section of the supermarket to get my inspiration for this dinner challenge from there.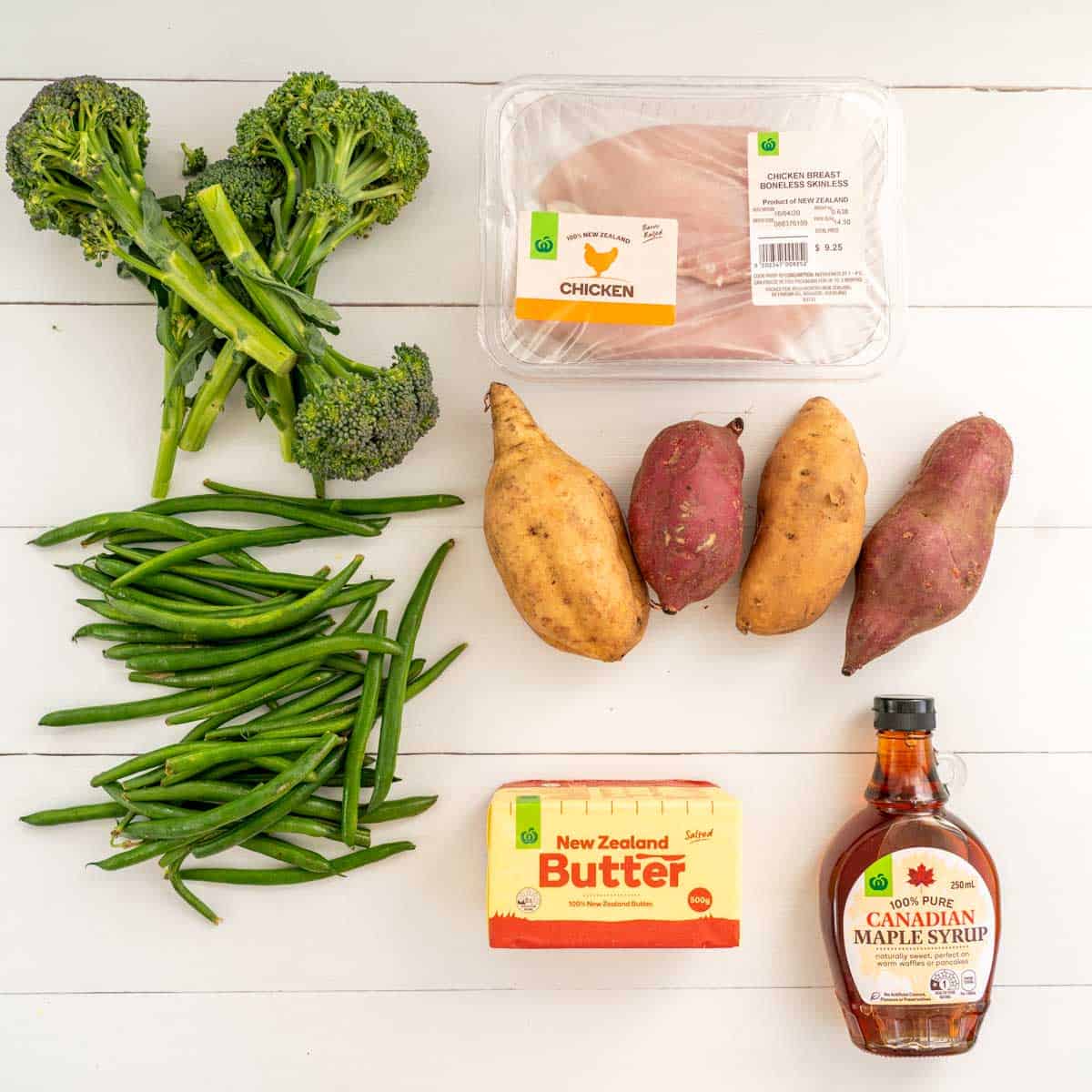 Ok, so I know there are actually six ingredients in this picture, but I classified 'green veggies' as one ingredient. You could use any green veggies you want, Broccoli, Beans, Zucchini, Brussel sprouts they should all work.
Walk Away Dinners
I am a big fan of sheet pan dinners, tray bakes and crockpot meals. This is because with these types of meals, you prep at the start, then you just throw it all in the oven or the cooker, walk away and let it do its thing.
Let's face it, busy parents don't have time for fussing, stirring and prepping lots of ingredients.
Quick Maple Syrup Caramel
In this recipe, right at the start, you do need to make a quick 2 ingredient maple syrup caramel. This is a quick process, you literally just melt maple syrup and butter together, bring it to the boil and give it a quick whisk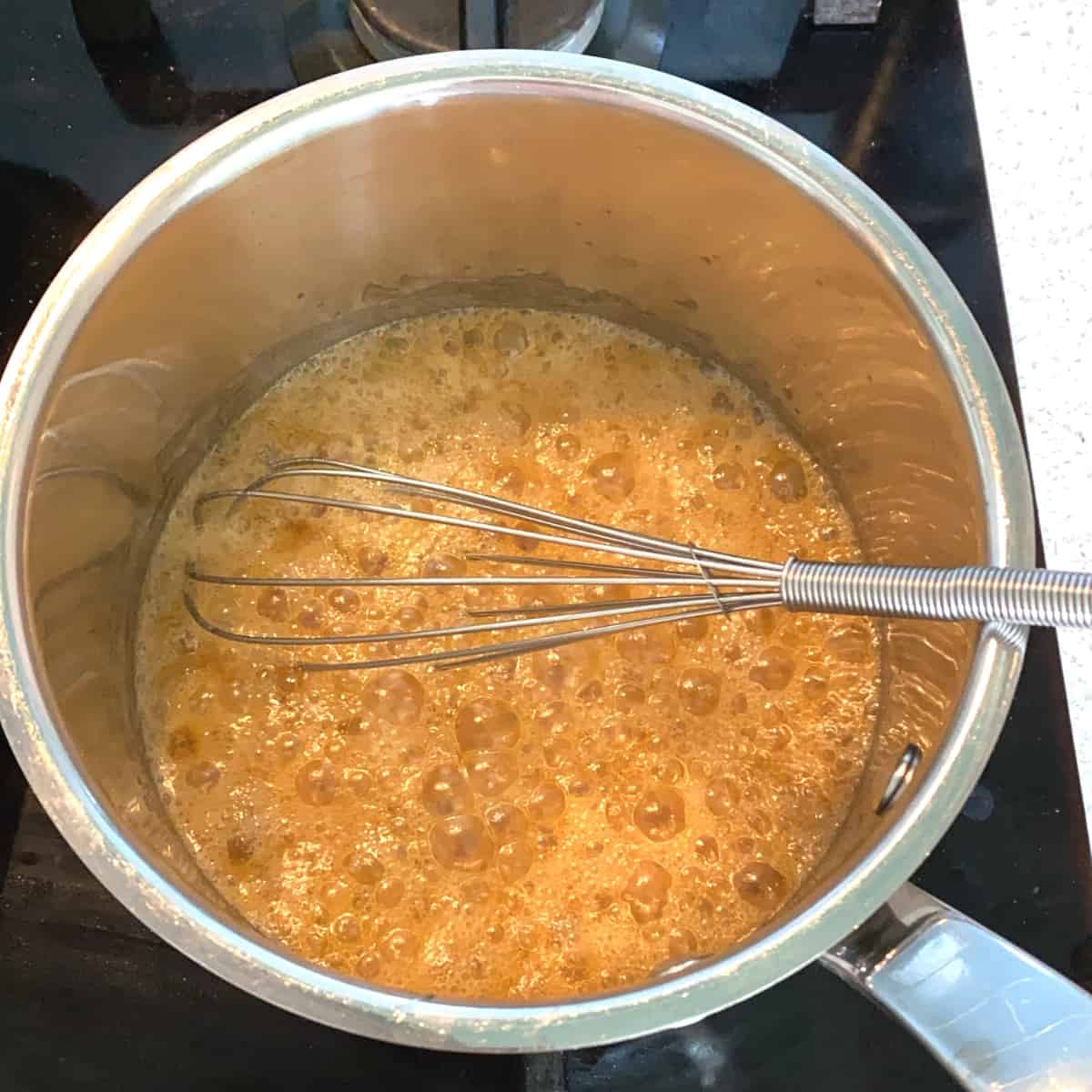 For this maple chicken tray bake recipe I don't reduce the caramel very far, as it reduces further during the baking process. But if you want to use it for a dessert, and you want it stickier and thicker you can reduce it for as long as you want.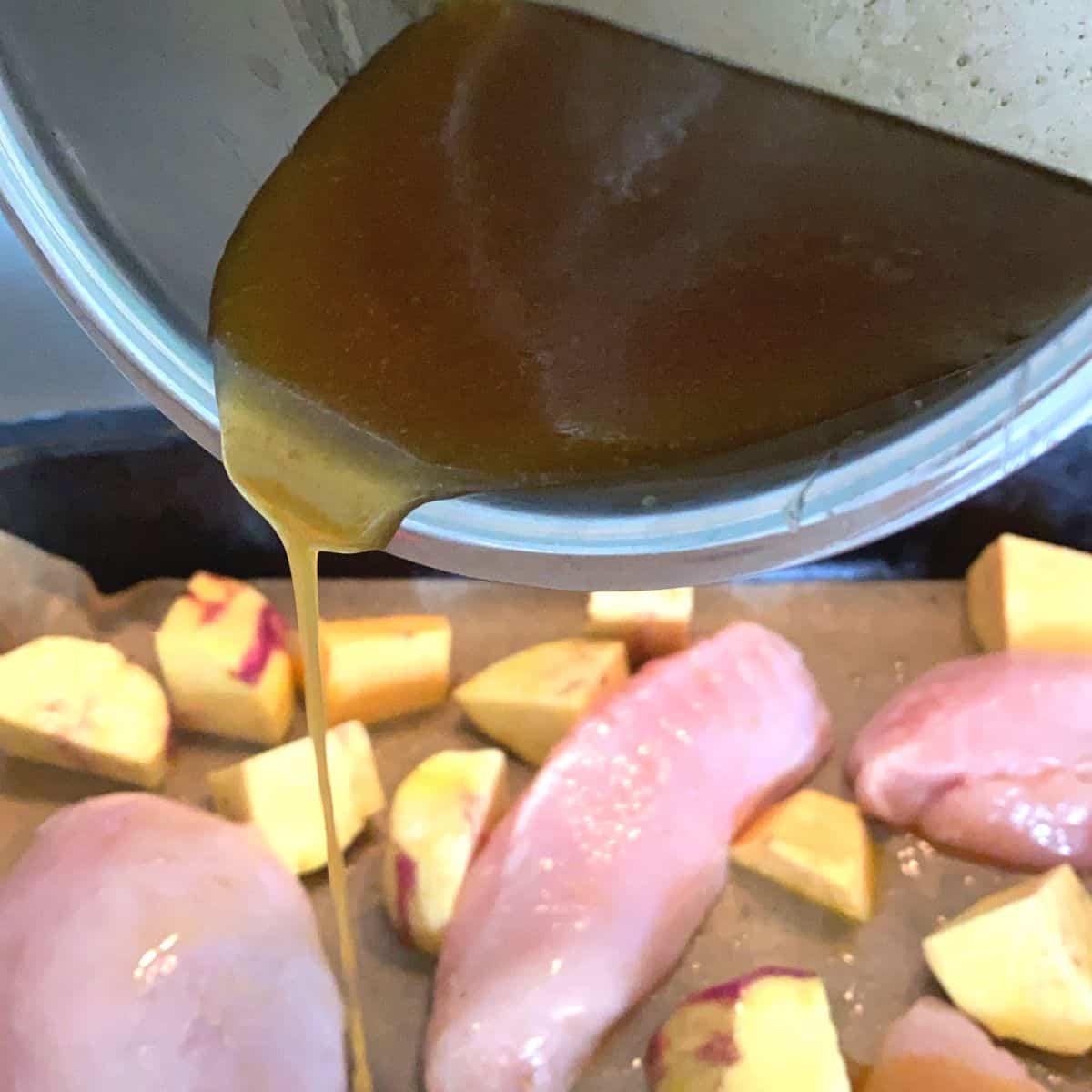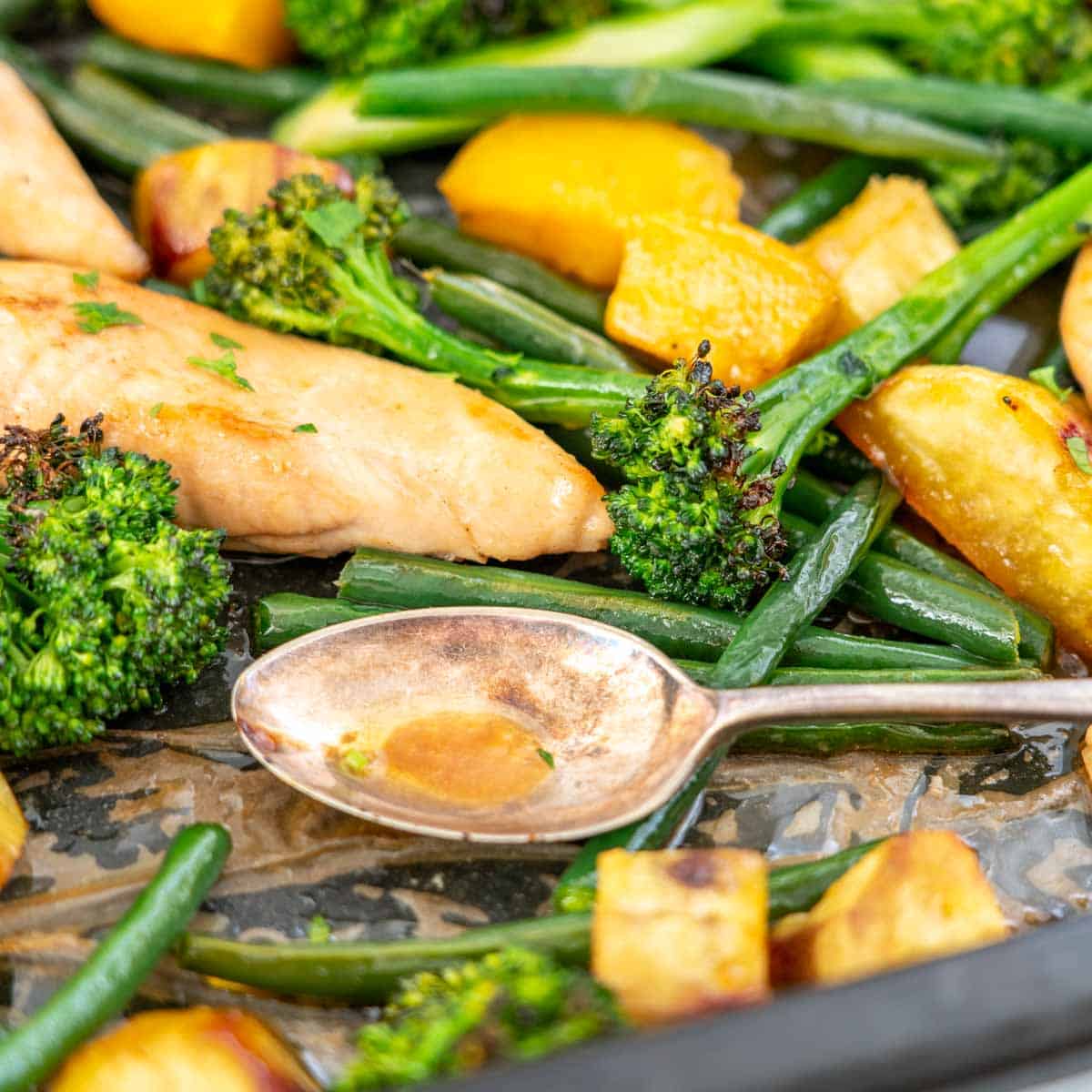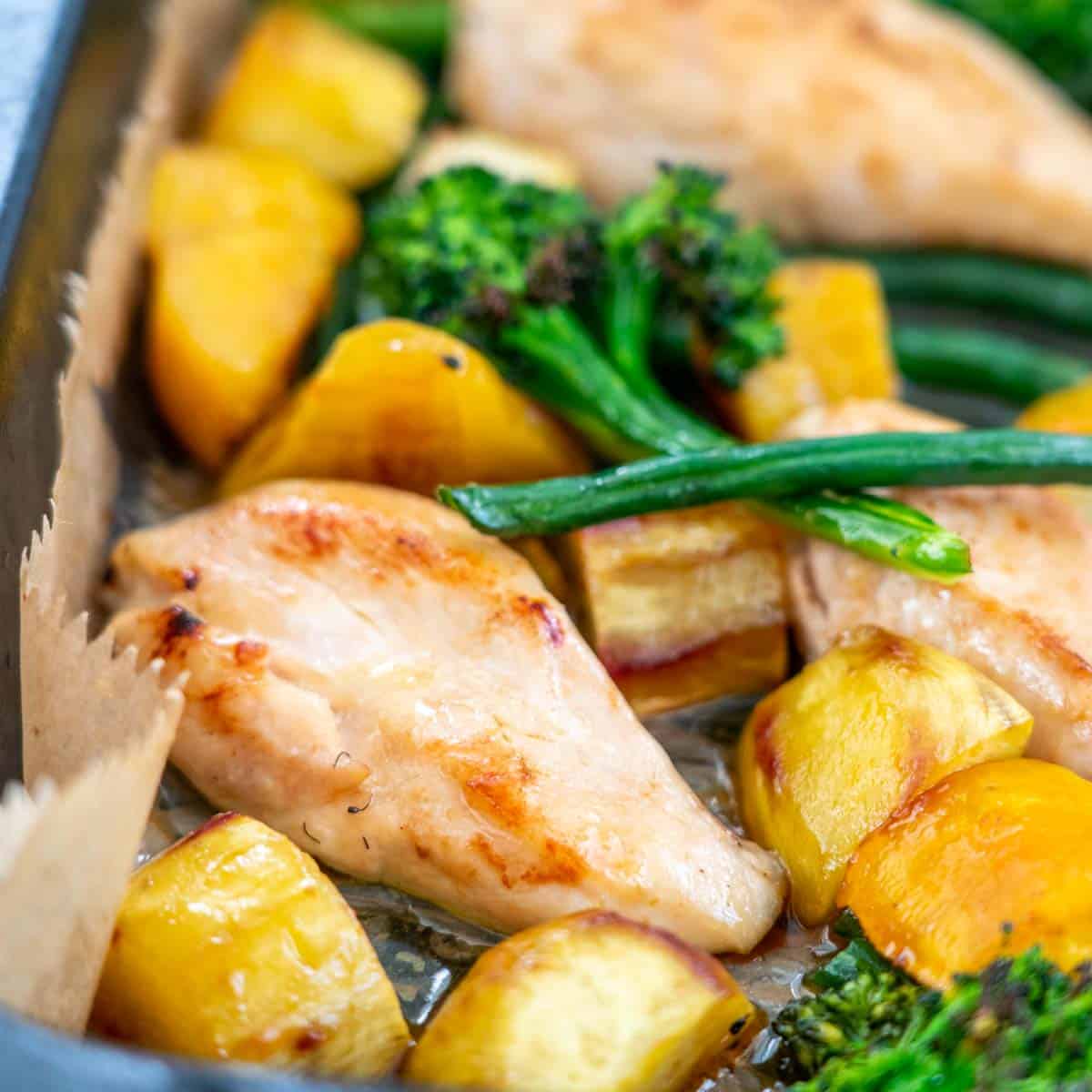 I am a huge pan of tray bake dinners, my mini meatloaf traybake is great, as is my Sausage Tray Bake.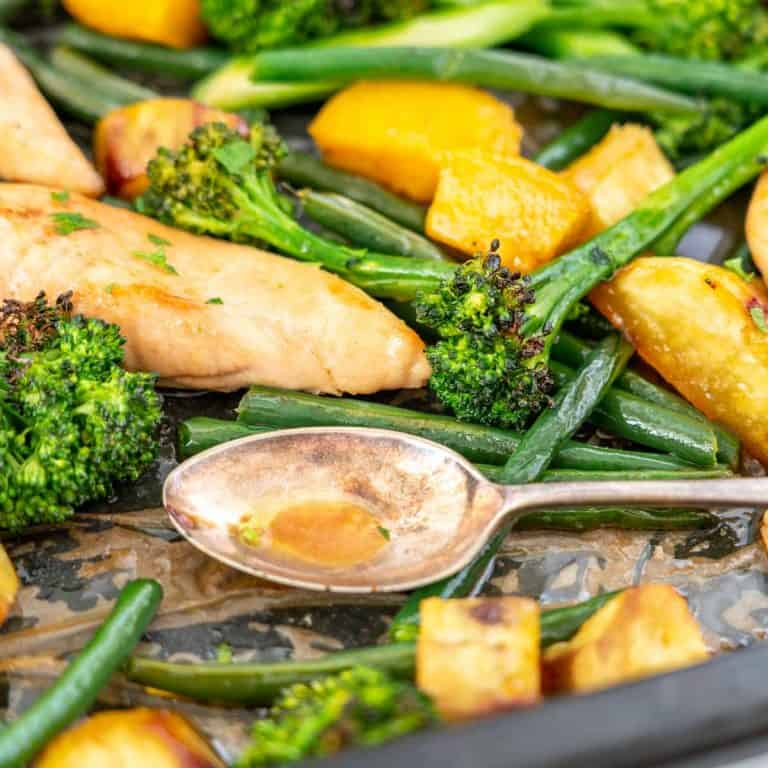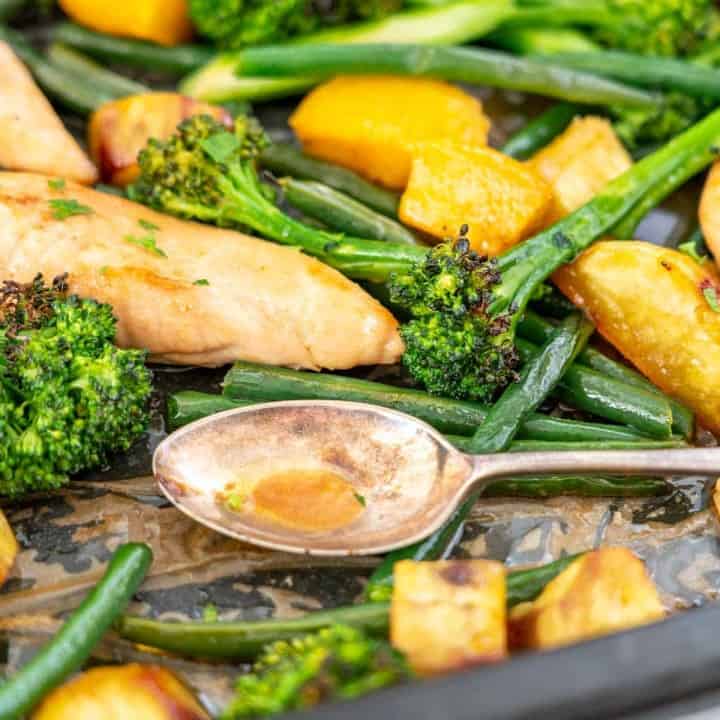 Maple Chicken Tray Bake
This Maple Chicken Tray Bake is a super easy 5 ingredient Sheet Pan dinner, chicken, sweet potatoes and green veggies cooked in one pan with a yummy maple syrup caramel
Ingredients
600 g chicken breast
800 g sweet potato (Kumara)
1 head broccoli (or equivalent green vegetables)
50 g butter
¼ C maple syrup
Instructions
Preheat oven to 200-220 degrees celsius
Pop ¼ cup maple syrup and 50g butter in a pot, heat until it boils and thickens a little (it will become almost a thin caramel)
While the maple caramel heats, Peel and chop the kumara and prep the chicken. Slice the chicken into even portions, oil the chicken and season with salt and pepper as desired
Place the kumara and chicken in a large roasting dish or sheet pan
Pour over the maple caramel
Bake in the hot oven for 15 minutes
Remove and turn over the kumara and chicken so they are coated in the sauce, add the green veggies.
Return the tray back to the hot oven for a further 10-15 minutes until the chicken is cooked
Serve
Notes
For the vegetables you can swap the broccoli for something else, green beans work well, in the photos you can see I have used a mix of green beans and broccoli
Nutrition Information:
Yield:

5
Serving Size:

1
Amount Per Serving:
Calories:

481
Total Fat:

13g
Saturated Fat:

6g
Trans Fat:

0g
Unsaturated Fat:

5g
Cholesterol:

124mg
Sodium:

243mg
Carbohydrates:

49g
Fiber:

8g
Sugar:

21g
Protein:

42g
Please know this nutrition analysis is based on the ingredients only, this recipe has not been sent to a laboratory for independent testing