Mini Meatloaf Sheet Pan Dinner
THIS POST MAY CONTAIN AFFILIATE LINKS.
This mini meatloaf sheet pan dinner is very much an ugly duckling recipe on my website
Ugly photos, ugly because hand formed meatloaf is not pretty to start with, and ugly becuase these photos were taken in a hurry at 5pm when I was not only making dinner but also running the 5pm guntlet with my 4 kids
I was thinking I shouldn't post this meatloaf recipe yet, I should hold off until I manage to get better photos, the problem with this though, is it could be months
So I'm going to bite the bullet, run with it, and get the recipe out for you guys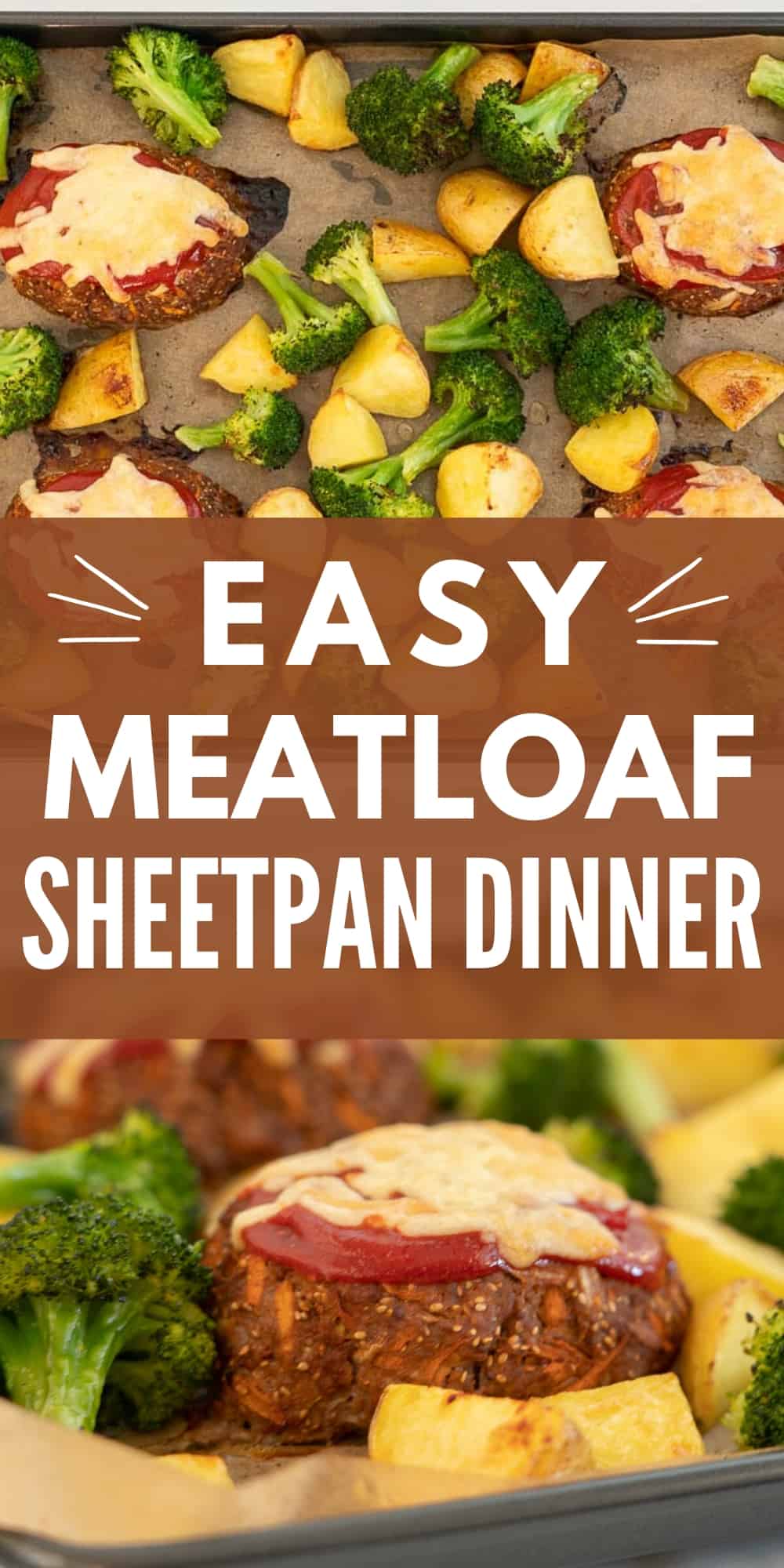 Why meatloaf can be a beautiful swan!
Because like I said this is an ugly duckling recipe, and just like the ugly ducking allusion there is a beautiful swan aspect to this family dinner
It's beautiful because it's easy (I mean heck I managed to stop and take photos during the 5pm panic hour and still get dinner on the table)
It's a sheet pan dinner, a dinner where everything bakes in one tray, the type of dinner I'm such a fan of, as it's the type of dinner that fits into my crazy hectic mum life schedule.
If you also love dinners that you throw in the oven and walk away from, then my new recipe category sheet pan dinners is just for you! Because I'm right there with you, in the thick of mum life, no time for stirring and watching and recipes with a million steps!
My kids like it, it might be because getting their own little mini meatloaf makes them feel a bit special.
Even if my kids choose to eat none of the side veggies (ie the potatoes and broccoli,) there is still carrot and onion actually in the meatloaf, so that's a hidden veggie win!
Meatloaf without breadcrumbs
These are the ingredients that go into my meatloaf recipe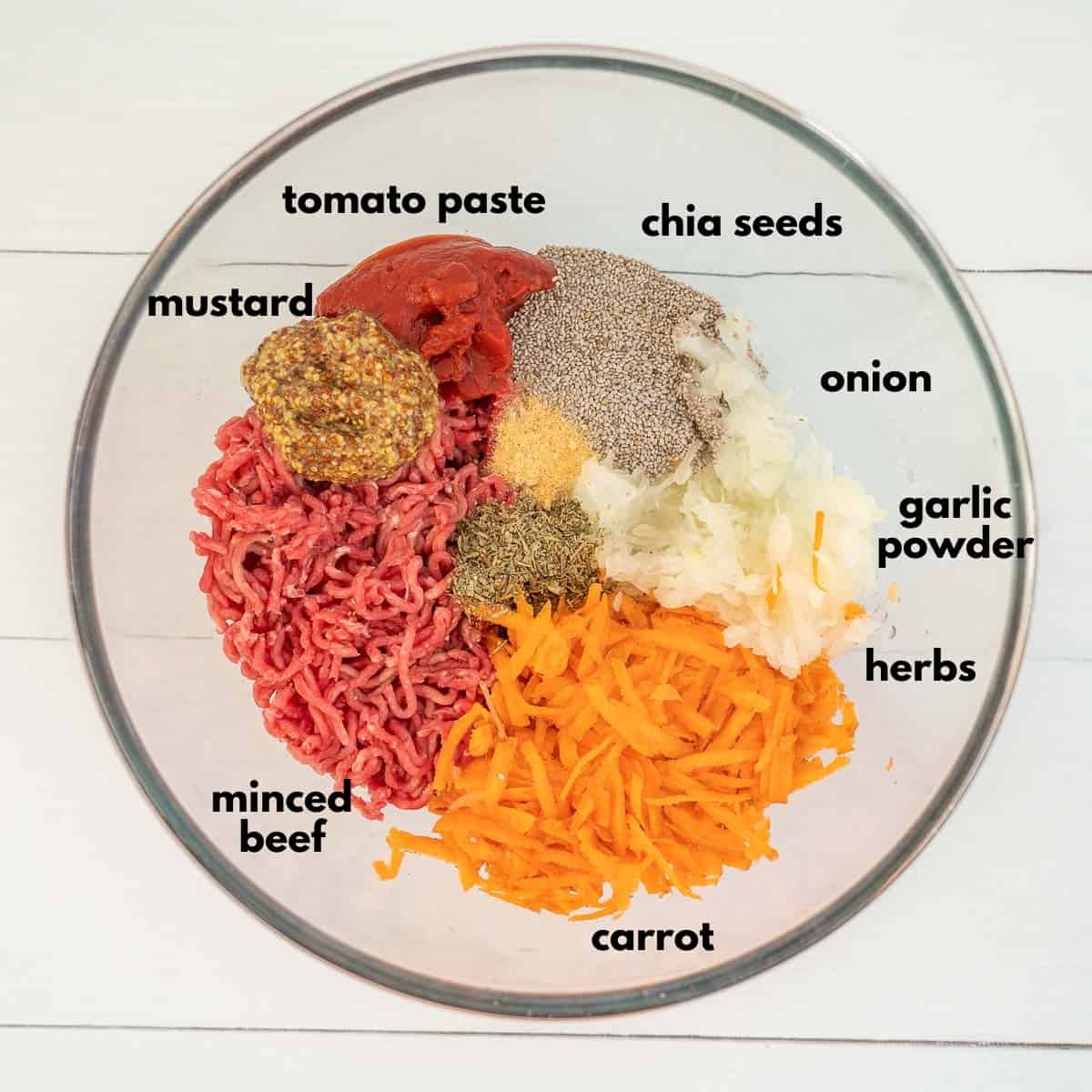 The secret to making meatloaf with no breadcrumbs is the chia seeds! You will notice this meatloaf recipe is also egg free. Chia seeds gel when they are moistened, in this meat loaf recipe the chia seeds take the place of the usal binders in meat loaf (bread and egg)
I use chia seeds A LOT in my recipes, in baking, chia puddings but also in savoury dishes like my burgers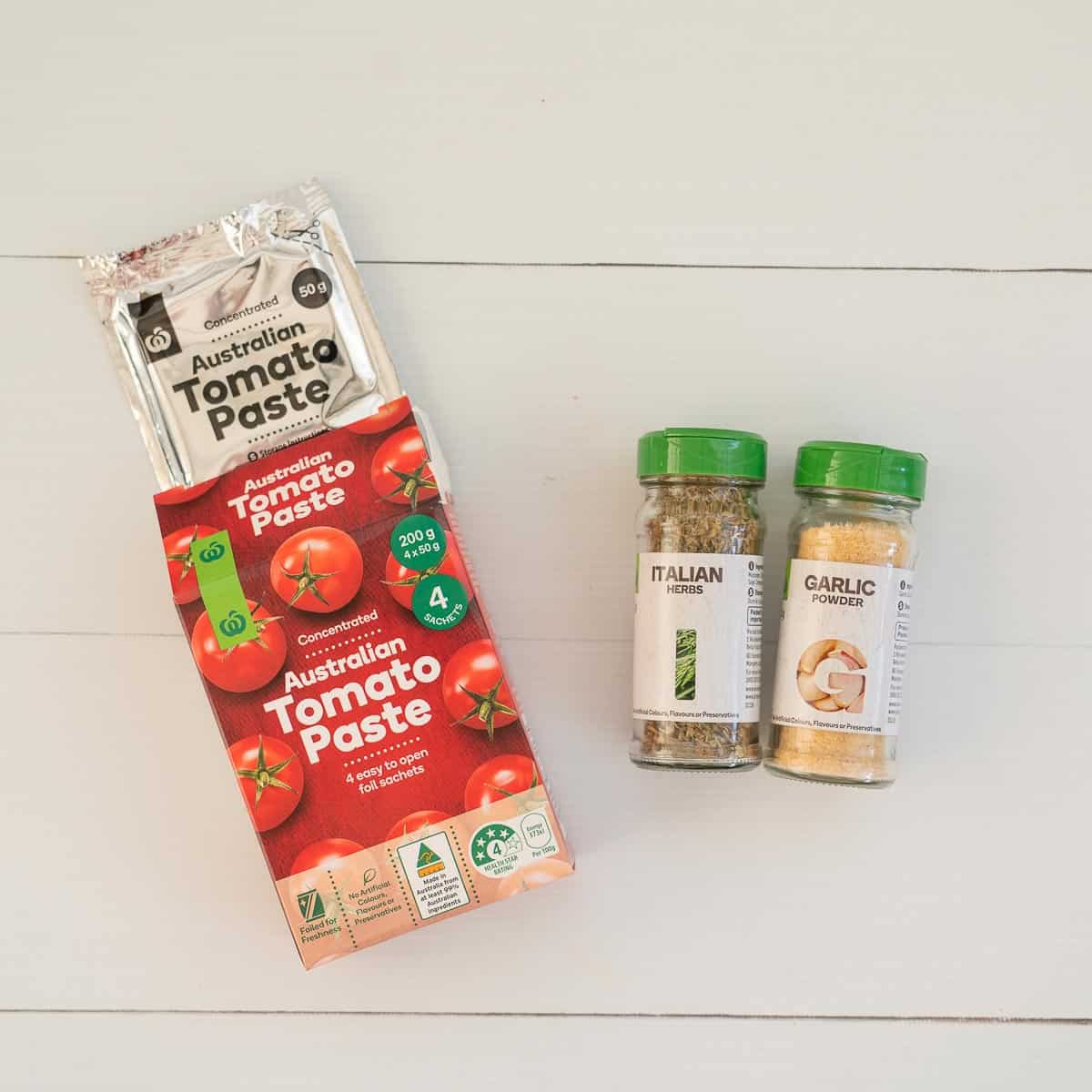 I am an ambassador for Countdown Supermarkets, they support my blog by gifting ingredients for recipe creation. I wanted to share these three things that I keep in my pantry
Tomato Paste Sachets - So handy to have single serve tomato paste ready to go for recipes like this meatloaf
Italian herbs - I nice mix of dried herbs that I find works well in tomato based recipes
Garlic powder - I'm a little new to garlic powder, but I am a convert! It is literally 100% dried garlic, really handy and adds a great flavour to meatloaf, burgers etc.
Meatloaf and Potatoes
This meatloaf meal is a sheetpan dinner, this means the veggie sides all cook together in one tray with the meatloaf
I usually serve my mini meatloaf with potatoes, it just seems kind of traditional, but you could switch out the potatoes for any root vegetable
Same as you could switch out the broccoli for another green vegetable, green beans works well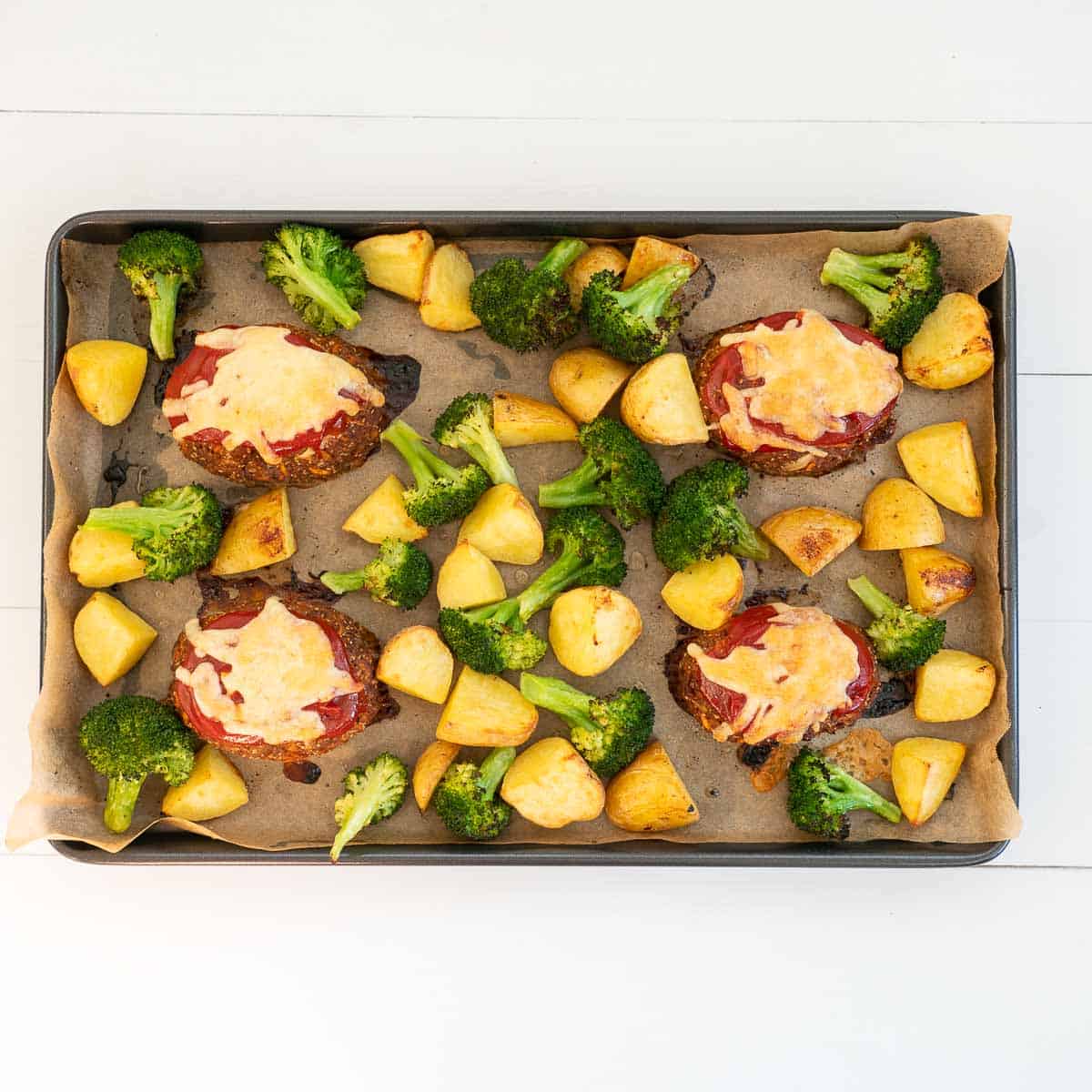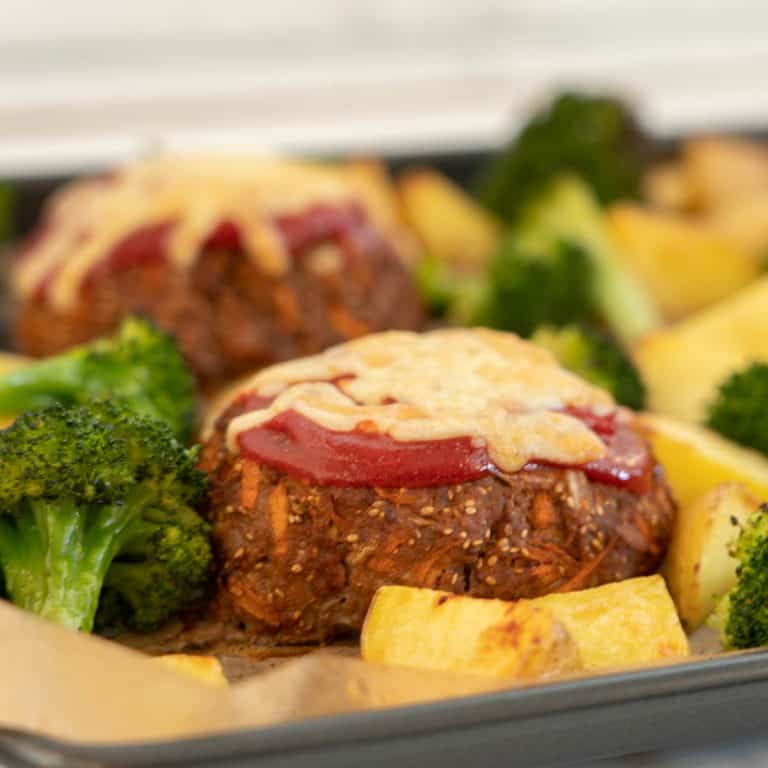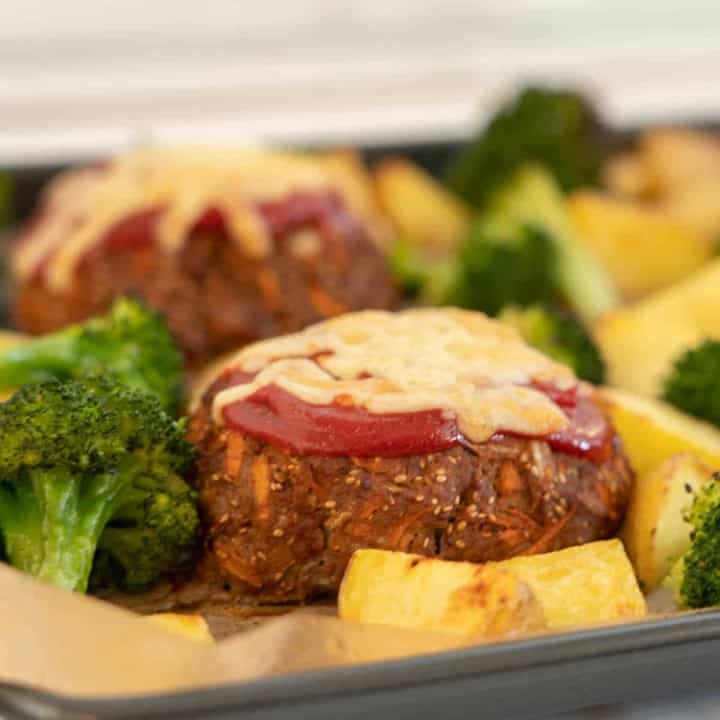 Mini Meatloaf Sheet Pan Dinner
Easy meatloaf recipe, a sheetpan dinner that is perfect for busy families
Ingredients
500g minced beef
2 medium carrots (grated)
1 medium onion (grated)
50g tomato paste
2 tablespoon chia seeds
1 tablespoon wholegrain mustard
1 tablespoon Soy sauce
1 teaspoon garlic powder
1 tablespoon mixed herbs
4 tablespoon Tomato Ketchup / Sauce
1 Cup grated cheese (optional)
600g roasting potatoes
2 tablespoon olive oil
1 head of broccoli
Salt & Pepper as desired
Instructions
Preheat the oven to 200 degrees celsius
Take the grated carrot and squeeze out the excess liquid
In a large bowl add the beef mince, carrots, onion, tomato paste, chia seeds, wholegrain mustard, soy sauce, garlic powder, herbs
Use your hands to combine these ingredients
Form the meat into 4 or 5 mini meat loafs
Place on a lined baking tray (make sure the tray has a lip as there may be some juices during cooking)
Chop potatoes into 2-3 cm chunks, toss in olive oil, then arrange evenly in the tray around the meatloaf
Bake for 15 minutes
While the meat loaf and potatoes are baking prepare the broccoli by cutting into florets, toss in some olive oil
Remove the meatloaves and potatoes from the oven, Spread a tablespoon of tomato ketchup or tomato sauce on the top of each meatloaf, Top each meatloaf with some grated cheese if desired
Add the broccoli to the tray
Return to the oven and bake for a further 10 minutes or until everything is cooked
Notes
I use a good roasting potato for this recipe, ie one with a floury texture. My favourite is Agria
Add seasoning ie salt and pepper to taste, I add this at the table so that I can serve my young kids first without the added salt
You can sub the soy sauce for Worchestershire sauce for a little more kick
Nutrition Information:
Yield:

4
Serving Size:

1
Amount Per Serving:
Calories:

686
Total Fat:

41g
Saturated Fat:

15g
Trans Fat:

1g
Unsaturated Fat:

21g
Cholesterol:

140mg
Sodium:

999mg
Carbohydrates:

34g
Fiber:

9g
Sugar:

11g
Protein:

47g
Please know this nutrition analysis is based on the ingredients only, this recipe has not been sent to a laboratory for independent testing