THIS POST MAY CONTAIN AFFILIATE LINKS.
I'm not sure about you, but lockdown has meant loads and loads of baking! Cookies being one of the most common baking requests by my kids.
It also had me harking back to the cookie recipes I grew up with, and Cornflake cookies was one of them! I'm not sure if everyone grew up with them or if cornflake cookies were a kiwi thing and Aussie thing, but anywho as an 80's child, I strongly remember cornflake cookies or cornflake 'biscuits' as that's what we would have called them.
In the 80s in NZ biscuits was the term we used for all cookies, ie I grew up with 'Girl Guide Biscuits' 'Anzac Biscuits' 'Chocolate Chip Biscuits'. Now that the world is much smaller thanks to the internet the term cookies is used more and more here, and definitely used by my kids. So henceforth, my food memory Cornflake Biscuits will be called Cornflake Cookies!
Getting the Cornflake Cookie Recipe
I've been homeschooling my kids, I use the term loosely, as I'm not a homeschooler but anywho I've been helping them complete their schoolwork at home
One activity I have found that has worked super well, is to get my kids to phone a family member or friend and ask them for a favourite recipe. They then write down the recipe, we bake it, and we eat them! That's communication, literacy, maths, science/home economics and a snack break all in one!
To get this cornflake recipe my daughter phoned my mum and wrote it down (It's a little tricky to read, so I will type it out below as well, she also gave up the ghost on the writing so I did the last couple of steps.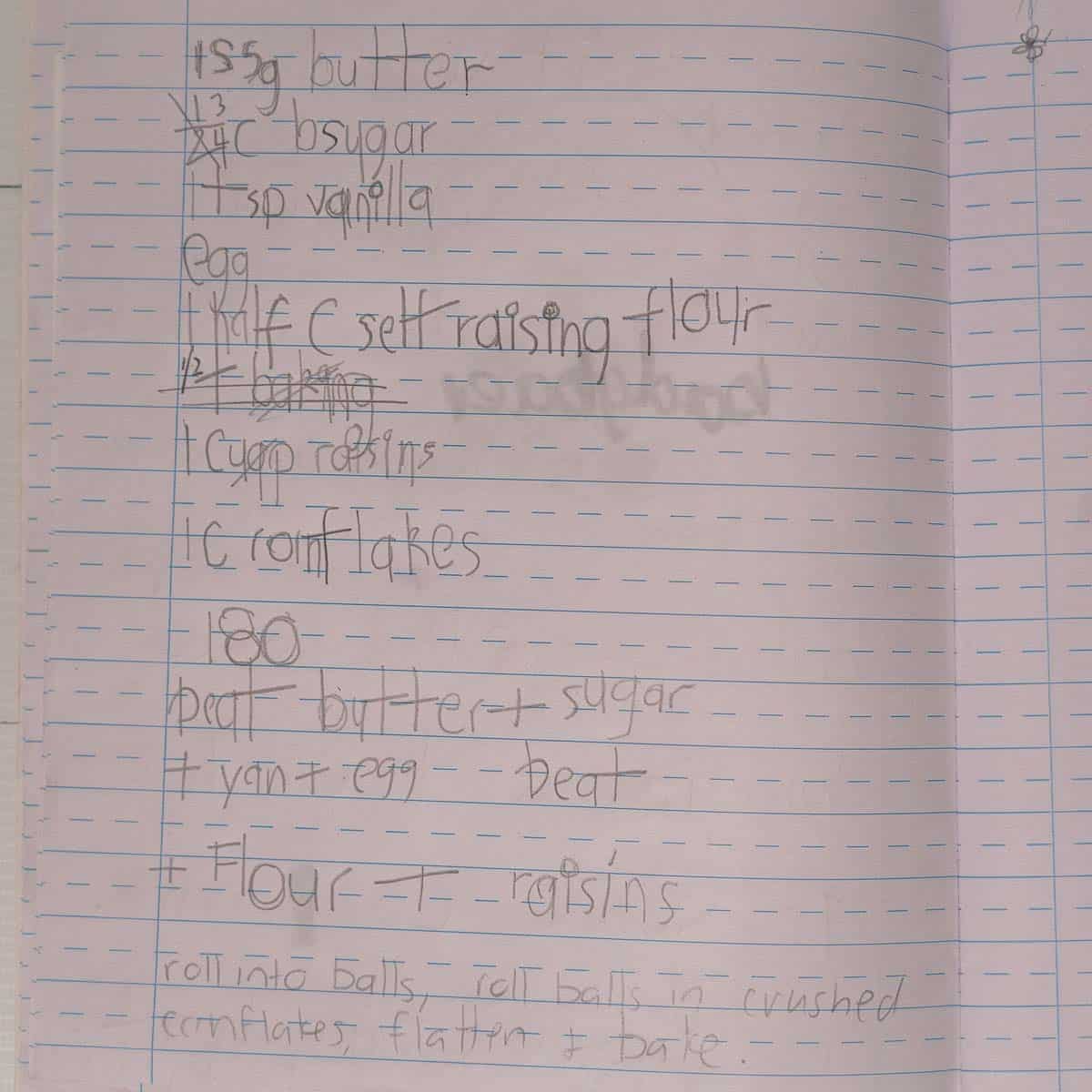 Interestingly enough, how my mum told us to make the recipe is different to how I remember the cornflake cookies of my youth. I was sure the cornflakes went all the way through the cookie dough, but she assures me the cornflakes were just like a crumb on the outside. So there you go, my memory is obviously failing me!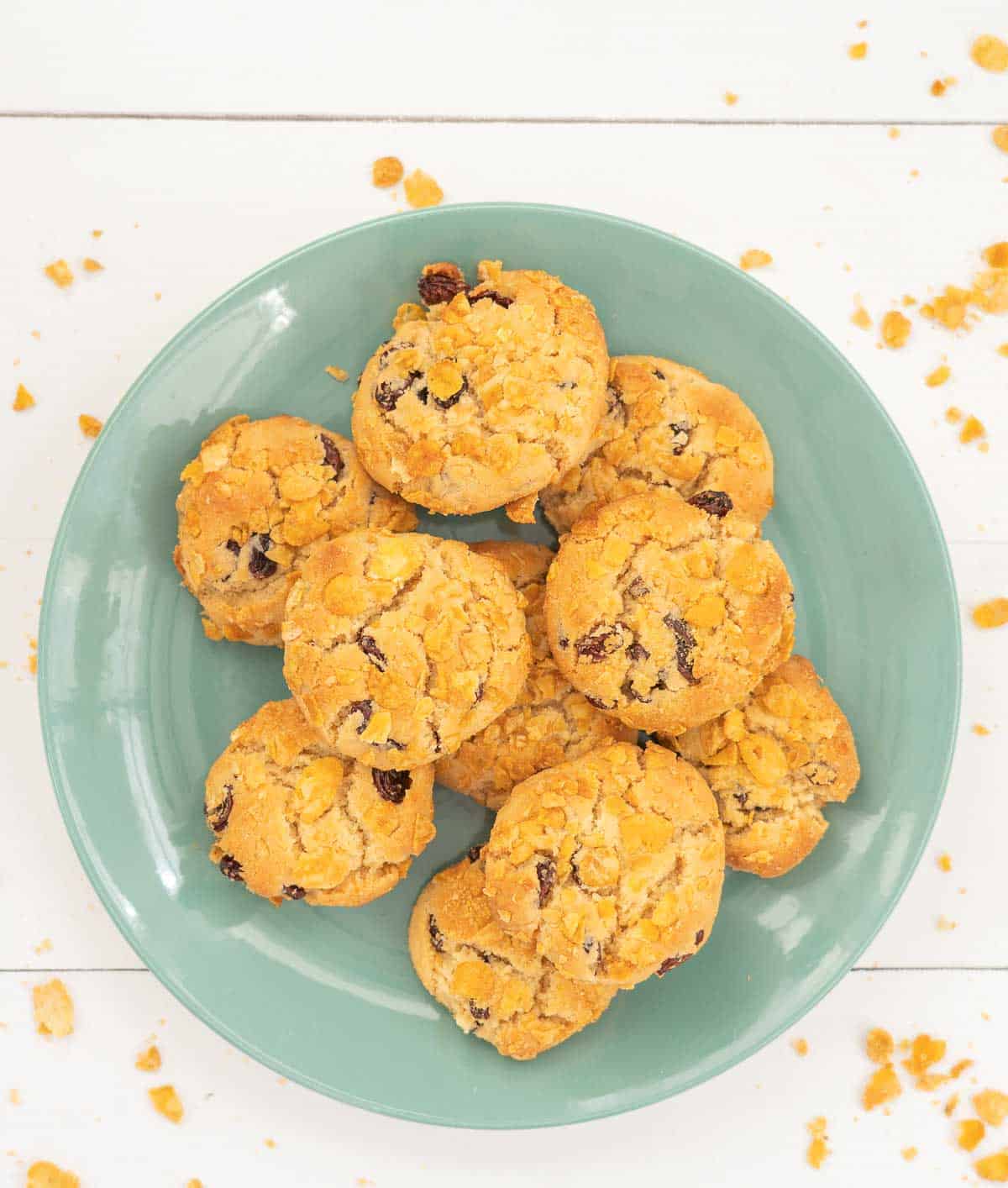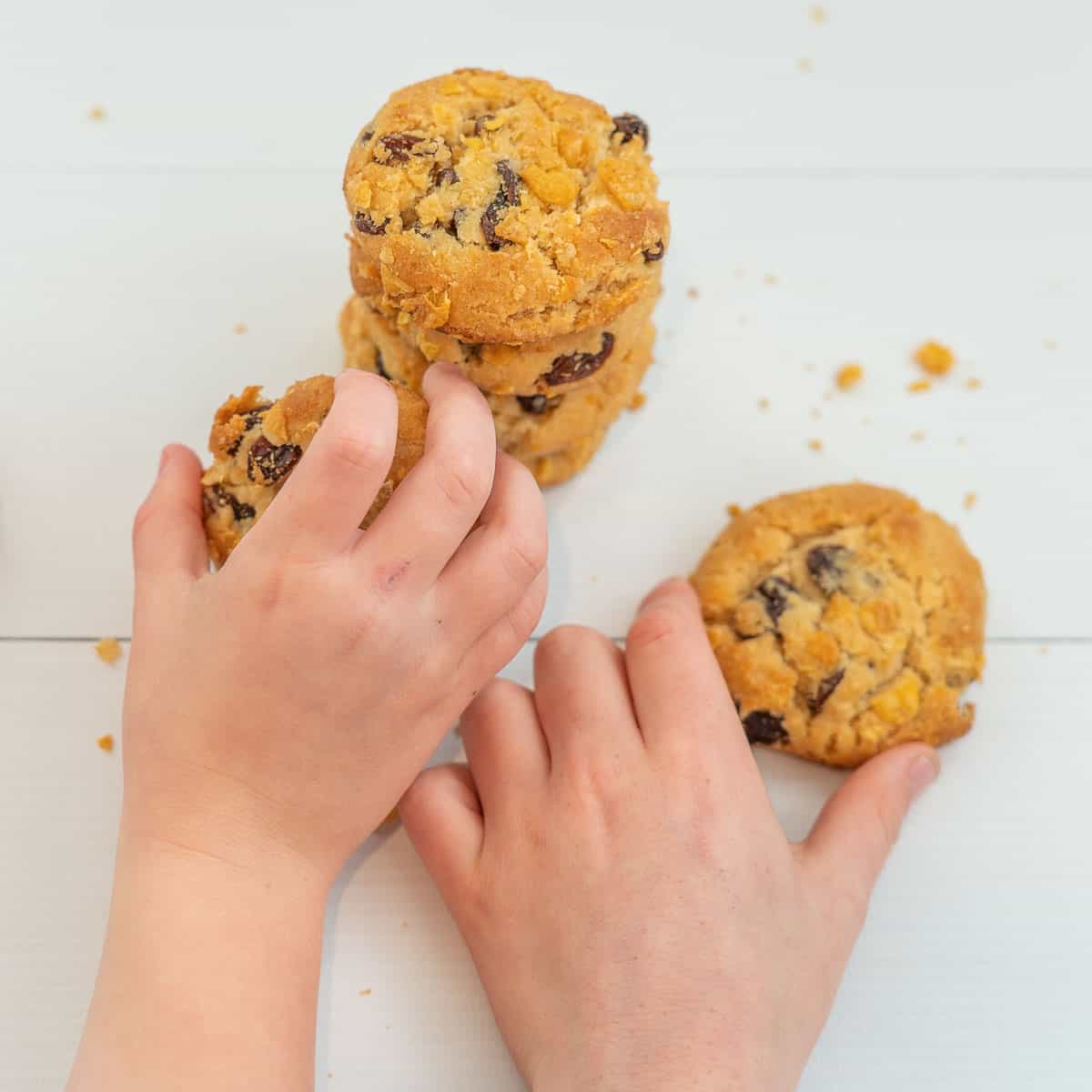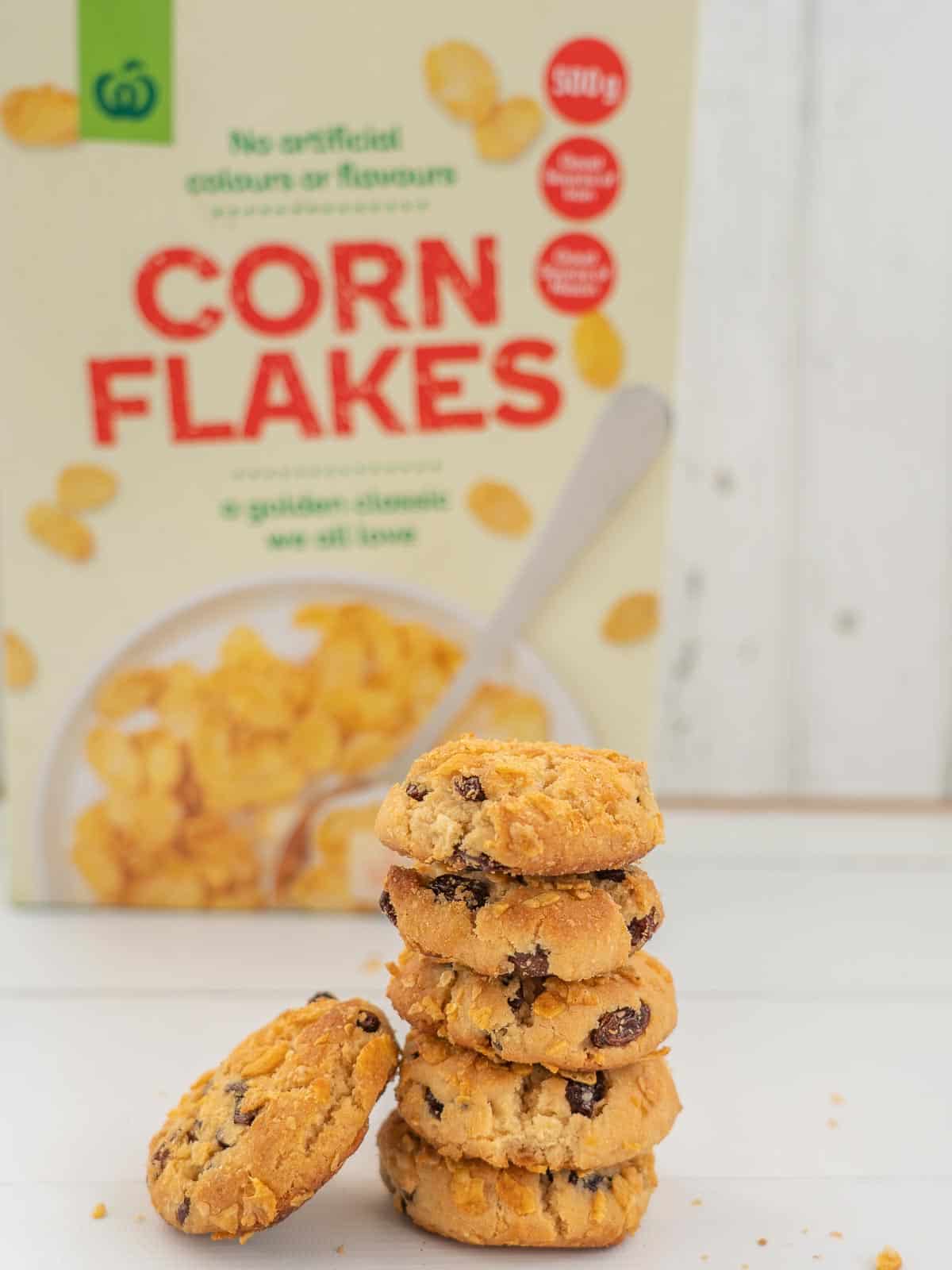 I am an ambassador for Countdown supermarkets, they provided me with the ingredients to create this cookie recipe, including the cornflakes!
If you are looking for other cookie recipes, I have a tonne of them on my website you can find them all here. If you are after healthier cookies then I have 15 recipes for lower sugar cookies, or if you are looking to create another childhood cookie memory with your kids then you cannot beat these old school condensed milk chocolate chip cookies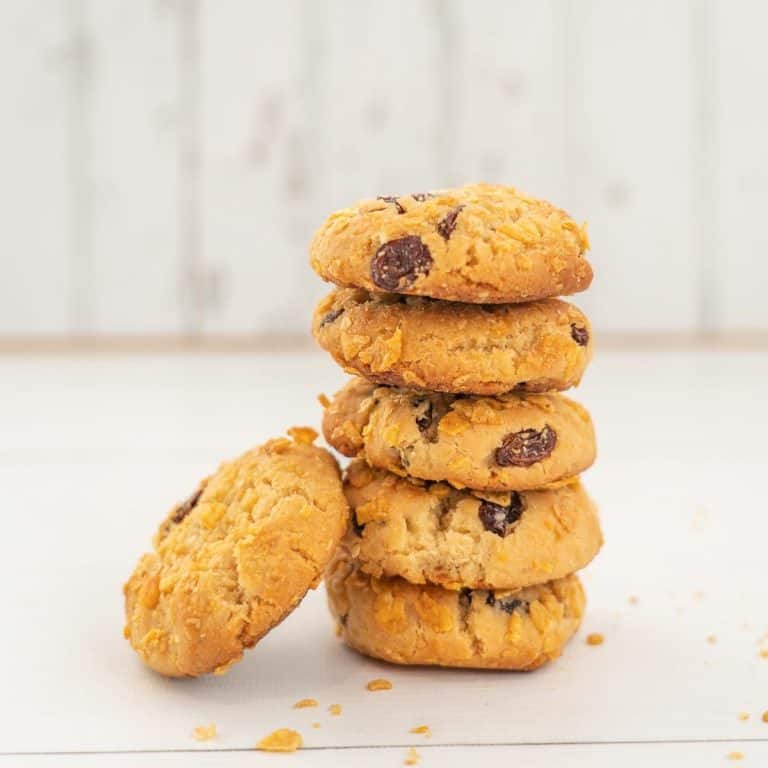 Cornflake Cookies
This cornflake cookie recipe is the recipe for the cornflake biscuits I grew up with as a 1980's child
Ingredients
125g butter (salted)
¾ Cup brown sugar
1 egg
1 ½ self-raising flour
1 Cup raisins
1 Cup cornflakes
Instructions
preheat the oven to 180 degrees Celsius
Ensure the butter is softened / at room temperature, beat butter,and sugar together until as white as possible
Add egg and vanilla, beat until well combined
Add flour, I then beat the dough with my head held electric beater on low, but, you can beat it with a wooden spoon if you prefer
Once it has come together as a dough, stir through the raisins
In a medium bowl roughly crush the cornflakes
Take large spoonfuls of the cookie dough and roll into a ball, To do this I use a large tablespoon, ie the 20ml Australian tablespoon (kiwi tablespoons are only 15ml)
press the ball into the crushed cornflakes, you want to flatten the ball when doing this into a cookie shape
Place onto a lined baking tray
Do this until you have used all the dough, I usually get 20 cookies
Bake for 12-15 minutes, the cookies are usually still soft at this point, they firm up when they cool
Enjoy!
Notes
You can totally swap the raisins for chocolate chips or leave them out altogether
You could sub the egg for 3 tablespoon of condensed milk
You can always make cornflake cookies out of any cookie dough you like, my condensed milk chocolate chip cookies would be yum with a cornflake crumb