Condensed milk choc chip cookies were part of my childhood, I have such fond memories of the smells of making them, and baking them.
If you are from New Zealand you possibly have fond memories of the condensed milk choc chip cookie recipe in the Edmonds recipe too (santé biscuits), I know that is the recipe my mum made for us.
Santé Biscuits
This is my version of the Santé biscuits from the Edmonds recipe book. As always I have tinkered a little to maybe improve the nutritional profile.
For me, in this recipe, it is the substitution of some of the white flour for oats. It makes me feel like the energy they provide maybe a little more sustaining. But honestly who am I kidding, this is not one of my typical Low Sugar recipes, this recipe is totally a treat recipe.
A recipe I just love making with my kids because sometimes a bit of butter and sugar makes the world go round!
I've also used brown sugar instead of white. But note this is for no health reason what so ever!! I just like the flavour and the texture that it gives.
If you are looking for a low sugar cookie recipe, then do not fear I have a lot of those! Chickpea Chocolate Chip Cookies, Orange Choc Chip Oat Cookies, Apple Oat & Raisin Cookies and my Fruit Sweetened Cookies. Oh and you can't go past Anzac Cookies for a super easy recipe that kids can make themselves.
If you want a more traditional chocolate chip cookie then this is the no-fail condensed milk cookie recipe for you!
Up until now, I have really only shared the healthy recipes I make for my family, the lower sugar recipes, the recipes that boost fruit and vegetable intake. That type of recipe will always be the main stay of my blog.
But, every so often I will share recipes that I love making for and with my family. Recipes that are not for any health reason, but recipes that are laden with fun food memories for my family, and maybe for yours.
Egg Free Chocolate Chip Cookies
Condensed milk cookies actually originated during times of egg shortage.
The condensed milk was actually an egg replacer! So if you don't have condensed milk in the cupboard but you do have an egg, then just substitute the egg for the condensed milk.
Condensed Milk Cookie Flavouring Ideas
Like I say I grew up with chocolate chip condensed milk cookies, but these condensed milk cookies can be flavoured with all manner of things.
Raisins: Substitute the chocolate chips for raisins for a delicious raisin oat cookie
Dates: Substitute the chocolate chips for chopped dates
Peanuts: Substitute the chocolate chips for peanuts, and you will end up with a yummy peanut whitey cookie, if you add a tablespoon of cocoa you will end up with a peanut brownie
Nuts: Any roughly chopped nuts (almonds, walnuts, pecans etc) all work well
Just go for plain, skip the add-ins and just leave it as a plain vanilla oaty cookie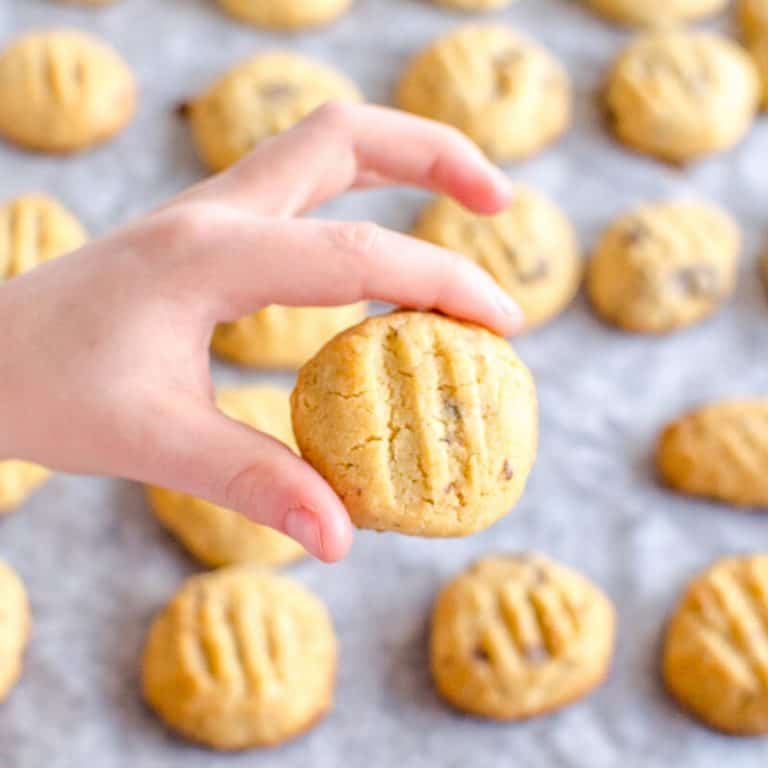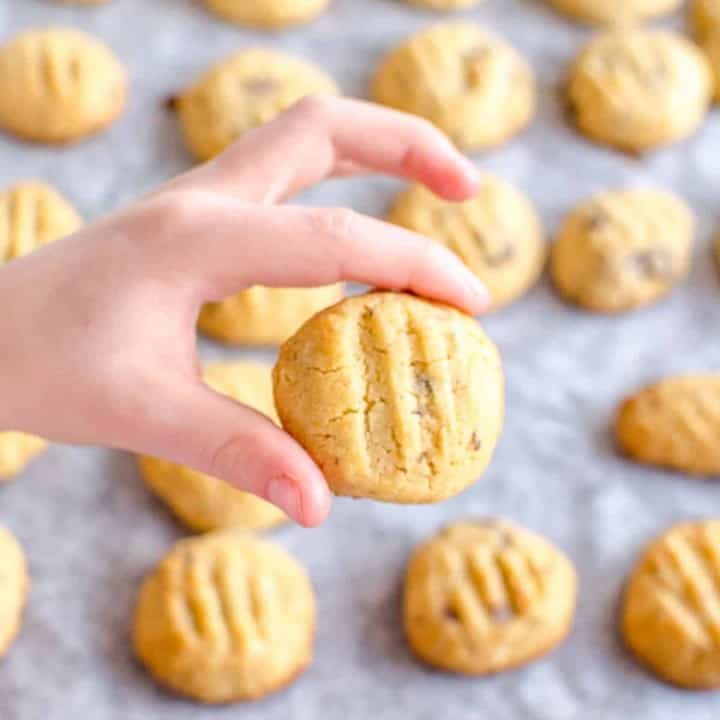 Condensed milk choc chip cookies
These condensed milk chocolate chip cookies are my take on a favourite Edmunds cookbook recipe from my childhood.
Ingredients
125g butter softened
1/4 cup soft brown sugar
3 Tbsp sweetened condensed milk
1/2 tsp vanilla essence
1 cup plain flour
1/2 cup rolled oats
1 tsp baking powder
1/2 cup roughly chopped dark chocolate
Instructions
In a small/medium bowl place the butter, sugar, condensed milk and vanilla
Cream until light and fluffy
Add the flour, baking powder, and oats (I don't sift but I do attempt to sprinkle the baking powder into the mixture relatively evenly)
Mix, I use a wooden spoon for this stage rather than my cake mixer or electric beater
Add the chocolate, and mix until it is relatively evenly distributed
Take teaspoon fulls and roll into balls (you should end up with approximately 25 balls, depending on how many are gobbled up during the process)
Place the balls on a baking paper lined baking tray
Take a fork and gently press each ball (kids love this task)
Bake at 180 degrees Celsius, which is approximately 360 Fahrenheit, for 15 - 20 minutes
Cool
Eat
Nutrition Information:
Yield:

25
Serving Size:

1
Amount Per Serving:
Calories:

100
Total Fat:

6g
Saturated Fat:

4g
Trans Fat:

0g
Unsaturated Fat:

2g
Cholesterol:

12mg
Sodium:

56mg
Carbohydrates:

11g
Fiber:

1g
Sugar:

5g
Protein:

1g
Please know this nutrition analysis is based on the ingredients only, this recipe has not been sent to a laboratory for independent testing