Condensed Milk Slice - The 5 Cup Recipe
THIS POST MAY CONTAIN AFFILIATE LINKS.
This condensed milk slice recipe is one of the easiest recipes around. I call it the 5 Cup recipe.
All you need is 5 cups of 'stuff" and a tin of sweetened condensed milk, and voila you have the makings for a delicious slice...
Or if you prefer you have the makings of super-easy condensed milk cookies. Yes this recipe does either, slice or cookies, take your pick!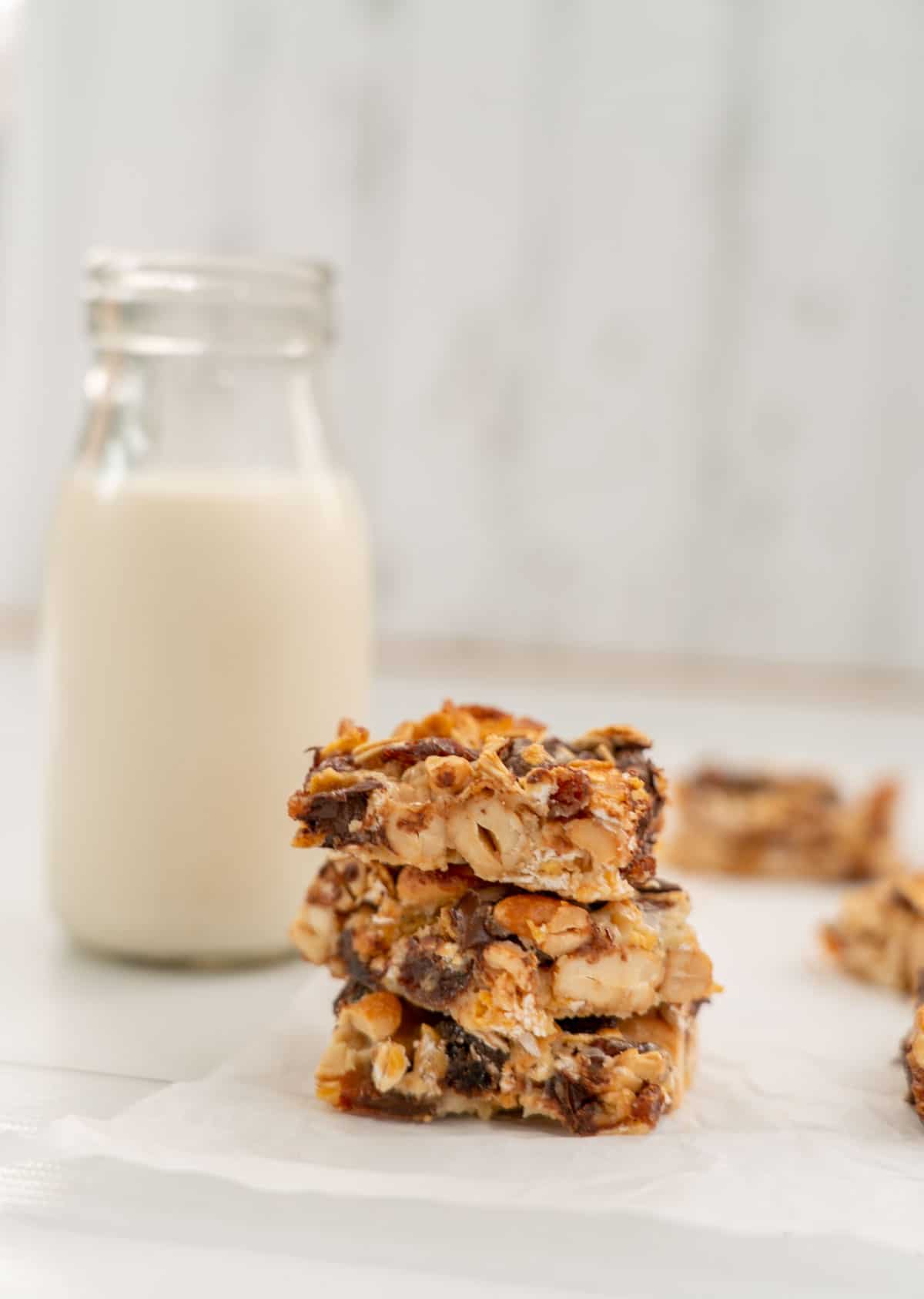 Sweetened Condensed Milk Slice - 5 Cup Method
For this recipe, you need 5 cups of 'stuff'. This recipe is very flexible, it's about combining textures so you can substitute many things
1 Cup Crunchy Cereal: Rice bubbles, puffed rice, cornflakes, toasted muesli

1 Cup Chewy Texture: Rolled Oats, Quinoa Flakes, Desiccated Coconut, ground almond

1 Cup Dried fruit: Raisins, sultanas, chopped dates, chopped dried apricots

1 Cup Nuts or seeds: Cashews, Almonds, Peanuts, sunflower seeds, macadamia nuts, pumpkin seeds

1 Cup Choc chips: Can be subbed for an extra cup of one of the above
You can also mix and match the 5 cups, it ½ a cup of raisins with ½ a cup of dried cranberries to make up to 1 cup like I said it is very easy and you canusually make up the 5 cups with whatever you have in the cupboard
Once you have your 5 cups sorted, it is then just a case of stirring throw a tin of sweetened condensed milk. Could this condensed milk slice mix be any easier!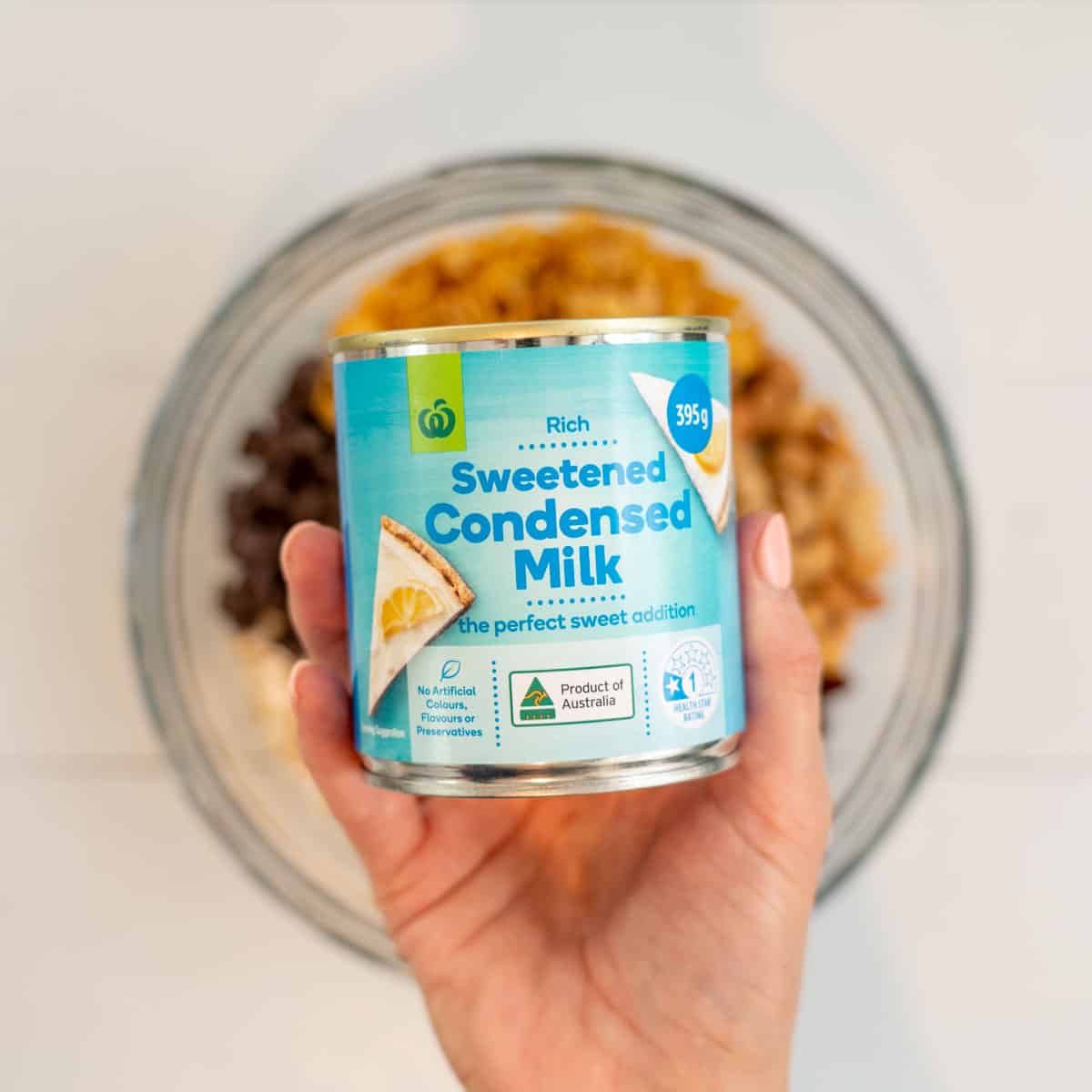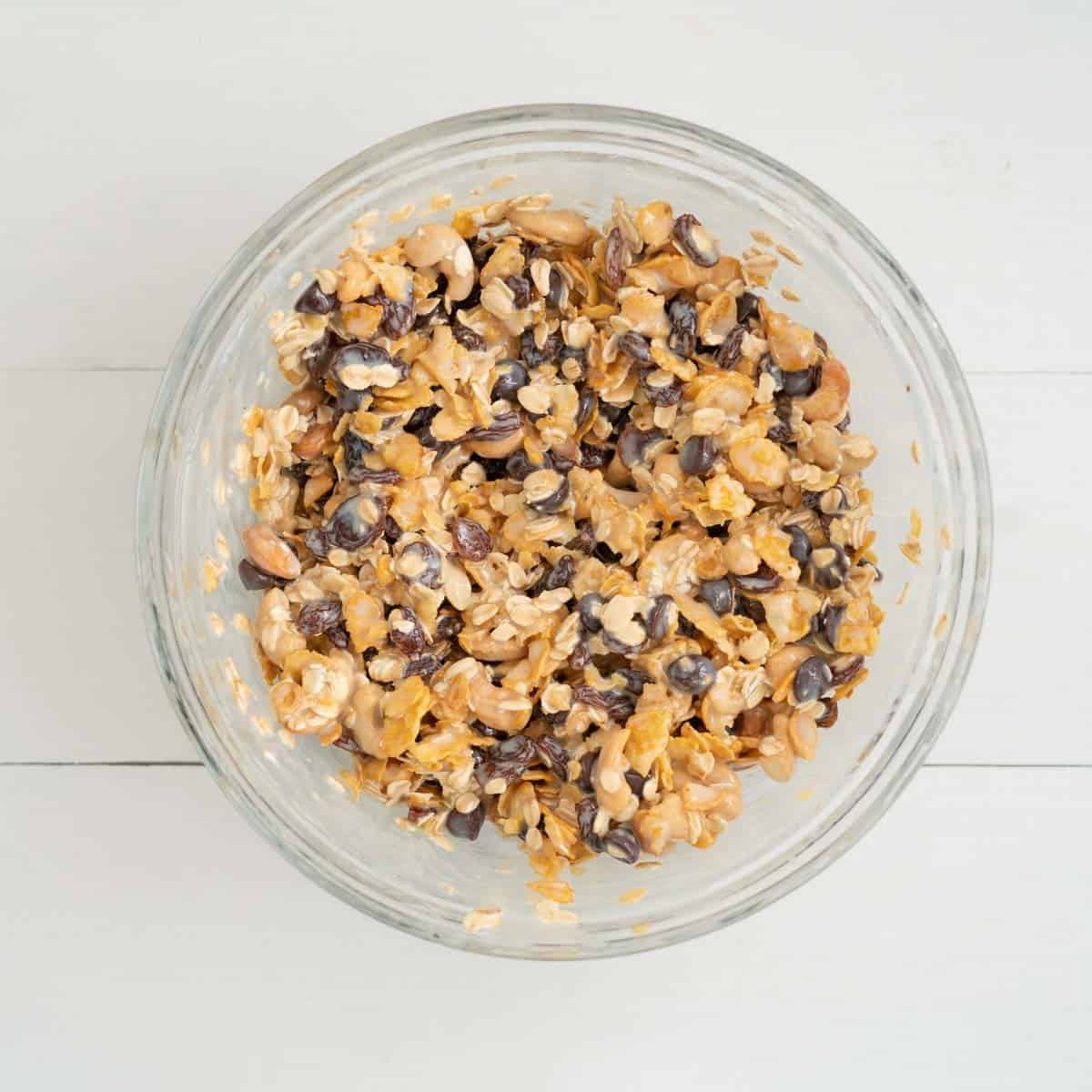 What's your fancy? Condensed Milk Biscuits Or Slice
You have one more decision to make, you can either make this mix into quick-cook drop cookies or a slice. If you choose to make cookies do know they won't be perfect round cookies, they will be lumpy bumpy miss-matched cookies but they still taste good.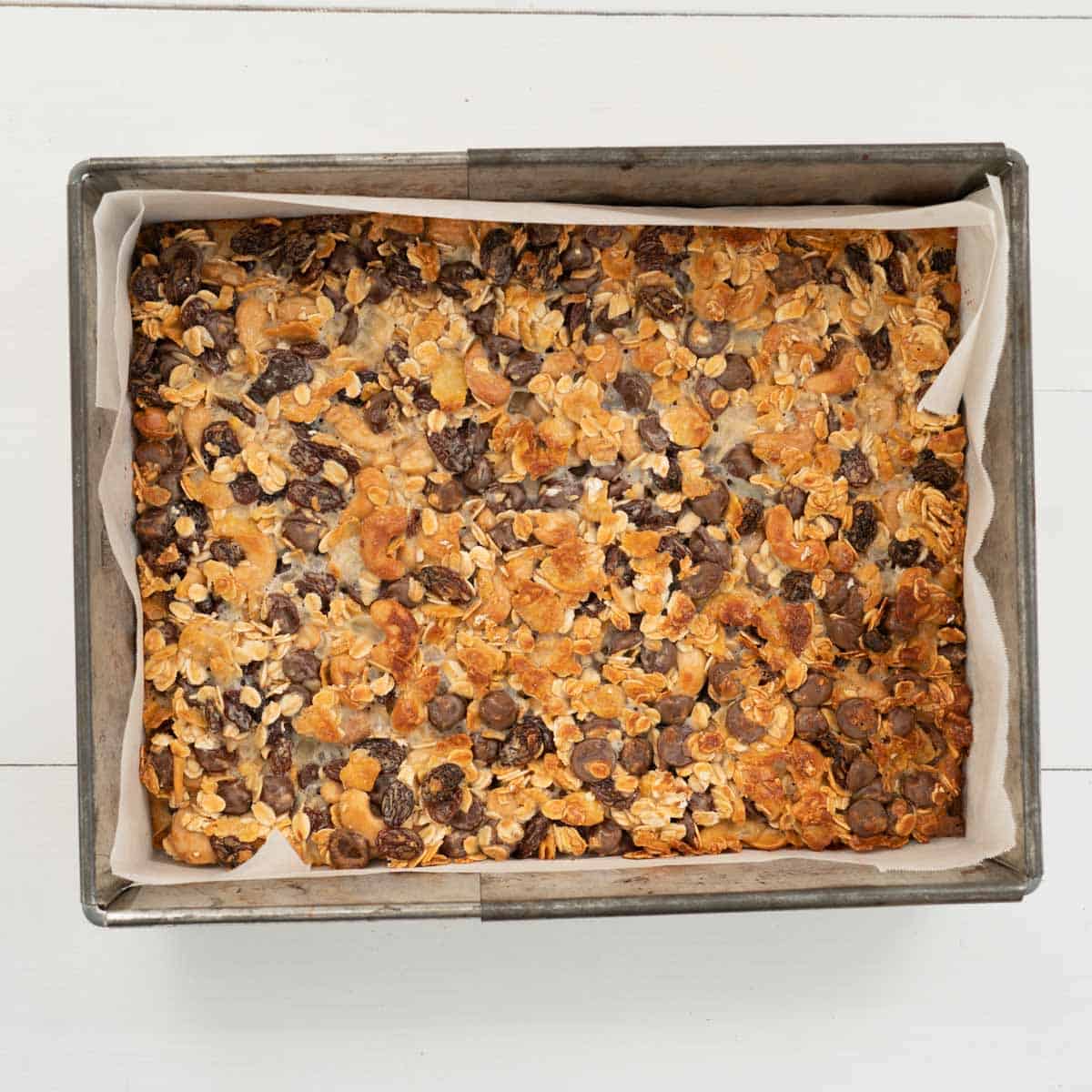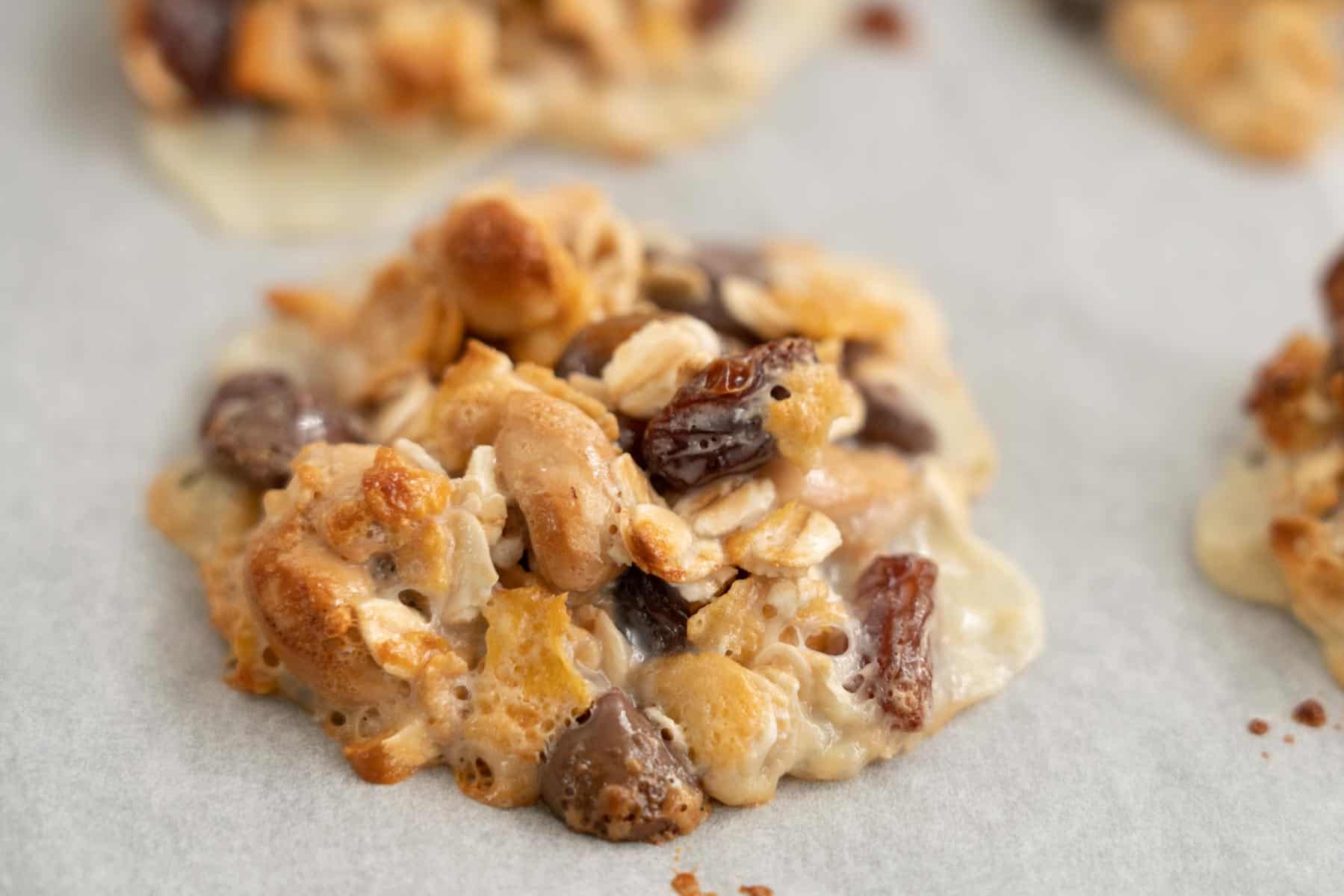 An alternative to lactation cookies
I have a specific lactation cookie recipe on my website, but when I am breastfeeding this recipe is of my go tos, it is so easy and you can include som many great milk boosting ingredients in it. You can also through in a few spoonfuls of brewers yeast, the sweetened condensed milk completely covers its bitter taste.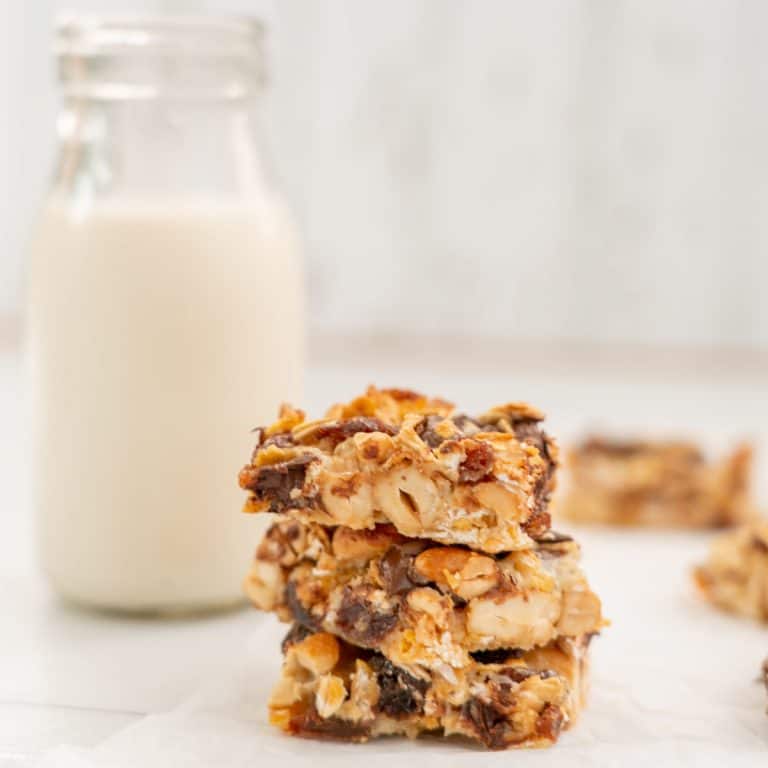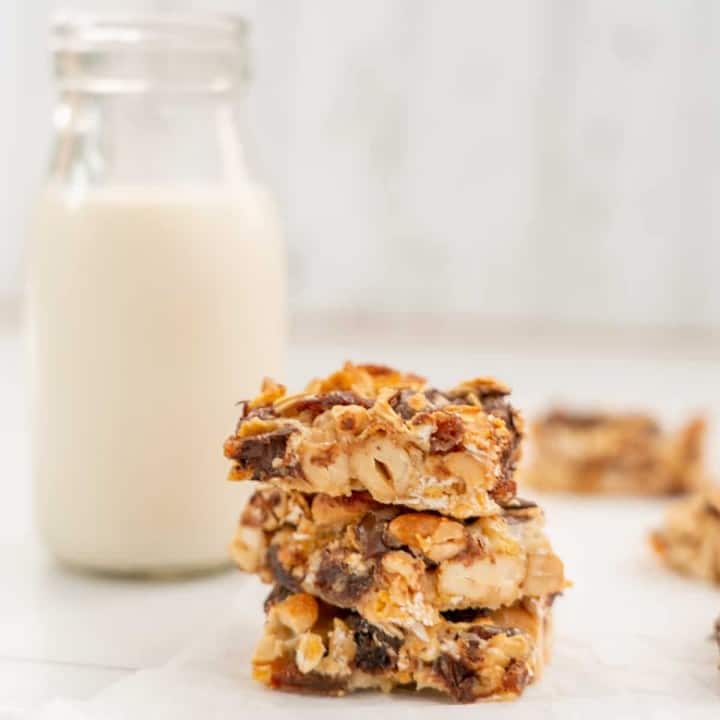 Condensed Milk Slice
A Ridiculously easy slice recipe! You need a tin of sweetened condensed milk and then the rest of the ingredients are so flexible, you can make it as either a slice or cookies
Ingredients
1 cup crunchy cereal
1 cup oats or chewy texture cereal
1 cup dried fruit
1 cup nuts or seeds
1 cup choc chips
395g tin condensed milk
Optional 1-2 tablespoon flour
Instructions
Heat the oven to 180 degrees C
Place the 5 cups of dry ingredients in a large bowl
The flour is completely optional, depending on the mix of ingredients you have chosen a little flour can help to bind things, if you have all lumpy ingredients with nothing small that mixes through, but if you have coconut, ground almond etc in the mix you don't tend to need the flour
Pour in the tin of condensed milk, stir so that everything is covered in the condensed milk
Decide if you are going to make cookies or a slice
Cookies
If you are making cookies,and you have a little flour to hand I would recommend adding a little to the mix
Drop spoonfuls onto a lined baking tray or cookie sheet
Bake for 5-8 minutes, you want them to be golden and a little bubbly, they will still be soft
Cool on the tray for 5-10 minutes
Slide baking paper off the tray and onto a cooling rack, cool completely
Store in an airtight container, in the fridge if it's really hot and humid
Slice
Line a slice tin or cake tin with baking paper
Press the mix into the tin so that it is even
Bake for 15 -20 minutes until golden
Cool in tin completely
Slice into pieces and then store in an airtight container, in the fridge if it's hot
Notes
This recipe is very flexible, it's about combining textures so you can substitute many things
Crunchy Cereal: Rice bubbles, puffed rice, cornflakes, toasted muesli
Chewy Textrure: Rolled Oats, Quinoa Flakes, Desiccated Coconut
Dried fruit: Raisins, sultanas, chopped dates, chopped dried apricots
Nuts or seeds: Cashews, Almonds, Peanuts, sunflower seeds, macadamia nuts, pumpkin seeds
Choc chips: Can be subbed for an extra cup of one of the above

If you are using light condensed milk you may need to add 1-2 tablespoon of flour to the mix
Both the cookies and slice will be soft when they come out of the oven but will harden as they cool
For the recipe to harden properly they need to bubble a little during the baking process
Nutrition Information:
Yield:

24
Serving Size:

1
Amount Per Serving:
Calories:

141
Total Fat:

6g
Saturated Fat:

2g
Trans Fat:

0g
Unsaturated Fat:

4g
Cholesterol:

6mg
Sodium:

62mg
Carbohydrates:

21g
Fiber:

2g
Sugar:

13g
Protein:

4g
Please know this nutrition analysis is based on the ingredients only, this recipe has not been sent to a laboratory for independent testing