Hello, today I'm sharing a quick and easy egg yolk custard recipe. What makes it a baby custard rather than a regular old custard? Well it's the fact that it is a sugar-free!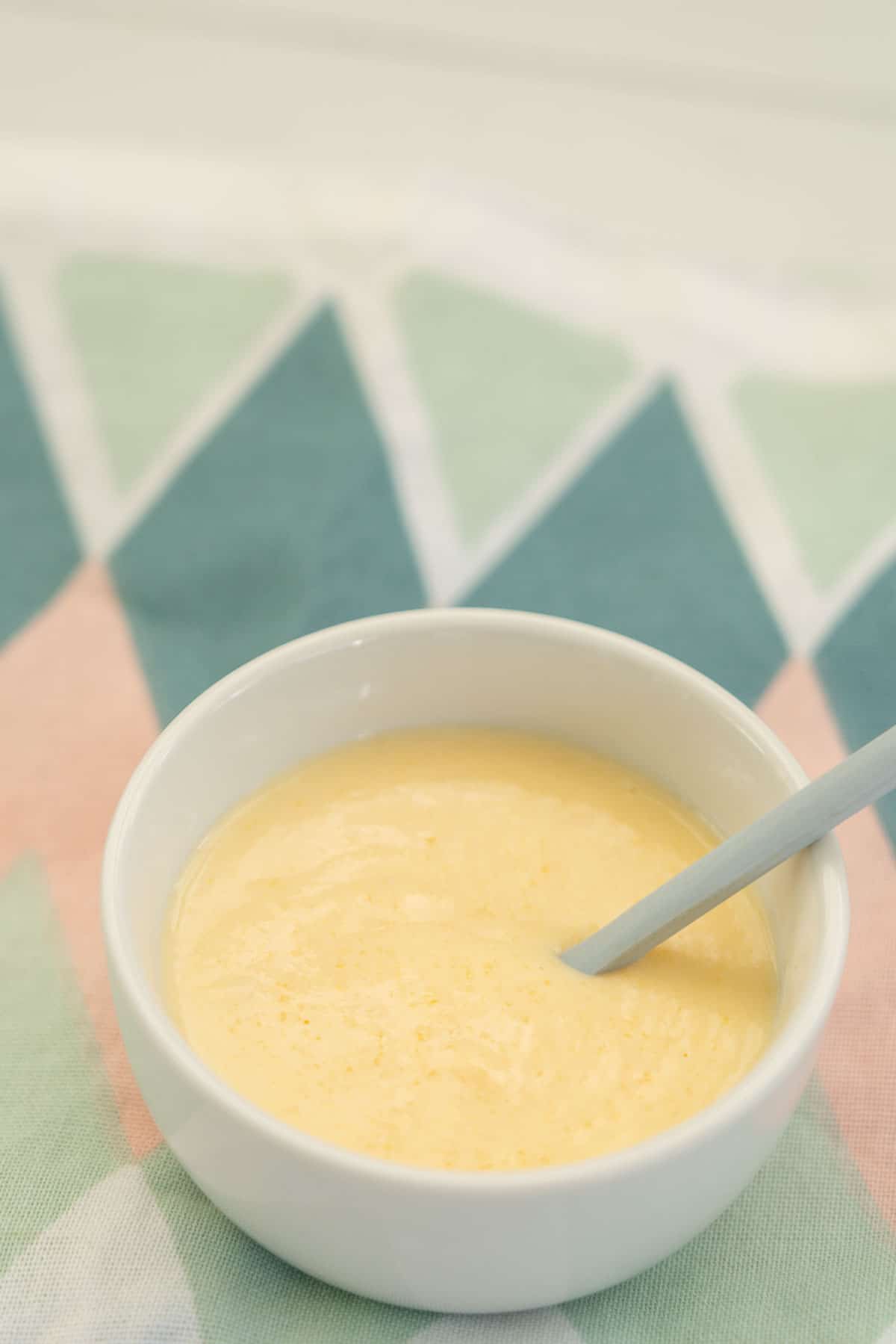 When can a baby have custard?
Ok, so to answer this question, "how many months old does a baby need to be to be able to have custard" we need to just cover off a couple of things. The first is at what age can a baby start solids.
If your baby is less than 17 weeks (less than 4 months) then the guidance from the professional bodies around the world would be that your baby is too young to start solids.
If your baby is between 17 and 26 weeks ie between 4-6 months old, and meets the physical requirements to begin solids then the advice may vary depending on your own country's weaning guidelines.
If your baby is over 6 months then the guidelines would say its ok to start solids
I have summarised a lot of the guidelines and research from around the world in my article "what is the best age to introduce solids" but it is always best to chat with your health care professional about your baby.
The next thing to cover off is when is it safe for babies to have the 2 main ingredients in custard, egg and milk. The advice from professional allergy bodies around the world is that we do not need to delay the introduction of common allergen foods such as milk and egg. So if your baby has started solids then this recipe would be one you can use. You can read about this in my article when to introduce the allergy foods or I have specifially written on the topic of eggs for baby.
It is always best to discuss the introduction of allergy foods to your baby with your healthcare professional so that you can get advice specific to your little one.
Custard is made with egg and milk, it is a combination food, if your baby has not already been exposed to both milk and egg, then it is best to try these foods as individual foods in case there is a reaction.
There may be reasons why you might choose to make this baby pudding without dairy or egg, particularly if your child already has a diagnosed cows milk protein allergy or egg allergy
I also want to clear up a little confusion, many people ask why I include cows milk in recipes for babies under 1 year of age. I write about it more in my baby porridge recipe. Essentially, babies shouldn't have cows milk as a beverage under 1 yr of age, this should be breastmilk or infant formula. It is ok for babies to have cows milk in foods, meals and snacks.
Tips to thickening custard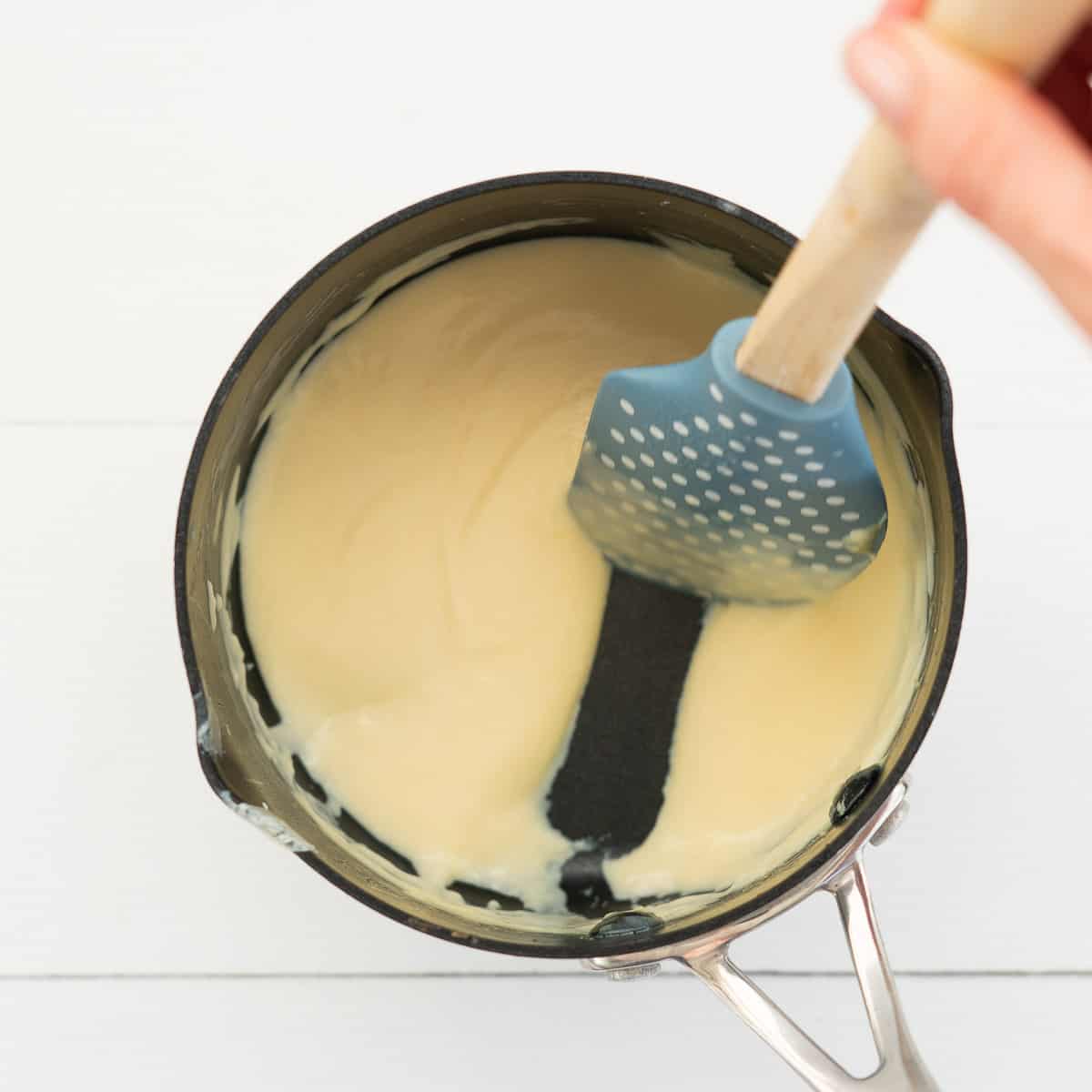 The egg yolk and cornflour are the thickeners.
If you are not using cornflour you will need 2 egg yolks
If you are not using egg you will need 3 tablespoon of cornflour
Heat the milk until just boiling ie scalding hot
When you add the yolk and cornflour make sure you whisk continuously otherwise you can end up with lumps or scrambled eggs
When you return the milk mix to the heat to thicken, make sure the heat is low and you don't reboil the milk, this will make thin custard.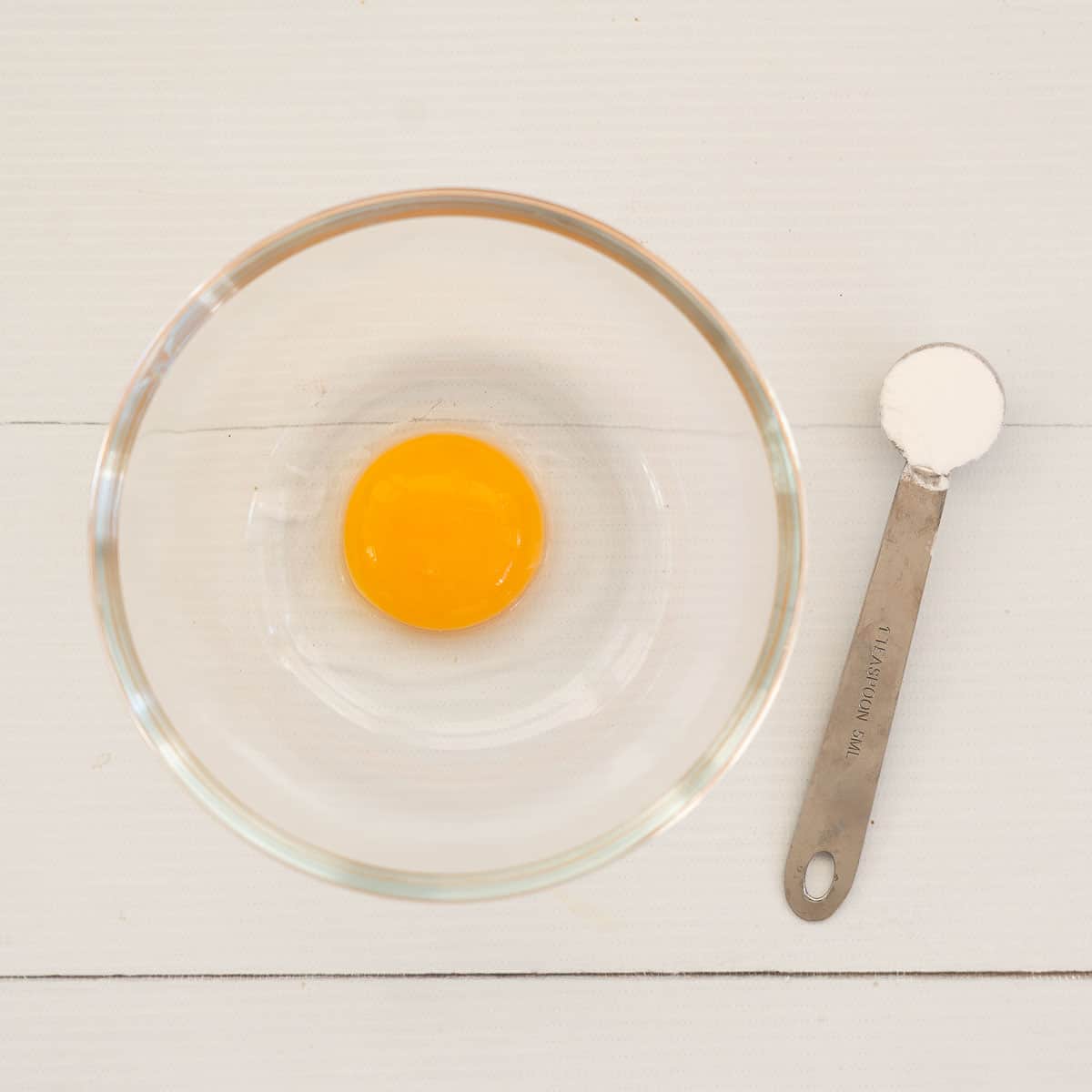 Milk-Free Custard
I've tested this recipe with a few different milk alternatives and it has worked well with soy, rice and almond milk. My suggestion would be adding an extra teaspoon of cornflour to the mix as some of the alternative milks do not thicken quite as easily. So try 2tsp of cornflour instead of 1 teaspoon
I also get asked how to make custard with baby formula or how to make custard with breastmilk. The answer is easy, stick to this same recipe. You can sub milk for infant formula or expressed breastmilk. As with my suggestion of using a little extra cornflour for alternative milk I would do the same with formula and breastmilk. Either add some extra cornflour, or use a little less volume so that there is less to thicken
If you would rather a custard-style recipe that needs no milk alternative, then check out my "magic custard" for babies, which is based on avocado.
How to make custard with out egg
If you are wanting to make a custard without eggs, the easiest thing would be to adapt this recipe so that it becomes a blancmange rather than an egg yolk custard.
Basically to make this custard with our egg, you skip the egg yolk, up the cornflour to 3tsp or 1Tbsp the rest of the recipe will stay the same. This is what as known as a blancmange.
Another alternative for making egg free custard is to make a chia pudding, I have 2 simple chia puddings designed for babies on my site banana chia pudding and apple pie chia pudding.
How to make sugar free custard?
That's easy you just sweeten your custard with something else. For a baby a fruit purée makes sense as a sweetener. I've made banana custard using mashed or puréed banana as the sweetener, peach custard, pear custard and apple custard all have been perfectly sweet for babies.
If you are using a fruit purée to sweeten and egg custard, I find the easiest way is to make a plain custard then stir in the fruit purée at the end once you have taken the custard off the heat.
You can of course sweeten this basic egg custard with other things, honey and maple syrup work well. Please remember though that honey is not recommended for babies under 12 months
You can also of course use regular cane sugar if you choose too. I make homemade custard for my older school aged kids using regular sugar, for a young baby you may not wish to.
If you've landed on this website trying to track down a custard recipe for babies, chances are you have a little one and you might be on the hunt for other homemade baby food recipes. I've got quite a selection on my website covering both purees and finger foods / baby-led weaning
Homemade recipes for babies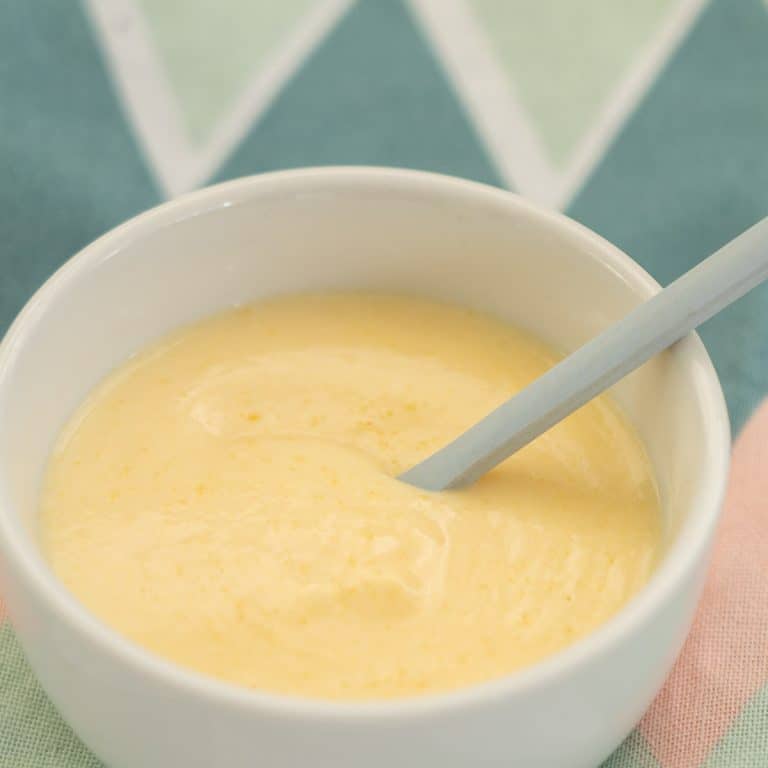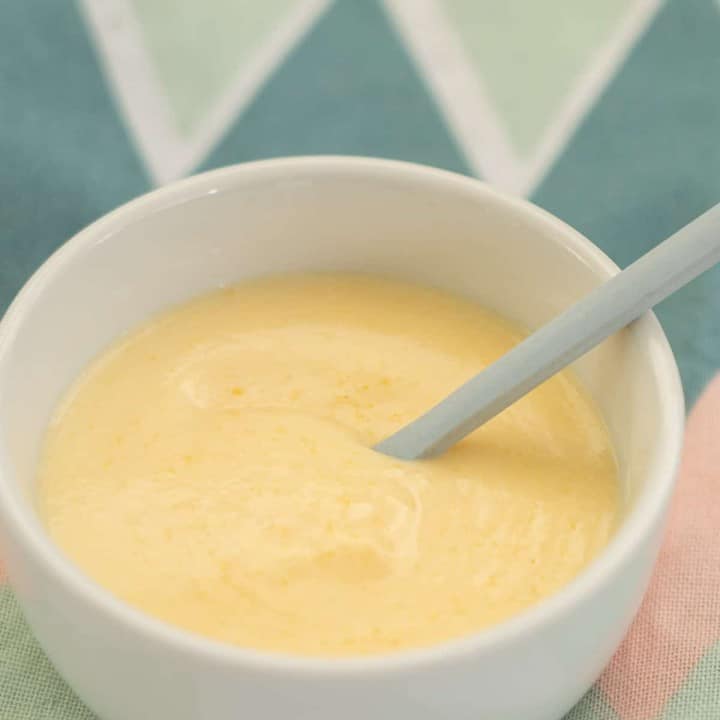 Baby Custard
A simple homemade sugar-free custard recipe perfect for babies
Ingredients
⅔ cup milk (165ml)
1 egg yolk
1 teaspoon cornflour
Instructions
Check the notes below for some of the optional ingredients before you start
Heat the milk in a small saucepan, you want to bring it just to the boil
While the milk is heating whisk the egg yolk and cornflour together to form a paste in a heat proof bowl
Remove the hot milk from the heat and pour this over the egg yolk and cornflour paste, whisking until its well combined
Return the milk to the saucepan and continue to heat over a low heat until the custard thickens, stirring regularly
Stir through a fruit purée to sweeten
Notes
Dairy-Free
If you are making this recipe with a cows milk alternative such as soy milk, rice milk or almond milk consider adding an extra teaspoonful of cornflour as sometimes these milks need a little more thickening power. The same goes if you are using breastmilk or infant formula in this recipe
Without egg
To make a blancmange (ie egg-free custard) sub the egg yolk for 2 teaspoon of cornflour, so you will need 3 teaspoon in total. To make a paste whisk the cornflour with 2 tablespoon of the milk you are using.
How to sweeten the custard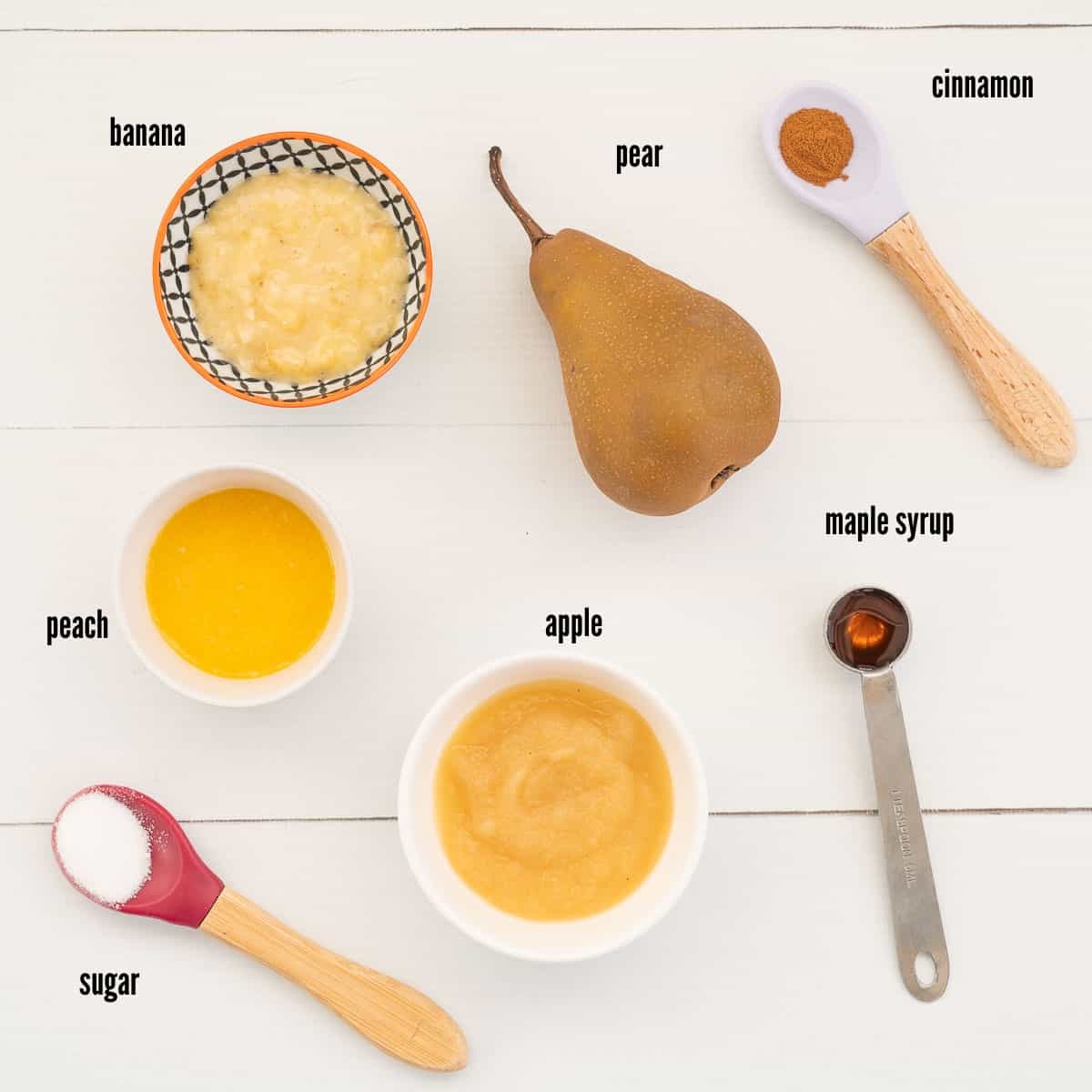 Fruit pureé such as peach, apple, banana, and pear all work well, stir through around ¼ C of fruit purée to the custard once thickened
You can use maple syrup or honey to sweeten the custard, stir a little though once the custard is thickened. (don't use honey in babies under 1 yr)
You can also use regular sugar 1-2 tsps add this when you are making the cornflour and egg yolk paste

Vanilla and Cinnamon
You can use these to flavour the custard, of you are going to, add it to the milk before you begin heating it as the heat will help infuse the milk with the flavour.
Nutrition Information:
Yield:

2
Serving Size:

1
Amount Per Serving:
Calories:

69
Total Fat:

4g
Saturated Fat:

2g
Trans Fat:

0g
Unsaturated Fat:

2g
Cholesterol:

99mg
Sodium:

47mg
Carbohydrates:

4g
Fiber:

0g
Sugar:

0g
Protein:

4g
Please know this nutrition analysis is based on the ingredients only, this recipe has not been sent to a laboratory for independent testing