THIS POST MAY CONTAIN AFFILIATE LINKS.
I am a huge fan of avocado as a baby food, HUGE fan!
Why, well they are nutritionally dense, they contain vitamins, minerals, healthy fats and fibre all of which are great for babies, and, drum roll, please...
Avocados require absolutely no cooking to be a suitable baby food texture!
Add in the fact that I live in a part of the World (Bay of Plenty NZ) where avocados thrive. In fact, my in-laws have large avocado trees growing on their property.
This means Avocado has been one of the first foods for all of my 4 kiddos when they started their baby food journeys.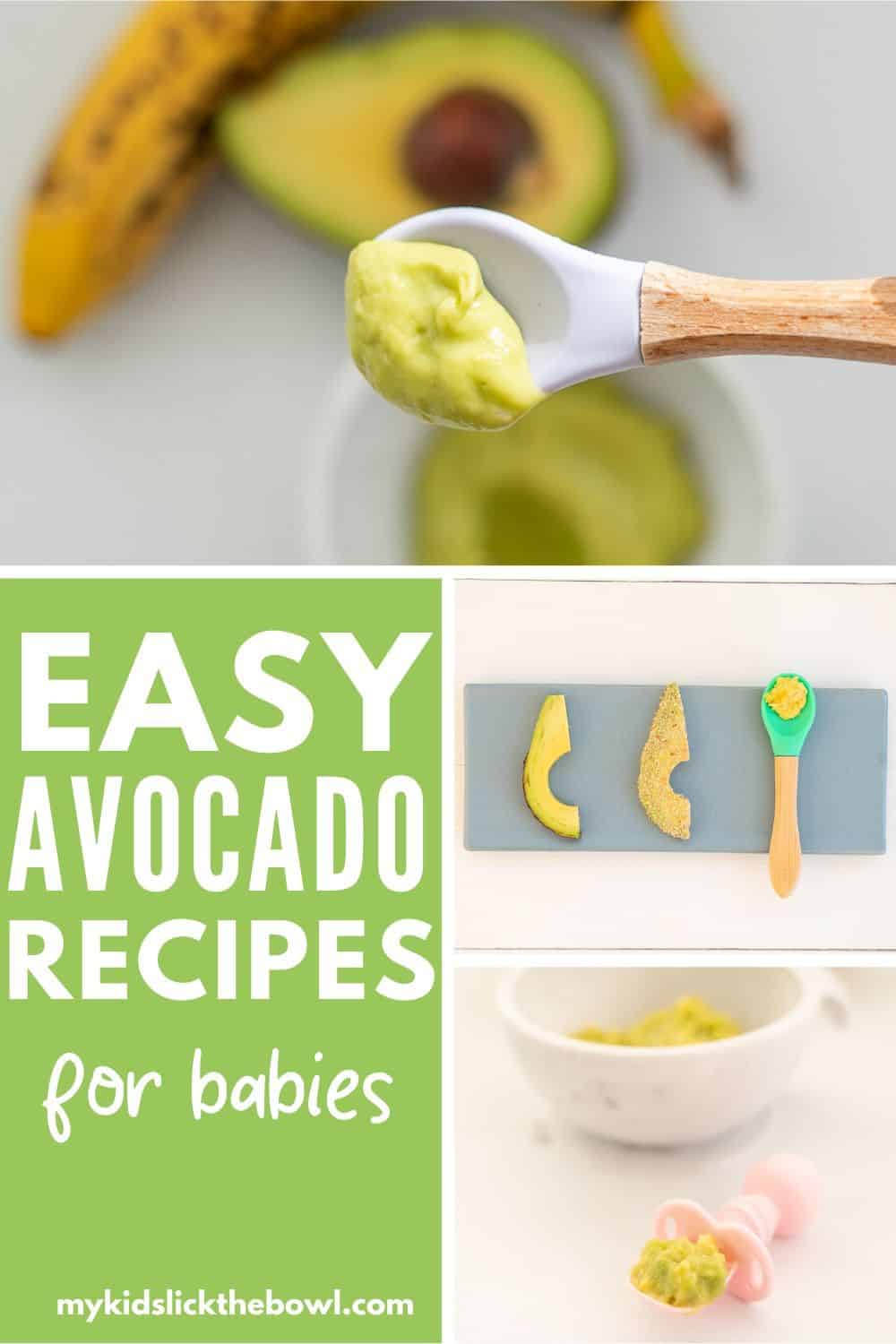 Avocado Baby Custard
In my house this quick avocado baby food recipe has 2 names. "Whizz Custard" or "Magic Custard".
Whizz custard, because literally all you need to do is whizz 2 ingredients together and you end up with a smooth healthy no added sugar baby custard.
Magic custard, because for some reason that is a name that resonated with my kids.
Maybe it's because of the cool kind of mystical green colour.. I don't know, but once they started using words it became "magic custard" or "magic pudding" and it was something that would be requested after meals as a wee sweet treat.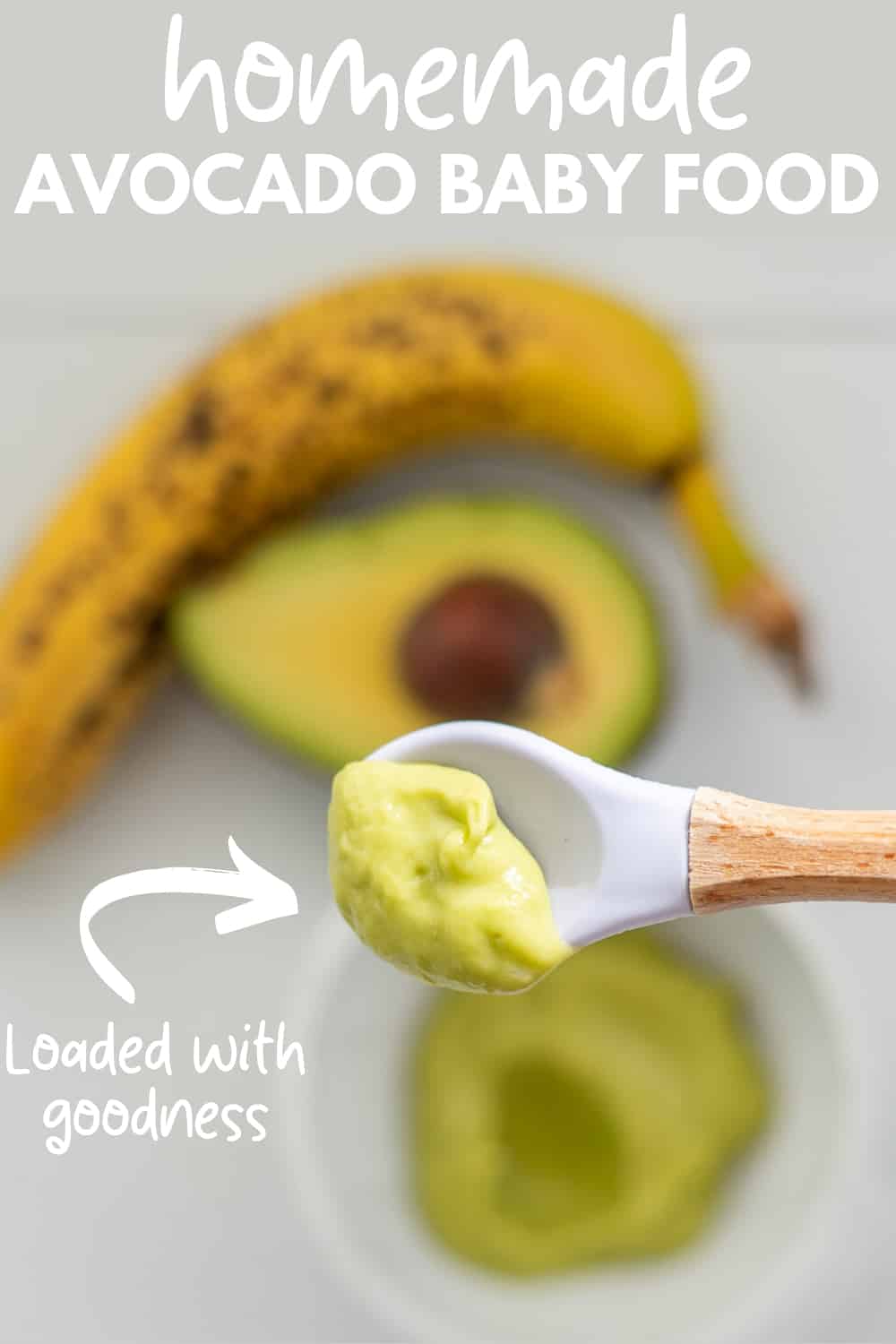 What age can babies have avocado
If your baby is starting solids and is over four months of age then they can have avocado baby food.
If you are wondering if your baby is ready to start solids I have written an article summarising the current age guidelines "Solids when is the right time to start"
If you are introducing solids to your baby using a traditional spoon-feeding method, then make sure over time you increase the texture of the foods you are offering
My avocado baby food recipe is beautifully smooth if whizzed in a food processor, blender or if a handheld stick blender is used, if you wish the avocado banana purée to be even smoother you can add a little water, milk (breastmilk, formula, cows milk or a dairy-free milk are all ok to be used when preparing baby food)
There is often a little bit of confusion around when it is ok to introduce cow's milk to a baby, I write about it here If you are interested in when it is ok to introduce the other allergy foods to your baby, it is all summarised here .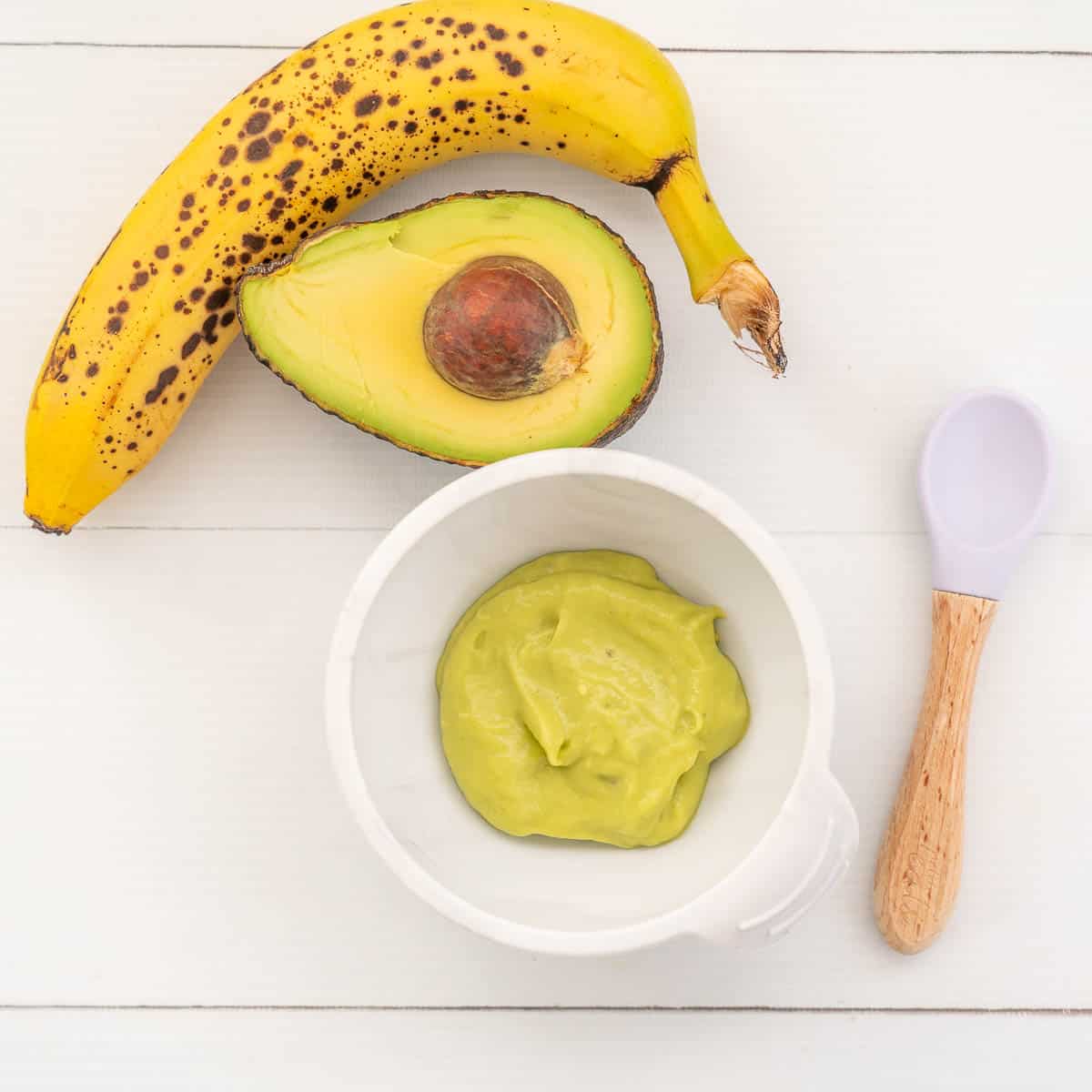 When your baby is ready to progress in texture you can also just offer the banana and avocado mix mashed with a fork, it still tastes delicious.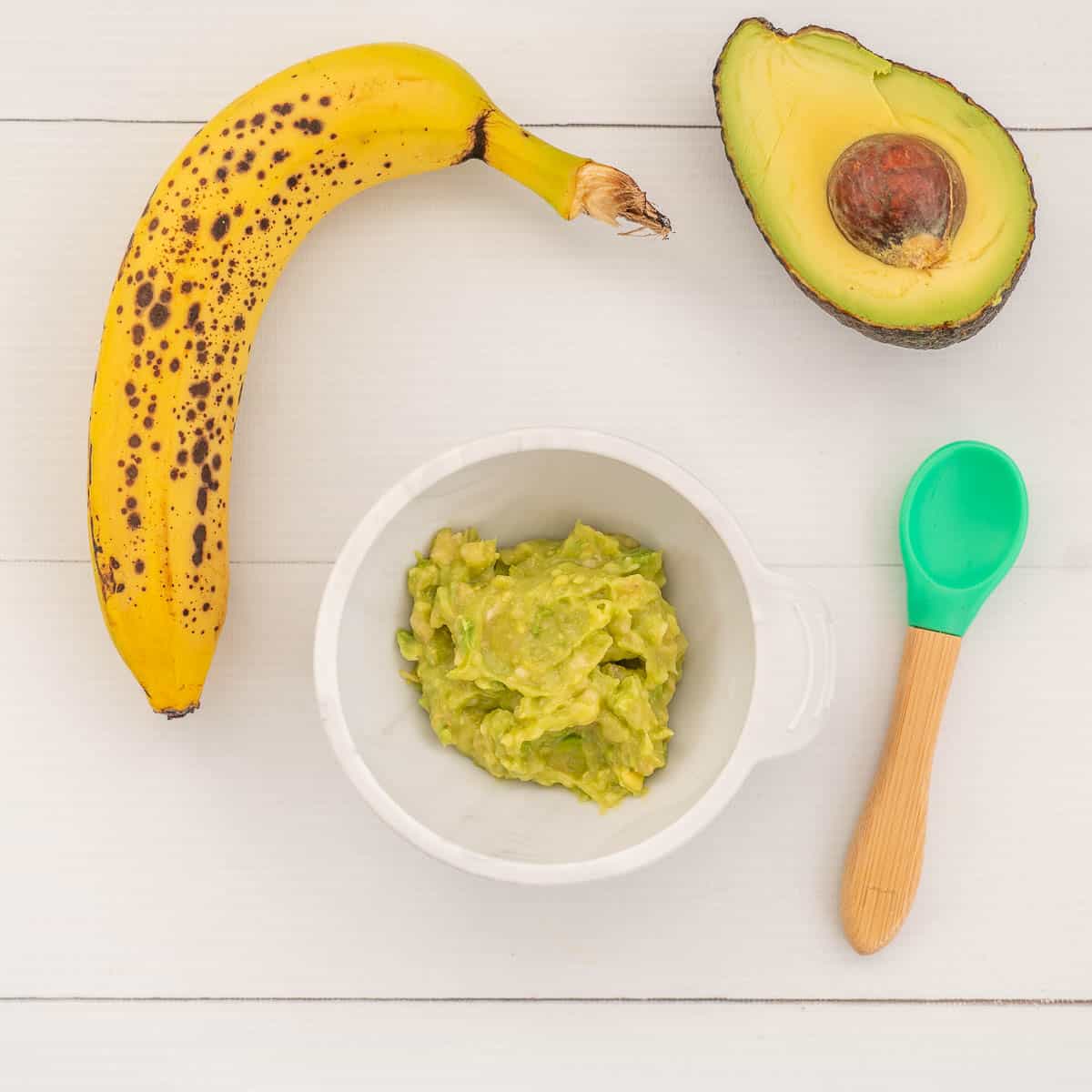 Baby-Led Weaning Avocado
So I have sung the virtues of avocado as a first food for babies. There is only one negative when it comes to avocado and baby-led weaning... avocado is so gosh darn slippery, making quite difficult for a little one to hold.
I have a couple of tips in this regard. First off, just because you are baby-led weaning, it does not mean you can't serve mushy textured foods.
You can, and you should. If you are baby-led weaning you shouldn't feel like you can't offer spoon textured foods, you still can. Just preload a baby spoon with the purée textured foods and let them self feed with a preloaded spoon.
If you are going to offer pre-loaded spoons, look for a spoon with a short handle, this is usually easy for a baby to manipulate into their mouths. That means you can totally use this avocado baby food recipe for baby-led weaning too.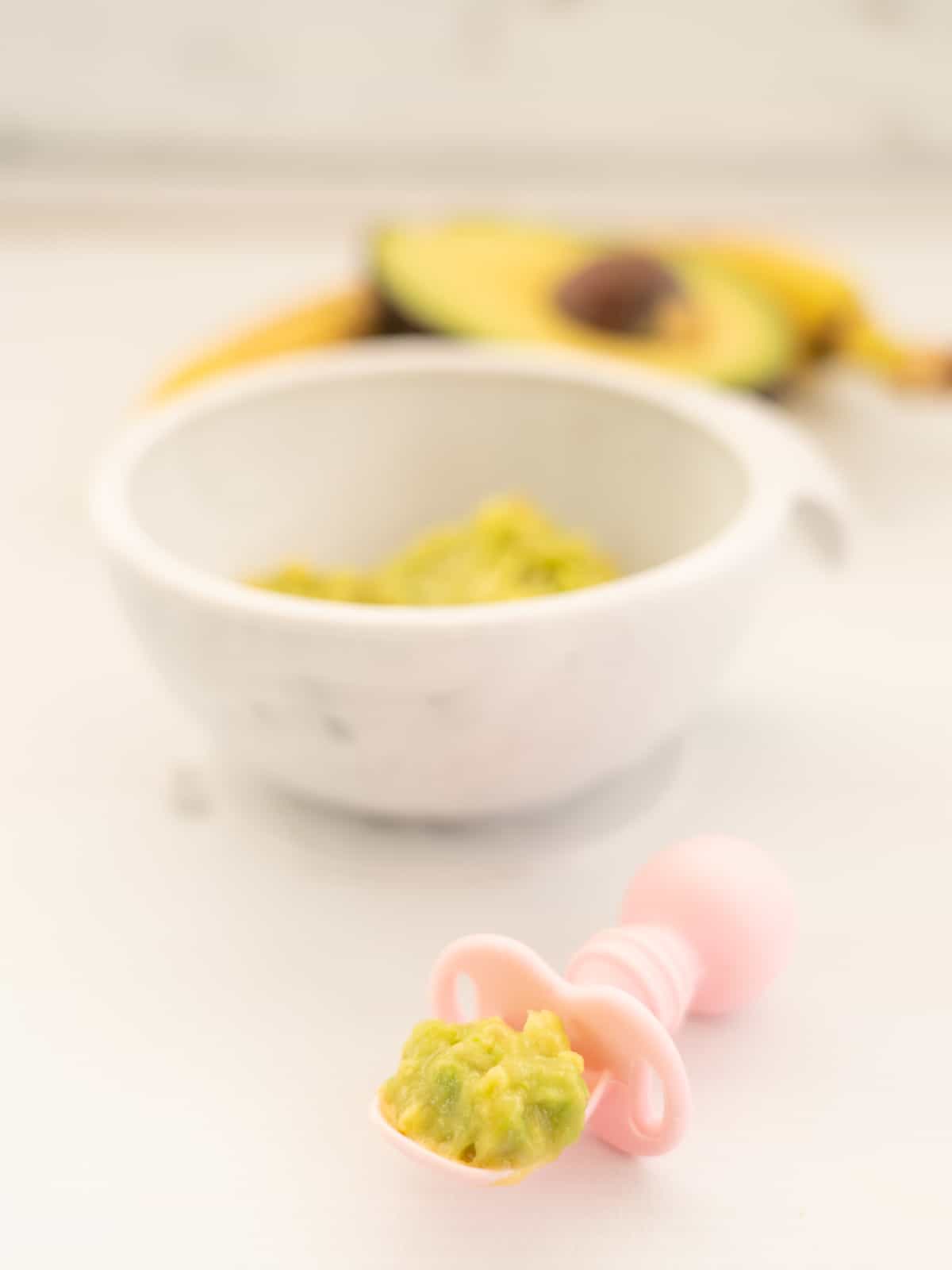 You can also serve avocado as a finger food. One way to reduce the slipperiness is to serve avocado slices with some of the skin still in place. This makes it easier to hold.
Use avocado as a topping on toast, this is a great way for babies to have avocado as a finger food.
Another option is to coat the avocado with something to make it less slippery.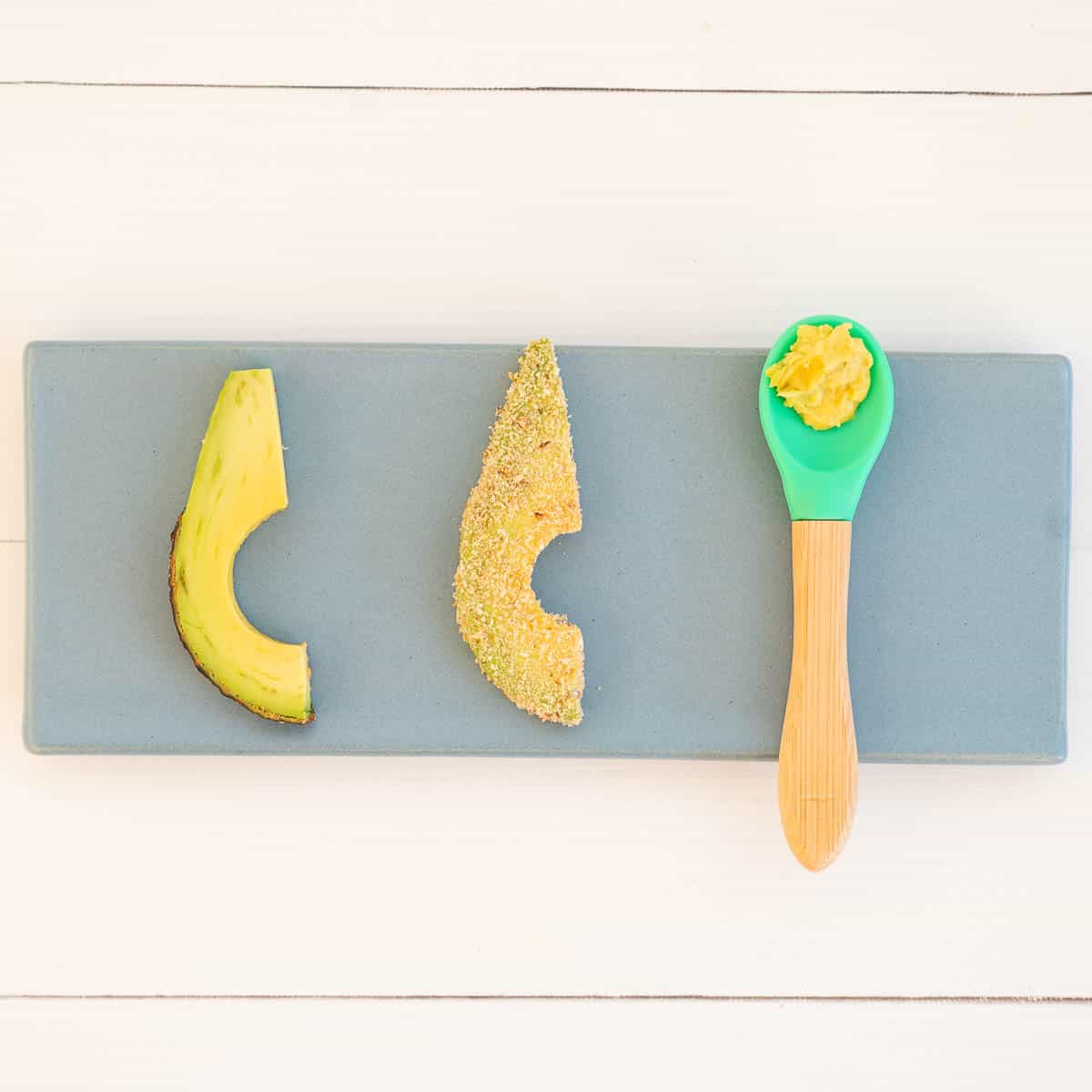 Quick Coatings for Baby Led Weaning Avocado
I've used all of these coatings to make baby avocado slices more baby-led weaning friendly
Bread crumbs
Ground almond or almond meal
Desiccated Coconut
Hemp seeds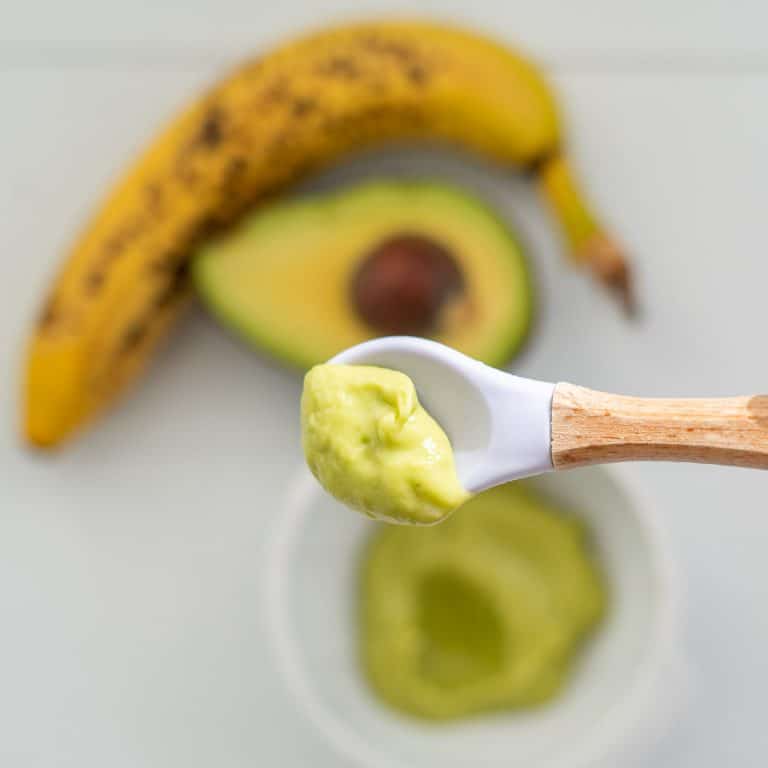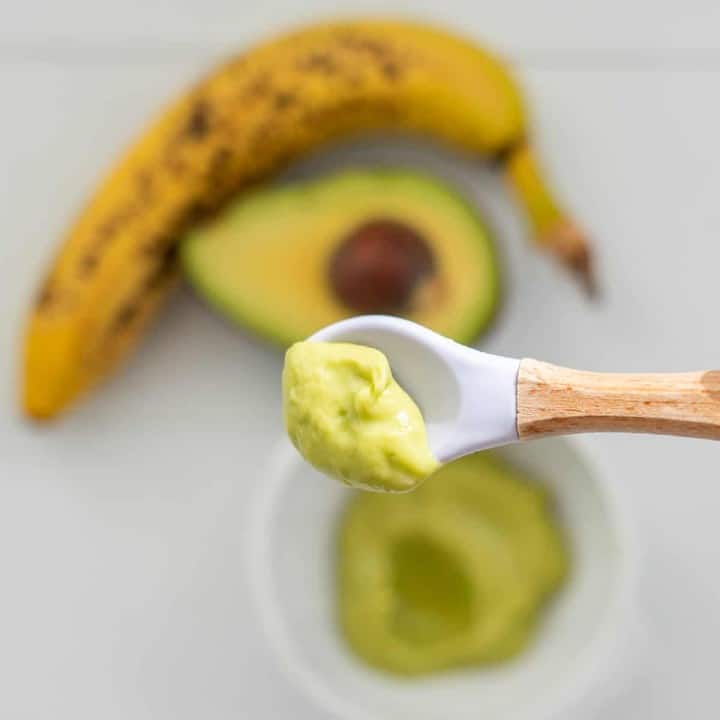 Avocado Baby Custard Recipe
A super quick, nutritious avocado baby food recipe, this avocado and banana purée is a no-cook homemade baby food.
Instructions
Smooth Avocado Baby Food Purée
Use a food processor, blender or stick blender to blitz the banana and avocado until smooth
If you would like a thinner purée you can add a little extra liquid. See my suggestions above (breastmilk, milk, formula, water)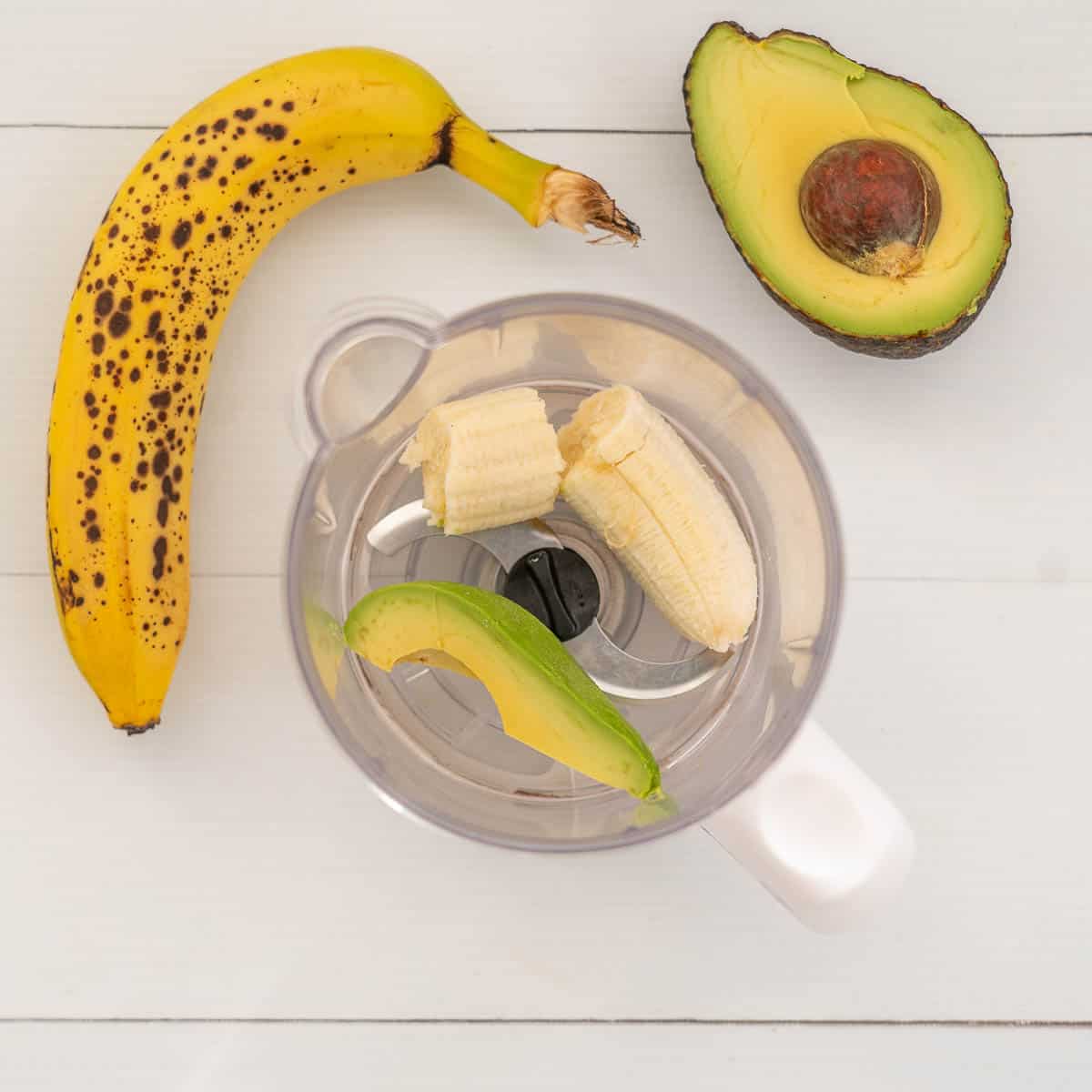 Mashed Avocado Baby Food
Mash the banana and avocado with a fork, to achieve a soft mashed texture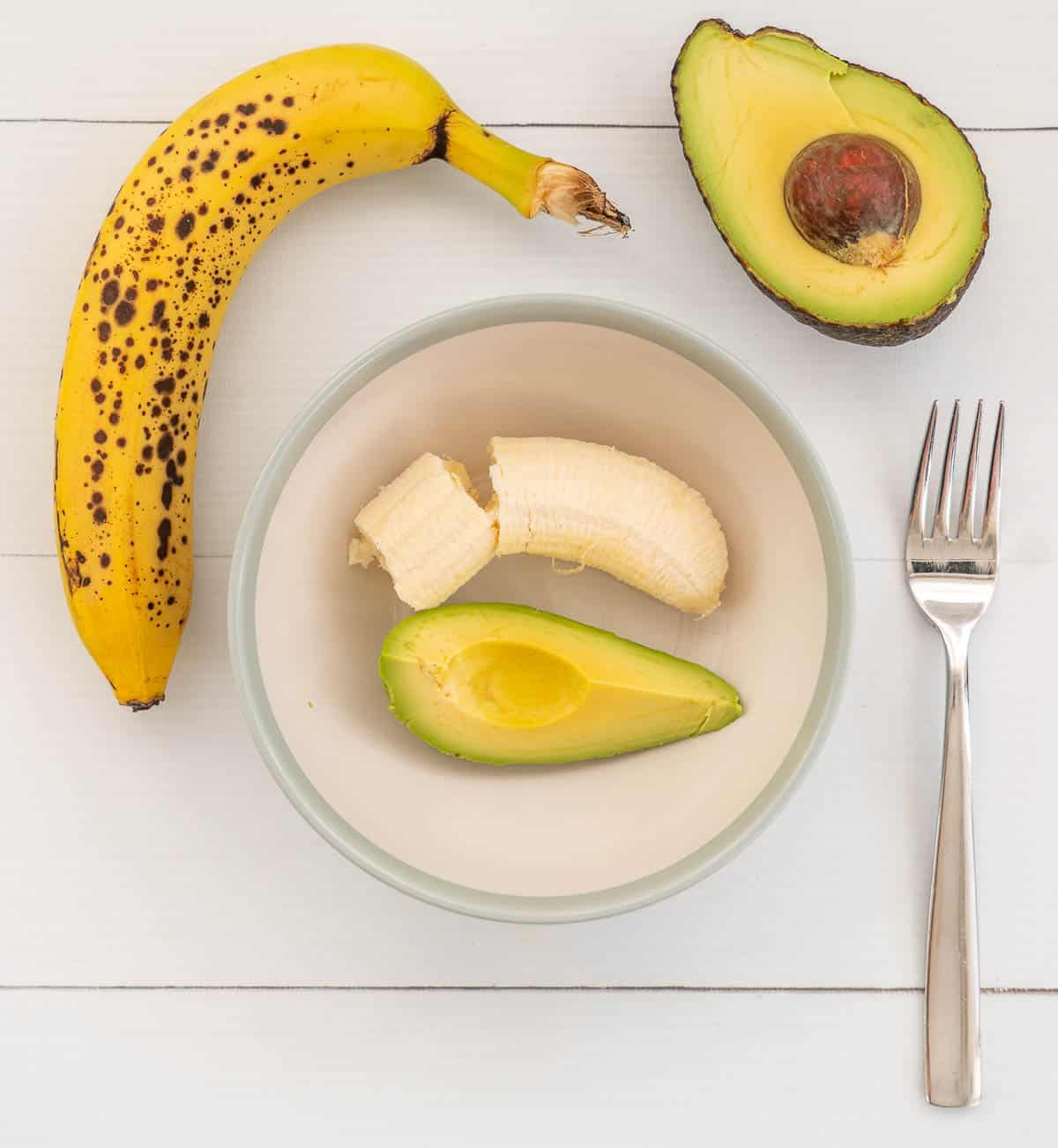 Notes

For me the quantities in this recipe make 2 small servings for a baby just starting solids, or one larger serving for an older baby. But serving sizes are very difficult to quantify in babies
Changes you can make to this basic baby food recipe to create other delicious and nutritious baby meals
Add some cucumber before you whizz... It disappears, your kids are none the wiser, but they have had vegetables for dessert!
Freeze the banana and rename it whizz ice cream
Replace both ingredients for ricotta and tinned pears
Replace the avocado with a generous tablespoon of Peanut butter
Nutrition Information:
Yield:

1
Serving Size:

1
Amount Per Serving:
Calories:

133
Total Fat:

8g
Saturated Fat:

1g
Trans Fat:

0g
Unsaturated Fat:

6g
Cholesterol:

0mg
Sodium:

4mg
Carbohydrates:

18g
Fiber:

5g
Sugar:

8g
Protein:

2g
Please know this nutrition analysis is based on the ingredients only, this recipe has not been sent to a laboratory for independent testing