Starting Solids The Food Allergy Foods
THIS POST MAY CONTAIN AFFILIATE LINKS.
Starting solids can sometimes be a nerve-wracking time for parents. The food allergy foods can make many parents worry. When should they be introduced, how should they be introduced and could they make my baby sick! Are all things parents worry about.  This article will take you through the research and current guidelines relating to starting solids and the food allergy foods.
Starting solids when to do it
This is a topic I have covered in detail in an earlier article starting solids when is the right time to start.  I look at the evidence for and against starting babies on solids early, ie before 4 months of age and delaying starting solids until 6 months of age.
This can all be summarised in these 3 bullet points.
It is not recommended to introduce solids/complementary foods to your baby before 17 weeks (4 months)
It is not recommended to delay the introduction of solids/complementary foods to your baby past 6 months (26 weeks)
If you choose to start solids/complementary foods when your child is physically ready somewhere between 4 and 6 months or at 6 months, as a parent you can probably relax as it is highly likely you have made an ok decision, backed up by current research and evidence-based guidelines.
Starting a baby on the food allergy foods
What are the food allergy foods
Eight main foods have been identified internationally to cause 90% of food allergies in babies children and adults.  There are some differences from country to country, but the BIG EIGHT are fairly well established as the main allergy foods.
cows milk (dairy), eggs, peanuts, tree-nuts, soy, wheat, fish and shellfish
It is estimated 1 in 20 (5%) of children have a food allergy and 2 in 100 (2%) of adults.  Many of the food allergies of childhood are grown out of by school age. Although some allergies particularly peanut, treenut, seed and seafood allergies are more likely to be a lifelong allergy.
It is for these reasons that many parents are wary of introducing the allergy foods to their baby, worried that they could do it incorrectly and at the wrong age
The guidelines for starting solids and introducing a baby to the allergy foods has changed and is changing
For many years the advice regarding starting a baby on the allergy foods was to delay introduction. This advice is no longer considered to be best practice by  3 of the big international allergy professional bodies
Australasian society of clinical immunology and allergy ASCIA
American academy of allergy, asthma and immunology AAAI
European academy of allergy and clinical immunology EAACI
"There is little evidence that delaying the introduction of complementary solid foods beyond 6 months reduces the risk of allergy" ASCIA 2010
"There is insufficient evidence to support previous advice to specifically delay or avoid potentially allergenic foods (such as egg, peanuts, wheat cow's milk and fish) for the prevention of food allergy or eczema." ASCIA 2010
"there is no evidence to avoid introducing complementary foods beyond 4 months of life and currently the evidence does not justify recommendations about either withholding or encouraging exposure to potentially allergenic foods after 4 months once weaning has commenced" EAACI 2014
"complementary foods can be introduced between 4 and 6 months of age" AAAI 2013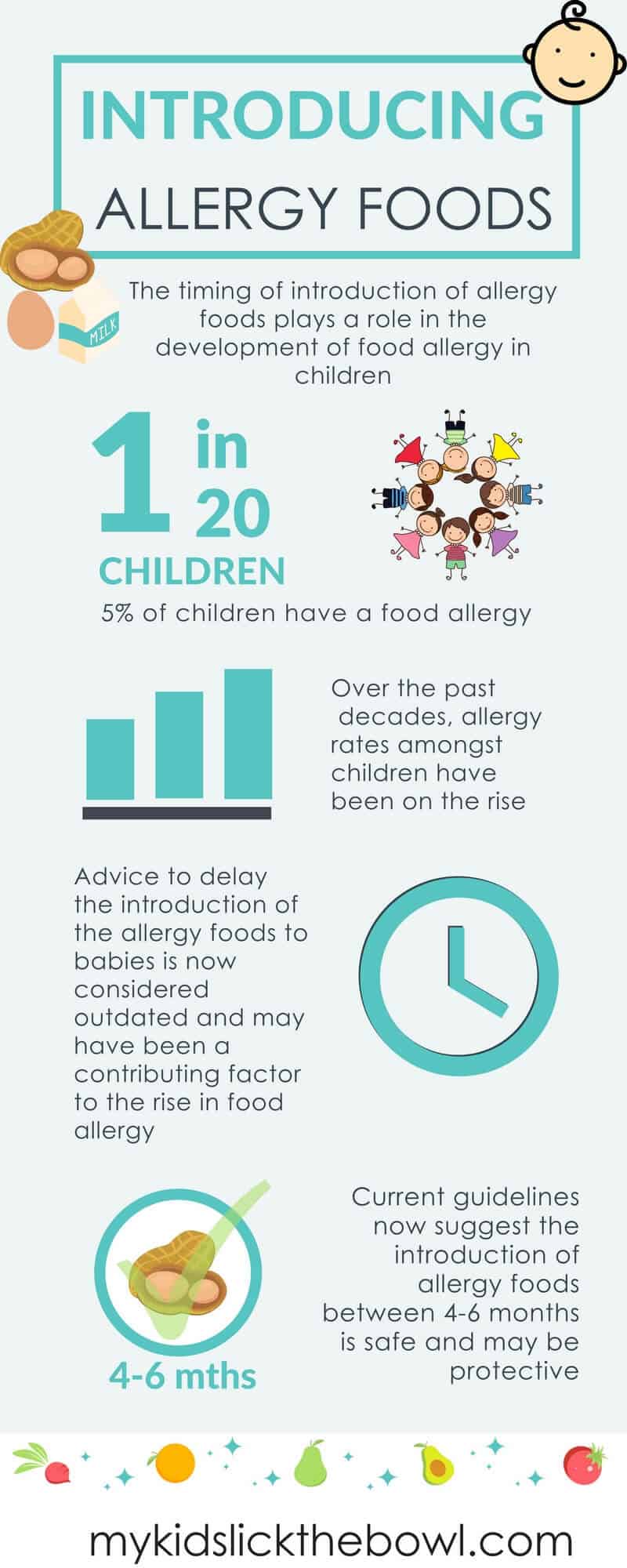 The allergy experts say we do not need to delay the introduction of the allergy foods
Yes, that's right, it is unanimous from these 3 highly reputable professional organisations that we do not need to delay the introduction of the allergy foods to our baby. If your baby has started solids and is older than 4 months of age it is ok to start exposing them to the 8 allergy foods.
These 3 professional bodies have determined that there is no benefit to delaying the introduction of the allergy foods and possibly some benefit for babies to have exposure to these foods earlier in their life, between 4 and 6 months of age.
So if your baby is having solids, the advice is that you can and potentially should introduce the 8 allergy foods sooner rather than later.
Perhaps this advice makes you nervous. Never fear my next article will cover how to introduce the allergy foods, so you can do so confidently and safely.