THIS POST MAY CONTAIN AFFILIATE LINKS.
I love sushi, and I want my kids' to love sushi. As babies, they were sushi lovers, but then their pickiness set in. The seaweed now puts them off. But I have not given up hope.
This cucumber sushi for kids recipe is seaweed free, easy to make and so far kid approved. So I am a happy camper.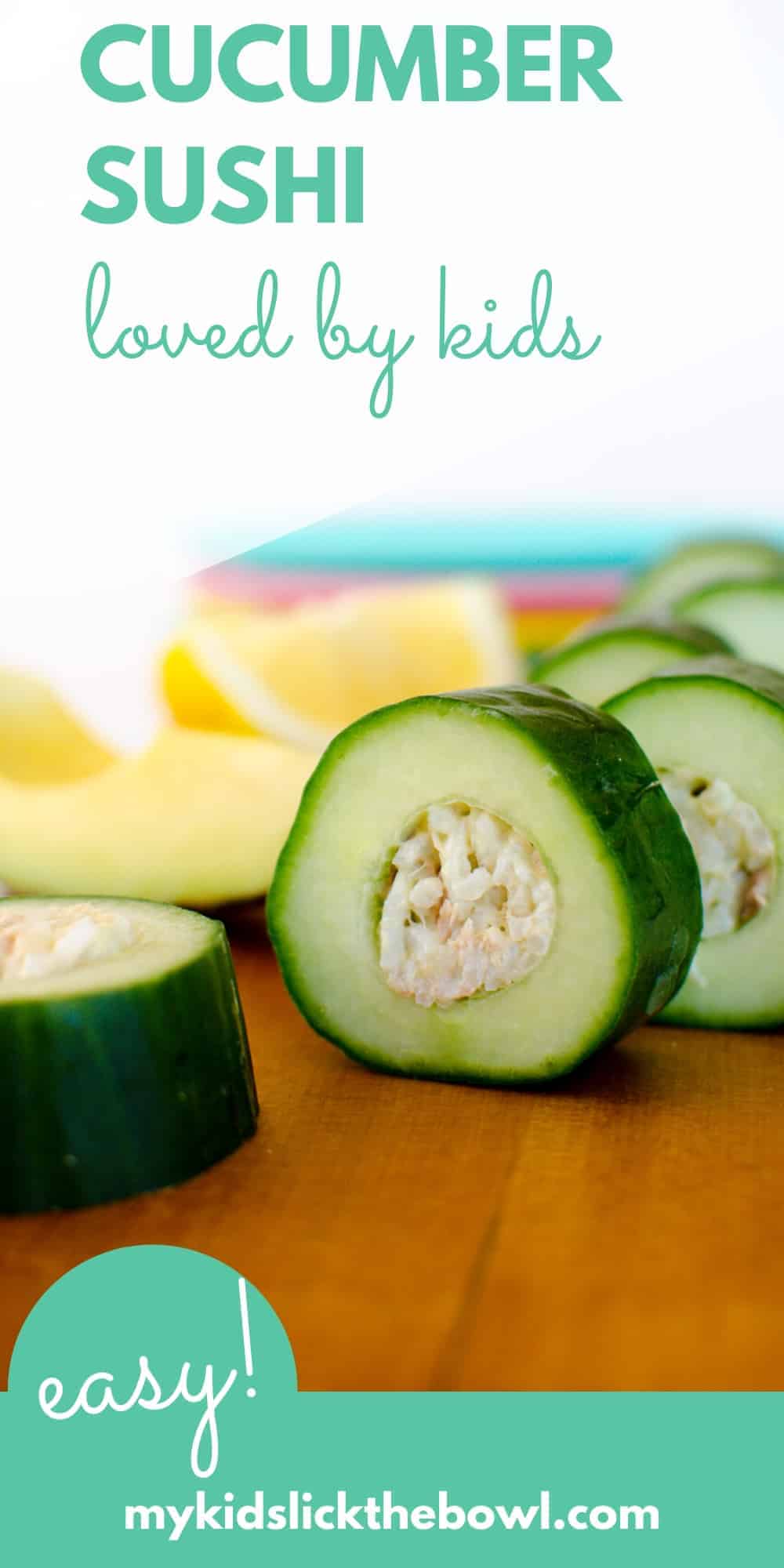 How to make sushi for kids without the seaweed?
The answer, just use a cucumber! I first saw this idea on Kid Spot, I made their version and all though very gorgeous it was a little fiddly to eat as I found the filling fell out.
So I came up with my own tuna and avocado filling idea, and it has been a winner!
To make cucumber sushi for kids you will definitely need an apple corer. If you have one of these the process is really really easy.

A note on sushi for kids and food safety
Ensure the leftover rice you are using for this recipe has been stored in the refrigerator, as cooked rice can be a source of food borne illness if not stored properly.
Cooked rice should not be left at room temperature for extended periods of time. So once cooked, cool and store in the refrigerator until required. My kid's lunchboxes are also kept cool in a cooler bag with an ice pack.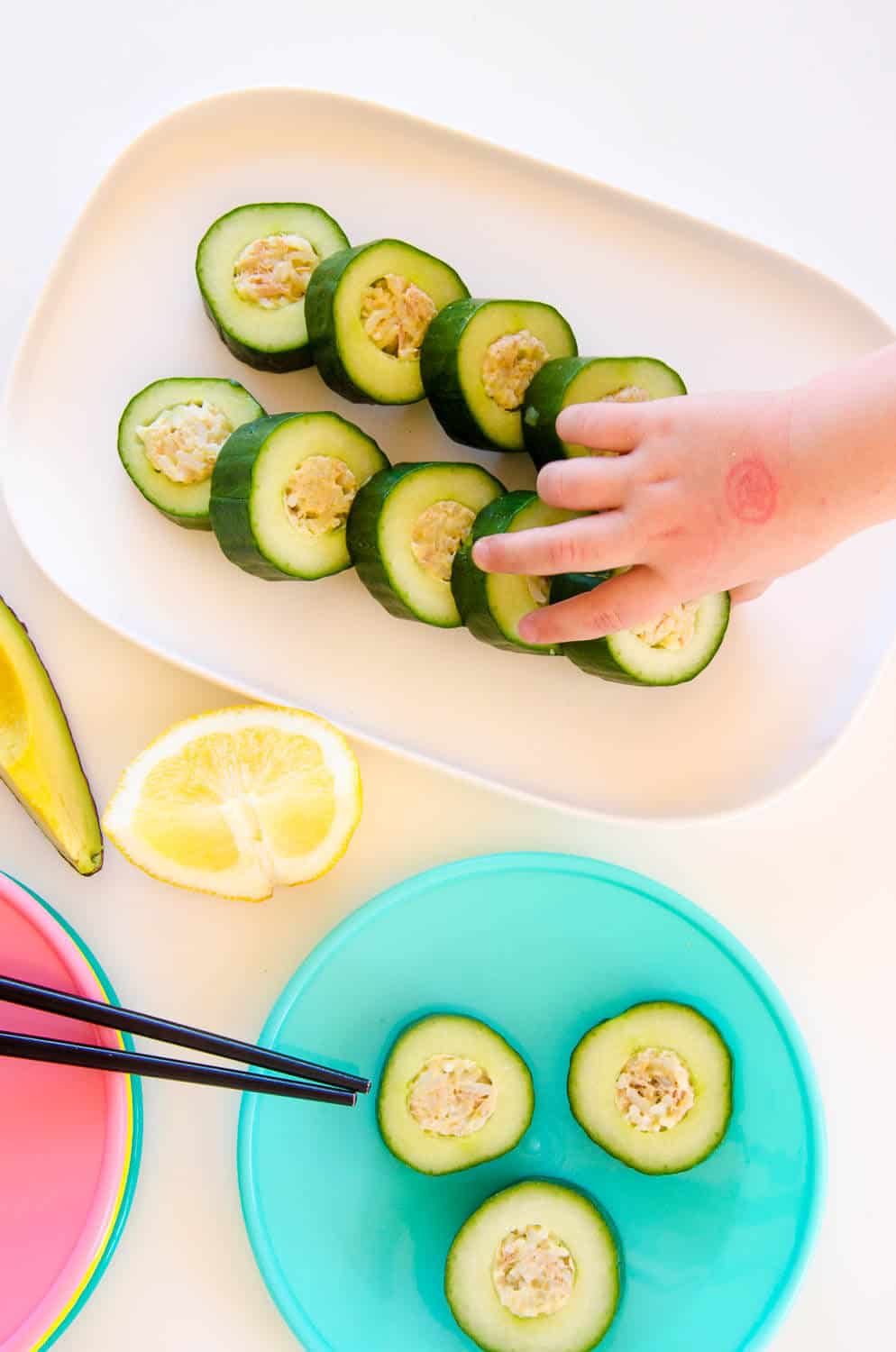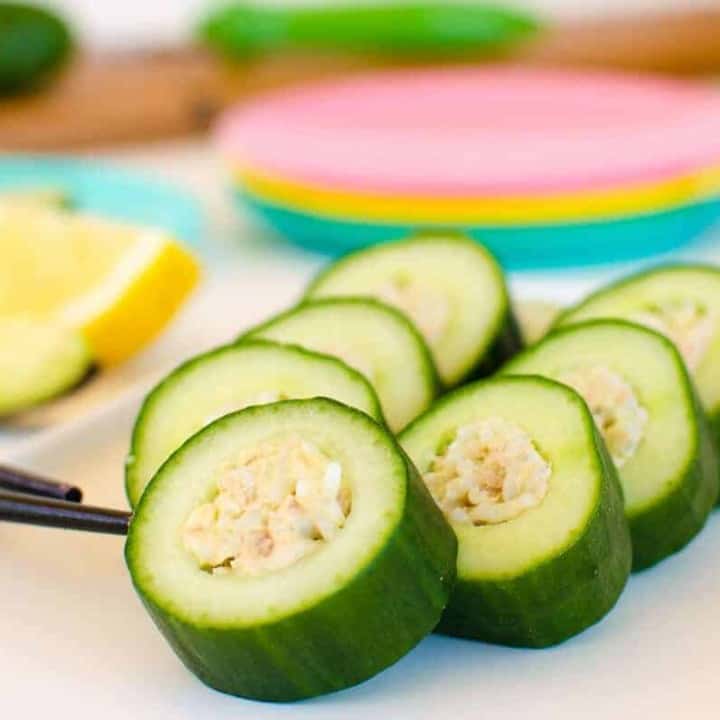 Cucumber Sushi For Kids
Ingredients
1 long telegraph cucumber
½ Avocado
1 tablespoon Mayonnaise
1 Cup cooked rice
80 g can tuna
Squeeze of lemon juice
Instructions
Wash the cucumber
Cut it into approximately 10cm long lengths (be guided by how long your apple corer is, ie you want your apple corer to be able to reach the end of the length.
Using an apple corer make a tunnel through the cucumber. You can either do one narrow hole, or widen the hole by passing the corer through the cucumber a few times
Drain the tinned tuna
In a bowl mash the avocado, mayonnaise and lemon juice. Add the tuna and rice, mix well
Fill the tunnel of the cucumber with the rice mixture, it packs in quite easily, just give it a gentle push with clean fingers.
Slice the filled cucumber into 1.5-2cm thick slices, serve
Notes
I make my own 30 second mayonnaise  and use that in the recipe, but store bought will be fine too 
Ensure the leftover rice you are using for this recipe has been stored in the refrigerator, as cooked rice can be a source of food borne illness if not stored properly
Nutrition Information:
Yield:

5
Serving Size:

4 pieces
Amount Per Serving:
Calories:

119
Total Fat:

6g
Saturated Fat:

1g
Trans Fat:

0g
Unsaturated Fat:

4g
Cholesterol:

8mg
Sodium:

81mg
Carbohydrates:

12g
Fiber:

2g
Sugar:

1g
Protein:

5g
Please know this nutrition analysis is based on the ingredients only, this recipe has not been sent to a laboratory for independent testing