Quinoa Baby Cereal with Carrot & Apple
THIS POST MAY CONTAIN AFFILIATE LINKS.
I get asked all the time if babies have to start with rice cereal as there first food.
My answer is a resounding no, and this quinoa baby cereal with carrot and apple is a nutritious homemade alternative to rice cereal for parents who have decided to start baby with spoon feeding.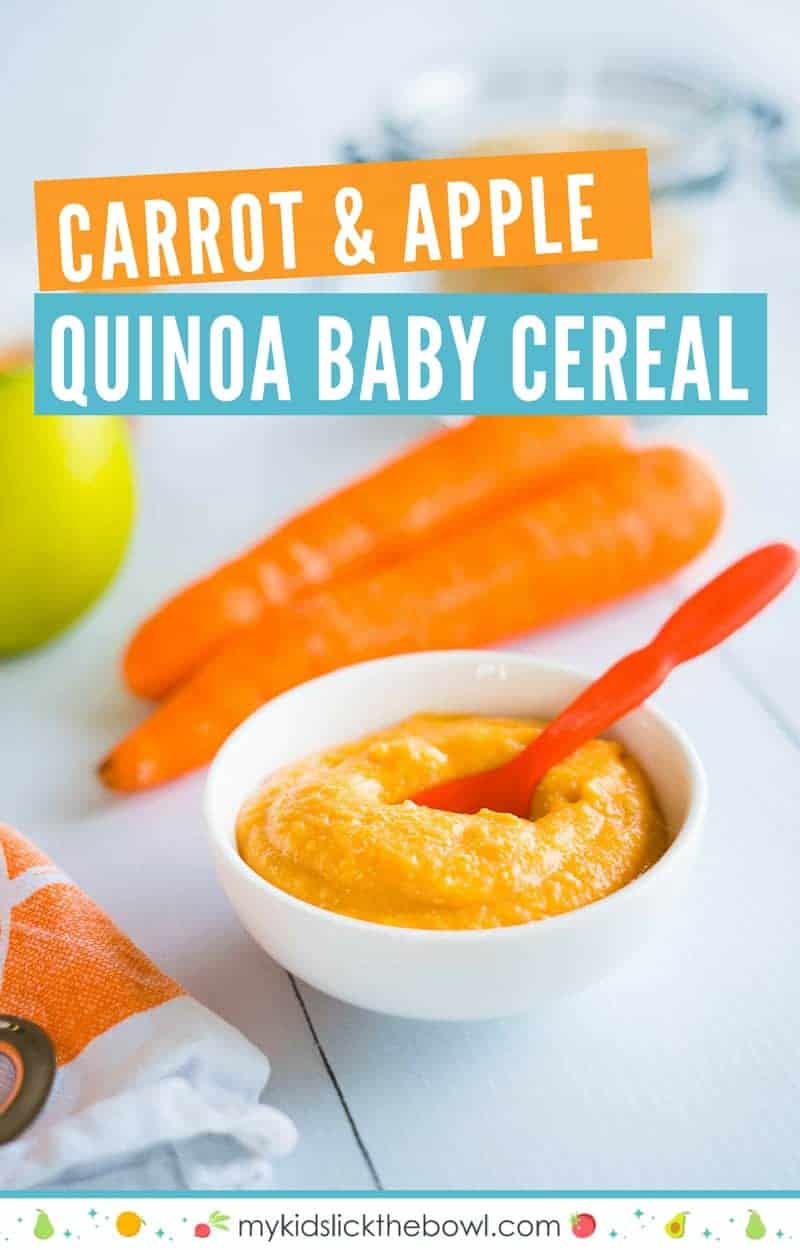 Quinoa is easy to cook and loaded with nutrition. There are many nutrients that quinoa is high in compared to grains (protein, magnesium, fibre, & zinc to name a few) but the nutrient I think that is quite important for little ones is iron.
Quinoa is high in iron compared to grains, this is important, as from around 6 mths of age your babies iron stores start to fall, and the amount of iron in your breastmilk is not enough to replenish them.
Because of this offering your baby small amounts of iron-rich complementary foods is important.
Baby rice is fortified with iron, so will provide this necessary iron, but as quinoa is naturally high in iron it can be an alternative if you are looking for a homemade alternative to baby rice.
There is an ongoing debate regarding the right age to start your baby on solids, I've summed up the current guidelines in an earlier article Starting solids- when is the right time to start
How to make homemade quinoa baby cereal?
It is actually very easy to make homemade quinoa baby cereal.
You just blend cooked quinoa with a little liquid, (water, broth, milk, breast milk, formula are all fine) you can serve it plain, or you can flavour it up with fruits and veggies as I have in this recipe with homemade quinoa baby cereal with carrot and apple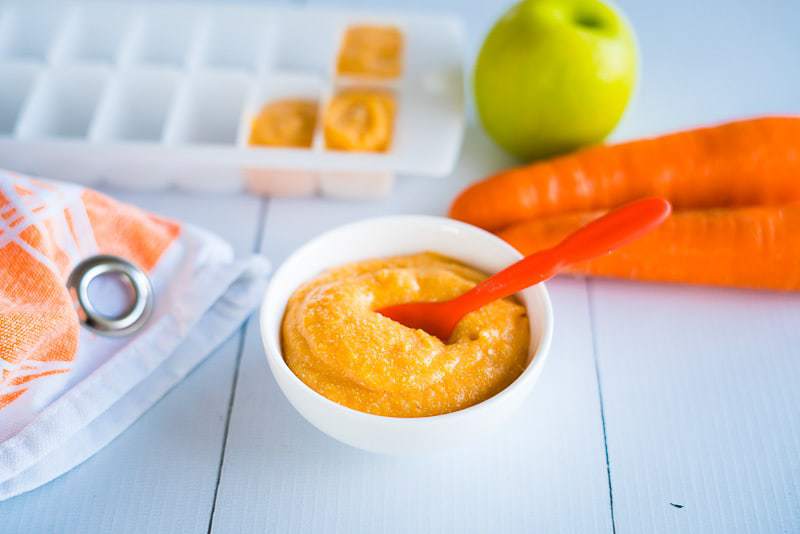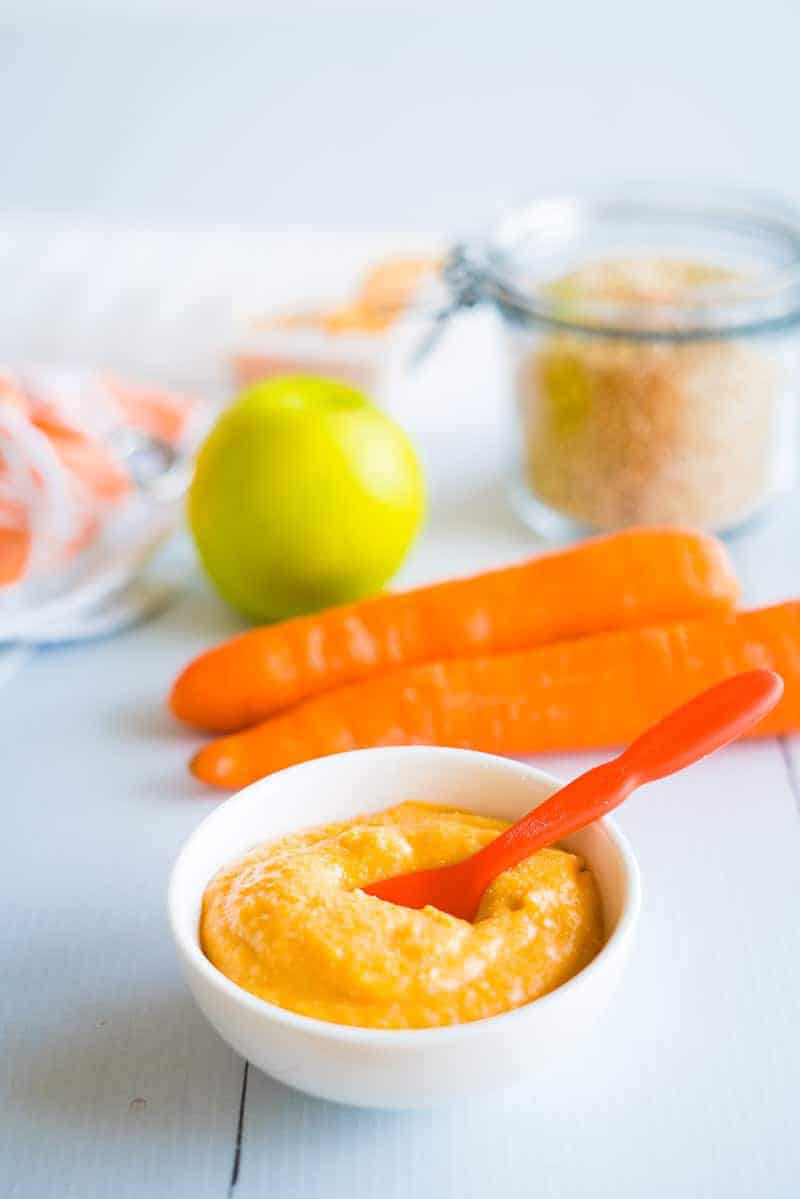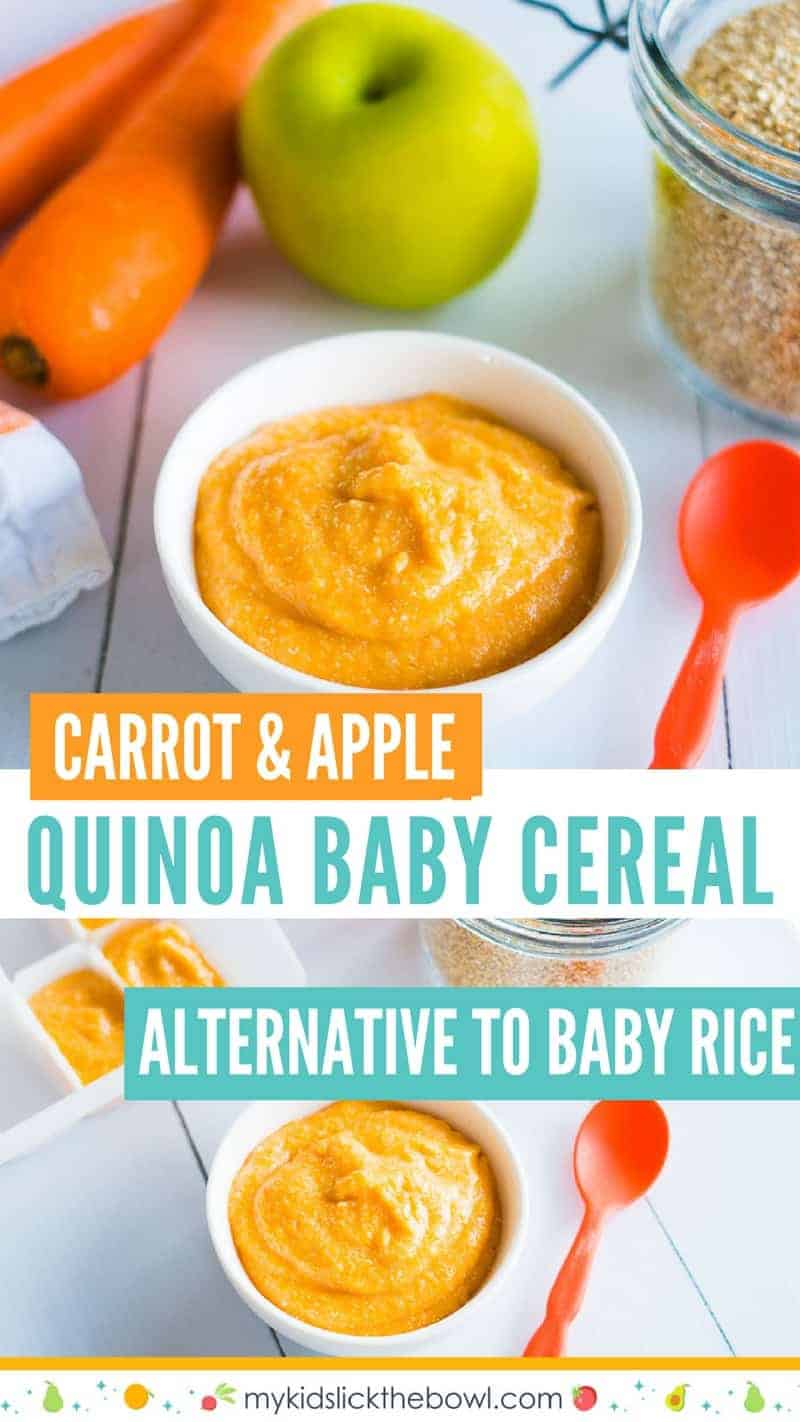 Quinoa Baby Cereal - Carrot & Apple
This homemade quinoa baby cereal is easy to make, loaded with protein, fibre and iron a nutritious alternative to baby rice cereal
Ingredients
½ cup cooked quinoa
4 tablespoon liquid
30g  carrot (steamed)
30g apple (cooked)
Instructions
Blend all the ingredients together until smooth
Notes
My technique to cook quinoa. Place quinoa in a saucepan, rinse with cold water, drain, then add double the amount of water. ie 1 cup quinoa to 2 cups water. Bring to the boil, then reduce heat and simmer uncovered for 10-15 minutes until the liquid has been absorbed
You can use any liquid when you blend, water, broth, breast milk, baby formula etc
Tip store-bought unsweetened applesauce can also be used to flavour quinoa baby cereal
You can freeze this recipe, I use an ice tray, and defrost/heat as needed
Nutrition Information:
Yield:

2
Serving Size:

1
Amount Per Serving:
Calories:

69
Total Fat:

1g
Saturated Fat:

0g
Trans Fat:

0g
Unsaturated Fat:

1g
Cholesterol:

0mg
Sodium:

12mg
Carbohydrates:

13g
Fiber:

2g
Sugar:

2g
Protein:

2g
Please know this nutrition analysis is based on the ingredients only, this recipe has not been sent to a laboratory for independent testing