I am a huge fan of zucchini, although here in New Zealand I often call this vegetable courgette. I have a number of zucchini recipes on my site but to date, they are all savoury.  I know zucchini chocolate cake is very popular, I know zucchini chocolate muffins are very popular, and I get so many requests for gluten free and grain free recipes that I thought I would put my recipe creation hat on and come up with a Zucchini Muffin Recipe that is not just chocolate but double chocolate and grain-free to boot!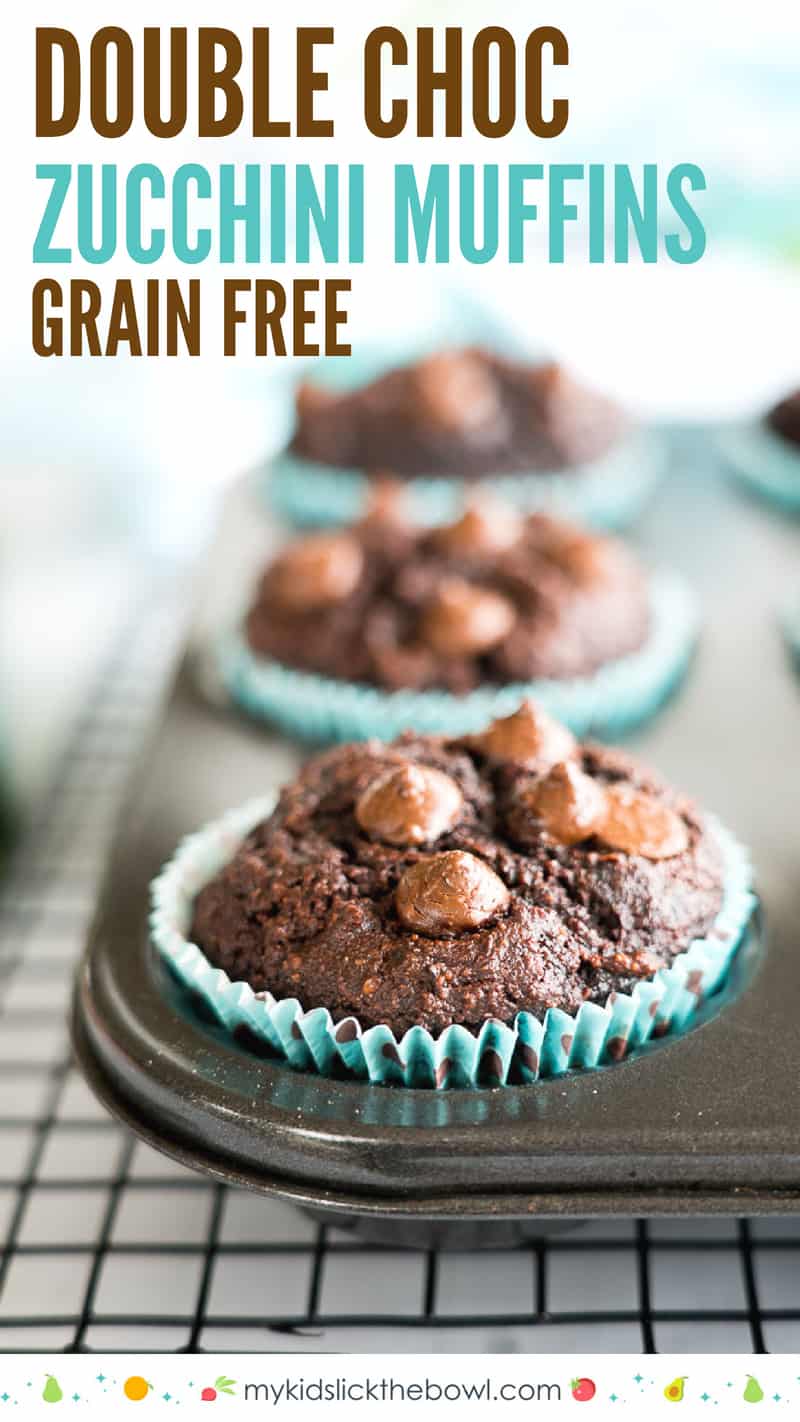 My family is not a grain-free family there are too many great grains out there for me to consider giving them up. BUT I do try to cut down on the amount of processed grains we eat, as most of the nutrition in grains is from the unprocessed variety. So while we are not grain-free by any means, we do often have grain-free baking. These grain- free zucchini muffins substitute a traditional grain based flour for ground almonds (almond flour), which adds loads of healthy fats and protein to this zucchini muffin recipe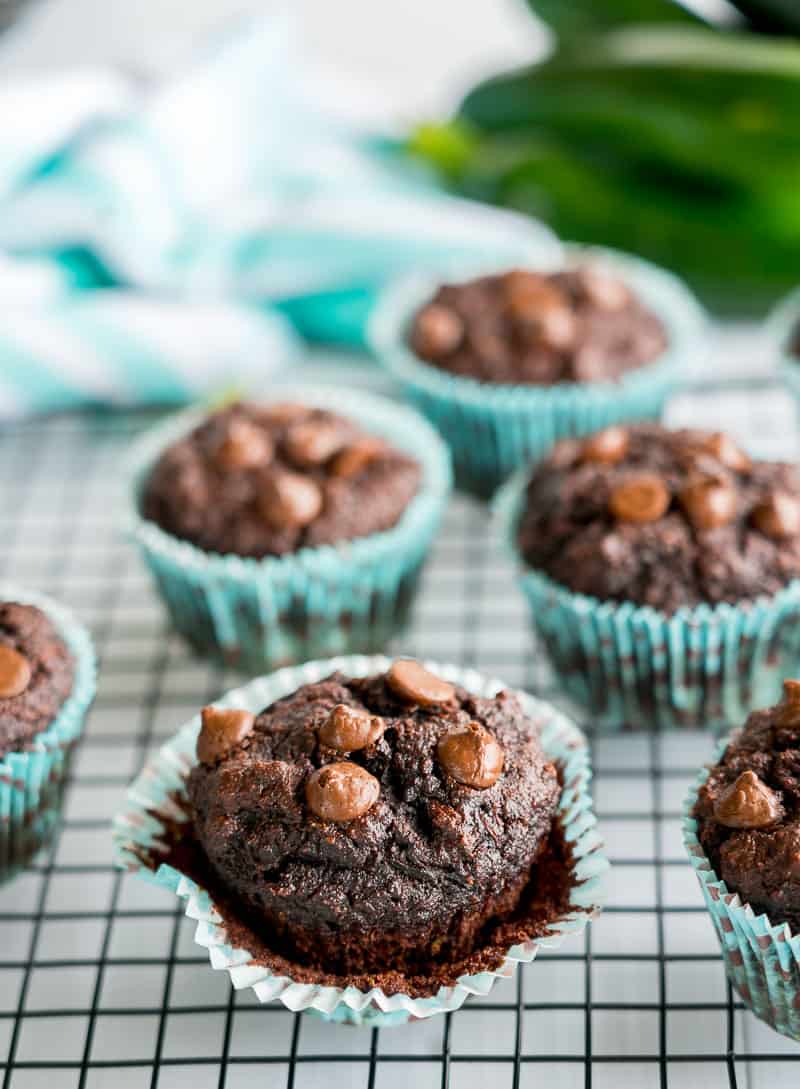 Zucchini Muffins, Dairy Free?
If you need to live a dairy-free life, the good news is, this does not mean the end of chocolate. Cocoa is dairy free as is dark chocolate. Which means this double chocolate zucchini muffin recipe is not only gluten-free but dairy free too!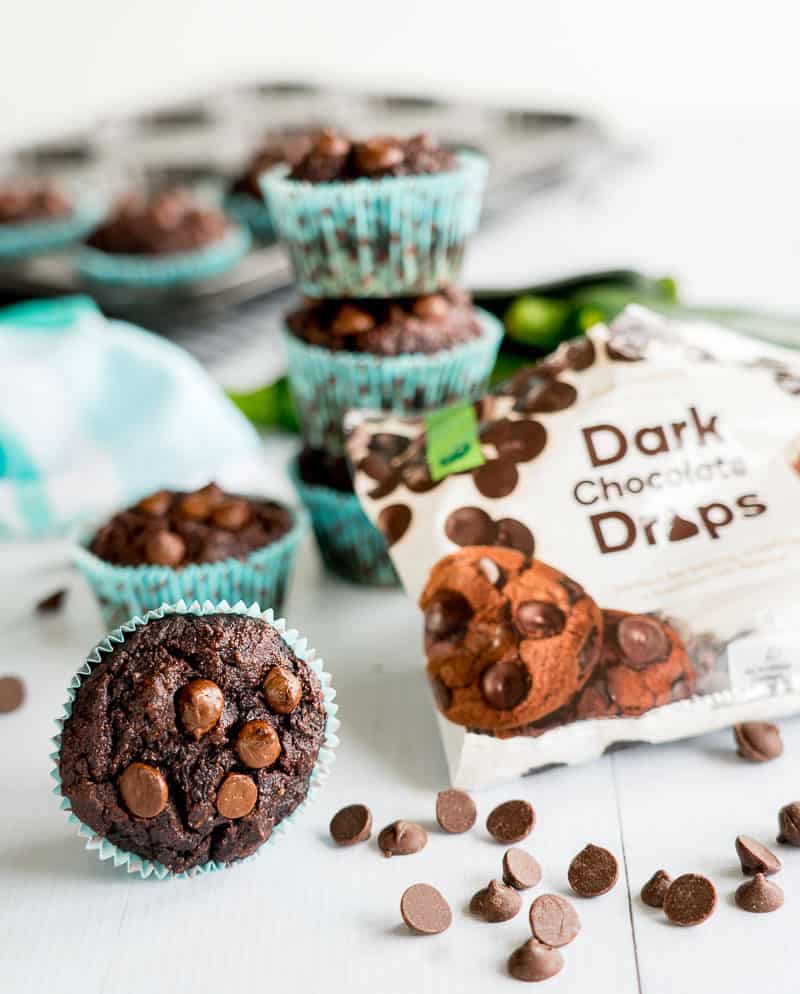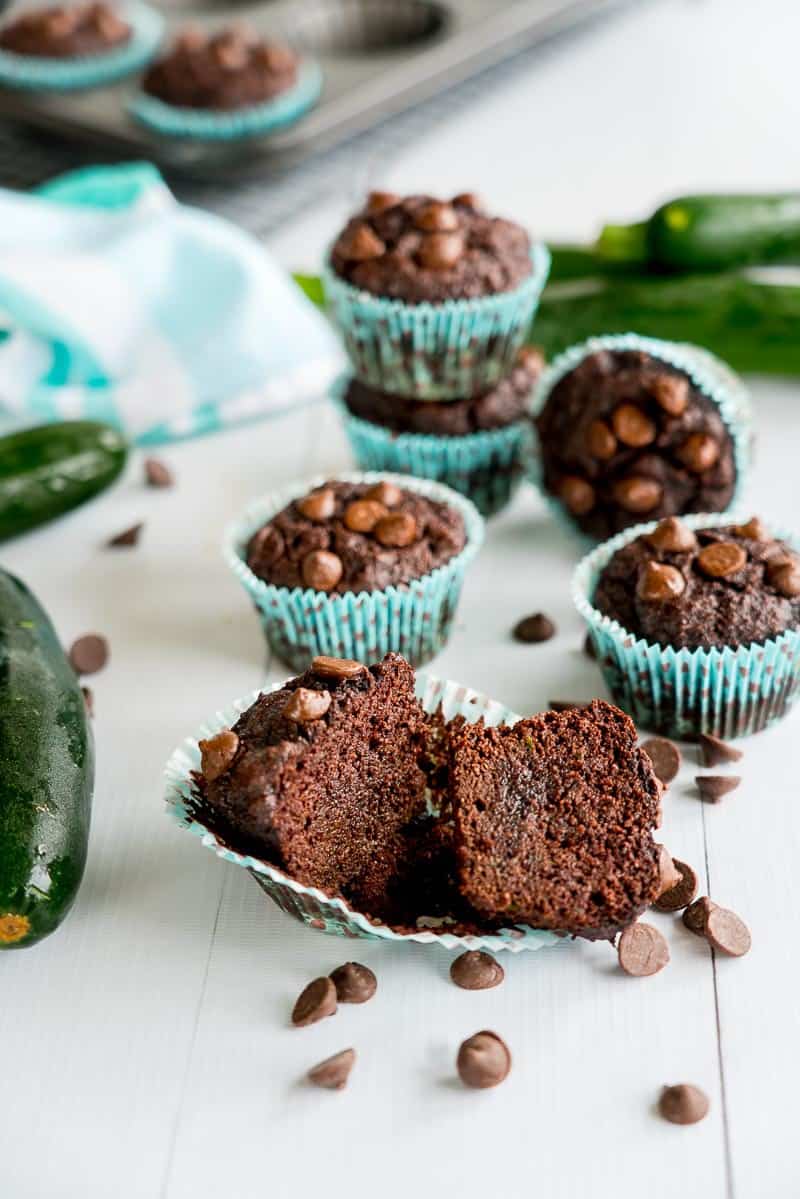 These muffins are grain free, dairy free, but still moist and fudgy!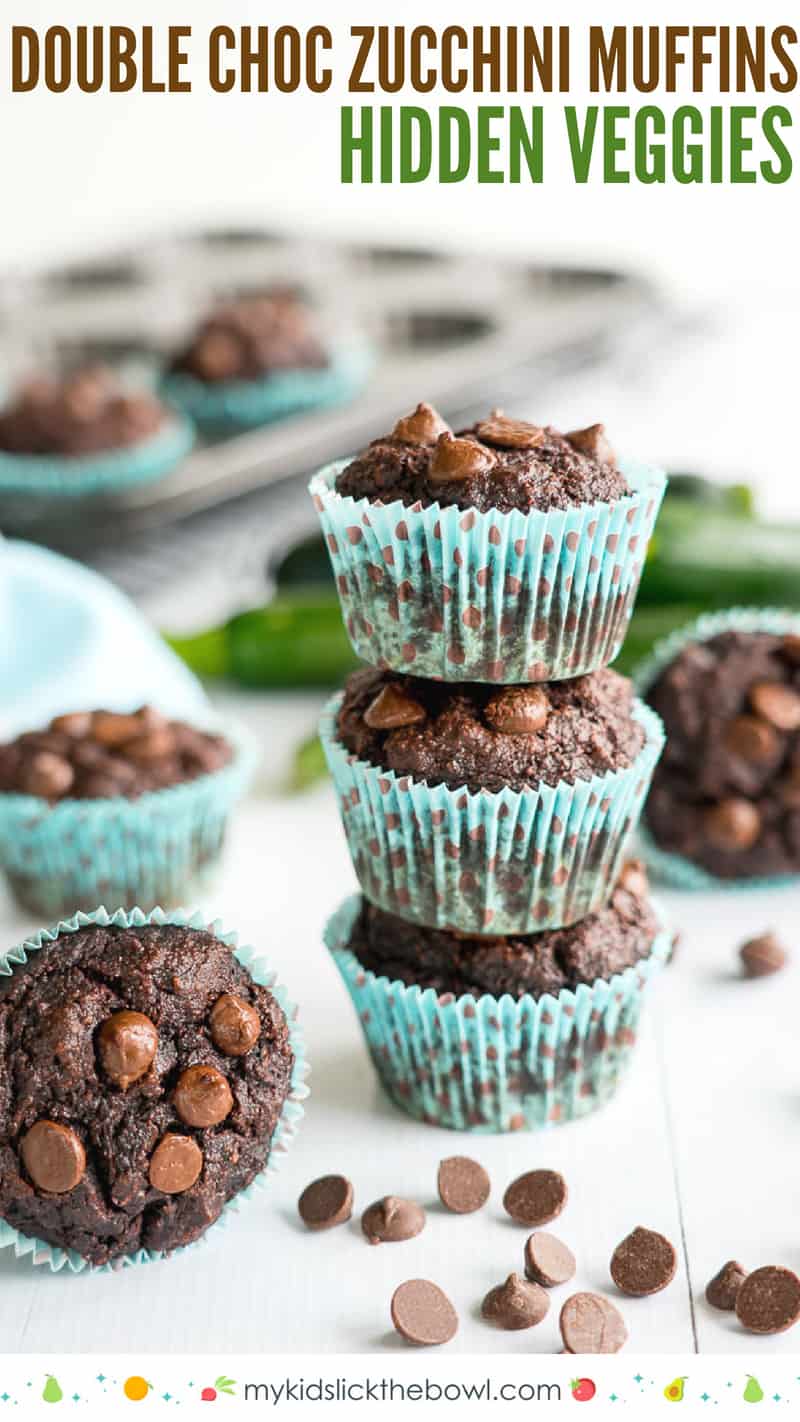 Previously on My Kids Lick The Bowl – Muffins
---
Print
Zucchini Muffins Double Chocolate Grain Free
Yield 10 muffins
Double Chocolate Grain Free Zucchini Muffins, delicious fudgy gluten-free muffins refined sugar-free and with the added bonus of some hidden vegetables
Ingredients
2 cups ground almond
1 tsp cinnamon
1/3 cup cocoa
100g banana (1 medium)
2 eggs
1/4 cup oil
1/4 cup maple syrup
1 tsp vanilla
1 1/2 tsp baking soda
150g (2  medium zucchini)
1/4 cup dark chocolate chips
Instructions
Prepare a muffin tray, you can either use paper muffin liners or grease a muffin tin
Take out 2 mixing bowls
In the first mixing bowl add the almond, cinnamon and cocoa (you can also add a grind of salt at this point), mix these so that they are evenly distributed
In the second bowl, place the banana and give it a good mash with a fork
Add the eggs, oil, maple syrup, vanilla and baking soda, use a whisk to beat all these ingredients together
Add the wet ingredients to the dry, mix to combine
Grate the zucchini, give the grated zucchini a good squeeze over your sink so that most of the liquid comes out
Fold the squeezed grated zucchini into the muffin batter
Portion the muffin mix into the muffin tray, I typically get 9-10 muffins out of this mixture
Sprinkle with chocolate chips/drops
Bake in a 180 degree Celsius oven for 20 mins (160 degrees Celsius if fan forced) check readiness with a toothpick, it should come out clean
Notes
typically use a mild oil in this recipe, it has worked with both coconut oil (ensure it is melted/liquid) and rice bran oil. A mild flavoured olive oil would be fine too. If you do not need dairy free melted butter would also be a suitable replacement
If you use dark chocolate chips then this recipe should be dairy free (although do check the ingredients list on your dark chocolate chips)
You may need to play around with the amount of maple syrup depending on your palate and the ripeness of the banana, I find 1/4 cup sufficient and 2 of my kids are happy with that level. My other child only liked the sweeter version I made with 1/3 cup of maple syrup
Courses Baking
Cuisine Gluten Free
Nutrition Facts
Serving Size 1 Muffin
Amount Per Serving

Calories 260

% Daily Value

Total Fat 19.8 g

30%

Saturated Fat 3.5 g

18%

Total Carbohydrates 18.7 g

6%

Dietary Fiber 4.4 g

18%

Sugars 10.3 g

Protein 7 g

14%
* Percent Daily Values are based on a 2,000 calorie diet. Your daily values may be higher or lower depending on your calorie needs.