Slow Cooker Porridge - Spiced Apple and Carrot
THIS POST MAY CONTAIN AFFILIATE LINKS.
Autumn is here, which means the slow cooker is out for soups dinners and... breakfast!
Yes, slow cooker porridge is your new best friend in the colder weather. Pop it on the night before and wake up to deliciously cooked creamy oatmeal ready and waiting.
I love oats for breakfast especially no stir porridge recipes, an alternative to slow cooker porridge is oven baked oats, you do have to get out of bed to put them on in the morning, but you can slink back into bed for another 30 mins or so, my kids also love my banana blueberry baked oats, they call it "pudding" breakfast!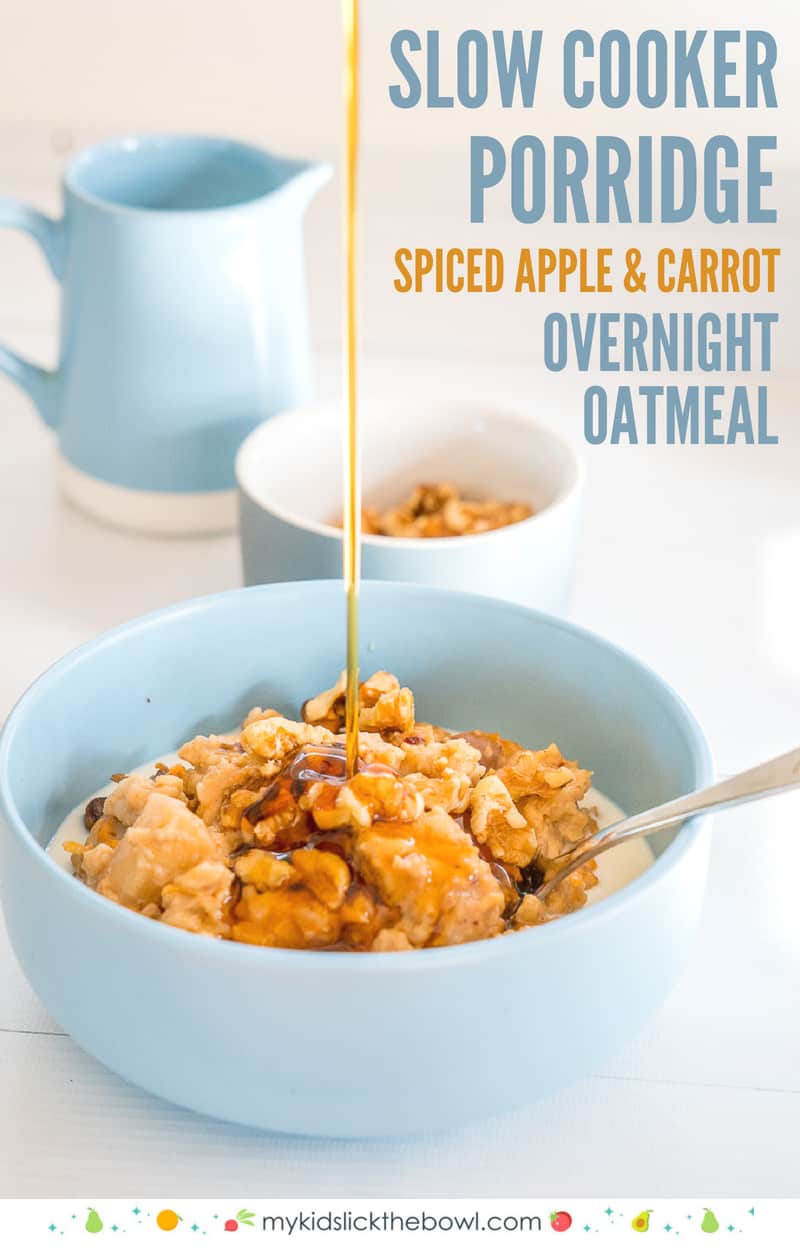 Crockpot Porridge vs Slow Cooker Oatmeal
It's the same thing people! Here in New Zealalnd I grew up eating porridge, but I believe my American counterparts would refer to this recipe as slow cooker oatmeal rather than porridge
Crockpot is one brand name for a slow cooker. So this recipe could in fact be called Crockpot Oatmeal and still have the same outcome a delicious warm overnight oatmeal perfect for breakfast
How to cook porridge in the slow cooker
In this slow cooker porridge recipe I use apple, carrots, and cinnamon to make it taste like carrot cake in a warm steamy bowl.
But you can make your porridge in the slow cooker with any combination of ingredients or you could just make it plain.
But a little bit of veggies at breakfast never hurt anyone either! These are my tips for cooking oatmeal in a slow cooker
Tips for slow cooker oatmeal
The first time you make it, make it during the day, as all slow cookers are a little different, it should be totally fine but some slow cookers do run quite hot, so I would pop it on in the morning one day and see how it goes before cooking it overnight. Porridge is a perfectly acceptable dinner or dessert I reckon anyway lol!
Either grease your slow cooker or use the double boiler method, especially if you are using dried fruit in your mix, this will just make it easier to clean if there are any sticky bits o the side. By double boiler method I mean find a bowl which is heatproof (ceramic or pyrex is awesome) that will fit inside your slow cooker. Pop this in your slow cooker, then add water so that the bowl is sitting in a water bath. You will then add the ingredients into the smaller bowl
Use the large old-fashioned rolled oats, quick cook oats don't do well in the slow cooker as they go too mushy, quick cooked oats are the larger oats that have been chopped into smaller pieces. Steel cut oats also work well in the slow cooker
Check your packet of rolled oats and use the liquid to oat ratio that the pack recommends. If you are adding fresh fruit or veggies (like I do in this recipe with apple and carrot) I decrease the liquid amount a smidge, as the fruits and veggies have some liquid content
You can use a variety of liquids when cooking oats in the slow cooker, milk, water, juice (although juice will increase the sugar content a great deal) or a mixture. I often use 50:50 milk to water
If for any reason you happen to be up in the night or a member of the family gets up early, give the porridge a quick stir. It's not necessary but if you are up can make it even better.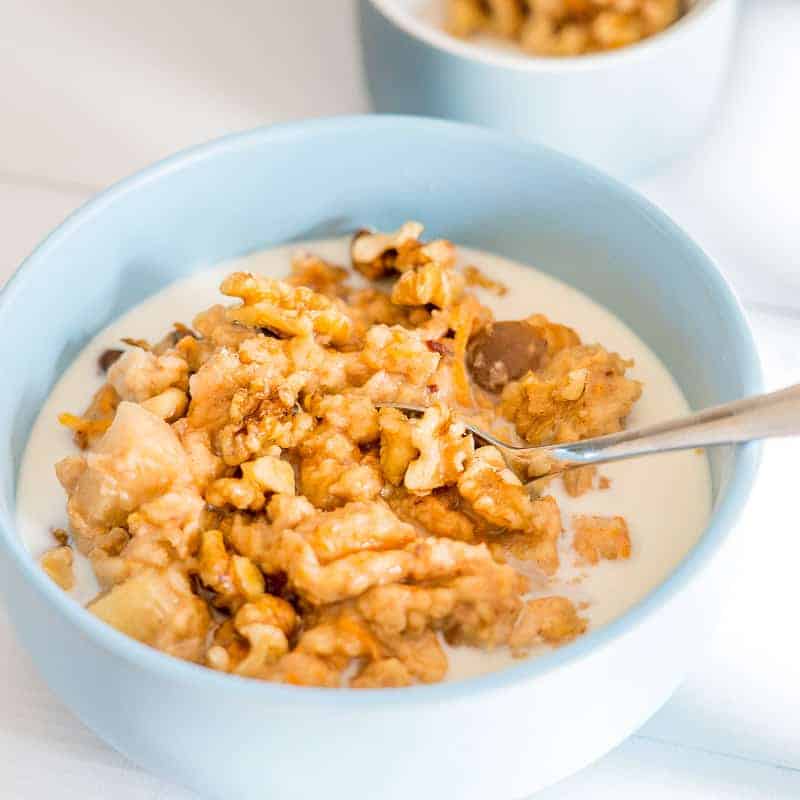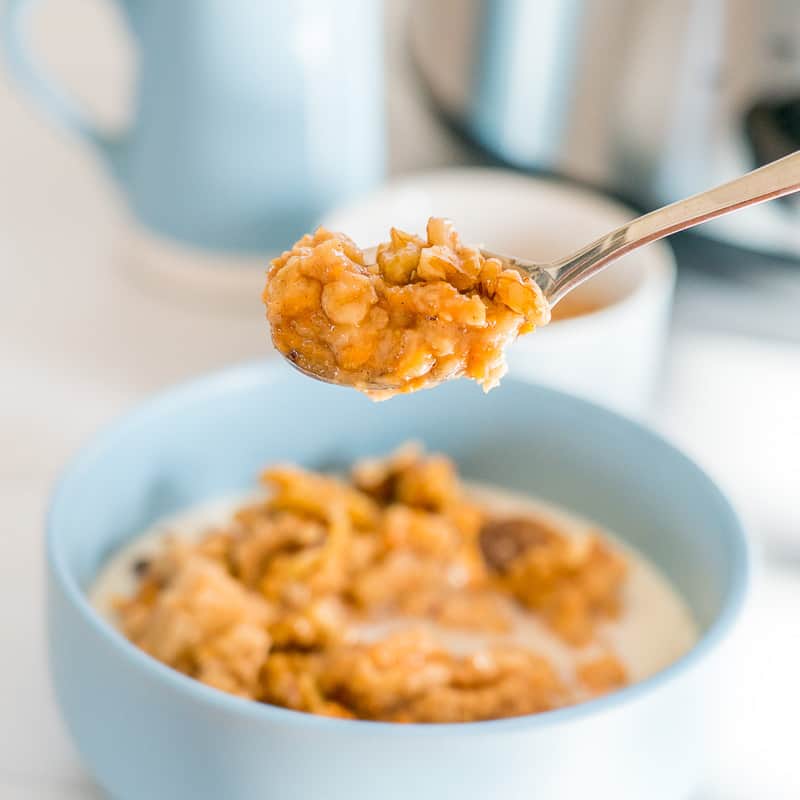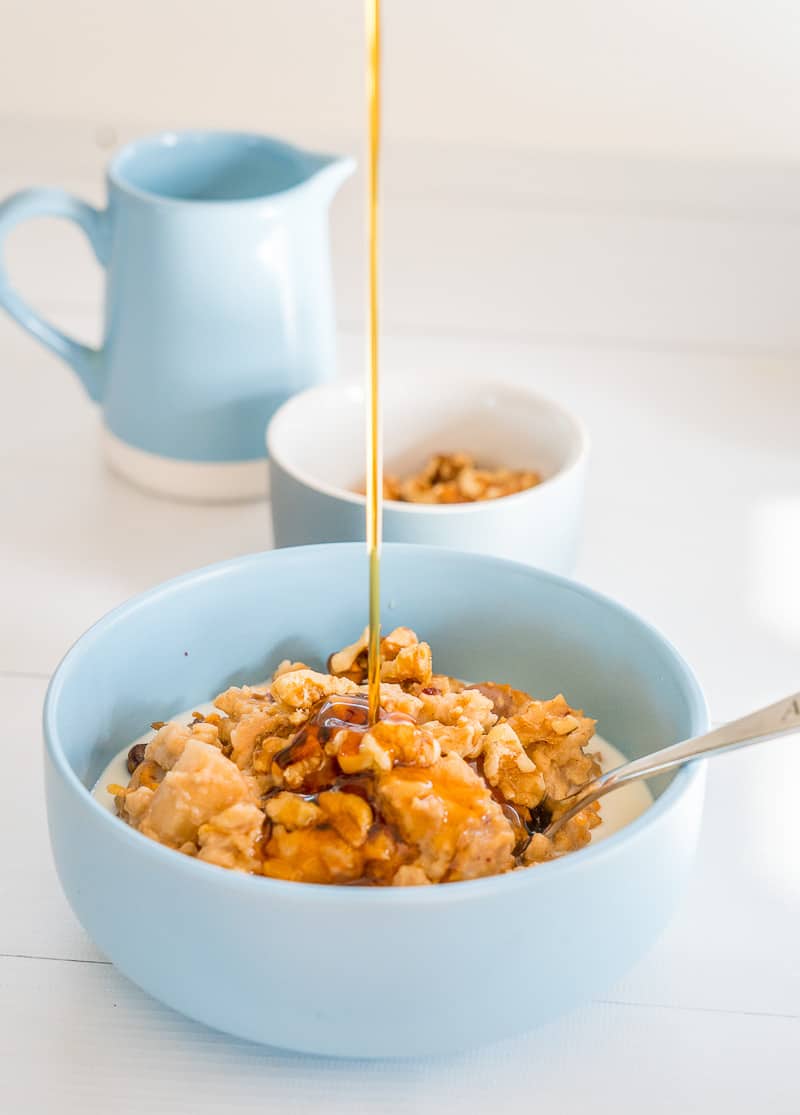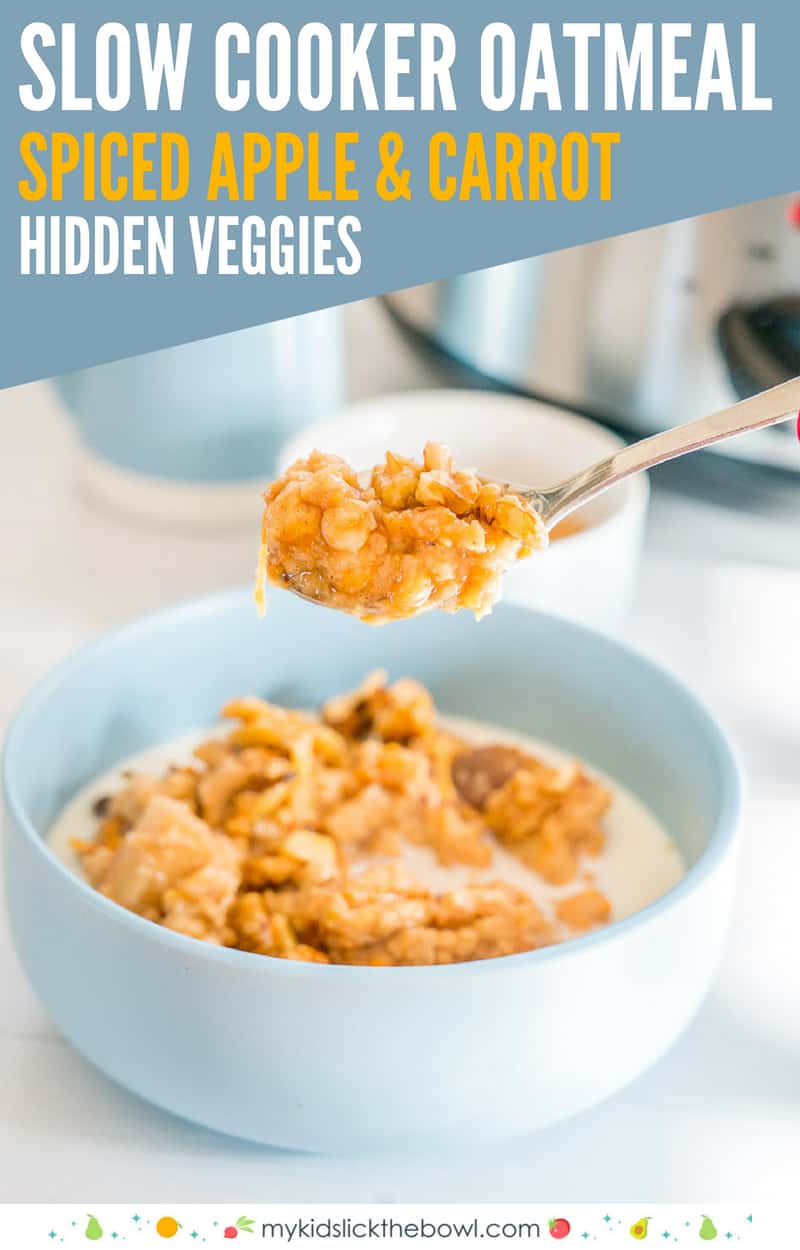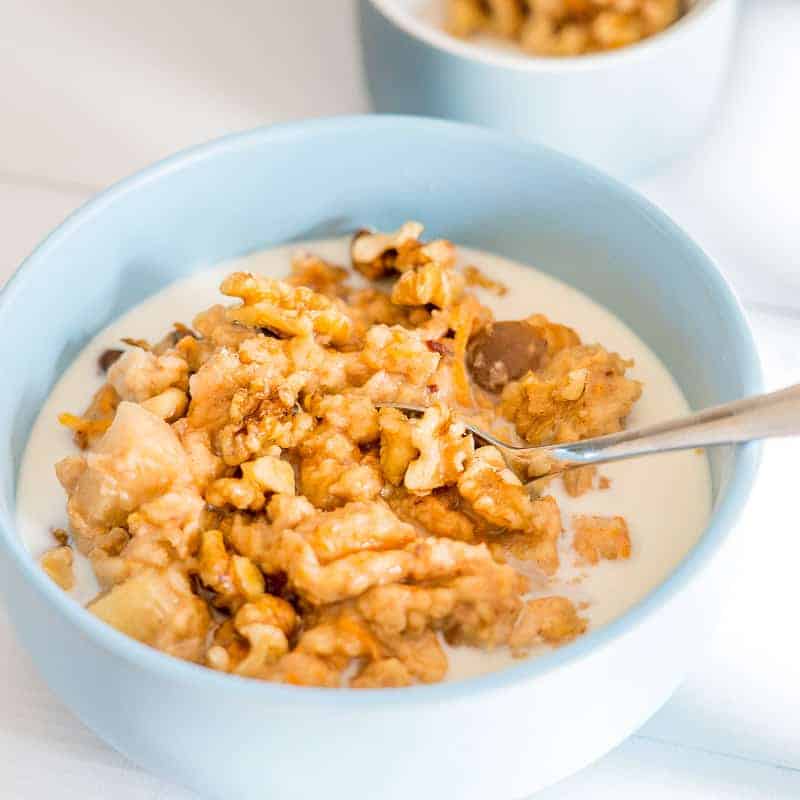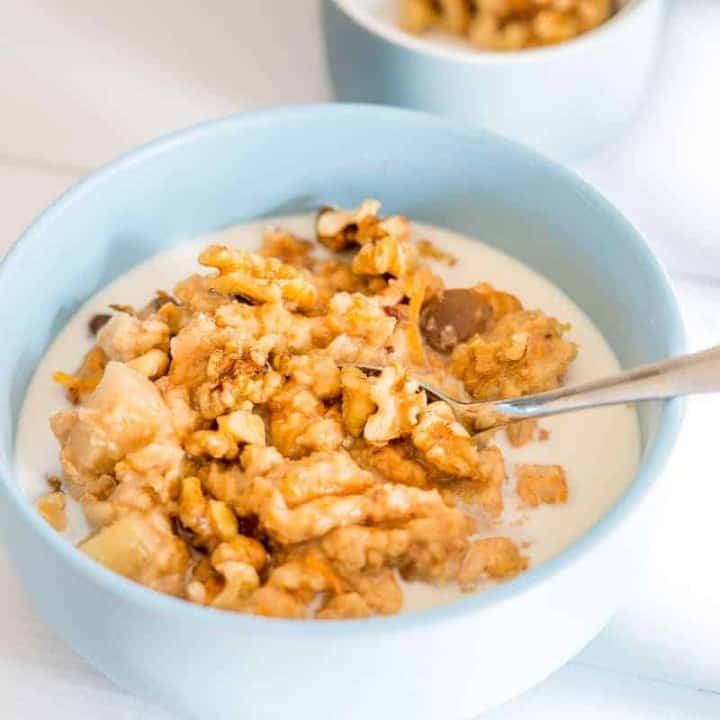 Slow Cooker Porridge - Spiced Apple & Carrot
Total Time:
8 hours
5 minutes
Slow cooker porridge or overnight oatmeal is a game changer, pop it on the night before and wake to warm creamy healthy breakfast in the morning, I flavour this version with apple, carrot, and spices, reminiscent of carrot cake
Ingredients
2 medium apples
1 medium carrot
½ cup dates
2 cups rolled oats
1 tsp cinnamon
1 tsp vanilla
2 cups milk
2 cups water
Salt (optional)
Instructions
Check my tips above, as I would suggest either greasing your slow cooker or using the double boiler method to make clean up nice and easy
Peel the apple and cut into chunks. (approx 2cm)
Grate the carrot
Roughly chop the dates
Add all the ingredients to the slow cooker, give it a stir
Pop on the lid, turn the slow cooker on to low and cook for approximately 8 hrs overnight
Serve with your favourite milk, a little maple syrup, honey or brown sugar and your favourite nut, I love a little maple syrup with walnuts
Notes
Feel free to play around with the liquid combinations in the recipe, you can substitute any milk, or make the recipe with all water if you require dairy free. Another option is to use a little apple juice for a sweeter end result
Make sure you check my tips up above for cooking porridge in the slow cooker
Nutrition Information:
Yield:

6
Serving Size:

¾ Cup
Amount Per Serving:
Calories:

211
Total Fat:

0.3g
Saturated Fat:

0.3g
Sodium:

54mg
Carbohydrates:

43.6g
Fiber:

6g
Sugar:

20.5g
Protein:

6.6g