I have been on a bit of a peanut butter frenzy in the past couple of weeks, so here I am with some delicious grain-free peanut butter cream cookies!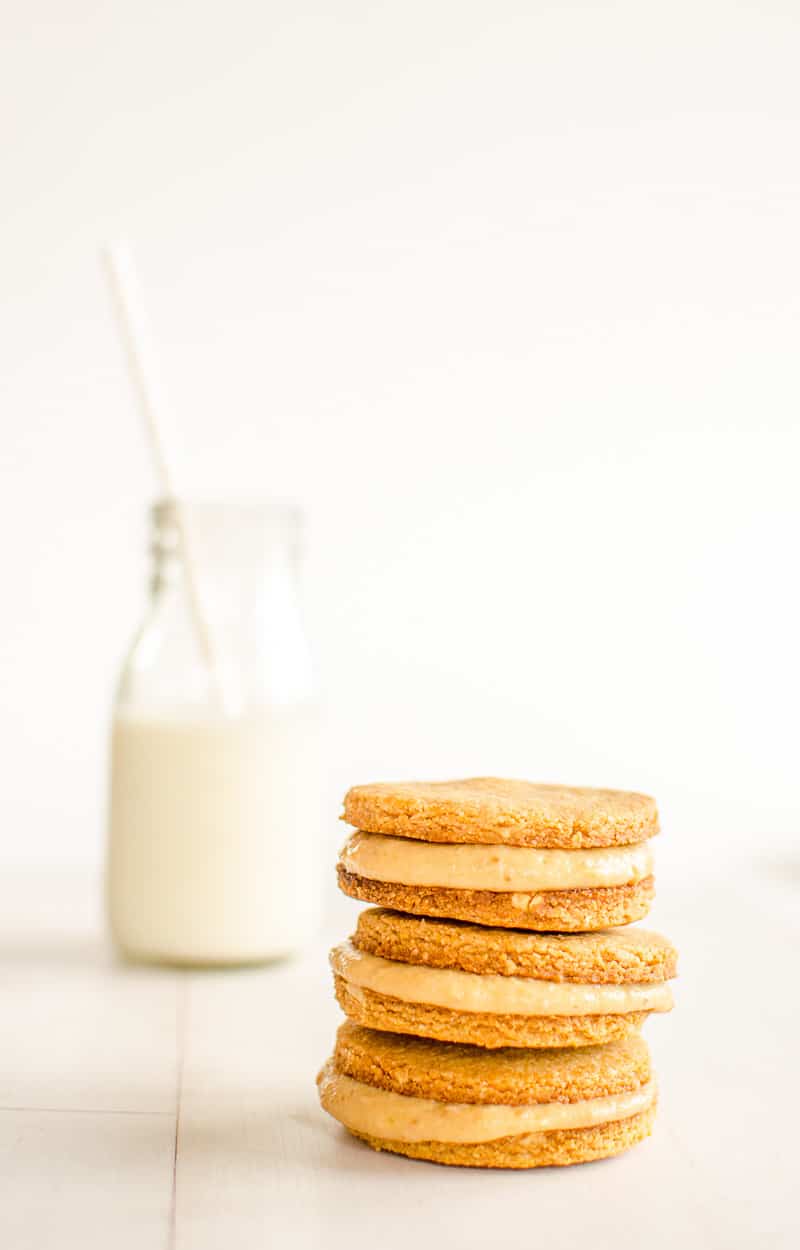 I know they look kind of impressive, (well at least I think they do), but these peanut butter cream filled cookies are actually just a fortuitous combination of two of my recent posts: Easy Gluten Free Peanut Butter Cookies and Easy Healthy Peanut Butter Mousse. Did you notice that both of the recipes are prefaced with the term 'Easy', so yes there is nothing tricky about these grain-free peanut butter cream cookies.
The cream filling is literally a mix of peanut butter and banana, but it looks so much more decadent than that and still tastes awesome! My kids were very impressed when I pulled these out for a fancy afternoon tea!
If you also have peanut butter loving kids (or perhaps you are a peanut butter lover yourself, then do check out some of my other great peanut butter recipes: Peanut Butter Chicken Salad Sandwich, Peanut Butter Freezer Fudge, Choc Chip Peanut butter Pumpkin Cookies or my No-Bake Apple Oat Bites
These cookies use almond meal, I love love love baking with ground almonds, as they add protein and good fats into the baking so a little of extra nutrition for the kiddos!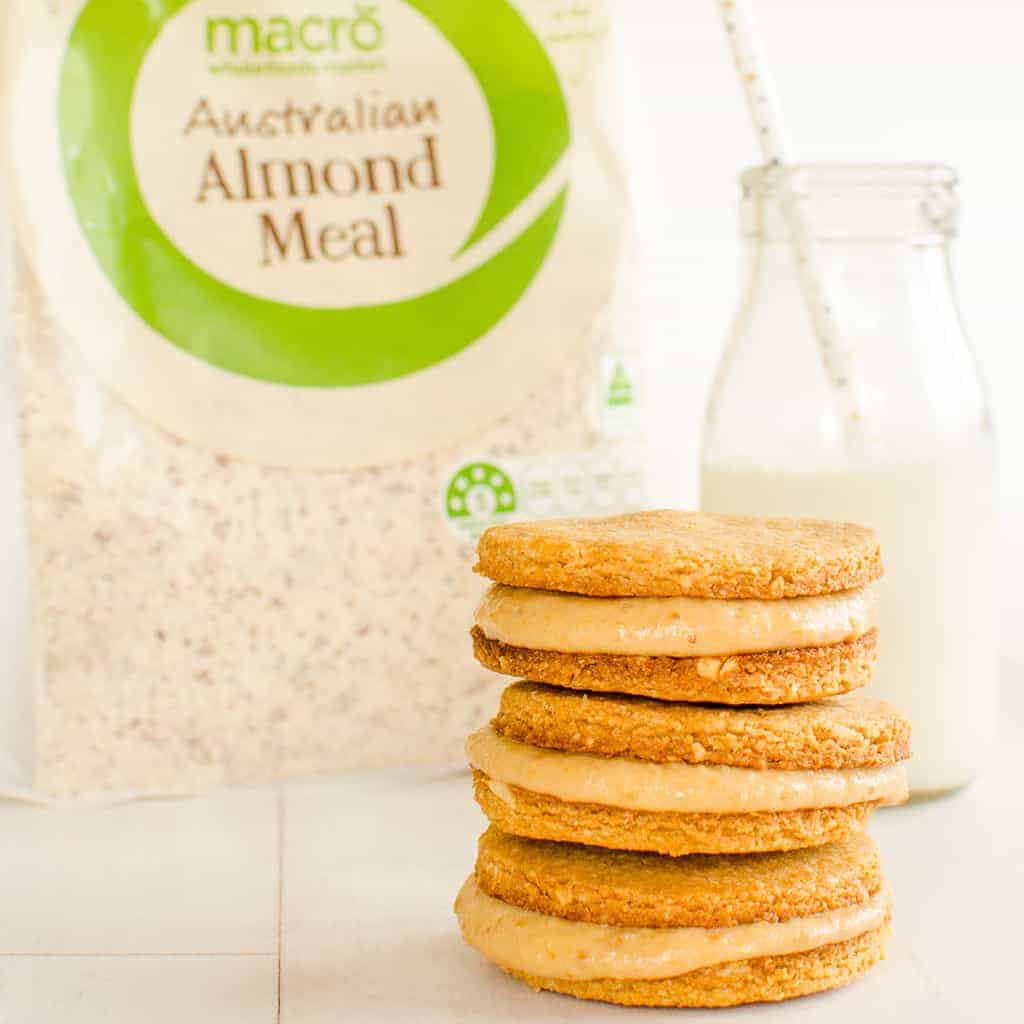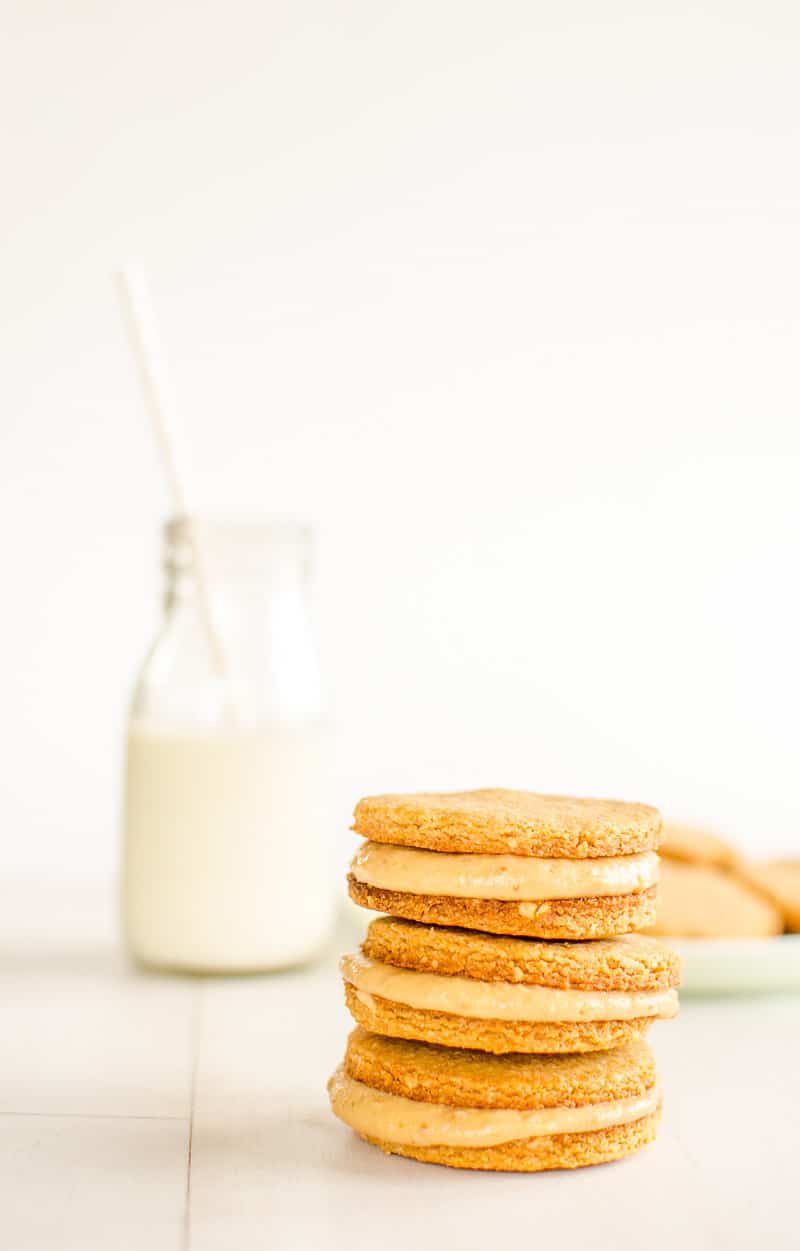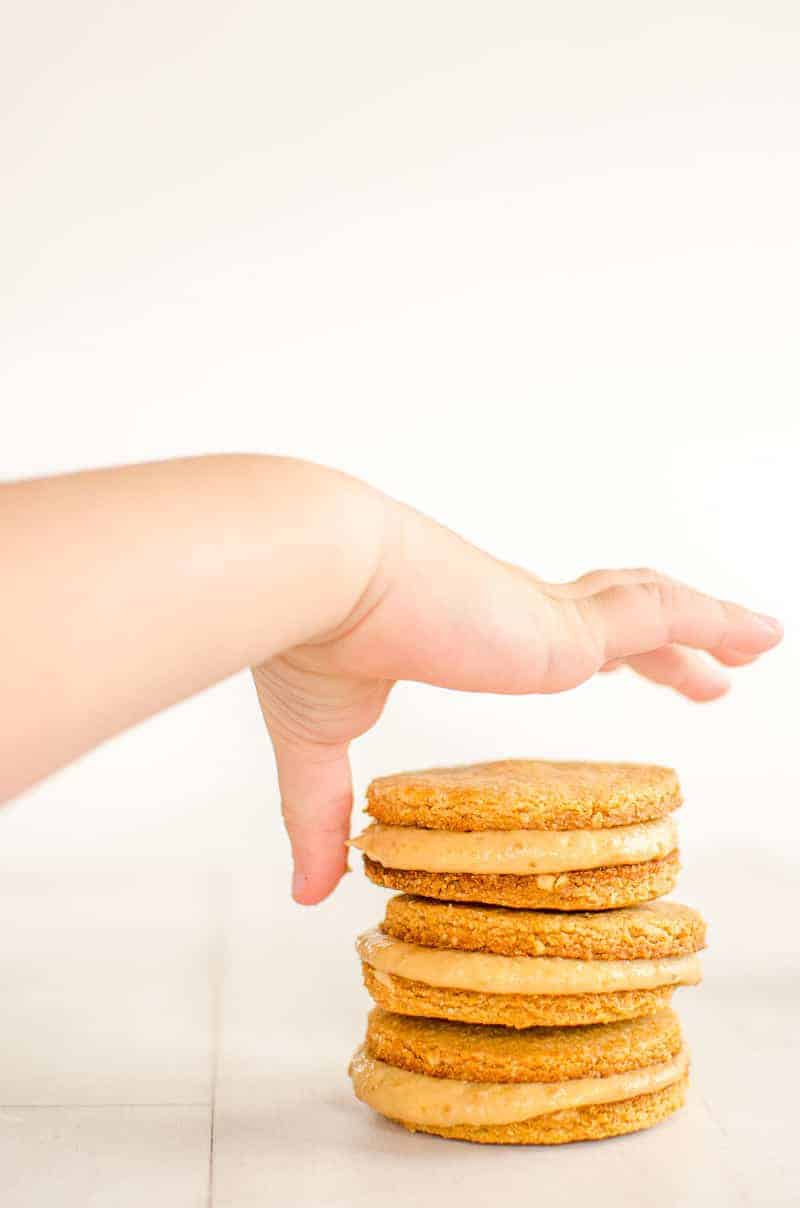 Grain Free Peanut Butter Cream Cookies
Yield 15 Cookies
Grrain-free peanut butter cookies filled with healthy peanut butter cream, gluten-free, the cookie for peanut butter lovers
Ingredients
Cookies
1 and 1/3 cups ground almond/almond meal
1/3 cup brown sugar
1 Cup peanut butter
1 tsp vanilla 
1 large egg
Mousse
2 ripe bananas
1/4 Cup peanut butter
squeeze of lemon juice (optional)
Instructions
Make the cookie dough as per my Easy Gluten Free Peanut Butter Cookie Recipe 
For this cream filled version I use a circular cutter that was slightly bigger yielded 30 round cookies
Bake as per the peanut butter cookie recipe, and allow to cool fully
Prepare the cream filling as per my Peanut Butter Mousse Recipe
Pop a dollop of the mouse in the center of one cookie, top with a second cookie to create a cream-filled cookie sandwich
Serve
Notes
The cookies without cream filling will last in an airtight container for 3-5 days, however once filled with the banana cream they need to be eaten soon after they are filled
Courses Baking
Cuisine Modern
Nutrition Facts
Serving Size 1 Filled Cookie
Amount Per Serving

Calories 237

% Daily Value

Total Fat 15.2 g

23%

Saturated Fat 2.7 g

14%

Cholesterol 12.4 mg

4%

Total Carbohydrates 20 g

7%

Dietary Fiber 2.5 g

10%

Sugars 14 g

Protein 7.5 g

15%
* Percent Daily Values are based on a 2,000 calorie diet. Your daily values may be higher or lower depending on your calorie needs.