Paprika Chicken Drumsticks
THIS POST MAY CONTAIN AFFILIATE LINKS.
These garlic paprika chicken drumsticks are a very easy chicken drumstick recipe.
I love baked chicken drumsticks as you can pop it all in the oven, leave them to do their thing, without any stirring etc. Let's face it if you have young kids, stirring at a hot stove can be tricky sometimes!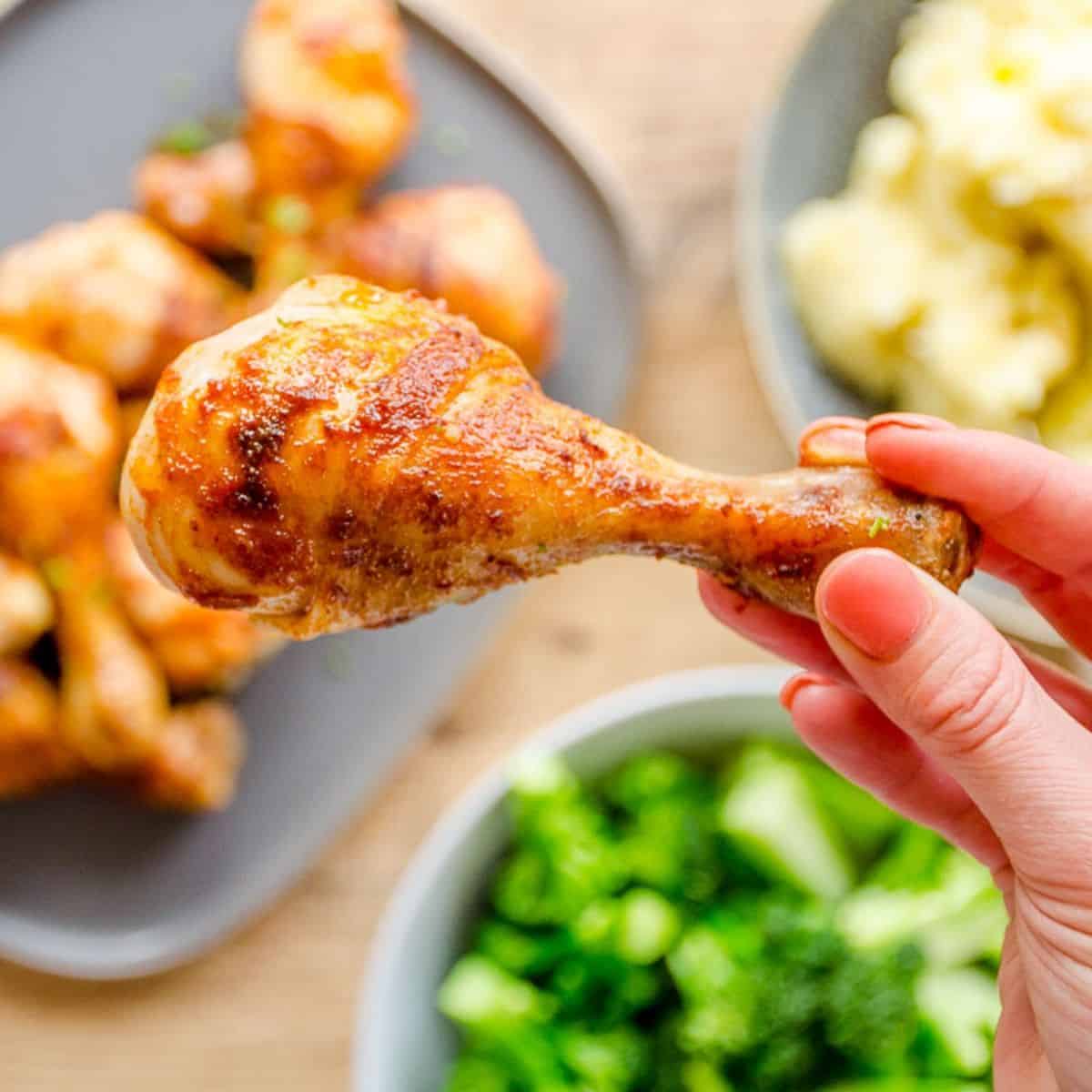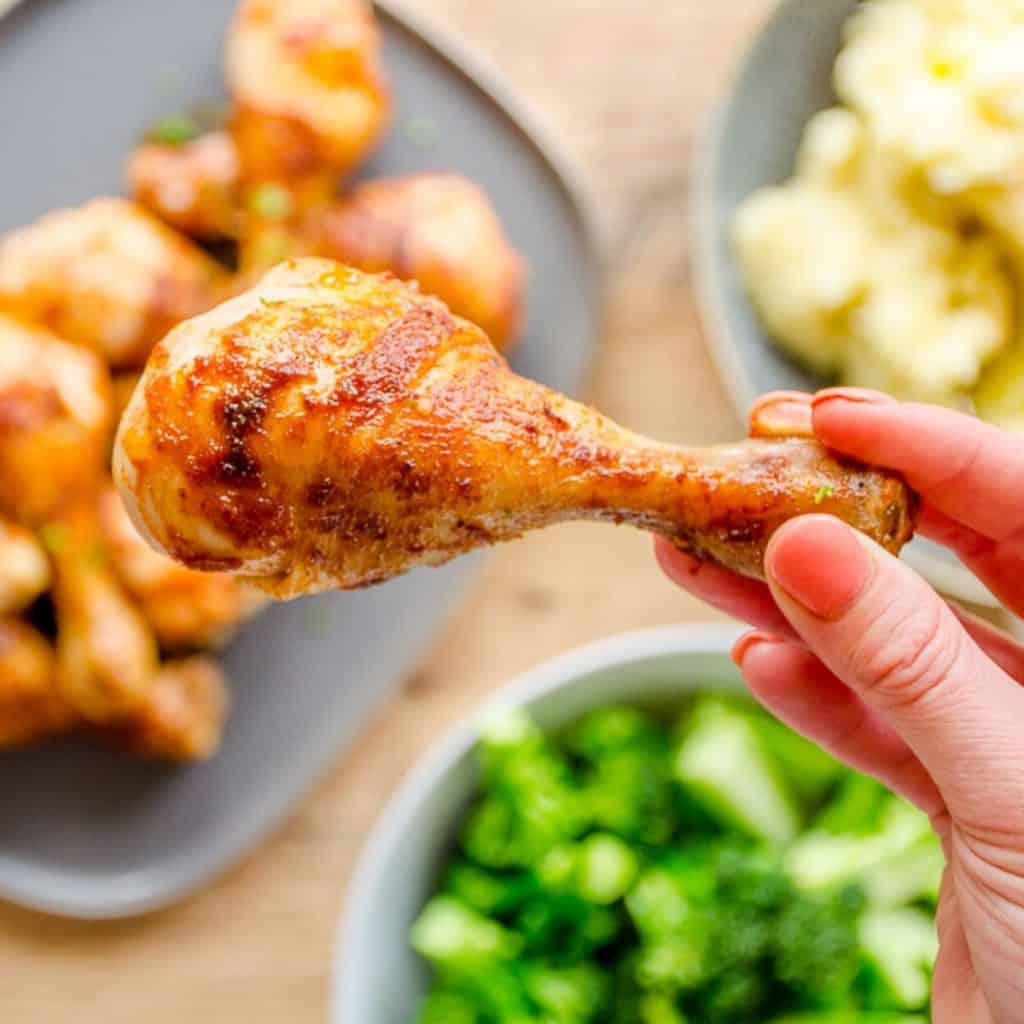 Why This Recipe Works
A simple recipe gluten-free with only 5 ingredients.
Baked in the oven, you literally throw the drumsticks into the oven and walk away.
A great recipe that is suitable for so many different dietary requirements, egg, dairy, and gluten-free. Paleo, Keto, and whole 30.
Ingredients you will need
You only need 5 basic ingredients to make my paprika chicken drumsticks: Chicken drums, paprika, olive oil, garlic, and lemon zest. Oh, and salt and pepper to season if you desire.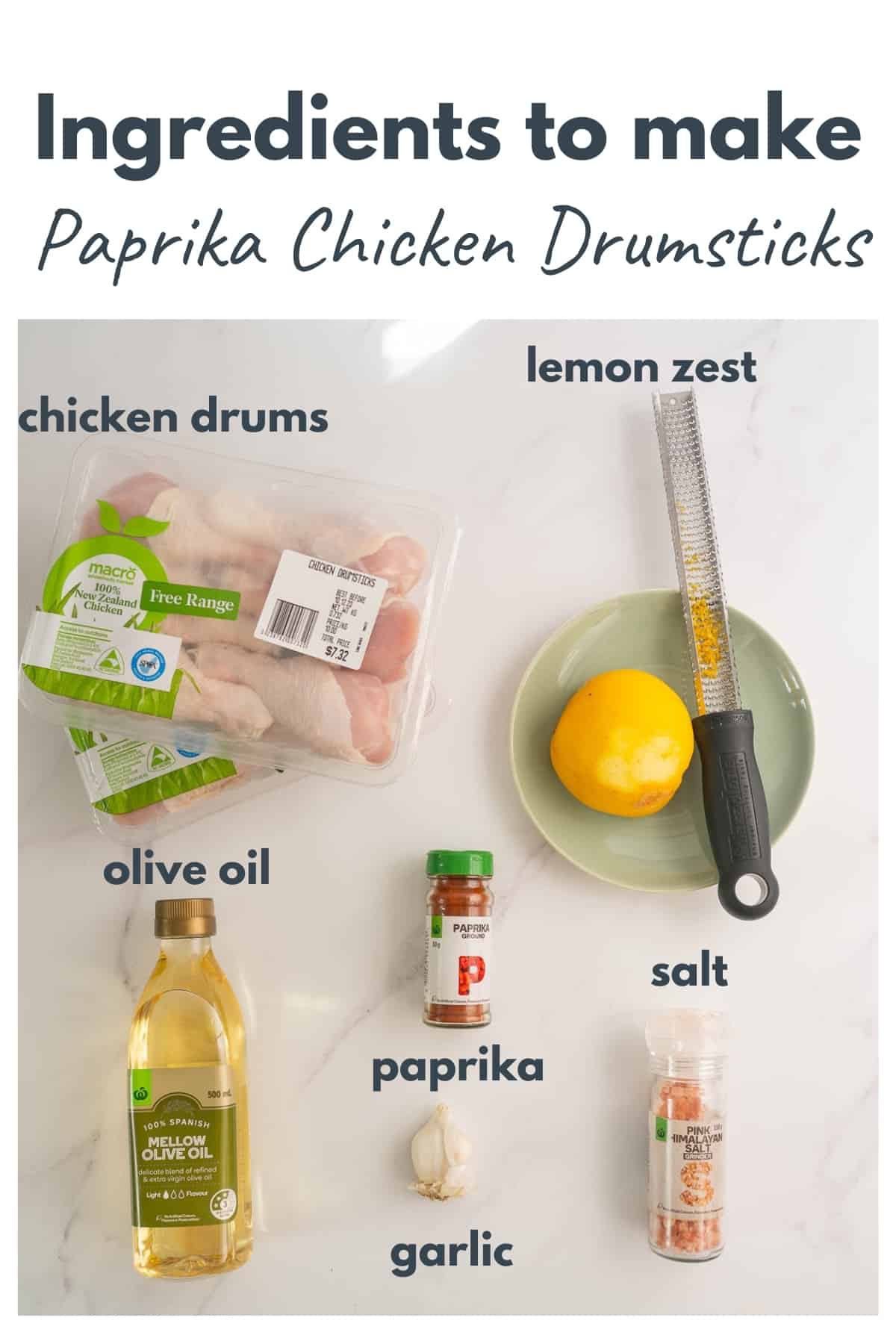 The flavours in this paprika chicken drumstick recipe are already pretty kid-friendly, to make it even more, kid-friendly you could leave out the lemon rind.
Paprika gives a lot of colour but little to no spice/heat. This recipe is delicious with either sweet or smoked paprika, but if you are using smoked, the flavour is a lot stronger. Personally, I prefer it, but if your family are not used to smoked paprika I would try sweet paprika first.
Sweet paprika may just say paprika on the box/jar, smoked is usually identified with the word smoked or Hungarian
I am an ambassador for Countdown supermarket, they support my blog by providing ingredients for recipe creation and testing. I used paprika, olive oil, free-range chicken drumsticks, and salt from their range in this recipe.
---
 How to Make Chicken Drumsticks in the Oven
Preheat the oven to 200 degrees celsius approx 400 Fahrenheit
Line a baking pan with baking paper (you don't have to but it does make clean up easier)
Place the drums in the roasting pan, or baking sheet with lip, keep them single layer with just a little space between each (photo 1). If your chicken drumsticks are quite wet, you can pat them dry with a paper towel.
In a small bowl whisk together the marinade, oil, paprika, garlic, lemon rind, and salt (you can use a whisk or fork, you just want it well combined (photo 2).
Pour the marinade over the drums, I use a brush to spread it evenly (photos 3-4).
Bake in the hot oven for 45 mins, if you like crispier  skin, at the 40 min mark baste the drums with the pan juices and pop your oven on grill for the final 5 mins of cooking
Season with salt and pepper, Serve.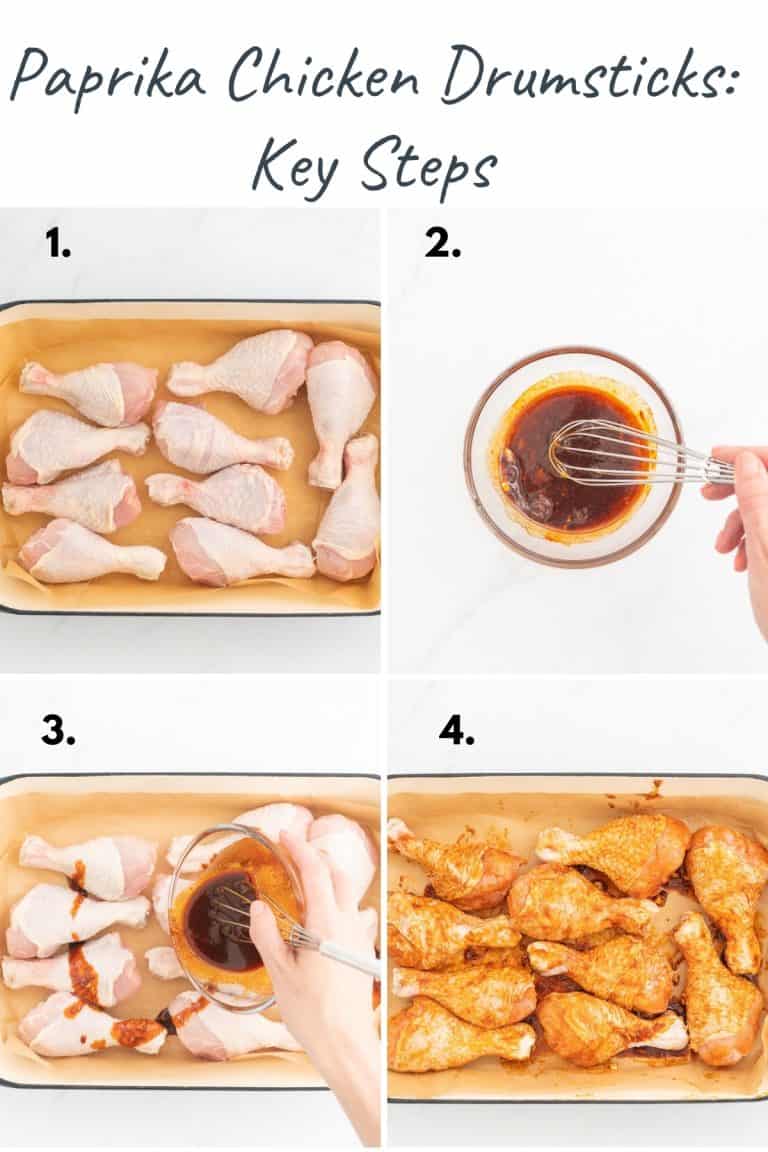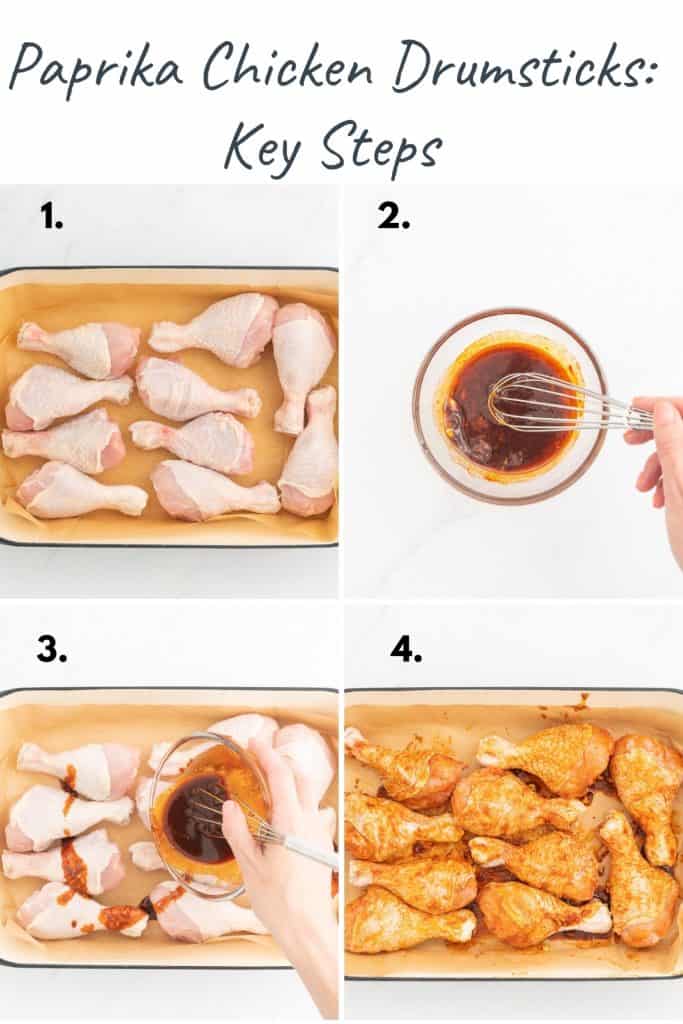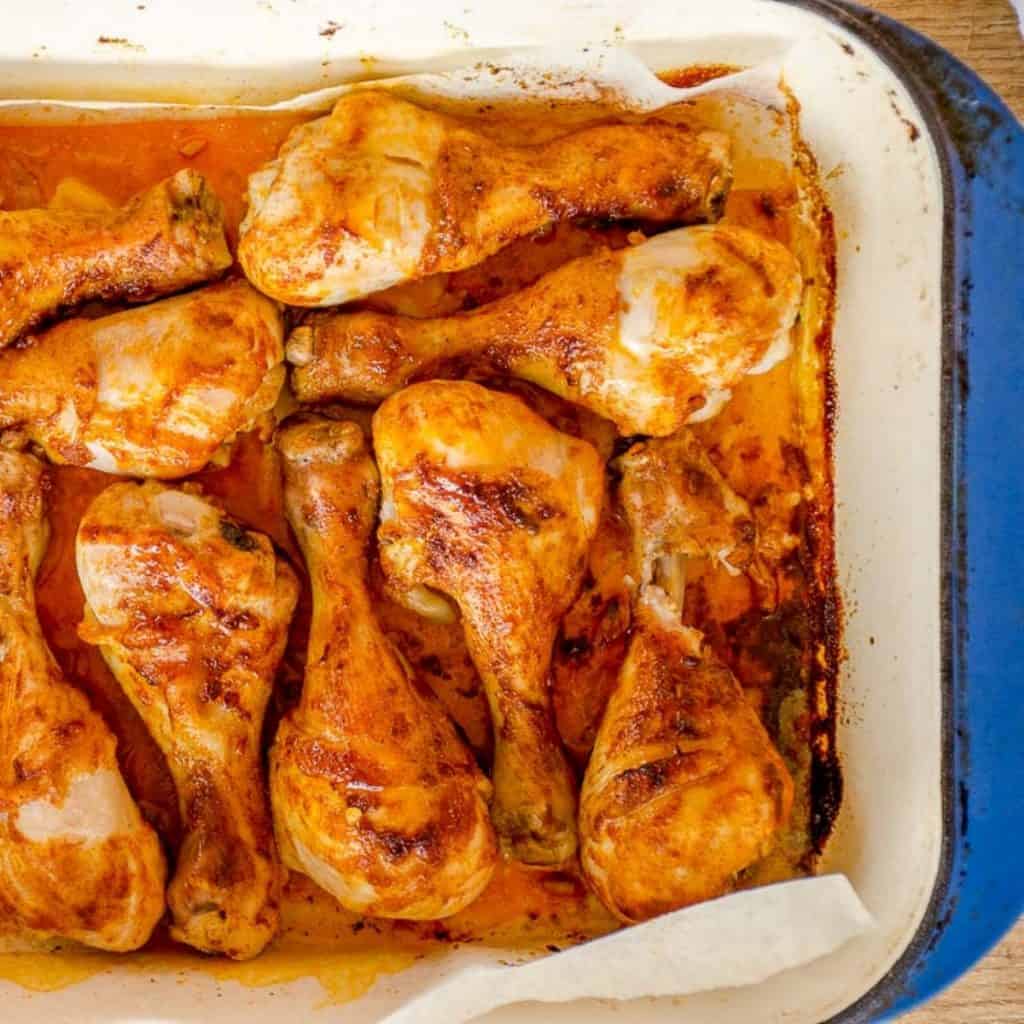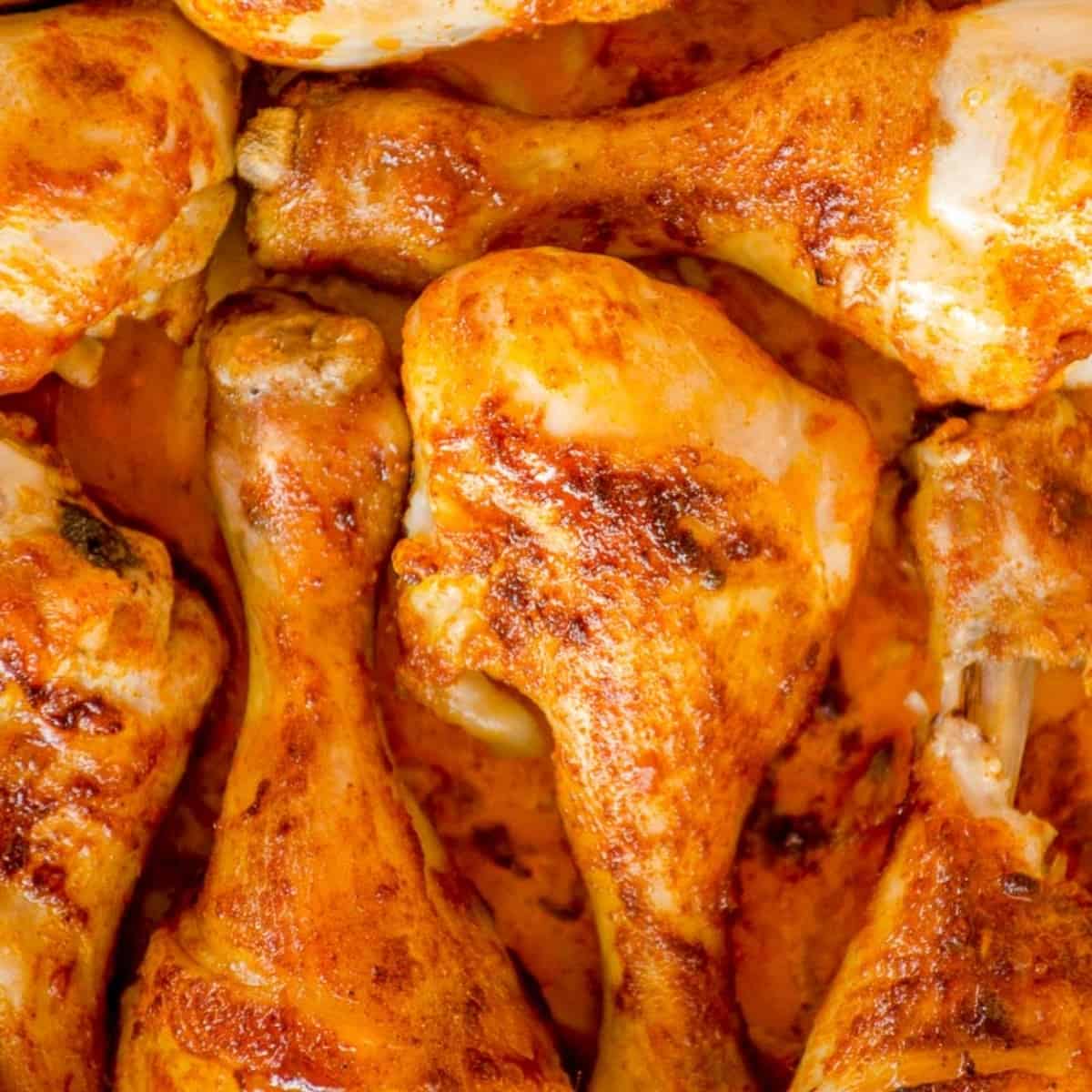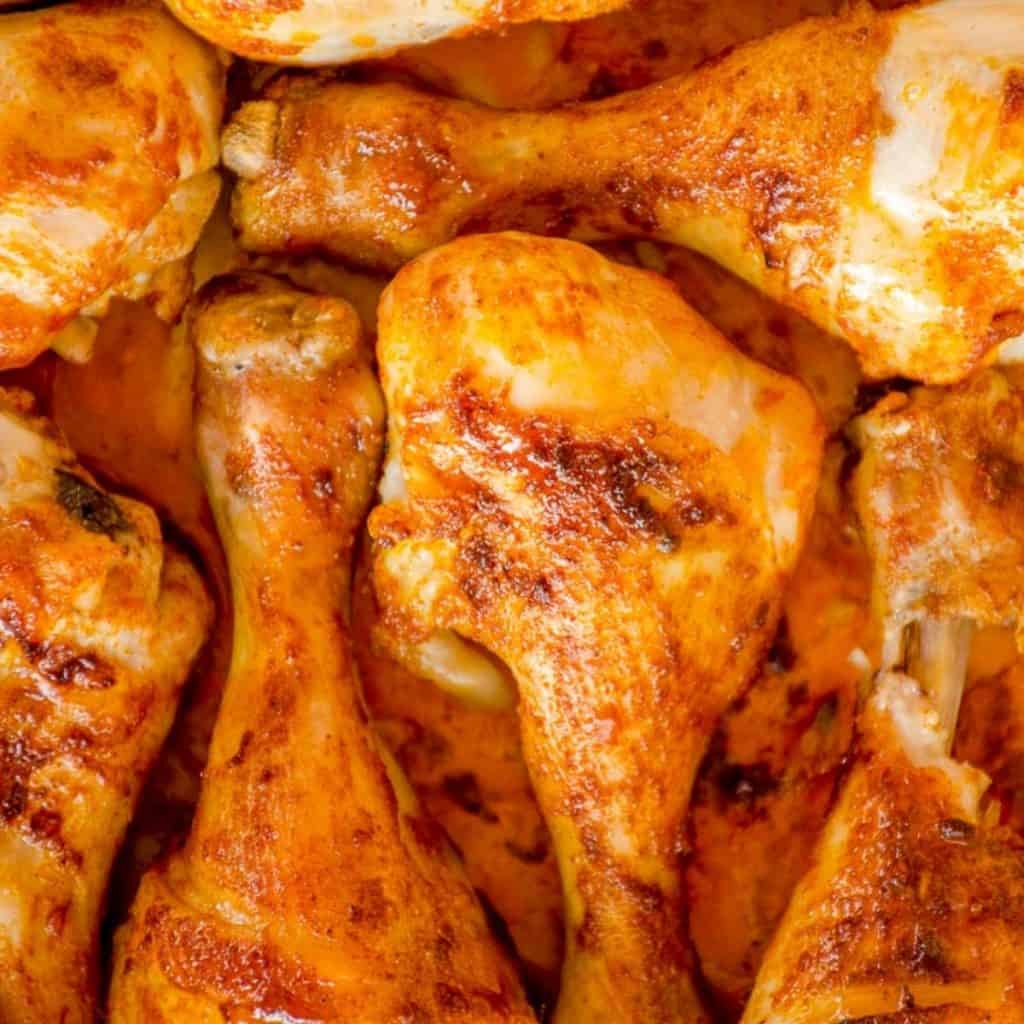 ---
How I Serve these Drums
I serve these paprika chicken drumsticks with mash. My favourite family mash is a 50:50 blend of potato and cauliflower. I just boil the potato and cauliflower together then mash with a little butter, milk and salt.
Add a dish of green veggies and you have a winning family meal.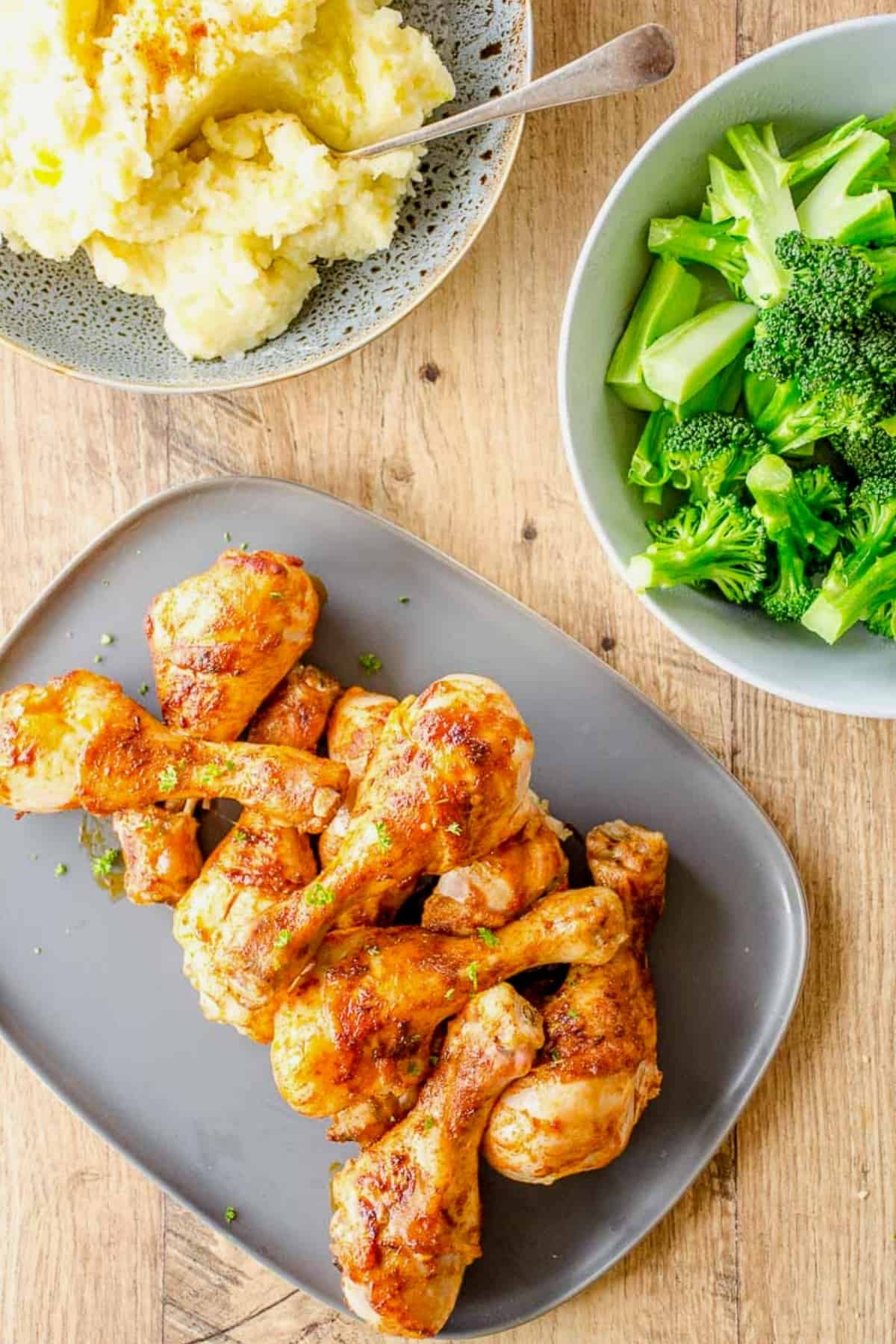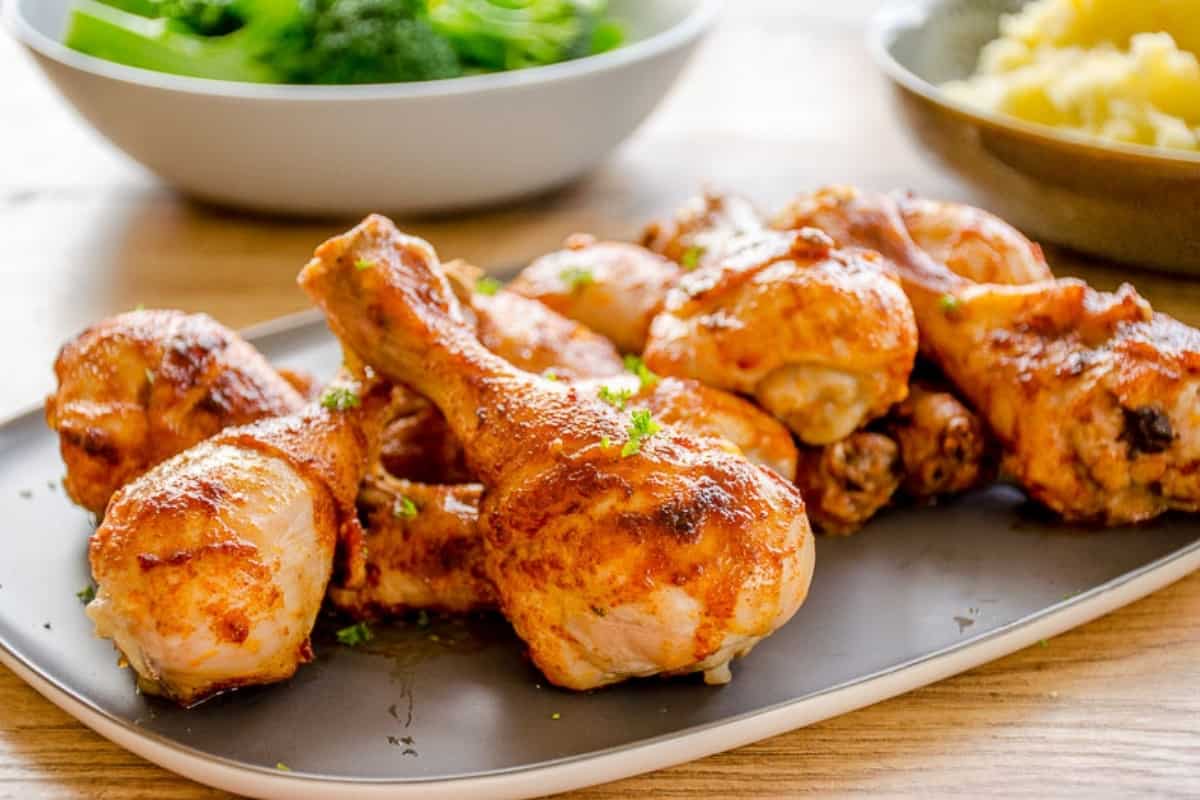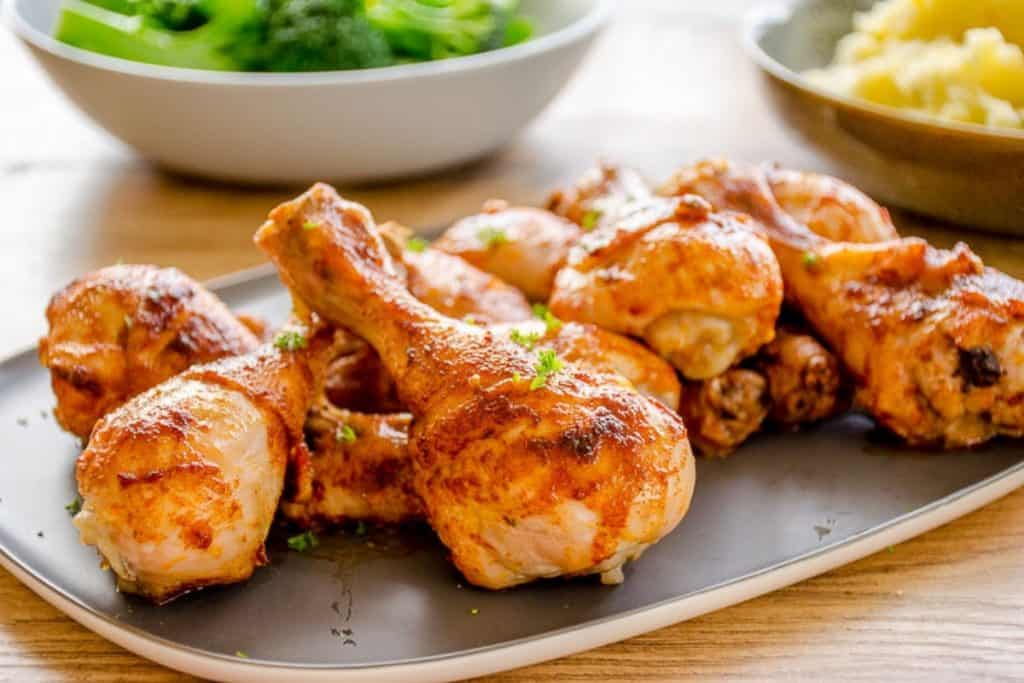 Top Tips
Here is how you can make these chicken drumsticks perfectly every time!
If your chicken drumsticks are quite wet when you remove them from the packaging, pat them dry with a paper towel before marinating them.
Use a hot oven, and make sure it is pre-heated to the correct temperature before cooking the chicken drumsticks.
If you like chicken drumsticks with crispier skin, at the 40 min mark baste the drums with the pan juices and pop your oven on grill for the final 5 mins of cooking
FAQs
How to cook chicken drum sticks?
For me, I find the easiest way to cook chicken drumsticks is to bake them in the oven. Often like in this recipe I will make up a quick marinade to add extra flavour and yumminess to the chicken legs.
How to bake chicken drumsticks in the oven

Dry (with a paper towel) and oil your drumsticks before I baking them, this helps the skin crisp. You can either add some seasonings as I do in this recipe, or you can just bake them plain.
What temperature should to bake chicken drumsticks?
When baking chicken drumsticks I recommend a hot oven. For me that's 200-220 degrees Celsius this will ensure you end up with crispy skin and not awful rubbery skin. I believe 200-220 degrees celsius converts to around 400 to 420 Fahrenheit  
Should drumsticks be covered in the oven?
Chicken drumsticks do not need to be covered when baked in the oven. Baking them uncovered allows the chicken skin to caramelize and crisp.
What should I serve with chicken drumsticks?
Chicken drumsticks are delicious served with a creamy smooth carbohydrate such as mashed potatoes, cauliflower pureé or polenta, and a steamed green vegetable such as beans or broccoli.
How can you tell when drumsticks are done?
A good indicator for when your chicken drumsticks are done is when you notice the skin cracks and the tendons begin to shrink. Cut into one drumstick and ensure the juices run clear this will indicate the chicken legs are cooked.
Chicken Drumstick recipes
Chicken drumsticks are so popular with kids, I already have one other super drumstick popular recipe on my website Honey Soy Mustard Chicken Tray Bake
Because they are so popular I will particularly for kids I will be working on some more chicken leg recipes.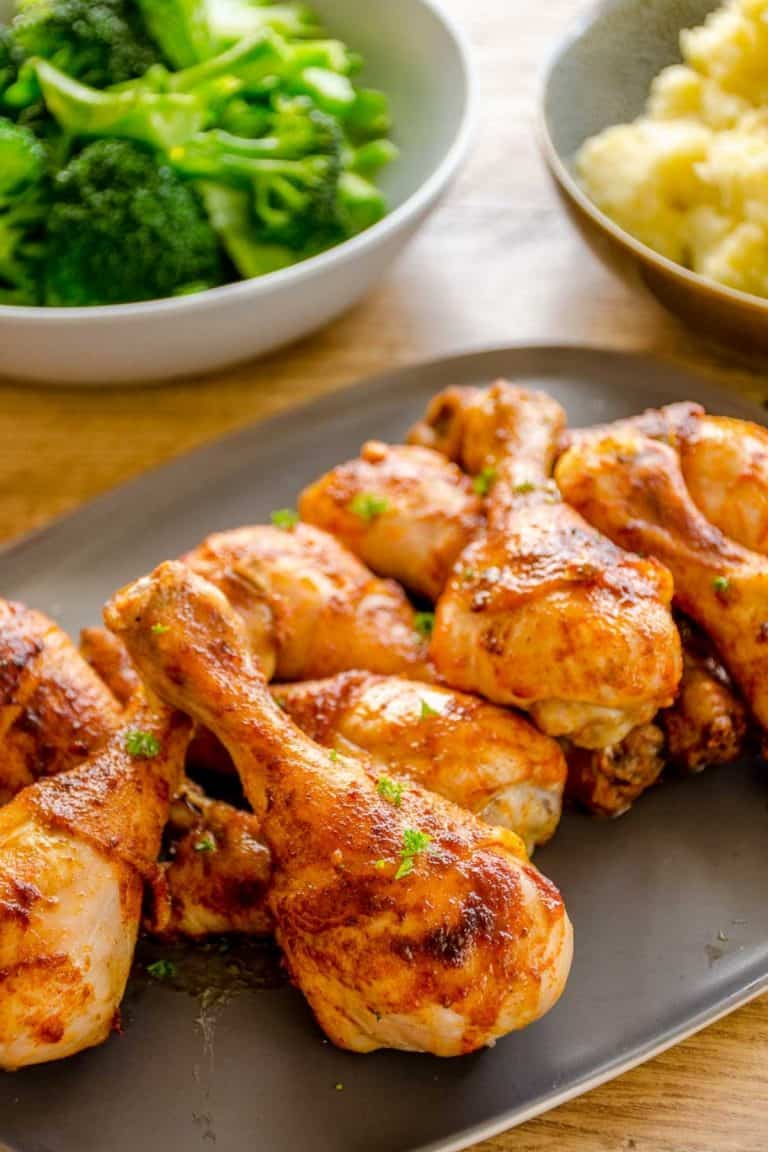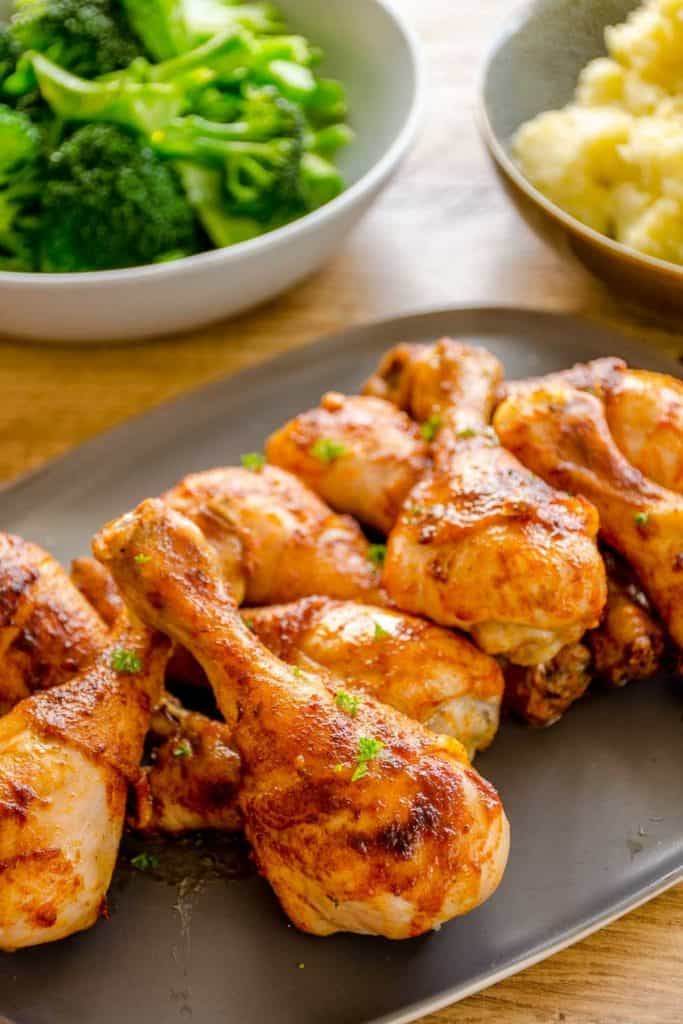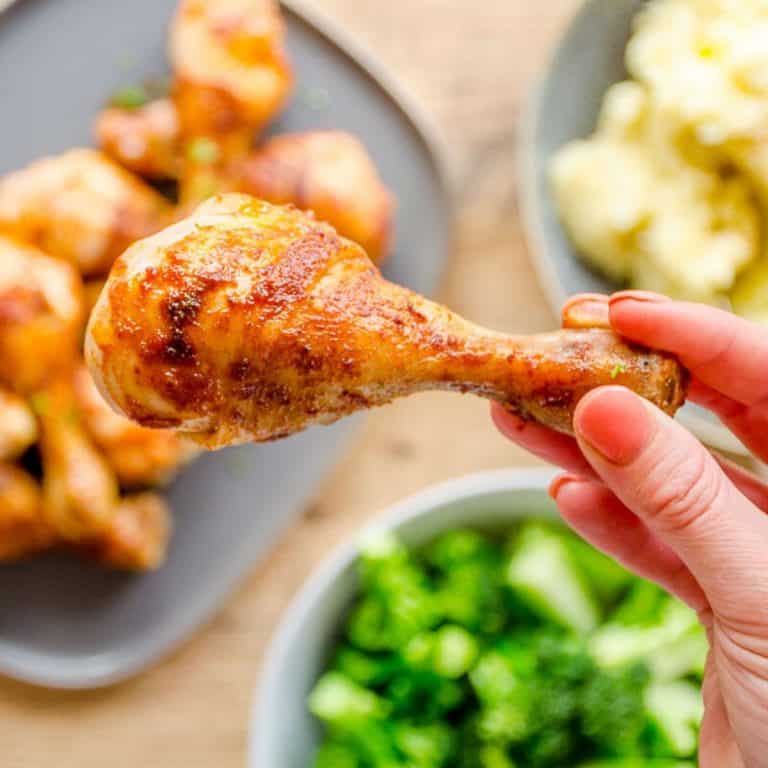 Paprika Chicken Drumsticks
Paprika Chicken Drumsticks an easy baked chicken drumstick recipe, quick to prepare, succulent to eat. Family meal, kid-friendly
Print
Pin
Rate
RATE THIS RECIPE
Ingredients
10

chicken drumstics

3

tablespoon

olive oil

3

teaspoon

paprika

2

cloves

garlic crushed

rind of 1 lemon

salt
Instructions
Preheat the oven to 200 degrees celsius approx 400 Fahrenheit

Line a roasting pan with baking paper (you don't have to but it does make clean up easier)

Place the drums in the roasting pan, keep them single layer with just a little space between each

In a small bowl whisk together the marinade, oil, paprika, garlic, lemon rind and salt (you can use a whisk or fork, you just want it well combined

Pour the marinade over the drums, I use a brush to spread it evenly

Bake in the hot oven for 45 mins, if you like a crispier  skin, at the 40 min mark baste the drums with the pan juices and pop your oven on grill for the final 5 mins of cooking

Serve
Notes
Paprika gives a lot of colour but little to no heat. This recipe is delicious with either sweet or smoked paprika, but if you are using smoked the flavour is a lot stronger. Personally, I prefer it, but if your family are not used to smoked paprika I would try sweet paprika first.
I serve this with a 50:50 cauliflower potato mash and green vegetables
If your chicken drumsticks are quite wet when you remove them from the packaging, pat them dry with a paper towel before marinating them.
Use a hot oven, and make sure it is pre-heated to the correct temperature before cooking the chicken drumsticks.
If you like chicken drumsticks with crispier  skin, at the 40 min mark baste the drums with the pan juices and pop your oven on grill for the final 5 mins of cooking
Nutrition
Serving:
1
g
|
Calories:
228
kcal
|
Carbohydrates:
1
g
|
Protein:
21
g
|
Fat:
15
g
|
Saturated Fat:
4
g
|
Polyunsaturated Fat:
10
g
|
Cholesterol:
80
mg
|
Sodium:
119
mg